by Nikiforos Skoumas
Staff Writer –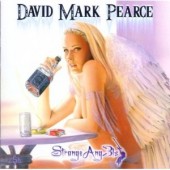 Strange Angels is the debut solo album by British guitarist David Mark Pearce out on AOR Heaven records. Progressive rock enthusiasts probably recognize Pearce as a member of Oliver Wakeman's solo band, as well as a studio producer in the genre.
With Strange Angels, Pearce admits he is a melodic hard rocker at heart, delivering an album that has more in common with '80s rock flamboyance than the progressive nature of his previous band-endeavors. It only takes a single play of the album to realize that David knows how to compose dynamic choruses while retaining performance intensity throughout the album.
Clearly the guitarist has planed and organized this venture to the detail. Evidence supporting the above perspective is primarily the studio line-up. Vocal duties are handled by Goran Edman who has fronted such guitar heroes as Yngwie Malmsteen and John Norum and former Asia singer John Payne. The line up also features keyboardist Lisa LaRue, bassist CS Brown and drummer Mikael Wikman.
In addition, the songwriting is very meticulous aiming at maximum rock-impact on every riff, verse, chorus and guitar solo. In contrast to most quality AOR/melodic rock releases opting for performance subtlety, Pearce and co seem to be holding nothing back when performing the collection of songs found on Strange Angels.
The album opens on the protestant "Alone I cry" a forceful heart breaker song delivering drama and slickness at the same time. "Shelter Me From the Rain" is perhaps the most adult-oriented-rocker to be featured on the album, without undermining the glamorous style of the release. Following is the pompous "Tell Me Why" arguably the album's strongest moment, where Payne's vocal performance is nothing less than monumental, delivering the song in a totally rhetorical fashion. An other pleasant addition is the instrumental "Every Time it Rains," unexpectedly a guitar driven composition where David uncovers a great deal of his melodic phrasing/soloing, otherwise apparent on all lead guitar spots on the album.
Strange Angels is one of those albums that seem to come out of nowhere though overwhelming the listener with their artistic quality. Even to the experienced melodic hard rock/glam metal fan Pearce delivers far more than expected, subsequently raising expectations towards a follow-up album. We are looking at an album that easily holds its own amongst the vast number of contemporary releases in the genre.
Genre: Melodic Hard Rock / Glam Metal
Line up:
Göran Edman- vocals
John Payne – vocals
David Mark Pearce – guitar
C S Brown – bass
Lisa LaRue – keyboards
Mikael Wikman – drums
Track List:
01. Ang3ls (Help Us)
02. Alone I Cry
03. Shelter Me From The Rain
04. Tell Me Why
05. EveryTime It Rains (Instrumental)
06. StrangeAng3ls
07. To Live Again
08. Save Your Prayers
09. Eden Is Burning
10. So Far From Heaven
Label: http://www.metalheaven.net/
Hardrock Haven rating: 8/10