by Cynthia Jo
Staff Writer –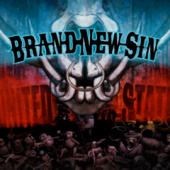 Brand New Sin have been through the revolving door of the music industry, lineup changes and issues with record label. Guitarist Tommy Matkowski is a new addition to BNS, while original and founding member, Kris Wiechmann continues to be the rhythm guitarist and now also the frontman. Still, the quartet from Syracuse, NY, managed to persevere through what is a common phase of being a professional musician and of course with the help of the a solid fan base they managed to delivered a fifth studio album: United State.
Although, they try to deliver their attempt of genuine American-hard-southern-rock, it takes a while for that to actually stand out in United State. The recipe of solos in a mix of a hard rock edge does emphasize on the blue collar metal approach. The first couple of tracks, "The Lord Came Down" and "All My Wheels," are simple rock and roll songs but don't have enough power to intrigue the listener. The vacant sound projected through Wiechman's vocals seem to drag some of the songs down as well, but production is surely to blame for that.
Positively, by the time "Infamous" and the acoustic bona-fide "Sad Wings" roll around, the impressive musicianship of the band kicks in all because of the emotion felt in the writing and the sensitivity that supports those songs. "Know Yourself" is fun and probably one of the most solid songs due to it's rawness and heaviness found in the verse, much can be said about "Group 5" as well.
A good spin and for fans of covers, "The Wizard" and "What You Do For the Money Honey," represent the roots of rock and roll very well and are probably one of the best covers of Black Sabbath and AC/DC.
It's a good recommendation for a genre that needs more attention and for a band that can confidently voice the power withheld in their riffs, lyrics and rhythm. Let's just hope that this is a breakthrough for Brand New Sin because it only expands on their 2009 independent release Distilled; which defines most of their greatest tracks.
Genre: Hard Rock, Metal, Southern Rock
Lineup:
Kris Weichmann
Chuck Kahl
Kevin Dean
Tommy Matkowski
Track Listing:
1. "The Lord Came Down"
2. "Know Yourself"
3. "All My Wheels"
4. "Rotten As Hell"
5. "Elbow Grease"
6. "Infamous"
7. "Groups Of 5″
8. "Your Song And Dance"
9. "Goddess Of War"
10. "The Cup and the Lip"
11. "Bed Of Nails"
12. "Travel Well"
13. "What You Do For The Money Honey"
14. "Glory Days"
15. "Sad Wings (acoustic)"
16. "The Wizard"
Label: Goomba Music
website: brandnewsin.org
Hardrock Haven rating: 7.5/10