by John Kindred
Staff Writer –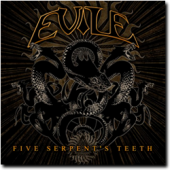 The U.K. conjures up thrash metal in the guise of Evile, pronounced "eeh-vile," by the band. Harboring influences from the great thrash metal bands that launched their careers during the '80s, such as Metallica; Sepultura; Exodus; Annihilator; and Slayer, Evile carry on in the tradition of the greats. Beginning their career as a Metallica cover band, known then as Metal Milita in Heddersfield, WestYorkshire, Evile released their first album of original music, Enter the Grave, under their new moniker in '07. The band then followed up their debut album with the sophomore release of Infected Nations in '09.
Their third release, Five Serpent's Teeth, is amped up with 10 furious tracks of thrash metal mayhem. Highlighted by hard-hitting percussion, the slamming low end rumble of the bass, blistering leads, chunky rhythm guitars and gritty vocals, Evile finds the apple not falling far from the tree. The band is a tight, cohesive unit that flows flawlessly through Five Serpent's Teeth.
Five Serpent's Teeth 10 songs clock in at almost an hour of music. Quite refreshing as many of today's studio releases don't top the tank off, leaving listeners with much less music for their hard-earned dollars. Again, the band's influences clearly are evident. The vocals by Drake, while mired in grittiness, are quite audible. It's refreshing to be able to instantly understand the vocalist, making the music easier to sing along with if you so choose. Plenty of chugging guitar rhythms are blessed with some splendid guitar solos. The guitar solos run the gambit from melodic and fluid harmonized solos to all-out blistering leads.
From a rhythmic stand point, the music has an instant head-bobbing groove to it. The music is not insulting or overly aggressive, which might drive away the music fan who is not indoctrinated in the genre of thrash metal. Brothers Matt and Ol Drake provide the listener with spot-on, heavy-handed rhythmic crunch from the guitars. Drummer Ben Carter levels plenty of double bass at the listener. Graham bass pummels the auditory spectrum, holding down the groove with the drums while hammering while remaining united the with notes of the songs' arrangements. Overall, Evile provides a spirited romp through the thrash metal world. The music is engaging and holds your attention with pulsating grooves that fuel the musical arrangements. You won't be hard pressed to pick a favorite track as there are no filler tracks.
Die-hard thrash metal fans, who have lived and breathed the genre from its inception, only will fault Evile for not bringing anything new to the fold. But they won't diss the band for lack of skills or not being able to play the their music. Evile provide head-banging music for mosh pits everywhere in the vein of the greats. In fact, these Brits do the genre justice by continuing to keep the music alive. New fans will love the band and clamor to hear the bands that influenced Evile. Die-hard thrash metal fans will give the band a nod of respect.
Genre: Thrash Metal
Band:
Matt Drake – Lead vocals, rhythm guitar
Ol Drake – Lead guitar
Joel Graham – Bass guitar
Ben Carter – Drums
Track Listing:
01. Five Serpent's Teeth
02. In Dreams of Terror
03. Cult
04. Eternal Empire
05. Xaraya
06. Origin of Oblivion
07. Centurion
08. In Memoriam
09. Descent Into Madness
10. Long Live New Flesh
Find Evile on the web:
http://www.evile.co.uk
http://www.myspace.com/evileuk
http://www.twitter.com/evileuk
http://www.atmoapparel.co.uk/bands/evile/
Label: Earache Records
Hardrock Haven rating: 8/10
by Jonathan
Staff Writer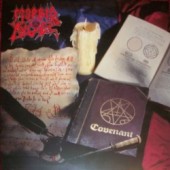 Morbid Angel's Covenant is perhaps one of the most influential Death Metal CD's ever, and it's finally being re-issued. The Covenant re-issue isn't re-mixed and it isn't re-mastered, and if you're asking yourself why no re-mix or re-master, then the answer is quite simple; it's because you can't expand on perfection. The new release is a digipak that does however come with a double sided poster that's perfect for framing. One side of the poster is a black & white photo of the band during the time of its original release, which was June 22, 1993, and the other side being the Covenant CD cover in all its uniquely themed glory (we'll get to that later in the review).
What makes Covenant such a standard setting CD is, to put it simply, innovation. The songs are dynamic and are written unlike any other bands then or now. This is an issue that will either anger many, make many happy, or both. Morbid Angel tends to bring controversy whenever they're brought up in conversation. Death Metal fans want to consider them to be only Death Metal, and the truth be told, no other genre of music will have them. The music of Morbid Angel is progressive Death Metal that tends to get somewhat experimental at times.
Covenant has ten songs and of the ten, one is an ambient, mood setting instrumental called "Nar Mattaru," which is used as a segue into the final song being "God of Emptiness." That means nine songs are of course heavy and brutal but also interesting. The reason Morbid Angel's music in general and of course on Covenant, doesn't get boring, is because the progression changes quite often throughout the music, which would then indicate that along with the traditional double bass and blast beats there's progressive elements as well. Speaking of which, Pete Sandoval, the great Pete "Commando" Sandoval executes his drum parts like a true leader, keep in mind this is before today's use of drum triggers; so Pete's really earning all of his glory on this one. Along with Trey Azagthoth's unique technical approach to soloing and song writing, and David Vincent's bass and dominant guttural vocals, together they make Convenant a winner from start to finish.
This brings us to the trivia part of the review, the "did you know?" section.
Covenant helped Morbid Angel get to the next level; it was a turning point in their career.

Did you know? All of Morbid Angels CD titles are in alphabetical order starting with Altars Of Madness, Blessed Are The Sick, Covenant, etc…

There was an unreleased demo called Abominations Of Desolation which was recorded in May of 1986 and eventually released September 2, 1991 but NOT as their first release.

Did you know? The video for "God of Emptiness" from Covenant, was played on Beavis and Butt-head and was in rotation on MTV.

Did you know? The songs "Rapture" and "Vengeance Is Mine" from Covenant were both used in the horror film, Night of the Demons 2 directed by Brian Trenchard-Smith released in 1994. Both songs we're actually edited together and can be heard at about an hour into the film (both songs are in the same scene).

Did you know? There are actually three different CD covers for Covenant, and if you're holding the re-issue in your hands then you're holding two of the three. Place the CD and the lyric booklet side by side. Do you notice anything different? The book on the right of the CD cover has two circles with the left circle being empty, and the booklet, has the book on the right with both circles filled. And finally, the original release has a parental advisory on the front which shows the book on the right with no circles at all.

Did you know? As previously mentioned Covenant's image has a unique theme. The document on left of the CD cover is a reproduction of The Pact Of Urbain Grandier. Urbain Grandier was a catholic priest that was burned alive at the stake in the year 1634 for being convicted of witchcraft. Despite being tortured he never confessed. The pact is said to be signed by Urbain Grandier, several demons and even by Satan himself. The book on the right is The Book of Ceremonial Magic by Arthur Edward Waite written in the year 1911. This piece of literature documents various famous grimoires, along with explaining the history and theology therein.
Covenant when originally released set very high standards, and it will continue to reign supreme for many years to come.
Band:
David Vincent – bass, vocals
Trey Azagthoth – guitar, keyboards
Pete Sandoval – drums
Track Listing:
1. Rapture
2. Pain Divine
3. World of Shit (The Promised Land)
4. Vengeance Is Mine
5. Lion's Den
6. Blood on My Hands
7. Angel of Disease
8. Sworn To the Black
9. Nar Mattaru
10. God of Emptiness
Label: Earache Records
Web: http://www.morbidangel.com
Hardrock Haven rating: 10/10
by Erik Tweedy
Staff Writer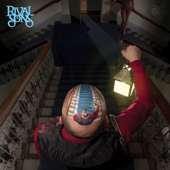 Now here's an impressive release that's a little different coming out of Los Angeles. Rival Sons unleashes something that feels so ultra-cool and hip to listen to that you'll want to break out your bell bottoms and platform shoes. Mixing old-school funk and blues straight out of the '60s and '70s with a twist of Wolfmother and the Black Crows, Rival Sons may soon be crashing through the door of superstardom.
There are so many different influences on Pressure and Time that it is difficult to pin down what their real deal is. Zeppelin, Hendrix, Cream, the Who, Blue Suede and Steppenwolf are all worshipped here. Opening with "All Over the Road," Rival Sons set the pace of a funky trip down a very hip road with a fuzz-infused old-school sound that is upbeat and downright fun to listen to. "Young Love" opens like an old-school Johnny Cash number that turns into something you might hear playing in the background of a Quentin Tarantino movie. In fact, this entire release sounds like the greatest movie soundtrack ever. It is all over the place and smells of cigarette smoke, sweaty women and Vincent Vega.
By the time you reach the title track, you have slipped into a 1972 haze filled Super Fly night at the movies. The funk is just oozing out of your speakers. "Only One" is a blues number that will have you hitting the repeat button, assuming you can see it through the haze. The Hendrix-inspired "Get Mine," clocking in at a bit over two minutes, is a flat-out jamming song with a tasty little solo at the 1:30 mark, and "Burn Down Los Angeles" is filled with enough guitar fuzz to stuff your teddy bear.
Not even 20 minutes into the disc and already at track seven, "Save Me" continues your time warp back to when musicians actually could play their instruments. Musically, these guys are great, and vocally, Buchanan is slamming it on every track. "Gypsy Heart" is a standout track with plenty of solid guitar work from Scott Holiday and some tasty bass licks from Robin Everhart. Rounding out this strangely terrific release is "Face of Light," a Zeppelin-inspired, mid-tempo love song that is the perfect way to finish off this release.
While not creating anything entirely new, Pressure and Time is a great disc that welcomes you back to a time when rock and roll was just plain good fun to listen to. Fans of classic rock will really dig this release, and there is plenty here to bring new fans into the genre. This release surely will make it on to a lot of top 10 lists for 2011.
Band:
Jay Buchanan: Vocals
Scott Holiday: Guitar
Robin Everhart: Bass
Mike Miley: Drums
Track Listing:
All Over the Road
Young Love
Pressure and Time
Only One
Get Mine
Burn Down Los Angeles
Save Me
Gypsy Heart
White Noise
Face of Light
Label: Earache Records
Website: http://www.rivalsons.com/
Hardrock Haven rating: 9.4/10
by Derric Miller
Staff Writer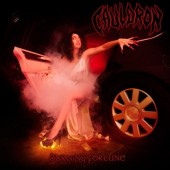 The Canadian trio Cauldron's sophomore studio effort, Burning Fortune, is a step up from their debut Chained to the Nite, and not only because of proper spelling techniques. Burning Fortune features nine tracks that have no overt weaknesses, they are stronger songwriters this time around and lead singer/bassist Jason Decay further found himself as a vocalist, understand exactly what he does well and hones in on that every song. While overall more melodic, Burning Fortune is clearly just the result of a band owning who they are and what they do; you know, the way rock stars used to …
Beginning with one of the heaviest compositions, "All or Nothing," Cauldron slams into you with their melodic blend of NWOBHM and traditional Heavy Metal. As heavy as anything they've ever recorded, the dearth of backing vocals is another trademark of the band. It's Decay, belting it out, while the others ram the music into your skull, although at the end there are some alternating vocals to Decay's lines.
You truly get a feel for the overall album on the next track, "Miss You to Death." The song is addictive, catchy, melodic, and it's about a sense of longing, with lines like "It kills me to think you're not coming home." With Arena Rock breakdowns and adept backing vocals added to the mix this time, "Miss You to Death" is proof Cauldron is improving across the board.
Again, it would seem the band is going through acidic relationships on "Tears Have Come." Cauldron has penned another song about wanting someone who doesn't want you. It's nearing KISS in its anthemic qualities. This song would be a hit in the mid '80s without a doubt, and if people still like good music, it will be today. Ian Chains tears into a notable guitar solo, rife with passion. It's just one of the many highlights on Burning Fortune.
Last time around, Cauldron covered '80s Glam Metal band Black 'N' Blue with "Chains Around Heaven." They went the more obscure route this time, covering a Halloween track. No, not the German iconic Power Metal band Helloween, but the Detroit Horror Metal band Halloween. If you thought the previous songs bordered on stalker-quality, well, this song is based on the movie "Star 80," the murder of Playmate Dorothy Stratten. Cauldron found the absolute perfect cover for Burning Fortune; these guys know great music, and since Halloween never got their due, go check out Halloween releases Victims of the Night and Don't Metal With Evil so you know why Cauldron digs the band so much.
Why wouldn't Cauldron write a song about a small South Dakota town called "Rapid City?" Don't worry, they did, and it's the heaviest and most chaotic track on the release. In fact, the second part of the composition is called "Unchained Assault," an instrumental, and it allows the band to flaunt their musical Metal chops.
"Taken By Desire" brings closure to Burning Fortune, more NWOBHM than much of what you heard to this point. Slightly more subdued than the eight tracks before it, it's probably the one time when you'll think "They could have done better." Not that it's bad, but it falters just a little in comparison.
There are few bands as honest and unflinching as Cauldron. In the recent Decibel story on Cauldron, Decay pointed out they don't play and record this kind of music for money. They know it's not popular … and they could really give a rat's ass. In the "for sale" sheer mimicry of today's Hard Rock and Heavy Metal world, where corporations push bands to the top of the charts and listeners are too ignorant to understand that homogeneity should breed contempt, not applause, Cauldron is one of the few uncompromising bands left.
Band:
Jason Decay – bass, vocals
Ian Chains – guitar
Chris Steve – drums
Track listing:
01. All Or Nothing
02. Miss You To Death
03. Frozen In Fire
04. Tears Have Come
05. I Confess
06. Rapid City/Unchained Assault
07. Queen Of Fire
08. Breaking Through
09. Taken By Desire
Label: Earache Records
Online: http://www.myspace.com/cauldronmetal  
Genre: Traditional Heavy Metal
Hardrock Haven rating: 8.3/10
by Derric Miller
Staff Writer
Cauldron bassist/singer Jason Decay checked in with Hardrock Haven to discuss their brand new and sophomore studio release Burning Fortune; how/if the band's sound has evolved from their debut release; how the movie "Star 80″ influenced one of the new songs; specific songs like "Tears Have Come" and "Rapid City;" tour plans; and a whole lot more.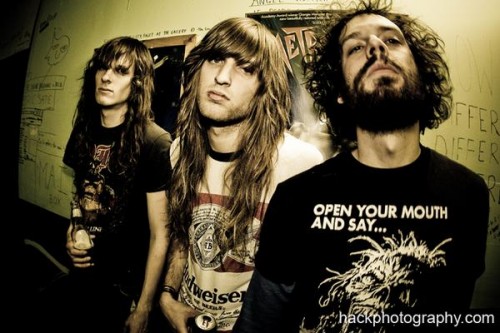 Cauldron's debut surprised a lot of heavy metal fans, but Burning Fortune is going to cement them as one of the best new bands in all of Heavy Metal. Tune in now to get to know the singer and the music, and pick up Burning Fortune as soon as you can.
Online: www.myspace.com/cauldronmetal
(If the embedded player doesn't populate, click here to stream the interview in a stand alone player.)
by Derric Miller
Staff Writer
White Wizzard guitarist Erik Kluiber checked in with Hardrock Haven to talk about their brand new studio release Over the Top; how he's transitioned from a Hard Rock guitarist in Overloaded to a Traditional Heavy Metal guitarist in White Wizzard; the pissing contest between ex and current White Wizzard band mates; touring with Edguy in Europe; the video for the first single "Over the Top;" and a whole lot more.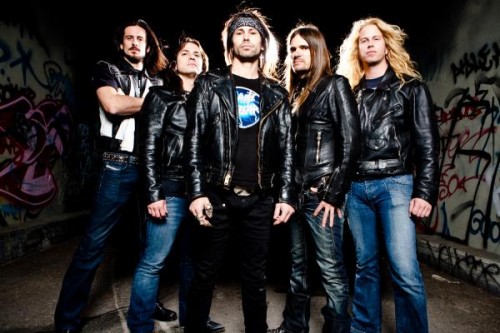 White Wizzard is one of the best new bands in Heavy Metal today, period. Tune in now to get to know their seriously talented guitarist, and pick up Over the Top immediately thereafter.
(If the embedded player doesn't populate, click here to stream the interview in a stand alone player.)
by Justin Gaines
Staff Writer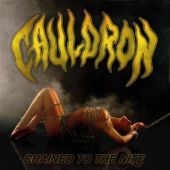 It was bound to happen sooner or later. Someone finally slapped a label on the recent revival of adjective-free heavy metal that has been gaining momentum worldwide. Bands that worship at the altars of Judas Priest and Iron Maiden are now being classified as the New Wave of Traditional Heavy Metal (NWOTHM). Even the acronym is old school metal! The trend tag wasn't unexpected, but it is somewhat odd that Canadian band Cauldron, a relative newcomer to the scene, seems to have emerged as the standard bearers of the genre. You'd think it would be Wolf, who has been blazing the trail for nearly a decade, Icarus Witch, or what seems like half the population of Raleigh, N.C., (Twisted Tower Dire, Widow, et al).
Cauldron, which emerged from the ashes of thrash band Goat Horn, may not be the first band to eschew sub-genre trappings and opt for a straight-up heavy metal sound, but there's no denying the fact that they do it well. Chained to the Night is the band's first full-length album (coming after the Into the Cauldron EP), and it's an absolutely fierce slab of uncompromising old-school metal. It's a cross between the classic NWOBHM and early Metal Massacre sounds, only with a modern edge and energy. Chained to the Night is all metal guitar hooks, fist-pumping choruses and songs about chains, witches, the night, chains around witches, chains in the night, and possibly witches being chained in or around the night. Songs like "Conjure the Mass," "Midnite Hour" and "Bound to the Stake" are exactly what you need to shake off the endless sub-categorization (progressive/power metal, melodic Swedish death metal, etc.) and get back to the pure, unadulterated heavy metal sound that we all fell in love with in the first place.
If you've been enjoying the traditional metal revival that has been going on in recent years (and really, why wouldn't you?), you'll definitely want to check out Canada's contribution to the NWOTHM. Sew a Cauldron patch on the back of your denim jacket, strap on your spiked wristbands, and crank this one up. Cauldron is bringing back old-school heavy metal with a vengeance.
Note – Initial CD pressings of Chained to the Nite feature a pair of bonus tracks ("The Striker Strikes" and "Restless"). These tracks were not included on the version of Chained to the Nite provided to Hardrock Haven, so they have not been reviewed.
Lineup:
Jason Decay – Bass, Vocals
Chris Rites – Drums
Ian Kilpatrick – Guitar
Online: www.myspace.com/cauldronmetal
Track Listing:
1. Young and Hungry
2. Conjure the Mass
3. Chained Up in Chains
4. The Leaven/Fermenting Enchantress
5. Dreams Die Young
6. Bound To the Stake
7. Witch Trial
8. Midnite Hour
9. Chains Around Heaven
HRH Rating: 7.5/10