Israeli / American outfit Subterranean Masquerade featuring Paul Kahr of Novembers doom on vocals has confirmed "HOME" as the title for their new EP to be released in March. This new EP coming up 8 years after the band acclaimed album "Suspended Animation Dreams". Tomer Pink the band's song writer & mastermind saying " We got so excited while writing this long due follow up that we decided to release a 2 tracks EP as a teaser for the album, this gonna blow people mind!!!" Read more
Los Angeles rock outfit BLACK BELT KARATE will be issuing their debut EP Volume I, in late March via Organic Audio/BFM Digital. The EP was produced, recorded and mixed by Jason Achilles Mezilis at Organic Audio Recorders in Los Angeles, CA and mastered by Mike Houge. Read more
by Nikiforos Skoumas
Staff Writer –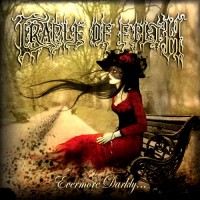 In the international music industry of today, releasing a standard CD is all that is expected. Single or EP releases seem a thing of the past for metal in particular, but really it has more to do with the band in question. A lesson learned through the case of Cradle of Filth's latest release is that an EP still has a place in the contemporary market as a superlative audio-visual complement to an album as opposed to a two-song selection.
Following the release of their latest album Sparkly Darkly Venus Aversea and the subsequent world tour, is this EP entitled Evermore Darkly. Well, this EP comes in a thick book-like digi-pack featuring an 8-track CD and a DVD featuring a rockumentary, a promo video, and a live performance.
The CD features two new songs, plus extended or elder version of five songs originally found on the Sparkly Darkly Venus Aversea album. A rich CD though a tad predictable; shock rock themes, thick guitar riffs, theatrical vocals and the ever-present double-bass attack that defined Filth's latest studio album, all recreated here.
The rockumentary takes you through the process and events of their latest European tour, including interviews with all band members and Danny Filth in particular along with stage-footage. Note that the film is far from the handicam-put-on-DVD video; it is professionally shot and produced by filming crew and director Ross Bolidai, therefore it should provide a satisfying journey through Filth's latest endeavors.
Also you have got to love Danny's sarcastic commentary on the booklet, in his own words he describes this release as "…a total rip off, there's no mistake to be had about that". Provided you reach a copy of Evermore Darkly at a reasonable price, this is definitely not a rip-off; it is a complete as it gets package for every fan of Cradle of Filth. Now the only trouble is, with an EP as complete as this, who needs studio albums?
Genre: Blackened Speed Metal, Horror Metal
Line up:
Dani Filth – Vocals
Paul Allender – Guitars
Dave Pybus – Bass
James McIlroy – Guitars
Marthus – Drums
Caroline Campbell – Keyboards, Vocals
Track List:
1. "Transmission from Hell"
2. "Thank Your Lucky Scars"
3. "Forgive Me Father (I Have Sinned)" (Elder Version)
4. "Lilith Immaculate" (Extended Length)
5. "The Persecution Song" (Elder Version)
6. "Forgive Me Father (I'm in a Trance)"
7. "The Spawn of Love and War" (Elder Version)
8. "Summer Dying Fast" ("Midnight in the Labyrinth" breadcrumb trail)
Label: Peaceville, Nuclear Blast
Hardrock Haven raring: 8/10
by Jonathan
Guest Staff Writer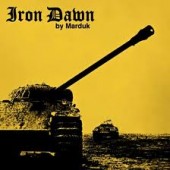 As tanks crawl upon the blood soaked earth, chemical warfare poisons the air we breathe with a yellow filth. The cover of the new Marduk EP called Iron Dawn depicts just that. It reflects current events, and when looking back at human history war has always been part of current events, in fact humans have proven to be incapable of a peaceful coexistence, so war will continue to be prevalent.
The jury is still out on whether or not Iron Dawn is a concept EP, the lyrics unfortunately, were not included with what was submitted. When combining the cover with the sound effects of battle throughout, the theme of Iron Dawn becomes quite clear. This three song EP is a great segue between Wormwood and Marduk's next full length release.
The CD opens with the sounds of air raid sirens. "Warschau 2- Headhunter Halfmoon" and "Wacht Am Rhein Drumbeats Of Death," the first two songs, are both a blast beat onslaught. These songs will pin you against the wall and possibly send you through it if played at loud volumes.
The third and final song is a bit different. The tempo slows down to be an ultra heavy conclusion to Iron Dawn. "Prochorovka – Blood And Sunflowers" adds a dynamic that truly works well.
Dive bombing aircraft, bombs dropping, machine guns and explosions are heard throughout the songs to enhance the theme of Iron Dawn. Some criticism has been displayed in other reviews regarding what they called a bland cover and cheesy sound effects. That is an opinion as we are all entitled to, however, it's also an opinion of those that lack an imagination. One can only speculate as to what Marduk wants us to perceive regarding Iron Dawn. Could this be Marduk's black metal salute to the film, Pink Floyd's The Wall?
Iron Dawn is upper quality musicianship, imaginative, and a lot of fun. The haters will continue to hate and Marduk will continue to deliver Black Metal that defies the norm.
Band:
Daniel "Mortuus" Rostén – vocals
Morgan "Evil" Steinmeyer Håkansson – guitar
Magnus "Devo" Andersson – bass
lars Broddesson – drums
Tracks:
1. Warschau 2 – Headhunter Halfmoon
2. Wacht Am Rhein Drumbeats Of Death
3. Prochorovka – Blood And Sunflowers
Hardrock Haven rating: 10/10