by Joe Mis
Staff Writer
Faithsedge has just completed their self-titled debut album on Scarlet Records – available as of April 19, 2011. This California-based quartet consists of vocalist Giancarlo Floridia, well-respected bass player and producer Fabrizio Grossi, veteran guitarist Alex De Rosso and experienced drummer Tony Morra.
Vocalist Giancarlo Floridia has graciously volunteered to answer a few questions for Hardrock Haven.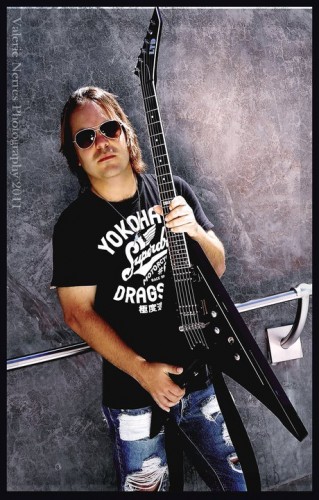 Hardrock Haven: Thanks for taking the time to visit with Hardrock Haven. Congratulations on the great debut – solid album all around, and getting good reviews from almost everyone.
HRH: Please tell our readers a little more about Faithsedge. As the driving force behind the band, how did you get started?
Giancarlo Floridia: I moved away from California – I just needed to get out of here for a while. I moved to the middle of some town in Ohio that was very small. During that period I ended up becoming a huge fan of Fabrizio Grossi's production and bass playing skills. So once I cleared my head I came back with the goal to get back into the music biz and try to get him to work with me. I just knew he was the person I wanted to work with. So I got a hold of him online and showed him some songs I had done that Juan Croucier (ex-Ratt) produced for me and that was enough for him to know I was serious about this. So we met up is Los Angeles and we came up with a game plan on what it would take to make this happen – the result is Faithsedge.
HRH: Faithsedge has an almost "all-star" lineup. How did the four of you get together – and work together – while being so geographically dispersed?
Giancarlo Floridia: Fabrizio worked it all out for me. He really went out of his way to help me with this, and in this biz that's something I had to get used to. It was nice have someone I could really trust and respect that had my back, that's pretty rare (laughs). He got Alex and Tony involved and took care of everything – even though we all live so far away from each other it really worked out. We all get along really well and I have a lot of respect for those guys not only musically but as people, and at this point to me it's family. Considering it was recorded in California, Nashville and Italy and we actually sound like a band boggles my mind. I believe it's because we have good chemistry all together, and Fabrizio is an amazing producer and he's easy to work with .
HRH: You were obviously influenced by the greats of the 70s, 80s and 90s. I know Alex has played with Dokken, Fabrizio with Steve Lukather, Alice Cooper and many others, and Tony with Van Zant and Rebecca St. James, but who would you say are the greatest musical influences to you personally, and to the band as a whole?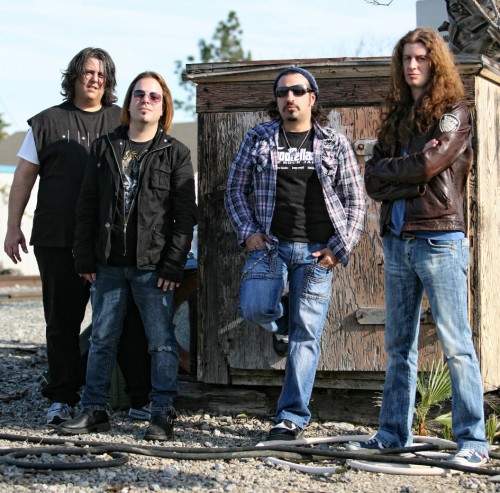 Giancarlo Floridia: Yes, a lot of different eras of music – I even go back to Motown as vocalist when they had tons of harmonies. It's nice to see people and reviewers hearing and noticing a lot of the styles mixed instead of saying we just sound like one other band. I am not sure of all of the influences of all the other guys fully but as a singer I am into Paul Stanley, Michael Sweet, Joe Lynn Turner, Richard Marx, The Temptations, Halford, Geoff Tate, Toshi from X Japan, Tony Harnell, etc. As a guitar player I am into Megadeth, Anthrax, Queensryche, progressive and arena rock, etc.
HRH: Tell us a bit about your song writing process. What do you use for inspiration and how do you get all that good sound onto your recordings?
Giancarlo Floridia: Guitar is way easier for me 'cause that is just an idea for something I already like, and just showing what I am into. Lyrics, vocals, and hooks are a whole other ball game. That's where it gets hard 'cause you have to express yourself as a person and also keep it memorable for others to be able to sing along with. I just come up with a song concept or sometimes even a title and work my way up from there. All I do is write about stuff going on in my life or stuff I've been through, then the overall vocal sound and hooks just come into my head and hit me like a brick. So I am excited for those moments when they happen cause it always gives me something to look forward to . I just wait (laughs)!!!!
HRH: It seems that the element of "faith" plays a role not only in the band's name, but also in the lyrics and themes of your songs. Tell us a bit about that.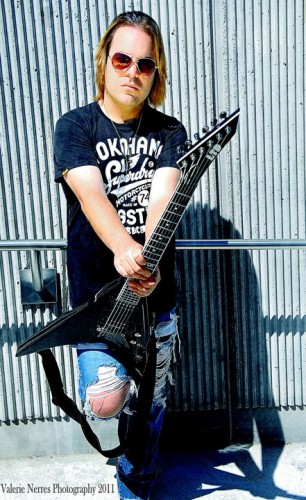 Giancarlo Floridia: Faith-Anne is my daughter's name and the band was named after her. Also I wanted to have a positive yet realistic feel to the lyrics, like being honest about when it feels dark – then I write about it. I wanted to show people that when you might be going through a tough time in life to have some sort of faith or hope and things always work out. It's a positive record and I thought it was important to have my lyrics with a lot of heart and motivation. I will be getting along further in my life story on the next record (laughs). Maybe even do a full concept record one day…
HRH: What is your favorite track on the album, and your inspiration for it?
Giancarlo Floridia: The biggest problem with the CD for me has been just that. I recommend people listen to the CD the whole way through because I worked hard on every song, so I don't have a favorite. I am leaving that up to others (to find) what their favorite song is 'cause I still can't figure that out (laughs). I do have one that I felt I could have done a little better but I won't tell you what one (laughs again).
HRH: So what's next for Faithsedge? Any touring plans, festivals?
Giancarlo Floridia: Volume 2 is the next goal in mind. Fabrizio and I are already at work on the songs. I have some really good ones that I am wrapping up . As far as shows go, that's up to how well it does and if there is a good offer for us to do something – so we will see.
HRH: And finally, is there anything else you like to share with our readers?
Giancarlo Floridia: Thanks for reading and I hope you like the album – and thanks for the interview!
HRH: Thanks for taking the time to visit with Hardrock Haven. Good luck and much success!
For more on Faithsedge, visit http://faithsedgemusic.com/.
For HRH's take on the album, visit: http://hardrockhaven.net/online/2011/faithsedge-faithsedge/
by Joe Mis
Staff Writer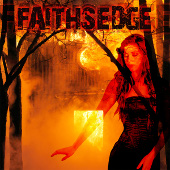 Despite being a bit deficient in punctuation, the self-titled debut release by the band Faithsedge is well ahead of the curve in every other respect. 2011 has proven to be a strong year in terms of debut releases, and California's Faithsedge continues this much-welcomed trend by delivering a strong and melodic 11-track album that will please just about every fan of melodic or progressive metal.
Even though this is a debut CD, the members of Faithsedge are not newcomers to the music scene. Lead vocalist Giancarlo Floridia may be the least recognizable member of the band, but he is the founder of the group and primary songwriter. His voice is simple and clear, with a decent range and an awesome high falsetto. Unlike many newcomers, Floridia does not use the falsetto as a crutch or gimmick – it is just another tool in his vocal arsenal and is used sparingly but effectively. Well-respected producer and bass player Fabrizio Grossi (Steve Lukather, Alice Cooper, Starbreaker) contributed not only his production talents, but also his powerful bass skills. Veteran guitarist Alex De Rosso (Dokken) provides lead and rhythm licks, and proves he's one of the best in the business. Drummer Tony Morra (Van Zant, Rebecca St. James) is no slouch either. His fine drum work complements the music perfectly, whether big and booming or calm and intricate. The album was even mastered by a true metal stalwart – Tom Baker, who has worked with Judas Priest and Motley Crue.
Sweeping progressive riffs open "Another Chance". The lead track easily sets the tone for the rest of the album – big hooks, upbeat lyrics, rapid fire drums , intricate bass, crisp vocals and bubbling with energy. Intense guitars and a great sing along chorus power "There's Still Hope" – influences of Dokken and Ratt abound. A cool bass groove, big guitars and great vocals make "Let It End This Way" one of the bast tracks on the album. The band ramps up the power again on "World Keeps Falling Down" – another great sing-along chorus, a bouncy bass line, and a bit of double bass push this one along. "Even If" features some of the best rhythm work and slickest groove on the album – the coordination between Grossi's bass, Morra's drums and de Rosso's guitar is clockwork-precise. Faithsedge tips a hat to the 80s with the great and emotional power ballad "Hold On" – a vocal showpiece for Giancarlo Floridia.
"Take You Away" has a great high energy rock groove, again with a bit of a late-80s, early-90s feel to it, and de Rosso's best guitar work. An intense prog-metal riff opens "Somewhere In Your Heart," while some great bass and strong vocals push it over the top. A great Ratt-influenced riff drives the upbeat and kicky "That's What Happened To Us," while "Faith-Anne" is rich with a thick and smoky blues-rock groove. The CD wraps with the very up tempo "When It Rains" – perhaps the leading contender for Faithsedge's arena rocker tune.
Overall Faithsedge is solid album and a good debut for the band – one they can be proud of. Strong melodies, interesting and timely lyrics and fine performances all contribute to making this release a success. The mix and engineering is well done with a small studio sound that adds warmth to an already warm tone. Lyrically positive, faith is the keystone of most of the songs – whether faith in one's self, faith in another, faith in mankind, or faith in something/someone beyond.
No matter what style they play, the band never loses site of the melody. Faithsedge is an interesting and polished blend of metals – a bit heavy and a bit progressive, with a touch of old school rock – and should appeal to just about every melodic rock fan. Highly recommended!
Faithsedge will be released by Scarlet Records on 19-April-2011.
Genre: Melodic Metal
Band:
Giancarlo Floridia – vocals
Fabrizio Grossi – bass
Alex De Rosso – guitars
Tony Morra – drums
Track Listing:
1. Another Chance
2. There's Still Hope
3. Let It End This Way
4. World Keeps Falling Down
5. Even If
6. Hold On
7. Take You Away
8. Somewhere In Your Heart
9. That's What Happened To Us
10. Faith-Anne
11. When It Rains
Label: Scarlet Records
Website: http://faithsedgemusic.com/ ,
http://www.scarletrecords.it/bands/Faithsedge/band.htm
Hardrock Haven rating: 8.5/10