by Mark Allen
Staff Writer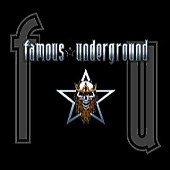 While Nick Walsh never achieved the same level of fame as Jani Lane or Axl Rose or any of his other better-known contemporaries, he did gain a certain amount of notoriety during hair metal's halcyon days as the attitude-drenched frontman for Slik Toxic. In 2004 Walsh whipped up a new band called Revolver, eschewing the mousse-abuse music of his past in favor of something darker and heavier. This dark, heavy direction continues with Famous Underground, the latest chapter in Walsh's rock 'n' roll saga. It sounds pretty good, but the heaviness-at-the-expense-of-melody approach is not going to please all palates.
Famous Underground is all about thick, down-tuned guitars churning out head-banging riffs, with any hooks relegated to afterthought status at best. The odds of this album garnering mainstream radio play are about as slim as Donald Trump declaring bankruptcy. That's not a criticism, mind you, merely an observation designed to hammer home the fact that Famous Underground lacks overt commercial appeal. Whether or not that is a pro or a con depends entirely on your personal metal fetishes. The album is good and should have no trouble finding a limited audience, but it's not going to set the charts ablaze. Of course, chart conflagration may not be the point…
The album opens with "Wasteland" and the walloping guitars waste no time in establishing the band's sound. The production emphasizes the heavy nature of the material by focusing on the bottom end and allowing the powerful riffs to dominate the sonic landscape. By engaging in a bit of cull-and-mix magic, Famous Underground has concocted a hard rock recipe that consists of the beefy heaviness of Metallica, the vicious grooves of Pantera, the clenched-fist attitude of Skid Row, and the rumbling edginess of Alice in Chains. Perhaps not the heavy metal equivalent of a culinary masterpiece, but head-bangers who cook it up on their stereos won't feel famished when it's finished.
Famous Underground prove they possess at least a few hooks in their repertoire with "Dead Weight." Slightly nu-metal in delivery, it is still one of the standout tracks thanks to slamming guitars that chug along with all the fury of a runaway locomotive and a staccato chorus with gang vocals shouting "Boom! Take out the trash!" OK, not exactly lyrical genius there, but it's fun and catchy in a hard-stomping way.
Those looking for something similar to Slik Toxic will find it in "Forever and a Day," a melodic power ballad that in a just world would be the soundtrack to a thousand weddings next summer with its wave-your-lighter quality and romantic, love-is-wonderful lyrics. Walsh pours enough emotion into his vocals to warm the cockles of any heart and perhaps put a tingle in other anatomical areas. That said, as good as the ballad it is—and it's very good—it stands out like the Pope in a porn shop amidst the angry aggression asserting its sway over the rest of the album.
And so it goes, the band blazing back and forth between merciless songs like "Bullet Train" and "Wheel of Misfortune" and slightly more melodic tracks like "Mommie is a Junkie" which sounds like a Puddle of Mudd-meets-Guns N' Roses mash-up before bringing down the curtain with "Hell to Pay," which contains the best riff and chorus of them all, letting the band go out with a blistering bang.
What Famous Underground has unleashed will be appreciated by fans of the heavier end of the hard rock spectrum, as long as those fans don't demand red-hot hooks. As solid as they are, the band still runs the risk of falling through the crack that separates the hard-/scream-/metal-/apple-/core style of All That Remains or Killswitch Engage from the commercial slickness of Hinder or Shinedown. In other words, this may not be quite heavy enough for the Hot Topic crowd, but it may be too heavy (and hook-sparse) for the mainstream modern rock masses. The band is good enough to generate a loyal following amongst the underground hard music crowd, but their approach to the genre probably isn't going to make them famous.
Genre: Hard Rock / Metal
Band:
Nick Walsh (lead vocals/guitar)
Laurie-Anne Green (bass/background vocals)
Rick Corvese (guitar)
Darren Michael Boyd (guitar)
Desche Sparboom (drums)
Track Listing:
1. Wasteland
2. Overdrive
3. Deadweight
4. Love Stands Still
5. Forever and a Day
6. Bullet Train
7. Mommie is a Junkie
8. Wheel of Misfortune
9. On Broken Wings
10. Necropolis
11. Hell to Pay
Webpage: www.famousunderground.tv
Label: Babylon Music Group
Hardrock Haven rating: 7/10