by Franco Cerchiari
Staff Writer –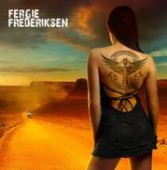 Dennis "Fergie" Frederiksen, having recently won the battle against a rare form of liver cancer, comes back with his newest contribution, Happiness is the Road. One can assume after having defeated such a battle, happiness would indeed be the road, and all the freedoms that come from being able to travel down a road – any road. So the title of his latest project is quite fitting.
Happiness is the Road, with an impressive list of musicians —  including Dennis Ward, Eric Ragno Dirk Bruinenberg and Nathan Eshman — is a collection of radio friendly, melodic AOR that showcases the amazing voice Frederiksen does possess. Much like the legendary Steve Perry, the tenor that is Frederiksen is a perfect match for AOR as it enables him to lift the feel of the track and his voice floats above the melodies. A telltale difference between this and his extraordinary 2007 release with guitarist Tommy Denander, Baptism of Fire, is that this CD comes across as more subdued and almost thoughtful, while Baptism of Fire was truly energetic and vigorous.
Happiness is the Road shows a different side of this talented vocalist/songwriter where he lays out to the listening public some of his personal trials which he has had to endure over his life. The music meshes well, and as always, with such as producer as is Dennis Ward the sound is nothing short of pristine and smooth. Insightful yes, and overall more dramatic than lively, but after hearing about the recent tribulations having been placed before Frederiksen, perhaps this is to be expected.
Opening with "Angel, (Mirror to Your Soul," this piano heavy track talks about love, and a woman's longing take control. Other great tracks include the rocking "First to Cry," the reflective title track, with its lyrics speaking of "….chasing a dream." "Lyin' Eyes," with its similarity to Toto or Survivor was excellent, as was "Handwriting on the Wall," and the keyboard talents of Eric Ragno more than come across on "The Savior," and the almost power guitar chords shine on "The One."
Coming at the almost end of the CD is the true highlight and "The Future Ain't What It Used To Be." The lyrics are heartfelt and touching, the vocals almost majestic, the chorus soars, the guitar solo uplifts and the power and passion of this track was tangible.
For taking on the challenge of beating such a rare disease, Fergie Frederiksen is truly an inspiration too many, for creating a standout collection of music over the years, Frederiksen is to be thanked and for offering this, an inward look of his life, Frederiksen has done himself proud.
Genre: Melodic Rock/AOR
Track Listing
Angel (Mirror to Your Soul)
Elaine
First To Cry
Follow Your Heart]
Happiness is the Road
I Still Believe
Lyin' Eyes
Love Waits For No One
Writing on the Wall
Happiness is the Road
The One
The Savior
Musicians
Fergie Frederiksen – vocals
Dennis Ward – bass, keyboards, backing vocals
Eric Ragno – keyboards
Nathan Eshman – guitars
Dirk Bruinenberg – drums
Label: Frontiers Records
Hardrock Haven rating: 7.5/10