by Mark Allen
Staff Writer –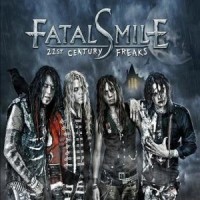 When none other than Blackie Lawless calls a band "kick ass" but then follows it up by calling them crazy, you can guarantee you're not listening to music that has the Southern Baptist Convention seal of approval. Fatal Smile does indeed kick ass on this album—they say so right in the first song: "We ain't got no limits / We're gonna kick some ass"—and any fan of heavy-edged sleaze metal would have to be crazier than a peyote-popping chimpanzee to ignore them.
While you can lump Fatal Smile in with the current Swedish Sleaze Metal Movement exemplified by the likes of Crazy Lixx, Crashdiet, Baby Jane, etc., they bring a little more beef and balls to the game and a little less polish and melody. That does not mean Fatal Smile are raw or grungy, just a little less slick than their genre brethren. While those aforementioned bands use '80s hair-metal as their foundation, Fatal Smile take their inspiration from the heavier '80s metal; in other words, they are more Leatherwolf or WASP than Poison or Trixter.
21st Century Freaks sports some serious metal crunch, bursting out of the gate with the kind of primal intensity that causes cute little kittens to spontaneously explode and sends AOR fans running for the hills. Fatal Smile likes it hard and heavy and they bring that hardness like a horny teenager after chugging a bottle of Viagra. Sure, there is melody here and the band reins in the hard rock smack-down for a ballad or two, but even during these subdued moments, Fatal Smile manage to imbue their songs with a metallic edge. Their balladry owes more to Skid Row than Bon Jovi; this ain't pretty boy stuff.
Attitude is what fuels Fatal Smile's music, not to mention their writing, concerts, and, judging from eyewitness reports, their life. The sleaze-soaked songs rip and tear along on the strength of loud guitars, pounding drums, power-hooks galore, and shout-it-out choruses. And gang vocals. Tons of 'em. Seriously, if you get off on gang vocals, you're going to need at least two boxes of Kleenex every time you listen to this album.
The band's closest comparison would be Lordi, albeit it with better vocals. Blade's singing may be aggressively raspy but it is far cleaner than the gravel-guzzling approach Lordi uses. Aside from the lead vocals, their music is strikingly similar: heavy guitars cranking out hooky hard rock, catchy chorus anthems, and lots of big backing vox. There is also a lyrical difference; Lordi employs a monster/horror gimmick while Fatal Smile sticks to standard sleaze metal tropes, and is the better band for it.
While the song quality is consistently high—there are no true fillers—there are certain tracks that rise above, starting with "Raise Some Hell in Heaven" which is one of the best heavy hard rock songs of 2012 thanks to its bone-bruising rhythm, headbanging groove, and powerful chorus. "Nailed to the Wall" is a hot-blooded hard rock anthem that could have come straight out of '88 with its Keel-meets-Accept vibe. "Scarecrow" opens with gang chants of "Hey! Hey! Hey!" before oozing into somber melodic lines that gradually escalate into heaviness until the chorus erupts like a keg of gunpowder soaked in gasoline and dropped in a bonfire. Really, every track is a winner, with any quality variances shifting between "good" and "great" rather than "good" and "bad."
You have to wonder what's in the water over there in Sweden. Surely someday this whole Swedish Sleaze Metal Revolution will give serve up a bad album that makes fans and critics snort in derision and mutter, "What the hell were they thinking?" But today is not that day and 21st Century Freaks is not that album.
Genre: Hard Rock, Sleaze Metal
Band:
Mr. Y (guitars)
Blade (vocals)
Alx (bass)
Philly (drums)
Track Listing:
1. Welcome to the Freakshow
2. Nailed to the Wall
3. Raising Hell in Heaven
4. Judgement Day
5. Broken Heart
6. My Private Hell
7. Scarecrow
8. Innocent
9. Break These Chains
10. Take It To the Limit
11. For the Last in Line
Label: FS Records/GMR Music Group
Webpage: www.fatalsmile.com
Hardrock Haven rating: 9/10
by Ron and Don Higgins
Staff Writer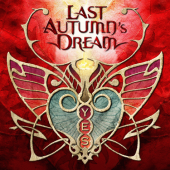 Yes is the latest studio album from the Swedish/German hard rock band Last Autumn's Dream. This band has been described as rock, hard rock, melodic rock and AOR. If this is your first exposure to this great band then you'll discover that they are in fact, all of the above.
Last Autumn's Dream released their self-titled debut in 2004. The band was formed by successful solo singer Mikael Erlandsson and successful hard rock guitarist Andy Malecek from the band Fair Warning. It also consisted of three members of the successful Swedish rock band Europe. After Europe reformed, these three members left and the band continued by adding drummer Jamie Borger, bassist Marcel Jacob and keyboardist Thomas Lassar and they recorded a second album. Lassar left after this album and Last Autumn's Dream became a quartet. The four remaining musicians recorded four more great albums. Unfortunately due to Marcel's death in 2009, the band needed a new bass player. They added the talented Nalley Pahlsson who recorded their seventh album, Touch of Heaven as well as this new album.
So can a band that's gone through several band members and released eight albums in about as many years still put out good material? The answer is YES! This album is classic Last Autumn's Dream. It contains catchy choruses, good songwriting, excellent musicianship and is well produced. The album is diverse in that it has a little of everything for the fan. Some songs are radio-friendly AOR much like the first few albums and some are harder rocking like their subsequent releases and there are a few ballads too.
The album starts off strong right out of the gate with a great hard rocking song called "I've Fallen Into You". It has a little of everything: passionate vocals by Mikael, a nice chorus with good backing vocals, solid guitar work and present, but not overpowering, keyboards. It's great melodic rock and one of the standout tracks. It's a good lead into the next song, "The Sound of a Heartbreak" which has a cool piano intro but morphs into an up-tempo rocker. It has a lot of the same qualities as the first track but with more dominant drums and has an early Bon Jovi vibe.
They switch things up on track three, "Another Night" which is a mid-tempo ballad and another one of the best tracks on the album. It's just a great song and you can really hear Nalley's contributions on the bass on this one. They pulled the next one out of the stratosphere and did a cover of an old Michael Bolton rock song titled "Fools Game". This was a top 100 hit for Bolton in the early '80s before he became a soft-rock superstar. This new version doesn't differ significantly from the original but does sound fresher, and although Bolton is undeniably a talented singer, Mikael's vocal style seems to work better on this enjoyable pop song. Next is a full-on ballad called "If I Could Change the World" and it's another amazing track. The whole band shines on this one. Lyrically, it's more of a love song, well a lost love song, as opposed to a song about changing the world itself. The main character is changed and if he could change the world, he'd make the girl love him too. The lost love theme recurs throughout the album. They get back to rocking on "To Be With You" which is what great melodic rock should be. It's another standout track and Jamie Bolger's drumming is excellent.
Track seven, "Michelle Don't Live Here No More" starts off the second half of the album with a nice mid-tempo ballad about lost love again. This is a great AOR song featuring fantastic vocals. "In This Thing Too Deep" is a melodic rocker that's somewhat reminiscent of the best work by Danger Danger and features a cool guitar solo by Andy.
The next song, "Still Standin' Where Ya Left Me" is one of the more interesting tracks. The chorus isn't quite as catchy as some of the other songs but the guitars and drums really stand out. The guitar parts range from sounding like Steve Howe, to Hendrix, to flat out metal — all in one song! And the drums are somewhat jazzy at times. Very cool! Next is "Kissin' Goodbye My Tears" which is another up-tempo song featuring some '80s sounding keyboards and a chorus you can't help singing along with. All in all a very upbeat, fun song. The 11th song, "Survivor" is a bit heavier and has a different style than the rest of the album. The chorus is more moody than catchy but the song features some passionate lead vocals and great guitar work. The final song, "Alive" also sounds different from the rest of the album but that's not a bad thing. It is a sad, moody ballad and the slowest song on the album. The guitars shine as Mikael sings again about a lost love and confesses that she's the one who's got him feeling so alive. It's a nice closer to another fine album by this band.
In summary, this is a very satisfying melodic rock album by one of the top groups in the genre. This album ranks up there as one of their best. Will Last Autumn Dream fans like this album? Yes! Will fans of melodic hard rock like this album? Yes! Should you go buy this album? YES!
Band:
Mikael Erlandsson – Lead vocals
Andy Malecek – Guitars
Jamie Borger – Drums
Nalley Pahlsson – Bass
Track Listing:
01) I've Fallen Into You
02) The Sound of a Heartbreak
03) Another Night
04) Fool's Game
05) If I Could Change the World
06) To Be With You
07) Michelle Don't Live Here No More
08) In This Thing Too Deep
09) Still Standin' Where Ya Left Me
10) Kissin' Goodbye the Tears
11) Survivor
12) Alive
Website:
www.myspace.com/lastautumnsdream
Label: GMR Music group
Hard Rock Haven Rating: 9.1 / 10