by Jenn Carbaugh
- Columnist –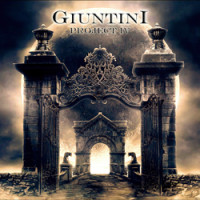 Aldo Guitini is a guitarist that tends to take his time when he is crafting new music. It has been over six years since part three of his Giuntini Project was released. With the assistance of Tony Martin, ex-Black Sabbath vocalist, the album doesn't seem to fall flat. The musical talent that Guitini has on guitar really leads the album. Those skills are paired quite nicely with the vocal range of Martin. The overall sound of this album undoubtedly brings Black Sabbath to mind. If finding a new sound was Guitini's goal, he slightly missed his mark. The fourth part sounds like nothing overly innovative, but it does have its high parts.
The most interesting tracks that truly capture Guitini's guitar capabilities are the instrumentals on the album. "The Rise and Fall of Barry Lyndon" and "Last Station Nightmare" are the instrumentals that express Guitini's riff mastering and composition skills. There is a relative Dio sound that can be heard throughout the album as well. Some of Guitini's influences like Edward Van Halen can be heard. There are similarities with the classic Led Zepplin sound that can be found in songs like "Shadow of the Stone."
Multiple band comparisons can be made because with the blend of Guitini's guitar abilities and Martin's voice, the '80s are easily heard in this album. It is nothing original, but there is obvious talent. The '80s will continue to live on.
Songs like "Saint or Sinner" are catchy with a chorus that will stick with you for the entire day. Then, there are songs like "Born in the Underworld" and "How the Story Ends" that have an upbeat tempo that make your head bob without even noticing it. The album is not amazing in terms of the latest, fresh music, but it is recommended for those fans who enjoy a guitar player with fast fingers and a high belting vocalist.
Genre: Hard Rock
Band:
Aldo Giuntini – guitar
Tony Martin – vocals
Ezio Secomandi – drums
Dario Patti – Keyboard
Fulvio Gaslini – bass
Track Listing:
01. Perfect Sorrow
02. Born in the Underworld
03. Shadow of the Stone
04. Cured
05. I Don't Believe in Fortune
06. If the Dream Comes True
07. The Rise and Fall of Barry Lyndon
08. Bring on the Night
09. Not The Jealous Kind
10. Saint or Sinner
11. Last Station Nightmare
12. How the Story Ends
13. The Truth Never Lies
Label: Escape Music
Website: www.AldoGiuntini.com
Hardrock Haven rating: 6/10
by Alissa Ordabai
- Senior Columnist –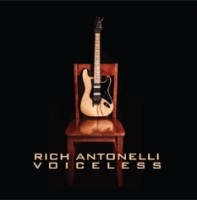 $kyhigh guitarist and lead guitarist of the Bon Jovi tribute band Bon Jersey drives home a simple point on his debut release. Fame and hype – he reminds us – don't guarantee substance or quality. Bigger names on bigger budgets have been releasing ambitious instrumental albums this year, but Antonelli's debut is one of the rare few that connect with you immediately, bypassing tall talk and pretensions.
This warm, flowing record comes straight from the heart, restoring the faith in the brand of glam metal that over the years has been so badly compromised by the industry's profit-chasing and egomania. But you won't hear any self-obsessed craving for renown and fortune on these tracks. Having no big label or an expectant fan base to be accountable to, Antonelli chooses the most straightforward route to reach his audience – by being himself.
Standout "Mechanical Presence" sums up Antonelli's simple, but organic way of blending traditional hard rock and glam metal. Swaggering strut of the opening theme gives fires up the transparently sharp melody which gradually uplifts and transports you. And despite Antonelli's commendable chops, it's the melodies that grab you. Direct feeling and a sense of mystery channelled straight from the heart instantly make Antonelli stand out from legions of chops-men and self-proclaimed futurists. And while the album's DIY production does make some tracks sound more like sketches than fully developed pieces, once Antonelli latches onto a melody, he's got you hooked – line and sinker – such is his gift for lucidly poetic writing.
The final surprise comes in when the album is almost over and you realize you forgot to draw any parallels between Antonelli and his exemplars Bon Jovi. The closing track "Peace", while nodding to Sambora, rings with the kind of hopefulness we haven't heard from Bon Jovi for a long time. And this is where you remember again that it isn't celebrity and publicity that feed the soul. Instrumental guitar music written and played underneath the radar of corporate rock remains the gold mine of beautiful, meaningful music. Simply because undiscovered players – while working on small budgets – can afford the ultimate luxury of being themselves.
Genre: Hard Rock, Glam Metal, Instrumental Rock Guitar
Track listing:
1. The Beginning
2. Mechanical Presence
3. Brie's Song
4. Hannah's Song
5. Peaceful Sorrow
6. Giddy Up!
7. Saturday Night Serenade
8. Rattlesnake Stew
9. Groovy Tuesday
10. Afraid
11. Peace
Online: www.richardantonelli.com
Hardrock Haven rating: 7.5/10
by Mark Allen
- Senior Columnist –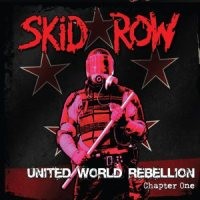 There are plenty of people out there who think Skid Row should have come to a screeching halt when Sebastian Bach stopped doing the rattlesnake shake and left the band. And based on the subpar caliber of Thickskin and Revolutions Per Minute (both enjoyable enough in their own right but hardly classics), those people could make a strong case. But instead of hanging up their big guns and fading into the oblivion of '80s nostalgia, the band has soldiered on with Johnny Solinger at the vocal helm.
While legions of fans have turned away because they can't stand the heartache of watching this once-great band reduced to a shadow of its former self, other fans have kept the faith despite Skid Row's reinvention. But despite their loyalty—or perhaps because of it—those steadfast believers are holding onto the hope that the band will one day return to form. The loss of Sebastian is not insurmountable—Solinger may not be Bach caliber, but he's not exactly makin' a mess of things either—but the songwriting needs sharpening.
United World Rebellion–Chapter One is the first in a series of planned EPs. After tolerating the band's prior experiments with modern rock and punk-metal, fans are eager to see if Skid Row has finally returned to their heavy roots, if they can still tear it up like a midnight tornado. And when the first song, "Kings of Demolition," comes slamming out of the speakers, those fans will thrust their fists skyward and scream thanks to the gods of metal, for this is by far the best hard rock anthem the band has released since Bach bade the microphone goodbye. It's a big, ballsy, bad-ass head-banger with raging rhythms and smoking choruses and in your face attitude. You'll be praying to Quicksand Jesus that the whole EP is this good.
Unfortunately, the band is unable to capitalize on this early momentum. They blow their load early and while they manage to get it up on a couple other tracks, they're just not as good as that terrific opener. "Let's Go" keeps things rocking and is actually a pretty solid tune, but the next song is dullness personified as Skid Row try to recapture their balladic glory with "This is Killing Me," which is probably what you'll be thinking as the song plays. "Get Up" is also a really good song…for Egypt Central or Pop Evil. In other words, it's a modern hard rock track with lots of low end muscle, a head-stomper of a chorus, and tough guy gang vocals. A cool track for sure…but it ain't Skid Row. The EP closes with "Stitches," which is so utterly forgettable that it will require an iron will not to read the band the riot act.
Once upon a time, the youth gone wild would have cut their wrists and waded through shark-infested waters if that's what it took to get the latest Skid Row album. But the youth gone wild are now the middle-agers gone bald and the Skid Row glory days are long gone. Granted, this latest effort has one great song and two good ones, so it's not all just wasted time, but with the exception of "Kings of Demolition," there is nothing here that compares to their pinnacle. Hopefully the band can put all this subpar monkey business behind them and the next chapter in the Skid Row saga will be more interesting.
Genre: Hard Rock, Metal
Band:
Johnny Solinger (vocals)
Dave "Snake" Sabo (guitar)
Scotti Hill (guitar)
Rachel Bolan (bass)
Rob Hammersmith (drums)
Track Listing
1. Kings of Demolition
2. Let's Go
3. This is Killing Me
4. Get Up
5. Stitches
Label: Megaforce Records
Webpage: www.skidrow.com
Hardrock Haven rating: 7/10
by Deb Rao
- Senior Columnist –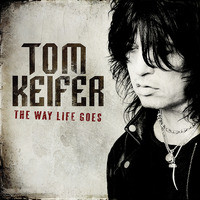 Best known as the front-man for Cinderella, Tom Keifer is gearing up for the release of his first solo album The Way Life Goes on April 30 via Merovee Records. The Way Life Goes is a tapestry of some of the finest blues, country, and rocks songs to emerge this year. Tom Keifer shines as he weaves his magic of heart provoking lyrics and gives his vocal performance of his career.
The Way Life Goes opens up with the hard rocking "Solid Ground." This song has a distinctive Cinderella groove bluesy and hard driving. Tom slows done the pace for a moment on the country ballad "A Different Light." This song has great phrasing. Tom Keifer's love for the blues is surely not denied on this album. "Its Not Enough" has a funky blues rhythm reminiscent of The Stones. This song should be the next single. It showcases Tom's bluesy style brilliantly. He keeps the blues groove flowing with the hard driving "Cold Day In Hell." This song has a definite Mick Jagger swagger following in the Cinderella vein.
Tom has a unique way of making you feel and drawing you into his world with his ballads. "Thick And Thin" is a song that Tom wrote for his wife Savannah. It is a beautiful piano ballad. Keeping in the acoustic vein stand out track "Ask Me Yesterday" will blow you away. Tom takes a look back into his past only to find his future so bright. The acoustic guitar playing of this song is so melodically beautiful. The lyrics so poignant. I think everyone will identify with this song. It would make a great country hit. Country radio are you listening?
Getting back into the blues-rock, Tom showcases his Led Zeppelin roots with "Fools Paradise." The Flower Song" also follows in the Zep vein with slide guitar. "Mood Elevator" will blow you away with its Stone Temple Pilot groove. This song just jumps out at you!
Other standout tracks include "Aint That A Bitch" following in The Stones vein. The title track "The Way Life Goes" sums up the whole album. It defines Tom's love of the blues with a Muddy Waters, B.B. groove. Dark and dirty, this song like sounds like it was written in the blues quarter of New Orleans with all its magic.
One of the greatest aspects of The Way Life Goes is it doesn't just focus on one genre of music. It flows very well. Showcasing blues, country, and rock. Tom takes his sound a step further with intricate guitar phrasing, blistering bluesy vocals, and poignant lyrics that can only be acquire through life's hard lessons learned. Ready to step into the spotlight, as one of the music industries top songwriters Tom Keifer's The Way Life Goes is a journey through time. The good times and the bad times all in one combined. Debuting an album of true passion of emotion from one of the '80s finest. Be sure to call your local radio stations and request "Solid Ground." Check out the exclusive interview with Tom and Track-by-Track right here at Hardrock Haven.
Genre: Hard Rock, Blues
Band: Tom Keifer
l. Solid Ground
2. A Different Light
3. It's Not Enough
4. Cold Day In Hell
5. Thick And Thin
6. Ask Me Yesterday
7. Fools Paradise
8. The Flower Song
9. Mood Elevator
10. Welcome To My Mind
11. You Showed Me
12. Ain't That A Bitch
13. The Way Life Goes
14. Babylon
Label: Merovee Records
Website: www.tomkeifer.com
Hardrock Haven Rating: 9/10
by Derric Miller
- Managing Editor –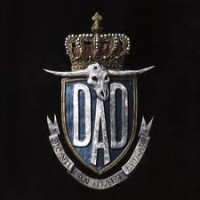 D-A-D has always been ahead of their time. Hell, they wrote the lyrics "A bad breath kiss to my pillow pet" in 1989 and the Internet says Pillow Pets weren't even invented until 2003. See … this band knows what's coming way before the common man. On their 11th studio release D-A-D just keeps proving over and over that they are one of the best Hard Rock bands on the planet and deserve a lot more love than listeners in the U.S. give them.
"A New Age Moving In" kicks things off, with a groovy, old school riff. Jesper Binzer has one of the most unique and identifiable vocal styles around. You know it's D-A-D instantly just hearing his melodically gruff and playful delivery. This is a huge arena anthem, heavy, and with a mellow breakdown before the guitar solo.
"I Want What She's Got" was their first single, and the chorus is about as syrupy (it's a compliment) and addictive as a Weezer hit. If you've seen the video you'll understand that after all these years, the dudes still have an incredible sense of humor and enjoy being D-A-D.
They start playing to their strengths on "Fast On Wheels." When D-A-D composes a mid-tempo rocker, that's their wheelhouse. This song is uplifting, asking you to take a breath and enjoy where you are, to live in the now. "Everybody's fast on wheels, they don't know how good the ground feels. I don't think I want to move … I'm home soon." Writing a memorable hit that is as existential as it is awesome isn't something most bands can concoct. This is their "Boys of Summer."
"Breaking Them Heart by Heart" is another strangely thoughtful track. On the surface, it's catchy song. But the constant references to "it," as in "More sin than evil, and it will again tonight;" "it believes it's the only one hurting;" or "it will be breaking them heart by heart" leads one to believe the story is a dissection of the those famous for being famous, or for being beautiful, or for being rich, etc. It dehumanizes the main character in the story by not assigning gender, meaning the song can be aimed at any soulless person, male or female.
If you want to hear a good horror tale, listen to "The Wild Thing in the Woods." Jesper's fevered vocal delivery veers the song into The Twilight Zone, when he snarls lines like "It's not what I already lost but what I'm going to lose," or "it's an angels wish; me, it's myself I can't fix!" The song tears into the darkness as a guitar solo ends the madness. Fun stuff …
The last three songs are all as high-quality as the earlier tracks. The hook on "Can't Explain What It Means" will have you humming along after one listen; "Drag Me to the Curb" slaps you with its sharp lyrics, like "Like a legend about to retire, take a bath with an electric wire;" and "Your Lips Are Sealed" is as close to a ballad as they get on the release, another thought-provoking, airy composition that gifts you with knowledge like "Lay yourself down on a track of tears; that's how a secret feels."
If you do the smart thing and pick up the deluxe edition, you'll get acoustic versions of five of the new songs and 11 live tracks, including favorites like "Jihad," "Everything Glows" and "Ridin' With Sue."
Is there a flaw? Well, the album is called Dic.Nii.Lan.Daft.Erd.Ark. So … yeah. But D-A-D wields a sense of humor and makes Hard Rock listenable, fun, and enjoyable again. And they make you think. Dic.Nii.Lan.Daft.Erd.Ark is better than Pillow Pets, Stompeez, SeatPets and Jim Beam, combined.
Genre: Hard Rock
Band:
Jesper Binzer—lead vocals, guitars
Jacob Binzer—lead guitar and keys
Stig Pedersen—bass and vocals
Laust Sonne—drums, keys, guitars, bass
Track Listing:
DISC 1
01. A New Age Moving In
02. I Want What She's Got
03. The End
04. Fast on Wheels
05. The Place of the Heart
06. Last Time in Neverland
07. Breaking Them Heart By Heart
08. We All Fall Down
09. Wild Thing in the Woods
10. Can't Explain What It Means
11. Drag Me to the Curb
12. Your Lips Are Sealed
DISC 2
01. I Want What She's Got (Acoustic)
02. The End (Acoustic)
03. A New Age Moving In (Acoustic)
04. Last Time in Neverland (Acoustic)
05. The Place of The Heart (Acoustic)
06. A New Age Moving In (Live)
07. Jihad (Live)
08. The End (Live)
09. Everything Glows (Live)
10. Ridin' With Sue (Live)
11. Monster Philosophy (Live)
12. We All Fall Down (Live)
13. Last Time in Neverland (Live)
14. I Want What She's Got (Live)
15. God's Favorite (Live)
16. The Place of the Heart (Live)
Label: AFM Records
Website: www.d-a-d.dk
Hardrock Haven rating: 8.8/10
by Jenn Carbaugh
- Columnist –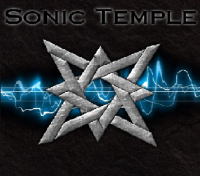 There is some melodic heavy rock coming out of South Wales these days. Sonic Temple has debuted their self-titled, nine track album on Dec. 3, 2012. This talented duo consists of Andrew Richards who is the lead, the rhythm, and bass guitar player. Allan Green performs the vocals for the band. These two have a credible track of performing live and doing studio work as well. Based in Llanelli, South Wales, all the music that comes from Sonic Temple is written by Richards and Green. Their recent self-titled album was recorded at Capricorn 7 Studio and has had some ample airplay from independent stations.
The clean vocals provided by Green make "Seize The Day" come alive in quick build that goes right into the catchy chorus. The fast passed song surpasses the mellow rock atmosphere provided by the rest of the newly dropped album. There is a steady sound throughout all of the tracks. Each song has similar elements, and each one can start to blend with the next, forming a cohesive but commendable sound.
In "Sacrifice," the second song featured on the album, there is a progressive beat that intensifies the beginning riff. When the simple vocals chime in, they don't overpower the driving sound of the instruments. At the same time, the song, along with many of the others, need more vocal presence. That would provide the solidity of the music to reach ultimate listener satisfaction.
The album, in its entirety, does prove to be a strong contender for long car rides with easy listening as a factor. Songs like "Daylight" allow the album to have a wide audience. There is so much ability that this band brings to the musical table. They are working their way up that ladder of talent and are giving a good impression with their self titled album.
Genre: Hard Rock, Heavy Rock
Band:
Andrew Richards – lead, rhythm guitar, bass guitar
Allan Green – vocals
Track Listing:
01. Humankind
02. Sacrifice
03. Daylight
04. 20 Tears
05. Addiction
06. Time to Burn
07. Seize The Day
08. Salvation
09. Die For Me
Website: http://sonictemple.bandcamp.com/
Hardrock Haven rating: 8/10
by John Kindred
- Publisher –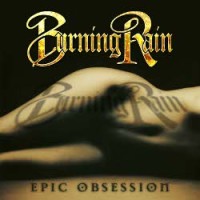 Doug Aldrich's career can be traced all the way back to Lion, the '80s hard rock band. He recorded albums with Hurricane and House of Lords before forming Bad Moon Rising with Lion vocalist Kal Swan. His next project was Burning Rain, which was formed with vocalist Keith St. John. Burning Rain released two albums: The self-titled Burning Rain in 1999 and Pleasure to Burn in 2000. Aldrich later joined the late Ronnie James Dio band in 2001 before finally joining Whitesnake and becoming a songwriting partner with David Coverdale. While Aldrich had joined Whitesnake in 2003, he and St. John signed a recording contract with Frontiers Records in 2004 for a third Burning Rain album.
With Whitesnake's resurgence in popularity and a relentless tour schedule that soon led to releasing two studio albums, subsequent releases of live albums and DVDs, Burning Rain was put on hold – until now. So after a nine-year hiatus, St. John and Aldrich have returned with their third studio album Epic Obsession. The album contains 12 new blistering hard rock songs and two bonus tracks. Co-produced by Aldrich and St. John, the duo has rounded out the band with bassist Sean McNabb (Dokken, Quiet Riot) and Matt Star (Ace Frehley).
Burning Rain delivers music that is a product of the bygone 1970s. The songs and arrangements are infused with the '80s arena-style hooks, which are elevated by today's advanced recording technologies. Led by Aldrich's sure-handed fret work and St. John's grit-infused-bluesy vocal swagger, they hold their own when compared to their peers, including going head to head with Aldrich's other band, Whitesnake. There also is a comparison to be drawn; Aldrich grew up on British rock, and Coverdale's Whitesnake was an influence for him way before he joined the band.
With that said, Aldrich is his own man. He has developed his style over the years, working in many bands and projects. He is the foundation of Burning Rain, just as he is with Whitesnake, Lion or Bad Moon Rising. His fret-work is exhilarating, energetic, sure-handed, aggressive and elegant. Whether it's Keith St. John or Coverdale, the music always tells the tale and gives quality singers a canvas on which to paint their vocals.
As a hard rock, heavy blues rock fan, which you surely are if like Burning Rain, well, the band brings it. And while it has been awhile since we had fresh music to enjoy, maybe it's bitter sweet to have waited so long. Because the final product is everything you want and more. Keith St. John sounds amazing here and hasn't skipped a beat. Aldrich brings forth up-tempo rockers that carry the torch of rock, and for good measure, delivers a ballad or two. Fourteen tracks, 74-minutes in the hands of lesser musicians would be tiresome, but Epic Obsession begs to be listened to, and the time goes by in the blink of an eye.
Genre: Hard Rock
Band:
Doug Aldrich (g)
Keith St John (v)
Sean McNabb (b)
Matt Starr (d)
Guests:
Brian Tichy (d)
Jimmy D'Anda (d)
Track List:
1. Sweet Little Baby Thing
2. The Cure
3. Till You Die
4. Heaven Gets Me By
5. Pray Out Loud
6. Our Time Is Gonna Come
7. Too Hard To Break
8. My Lust Your Fate
9. Made For Your Heart
10. Ride The Monkey
11. Out In The Cold Again
12. When Can I Believe In Love
Bonus tracks.
13. Kashmir*;
14. Heaven Gets Me By (acoustic)*
Label: Frontiers Records
Web: http://www.burningrain.net/
Hardrock Haven rating: 9.5/10
by John Kindred
- Publisher –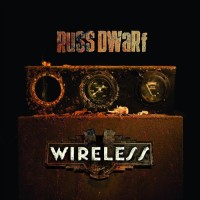 Canada's Killer Dwarfs' comedic zeal and polished chops catapulted the band from Oshawa, Ontario, into homes of America via MTV in the '80s. Their success produced two classic albums released by Epic Records, '88 Big Deal and '90s Dirty Weapons. Led by Russ "Dwarf" Graham, the band released five studio albums and toured relentlessly over the course of their career before succumbing to the Grunge movement in the '90s. Russ Dwarf continued on in the music business, and after 30-plus years, he returns with an acoustic interpretation of Killer Dwarfs' greatest hits.
Wireless features music from 1986's Stand Tall, '88's Big Deal, 1990's Dirty Weapons and '92's Method to the Madness studio albums. The running order of the songs is chronological that showcases the band's progression as songwriters. Russ is joined by guitarist Glen Belcher and bassist Rob Zakojc. A few special guests include Glen Drover and Ron "Bumblefoot" Thal.
The stripped-back renditions of classic Killer Dwarfs songs start with "Keep the Spirit Alive," which is a poignant start for some, as the band's music never was too far from their hearts. It's a bit mellow for an album lead-off song, but Dwarf's voice melds flawlessly with the melodies. "Stand Tall" follows and instantly picks up the tempo. Here, the trio captures the raw energy of the moment, along with the energy of the original song. "I'm Alive" has a country-blues vibe that is combined with a Robert Plant-like rhythmic pulse to the vocal melody. "Starting to Shine" maintains the same relaxed delivery. Without the heavy distorted guitars or bombastic drums, Dwarf showcases his voice, proving that he hasn't lost a step as a singer.
"Doesn't Matter" certainly was a song written for the acoustic guitar. It's is a pleasant reminder of Killer Dwarfs during their finest hour. A positive and uplifting song, Dwarf continues to amaze with his vocal delivery. "Comin' Through" opens with its bluesy-Mid-Eastern riff, which sounds brilliant on the acoustic guitar. "Dirty Weapon" turns out to be a bluesy ballad-like piece in this stripped back version. This mellow rendition works, even though you wouldn't think it would. The acoustic guitar solo is quite elegant and fluid. "Look Around," "Four Season" and "Drifting Back" close out the album.
Russ Dwarf provides a unique introspective look at Killer Dwarfs catalog of music. The album features brilliant performance by all involved. In this stripped format, the vocals shine. Whether it be Dwarf's singing, alone, or the addition of the vocal harmonies, it's certainly those melodies that carry the music forward. The production is flawless; the acoustic guitar sounds alive and natural, as if you're sitting in the same room. A lot of "unplugged" albums don't work, as the music oftentimes doesn't fit this format. Killer Dwarfs' music, though, shows that the songs were not just power-chord-pop-metal jaunts. The music has real substance.
Genre: Glam Rock, Hard Rock
Band:
Russ Dwarf – vocals
Glenn Belcher – guitar, sitar and banjo
Rob 'Zaks' Zakojc – bass and backing vocals
Additional Musicians:
Glen Drover – guitar (2)
Ron 'Bumblefoot' Thal – guitar (10)
Kevin Simpson – guitar
Dan Lear – guitar
Kevin Reid – guitar
Cosimo Crupi – keyboards
Fred Duvall – percussion
Track List:
01. Keep The Spirit Alive (Stand Tall)
02. Stand Tall (Stand Tall)
03. I'm Alive (Big Deal)
04. Startin' To Shine (Big Deal)
05. Doesn't Matter (Dirty Weapons)
06. Comin' Through (Dirty Weapons)
07. Dirty Weapons (Dirty Weapons)
08. Look Around (Method to the Madness)
09. Four Seasons (Method to the Madness)
10. Driftin' Back (Method to the Madness)
Produced by Fred Duvall and Glenn Belcher. Executive producer Rob Zakojc.
Hardrock Haven rating: 9/10
Direct Hit Records recently announced its emerging hard rock act "Paisty Jenny" has entered Loud Palace in Weed, CA to record their next full length album. The new record, with its title yet to be chosen, is expected to be the very best offering from this energetic, hard-working, touring rock band.
With three successful records already under their belt, Detours, Spilling Mercury and Head in a Haze, Paisty Jenny's approach to the new full-length is taking the process of making a record to soaring new heights with the engagement of acclaimed music producer Sylvia Massy at the helm. Read more
by Mark Allen
- Senior Columnist –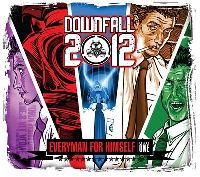 With some rather interesting percussion decisions, this Texan trio packs enough hard rock huff 'n' puff to blow your house down. Their approach almost sounds gimmicky on paper: take the powerful riffs of modern hard rock, splice it with the staccato singing and chugging guitars of '90s nu-metal, mix in an even balance of rough vocals and slick harmonies, and then top it all off with some very impressive drum work. But what sounds like overkill in concept actually works strangely well when given sonic incarnation.
The band's somewhat unique style could prove appealing; it is derivative enough of today's modern metal to draw the commercial crowd, yet does things differently enough to grab the ears of those looking for something a bit more avante garde. With their compelling rhythms, odd-but-not-unwelcome fusions, and willingness to go with their gut when making songwriting choices rather than follow rigid formulas, you could almost call these guys progressive. Just don't be thinking Fates Warning or Queensryche…
The band's overall sound is heavier than a truck full of elephant testicles; when the massive guitars hit, they leave bruises like you just went thirteen rounds with a pissed off rhino. The drums are bestial in their fury, hammering at your senses like body blows. The vocals are rough and aggressive, though the band uses melodic harmonies in the choruses to create a viciously sweet contradiction. Sure, you have heard this stuff before…but probably not pieced together quite like this. Downfall 2012 are neither trend-chasers nor trend-setters; they are simply themselves.
This being just a 5-song EP, the band has to make you a believer in a short amount of time and they do so by cranking it up hard and heavy from start to finish. They open with a bad-ass head-banger in "Face to Face," which should generate instant mosh-pits when played; this sucker slams you against the wall, makes you its bitch, then stomps away leaving you wanting more. "Never Sell a Lie" whiplashes between Beastie Boys rap-rock and pummeling heaviness while a gang vocal bridge builds to a hardcore chorus. And while conventional wisdom insists that you put your best foot forward first, Downfall 2012 dared to save their best song for last; "Family Fortune" is a full-throttle hard rocker in the Mudvayne/Drowning Pool vein with a savagely good hook, relentless energy, and a super-catchy chorus. Release this as a single, get it airtime on Sirius' Octane, and watch it chomp its way up the charts like a hungry shark tearing through a school of tuna.
Maybe these guys are not yet good enough to make everyone fall down and worship at their feet, but songs like "Face to Face" and "Family Fortune" prove the band can craft a cool hook. If they can release a whole album full of tracks of that caliber, they've got a decent shot at making some noise in the modern hard rock/metal market. It's a dog eat dog world out there, but Downfall 2012 sport enough tooth and claw to still be standing when the blood and fur stop flying.
Genre: Modern Hard Rock, Nu-Metal
Band:
Danny Gil (vocals, guitar)
Boo Rogers (bass, vocals)
Casey Brown (drums, vocals)
Track Listing
1. Face To Face
2. Divinity
3. Toy Box
4. Never Sell a Lie
5. Family Fortune
Label: Independent
Webpage: www.facebook.com/df2012
Hardrock Haven rating: 7/10
by Alissa Ordabai
- Senior Columnist –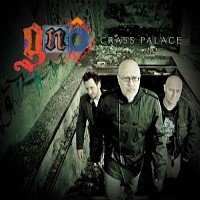 French guitar guru Christophe Godin continues on his cultural deconstruction mission with the trademark mixture of virtuosity and kooky humor. Most know Godin as the leader of the now legendary outfit Mörglbl – the most original, if not the best, French rock band to emerge in the Nineties. But this time Godin is leading a different, although an equally far-out crew – a trio called Gnô. The main premise Godin remains, however, the same – to mix and shake up as many disparate popular music styles as possible to make your head spin and your reason buckle.
Only this time the juxtapositions of punk and jazz, metal and pop, electronica and prog-rock sound even more outrageous and brazen than before. On standout "Toy Boy No More" the band manages to go through punk, pop, and metal with such fierce disregard for decorum, conventions, or respect for the settled ways in which those styles resonate with an ordinary music fan, it drives you beyond confusion and into spasms of nervous laughter.
Add to this the colossal riffs a la Dimebag Darrell and Godin's virtuosic guitar leads which sound both learned and ballsy, and the end result becomes cognitive dissonance of epic proportions. Some would say it's ruthless of Godin to place Beatles-esque melodies and Pantera-style riffs right next to each other, but his main purpose remains to see what happens with such wild contrasts. Exhilarating, constantly developing, and completely unpredictable is how this record asserts itself from the word go.
But it isn't all cerebral fun or experimentation. Subtler tracks such as "Modern Day Jesus" with its NIN-meet-Alan-Parsons vibe, or the self-ironically sentimental "Fly Free" show how Godin can use his knack for writing a perfect melody to test not only the outside world, but things within his own private realm. His fundamental formula may stay unchanged, but here he delivers some of his sharpest songwritng to date. What certainly helped is the fact that this is an album of actual songs, not instrumentals, with all band members taking turns with the mic duties.
Not simply pastiche and post-modernist games with culture, Godin's approach points finger at the atomized state of rock – overflowing with historical references and allusions, and at the same time with a chaotic sense of direction. Song titles such as "Abracadavra" become a perfect commentary on how popular music sees its own reflection in a fractured mirror where dozens of fragments remain irreconcilable and incomprehensible to each other. The final impression is akin to seeing a jazz scholar having an altercation with a punk – fascinating, grotesque, and hilarious at the same time, just like intended by Godin and his accomplices.
Genre: rock, hard rock, jazz, pop, electronica, heavy metal, punk, alternative
Personnel:
Christophe Godin – guitar, vocals
Gaby Vegh – bass, vocals
Peter Puke – drums, vocals
Track Listing:
1. Fate is My Name
2. Momentum
3. The Scavenger
4. Modern Day Jesus
5. The Doll
6. All Life Has Left
7. Don't Waster Your Time
8. Toy Boy No More
9. Punish Yourself
10. Abracadavra
11. Tooth and Nail
12. Fly Free
Label: Send The Wood Music
Online: www.christophegodin.com
Hardrock Haven rating: 9/10
by Mark Allen
- Senior Columnist –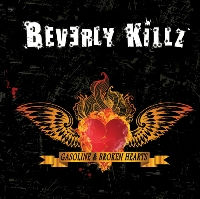 The band may hail from the land of pizza, pasta, and Pisa (as in, the Leaning Tower of), but their name summons up images of sleazy Sunset Strip glam-metal circa 1989. And there certainly are some glam-sleaze elements supplementing Beverly Killz' sound, which is built on a sturdy foundation of melodic hard rock. Sure, it's all fairly cliché, but it's done so well that you probably won't care.
Frontman Vince (the members eschew last names) will not go down in history as the hottest voice the rock world has ever heard, but he gets the job done. There are times on the slower and mid-tempo tunes that his delivery is a tad tentative, but he compensates on the full-throttle rockers by bringing a hearty vocal edge to the proceedings and selling the songs with a suitable supply of sleaze-rock attitude.
The guitars are crisp and clean and occasionally allowed to combust with a little sizzle that is never allowed to spin crazily out of control. (The exception is "Dark Lady," where Mark really lets the molten solo rip in full-on melodic metal mode.) The bass is beefy yet given room to breathe, the rhythms rock solid, and the sonic quality is open and spacious; Beverly Killz do not succumb to the temptation to strangle the life out of their music through overproduction.
Most of the songs are equipped with the kind of pop-metal hooks that came into prominence during the '80s hair-metal era. "Baby You're on Target" is one such track, sporting a hard rocking edge and big chorus to go along with it, complete with a heaping pile of good ol' gang backing vocals. "For Love" is another bad-ass barn burner that features some of Vince's best singing and those gang vocals reappear (actually, they never went away) to provide extra punch and power. "Sin City" comes strutting out with a heavy stride while the raunchy groove, rumbling bottom end, and clenched-fist chorus equals good times for melodic hard rock fans. Oh yeah, there are also more gang vocals and if you're starting to pick up a pattern here, you would be most astute.
There is only one truly bad song on this album: "What is Love," a cover of that putridly popular '90s dance hit by Haddaway. It's as jarringly out of place as a pubic hair in a bowl of tapioca pudding and makes you want to ask the band what the hell they were thinking. Sure, it's "interesting" in a car wreck kind of way to hear the annoying one hit wonder rocked up, but "interesting" does not mean "good." Sure, you can drizzle chocolate syrup all over a dog turd, but it's still just going to taste like chocolate-covered dog shit.
Matters of canine feces aside, melodic hard rock fans, especially those who like it with that Sunset Strip edge, should enjoy Beverly Killz more than Michael Bay enjoys making movies with massive explosions. Is it so good that it would be worth murdering your mom in order to gets your mitts on a copy? Well, no…but if you have to run over a squirrel or two in order to get a copy, it's definitely worth that. The squirrels, of course, might have a differing opinion.
Genre: Melodic Hard Rock
Band:
Vince (vocals)
Mark (lead guitar)
John (rhythm guitar)
Andre (bass)
Fabio (drums)
Track Listing
1. Never Back Down
2. Away From Danger
3. Baby You're on Target
4. Dark Lady
5. Livin' & Dyin'
6. Riding Alone
7. For Love
8. Power of Your Sex
9. Sin City
10. In Sorrow
11. What is Love?
Webpage: www.beverlykillz.com
Label: Perris Records
Hardrock Haven rating: 8/10
by Alissa Ordabai
- Senior Columnist –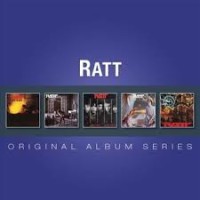 A collection of Ratt's first five albums not only sums up the spirit of the Eighties, but also reminds us how much originality and sheer musical brilliance never received proper recognition from the industry. Ratt may have been multi-million selling MTV favorites some 25 years ago, but even at their peak they remained in the shadow of plainer, simpler bands.
The reason? Where others on the glam metal scene banked on in-your-face brashness, Ratt stayed more subtle. While other lead singers projected on full scale, Ratt's Stephen Pearcy often chose deliberate detachment. And when bands such as Motley Crue were regularly hitting the headlines with stories of drug abuse and liaisons with famous women, Ratt's drug-related tragedies remained more private, just like their marriages. Instead the band showed the value of songwriting and musicianship over hype. Never labored or pushy, their songs stay with you effortlessly – not as obnoxious ear worms, but as uplifting and welcome companions.
From powerhouse scorchers such as "I'm Insane" to atmospheric incantations such as "Back for More" Ratt immediately give you everything traditionally expected of hard rock – the drive, the instant-grip riffs, the impeccable guitar leads. But behind the seeming simplicity of the formula, Ratt never come through as too eager to please and never fully declare themselves, even on their most strident songs. Instead you are always left wanting to hear the next song in the hope to unravel their secret, which makes this entire box set flow in what seems like minutes.
All five classic albums put together remind us that apart from gold-plated super-hits such as "Round and Round" and "Shame Shame Shame" each one of these records brims with lesser known gems. "Lay It Down" makes you imagine what Led Zeppelin would have sounded like have they survived into the Eighties, and "Giving Yourself Away" shows how laconic treatment of the subject of heartbreak makes a more striking impact than all the wailing in the world.
But despite their perfect influences and their reserved elegance, you can't mistake this band for anything else but the creation of the Eighties. To stay unique while relaying the essence of their time with such spot-on precision is no small feat for a glam metal band. Much of it lives on as Warren DeMartini's achievement, as well as the magic of his dual guitar interaction with Robbin Crosby. Virtuosity coincides with DeMartini's inner truth so precisely, there remains no place for gratuitous notes or for imaginary feeling, and each note sounds not only important, but absolutely vital.
Tags and categorizations aside, the collection on offer is a textbook example of how brilliant songwriting and A-grade musicianship still don't guarantee you good luck or fortune. What such excellence does ensure though is dignity for the artist – something that can be neither taken away, nor calculated in figures.
Genre: Glam Metal, Hard Rock
Line-up:
Stephen Pearcy – vocals
Warren DeMartini – guitar
Robbin Crosby – guitar
Juan Croucier – bass
Bobby Blotzer – drums
Track Listing:
Disk 1
1. Wanted Man
2. You're in Trouble
3. Round and Round
4. In Your Direction
5. She Wants Money
6. Lack of Communication
7. Back for More
8. The Morning After
9. I'm Insane
10. Scene of the Crime
Disk 2
1. You're in Love
2. Never Use Love
3. Lay It Down
4. Give It All
5. Closer to My Heart
6. Between the Eyes
7. What You Give is What You Get
8. Got Me on the Line
9. You Should Know by Now
10. Dangerous But Worth the Risk
Disk 3
1. Dance
2. One Good Lover
3. Drive Me Crazy
4. Slip of the Lip
5. Body Talk
6. Looking for Love
7. 7th Avenue
8. It Doesn't Matter
9. Take a Chance
10. Enough is Enough
Disk 4
1. City to City
2. I Want a Woman
3. Way Cool Jr.
4. Don't Bite the Hand That Feeds You
5. I Want to Love You Tonight
6. Chain Reaction
7. No Surprise
8. Bottom Line
9. What's It Gonna Be
10. What I'm After
Disk 5
1. Intro to Shame
2. Shame Shame Shame
3. Lovin' You's a Dirty Job
4. Scratch That Itch
5. One Step Away
6. Hard Time
7. Heads I Win, Tails You Lose
8. All or Nothing
9. Can't Wait on Love
10. Giving Yourself Away
11. Top Secret
Label: Rhino Records
Online: www.therattpack.com
Hardrock Haven rating: 9/10
by John Kindred
- Publisher –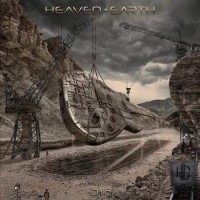 It's been a minute since the last Heaven & Earth release. The band has been piloted by Stuart Smith since the '90s. And since 1998, Heaven & Earth has released two full-length albums; Stuart Smith's Heaven & Earth 1998 and Windows to the World 2001, one EP A Taste of Heaven 2006 and the DVD Making of Heaven & Earth 2007. Smith then joined Steve Priest's Sweet in 2009 and headed out on the road and appeared on Sweet's Live! In America that same year. Sticking it out with Sweet until it became apparent the band was not going to record and release new music, Smith tendered his resignation in 2012. With his focus back on Heaven & Earth, Smith set out to recruit band members and write music.
His new writing partner turns out to be former Sweet vocalist Joe Retta, who, like Smith, was dissatisfied with no foreseen opportunity to release new music with Sweet. The rest of the band is rounded out by bassist Chuck Wright (Quiet Riot), Smith's longtime friend and music partner drummer Richie Onori and keyboardist Arlan Schierbaum. With all the pieces to the puzzle now glued together, the band began writing and recording new music and now unveils to the world the new Heaven & Earth album titled Dig.
Dig musically fits into the classic rock genre, while maintaining a modern edge due to today's production standards. Over the years, Smith has built friendships with rock's most notable and respected musicians. So, it is no surprise that special guests on Dig include Howard Leese (Heart, Paul Rodgers), David Paich (Toto) and Richie Sambora (Bon Jovi). The digipack release of Dig features a 12-track CD and a DVD that is the EPK for the album's release.
Fans of Stuart Smith's Heaven & Earth won't be disappointed with the new album. Smith's tasteful chops and creative rhythms find their rightful place alongside Retta's vocals. Retta has an interesting voice. He sounds a little like Paul Rodgers (Bad Company, Queen), and yet you can hear a little bit of Kansas' Steve Walsh. No, he is not a clone, but his voice definitely will appeal to classic rock fans. Dig truly is a "band" album. The mix, with guitars audible, focuses on presenting all instruments on an equal level and provides the framework for Retta to lay down his vocals.
By now, we all know the part that rock legend Ritchie Blackmore played in Smith's life, from friend to mentor. Heaven & Earth lives upon the back of keyboardist Arlan Schierbaum, whose heavy organ melodies instantly will recall Jon Lord of Deep Purple. While this is not a copycat Deep Purple band, the keys also lend themselves to the classic sounds of '70s rock. The music on Dig is bold, deliberate and powerful. Plenty of choice cuts make up the CD. From melodic rockers like "No Money, No Love," the opener "Victorious," to power ballad's "I Don't Know What Love Is" and "A Day Like Today," plenty of quality rock 'n' roll songs are waiting to be discovered.
Smith fans will be glad to have new original music in their hands. The latest incarnation of Heaven & Earth goes beyond expectations. Dig is a strong addition to Heaven & Earth's catalog of music. And for those who haven't heard the band's previous albums, they really must. A Taste of Heaven featured Paul Shortino on vocals; Windows to the World featured Kelly Keeling on vocals, and the debut featured Glenn Hughes, Kelly Hansen and Joe Lynn Turner on vocals.
Genre: Classic Rock, Hard Rock
Band:
Stuart Smith (g)
Joe Retta (v)
Chuck Wright (b)
Richie Onori (d)
Arlan Schierbaum (k)
Track Listing:
1. Victorious
2. No Money, No Love
3. I Don't Know What Love Is
4. Man & Machine
5. House of Blues
6. Back in Anger
7. Waiting for the End of The World
8. Sexual Insanity
9. Rock & Roll Does
10. A Day Like Today
11. Good Times
12. Live as One
Label: Quarto Valley Records
Hardrock Haven rating: 9/10
by Nikiforos Skoumas
- Columnist –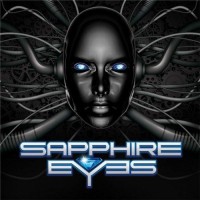 Most following the contemporary melodic rock scene are well aware of the Swedish female-fronted melodic hard rock group Alyson Avenue. Active in the early 2000s, Alyson Avenue released two highly regarded albums in Presence of Mind (2001) and Omega (2004). Shortly after front-woman Anette Olzon quit the band having being asked to replace Tarja Turunen in Nightwish, a story known too well.
Alyson Avenue keyboardist and band-leader Niclass Olsson decided against bringing in a new female vocalist, this time opting for a front man — enter Thomas Bursell. Having essentially altered the musical nature of the band, a name change was also in order. The group was re-named Second Heat with their self-titled debut being released in 2004. From there onwards both Second Heart and Alyson Avenue were put on ice up until 2010 at which point Olsson secured a multi-album record deal with fast-rising German record label Avenue of Allies; this led to the re-formation of Alyson Avenue and subsequent album featuring Arabella Vitanic at the front while a new partnership between Olsson and Bursell has come into fruition under the name of Sapphire Eyes.
Sapphire Eyes is very much in line with the musical style of Alyson Avenue and obviously Second Heat. While the songwriting on the album is undeniably AOR, the delivery is granted a harder edge thanks to the thick guitar and drums sound. Add to the above the immense keyboard and vocal harmonies that the duo of Olsson and Bursell bring to the table and you have a melodic rock combination to die for.
In a comparative basis Sapphire Eyes surpasses artistically both the Alyson Avenue of late and Second Heat. Bursell's admirable vocal range, tone and vibrato become major advantages in Olsson's musical playbook. The keyboardist takes full advantage of that fact and enters new territory with the vocal-keyboard based ballad "Can't Find the Words." It is a song based strictly on key layers and voice yet it's easily one of the most intense — therefore substantial — AOR ballads of late. From there onwards you have the expected heavy hitters in "This Love This Time," "You're my Wings" and "Only Feel Love."
It is also important to note that Sapphire Eyes operate on a project basis where the duo is joined by former and current members of Alyson Avenue and Second heat most notable being Arabella Vitanic and Anette Olzon, both performing vocal harmonies on most songs.
Overall Sapphire Eyes delivers first class adult oriented rock coated with the kind of production and performance you would expect from a melodic hard rock album of Shylock or Frontline; this is probably the best to come out of the Olsson/Alyson Avenue camp.
Genre: AOR, Melodic Hard Rock
Line up:
Niclas Olsson (keyboards, b-vocals)
Thomas Bursell (vocals)
Track List:
1. You're My Wings
2. I Want You To See Me
3. Only Feel Love
4. This Love This Time
5. Change Of Heart
6. Can't Find The Words
7. When Love Comes Alive
8. A Man The World Can Do Without
9. Someone Like You
10. Lay Down In My Arms
Label: Avenue of Allies
Hardrock Haven rating: 9/10
by Derric Miller
- Managing Editor –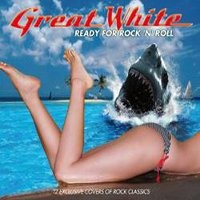 Back in 2002 when there was only one version of Great White, the band released Recover, an album of … covers! Collector's Dream Records took it upon themselves to re-release the album under a different name with a slightly different track order. The timing is confusing, because … which Great White gets the royalties for this album? That aside, Great White does Zeppelin almost better than Zeppelin, and as a band paying homage to their musical inspirations, no band does it better than Great White.
Most of the songs are from before the '80s, except for the surprising cover of The Cult's "Love Removal Machine." Much like the original, the guitar kicks in and you think "Is this the Rolling Stones?" Maybe that was the band's intent; to cover a song that sounds like a cover of the Rolling Stones. Anyway … Russell is a master on this track, not quite as sleazy as Ian Astbury but damn close. It's sad hearing how well Kendall and Russell forged the Great White sound and knowing this ain't happening again, mate.
"Ain't No Way to Treat a Lady" is the highest you've heard Russell sing during the verses. Sure, he sings higher at the beginning of "On the Edge" and on other songs with screams, but this is word for word during the verse and chorus where he's using his high range. It's like hearing Tony Harnell sing "Everyone's a Star" where there's just no let up on the high-pitched notes. The song itself is far and away more polished than the Q5 version, which is more AC/DC sounding.
Great White does actually cover the Rolling Stones on "Bitches and Other Women." It's basically a completely different animal with Russell singing. It's hard to imagine two more disparate singers than Russell and Mick Jagger — maybe Tiny Tim and Chuck Schuldiner — so it just doesn't sound quite right.
"Burning House of Love" is on this release and although the PC Police typically need to take it in the 'nards at all times, sometimes discretion really is the better part of valor. There are thousands of people who never want to hear this song again.
The other covers that hit home are "Ready for Love," "No Matter What," and "Lady Love." What's the connection on these songs? It's one of the greatest singers on earth making music with one of the most talented and bluesy guitarists around. Kendall's blues-laced mastery of his instrument and Russell's immeasurable vocal talent is what made Great White platinum, and then some. Che sera … sera.
Ready for Rock n Roll is like most cover albums. The diehards snatch it up, the curious tune in, and for the rest of the masses, it's a hurry up and wait process for the new music. Well, Great White with Terry Ilous already showed us theirs; Jack Russell and his band mates are going to show us theirs hopefully soon. In the meantime, here's a look back at what used to be …
Genre: Hard Rock
Track listing:
Sin City – (AC/DC)
Love Removal Machine – (The Cult)
Ain't No Way To Treat A Lady – (Q5)
Ready For Love – (Mott the Hoople/Bad Company)
Bitches And Other Women – (The Rolling Stones)
Again And Again – (Status Quo)
Down At The Doctors – (Dr. Feelgood)
Tangled Up In Blue – (Bob Dylan)
Burning House Of Love – (X)
Fire And Water – (Free)
No Matter What – (Badfinger)
Lady Love – (Robin Trower)
Label: Collector's Dream Records
Online: http://jacksgreatwhite.com/, www.greatwhiterocks.com
Hardrock Haven rating: 7.6/10
by John Kindred
- Publisher –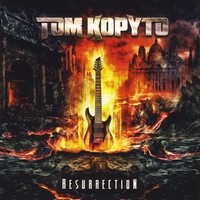 Shredguy Records' latest release comes from instrumental shredder Tom Kopyto, whose first studio album, YTK, was released in 2000 and featured Michael Angelo Batio as executive producer. Kopyto has appeared on three compilation albums since then; Lion Music's Tribute to Shawn Lane Vol. 2 and Shredguy Records' Shredding Across the World Vol.1 and Shredding Across the World Vol.2. Over the course of the last decade, he dedicated a large portion to being a guitar instructor.
Thirteen years seems like a long time between studio albums, and Kopyto makes up for lost time and delivers eight tracks of pure shred on Resurrection. Alongside bassist Andy Deluca (Symphony X, Michael Angelo Batio, James LaBrie's Mullmuzzer) and drummer Matt Garstka (Animals as Leaders), Kopyto unleashes a furious assault on your auditory senses. The album features special guests who lend their own personal shredding talents to Resurrection, including include Mark Zonder (Fates Warning) and Jason Bittner (Shadows Fall, Marty Friedman) on drums and guitarists Mike Abdow (Last Chance to Reason, Solo Artist) and Oli Herbert (All That Remains).
Resurrection combines elements from several genres, including heavy metal, Neo-classical metal, hard rock and progressive. Kopyto uses heavy distorted rhythmic progressions that shift from complicated riffs to simpler rhythms, as the backdrop to for his soloing. Kopyto's lead work places emphasis on melodic phrasing that takes the place where the vocal melody would be and moves into more aggressive, speedy passages that showcase his skills. His mastery of the fretboard is on display whether delivering blistering solos or melodic soulful runs.
A lot of interesting musical thoughts are unveiled on Resurrection. It's nice to hear Kopyto allow the drums to be "metal" drums and not just play the typical hard rock 4/4-bass-drum- snare-drum patterns, which are found as the sound bed on many well-known instrumental guitar players' albums. Plenty of double bass patterns help drive the music forward, keeping the energy from waning and making the songs monotonous and lifeless.
Kopyto is a master of his craft. It is surprising he is not in a "known" band, with more albums under his belt. While not a household name, Kopyto is more than matches up to his peers. Resurrection certainly highlights a talented guitarist, songwriter and arranger, and, hopefully, we will hear more from Kopyto in the future.
Genre: Instrumental Shred, Hard Rock, Metal
Band:
Tom Kopyto (g)
Andy Deluca (b)
Matt Garstka (d)
Guests:
Mark Zonder (d)
Jason Bittner (d)
Mike Abdow (g)
Oli Herbert (g)
Track Listing:
1. Black Inside
2. No
3. Into Another
4. Naked In Death
5. Spine
6. Let Them Fall
7. We, Together
8. Resurrection
Label: Shredguy Records
Web: http://www.lordtommy.com/
Hardrock Haven rating: 8/10
by Alexandra Mrozowska
- Columnist –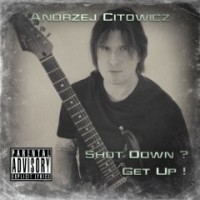 Shot Down? Get Up is the EP which will be released by the Polish guitarist Andrzej Citowicz (whom the Hardrock Haven readers had a chance to know via the interview posted a few months ago) on March 1. A self-sufficient and persistent musician, Citowicz overcame the recent problems with his former label and now releases Shot Down? Get Up, consisting of four instrumental tracks which he describes as a "time travel through the last year" in his both personal and artistic life.
"Shot Down", the first track off the EP, is a perfectly balanced instrumental piece – the guitar parts are reminiscent of Richie Sambora's work in Bon Jovi's "My Guitar Lies Bleeding in My Arms" off their 1995 These Days album. The monumental, five-minute long instrumental is somewhat similar to the broody, somber climate the aforementioned Bon Jovi song was characteristic of, yet – instead of supporting this impression with lyrics relevant in tone – Citowicz lets his guitar only speak for itself. When asked about it, he says he has recorded it after five years of musical hiatus, and while technically there is no trace of such, one, if only aware of Citowicz's early work, can clearly notice a shift towards more mature and fine spun sound.
"With Pain" again reminds a listener of Richie Sambora, this time the guitarist's solo track "One Light Burning" (1991) which is nothing surprising according to the fact that Citowicz lists Sambora as one of his major influences. It is another instrumental, with the interesting percussion in the background and, as expected, an excellent guitar work. Although dedicated to the guitarist's ill mother, which could suggest the continuity of the somber mood, the track has more positive vibe to it than the previous one in terms of sound.
In "Bulls*it Inc". Citowicz himself admits to have been inspired by AC/DC, whereas it is only one of the influences which can be heard through this powerful and very well-performed track. A little bit of Def Leppard, a little bit of KISS, a little bit of Gotthard … The guitar pulses with great energy, echoing of the best, raw hard rock sound — simply brilliant.
After such a high octane track, a listener is left wanting more and that is what comes with "Get Up", the last song off the EP. As a matter of fact, this one is a reprise of "Shot Down;" as expected, this re-recorded version sounds somewhat more smooth and polished, as the previous version recorded at one take must have had some room for improvement to it. Yet, there is still something unique in the emotional and rawer "Shot Down." Those two tracks, if listened one after another, testify Citowicz's continuous development as a musician and a composer, and his clear perfectionism (yet not deprived of spontaneity and rawness, features that have been always appreciated within the realms of rock music).
Shot Down? Get Up comes a full circle, ending with what it had begun; still, you don't need a sensitive ear to notice the musical diversity of styles and emotionally loaded sound which are crucial to define and review this EP. While technically there is nothing new there, and the blues-flavored hard rock guitar sound is understandably no revolutionary thing, the EP shows Andrzej Citowicz doing what he does best – playing from the heart and sharing his passion, virtues so rare within today's money-driven, artificially constructed music industry. This Polish guitarist is definitely one of the "last men standing" who dare to play what he feels is his own and to not deny his old school inspirations. As there is more interesting news coming from Citowicz, everyone who digs his kind of thing and who supports his artistic aspirations should stay tuned, meanwhile giving a listen to the aforementioned EP which is definitely worth it.
Genre: Instrumental Guitar, Hard Rock
Track List:
1. Shot Down
2. With Pain
3. Bullsh*t Inc.
4. Get Up
Label: Independent
Hardrock Haven rating:
by John Kindred
- Publisher –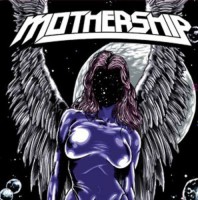 Mothership is a '70s hard rock-influenced, blues-based, heavy rock band. The band's self-titled debut release is a 45-minute journey back in time with a focus on the bass, drums and guitar, along with the vocals. Mothership is a three-piece outfit, hailing from Texas. Led by brothers, Kyle on bass and Kelley on guitar, the band was founded along with their father, John Juett. The boys were raised listening to their father's music collection, so when it was time to start creating their own music, it's not too much of a surprise that the family gravitated toward the '70s era.
Officially, Mothership's journey began in 2010. Judge Smith took over the drum throne in 2011, and by 2012, the band entered the studio to record its first album. Locked up in Crystal Clear Sound studio with chief recording engineer and producer Kent Stump (Wo Fat) sitting at the mixing board, the band created eight songs for its debut album.
Mothership harkens back to when music was pure and heavy, not watered down. The band opens the album with "Hallucination," a very Sabbath-inspired, heavy and plodding instrumental. "Cosmic Rain" brings vocals into the fold. The song continues the heaviness, but the tempo kicks it into another gear, energizing the song. Kells Juett handles lead vocals; he has a Glenn Danzig way of delivering the vocals melodies. No, he is not clone; it's probably the style of music. Kells' style can be described like talking-singing that progresses into kind of a shouting motif. It works well with the jam-band style of riffing going on throughout the CD.
"Win or Lose" opens with a classically inspired guitar intro that is very surreal and tranquil, showing off some dynamics in the confines of the music. That doesn't last long before the heavy riffs kick in and hammers you. While the riffs are dark, heavy and '70s-inspired sludge, the solos are anything but sludge. Rooted in pentatonic, Kells showcases fiery chops that meander in blues-shred and slides into more traditional heavy metal soloing. Being a three-piece, the bass is present in the mix. Brother Kyle has moments in the spotlight in which his chops are the focal point. And Smith has no problem unleashing double bass rhythmic progressions throughout the CD.
Mothership unloads with a debut album that captures the energy of rock in a stripped-down sonic landscape. The riffs are heavy and crushing. As a three piece, Mothership fills the room with sound. While the band could be considered a "jam" band, there is a method to the madness, and the trio showcases raw skill and ever-expounding energy.
Genre: Heavy Rock, Classic Rock, 70's-inspired Hard Rock
Band:
Kells Juett- Guitars/Vox
Kyle Juett- Bass/Vox
Judge Smith- Drums
Tracks:
1. Hallucination
2. Cosmic Rain
3. City Nights
4. Angel of Death
5. Win Or Lose
6. Elenin
7. Eagle Soars
8. Lunar Master
Label: Ripple Music
Web: https://www.facebook.com/mothershipusa
Hardrock Haven rating: 8/10
by Mark Allen
- Senior Columnist –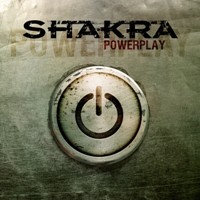 Are you looking for something to shake your speakers and rattle the windows? This latest album from melodic hard rockers Shakra has you covered. While the band may have better entries in its lengthy discography, this one is still pretty good and doesn't stray from Shakra's entrenched formula of beefy guitar lines, banging riffs and big hooks. Band members have come and gone over the years, but the Shakra sound has remained relatively steady.
On Powerplay, the band's ninth album, that steady sound still can be described as Bonfire with bigger balls. The band has that European melodic hard rock sound down pat, but the guitars sport a heavier edge than most bands in the genre. It's what the band always has done, and band members apparently subscribe to the "if it ain't broke, don't fix it" adage, because they certainly don't switch things up this time around. Whether that's a pro or a con is up to individual listeners to decide, but it's safe to say that if you enjoyed Shakra in the past, you'll probably enjoy this album, too. If you always thought listening to Shakra was the musical equivalent of having syphilitic donkey dung forcibly pumped into your auditory canal, then this album won't change your mind.
There is nothing to complain about from a technical perspective. John Prakesh has a solid set of pipes, and he puts them to fine use here, though he is more suited to rockers than ballads. The guitars really let the riffs rip, while the rhythm section provides a formidable backbone on which to hang the band's heavy yet melodic sound. The production is non-intrusive and engineered for maximum impact, while nimbly avoiding overdosing on studio gloss.
The problem that has plagued Shakra in the past and continues to plague the band here is the ratio of solid songs to great ones. Every Shakra album has featured a couple of killer tunes, but rarely, if ever, has the band released an album that is killer from start to finish. Shakra hasn't done so here either. There are several good songs, a few great ones, some filler tracks and a couple of tunes that will give the "Skip" button a good workout.
But when the band gets it right, it's good enough to give your cochlea a climax. For example, "Higher" is a monstrous hard rock anthem, with hooks high enough to ring Heaven's doorbell and a backing vocal-powered chorus that really soars. "Wonderful Life" is, well, wonderful; the kind of emotional power ballad that Shakra has proven adept at in the past. And then there is "Save You From Yourself," which is so damn good that even fans who are hating on the rest of the album are saying this is one of the best songs the band has ever released, thanks to a huge chorus and thick harmonies. It is the highlight of the album, by far, and the kind of track that makes you realize how good Shakra truly can be.
So yeah, a few more gems of that caliber would have improved Powerplay, but the quality is consistently good, and sometimes good is good enough. It's not the kind of album that's going to blaze its way onto many Top 10 lists at the end of the year, but it's not going to be a bottom feeder either. Shakra has always delivered solid, crunchy melodic hard rock and has done so once again.
Genre: Melodic Hard Rock
Band:
John Prakesh (vocals)
Thom Blunier (guitars)
Thomas Muster (guitars)
Dominik Pfister (bass)
Roger Tanner (drums)
Track Listing:
1. Life Is Now
2. The Mask
3. Higher
4. Wonderful Life
5. Dear Enemy
6. Save You From Yourself
7. Don't Keep Me Hanging
8. Dream of Mankind
9. Stevie
10. Because of You
11. Secret Hideaway
12. Too Good To Be True
Webpage: www.shakra.ch
Label: AFM Records
Hardrock Haven rating: 8/10
by Mark Allen
- Senior Columnist –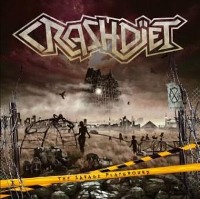 It is possible for an album to be a disappointment and success at the same time. Take this latest release from Crashdiet; having made a name for themselves as the bad boys to beat in the Swedish sleaze-metal stakes courtesy of three anthem-filled releases, the band is burdened by histrionically high fan expectations that they are simply unable to fulfill on The Savage Playground. And yet, if you peel off the Crashdiet label and listen with non-expectant ears, this is a solid hard rock release. But that's the problem—you expect Crashdiet to bang it out of the ball field, not settle for a base hit.
Let us not ignore the proverbial pachyderm in the room—the production. In a word, it sucks. If you want to swap "sucks" for a different s-word, then "shit" will suffice nicely. The muddy, sludgy, overly- compressed production is the primary reason this album fails like a one-legged amputee trying to dance the two-step. Some irate fans have trolled the internet forums demanding that whoever engineered this album be hung, shot, or preferably both. Seems a little harsh; let us all agree that killing the producer is not necessary, so long as someone chops his hands off to prevent him from touching studio equipment ever again.
But while the production bears the brunt of the blame for The Savage Playground being as much coal as diamond, it is not the sole culprit; the songs themselves rarely rise to the stratospheric levels one expects of Crashdiet. Most of the tracks sound like rough drafts, meaning they are solid enough but needed another pass or two to sharpen the hooks. Far too many of these songs would have never even been considered for prior Crashdiet releases, but this time the band seems content with run-of-the-mill rather than remarkable. Maybe this is them slumming, like Picasso painting graffiti.
But all is not lost. With the exception of a few tracks that are truly lamer than a hamstrung horse, most of these songs are pretty solid fare with energetic heaviness and gritty aggression. Some even manage to justify their inclusion on a Crashdiet album. "Anarchy" is one of those worthy tracks and is well on its way to becoming a fan favorite. "Circus" is the album highlight, rivaling the best the band has ever done, proving that Crashdiet are still capable of crafting a killer hook when they put their minds to it. "Got a Reason" injects some welcome melody into the sleazy proceedings and serves up a good, strong, rollicking chorus. So the band hasn't lost their touch, they just don't use it as often on this release. And even when they do engage in some of that classic Crashdiet sound, the miserable production damn near strangles it out of existence.
Listen, if you order filet mignon and get a burger instead, you're going to be disappointed no matter how good the burger tastes. That said, most hard rock bands would be happier than a chocolate lover in the Hershey's factory to release an album of this caliber. It's only disappointing because it's Crashdiet.
Genre: Hard Rock, Sleaze Metal
Band:
Simon Cruz (vocals)
Martin Sweet (guitar)
Peter London (bass)
Eric Young (drums)
Track Listing
1. Change the World
2. Cocaine Cowboys
3. Anarchy
4. California
5. Lickin' Dog
6. Circus
7. Sin City
8. Got a Reason
9. Drinkin' Without You
10. Snakes in Paradise
11. Damaged Kid
12. Excited
13. Garden of Babylon
Webpage: www.crashdiet.org
Label: Frontiers Records
Hardrock Haven rating: 7.5/10
by John Kindred
- Publisher –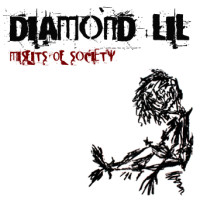 Diamond Lil is another band from the Midlands in the U.K. It seems there is something in the water because Britain delivers up another quality rock band for your listening pleasure. The band's humble beginnings for this incarnation of the band can be traced back to 2010. At that time, guitarist Colley and bassist Jamie Downes had taken control of Diamond Lil and joined forces with well-known Midlands hard rock singer, Ellis Wilde. The Spinal Tap scenarios of drummers falling by the wayside eventually lead the group to Austin Miller.
Having solidified its stake on the regional circuit, the band relentlessly has been touring venues throughout the U.K., has made appearances on radio, recorded music videos and has been featured in a few documentaries. It seems that all that was left to do was to deliver a collection of music for the masses to latch on to, and that has been realized with their release of the E.P. Misfits of Society.
The six-song E.P. showcases the band's eclectic influences. Gleaning inspiration from bands, such as Pearl Jam, Led Zeppelin, Stone Temple Pilots, etc., the band has created its own sound, which is not traditional by any means. The band's appreciation for modern metal bands doesn't seem to affect its music from reflecting an old-school, classic rock edge, with alternative rock overtones. This is not a metal band. Diamond Lil has a strong riff-driven-rock vibe, with vocals that are a far cry from today's modern rock and metal vocalists.
In all honesty, what makes Diamond Lil different than their peers are the vocals provided by Ellis Wilde. Wilde has a contemporary-alternative style that sounds a lot like Leif Johansen of 21 Guns and Phenomena fame. In fact, the album that comes to mind with which this is extremely noticeable is the Johansen 2003 project called Life, which released one album in 2003 titled White Flowers.
After spinning Misfits of Society a few times, one comes away with the feeling that the uniqueness of the vocals combined with music gives the band an edge when stacked up against their peers. The band is different enough to easily separate from the pack. We all know there are so many bands today that are making a go at it, so much so that originality and new ideas have suffered plenty of repetition. So Diamond Lil is breath of fresh air.
Genre: Hard Rock, Rock
Band:
Ellis Wilde – Vocals / Acoustic Guitar
Harry Colley – Lead Guitar
Jamie Downes – Bass Guitar
Austin Miller – Drums
Track Listing:
1. Bottom Of A Glass
2. Sex Injuries
3. Misfits Of Society
4. Beautiful Nowhere
5. Reach
6. Barrymore (I Want More)
Label: Independent
Web: www.facebook.com/diamondlilrock
Hardrock Haven rating: 8.9/10
by Ron Higgins
- Columnist –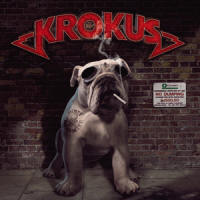 After working for two years in the legendary Abbey Road Studio with bassist and producer Chris Von Rohr, Swiss rockers Krokus are back! Their last release, the excellent 2010 Hoodoo, went platinum in their home country and this album is just as impressive. It's a no-nonsense, straight-ahead rocker featuring 12 explosive tracks, all clocking in at a succinct three to four minutes in length. The band also welcomes back guitarist Mandy Meyer to the fold after a mere 30 year absence! Dirty Dynamite is the band's 17th studio album, and after nearly four decades of rocking, they show no signs of slowing down now.
As anyone who has followed this band throughout their lengthy career knows, they have always been inspired by AC/DC. So it should be no surprise that many of the songs on their latest release have the down-and-dirty rhythm and blues vibe of the Aussie rockers. As lead singer Marc Storace has done before on songs like "Long Stick Goes Boom", he channels his inner Bon Scott. But this time, he does more than sound like AC/DC's former front-man, he becomes Ronald Belford Scott. The only thing missing is a kilt and some bagpipes. Songs like "Go Baby Go" and "Better Than Sex" are rhythmically and vocally so similar to vintage Bon-era AC/DC, bands like Airborne and Rhino Bucket sound like Air Supply in comparison. It's downright eerie, in an awesome "Bad Boy Boogie" sorta way.
The album kicks off with the appropriately titled "Halleluja Rock n Roll." It's an up-tempo, bluesy rocker that sets the tone for the rest of the album, right from the first sounds of a growling dog whose picture graces the album's cover. He's a tough, dirty bulldog, complete with cigarette and obligatory tattoo. He's a perfect metaphor for this enjoyable tough-as-nails release.
The second track is the aforementioned "Go Baby Go", which is part "Dirty Deeds" and part Little Richard's "Ready Teddy". This is followed by another nice rocker, "Rattlesnake Rumble" where the boys find their inner ZZ Top.
Next up is the title track, "Dirty Dynamite". Interestingly, this is a somewhat slower track with a groovier, bluesy vibe. It's a simple 12-bar blues tune that even features a nice piano accompaniment in the background. Compared to the other songs on offer, it's a bit of a surprise that they chose this one as the title track, lead single and video. It's not bad, just not representative of the rest of the album and not the strongest song on offer.
"Let The Good Times Roll" returns to the hard rockin' swagger of the earlier tracks. It begins with someone muttering either, "cut the track" or "cut the crap". Either way, it works, while paying homage to AC/DC's "cut this" prefix to "Problem Child". And yes, it's "cut this" not the four-letter favorite most people like to sing.
Next up is one of the most interesting tracks on offer. As they are known to do, they have included a classic cover tune. Remember when they did their take of The Guess Who's "American Woman"? This time around they go for a true classic, "Help" by the Beatles. What makes it so interesting is that, aside from the lyrics, you can barely tell it's the same song. They truly put their own spin on it and it comes out great. Vocally, it's more Rod Steward than Bon Scott so it's a little atypical but it becomes more enjoyable with each subsequent listen. It also has a bit of a Pink Floyd tinge to it. They prove quite convincingly that they are certainly no one-trick pony.
Returning to their hard rocking ways, "Better Than Sex" is another raucous rocker with a flirty "Don't Put Another Dime in the Jukebox" riff and a "Sin City" breakdown midway through. This is followed by another highlight, the interestingly titled "Dög Song", with a catchy "All Night Long" chorus. "Yellow Mary" sees another return to Rod Stewart-land and "Bailout Blues" features some blistering guitar work. The album wraps up with the excellent, high-energy "Live Ma Life" and "Hardrocking Man," which, ironically, is more poppy and less rocking.
It's not a perfect release but it's immensely enjoyable and seems to get better with each listen, slowly percolating into your musical consciousness like a well brewed cup of coffee. A cup of coffee with a shot of whiskey perhaps, but coffee nonetheless. If you like hard rock, you'll like this album. If you like Krokus, you'll like this album. Basically, if you like good old-fashioned, dirty, bluesy rock and roll, you'll like this album. And if you long for the days when the Young brothers were knocking out classics with their previous singer, then you owe it to yourself to get this release. It's essentially the album everyone wishes AC/DC would make.
Genre: Heavy Metal, Hard Rock
Band:
Marc Storace – Lead Vocals
Chris Von Rohr – Bass, Vocals + Producer
Fernando Von Arb – Guitar + Vocals
Mark Kohler – Guitar
Mandy Meyer – Guitar
Guests:
Kosta Zafiriou – Drums
Mark Fox + Tommy Heart – Vocals
Track Listing:
1. Halleluja Rock n Roll
2. Go Baby Go
3. Rattlesnake Rumble
4. Dirty Dynamite
5. Let the Good Times Roll
6. Help
7. Better Than Sex
8. Dög Song
9. Yellow Mary
10. Bailout Blues
11. Live Ma Life
12. Hardrocking Man
Label: The End Records
Website(s): http://krokusonline.com
Hardrock Haven Rating: 8.7/10
by Sherry Thomas
- Columnist –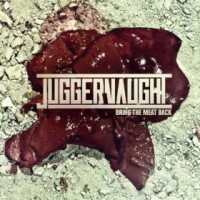 South Africa's Juggernaught has been making a name for themselves since their inception four years ago. Their debut album Act Of Goat was released in 2009 and the first pressing sold out in less than two months. In addition, they played over 300 shows wherever they could to unleash their whiskey-fueled brand of hard rock Juggernaught's fans coined as "MAN-ROCK." The quartet is comprised of Herman le Roux (guitars, vocals, organs, synth), Jovan Tutunovic (guitars, vocals), Angilo "Boobyman" Wijnbergen (bass) and Alexis Schofield (drums, percussion).
On October 26, 2012, Juggernaught released their second album independently titled Bring The Meat Back. The 11 tunes are gritty, dirty and testosterone filled from start to finish. All of the songs are very riff heavy and incorporate elements of Hard Rock, Classic Rock and Stoner Rock.
"Bad Idea" begins Bring The Meat Back with a vengeance. The song can be described as Clutch and Nashville Pussy having an illegitimate love child. "Train" follows and is a bluesy rock tune to have playing in the background of a party. "The Storm" is the most laid back found on the album. Songs like these make it hard to believe that Juggernaught is from South Africa and not Mississippi. "Beef Or Chicken" tells the satirical tale of greedy televangelists.
Next up, "Back Door Woman" is the Southern version of a Steel Panther song that will keep the listener laughing in between headbangs. "Bootycall" is a salacious track going out to their female fans complete with a few select bad pick-up lines. The title track "Bring The Meat Back" brings back the bluesy guitar riffs and gritty vocals. "Follow The Scent Of The Musky Brisket" is a minute and a half sojourn that is fast and furious. "Wors" is the South African rendering of Scatterbrain's "Down With The Ship" complete with cowbell. "One Of Them Days" is another blues number that has a Lynyrd Skynyrd feel. Le Roux's adds organ in the song which gives it a nice touch. "Paint It Brown" is last. No, it is not a take on the Rolling Stones "Paint It Black". It is closer to a song that Black Label Society would release.
So far, 2013 is looking like another busy year for Juggernaught with shows lined up such at RAMfest, South Africa's Ultimate Rock Festival and a nationwide tour in their home country. Hopefully, they will expand their jaunt to other parts of the world in the near future.
Bring The Meat Back is a solid album that should be listened to if you like bands such as Lynyrd Skynyrd, Ram Jam and HELLYEAH. Although it's not the most original sounding album, it is fun and catchy with great hooks and lyrics.
Genre: Hard Rock
Band:
Herman le Roux – guitars, vocals, organs & synth
Jovan Tutunovic – guitars & vocals
Angilo Boobyman Wijnbergen – bass
Alexis Schofield – drums & percussion
Track Listing:
1. Bad Idea
2. Train
3. The Storm
4. Beef Or Chicken
5. Back Door Woman
6. Bootycall
7. Bring The Meat Back
8. Follow The Scent Of The Musky Brisket
9. Wors
10. One Of Them Days
11. Paint It Brown
Label: Independent
Web: http://www.juggernaughtmanrock.co.za/
Hardrock Haven rating: 8/10