by Justin Gaines
- Senior Columnist/News Editor –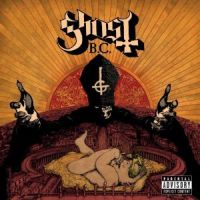 After months of speculation, controversy and sheer hype, we finally have the new album from Swedish band Ghost – or Ghost B.C. as they're calling themselves in the U.S. Ghost, of course, made a huge splash with their 2011 debut Opus Eponymous, and since its release their buzz has only increased, leading to a reported seven-figure deal on a major label. Naturally, expectations were very high going into their sophomore album, which is titled Infestissumam. Fans of the debut weren't exactly put at ease when the first single – "Secular Haze" was released. It's heavy use of circus-like organ seemed like a huge departure from the simple, catchy retro metal of the debut. Well, if "Secular Haze" threw fans for a loop, the rest of Infestissumam will definitely have some jaws dropping.
The formula for Opus Eponymous was simple – retro sounding heavy metal that sounded more or less like King Diamond writing lyrics for a Blue Oyster Cult album (with a bit of Angel Witch-y NWOBHM for good measure). The easiest thing for Ghost to do here is serve up another 8-9 catchy Satanic rockers to satisfy their fans. Instead, the band reached even further back into '70s prog and even '60s rock for an album that is both catchy and complex, and for all its Satanic trappings is a layered, progressive and perhaps even artistically brilliant work.
Opus Eponymous was effective for a reason, and Ghost hasn't forgotten that here. Infestissumam still has a handful of catchy heavy metal songs like "Jigolo Har Megiddo," "Depth of Satan's Eyes" and especially "Year Zero" that should satisfy the way "Satan Prayer" and "Death Knell" did. It's songs like the gloriously morbid King Diamond does King Crimson "Ghuleh/Zombie Queen" and the epic "The Monstrance Clock," with its Summer of Love turned Summer of Satan vibe, that show just how creative this band really is behind the robes and makeup. You hear it just as clearly on "Body and Blood," which has a strong Kinks sound, and the bouncy "Idolatrine," which for all its dark lyrical focus has the kind of vocal harmonies and guitar tone you'd expect from a vintage Beach Boys tune.
Now if you just read that and thought "why the hell do I want to hear Ghost sounding like the Kinks or the Beach Boys," that's totally understandable. If you just want another Opus Eponymous, you're not going to get that here. Even the most jaded listener is going to be won over by Infestissumam though. This is the kind of album that shocks you on the first spin, but definitely gets its hooks into you, and with each listen you hear something new and eventually realize that the album is nothing short of a triumph. All of the album's disparate elements come together brilliantly in the end, and while you'll no doubt have your favorite songs, like the debut Infestissumam works best as a complete experience.
There will no doubt be fans who just can't get into what Ghost is doing here, and there will be skeptics who question whether the band is worth the hype (or the money) they receive. They're going to be the minority though, as Infestissumam is every bit as mesmerizing and memorable – albeit in a very different way – as its predecessor. It is, quite simply, the most amazing album 2013 has to offer so far.
Edition Notes: There are several versions of Infestissumam available. The basic CD comes in a flimsy digipack, while the deluxe edition comes in a jewel case with full booklet and two bonus tracks – "La Mantra Mori" and a very creepy cover of Abba's "I'm a Marionette." The standard LP edition is on red vinyl, while the European version has a deluxe gatefold packaging.
Genre: Heavy Metal, Occult Rock, Progressive Rock
Band:
Papa Emeritus II and a Group of Nameless Ghouls
Track Listing
1. Infestissumam
2. Per Aspera Ad Inferi
3. Secular Haze
4. Jigolo Har Megiddo
5. Ghuleh/Zombie Queen
6. Year Zero
7. Body and Blood
8. Idolatrine
9. Depth of Satan's Eyes
10. Monstrance Clock
Label: Republic
Website: www.ghost-official.com
Hardrock Haven rating: 10/10
by Justin Gaines
- Senior Columnist/News Editor –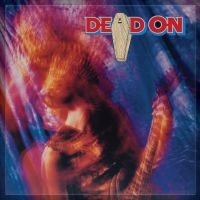 The '80s were just drawing to a close when Long Island-based power/thrashers Dead On unleashed their self-titled debut album. The thrash metal scene was in full sway at the time, and while Dead On brought plenty of speed to the table, they weren't willing to walk away from their NWOBHM and power metal influences. Blending power and thrash worked well for bands like Vicious Rumors, Helstar and Sanctuary, but Dead On never quite reached that level of success. They left behind one very impressive album though, which has just been given a deluxe reissue by Divebomb Records.
Listening to the Dead On debut all these years later you really have to wonder why they didn't make it, at least for a while. Their sound combined thrash's speed and intensity with power metal's melodic elements, a dark fantasy/occult lyrical focus worthy of King Diamond and a level of technicality worthy of the progressive metal genre. This is a band that fans of Sanctuary, Overkill, Forbidden and even Megadeth should have been all over. They were even on the Shocker soundtrack with Megadeth and later toured the U.S. with Sanctuary and Fates Warning. Maybe their label was too busy pushing Vanilla Ice and Wilson Philips to give Dead On any proper support. Whatever the reason, it's a real shame, because the intensity and sinister vibe of songs like "Salem Girls" and "Full Moon" and the sheer speed metal assault of "Beat a Dead Horse" and the title track would have gone over great with just about any metalhead in 1989.
Divebomb's 2013 reissue of Dead On is an expanded two-disc set. Disc one contains the full 1989 Dead On album, newly remastered by Jamie King and bonus video clips for "Full Moon" and "Different Breed." The second disc features the 1991 All Four You EP (featuring new singer Carl Frazzitta on vocals), a previously unreleased cover of The Vapors' "Turning Japanese" and the rare 1987 The Limit demo, all remastered, plus the video for "Lost at Sea." In true Divebomb fashion, the booklet is a real treat. It features restored original cover artwork, a band interview, lyrics and tons of vintage photos, show flyers, etc. This is a reissue that looks as good as it sounds.
If you're one of the lucky few who discovered Dead On back in the '80s, this reissue is a more than worthwhile upgrade. The remastered audio alone makes it a mandatory purchase, and the extras seal the deal. If you missed this band the first time around, but are a fan of the classic '80s power/thrash sound – think bands like Apocrypha, Sanctuary, Vicious Rumors and the like – or just high speed heavy metal in general, now is the perfect time to experience Dead On.
Genre: Heavy Metal, Power, Thrash Metal
Band:
John Lindner (b)
Michael Carona (g)
Tony Frazzitta (g)
Mike "Dunk" Caputo (d)
Mike Raptis (v, disc 1)
Carl Frazzitta (v, disc 2)
Track Listing:
Disc 1
1. Salem Girls
2. Beat a Dead Horse
3. The Widower
4. The Matador's Nightmare
5. Full Moon
6. Escape
7. Merry Ship
8. Different Breed
9. Dead On
Disc 2
1. One For You
2. Every Day on Earth
3. Lost at Sea
4. Do What You Want
5. Turning Japanese
6. Medusa
7. Third Reich
8. Comin' Back
9. No Clue
Label: Divebomb Records
Hardrock Haven rating: 8.75/10
by Jenn Carbaugh
- Columnist –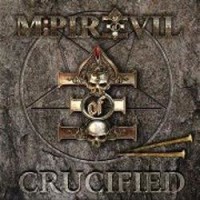 M:Pire of Evil returns with Crucified. They released their debut, six-track Creatures Of The Black album along with the highly respected Hell To The Holy album in 2011 and early 2012. Now, the wait for their newest album is over. Originally, Dunn took on the name Mantas and formed a band that challenged all of the pioneers of the music world. He took inspiration from the greats and made a combination known as Venom. Mantas, a longtime guitarist, and Tony "Demolition Man" Dolan formed M:Pire of Evil in 2010. Initially, they were called Prime Evil, which comes from an illustrious Venom album, but they discovered another band had the name as well. With Crucified being released, heavy metal magic is made.
The album starts out quite strong. "Temples of Ice" has intensely fast guitar riffs and an amazing bass line that causes instant head banging. The howling voice of the "Demolition Man" creates a fierce edge that ends the song with somewhat of a haunting whisper. The steadfast heavy drudge carries on through the next series of songs. All of the songs provide this type of build that makes the entire song have a narrative feel. There are catchy choruses and words that refuse to leave your head. "Need to Kill" is no exception in terms of a song that will stick with you. "Demone" is another hard and fast song that makes Crucified so severe and raw, but it difficult to not discuss every song on this album.
"Crucified" is one of the songs that stuck out the most in terms of a narrative approach. However, there is more than a story being presented within the song. There is a hardcore instrumental background that is perfectly balanced with the roughness of the vocals. The solos done by Mantas are so memorable in this song as well. For being the song titled after the album, it creates such an impact.
M:Pire of Evil have a sound of their own, and the scales and technical abilities that this band can cover within an album is mind-blowing. Each song proves that these musicians complete one another. Mantas has such quick shredding fingers with every riff he plays. Keeping up with the speed of Mantas, the drums are done in a heavy but technical sense. It is all brought together with the primal sound and tension in the "Demolition Man's" voice. This three sound phenomenal together, and this album is not disappointing in any way.
Genre: Heavy Metal
Band:
Jeff "Mantas" Dunn – guitar
Tony "Demolition Man" Dolan – vocals, bass
Marc "JXN" Jackson – drums
Track Listing:
01. Temples of Ice
02. Parasite
03. Kissing the Beast
04. Blackened Are the Priests
05. Carnivorous
06. Black Legions
07. Need to Kill
08. Wolverine
09. Crucified
10. Demone
11. Taking It All
Label: Mausoleum Records
Website: www.mpireofevil.com
Hardrock Haven rating: 8.5/10
by Alissa Ordabai
- Senior Columnist –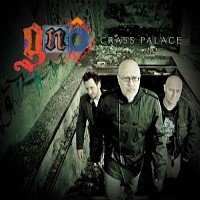 French guitar guru Christophe Godin continues on his cultural deconstruction mission with the trademark mixture of virtuosity and kooky humor. Most know Godin as the leader of the now legendary outfit Mörglbl – the most original, if not the best, French rock band to emerge in the Nineties. But this time Godin is leading a different, although an equally far-out crew – a trio called Gnô. The main premise Godin remains, however, the same – to mix and shake up as many disparate popular music styles as possible to make your head spin and your reason buckle.
Only this time the juxtapositions of punk and jazz, metal and pop, electronica and prog-rock sound even more outrageous and brazen than before. On standout "Toy Boy No More" the band manages to go through punk, pop, and metal with such fierce disregard for decorum, conventions, or respect for the settled ways in which those styles resonate with an ordinary music fan, it drives you beyond confusion and into spasms of nervous laughter.
Add to this the colossal riffs a la Dimebag Darrell and Godin's virtuosic guitar leads which sound both learned and ballsy, and the end result becomes cognitive dissonance of epic proportions. Some would say it's ruthless of Godin to place Beatles-esque melodies and Pantera-style riffs right next to each other, but his main purpose remains to see what happens with such wild contrasts. Exhilarating, constantly developing, and completely unpredictable is how this record asserts itself from the word go.
But it isn't all cerebral fun or experimentation. Subtler tracks such as "Modern Day Jesus" with its NIN-meet-Alan-Parsons vibe, or the self-ironically sentimental "Fly Free" show how Godin can use his knack for writing a perfect melody to test not only the outside world, but things within his own private realm. His fundamental formula may stay unchanged, but here he delivers some of his sharpest songwritng to date. What certainly helped is the fact that this is an album of actual songs, not instrumentals, with all band members taking turns with the mic duties.
Not simply pastiche and post-modernist games with culture, Godin's approach points finger at the atomized state of rock – overflowing with historical references and allusions, and at the same time with a chaotic sense of direction. Song titles such as "Abracadavra" become a perfect commentary on how popular music sees its own reflection in a fractured mirror where dozens of fragments remain irreconcilable and incomprehensible to each other. The final impression is akin to seeing a jazz scholar having an altercation with a punk – fascinating, grotesque, and hilarious at the same time, just like intended by Godin and his accomplices.
Genre: rock, hard rock, jazz, pop, electronica, heavy metal, punk, alternative
Personnel:
Christophe Godin – guitar, vocals
Gaby Vegh – bass, vocals
Peter Puke – drums, vocals
Track Listing:
1. Fate is My Name
2. Momentum
3. The Scavenger
4. Modern Day Jesus
5. The Doll
6. All Life Has Left
7. Don't Waster Your Time
8. Toy Boy No More
9. Punish Yourself
10. Abracadavra
11. Tooth and Nail
12. Fly Free
Label: Send The Wood Music
Online: www.christophegodin.com
Hardrock Haven rating: 9/10
by Mark Allen
- Senior Columnist –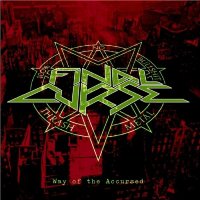 There are no certainties in life, and that axiom holds true in the macrocosm of metal music where bands rise and fall on a daily basis. But even in the face of such uncertainty, you can bet the last penny in your pocket that this won't be the last time we hear from Final Curse. Unlike Lindsay Lohan or reality TV, this band is too damn good to just go away. Their motto is "No Bullshit, 100% Thrash Metal" and there is no need to read the fine print, because there isn't any. The band's strategy is simple: mesh the thrash styling of Metallica and Megadeth with the pure power of Pantera and the frantic fury of Slayer. To say they have succeeded would be an understatement equivalent to calling Dimebag Darrell an OK guitarist.
Final Curse hail from North Carolina, but their sound is firmly rooted in Bay Area thrash. That said, like any new band worth their chains and leather, Final Curse bring their own ideas to the table. Sure, you can hear plenty of early Metallica or Testament in the band's approach, but it is not slavish mimicry or simple regurgitation of what has come before. Final Curse are crafting their future by borrowing from the past, but they are most certainly their own band with their own artistic expression.
Final Curse know thrash. Know it the way someone knows every curve of a long-time lover's body. Forget faux flash and soulless sizzle; Final Curse maintain tight control over every element of their sound. They are tight and focused and professional rather than careening crazily out of control in pursuit of speed for speed's sake. The guitars power up some pummeling riffs that demand you bang your head and really, there's no use even fighting it; just have a neck brace ready for when the album ends. The drums are slammed around like an Al Qaeda terrorist in a CIA rendition program while the bass flexes its muscularity with some thunderous bottom end. Rounding out this heavy-hitting juggernaut is a vocalist who knows how to properly deliver this kind of stuff. No guttural growls that sound like a glass-and-gravel cocktail being dragged over the singer's esophagus, no metal-core screams that sound like a cat being doused with gas and set ablaze…just aggressive singing that is not too far removed from Hetfield's vocal style. It's the complete thrash metal package and it's big enough that you should be impressed.
Equally impressive is how many ear-snagging tracks there are to choose from. "Corruptor of Innocence" is so Metallica-like that you'll swear it was an unreleased B-side from …And Justice For All. "Reaper of Justice" rocks, rolls, and rages with more high-velocity spit than a rabid camel and more venom than an anally-violated viper. "Dethsamane" dabbles with some gang vocal punch to accompany the frenzied shredding and relentless rhythms. And "Rage Around Your Neck" may just be the best thrash metal anthem of the last five years thanks to vicious beats, an unholy helping of attitude, rampaging riffs, and a killer chorus.
If you have been lamenting all the Cookie-Monster-is-constipated "-core" music that passes for thrash these days, Final Curse has got what it takes to turn your lamentations into celebration. This is old-school, pure-hearted thrash metal that sounds big and loud and bone-crushingly bad-ass. Pick this album up faster than a drum-trigger hammers out a double-kick and prepare to have your ears blessed by Final Curse.
Genre: Thrash Metal, Heavy Metal
Band:
Mike Plowman (vocals, guitars)
Fernie "Ferndog" Ortega (bass)
Madison Stegall (guitars, vocals)
Brendon Blackwelder (drums)
Track Listing
1. Corruptor of Innocence
2. Replace God (Conceal the Beast)
3. Biltmore7
4. Rage Around Your Neck
5. Reaper of Justice
6. Consume
7. Christiainsanity
8. Dethsemane
9. Ghostbones
10. Is There No Hope?
Webpage: www.reverbnation.com/finalcurse
Label: Dark Harvest Records
Hardrock Haven rating: 8.5/10
by Justin Gaines
- News Editor / Senior Columnist –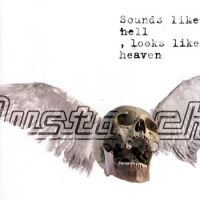 Swedish heavy rockers Mustasch are back with a new studio album, their sixth overall, titled Sounds Like Hell, Looks Like Heaven. The album has actually been out for about a year overseas, but it's finally getting a proper US release this year. With any luck, this will be the album that brings the band – already a massively popular and Grammy winning act in their home country – the attention of American rock and metal fans.
Mustasch has an interesting, and completely awesome, sound. Their rhythms and riffs are heavy – as in giant slab of granite HEAVY, which gives them one foot in the stoner metal territory occupied by bands like The Sword and Orange Goblin, but there's also a hard rock side to things that brings to mind Motorhead and The Cult (especially in singer/rhythm guitarist Ralf Gyllenhammar's vocal style and overall presence). They've got an overall vibe that's similar to Volbeat, even though their sound is very different. So yeah, hard-heavy-rock-metal, what's not to like?
Sounds Like Hell, Looks Like Heaven is a short album (ten tracks totaling just 35 minutes), but it's a pedal to the metal blast all the way through, and every song is a winner. Once the high octane opening number "Speed Metal" kicks in, you can pretty much forget about doing anything other than rocking out for the next half hour. Song after song, riff after riff, and groove after groove, Sounds Like Hell, Looks Like Heaven refuses to let go until the short, strange outro "Northern Link" sends us off on a mellow note.
This is such an easy album to recommend. If you like music that rocks, buy a copy of Sounds Like Hell, Looks Like Heaven and become a Mustasch fan for life. It's past time that American audiences are let in on what European crowds already know. Mustasch is a band that has all the potential in the world to get huge here if they follow the path Volbeat took in touring relentlessly and winning over new fans one club at a time.
Genre: Heavy Metal, Stoner Rock
Band:
Stam Johansson (b)
Danne McKenzie (d)
Ralf Gyllenhammar (v) (g)
David Johannesson (g)
Track Listing:
1. Speed Metal
2. The Challenger
3. It's Never Too Late
4. Cold Heart Mother Son
5. Morning Star
6. Dead Again
7. Your Father Must Be Proud of You
8. Destroyed By Destruction
9. I Don't Hate You
10. Northern Link
Label: Regain Records
Website: www.mustasch.net
Hardrock Haven rating: 9.25/10
by John Kindred
- Publisher –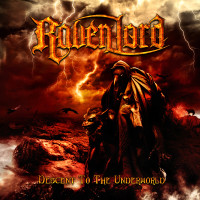 Raven Lord is the latest "super-group" to hit the scene. The band was founded in 2011 by Csaba Zvekan of Killing Machine. Zvekan built up the band with fellow musicians who have all made their mark in the hard rock and metal community. The lineup comprises George Karafotis (Vermillion Days, Operation X), Jamie Mallender (Tony Martin Band.), Lawrence Paterson (Stuka Squadron, Blaze Bayley) and Alessandro Duo (Voodoo Highway). Raven Lord finalized the lineup by adding Neo-classical shredder Joe Stump in 2012. With a two-album recording contract in hand from Mausoleum Records, Raven Lord is now ready to deliver its debut CD release.
Descent to the Underworld was produced by Raven Lord's Csaba Zvekan and mixed by Swedish producer Fredrik Nordström (Arch Enemy, In Flames, Opeth). It will come as no surprise that Raven Lord's brand of music is Heavy Metal. However, nuances of Power Metal and Neo-classical metal shine through.
Csaba Zvekan has been a working musician since the mid-'80s. After his stint in Killing Machine, became unproductive he left the band and moved on and formed Raven Lord. Zvekan brings to the table the perfect voice for metal, from a low scratchy-gritty vocal to shrieking metallic screams, he delivers the goods. The lineup he built around himself is outstanding. Adding a heavy weight like Joe Stump to your band is bound to legitimize your product. It's easy to clump Stump into the "Yngwie" clones category, but anyone who has listened to his body of recorded work knows he is an extremely diversified musician. Don't look for Stump to stray too far from heavy-neo-shred on Descent to the Underworld though; just sit back and enjoy the show.
Descent to the Underworld contains 11 blistering tracks. Raven Lord delivers in all areas of importance: Quality musicianship, songs and production. There are a lot of metal bands out today doing the same style of music; what sets Raven Lord apart from its peers is its dedication to get everything right. The album features plenty of metal gems for your listening pleasure. From the opening track "The Rebel" to the finale "Sun God," the band keeps the intensity maxed. There is no filler and no ballads … just in-your-face metal.
Genre: Heavy Metal, Neo-classical
Band:
Csaba Zvekan: vocals
Joe Stump: lead guitars
George Karafotis: guitar
Alessandro Duo': Keyboards
Jamie Mallender: bass
Lawrence "Larry" Paterson: drums
Track Listing:
01. The Rebel
02. Attila The Hun
03. Let The Show Go On
04. Seal Of The Cross
05. Settle The Score
06. Promised Land
07. Black Friar
08. World Out Of Steel
09. Revelation
10. Metal Knights
11. Sun God
Label: Mausoleum Records, Rock N Growl Records
Web: www.raven-lord.com / www.facebook.com/ravenlordmusic
Hardrock Haven rating: 9/10
by Justin Gaines
- News Editor / Senior Photojournalist –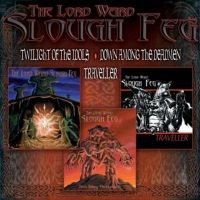 If you've heard of the San Francisco (by way of Pennsylvania) heavy metal band Slough Feg, you probably seen the word "cult" used to describe them. That's a fair description, seeing as how the band has been active since 1990 without ever getting much attention. Much like Broca's Helm and Manilla Road, Slough Feg (which started out under the name The Lord Weird Slough Feg) has been a secret that was closely guarded by their very dedicated fans.
Newly signed to the Metal Blade label, the band's cult days may be behind them, and their fans may have to share this very creative band with the larger metal community. This new box set, which reaches back to the band's early days as The Lord Weird Slough Feg will help with that. Now the band's long out of print albums – 1998's Twilight of the Idols, 2000's Down Among the Deadmen and 2003's Traveller – are once again available in this 3-disc offering.
It's tough to describe Slough Feg's sound, as there really aren't any bands quite like them. If you can imagine the galloping leads and sheer energy of the first couple of Iron Maiden albums coupled with the Celtic melodies and folk elements of Skyclad plus the dramatic vocals of the early Falconer albums, that's probably close to the mark. NWOBHM meets folk metal maybe? That vibe is especially strong on Twilight of the Idols and Down Among the Deadmen, which sound like what Iron Maiden might have been had they hailed from the Scottish highlands. The lyrical focus of those two albums was mainly centered on Celtic themes, though each album had a song or two about the mysteries and evolution of the human mind, which is a recurring theme on later Slough Feg efforts. With Traveller, the band shifted a bit, both musically and lyrically. The album is a heavier, doom metal influenced affair with a heavy science fiction concept. It's good to see a band evolve and not get trapped in a rut, especially when the results are this good. Traveller feels like a natural evolution of the Slough Feg sound, and it's every bit as memorable as the previous albums.
There isn't any bonus material in this set, and if the albums have been remastered they're not publicizing that fact. It sounds like they've been cleaned up at least a little. Still, when you're getting three classic metal albums in one place at a fairly low price point, there's not much to complain about.
If you're one of the initiated, one of the Slough Feg cult, this box set is only going to be useful if you haven't yet been able to track down these three albums. For most fans though, this set is the perfect way to enter the wild, strange world of The Lord Weird Slough Feg. And if you're a fan of traditional, folk, and/or doom metal (anywhere from Iron Maiden to Skyclad to Candlemass to Falconer to Elvenking), Slough Feg is a band that you're going to kick yourself for not discovering long ago.
Genre: Heavy Metal
Band:
Mike Scalzi (v) (g)
Greg Haa (d)
Scott Beach (b, disc 1)
Jon Torres (b, disc 2)
Adrian Maestas (b, disc 3)
John Cobbett (g, disc 2-3)
Track Listing:
Disc 1 – Twilight of the Idols
1. Funeral March
2. Highlander
3. High Season II
4. The Pangs of Ulster
5. Brave Connor Mac
6. The Wickerman
7. Slough Feg
8. The Great Ice Wars
9. Life in the Dark Age
10. Warpspasm
11. Bi-Polar Disorder
12. The Wizard's Vengeance
13. We'll Meet Again
14. Bagpipe Outro
Disc 2 – Down Among the Deadmen
1. Sky Chariots
2. Walls of Shame
3. Warriors Dawn
4. Beast in the Broch
5. Heavy Metal Monk
6. Fergus Mac Roich
7. Cauldron of Blood
8. Troll Pack
9. Traders and Gunboats
10. Psionic Illuminations
11. Marauder
12. High Season
13. Death Machine
Disc 3 – Traveller
1. The Spinward Marches
2. High Passage/Low Passage
3. Asteroid Belts
4. Professor's Theme
5. Vargr Moon
6. Vargr Theme/Confrontation (Genetic Prophesy)
7. Baltech's Lament
8. Gene-ocide
9. Curse of Humaniti
10. The Final Gambit
11. The Spinward Marches (Return)
12. Addendum Galactus
Label: Metal Blade
Website: http://www.sloughfeg.com
Hardrock Haven rating: 8.5/10
by Justin Gaines
- News Editor / Senior Columnist –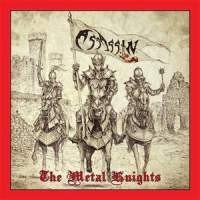 Briefly known as Assassin, Minnesota based heavy/speed metal band Deadly Assassin was active in the mid '80s, delivering high-speed heavy metal with high-pitched vocals and a Christian message. The band released a 10 song demo cassette (as Assassin) in 1987, and recorded some later songs as Deadly Assassin, but they, like so many other metal bands, did not survive the '80s. Now thanks to Stormspell's collection The Metal Knights, we have all of the Assassin/Deadly Assassin recordings collected on CD for the first time.
The very idea of a Christian version of King Diamond seems impossible to imagine, but that's not too far removed from Deadly Assassin's sound, at least on the vocal side, where Tony Santine goes from a gruff, thrashier style to a (very) high-pitched wail in a heartbeat. Musically, the band was somewhere between the typical NWOBHM-inspired traditional heavy metal sound and the emerging thrash sound. Exciter and Savage Grace come to mind. It's pretty interesting stuff, and very, very metal. You get a few repeats on this collection, as they demoed some songs both as Assassin and Deadly Assassin, but even with that there are a lot of vintage metal tunes to take in here, including a cool cover of the early Anthrax song "Metal Thrashing Mad."
As for the lyrical content, it is obvious (more so on some songs than others) that Deadly Assassin was a Christian band, but they don't get too carried away with it. It's mostly Revelations-inspired apocalyptic themes, and that's something plenty of bands of the era took on. The average metal fan can listen to this collection without getting a full on Sunday school session.
Since this is part of Stormspell's Red, White and Heavy series, The Metal Knights disc is a) limited to 500 copies, and b) not as good sound-wise as the usual Stormspell release due to the limitations of the source material. This is the tradeoff though. You sacrifice on sound quality (quite a bit on some tracks), but we at least get to hear these vintage metal songs that otherwise would be lost to history. It does have the usual high quality visual presentation Stormspell is known for, including rare photos and band info.
Stormspell markets their Red, White and Heavy series to "the initiated," and that's exactly who will get the most out of this collection. The Metal Knights is a release that is really only going to appeal to the most dedicated and die-hard collectors of cult '80s heavy metal. Those collectors are going to love discovering (or rediscovering) Deadly Assassin after all these years.
Genre: Heavy Metal, Speed Metal
Band:
Steven Aguirre (b)
Rick Bunce (d)
Joe Aguirre (g)
Brian Aguirre (g)
Tony Santine (v)
Track Listing:
1. A Warning from Heavens
2. Satan's Imprisoned
3. Metal Knights
4. Premonition
5. Spirit of the Night
6. By the Fire of Your Grave
7. A Warning from Heavens
8. Satan's Imprisoned
9. Soldiers of the Lord
10. Tyrants of Evil
11. Metal Knights
12. Premonition
13. Spirit of the Night
14. Dark Evil Forces
15. Assassin
16. Metal Thrashing Mad
17. Unchained Angel
Label: StormSpell Records
Hardrock Haven rating: 8/10
by Ron Higgins
- Columnist –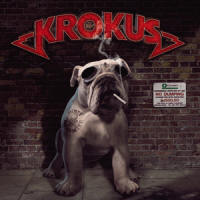 After working for two years in the legendary Abbey Road Studio with bassist and producer Chris Von Rohr, Swiss rockers Krokus are back! Their last release, the excellent 2010 Hoodoo, went platinum in their home country and this album is just as impressive. It's a no-nonsense, straight-ahead rocker featuring 12 explosive tracks, all clocking in at a succinct three to four minutes in length. The band also welcomes back guitarist Mandy Meyer to the fold after a mere 30 year absence! Dirty Dynamite is the band's 17th studio album, and after nearly four decades of rocking, they show no signs of slowing down now.
As anyone who has followed this band throughout their lengthy career knows, they have always been inspired by AC/DC. So it should be no surprise that many of the songs on their latest release have the down-and-dirty rhythm and blues vibe of the Aussie rockers. As lead singer Marc Storace has done before on songs like "Long Stick Goes Boom", he channels his inner Bon Scott. But this time, he does more than sound like AC/DC's former front-man, he becomes Ronald Belford Scott. The only thing missing is a kilt and some bagpipes. Songs like "Go Baby Go" and "Better Than Sex" are rhythmically and vocally so similar to vintage Bon-era AC/DC, bands like Airborne and Rhino Bucket sound like Air Supply in comparison. It's downright eerie, in an awesome "Bad Boy Boogie" sorta way.
The album kicks off with the appropriately titled "Halleluja Rock n Roll." It's an up-tempo, bluesy rocker that sets the tone for the rest of the album, right from the first sounds of a growling dog whose picture graces the album's cover. He's a tough, dirty bulldog, complete with cigarette and obligatory tattoo. He's a perfect metaphor for this enjoyable tough-as-nails release.
The second track is the aforementioned "Go Baby Go", which is part "Dirty Deeds" and part Little Richard's "Ready Teddy". This is followed by another nice rocker, "Rattlesnake Rumble" where the boys find their inner ZZ Top.
Next up is the title track, "Dirty Dynamite". Interestingly, this is a somewhat slower track with a groovier, bluesy vibe. It's a simple 12-bar blues tune that even features a nice piano accompaniment in the background. Compared to the other songs on offer, it's a bit of a surprise that they chose this one as the title track, lead single and video. It's not bad, just not representative of the rest of the album and not the strongest song on offer.
"Let The Good Times Roll" returns to the hard rockin' swagger of the earlier tracks. It begins with someone muttering either, "cut the track" or "cut the crap". Either way, it works, while paying homage to AC/DC's "cut this" prefix to "Problem Child". And yes, it's "cut this" not the four-letter favorite most people like to sing.
Next up is one of the most interesting tracks on offer. As they are known to do, they have included a classic cover tune. Remember when they did their take of The Guess Who's "American Woman"? This time around they go for a true classic, "Help" by the Beatles. What makes it so interesting is that, aside from the lyrics, you can barely tell it's the same song. They truly put their own spin on it and it comes out great. Vocally, it's more Rod Steward than Bon Scott so it's a little atypical but it becomes more enjoyable with each subsequent listen. It also has a bit of a Pink Floyd tinge to it. They prove quite convincingly that they are certainly no one-trick pony.
Returning to their hard rocking ways, "Better Than Sex" is another raucous rocker with a flirty "Don't Put Another Dime in the Jukebox" riff and a "Sin City" breakdown midway through. This is followed by another highlight, the interestingly titled "Dög Song", with a catchy "All Night Long" chorus. "Yellow Mary" sees another return to Rod Stewart-land and "Bailout Blues" features some blistering guitar work. The album wraps up with the excellent, high-energy "Live Ma Life" and "Hardrocking Man," which, ironically, is more poppy and less rocking.
It's not a perfect release but it's immensely enjoyable and seems to get better with each listen, slowly percolating into your musical consciousness like a well brewed cup of coffee. A cup of coffee with a shot of whiskey perhaps, but coffee nonetheless. If you like hard rock, you'll like this album. If you like Krokus, you'll like this album. Basically, if you like good old-fashioned, dirty, bluesy rock and roll, you'll like this album. And if you long for the days when the Young brothers were knocking out classics with their previous singer, then you owe it to yourself to get this release. It's essentially the album everyone wishes AC/DC would make.
Genre: Heavy Metal, Hard Rock
Band:
Marc Storace – Lead Vocals
Chris Von Rohr – Bass, Vocals + Producer
Fernando Von Arb – Guitar + Vocals
Mark Kohler – Guitar
Mandy Meyer – Guitar
Guests:
Kosta Zafiriou – Drums
Mark Fox + Tommy Heart – Vocals
Track Listing:
1. Halleluja Rock n Roll
2. Go Baby Go
3. Rattlesnake Rumble
4. Dirty Dynamite
5. Let the Good Times Roll
6. Help
7. Better Than Sex
8. Dög Song
9. Yellow Mary
10. Bailout Blues
11. Live Ma Life
12. Hardrocking Man
Label: The End Records
Website(s): http://krokusonline.com
Hardrock Haven Rating: 8.7/10
by Justin Gaines
- News Editor/Senior Columnist –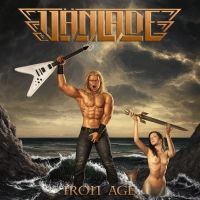 They say you should never judge a book (or in this case, album) by its cover, but man is that hard not to do when you've got a cover like the one adorning Iron Age, the debut full-length from Kansas City traditional metallers Vanlade. Let's see, we've got a buff metal dude raising a Flying V (and grabbing his crotch), a subservient (and buck naked) mermaid wench offering what one can only assume is a magic sword, and ominous storm clouds in the background. It's a cover that might make the guys in Manowar blush, and sure enough it tells you exactly what kind of metal you're getting with this one!
In case the message hadn't quite sunk in, the brief introductory track warns listeners that there be metal ahead, and once the anthemic title track kicks in you know it for sure. Vanlade plays old school traditional heavy metal like it's 1984 all over again. Vanlade obviously takes their inspiration from bands like Manowar, early Helloween, Helstar and Grim Reaper. There's an uncanny resemblance to cult Canadian metal act Witchkiller, and at times you get a 3 Inches of Blood vibe. High-speed riffs, high-pitched vocals, heavy crunching rhythms and lyrics straight from sci-fi and fantasy are in abundance here, as are traces of thrash and power metal. The title track is an obvious highlight, as is the blistering metal assault of "Wings of Fire," and closing track "Life By the Blade" offers a hidden surprise after the song ends. The only downside is that the production seems off, with the guitars and vocals sounding a bit thin at times.
Vanlade is traveling down a well-worn path here, but they do it well. Besides, if you're into traditional heavy metal you probably aren't looking for innovation. You're looking for songs to bang your head to (and maybe to slay a dragon in the name of metal), and you'll definitely get your share on Iron Age. Vanlade is a welcome addition to the growing worldwide revival of traditional heavy metal bands.
Genre: Heavy Metal
Band:
Cody Campbell (d)
Brett Scott (v)
Zach Coffey (g) (v)
Nick Poffenbarger (b)
Track Listing:
1. Intro
2. Iron Age
3. Evil's Bane
4. Blood Eagle
5. Hypernova
6. Wings of Fire
7. Bound by Fate (the Rising Dragon)
8. Life by the Blade
Label: Stormspell
Website: www.facebook.com/vanlade
Hardrock Haven rating: 8/10
by Justin Gaines
- News Editor / Senior Columnist –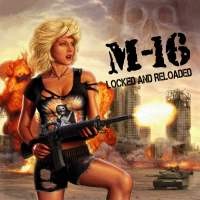 Originally released in 1988, Locked and Loaded was the debut album from New York hard rock/heavy metal band M-16. The band, which was active in the area's scene for most of that decade, had a sound that recalls Dokken, Leatherwolf and White Sister – a killer mix of hard hitting heavy metal and polished melodic rock. In 1988 you wouldn't have thought twice about calling them a metal band (especially with their signature gun toting grim reaper logo), but between the keyboards and focus on melody, M-16 is just as likely to appeal to AOR/melodic rock fans.
Locked and Loaded opens with the album's strongest song, "Much Too Young For Me," which despite being the best jailbait anthem this side of Winger's "Seventeen," is the best song Dokken never recorded. The dramatic guitar work, ethereal vocals (Lenny Thomas hit some great high notes) and painfully earnest lyrical content are recurring themes, and they keep reminding you of what was so much fun about that era's hard rock sound. You have these totally crunching metal riffs and blazing solos, but it's on a song asking "R.U. Hot Tonight." "Shot Down" and the single "Waysted Love" also show off the band's metal chops, while songs like "Guilty of Innocence" and "Tonite (It's You)" have a total Autograph/Black n' Blue feel. Hearing M-16, even if it's for the first time with this reissue, is like a time capsule that instantly takes you back 25 years. Locked and Loaded has that classic metal vibe and then some.
Heaven & Hell's new M-16 reissue, titled Locked and Re-Loaded, marks the first time Locked and Loaded has appeared on CD (legitimately at least, as bootlegs have circulated in the past). The reissue not only puts this long out of print album back in fans' hands, it gives it a nice upgrade. The album has been newly remastered by Jamie King (who remastered Heaven & Hell's Blacksmith and Overlorde SR reissues, among many others). The improvement in sound quality is quite noticeable. Locked and Re-Loaded also features two previously unreleased demos from 1989 – "The Game" and "Play It Loud" – that give fans a glimpse at what a second M-16 album might have sounded like. Factor in a nice booklet with a band history and some vintage photos and you have a very nice reissue overall.
If you're a serious collector of cult hard rock and heavy metal from the '80s, Locked and Re-Loaded should go straight to the top of your buy list. Fans of classic '80s bands on the edge between hard rock and metal in general should check out M-16, and this deluxe reissue is the perfect way to do that.
Genre: Heavy Metal, Melodic Rock
Band:
Glen Oliver (g)
Pete Sivaslian (d)
Steve Vandyke (b)
Lenny Thomas (v) (k)
Kevin Egnor (g)
Track Listing:
1. Much To Young For Me
2. Tonite (It's You)
3. Dreamgirl
4. RU Hot Tonight
5. Shot Down
6. Guilty of Innocence
7. Waysted Love
8. Why
9. The Game ('89 demo)
10. Play It Loud ('89 demo)
Label: Heaven & Hell Records
Website: www.m16rocks.com
Hardrock Haven rating: 8.75/10
by Justin Gaines
- News Editor / Senior Columnist –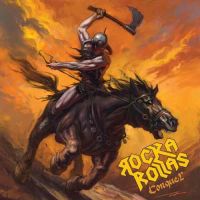 Swedish traditional metal warriors Rocka Rollas returned late last year with a new EP titled Conquer. The 4-song offering is intended as a preview of what's in store on the band's upcoming full-length Metal Strikes Back. If you caught the Rocka Rollas debut The War of Steel Has Begun, you probably already know that what's in store is metal and lots of it.
Rocka Rollas is all about the old school heavy metal sound. Their very name is an obvious nod to Judas Priest, but you can tell Accept, Iron Maiden and Grim Reaper are other influences. You hear it in the rapid-fire riffs, killer solos and pounding rhythms of "Bloodbath" and the title track especially, and the ultra-melodic, ultra cheesy (in the best possible way) "Riding the Metal Storm" sounds like vintage Helloween. The vocals are powerful and dynamic, but not as high-pitched as on the debut, which is a plus. The absolutely blistering 2-minute instrumental "Steelwheeler" closes the EP in style, and when it's done you're absolutely left wanting more.
With just four tracks, it's hard to get too excited about this EP, but Conquer does accomplish what it set out to do – namely, get you interested in Metal Strikes Back. Whether you're a fan of the new wave of traditional metal bands like Air Raid, 3 Inches of Blood and Enforcer or the classic heavy metal bands that inspired those bands in the first place, Rocka Rollas is a band that's well worth hearing, and Conquer is a good snapshot of the band's sound.
Genre: Heavy Metal
Band:
Cederick Forsberg (g) (b) (d) (v)
Joe Liszt (v)
Track Listing:
1. Bloodbath
2. Conquer
3. Living the Metal Storm
4. Steelwheeler
Label: Stormspell
Website: www.myspace.com/rockarollas
Hardrock Haven rating: 8.25/10
by Craig Newman
- Columnist –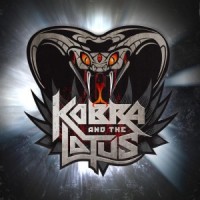 Canada's new metal band, Kobra and the Lotus strike metal venom with first International album.
Canada music scene has given the world of rock bands such as Rush, Triumph, April Wine and Helix. Kobra and the Lotus was formed during 2008 with beautiful and power singer Brittany (Kobra) Paige (could be that is her favorite snake) with guitarist Chris Swenson and drummer Griffin Kissack. She completed Grade 8 in vocals and Grade 6 in piano and she studied classical music with The Royal Music Conservatory of Canada. Their first album Out of the Pit was released during 2010 which is now hard to find. During 2012 they attracted the ears and eyes of Gene Simmons (KISS) and he signed them to his Simmons Records. This is their first international album with 10 songs, 11 on other countries releases.
The album is non-stop pounding, fast guitar riffs and energize metal from the opening song "50 Shades of Evil" to the last song. Other songs on the album are: "Heaven's Veins," "My Life," "Nayava," "Sanctuary" (the slower song on the album), "Lover of the Beloved," "No Rest for the Wicked," "Aria of Karmika" and "Dark Passenger" (extra track).
The official videos from the album are: "Welcome to My Funeral," "50 Shades of Evil" and "Forever One." On YouTube their videos and concerts are from festivals and small venues from Europe with conversations and acoustic sets with Kobra and the band.
Their second home has been Europe playing at the music festivals and small venues. At the end of 2012 they did a short US tour with Sonta Artica. They are currently are working on their next album for 2013 and another tour. This group has long term potential to headline their own shows as well opening for others with their energy and with fresh metal sound. They can energize the crowd while holding their own as either opening for other bands or headline shows. When they come to where you live, go see them as Kobra and the Lotus will strike you their energy. Even the metal cruises such as 70,000 tons of fun should consider having them on the ships.
US rock radio should take notice of this band and others with female singers of this music and play their music!
Genre: Heavy Metal, Power Metal, Thrash Metal
Band:
Kobra Paige – Vocals
Jasio Kulakowski – Guitars
Charlie Parra Del Riego – Guitars
Pete Dimov – Bass
Griffin Kissack – Drums
Track Listing:
1. 50 Shades Of Evil
2. Welcome To My Funeral
3. Forever One
4. Heaven's Veins
5. My Life
6. Nayana
7. Sanctuary
8. Lover Of The Beloved
9. No Rest For The Wicked
10. Aria Of Karmika
11. Dark Passenger (bonus track)
Label: Universal Music/Simmons Records, Spinefarm Records
Online: http://www.kobraandthelotus.com / https://www.facebook.com/KobraAndTheLotus
Hardrock Haven rating: 9/10
by Sherry Thomas
- Columnist –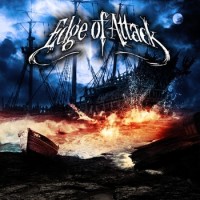 Edge Of Attack are newcomers to the metal scene, but they have already generated a lot of buzz. The five piece from Alberta, Canada recently released two singles from their forthcoming self-titled album. That opened the door to do pre-shows for giants such as KISS and Godsmack and the band was featured in Revolver Magazine.
Edge Of Attack is set for release Feb. 19 on Spread The Metal Records. The album contains ten tracks and was produced by guitarist and vocalist Jurekk Whipple. Edge Of Attack blends old-school Power and Thrash Metal, while adding a modern edge to it.
Roxanne Gordley provides haunting vocals throughout the album. Gordley pairs up with Ivan Giannini of Derdian on "Demon (Of The Northern Seas)", Ryan Bovaird of Hallows Die on "The Damned" and "Set The World Aflame" with PelleK of Damnation Angels. These pairings give Edge Of Attack some street credibility in the power metal scene. The solid rhythm section delivered by bassist Denver Whipple and drummer Trevor Swain is joined with the shredding guitar duo of Jurekk Whipple and Dallas Dyck.
The band states the album is self-titled because it represents a reinvention of their sound, which is a very important aspect to them. The songs that will attract the most attention are "Demon (Of The Northern Seas)," "Take Me Alive," "Edge Of Attack" and "Set The World Aflame." The listener has to dig for awhile before hitting gold on the album, but it's worth the wait.
If you like female-fronted power/thrash metal with choral and symphonic arrangements, Edge Of Attack is the album for you. Be on the lookout for Edge Of Attack to make a name for themselves in 2013.
Genre: Heavy Metal
Band:
Roxanne Gordey – Vocals
Jurekk Whipple – Lead Guitar, Vocals
Dallas Dyck – Rhythm Guitar
Denver Whipple – Bass
Trevor Swain – Drums
Track Listing:
1. In Hell
2. The Haunting
3. Demon (Of The Northern Seas) (featuring Ivan Giannini)
4. Take Me Alive
5. In The Night
6. Edge Of Attack
7. Rise Above
8. Forever
9. The Damned (featuring Ryan Bovaird)
10. Set The World Aflame (featuring PelleK)
Label: Spread The Metal Records
Web: http://www.edgeofattack.com/ – www.facebook.com/edgeofattackofficial
Hardrock Haven rating: 8.5/10
by Justin Gaines
- News Editor/Senior Columnist –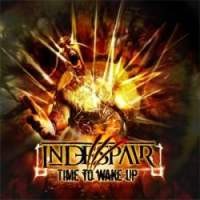 When you think of the heavy metal scene in Poland, chances are death metal titans Behemoth and Vader are the first bands that come to mind. It's probably not the kind of scene you'd expect to find a heavy/thrash hybrid band, but that's exactly what InDespair delivers with Time To Wake Up, their debut full-length and first release to feature lyrics sung entirely in English.
The "power thrash" sound is, for the most part, a decidedly American brand of metal. It was pioneered in the '80s by bands like Vicious Rumors and Sanctuary, and bands like Seventh Calling, Witches Mark and Imagika have carried it into the new era. InDespair, however, embraces this style like it was their birthright. Time To Wake Up is a full-on metal assault from start to headbanging finish. It's an exercise in razor sharp riffs, crushingly heavy rhythms, dark and violent lyrics, clean (but rough) vocals (with harsher screamed vocals coming in here and there for added emphsasis), and just enough melody to keep you hooked throughout. Testament and Anthrax seem to be the touchstones, as do Iced Earth and Sanctuary, but there's a brawling, grooving heavy undercurrent running through these songs that suggests a lot of time spent listening to Pantera. Fans of Mercenary and Solution 45 will probably get some mileage out of this one as well. InDespair just does a perfect job of capturing the best elements of thrash metal without the songs becoming just another riff-fest.
InDespair seems like anything but a newcomer or outsider to the sound here. Time To Wake Up is an extremely well-written, well-executed and well-produced album, and it's one of the best power/thrash albums that has been released in recent years (since Imagika's Feast for the Hated at least). If you're on the fence, a quick sample of songs like "A Ripper, a Butcher, a Demon," "Tonight We Die Free" and the title track ought to convince you. If you like your metal thrashing, heavy, aggressive yet still melodic, this one is easy to recommend: turn it on, turn it up, bang your head. Repeat as necessary.
Genre: Heavy Metal, Thrash Metal
Band:
Piotr Krawczyk (v)
Sergiusz Ciskowski (g)
Daniel Bartosik (g)
Sebastian Jarus (d)
Wojchech Fojcik (b)
Track Listing:
1. Destined to Fall
2. Break His Spell
3. Vexila Regis Prodeunt Inferni
4. A Ripper, a Butcher, a Demon
5. Tonight We Die Free
6. To the Weak Ones
7. Time To Wake Up
8. The Scent of Fear
9. Blessed are the Fallen
10. An Inch From Our Demise
Website: www.indespair.pl
Hardrock Haven rating: 8.75/10
by Sherry Thomas
- Columnist –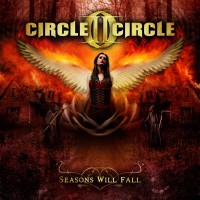 Zak Stevens and Company are back with their sixth studio album, Seasons Will Fall, and it is well worth the wait. The highly anticipated album is set for release on Jan. 25, via earMUSIC/Edel. Seasons Will Fall offers 12 tracks that will please longtime fans and pull in many new followers.
Formed in 2001, Circle II Circle has released five albums to date. The turning point came for the band in 2012 with its monumental performance of the Savatage album The Wake of Magellan, in its entirety, at Wacken Open Air festival, followed by a sold-out European club tour.
Circle II Circle doesn't stray from the hard rock, heavy metal and progressive combination that is anchored by Stevens' powerful, melodic vocals, along with the band's killer guitar riffs from axe-slingers, Bill Hudson and Christian Wentz, and a rhythm section that is solid and driven by Mitch Stewart and Adam Sagan, and Henning Wanner, who is a master at the keyboards. Whether it's a full-on assault, such as "Killing Death" or a graceful ballad, such as "Isolation," Seasons Will Fall is its strongest release to date.
Seasons Will Fall differs from CIIC's prior offerings in the respect that it is not a concept album. Each song gives the listener the capability to connect to the band in his or her own way. While the album boasts 12 great tracks, the standouts are "Without A Sound," "Never Gonna Stop" and "Epiphany."
Circle II Circle is preparing to go on a world tour to support the album, including a stop in Atlanta for Prog Power USA in September 2013 and an appearance on the Wacken Full Metal Cruise.
This is a must-have album your music collection, especially if you are a Circle II Circle or Savatage fan or checking out the progressive metal scene for the first time. Seasons Will Fall most likely will wind up on many "Best of 2013" lists.
Genre: Rock, Heavy Metal, Progressive
Band:
Zak Stevens – Vocals
Mitch Stewart – Bass/Keyboards
Bill Hudson – Guitars
Christian Wentz- Guitars
Henning Wanner – Keyboards
Adam Sagan – Drums
Track Listing:
1. Diamond Blade
2. Without A Sound
3. Killing Death
4. Epiphany
5. End Of Emotion
6. Dreams That Never Die
7. Seasons Will Fall
8. Never Gonna Stop
9. Isolation
10. Sweet Despair
11. Downshot
12. Only Yesterday
Label: EDEL, EarMUSIC Records
Web: www.circle2circle.net / www.facebook.com/CircleIICircle / www.twitter.com/circle2circle
Hardrock Haven rating: 10/10
by Sherry Thomas
- Columnist –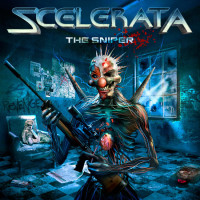 Scelerata is a Heavy Metal band that formed in Brazil more than 10 years ago. The band had a great history, including many shows, major tours and two albums released worldwide. However, the band is a relative newcomer to the North American Heavy Metal scene. The Sniper is the quintet's third full-length album with new vocalist Fabio Juan, along with the blazing guitar duo of Magnus Wichmann and Renato Osorio, bassist Gustavo Strapazon and drummer Francis Cassol.
The Sniper was produced by Charlie Bauerfeind (Helloween, Motörhead, Halford) and the band's guitarist Renato Osorio and was recorded at Twilight Hall Studio in Germany, which is owned by Blind Guardian. The Sniper was released in June 2012 to the Asian market, arrived in Brazil in July 2012 and Nov. 16, 2012, to the rest of us via Nightmare Records. Scelerata delivers a heavier and more aggressive sound, mixed with the prog and melodic elements they are known for and are found in the band's previous albums Darkness & Light and Skeletons Domination. The 11-track album is more mature, with lyrics that address a sad issue most countries have to deal with: Corruption in politics. The album also features better production and musicianship.
To top it all off, The Sniper features Andi Deris (Helloween) and Paul Di'Anno (Iron Maiden) as special-guest vocalists and co-writers on several tracks. In late 2008, Scelerata was chosen by Di'Anno to be his backing band during his Brazilian tours in 2009 and 2010.
"Rising Sun" and "In My Blood" lead off Scelerata's metal assault, featuring Di'Anno as guest vocalist on both tracks. The Sniper continues to showcase the band's progressive edge and the huge new vocal talent found in Fabio Juan with the powerful "Road Of Death" and "Breaking The Chains," a song that pays a glimmer of familiarity in the beginning and ending with the Dokken tune of the same name. "Unmasking Lies" features the amazing technical workings of Wichmann and Osorio. "Must Be Dreaming" (featuring Andi Deris) follows, and it shows off the band's progressive edge. "Drowned in Madness," "Welcome Home," "Til The Day We Die," "Money Painted Red" continue Scelerata's power metal fury. The final song on The Sniper is the title track, a nine-minute opus that keeps you wanting more.
It is safe to say that Scelerata will be turning heads in 2013 and beyond if the band keeps the momentum going. If you are a fan of Edguy or Angra, The Sniper is an absolute must.
Genre: Heavy Metal
Band:
Fabio Juan – Vocals
Magnus Wichmann – Guitars
Renato Osorio – Guitars
Gustavo Strapazon – Bass
Francis Cassol – Drums
Track Listing:
1. Rising Sun (featuring Paul Di'Anno)
2. In My Blood (featuring Paul Di'Anno)
3. Road Of Death
4. Breaking The Chains
5. Unmasking Lies
6. Must Be Dreaming (featuring Andi Deris)
7. Drowned in Madness
8. Welcome Home
9. 'Til The Day We Die
10. Money Painted Red
11. The Sniper
Label: Nightmare Records
Web: www.scelerata.com / www.facebook.com/ScelerataOfficial / www.twitter.com/scelerata
Video:
"Rising Sun"
Hardrock Haven rating: 9/10
by Mark Allen
- Senior Columnist –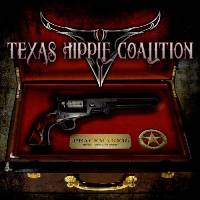 Texas Hippie Coalition refer to their loud, oversized, and utterly infectious brand of heavy rock as "red dirt metal," a tip of their Stetsons to the Red River Valley where they originated, but most hard rocking hell-raisers will probably just call it southern-fried groove metal, because that's what it is. If you borrowed some DNA from ZZ Top and Johnny Cash, cranked it up to eleven, and then spliced it with the powerhouse guitars of Pantera and Hellyeah, you might end up with something along the lines of THC.
Peacemaker is the band's third album and it does not stray far from the red dirt road they have traveled before. Once again you have headbanging guitar riffs flying at you like bullets from a Gatling gun, a rhythm section that knows how to put the smack down on your ears, drums that explode like cannon fire, and the gravelly, barrel-chested voice of Big Dad Ritch belting out the tunes with the kind of unapologetic badass attitude you can only find in Texas. It worked for the band in the past and it should work for them now, especially since this happens to be the best album of their career. The songwriting has improved and now incorporates some really strong hooks that stick with you like a steer horn to the crotch.
For fans of the southern-metal subgenre, this is prime stuff, because THC can really tear it up. When Big Dad Ritch bellows, "I'm an outlaw / on a long hard ride / Yeah, I'm an outlaw / Until the day I die," you may at first scoff and roll your eyes at the Bad Boy 101 lyrics, but as one rollicking rocker after another rolls from your speakers, you might just find the band making a believer out of you. They sound authentic, no small feat in a culture where so many "hard-ass" personas are carefully cultivated rather than genuine and pureblooded.
Sure, you could make a case that THC's relentless outlaw-loving lyrics are clichéd and about as subtle as a shotgun blast to the face, but that is in keeping with the genre. If you want to hear introspective navel-gazing about the meaning of life, go crawl into a closet with a stack of U2 records. Those of us who are just looking to have a hard rocking good time will be over here listening to THC roar about a preacher's daughter who starts stripping when she gets her first dose of Texas metal.
You may not start peeling off your clothes when you play these songs, but naked or not, there should at least be a smile on your face. Whether it's the full-auto riffing of "Damn You To Hell," the fist-pumping chorus of "Turn It Up," or the '80s-style rock ballad "Think of Me," the quality remains high from start to finish. Peacemaker has got big bulldog balls, plenty of crunchy clenched fist bombast, and more roughneck attitude than a rabid rattler.
Like a poker player who knows he has the winning hand, Texas Hippie Coalition have upped the ante with this album. The band was good before, but now they're even better. There's nothing novel here, but it's all delivered with heaps of hooks and unfettered ferocity and brings the southern-metal fun in spades. To paraphrase John Lennon, let's all give Peacemaker a chance.
Genre: Heavy Metal, Southern Metal, Hard Rock
Band:
Ritch (a.k.a. "Big Dad")—vocals
Crawfish—guitar
John Exall—bass
Ryan Bennett (a.k.a. "The Kid")—drums
Track Listing
1. Hands Up
2. Damn You To Hell
3. 8 Seconds
4. Outlaw
5. Turn It Up
6. Wicked
7. Don't Come Lookin'
8. Sex & Drugs & Rock and Roll
9. Paw Paw Hill
10. Peacemaker
11. Think Of Me
Label: Carved Records
Webpage: www.thcoutlaw.com
Hardrock Haven rating: 8/10
by Ron Higgins
- Columnist –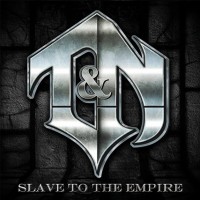 George Lynch has re-joined Dokken! Well, sort of. George joins fellow Dokken band mates Jeff Pilson and "Wild" Mick Brown to form a project known as T&N. Drummer extraordinaire Brian Tichy participates as well. Originally, it was going to be called Tooth and Nail after Dokken's seminal Platinum-selling second album of the same name. However, due to legal conflicts with the record label of the same name, they had to settle on the shorter acronym. So the question is: Does this album live up to its name? Not quite. But it's not bad either.
This project actually began out of the remnants of another failed Dokken reunion. When it was clear that the reunion wasn't going to happen, Pilson and Lynch began writing songs for the next Lynch Mob record but singer Oni Logan didn't feel that the songs were right. Brian Tichy laid down some drum tracks and suggested that they should bring in Mick Brown and do a whole album of Dokken covers with guest singers. They did just that and combined some of the Dokken remakes with a number of originals. The result is seven original songs and five remakes (with another seven remakes planned for a Part 2 to be released sometime in 2013, including, according to Lynch, "When Heaven Comes Down," "Til The Livin' End" and "Just Got Lucky"). Tichy handles the drums on the originals and "Wild" Mick plays on the remakes. The vocals for the originals and one remake are handled superbly by Pilson while the other four remakes feature an impressive list of guest vocalists. Guests include: Tim "Ripper" Owens, Doug Pinnick, Sebastian Bach, and Robert Mason. Interestingly, Don was actually approached to sing on the remakes but declined.
The album blasts off with one of the best songs on the record, the title track "Slave to the Empire." It's one of the originals and kicks the album off right into fourth gear. If there are any doubts that this album will have rockin' without Dokken, fear no more. The second track "Sweet Unknown" is a moodier, mellower, more modern sounding song. Not bad but definitely different. Other original tracks include "Rhythm of the Soul," "When Eagles Die," "Mind Control," "Jesus Train" and "Access Denied." "Rhythm of the Soul" is a decent enough mid-tempo song but not terribly memorable. "When Eagles Die" is a little more interesting with a nice acoustic guitar intro that leads into Jeff's capable singing and then George's incomparable lead work. Clocking in at over six minutes this is approaching prog territory and seems to be one of the more popular new tracks according to early reviews. It's definitely one of the highlights. "Mind Control" is another interesting track. It's a hard driving song with Jeff channeling his inner Lemme on the growling vocals. It features great guitar work and one of the best leads on offer — certainly an enjoyable listen. Probably the most atypical song is "Jesus Train". This is a cool little bluesy number with all of the guys sounding like they're having a blast. It starts off with a "Hot For Teacher" like bass pedal rhythm and some stellar guitar work. Dokken it certainly is not, but musically it's a winner. Finally, the album wraps up with another original song, "Access Denied". And for those who stuck around long enough to make it to the end of the record, they won't be disappointed. This is another one of the better originals with lots of double-bass and screaming guitars. It's nearly seven minutes long and fades out into some string accompaniment that would be right at home on a movie soundtrack, especially a horror film. Nightmare on Elm Street Part 25, perhaps? An impressive end to an impressive album.
What a lot of Dokken fans are going to be most interested in is hearing their new interpretations of the five Dokken classics. They're all decent but some are naturally better than others. The first one appears as the third track and it's the band's namesake "Tooth and Nail" featuring Doug Pinnick of King's X on lead vocals. Musically, it's actually a little faster than the original but Doug's unique vocal style somehow makes it sound slower. It definitely gives this classic song a new twist. George is on fire on this one and there's an interesting breakdown towards the end that invokes visions of David Lee Roth at his talk-singing best. It's easily one of the best remakes. Next up is "It's Not Love" featuring Robert Mason. Musically, it's not quite as good as the original but the vocals are superb. This song ends up becoming more of a showcase for Robert's vocals than a reworking of an old classic. After listening to this song, it becomes clear why he was tapped to lead Warrant in their current configuration. "Into the Fire" is the third remake and, like the new songs, features Jeff Pilson on lead vocals. It's a very faithful remake with maybe a little better guitar-work. This would fall into the "why bother" category. It does feature another unusual breakdown at the end which is interesting but other than that you're better off sticking with the original. At least it shows how competent Jeff's chops are. The fourth remake is "Alone Again" with Skid Row's Sebastian Bach on lead. His unmistakable vocals add an interesting element to this classic and his interpretation is respectful. Finally, we have the most unusual remake with Tim "Ripper" Owens of Judas Priest/Iced Earth/Yngwie Malmsteen fame taking the helm for one of Dokken's heaviest and best songs, "Kiss of Death". It's a true re-working of a song and therefore one of the best remakes on the record. It gives the listener a glimpse of what Dokken may have sounded like if they had been a traditional metal band instead of a more melodic metal "hair" band. Ripper's Dio-like wails fit right along with George's monster shreds. This is definitely one of the album's best tracks.
Will this become a classic? Not likely. It is an enjoyable listen though and will certainly be appreciated by Dokken fans. How much traction it gains outside the Dokken fan-base remains to be seen. Whether or not they should've mixed original tunes with remakes also remains to be seen. Had they chosen to go with all originals it would've given the project more legitimacy as something more than just a side-project. However, having the classic Dokken tunes remade with guest vocalists will undoubtedly pique more interest so it's understandable why they did it. But since they plan to release a second installment, a better option may have been to release one record with all originals and the other one with all remakes. Black Country Communion has certainly shown that the rock world is willing to listen to new music by classic musicians so an album of all originals wouldn't be outrageous.
Although this doesn't quite live up to the greatness of Dokken at their Tooth and Nail or Under Lock and Key prime, it's certainly a respectable release with some enjoyable new songs and interesting remakes. It will certainly please die-hard Dokken fans and given them hope that a full-on reunion may someday still come to fruition. But even if it doesn't, the prospect of seeing these three musicians tour together again is reason enough to get excited. And with a second release planned for the near future, all fans of Dokken just got lucky.
Genre: Hard Rock, Heavy Metal
Band:
George Lynch
Jeff Pilson
"Wild" Mick Brown
Brian Tichy
Track Listing:
1. Slave to the Empire
2. Sweet Unknown
3. Tooth and Nail (featuring Doug Pinnick of King's X)
4. It's Not Love (featuring Robert Mason of Warrant)
5. Rhythm of the Soul
6. When Eagles Die
7. Into The Fire
8. Alone Again (featuring Sebastian Bach)
9. Mind Control
10. Kiss of Death (featuring Tim "Ripper" Owens)
11. Jesus Train
12. Access Denied
Label: Rat Pak Records
Websites:
http://www.slavetotheempire.com/
https://www.facebook.com/home.php#!/pages/TN/264254906995701
Hardrock Haven Rating: 8.5/10
by John Kindred
- Publisher –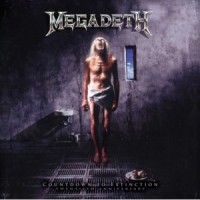 Has it really been 20 years? By now, we all know the story of Dave Mustaine's exile from Metallica. After four albums, Mustaine had established Megadeth among his peers as a premier speed-thrash-metal band, featuring high-caliber musicians, backed by brilliantly crafted songs. Mustaine, never afraid to say what he felt, had been dissing the backwards social and political agendas in the United States for nearly a decade. In '92, he had fresh fodder with racial tensions on the verge of imploding into anarchy in Los Angeles, a Presidential election and the first Gulf War stealing the headlines on a daily basis. Megadeth's fifth album, Countdown to Extinction, was Mustaine's response to this turbulent time period.
Flashing forward 20 years, EMI has released the Countdown to Extinction 20th Anniversary two-CD, lift-top box edition and digital release of this historic studio album. The package contains the re-mastered studio album and is paired with a live concert recording of the band when they appeared at San Francisco's Cow Palace. Also included is a stunning 24″ x 36″ fold-out poster, four postcards of each band member, and the booklet contains liner notes from music journalist Kory Grow.
Countdown to Extinction 20th Anniversary contains the same 11-tracks as the original release from '92. The most noticeable difference is the increase in overall volume of the re-mastered version. "Skin O' My Teeth's" initial drum roll introduction sounds as if the meters are pushing well into the red, even when you pull your EQ down into negative numbers. It's definitely a hotter mix than the original CD. The album was produced by Max Norman and Mustaine. It is the second release to feature the lineup of Mustaine, Ellefson , shredder Marty Friedman and drummer Nick Menza. And while Mustaine handled the majority of the songwriting on Countdown, each of the band members have a writing credit or two along with Mustaine.
The social and political climate of the time shaped the lyrics on Countdown. Several songs are about the military and war, such as "Symphony of Destruction," "Architecture of Aggression" and "Ashes in Your Mouth." While politics on the home front was covered on "Foreclosure of a Dream," which is highlighted by snippets from George Bush's infamous "read my lips …" speech, hammers home the sentiment of governmental greed as many farmers lost their livelihoods during this time. Remember, all the Republicans like taxes just as much as Democrats, so don't be fooled by rhetoric from either side. Suicide, schizophrenia and failed relationships, all, were topics open for discussion. The music still sounds amazing, and the messages are still relevant. Mustaine always did deliver very heavy, if not thought-provoking, concepts to the table that were backed by superb musicianship. It's kind of funny that we seem doomed to repeat the past as we find ourselves practically in the exact same predicaments 20 years later. Friedman's and Mustaine's mastery of the fret-board produced heavy riffs and blistering solos. While Menza and Ellefson provided the rhythmic groove that hammered listeners into submission.
The second CD, Live At Cow Palace, was recorded in San Francisco in '92. The CD features 17 songs, and this is the first time that the performance has been released in its entirety. Here, we have the band in the live setting. All the angst, aggression and rebellion pour out on the audience. Some fans were throwing items on the stage, such as gummy bears candy, and Mustaine was quick to quip out a comment or two at them. The set included songs from the then-new album and songs from Rust In Peace. "Holy Wars ..," "Wake Up Dead," "The Conjuring," also are performed. The set actually is unique, as Megadeth performs a majority of the songs from Countdown instead of playing a greatest hits set and only including a couple new songs.
Overall, Countdown to Extinction 20th Anniversary is a nice package for Megadeth fans. If you didn't listen to the original CD side by side with the 2012 re-master, you probably would miss the subtle changes, except maybe the increase in the overall volume of the music. Listening to both CD versions, side by side, die-hard fans may not be willing to let the original release go and instead opt to keep both for their listening pleasure.
Genre: Heavy metal, thrash metal, speed metal, hard rock
Band:
Dave Mustaine – rhythm guitar, lead guitar, lead vocals
Marty Friedman – lead guitar, backing vocals
Dave Ellefson – bass, backing vocals
Nick Menza – drums, backing vocals
Track Listing:
CD 1
01. Skin O' My Teeth
02. Symphony Of Destruction
03. Architecture Of Aggression
04. Foreclosure Of A Dream
05. Sweating Bullets
06. This Was My Life
07. Countdown To Extinction
08. High Speed Dirt
09. Psychotron
10. Captive Honour
11. Ashes In Your Mouth
CD 2 – Live At Cow Palace, 1992
01. Intro
02. Holy Wars…The Punishment Due
03. Skin O' My Teeth
04. Wake Up Dead
05. Hangar 18
06. Countdown To Extinction
07. Foreclosure Of A Dream
08. This Was My Life
09. Lucretia
10. Sweating Bullets
11. In My Darkest Hour
12. The Conjuring
13. Tornado
14. Ashes In Your Mouth
15. Symphony Of Destruction
16. Peace Sells
17. Anarchy In the UK
Label: Capitol, EMI
Web: http://www.megadeth.com/home.php
Hardrock Haven rating: 9/10
by Nikiforos Skoumas
- Columnist –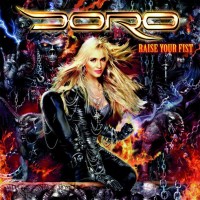 German heavy metal queen Doro Pesch is back with her 12th studio album Raise Your Fist. It has been three years since her previous album Fear No Evil which celebrated the front-woman's 25 years in the music industry. Raise Your Fist also marks a change of record label for Doro now under Nuclear Blast Records, and a very relevant Billboard Heatseekers chart entry.
You would be right to assume that Raise Your Fist follows the same musical direction as its predecessor in a long standing heavy metal tradition. Once again Doro offers a collection of anthemic heavy metal tunes with the occasional few being sung in German (in this case "Freheit" and "Nackenbrecher") that could have just as well come out of the previous album or even the album before that, Warrior Soul. It is only natural that an artist with these many years in the industry would have formed a style and sound of their own, though it does get predictable and for that matter Raise Your Fist holds few surprises even for those new in the realm of Doro.
Like its predecessor, Raise Your Fist has its share of guest appearances including a duet with rock n' roll legend Lemmy Kilmister on the mid-tempo balladic "It still Hurts" along with lead guitar parts by Gus G. on the furious "Grab the Bull." One has to also address the closing song of the album, "Hero," a tribute to Ronnie James Dio, who, as most are aware, was a close friend of the singer.
The line up on this new album features beyond Doro, long serving rhythm section Nick Douglas and Johnny Dee, keyboardist Luca Princiotta and new guitarist Bas Maas.
The limited edition of the album comes in a book-like cover, (the patent Nuclear Blast has been using extensively over the past couple of years) featuring two bonus tracks, being the English version of "Human Rights" and "Strong and Proud" and offering fifteen tracks in total. There is also some bonus on-line content to be found on this version, but when compared to the ltd editions of the previous albums which featured an additional disc, or in the case of Fear no Evil, a couple of additional discs, Raise Your Fist is bound to fall short. Overall if you are a fan of Doro you already know what to expect from this 12th studio album and, judging by its chart performance, you have already added it to your collection.
Genre: Heavy Metal
Lineup:
Doro Pesch – Vocals
Nick Douglas – Bass
Johnny Dee – Drums
Luca Princiotta – Guitars, Keyboards
Bas Maas – Guitars
Track list:
1. Raise Your Fist In The Air
2. Coldhearted Lover
3. Rock Till Death
4. It Still Hurts – feat. Lemmy
5. Take No Prisoner
6. Grab The Bull (Last Man Standing) – feat. Gus G
7. Engel
8. Freiheit (Human Rights)
9. Little Headbanger (Nackenbrecher)
10. Revenge
11. Free My Heart
12. Victory
13. Hero
Label: Nuclear Blast Records
Hardrock Haven rating: 7/10
by Cynthia Jo
- Columnist –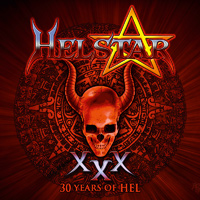 Houston natives and one of the pioneers of what was 80s power metal, Helstar are celebrating 30 years of power metal with their new CD/DVD release: 30 Years of Hel, a collection of 18 of their greatest songs, all live and fans will appreciate every beat.
The compilation which consist of a DVD and two CDs features live coverage of their recording in their hometown really bringing a live performance into their fans home, really highlighting the fans enthusiasm as well. The songs really do highlight the best of the best that Helstar has provided in the 30 years of their career.
All songs included in this live CD are a great example of what defined the 80s power-speed-heavy-metal, respectively. Musically the songs are beyond most of the rhythmic, frenetic songs ever—and not to mention all the powerful vocals that James Rivera executes.
In and out of the industry much like any other bands over the years they celebrated the release of an underrated, neo-classical thrash-powered 80s box set Rising From The Grave. The box set which is comprised of 88′s A Distant Thunder and 89′s Nosferatu and it comes with a DVD of 2000′s belatedly released live effort 'Twas The Night Of A Hellish Xmas. Similar to 30 Years of Hel, the compilation is better developed, better performed and it generally has better audio quality—one really has to hear it to feel it.
30 Years of Hel is definitely a must for a heavy metal collection, especially those hardcore fans of Helstar.
Genre: Heavy Metal, Thrash Metal
Band:
Larry Barragan – Guitars
James Rivera – Vocals
Jerry Abarca – Bass
Robert Trevino – Guitars
Michael Lewis – Drums
Track Listing:
Disc 1:
01. Angels Fall To Hell
02. Towards The Unknown
03. Suicidal Nightmare
04. The King Is Dead
05. Burning Star
06. To Sleep Per Chance To Scream
07. The Plague Called Man
08. Evil Reign
09. Monarch Of Bloodshed
10. Winds Of War
11. Good Day To Die
12. Wicked Disposition
13. Pandemonium
14. Bitter End
15. Harker's Tale
16. Angel Of Death
17. Baptized In Blood
18. Alma Negra
19. The King Of Hell
20. Run With The Pack
Disc 2:
01. Angels Fall To Hell
02. Towards The Unknown
03. Suicidal Nightmare
04. The King Is Dead
05. Burning Star
06. To Sleep Per Chance To Scream
07. The Plague Called Man
08. Evil Reign
09. Monarch Of Bloodshed
Disc 3:
01. Winds Of War
02. Good Day To Die
03. Wicked Disposition
04. Pandemonium
05. Bitter End
06. Harker's Tale
07. Angel Of Death
08. Baptized In Blood
09. Alma Negra
10. The King Of Hell
11. Run With The Pack
Label: AFM Records
Web: http://www.helstarmetal.com/
HRH Rating: 7.5/10
by Cynthia Jo
- Columnist –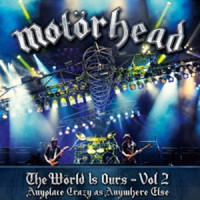 A metal fan can never have enough of Motorhead, especially, live Motorhead. The World is Ours Volume 2: Anyplace Crazy As Anywhere Else is a follow up to 2001's The World Is Ours Volume 1: Everywhere Further Than Everyplace Else and is the 7th live album that Motorhead offers.
Most of the songs are very similar to those in the first volume, because they are the same songs but recorded at a different location and date. Songs were recorded live at Sonisphere Festival in the U.K. and others at the Rock in Rio in Brazil and included in the DVD. The set list includes crowd favorites like "Iron Fist," "Ace of Spades," "Overkill," "In the Name of Tragedy," and "Overkill." This compilation also includes "Metropolis," "The Thousand Names of God," "Get Back in Line, "I Know How to Die," and "Bomber." The recordings are really smooth and easily intriguing.
The trio that consists of Lemmy Kilmister, Phil "Wizzo" Campbell and Mikkey Dee continue to impress their potential as musicians and there is no question why they have been so great for the past 35 years. It would be a bore to those waiting to hear new music from Motorhead but it still fascinating to hear and will really make a fan feel like they right there in the show because this band undoubtedly rocks live. Hopefully, new music will come soon so the next live album will seem fresh.
Genre: heavy metal, speed metal, hard rock
Band:
Ian "Lemmy" Kilmister – lead vocals, bass guitar
Phil "Wizzö" Campbell – guitars, backing vocals
Mikkey Dee – drums
Track Listing:
CD1:
WACKEN OPEN AIR GERMANY, AUGUST 6th, 2011
01 Iron Fist
02 Stay Clean
03 Get Back In Line
04 Metropolis
05 Over the Top
06 One Night Stand
07 Rock Out
08 The Thousand Names of God
09 I Know How To Die
10 The Chase Is Better Than the Catch
11 In the Name of Tragedy
12 Just 'Cos You Got the Power
13 Going to Brazil
14 Killed by Death
15 Bomber
16 Ace of Spades
17 Overkill
CD2:
SONISPHERE FESTIVAL UK, JULY 10th, 2011
01 Iron Fist
02 I Know How To Die
03 In The Name of Tragedy
04 Killed by Death
05 Ace of Spades
06 Overkill
ROCK IN RIO BRAZIL, SEPTEMBER 25th, 2011
01 Stay Clean
02 Over the Top
03 The Chase Is Better Than the Catch
04 Going to Brazil
05 Killed by Death
Label: UDR/EMI
Web: http://www.imotorhead.com/
Hardrock Haven rating: 7.5/10