by Justin Gaines
- Senior Columnist –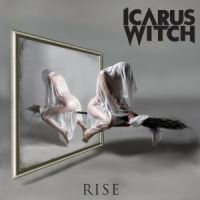 It's only been two years since the last album from Pennsylvania-based traditional metal outfit Icarus Witch, but a lot has changed. Of the lineup that played on 2010's Draw Down the Moon, only founding bassist Jason Myers and guitarist Quinn Lukas remain. They're now joined by guitarist Dave Watson, drummer Tom Wierzbicky and vocalist Christopher Shaner. The new blood (and a slick new logo) is in keeping with the music on Rise, which marks something of a new direction for the band.
Rise is Icarus Witch's fourth full-length album, and if nothing else it was bound to have a different vibe due to the absence of long-time singer Matthew Bizilla, whose unique voice was a key part of the early Icarus Witch formula. Newcomer Christopher Shaner quickly proves to be a more than adequate replacement, with a voice that's notably smoother, but no less powerful. Musically, there has been a major shift in the band's sound. Icarus Witch has always played a fairly melodic style of traditional heavy metal, but on Rise the melodic hard rock elements take a much larger role. It's like replacing the Maiden and Priest influence with Rainbow, Scorpions and (very) early Def Leppard. There's also a more modern rock vibe, especially in the production. They didn't become Emo Witch or anything, but songs like "(We Are) the New Revolution" and "Tragedy" totally have the potential to win over with Black Tide/Blessed by a Broken Heart fans.
For the most part, this new direction for Icarus Witch pays off. They've changed the formula, but they did so in a way that shouldn't alienate their existing fans. Songs like "Break the Cycle," "In the Dark" and the title track wouldn't have been out of place on Songs for the Lost for example, and "Pray" is definitely an old school Icarus Witch number. Rise is still traditionally-minded metal, and it's still done very well, with fantastic melodies, killer guitar work, captivating rhythms and strong, steady vocals. Icarus Witch just has more hard rock appeal this time around, and if that brings them some new fans, you can't say they didn't work hard for it.
If you've been an Icarus Witch fan from the beginning, Rise may come as something of a shock. Give it a chance though, and it should prove to be a pleasant one. Beyond those who would normally check out an Icarus Witch album, Rise ought to appeal to most fans of melodic rock and heavy metal. Fans of the European melodic rock/metal hybrid bands like Jaded Heart, Shakra and Pretty Maids in particular should give this one a try. And if you get the chance, be sure to try and catch Icarus Witch on the road this summer with Widow and White Wizzard. You know that's going to rock!
Genre: Melodic Rock, Heavy Metal
Band:
Jason Myers (b) (k)
Quinn Lukas (g)
Christopher Shaner (v)
Tom Wierzbicky (d)
Dave Watson (g)
Track Listing:
1. The End
2. (We Are) The New Revolution
3. Rise
4. Asylum Harbor
5. Coming of the Storm
6. Tragedy
7. Say When
8. Break the Cycle
9. Nothing is Forever
10. Pray
11. In the Dark
12. Last Call for Living
Label: Cleopatra
Website: www.icaruswitch.com
Hardrock Haven rating: 8.75/10
by John Kindred
Staff Writer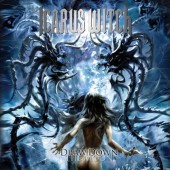 Icarus Witch's latest studio release Draw Down The Moon arrives as the band finds itself in transition. With the departure of Matthew Bizilia, comes new vocalist Christopher Shaner. Icuras Witch also added guitarist Ed Skero to the band. Infusing new blood and a new voice certainly will produce a new dynamic to the band's repertoire of music. As for now, we are left evaluate their 2010 studio album.
Originally formed in '04 by vocalist Matthew Bizilia and bassist Jason Myers, the band's debut studio landed in '07 with Cleopatra's release of Songs for the Lost. Prior independent albums, '05's Roses on White Lace and Capture The Magic, set the tone for the band's introduction to the world. Fueled by the band's own interpretation of NWOTM (New Wave of Traditional Metal), Icarus Witch has chosen not to follow trends. Instead, the band has discovered the art of Heavy Metal and are here to put its stamp upon the genre.
Describing the direction for the new album as "back-to-basics, classic metal album with a raw, in-your-face production," Draw Down The Moon features nine songs. The music certainly has that Iron Maiden/Judas Priest rhythmic crunch, searing solos and gritty-soaring vocals.
The duration of Draw Down The Moon clocks in at a mere 36 minutes. During that time, the band gets its point across in three- to four-minute segments, which for old-school metal fans is a trip back to familiar territory. At times, the tempos of the songs plod along, lending a heavy and dark vibe to the music. Plenty of harmony guitars riffs and solos are wrapped around the arrangements. Bizilia sounds somewhat like Wolf vocalist Niklas Stålvind or the famed Lizzy Bordon.
Although originality is somewhat lacking, Icuras Witch proves to have an aptitude for penning metal music. As the genre continues to cycle back into mainstream popularity, bands like Icarus Witch will find shoes to fill as the old-school bands finally fade into retirement. It's great to hear that the torched will be passed to deserving and skilled musicians.
Genre: Heavy Metal
Band:
Matthew Bizilia (v)
Jason Myers (b)
Quinn Lukas (g)
Steve Johnson (d)
Track Listing:
1. Black Candles
2. Aquarius Rising
3. Reap What You Sow
4. Dying Eyes
5. Draw Down The Moon
6. Serpent In The Garden
7. Funeral Wine
8. Haunting Visions
9. The Ripper
Official: www.icaruswitch.com
Label: Cleopatra Records
Hardrock Haven rating: 8/10