by Deb Rao
- Senior Columnist –
Devour The Day featuring former members of Egypt Central, Joey "Chicago" Walser and Blake Allison, have released their debut album Time & Pressure on Fat Lady Music. Their first single "Good Man" Is currently heating up the Active Radio Charts. Devour The Day take it to the road for their first show on May 11th.
In this exclusive interview with Hardrock Haven, Joey "Chicago" Walser talks in-depth about the making of Devour The Day.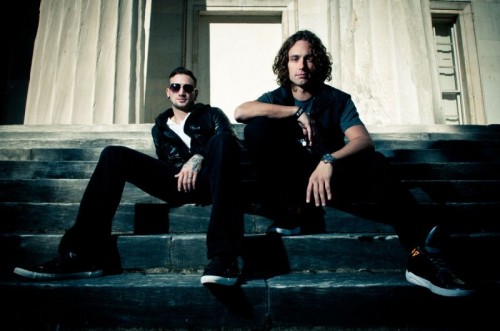 HRH: Devour The Day is made up of former Egypt Central members Joey "Chicago" Walser and Blake Allison. Tell us how this all transpired. What made the members of Egypt Central disband?
Joey: In 2012 we went on a Christmas break, while in the middle for touring on the White Rabbit record. John gave us a call saying that there was a strong chance he wouldn't be able to continue. Then by March he gave us the final deliberation that he wouldn't be able to tour or be a part of the band anymore. It was for personal reasons. He felt like it was something that he had to do. Blake and I felt the statement of Egypt Central was to never give up. That is the way we have always written songs. We weren't done playing by any means. We started to write songs about what we were going through. We were dealing with the end of one band and the beginning of a new project. It was a really amazing experience to see how fast this was able to come together with the team that we have behind us. This isn't a side project by any means. It is a new identity and a new future for us. We are really excited about it.
HRH: You have a new album coming out on May 7th entitled Time & Pressure. Tell us about the writing process. Are you recording down in Memphis?
Joey: No, we recorded the first 80 percent of the record at my home. Blake recording vocals and I am doing guitar all in the living room. We finished up in Nashville with Skip Mills who worked with us on White Rabbit record. He helped us add the final touches and mix the record.
HRH: Now the first single is "Good Man". How would you describe the sound of the band? Would you say it picks up where Egypt Central left off?
Joey: It so many ways, it is loud guitars. It's rock and roll what we grew up with. For us it takes a lot of chances that we never did before with Egypt Central. It gave us the chance to remove the shell that was placed on us. It is a really diverse record. It is really the evolution of Blake and I with songwriting and the band that we want it to be.
HRH: Also "Good Man" is a lyric video. I noticed it is the going trend for so many bands to come out with lyric videos.
Joey: Yes, I think the fans like to know exactly what they are singing a long with. For bands it is a quick way to get music to the fans as soon as possible. That is the really cool evolution of it.
HRH: Who else is in the touring band?
Joey: We do have two touring musicians Jeff from Egypt Central and Dustin Schoenhofer from Bury Your Dead/Walls of Jericho.
HRH: Do you plan to do a few shows when the record comes out?
Joey: Absolutely. Our first show is May 11 in Michigan at The Machine Shop. We will be doing shows with Buckcherry. Then a tour with Hinder in June.
HRH: As a new band what do you hope to accomplish in the music industry? I know Egypt Central had a great following. Hopefully all the fans will cross over to hear Devour The Day and support the band.
Joey: Absolutely. Those fans have been so supportive of Blake and I. It really helped support the band. Also the risk that we took, I think we have a chance of capturing a much larger audience. Much larger than we ever were with Egypt Central. We deliberately wanted to show that we were going to take some chances. People may not expect it from us. It is nerve-wracking but it is exciting.
HRH: It is great that you decided to branch out. How did you come up with the name for the band Devour The Day?
Joey: We were working for three or four months. We started to realize we needed a new entity and new idea. We wanted to take the opportunity with Devour The Day to wake up every morning and be a part of it and make the most of our day. That is the challenge that will never go away. It really spoke to us on such a real level.
HRH: We wish you the best of luck. Is there anything else that you would like to say regarding Devour The Day?
Joey: If you guys want to check out the tour days or order the album go to www.devourtheday.com We have brand new merchandise coming out. Come out to the shows!
For tour dates visit www.facebook.devourtheday.
Special Thanks to Amanda from ABC-PR for arranging this interview.
by Anabel Dflux
- Photojournalist –
Kristof Bathory talks about their latest album Anathema, the band's symbolism, and what fans should expect from Dawn of Ashes in the future.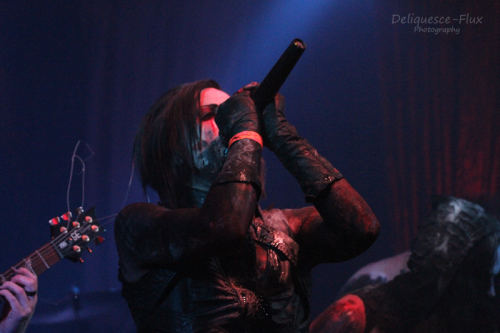 Hardrock Haven: Congratulations on your newest album, Anathema. How are the fans responding to it?
Kristof Bathory: So far all of the feedback has been very positive. Anathema has been the best album that Dawn of Ashes has released, yet, according to both fans & reviewers. I couldn't agree more with the feedback that I have been receiving and am quite pleased with everything so far.
Hardrock Haven: Bar Sinister was your kick-off show date for the upcoming tour! What are you most looking forward to about being on the road again?
Kristof Bathory: Touring for Dawn of Ashes is way past due; we haven't done a full tour since 2010, which was the biggest tour that we did with the Norwegian Black metal group Dimmu Borgir. I myself am just looking forward to performing new material & exposing the new album to the fans. Touring & performing live has always been a very crucial part about being in DOA.
Hardrock Haven: The term 'anathema' is commonly referenced to being exiled, what is the symbolism behind the album?
Kristof Bathory: Metaphorically, I drew on its meaning as used in the old witch trials where religious leaders would burn individuals at the stake simply for not adhering to the socially compelled terms of 'God'. I applied this to how the Dawn of Ashes fan base, and myself, are exiled for not following modern society's standards of 'being human.'
Hardrock Haven: Why play the genre that you play, what is the story behind it?
Kristof Bathory: Originally, I wanted DOA to have a mixed sound of both Industrial and Black Metal, but was challenged with finding legitimate members; working with amateur musicians was exhausting and so I made it my solo project. Then I was introduced to 'EBM' music and decided that Dawn of Ashes would be a dark 'electronic'/Industrial act, inspired by Horror, heathenism, and all of my dark feelings and hatreds, injected with the energy of Metal and Rock. Over time, I grew tired of that specific sound and decided that it was time for DOA to evolve into what I had originally imagined in the beginning. The transformation into more of a metal act was a risky process, and I did make the mistake of turning DOA in a straight Metal act, losing a lot of the Industrial elements initially. Over the past few years I wanted to bring back the Industrial elements but with a new 'Shock Rock' twist, so 'Anathema' became a hybrid of Metal, Industrial, and Shock Rock.
Hardrock Haven: Your image is very horror oriented and intriguingly grotesque, how does the band name relate to your stage persona?
Kristof Bathory: The name "Dawn of Ashes" means the beginning of the end, the birth of death and failure. The terminology behind the name doesn't have the most positive message, so everything that DOA portrays has no source of positivity or kindness. Shock, fear, hatred, blasphemy, & everything else that humanity tries to shun away is what I try to poke at with the music & imagery. Taking shock to a new level & provoking humans to be offended by what I do is so crucial in DOA. Once Dawn of Ashes offends a mass amount of the media, we then win at what we are doing. The plague has already been released.
Hardrock Haven: How are you enjoying Metropolis Records?
Kristof Bathory: I personally think record labels are only a good tool for certain aspects, so being on a new label doesn't really faze me anymore. It's great to expose a new album, but the way labels work now, it's only really good for distribution. All of the hard work comes from me and my live act so I guess that answers your question.
Hardrock Haven: Kristof Bathory, any connection or inspiration drawn from the countess Elizabeth Bathory?
Kristof Bathory: Indeed, I find countess Bathory interesting & was always fond of her obsession with using human blood to perverse beauty upon herself. However, I will not go into anything further regarding my name because it is just my name.
Hardrock Haven: Alongside your musical commitments, what do you do during the daytime?
Kristof Bathory: I am usually extremely busy with the business side of Dawn of Ashes throughout the day, but I also do remixing & mixing for other artists, so I barely have any time for myself. I try to connect with my fan base as much as I can which becomes a bit overwhelming. I also think dealing with my inner demons throughout the day is a big enough job, so, in conclusion, my life is always busy.
Hardrock Haven: Are you working on more music?
Kristof Bathory: I am currently working on my 2nd Dark Ambient/music score album which has been a very slow process because of all of the work I have been doing for Dawn of Ashes. I really just want "Anathema" to be exposed for a while before I consider doing any new music for DOA. Maybe I will do a remix album but who knows.
Hardrock Haven: What is next for Dawn of Ashes for the rest of the year?
Kristof Bathory: I want to focus on touring consistently & the release of our new music video for "Poisoning the steps of Babel". Overall touring is what is crucial right now. We will see what more comes our way but fans can check out more info at our official website at http://dawnofashesofficial.com/.
by Anabel Dflux
- Photojournalist –
Currently based in Toronto, ON, Canada, The Rabid Whole (also known by the acronym TRW) is a band that plays a mixture of rock, industrial, electronica, and alternative music. Vocalist and guitarist Andreas Weiss talks with Hardrock Haven's Anabel Dflux about the band, touring with Dope Stars, the bands influences and more …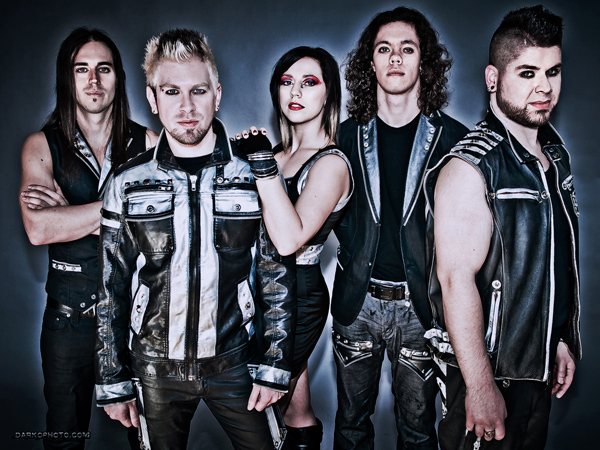 HRH: Hi there! Thank you very much for answering my questions! How are you enjoying the tour with Dope Stars Inc. thus far?
ANDREAS: No Problem. So far it's been awesome. These guys are great, work hard and aren't afraid of anything … We're all getting along great. It's pretty surreal to be on tour with a kick ass band I was already a fan of. There's a good chance we'll be working together again soon …
HRH: I know The Rabid Whole has a very impressive resume of shows and festivals, which was your favorite to play and why?
ANDREAS: Thanks … hmm this one is really tough to say… I can't pick one …
HRH: Most interesting tour experience?
ANDREAS: (Laughs) that's really hard to say … a LOT can happen on tour! Probably on of our most recent show in LA … Jordie White (Marilyn Manson) was there same with The Enigma … it was a really cool night.
HRH: What is the story behind your band name?
ANDREAS: There was definitely a lot of trial and error … I tried all kinds of random ideas but nothing would stick. I also wanted something timeless. Bands like Skinny Puppy have a lot of cool, double meaning song titles, word play. I wanted people to see that there is more to us than meets the eye. I never felt we'd be a typical rock band… I want people to feel they can escape, that they're entering another world, going down 'the rabbit hole' with our music. At the same time, I feel The Rabid Whole; 'the fanatical entirety'… reflects the passion we put into all that we do.
HRH: What are your biggest inspirations for The Rabid Whole?
ANDREAS: I have huge respect for artists/bands that aren't afraid of doing what they want to do musically regardless of the current trends and scene. Bands like NIN, KMFDM, Filter, Garbage, Bjork, Smashing Pumpkins, Depeche Mode, Aphex Twin, U-Ziq, and more have all had an influence on me and The Rabid Whole's music. Amazing live performances are also really inspiring to me.
HRH: Your last album, Refuge (2012), was very impressive! What genre do you consider yourselves?
ANDREAS: Thank you so much, a lot of blood, sweat and tears went into it! We are 21st century, high energy, alternative rock. People have labelled us anything from electronic, rock, industrial, metal, etc but when it really comes down to it, we are an alternative rock band.
HRH: What is your favorite song and why?
ANDREAS: My personal fav from 'Refuge' is probably the title track … There was a lot going on in my life at the time I wrote it and the song lets it all out for me… I also had a lot of fun with the synths and drums on it.
HRH: Is there a new album in the works?
ANDREAS: Yes and no. There is new music in the works always but whether it will come out in the classic album format is most likely a no. The world has changed and we're gonna have to keep up. Whether it's gonna be EP's or single song releases we still haven't fully decided yet… but expect something in early 2014.
HRH: What should fans expect next from The Rabid Whole?
ANDREAS: Once our North American tour with Dope Stars Inc is complete we are jumping on tour with Kingdoom (Chris Vrenna ex NIN, Marilyn Manson) on a few Canadian dates in June, shooting a video for 'Stargazer' with director Peter Arvidsson, we've got more international tour plans in the fall, some new tunes in 2014… So be ready for it and tell the people!
Visit the band online: http://www.therabidwhole.com/
by Marija Brettle
- Columnist –
APRIL 13, 2013 INTERVIEW AT THE METROPOLITAN UNIVERSITY IN LEEDS, U.K.
In late 2008, four Californian retro rockers decided to be a band and called themselves, Rival Sons. From the start their mission was to bring back the real, honest and soulful sound of the 60s and 70's, to a whole new, higher level. As the bands guitarist Scott Holiday would like to state,' It was the bands conscious decision to fill the void in rock music. It was something what Rock 'n' Roll have been missing for a while, and needs to be filled right now!'
By marrying blues, soul and good old groove to classic rock, they've created their own unique retro- sound. The sound that's been praised, by the sometimes cynical rock press, not to mention getting props from no other than Jimmy Page himself.
Following previous releases Before The Fire and Pressure and Time and more recent release of their third record, Head Down, Rival Sons began 2013 with short tour of the USA and Canada, before moving on to Europe for another tour across the UK and the continent.
During the bands recent UK tour, HARDROCK HAVEN had a chance to catch up with Scott Holiday, lead guitarist of Rival Sons. Scott kindly shared with us his High Voltage Festival experience, his thoughts on the state of music industry today, how the band got together and the fate of meeting Jay, the future plans and their UK upcoming Download Festival show, in June this year.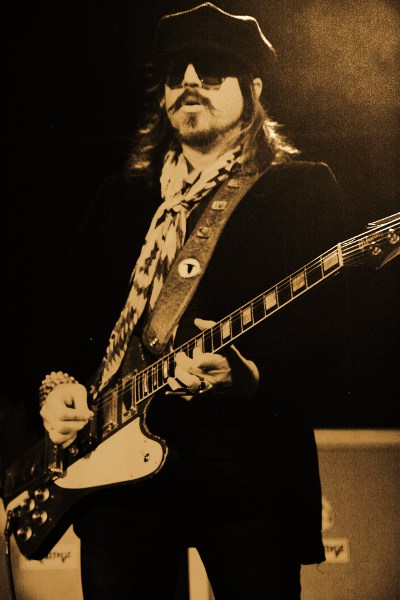 HARDROCK HAVEN: Hi Scott, many thanks for taking time to talk with us today. How are you coping with English weather … so cold today? (Laughs)
SCOTT HOLIDAY: Hi, how are you! Well … it's England. (Laughs) Don't mind it really…as long as my show is sold out tonight … and we have a sold out show tonight! Sweet! (Laughs)
HRH: I hear you had a real blast the other night down in London, (at Shepherd's Bush Empire Venue)?
Scott: Yeah. It was incredible night, amazing experience! It was one of our bigger UK shows, definitely in London, besides the festivals or something like that. But also it was an awesome experience playing in Empire Venue. We were totally taken by the atmosphere of this Venue! There are not bad seeds in the house! It feels real good to play in a very classic, historic, beautiful building and you know it helps as well if it's sold out show! (Laughs)
It was weird you know, when we came out, I had this feeling like I am at home. When I came out, immediately I felt this electrifying energy and warmth from the crowd. I suddenly felt this strange strength … kind of reassuring feeling. It's like, these guys actually came tonight to see us and have a blast! Wow … that's quite overwhelming feeling! People here have been so good to us right from the start!
HRH: From all the feedback you've been getting so far from the British fans and the media, it's evident that there is a major love for Rival Sons here in the UK. Especially in the past few months, you've one of the most talked about rock bands around. Why you think is that?
Scott: All I can think is because we loving them back. We absolutely love coming here in Britain! I mean that's so evident by now. (Laughs) The audience is really amazing here. We immediately had this great connection with the crowd! I think that is the most valid experience for any band, whiles you are trying to get any reaction from the audience. I don't know … is really all over Europe now, you know.
HRH: Like Scandinavia? You are really big over there?
Scott: Yes, Scandinavia does very well for us … as well as Canada. I think the answer is, we are our own team of people focused on it every day… so, we found our audience. When we came out first two month we make no money. Nothing at all! So yeah, it was a long road for us to get here … and I don't mean Leeds. (Laughs). We have media helps, our business people helps, and then our touring. Most of all, our tenacity! It takes a time before some magazines say to you 'Guys, we wanna put you on the front page'! Or we wanna do a four-page spread on you. I mean there's a many bands here, that we love and think they are best next thing. So, to get all this attention and interest from people is very reassuring and crazy at times. (Laughs).
HRH: Well, people here seem to love the nostalgia of the good old soulful 70's sound …
Scott: Its king of humbling experience, also inspiring. Nothing more empowering when you know that you are appreciated by so many people out there … and the media been real good to us.
HRH: Could be also a bit of an ego-boosting, esp. when you're getting praises by the likes of Jimmy Page? (Laughs)
Scott: Yeah, a bit crazy, but very exciting time for the band. I like to think our music speaks to musician of all genres. There are a lot of other great bands throughout Europe and the UK right now. But why we're popular over here…its tough question, you know what I mean. It's hard to know what people think of you when you are up there. I mean, it's an incredible experience when people respond to your music. You know what I mean? It's like you feel that warmth and energy sent back to your from all this people!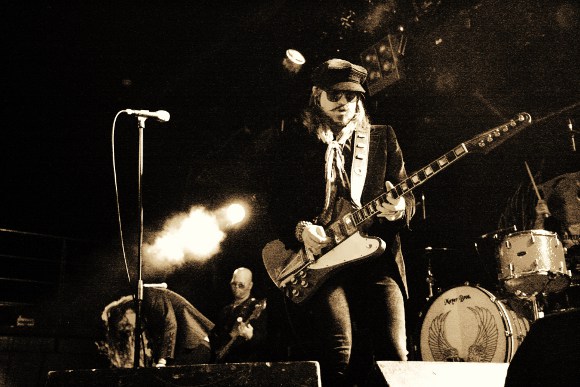 HRH: During the High Voltage Festival 2011 in London, you caused real stir in the crowd, especially when the 'Pressure and Time' came on. There was this instant charge of energy and excitement? How was it for you that day playing in front of a massive and very loud audience?
Scott: High Voltage Festival was an awesome day for us! It was a first big Festival show for Rival Sons in UK, well in London. We meet some amazing people.
HRH: You also were double booked that day. I heard that you got called to play a second set headlining the Metal Hammer stage, to cover for Electric Wizard. Was it daunting to take over metal band and stand up in front of all those usually unruly and very vocal crowd?
Scott: Yeah, really scary! (Laughs). We just finished our half hour set on the main stage, when we we're called to cover for Electric Wizard. They got stacked somewhere in Norway! I don't know something happened on the way they were traveling back to UK. So, it was like on the spot…the moment we walked up on stage, and we played our first set, somebody came on stage and said to us; 'The headlining on the stage over here is not happening … would you guys take their slot?' Guess what? The headlining on that stage was the band that we were dying to see that day! That was a bit freaky, you know? (Laughs) So, at first it was a bit daunting thought, taking over a band that is quite different from us. I mean these guys a bit heavy and there was a chance of people throwing piss bottles or something at us (Laughs) … expecting heavy metal band! We got to play a long set. I remember there was this volt restriction that day and in the evening you can't turn the sound up loud. It was kind of odd, and there were people in the crowd who noticeable weren't happy with the whole sound situation! I mean when you go to see rock bands you would expect a loud sound!? Wouldn't you?
HRH: You often point out that you came into rock music when the music reached the real rock 'n' roll end and that you filled the void in rock music. That you were the answer to what was missing in rock music for a while? Do you still stand by that?
Scott: Oh yeah! Although I think there is also a whole bunch of rock 'n' roll happening right now. I think the crowd and the media were ready for us! Gosh, we play with a whole bunch of great bands, out of the UK, like a band called Ulysses. Another great band out of Sweden called Factory Frames. They're all doing something in that kind of genre.
HRH: Do you agree that, the rock music for a while gone in totally different direction … focused more on the pop music and the business side of it more than ever before?
Scott: What can I say … the rock music gone in a very different direction, and gone pretty heavy on it? I like this stuff too, but also, right now we live in this totally pop idol culture… We are drained-out of this 'idol culture', more than ever! I mean in a way, many rock bands are pushed on side by all this pop-craze culture. So, I think for the bands like Rival Sons … who truly repels all this stuff in the music, we also try to embrace all this in a weird way.(Laughs)
HRH: Rival Sons is fairly new band. Could you please tell me more about the background of the band? How did you guys get together?
Scott: Well, from my own perspective it all started after I left Atlantic Records with another band and it was really then when I felt huge desire to create this honest, blues rock band. A real, 'dirty', swagger-ly type of a band that I've been missing it all my life! For years, digging of the bands … bands likes The Small Faces and I am just not finding them. There were a few people that I knew and was thinking of. Guys like Jeff Wright who is fort front of many bands right now. I wanted really bluesy, really soulful stuff, but also I wanted to make a real, raw, organic rock band that actually contain the roll…you know what I mean? The band that actually had the soul and blues in the heart of it! So I started looking around for guys to play with, and I was introduced to Michael (Miley, RS drummer) through mutual friend-musician of Long Beach. Me and Mike we were into the same stream. We just hit it off as people very, very quickly. So we played some stuff together, then with another singer. Mike found Robin (Everhart, RS bassist) at the jazz gig and he said something like, 'I got this jazz guy, and he is not rock 'n' roll guy at all'. This was Rob … and he was so not a rock 'n' roll guy, that he thought John Paul Jones was a US naval sea Captain! (Laughs) It was like; do you know who John Paul Jones is?! Oh dude, he is this phenomenal guitar player!
HRH: But there is this famous American War Naval Captain called John Paul Jones? (Laughs)
Scott: (Laughs) Yes, there is … but also there is this English legendary bassist to! We have so much fun meeting him, talking about music in general and improvising for hours. We really have a real blast from the start. So I thought I could play with those two guys forever, you know.
HRH: Is it true you meet Jay Buchanan through Internet?
Scott: At the time we have another singer … real sweet guy and great singer to! So we made a record for EMI. We signed a deal with this singer. That record didn't come out. When the record didn't come out, what you do as a band? You figuring out why and what went wrong. I had a feeling you know, one of those deep-down feeling, that the singer situation wasn't quite working out. So, we had somebody … yeah, the singer friend saying; 'You guys need to lose this singer, and I wanna front your band'. So I went back home and gone on Internet to see what this guy was doing. So I thought, hmm … is good but he is not actually perfect choice, you know what I mean? But on his side was a link for this guy called Jay Buchanan. And boom! It was like a cosmic send to me! It was like this destiny waiting to hit me … right through my heart!
HRH: Destiny by the name of Jay Buchanan?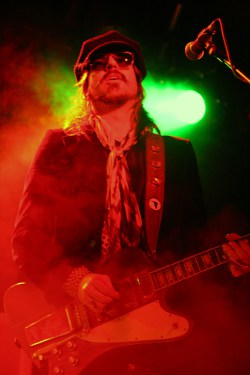 Scott: Yeah, this is it! Although, when I heard his name I didn't know who he was and what he was doing, nothing! But just out of boredom, literally went on Internet, and was like, let's go and see who Jay Buchanan is. So, he is this big folkey kind of soul, bluesy guy. When I heard him singing, it was the song called, "Satan is a Woman" that he wrote, it was like, this is it! It was this thirteen seconds into the song and I just stop it and I went', I can't believe it! I've been fucking looking for this guy for literally… probably fifteen years of my life! It was like this lightning ball that hit me right strait to my heart…no, actually deeper… he really touch my soul! It was like wow! So I called my wife and said; 'Listen to this…you know me what I been looking for all this years? She just started crying. So I said; 'OK, that's it! I didn't know where he lives or anything else about him. I just called the other singer that was in the band and said that it's not working out, we are done! We have to just move on. At that point, I decided that I have to move on with my own stuff the way I felt its best for the band and myself personally as an artist. Whether Jay is in my band or not, there is another Jay out there. I was just ready to move forward. So I told Rob and Mike. Mike just cracked up. He goes…'Jay Buchanan is one my dearest friends! I played in his old band; he lives here in Long Beach, in our city! You gotta be kidding me…really!? So this was one of those amazing non-coincidence situations in life. (Laughs) This was very cosmic and it goes deeper how far we come closely with our live. Mine and Jay's life runs to each other way before we ever meet with each other. Jay had his whole own career. He had his own band, his own writing stuff. So Michael called him and said to him; 'look dude, my guitar player freaked out on you…like he is totally convinced that you are the right guy for our band. You need to call him, just give him a ring. So Jay called me with no intention joining the band, certainly not a rock band! (Laughs)
HRH: Really?
Scott: Yeah, he had a career…his own stuff. I know he heard about us, but that was all about it! So we did talk and we connect pretty well on things like; 'Oh, that's a soul music, this is the lineage of blues and rock 'n' roll, and how everything fits together in our own perception. We then both agreed that this is what really is missing in rock right now! So it was the real reason why I was on this journey and looking for people like Jay! (Laughs) It was the mission of mine! It's not just being in the band and be one of those cool dudes, hitting on girls and stuff. It's a kind of mission to bring this sound in the rock music. It's this big hole … a big void and we need to fill that hole right now, damned! (Laughs)
HRH: Yeah, you been often praised by RS fans and the media for your insatiable thirst for rock music?
Scott: I don't know how I should describe it. I mean, it's just this void in the rock music that needs to be filed by these four insatiable, hungry guys. Guys who want to bring love into the music! Give people what they want and what they've been waiting for a long fucking time! (Laughs) Let's make people feel good! So, we played couple of songs and improvised it for another 45 minutes together. It was great, it was fun … it was electric!(Laughs) We agreed to meet up again because that was really, really fun.
HRH: At this point, did you have any inkling that Jay is ready to join the band?
Scott: Yeah. I had a very good feeling that we were on the same direction, with the same mission. So, we got back together, played again, and it was even better! We walk out together and Jay looked me strait and went; 'I guess I am with this band then?' That was it, the beginning of this band. (Laughs). From then on we started to write. The record we made for EMI never came out. So what happened? We made our own money, licensing our new stuff. We went back in the studio and I asked Jay, if it would be ok to sing all this songs that I have written earlier. It's my prospective and the rest of the songs been written together with our producer Dave Cobb. He just agreed. That's 'Before the Fire' record was out'. So we did it all in one day! Even songs like; "On My Way", which was important song to me. Jay just came over and sang… it was all in one take! It was like, 'the first take was sooo perfect, like don't even try to sing it again! (Laughs) It was lot of that, first take, second take and bum! We are done! I knew will be like that, because I knew who Jay was as an artist and singer. He was just one of those amazingly rare voices, you wish to have him in your band. He just has this awesome soulful, bluesy, voice, which goes deep to your heart.
HRH: …and soul. Yes, stunning voice!
Scott: I mean, we are the luckiest guys to have him singing in our band!
HRH: At the beginning of this band you were primary writer. Where do you get inspirations for the songs?
Scott: Maybe at the beginning I was primarily writer, but soon we were this four guys writing together. We write very much collaboratively even when we are putting riffs together. Inspiration … (hmmm) it's difficult to pin- point where do you get inspired from. I guess it's everything really in our work and lives. Its music, its people and the artist we are listening to right now and in the past. Traveling around and meeting inspiring people from all walks of life. I am definitely inspired by my own family and love they give me. Definitely inspired by the other bands, other arts, you know…
HRH: On this tour so far it seems you have a real blast. Do you have any- more recent highlights you would like to share with us?
Scott: Of this tour? Yes, certainly! The London show was huge highlight! We meet some great people and friends, who responded so well to the band. Most of the tour gigs been real success. The tours are selling now, so every new tour now its highlight of the year! We have all bunch of great stuff ahead. We are so busy right now, it's like, hey, were we are right now?! (Laughs) Honestly. I feel like highlight is every day of this tour! Like now, at this moment … talking to people, shearing some cool stuff. We are in this light-highest moment!
HRH: You just made up a new world?! (Laughs)
Scott: That's right! This is the highest we ever been as a band. That's how I feel right now, today, because we are having a blast touring and meeting great people! That's awesome dude! Nothing can bit that! And we are for a sold out Leeds show tonight! What more one dude from Long Beach could ask for!? (Laughs)
HRH: Dave Cobb produced 'Head Down' as well as other Rival Sons records. How did you guys get together with him?
Scott: Through the mutual friend who also lives in Long Beach. So I've been friends with Dave for a while now. We really work so well together. He is like this fifth band member. I think now days, you got to have the right producer who is totally in the same time frame when it comes to recording down your songs. It's getting harder these days to find guys that know how to deal with the band on the spot and enjoy it as well, which is basically how we work with Dave. I mean, when we're creating our instant records! (Laughs) We're writing on the spot and he really has to capture that on the spot!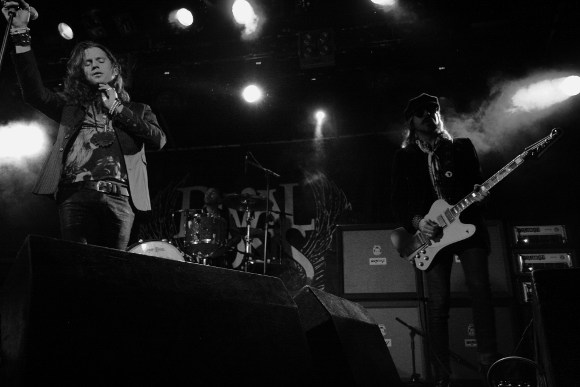 HRH: Well, you are famously known for the fastest recording albums. Why the hurry?
Scott: You have these producers that wanna spend weeks, getting a right snare tone, track all the drums, track all the bass, and then come in and do guitars. It's really pieced apart, which is really weird, and Dave really embraces all that. He enjoys doing it the way we do it.
HRH: You've been described as 'old school' and 'retro' rockers. You recently mention in one of your Interviews that you don't like much when people labels RS sound. So how do you describe the Rival Sons music?
Scott: I mean, the 60's and 70's sound was just amazing! All those records sounded incredible! Everything sounds good from that era, the guitar tones, the drum tones, the singing, everything! So it's not like we try to recreate the 70's old, vintage rock. Or we go in the studio with the thought of; 'let's make an old 70s record. Let's make a Led Zeppelin song!' Well, some people like to call us a classic rock band and it's not true! I don't understand all this labeling bands, but I think it's important for me to clarify that we live now; we make music for people now and for everyone's taste. Rather than trying to be vintage band, we just try to bring back the best of Rock 'n' Roll sound! How's about that!? (Laughs) That's what people want to hear from a rock band! We try to be very honest, with raw riffs; raw songs and they transform themselves as we work together. As much as we gonna listen to The Small Faces, we are also listening to Miles Davis, we are listening to world music. So I want our music to reflect that fusion of all this music we listen to! Like right now, today I've been listening to some kind of pop artist too. On the other hand, they are great artist out there right now. There is an artist I listen to it today called Jake Bugg. I have great respect and love for his stuff.
HRH: He is from Nottingham. He certainly has been making an impression on the music scene lately.
Scott: Yeah, he is this young kid I am listening to right now for the first time and is real good stuff. It's so much happening right now. We play with a whole bunch of great bands. Like this guy's tonight, called The Ulysses. Then there is this great band out of Sweden called Factory Frames. They're all doing something in that kind of genre. Well, hmm… in the States, a little bit less this days. Don't get me wrong, there's some really fucking good ones over there too, but the bands that really starting to poke out, you know… maybe the one's that labels wanna take a little chance on seem to be a little more slick, which we don't want. We want it dirty and real honest rock, right from our heart! I think people who believes that the real-deep and right from the heart rock 'n' roll did existed just in the 60's or the 70's or whatever, are short-sighted, you know what I mean? There are some great bands out there, real talents!
HRH: Following your debut album, "Before the Fire", you were literary snapped by the Earache Records, who usually goes for the death-metal bands? How they found you?
Scott: Ah, they found us on Internet and that was it. They contacted us. My manager asks me if we want to do a deal with this death metal record label. We just said no, because at first- it all sounded a joke. We hang on this for a while and carry on working and they came back and said; 'we want to sign you band for real this time. Not a joke, we really have interest in you. So please review this deals seriously. So we looked at the deal and the deal was very favorable to us. You don't find every day record labels who works in your favor, you know. Most record companies basically have their hand first in the cooker jar. So whenever band makes any money, they got there first. We don't wanna to sign deal with labels like that. My manager is not gonna negotiate with deals like that. I mean, we put the food down on that early on, before we sign anything. It s ridiculous…you know, the big record labels are dying, so they think it's alright draining the artist to stay alive. Well we are not gonna let them to do that to us! So we were very lucky that we got the deal from Earache. They have done a great job so far.
HRH: With your second record 'Pressure and Time" you enjoyed a great success. Were you surprised with the bands sudden meteoric rise to fame?
Scott: Oh Gosh…sure! It was surreal time for us. I mean, every time you get positive reaction, positive reviews from the critics and you get this new fan-base springing out in a big way, it feels real good. Although in this business you never know which direction you gonna go each time with your new records. After the reaction we got from people and the critics, we got all excited and got this sudden confidence in what we were doing, but at the same time it was very humbling experience. You know, I am Capricorn and I am logical, grounded guy, but this was something…I am excited every night! Like when I found out that Leeds show has sold out, I got this sudden rush of adrenalin! Yeah, I am ecstatic! (Laughs) But also I feel a great depth to all those RS fans that came down tonight to support my band. So, I think with "Pressure and Time" it was like, 'Oh my god, we are going to meet this people every night and travel around!
HRH: Do you get annoyed when people compare you with bands like Zeppelin, Cream … not to mention how often Jay is compared to Jim Morrison, Robert Plant or Paul Rogers?
Scott: (Laughs) We get that often…and I must say it's a real honor and real complement to us, because all this guys were our heroes. But beside all that, we are Rival Sons and we have our own sound, our own take. I mean, we carry our own torch! My comments to that are; 'We can never pretend and act like we are trying to take their place or anything like that. They are our guru-men, here you go!' (Laughs) So yeah, we make music to our best abilities. Music that appeals to people now! If somebody say to us; 'you guys are like Led Zeppelin of today, then I would say to that; 'Oh no! It's kind of the kiss of death situation, you know. There is no other Led Zeppelin! There is no other Bob Dylan …it won't happen again. No-one gonna replace the Rolling Stones! They can just stand in their shadow for a while (Laughs). That's all you can do. That's all we do … we are standing in the shadow of those great music giants, this great people and we have no intention of trying to be them!
HRH: Do you think that the rock music today, gone in totally different direction, and all thanks to Internet, to the point that it lost its soul and identity?
Scott: Yeah. I mean the Industry absolutely turn on the zero, because the way the industry is working right now. Different doors are open for lot of types of music, types of artists, different areas. People with no money, no label became quickly famous on Internet. I think we are on renaissance era right now! I think we gonna look back and will be like, 'this was a birth of something totally new and revolutionary in the world of music. This was the way where everybody can have the recording studio in their home…we can access and touch the music immediately! I can download anything you tell me about right now… bum and I have it all in front of me! So I think this is the renaissance period. It's something that never happened before. It's unprecedented experience if you are collector or music lover, art lover. We have great artist right now, great music! I think we have this new revolution happening right now as we talk. I think its steering up a lot of art.
HRH: In your own kind of perception, what Rock 'n' Roll means to you?
Scott: I think it's an elusive term. When somebody says, what the rock 'n' roll meant to you, the first image that comes to me is the world of music I did grow up to. On my mind is an old video of Elvis Presley, Chuck Berry and Little Richards … that's the thing, the girls screaming … it's a rebellion thing. It's a freedom, when white people dancing for the first time to black music. This is what Rock 'n' Roll means to me. This is what really Rock n' Roll represents to me in my mind when I think of it. In the early days, when people like Bo Dudley and Chuck Berry, Jerry Lee Louis, Elvis Presley played Rock 'n' Roll, It was actually all very innocent and awesome experience. But also there was this element of a rebellion kind of feeling attached to it. So it was all in the name of Roll 'n' Roll! Really, loud, really fast rock, girls pulling off their tops! This kind of simple things.
HRH: You mentioned recently that, all your records sound very different. What did you meant by that?
Scott: Well, between the "Before the Fire" and "Pressure and Time" it's so obvious that we're bringing in very different influences, different musical direction. In a way we all come from a different music background. I mean Robin is a jazz dude. Jay was into folk and soul stuff. So we all bring different influences into the band and that reflects well in our songs. When Jay join the band, his writing influences almost devoid on our first record, but stylistically his influences certainly showing up. I mean lot of his melodies were in place very much. "Before The Fire" was much more of a mad kind of buzz-blow-out meets like a lot of eastern influences. "Pressure and Time" sound was much tighter, very much soulful sounding record. So our second record is so much more of a British-sounding record, because that so deep in my heart. Always been… On the 'Before the Fire' I wanted to make something very me, a lot of eastern influences and my own spiritual background. It spreads out in a different way. With "Pressure and Time" there is lot 'of Jay influence on that record… much more bluesy, much more of a soul record. Well, "Head Down" is more jammy record.
HRH: By some, "Head Down" is very much in the vein of early Aerosmith …
Scott: We wrote down whole bunch of more stylistic points of view of the band and also most importantly expand the record. We wanted to open up and "Head Down" reflect that of what we been doing on the road for the last two years. So we expanded arrangements and then we kind of altered them.
HRH: 'Head Down' is great record. Love everything about this album. Still I have few fav songs that I love listen to … songs like, "Until the Sun Comes" and "Keep on Swinging". But one of my favorite must be the sorrowful and stunning ballad "Jordan" …
Scott: That's very kind of you to say, really. Speaking of first takes, "Jordan" was also recorded on one take. It was Jay's song that he handed in. This particular song was something that Jay was compels to write when we were home half through the session. So it was like, 'I have an idea guys that I have to write through it. So he comes out one night after we were done recording. Yeah, he comes down … he didn't say a world. He seats down and started to play "Jordan". It was like we were all choked down … like that's an awesome song dude! Wow, you just played one of the most soulful, bluesy songs we ever heard it!
We were so inspired, so we did play the song to David, the producer. So Dave took off his head phones and said it loud; 'Yep, I don't think we're gonna bit that! I think we just got the song! It was all quite fascinating, you know…?
HRH: As you are famously known for fastest writing and recording albums, do you write on your new record?
Scott: Of course we are ready right now and we are ready to maken it 15 days this time! (Laughs) We are ready to making it immediately right now. Yes we are anxious. No really, we are actually planning right now to get back into it.
(At this point we were briefly reminded about out time limit…)
HRH: By many, Rival Sons is the best thing in rock music right now. The future of Rock 'n' Roll! Before you go, is there anything you would like to share with all those new bands who would like to follow your path …?
Scott: It's a new world. Do what's in your heart! Don't listen to anybody. If you are doing something good, will come to you and soon. So go on and get it!
HRH: Looking forward to Download Festival in June?
Scott: Oh Yeah, absolutely! It's gonna be fantastic show this year! it's gonna be great fun! So, bring it on Download! (Laughs)
HRH: Thank you Scott for taking the time to speak to HARDROCK HAVEN. See you at Download!
Scott: Yeah, see you at Download! Thank you! Lovely to meet you! See you tonight!
Rival Sons Concert Photo Gallery
[Photos appear courtesy of: Jadranka Jade]
by Steve Patrick
- Columnist –
Danish metal outfit Volbeat recently toured North America alongside support bands Spoken and Danko Jones in conjunction with the release of their latest studio album Outlaw Gentlemen & Shady Ladies. The record is the first to feature to feature the band's brand new lead guitarist Rob Caggiano (ex-Anthrax, The Damned Things) and debuted at #9 in the Billboard 200.
Volbeat's frontman and principle songwriter Michael Poulsen sat down with Hardrock Haven before their show at Piere's Entertainment Center in Fort Wayne, IN on April 6th. Poulsen talked in detail about the new album, writing a song with King Diamond, and the band's gameplan for announcing Caggiano as their new guitarist.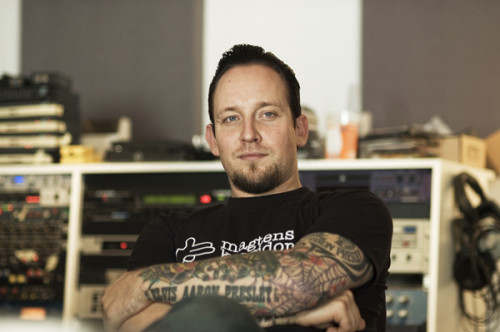 Hardrock Haven: Did you all make Rob learn basic Danish?
Michael Poulsen: Uh, he's getting there. Baby steps. (laughs)
Hardrock Haven: Well, I was thinking he'd at least have to learn it for "The Garden's Tale."
Michael Poulsen: Yeah, I know, we were actually fooling around with that and said, "You've gotta sing the Danish lines in that song" and he was just like, "What?" (laughs) So we had a little bit of fun with that.
Hardrock Haven: How has the band dynamic changed with Rob?
Michael Poulsen: Ah, no it's not like anything has changed that much. Now, of course you know you can definitely hear that there's a new guitar player in the band and he has a tremendous good guitar style, you know. You can definitely hear that there's a second guitar player now. It's not just this wall of sound with guitars. You can hear there's two guitar players and I really like that. You can hear that on the album as well because this is the first time we did an album where the second guitar player is recording his own guitar because on the previous albums I've been recording all the guitars.
Hardrock Haven: Well you've got a new album out in a few days … can you talk a bit about the song inspirations in terms of subject matter?
Michael Poulsen: Yeah, you know it's very obvious that there's a lot of inspiration from old, country/western movies and the 1800s … so uh … it was just the right time to do an album where I brought some of those characters to life and it seems to fit pretty well into the Volbeat universe. I was just going back to some of those movies that my father was really into and I was really into those soundtracks, so when I started writing the new album I could definitely hear that some of the material that I had was inspired by those old movies. So, I said, "Okay, this is what I'm gonna do. This is going to be the thing in the new Volbeat album." So, I started writing lyrics bringing some of those characters to life from the 1800s and that became the new album.
Hardrock Haven: Do you have a personal favorite track off the new record?
Michael Poulsen: No, 'cause every track is my favorite track. That's the way it should be.
Hardrock Haven: Absolutely. Well, you talked about watching movies with your dad, what is your favorite western?
Michael Poulsen: I think the western movie I've been watching mostly, again and again, is Once Upon a Time in the West. It's great.
Hardrock Haven: What did you want to do differently on this record in comparison with Beyond Hell/Above Heaven?
Michael Poulsen: Just make it better. (laughs)
Hardrock Haven: (laughs) Well, that's always the goal isn't it?
Michael Poulsen: (laughs) Nah, I'll not take anything away from the other albums. I'm obviously just as proud of those albums as I am of the new one. The new one wouldn't be that good if I didn't have the past, you know, so it's all about progressing and finding new inspiration without leaving what you already have. But it was very obvious with the new album that we were seeking something else. We wanted to leave our comfortable zone.
We wanted to try out a new studio, but still bring our producer Jacob Hansen and at the same time flirting around with trying to have Rob stepping in as a second producer because I really like the work he did with The Damned Things and the new Anthrax record. Rob was a huge fan of Volbeat and he said, "I'd love to produce a couple songs so you can hear what I think the band could sound like." And I say, "Okay, I'll touch base with you when it comes to the time when we enter the studio." And I told him, "Maybe you should talk to Jacob Hansen and see if you two can come up with some kind of game plan of how you want to do this." And that's what they did, you know?
So that was a very interesting process…having Jacob Hansen, who is really…he knows every detail about Volbeat. He'd been producing all the previous albums and then to have a new guy who is a new fan of the band who is also producing…how does he see and hear Volbeat?
That was very, very interesting … how it all started with Rob being part of the whole team. I had a really good friend with me in the studio who was supposed to put down the solos and actually maybe stepping in to be the new guy in the band, but we just realized while we were working in the studio that it didn't work out the way that we thought it could, so we said, "Let's not do any more." We were so afraid of mixing really close friendship and business and all that…so I said, "It's not a problem. I'll just put down all the guitars as I'm used to." Then I kindly asked Rob if he could put down the solos and he loved to. He's a fuckin' freak on that guitar. Later on he had some ideas after putting down some solos and I said, "You know, those are really good ideas. Let's use them in the songs if you're okay with that." And he said, "That'd be cool. That'll be a compliment for me if you did that." So, later in the process, I just said, "C'mon, you should just be in the fucking band. You put down all the solos and you have a few ideas for a couple of the songs. You should be in the band." And he basically thought that we were kidding him. So, the next day he said, "Were you serious about that offer?" I say, "Yeah I was. I mean it." He said, "I would love to join you guys."
So that was how it all came about and I think you can definitely hear that in the music that there's this new. second guitar player. He has his own sound. He has his own picking. He has his own style and all of that together was brought into the new Volbeat record. You can hear that. You can also definitely also hear it live when we play that there's a second guitar player. So, even though I wrote all the material for the record, having a guy stepping in with such an in-your-face guitar style…that's just brought something extra.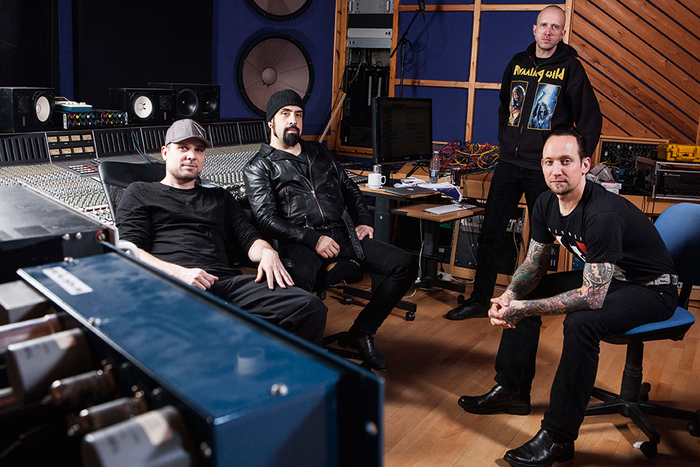 Hardrock Haven: In terms of the timeline, it sounds like Rob was offered the gig pretty early on in the process of making the new record. How long did you wait to announce the information that he had joined the band?
Michael Poulsen: You know, we gave him the offer in the studio and uh … that, you know, of course that was big news for us while we were working in the studio on the album we actually have a new man in the band now, but not the guy that we had thought should be the new guy. So, there was no reason for putting out the news before we were almost done in the studio because we wanted to concentrate on the work we were doing in the studio and not be infected by a lot of input from the outside by announcing him as the new guitar player. So, we waited until we were done.
Hardrock Haven: That makes a lot of sense. The song "Room 24" is obviously a stand-out track on the new record because of the guest appearance by King Diamond. Can you talk a little bit about how you and King co-wrote that song?
Michael Poulsen: It's a really great track. I'm very proud of it. I'm a huge King Diamond fan and I met King Diamond for the first time in 1995 and later on in 1997. The whole idea for that song was…we were touring in Texas and King came to one of the shows and he was really into the Volbeat music and, of course, we knew each other from back in the days. Later on when we came back to Dallas, TX we had Hank Shermann with us on guitar. We hired him into the band after we kicked out Thomas (Bredahl) and King wanted to say hell to Hank and just hang out with us. That was on the Gigantour with Motörhead and Megadeth and that's where we started talking about doing something together.
You know, Volbeat is actually only the second band coming out of Denmark who made it to the US. Mercyful Fate was the first band and we are only the second who made it and he was very proud of that. We just started talking and said we should do something together. Normally that's not something King does. He's very locked into his own thing, so that was a huge compliment that he actually really wanted to do something. I said, "You know, I have a really cool idea that we could work on. Let me work on it and I'll send you the demo track." And when he heard the song he said, "Definitely. That's fucking heavy. Let's do it."
Normally when I have guest singers I would write the lyrics and the melody line, but King he wanted to write his own melody and he wanted to write his own lines which I think is perfect because why would I do that? It's fucking King Diamond, man, you know? So when I started writing that song, of course, I had in mind all the time that it needs to be something that he could feel comfortable about and it needs to be a heavy song, but it still needs to have a feeling that it was a Volbeat song. You know, you don't send a song to King Diamond saying, "Ah, I wrote a country song. Can you put vocals on this?" (laughs) You don't do that. It needs to be a heavy song and I'm really into that. It's easy for me to write those songs. I had another band in the past called Dominus which were really heavy and so of course I was having a lot of inspiration from old King Diamond records…also newer King Diamond records and Black Sabbath and Mercyful Fate when I wrote that song. I always had in mind that it needs to sound like something that could be on a King Diamond album.
So when he heard that he was really into it and the next thing was how do we do this when it comes to lyrics because if he wants to write his own lines and I want to write my own lines, how does that mix together? So I started talking about, I say, "You know, I had a really creepy experience in a hotel where I wake up in the middle of the night and I cannot move my arms and legs, but I'm totally awake." I couldn't figure out what was going on. I couldn't move my arms or legs. I was trying to reach out for my wife and I couldn't do anything. It almost felt like I was choking. The only thing I could get out was something like "aaaahhhhh" and I was so sure I was about to have a heart attack. I said, "Okay, you're having some kind of stroke or heart attack. Something is wrong. You're dying here."
I managed to fall asleep and I don't know how long I was sleeping, but I wake up again and the same thing is happening. I cannot move my arms or legs and I feel like choking. Suddenly I feel like somebody is pressing me, pushing me down on the bed … pushing my chest and everything became more dark and it's almost like I sense some kind of presence in the room. I was so sure that I was dying, I said, "This is how it ends." A lot of thoughts were going through my mind like…"Why do I see all this darkness?" "Why is it that I cannot move?" And I told King about that experience and he said, "That's some heavy shit. You'll never know if there was some spirit in the room. Have you ever heard of sleep paralysis?" I said, "No, what is that?" And he said, "Let me just send you a couple of links and you can read about it." I don't know if you've heard of it…sleep paralysis?
Hardrock Haven: I haven't, no.
Michael Poulsen: It's a really creepy thing and a lot of people have experienced this. And they tell the exact same story as I tell. They wake up and they cannot move their arms or legs. It's something to do with the mind…the brain. That second when you wake up, it's not communicating with the rest of the body. Your eyes are open, but your brain is just not full awake, so it's not communicating with the rest of…you should look it up on the internet. It's very, very spooky.
The thing is that everyone who experienced this sleep paralysis…they have the exact same story that they cannot move their arms and legs and feel like something is on top of you. Some kind of dark, spiritual force or something. I can't explain it. Very, very few people have actually died from it … because of the shock of it. And he (King) said it could be that thing and that sounds pretty much what it was…what I was going through. So, we made the deal that I should try to explain that experience in the song and that he should be that dark thing in the room. So that made sense and we called the song "Room 24" since that was the room I was in.
Hardrock Haven: In terms of the song structure though, did you have to re-tool either part so they would mesh together songwriting wise?
Michael Poulsen: No, I knew exactly where I wanted King Diamond's vocals. It was just up to him how he wanted to do the melodies and how he was going to put it down. So, when we recorded my part we sent the files over to his studio and we had no idea how it would sound like before we got it back. So when we got it we put it on and we were just blown away. It was just like, "Wow. This sounds amazing."
Hardrock Haven: Well, it definitely does. You got the signature high notes in there for sure.
Michael Poulsen: Totally.
Hardrock Haven: What do you make of Volbeat's increasing popularity in the U.S.?
Michael Poulsen: Yeah, it's amazing because we have been touring Europe so much. We started to tour in bars and now in Europe we play venues with capacity of ten to seventeen thousand people. And now things are going really, really good in the US. You know, we can see every time we do another American tour there are more ticket sales and the venues are getting bigger and it seems very solid right now. There's still a lot of roadwork to do, but we're fine with that.
Hardrock Haven: Here it is a couple days before the new album comes out…do you ever get nervous or anxious in the days leading up to the release of a new record?
Michael Poulsen: I'm not nervous…I'm not nervous because there's nothing to be nervous about. We're very proud of the record. We're just very excited. You know, about how the fans are going to react. That's the main thing. Of course, it's cool if the media likes it, but come on, everybody knows that the media doesn't really have any force anymore. It is the fans who are in the driver's seat. The fans are what we are concerned about…not concerned, but those are the people that we're excited to hear opinions because they are the ones that go out there and buy the concert tickets and it means something to them, you know. It's some kind of identity to them. I know how it feels when I'm waiting for one of my favorite bands to release a new album. I know how that feels like, so I totally put myself into the expectation of a new record. So that's very exciting. I'm not nervous. I'm just very excited.
Hardrock Haven: Well how's the tour been going so far with Danko Jones?
Michael Poulsen: Great, there have been only very, very few shows that haven't been sold out. The lineup is really, really great. We have a great opening band in Spoken. Those guys are really, really good. And we have Danko Jones as the main support and he's always great. He's a great entertainer. He's got good rock songs. Very happy to have those guys with us. We tried back in the days to get Danko Jones with us but it never really fit into our schedule, but this time everything was perfect. We're very proud to have them with us.
Hardrock Haven: Who would you say is the definitive "outlaw gentleman"?
Michael Poulsen: Black Bart.
Hardrock Haven: What about "shady lady"?
Michael Poulsen: You know, they're in our daily life every day and every man knows that. (laughs)
Hardrock Haven: Do you think that being in Volbeat has really freed Rob up musically?
Michael Poulsen: That's probably a question you would need to ask Rob, but I'll say yes because I think he was very flattered that we actually used his ideas. I don't know how much … it didn't seem like he was really writing anything in Anthrax, so stepping into a new band where you can…where there's an option of bringing out your own ideas must be a good feeling. So, I believe that he appreciates that.
Hardrock Haven: How would you describe Rob's production style in comparison to Jacob's?
Michael Poulsen: Every producer is different, you know. They have their own style. Rob definitely has his own flow. There's a really good balance in it. You can hear everything and it sounds very solid.
Hardrock Haven: Are there any Danish bands that US fans should know about that may not have made it over here yet?
Michael Poulsen: Everybody knows Mercyful Fate and King Diamond, but uh … Danish bands … that's a good question. I feel a little bit helpless here. We had a really good support band with us on a tour in Denmark called Grumpynators. They're good guys.
Hardrock Haven: Many Volbeat albums have liner notes explaining what each song is about. Why do you think it's important to provide that detail?
Michael Poulsen: I don't know if it's important, but it's like … the fans are really … they're really into those lyrics and a lot of times they have a lot of questions on forums and stuff. You know, "What's this song about?" I could feel that it meant something to them. But what I like is when people read lyrics then they make up their own mind what it's about, but for some people it's really important. They really want to go into the details and the depth of the lyric and I know how that feels like.
So I thought maybe it would be a good idea for certain songs to let people know what this is about because I know it means something to certain people…like they get into that. Sometimes when the fans or the listener gets the right information about the lyric suddenly the song becomes a new song for them. It's like, "Wow, that's what it was all about!" So the song becomes more fresh, so I thought that it might be a good idea.
Hardrock Haven: Well it's like what you were saying about "Room 24." I listened to that song last night and got the general idea, but hearing the story behind it makes it that much more interesting.
Michael Poulsen: Yeah, yeah, that's what I also like. People can leave a lot of questions marks here and there. "What's this song about?" And then they can read an interview about that song and say, "Wow, so that's what the song is about!" They have to nerd around a little bit on the net to figure out what's going on. Sometimes it's cool to have everything in front of you, other times it's cool that you need to go on a journey to figure the whole thing out, you know?
Hardrock Haven: I'd imagine putting that detail in the liner notes cuts down on stupid interview questions about the meaning of your songs too. (laughs)
Michael Poulsen: (laughs) Yeah, exactly.
Hardrock Haven: Anything you'd like to say to Volbeat fans out there reading this?
Michael Poulsen: Just that we're very excited to get a new record out and hopefully they will like it. We appreciate their support and let's rock out when we're out there live.
Hardrock Haven: Well thank you so much for your time. It's been very interesting talking with you.
Michael Poulsen: Thank you!
by Nikiforos Skoumas
- Columnist –
Thorsten Koehne, founding guitarist of Eden's Curse is about to unleash their fourth studio album. Thorsten has also played the guitars on the highly acclaimed latest Hardline album Danger Zone having already left strong impressions in the AOR world with his lead guitar work in Sunstorm's second album House of Dreams.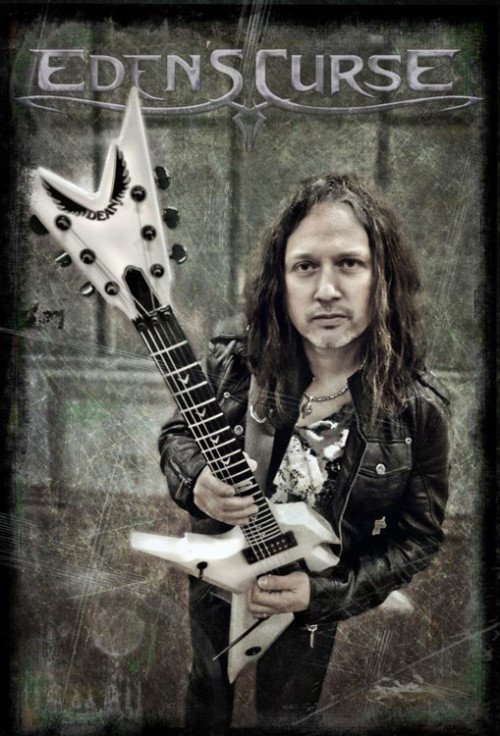 Hardrock Haven: It has been a year since the release of your latest incredible album with Hardline, Danger Zone. What has the market reaction been so far?
Thorsten Koehne: First up, thanks a lot! The reactions have been very overwhelming with the press and reviews hailing the album as one of the best since the legendary Double Eclipse debut. The fans love it and the video for the single "Fever Dreams" is almost hitting 200.000 views. So that´s of course very rewarding for us as musicians to know we can keep the high performance level of the original band.
Hardrock Haven: Since 2012 you and fellow Eden's Curse keyboardist Alessandro Del Vecchio have been full-time members of melodic hard rockers Hardline, how did this collaboration come about?
Thorsten Koehne: Well, as you said Alessandro and I are band-mates in Eden´s Curse so we´ve known each other for quite some years. Besides that Ale works and produces a lot for Italian label Frontiers Records. So when they approached him to produce an album with singer Johnny Gioeli and to put a band together for him I guess I was the first one he thought of for taking as the guitarist which of course was an honor for me. So this wasn't originally planned to be a new Hardline album but as the production continued and songs were shaping up to sound really great Frontiers decided to give the Hardline comeback idea a go and that´s how it all came together. Unfortunately I have to inform you that me and drummer Francesco Jovino (U.D.O.) are no longer in the band. It was Johnny´s decision to continue with other musicians and I can only speculate about the reasons for it but all in all it´s ok for me since the double pressure of having 2 recording and touring bands would have been too much in the long run anyway so this way I can fully concentrate on the new EC album now. The only disappointment for me was that I put quite some work into the new Hardline album which kinda paved the way for the comeback but besides the video shoot I really didn't get much out of it and I never got a statement from Johnny. Anyway, it´s a great album and I´m proud of my playing on it. I still feel the solo in "Stronger Than Me" is one of the best I´ve ever done.
Hardrock Haven: You also contributed the lead guitars on the great second Sunstorm album House of Dreams, how did that collaboration come about and what are your thoughts on that project?
Thorsten Koehne: That was really a dream come true for me. I mean, playing guitar for Joe Lynn Turner? I doesn't get much better than this. I´ve been a fan of Joe since the Malmsteen days and he definitely is one of the greatest singers in rock ever. The collaboration for this came from producer Dennis Ward who again produced all Eden´s Curse albums so far . So he asked me to play the lead guitars and solos on the album. It was such a pleasure and honor playing on all these great songs written by so many great people. The awesome thing was that Joe was tracking his vocals after I´d already played my guitars for it. So on many songs you can hear that, specially when we do the outros, Joe is is phrasing his vocal lines around my guitar leads. The guy who sang with Blackmore and Malmsteen is singing to my guitar leads … completely blew my mind!
Hardrock Haven: Eden's Curse are currently working on their fourth studio album, how would describe the sound of the new album in comparison to the previous?
Thorsten Koehne: I can honestly say that we all in the band feel that this is the best album we've worked on so far. We always said that we wanna get better and better and we really managed to top ourselves with this one again. So the sound of the new album has all the Eden´s Curse elements and trademarks of the previous albums just it´s all better. Better production, better songs, better sounds, better guitar playing… ;-) Also there´s some pretty heavy stuff on the album but at the same time I´ve never played so much acoustic guitar on an EC album. So it´s a great mix of both heaviness and melody. I´m sure fans will love it!
Hardrock Haven: As an artist who has participated in both melodic rock and heavy metal projects where would you say Eden's Curse stands musically? Is it more of a melodic rock or metal band?
Thorsten Koehne: I´d say both and that´s the beauty of EC. We´re not tied to a certain musical image or format. Basically we can do almost anything we want and if you listen to our previous albums you can find anything from slow ballads to balls out metal. Generally if you compare us now to our first album we´ve gotten a little heavier in sound but I think the most important thing and the link between all these different styles for us is the word "melody". It´s gotta have some kind of great hook-line to it because that´s what people are gonna remember and that´s what we as musicians want to hear as well. A great song is a great song no matter if you play it rock, metal or jazz style. It´s all a combination of the right chords and the melody working with it.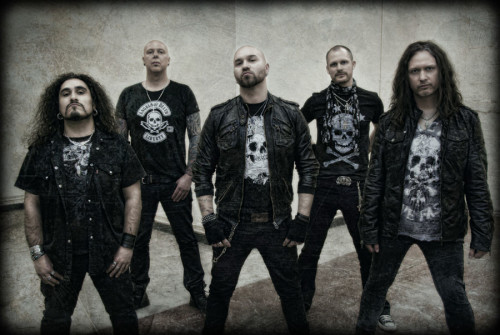 Hardrock Haven: All three Eden's Curse albums were released under AFM records, what is your relationship like with the company? And will you be featured on any upcoming projects by Frontiers Records?
Thorsten Koehne: AFM have always been good and 100% supportive to us so the relationship couldn't be better. We just recently signed a new worldwide release contract with them. About Frontiers Records…there´s no new projects planned from my side right now but that could change any day so if they´d approach me I´d sure be willing to collaborate as far as my schedule allows it. I recently played guitars for U.S. singer Danny Veras´s new album which is produced by famed singer/songwriter/guitarist/producer Paul Sabu. The sound is very much classic American rock so maybe that´s an option for them. We´ll see!
Hardrock Haven: Throughout the years you have been using various editions of the left-handed Razorback Dean guitar which has become something of a trademark of yours. Why would you say the Razorback is so special?
Thorsten Koehne: That´s great you noticed! Yes, the Dean Razorback is just perfect for me and besides being the most awesome metal looking guitar out there, there´s really a practical reason why I use this guitar. So of course the guitar sounds killer and the neck has super fast playability but it´s the body shape that´s really most important. I've always been a fan of the more odd shaped guitars like Flying V´s or Explorer´s. I really like the sound of the traditional guitars like Les Paul´s or Stratocaster's but always found the body shape to be not the best for playing live, specially with the lefthanded way I play. So growing up I watched Michael Schenker play and he always played this Flying V. When he was soloing, because of the way the V is shaped, he could easily hold the guitar between his legs and literally kneel into his guitar to shape the tone and give it a stability that would be impossible to do with e.g. a Strat. The downside of it is that you can´t play a V in sitting position for a long time because it get´s uncomfortable after a while. So the great thing about the Razorback is that it´s basically a cross between a Flying V and an Explorer. You can play it easily both in sitting or standing position which is really very, very important if you do these endless practicing hours to learn some new shred stuff. You can play the Razorback all day without getting tired!
Hardrock Haven: You are also well known for your unique guitar set-up having the guitar string in the opposite order; how did you come to develop such a style and would you encourage young guitarists to play in the same way?
Thorsten Koehne: Yes, that´s the first thing everybody notices and wonders about when they see me play but for me it´s really nothing unusual because that´s the way I've always been playing. I´m naturally left-handed but never had formal guitar lessons so nobody told me to put my strings the other way round and I just continued to do it my way. I always say it´s in now way harder or easier than playing the conventional way … it´s just different. So yeah, I´d encourage any young guitar player to play the way they wanna play. There´s really no rules to do anything just one way. If you can make it sound good, and that´s really all that matters, it is good!
Hardrock Haven: Will you be touring in 2013 as part of Eden's Curse or with any other bands?
Thorsten Koehne: So far the only thing that has been officially confirmed is our show at Firefest Festival in Nottingham, U.K. in October this year but we will definitely tour to support our new album. If not in 2013 than definitely in early 2014. So our management is working hard on it that you will see us live as much as possible. We love to tour and we love nothing more than playing live.
Hardrock Haven: Finally we would like to thank you for this interview, is there anything that we left out that you would like the fans to know?
Thorsten Koehne: Thanks a lot Hardrock Haven for having me and I just want to say thanks to all the fans for their continued, passionate support and their patience during these difficult times for Eden´s Curse as we were trying to find a new singer and weren't able to do things as quick as we wanted them. We will have an awesome new album out for you! Thanks for all the great e-mails and messages I get every day from all over the world. You guys rule!
by Steve Patrick
- Columnist –


Vocal powerhouse Sebastian Bach recently released his first-ever solo live package with the 2CD/DVD set entitled ABachalypse Now. The live outing documents a tumultuous time in Bach's solo career since it represents shows featuring virtuoso guitarist Nick Sterling and also the infamous AXS TV live special that Sterling refused to take part in (resulting in numerous guest guitarists to swoop in at the last moment to save the day).
Bach took some time to speak with Hardrock Haven about ABachalypse Now, his honest thoughts on his guest spot in the film Rock of Ages, and his future plans working with Steve Stevens, John 5 and his new guitarist Jeff George:
Listen to the interview:
For more information, please visit www.sebastianbach.com.
by Steve Patrick
- Columnist –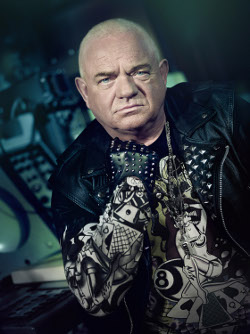 German metal legend Udo Dirkschneider recently visited Cleveland, OH as part of a brief North American tour in advance of the release of his upcoming new album with U.D.O. entitled Steelhammer which hits record stores in late May. The ex-Accept vocalist treated his fans to a just over an hour and a half set of U.D.O. and Accept classics at Peabody's Concert Club on Thursday, April 18th.
Dirkschneider took some time to sit down and speak with Hardrock Haven about the current North American tour, the new album Steelhammer, the possibility of working with his good friend Doro Pesch again in the future, and what question he dreads the most in any interview.
For more information, please visit www.udo-online.de
[Videographer: Justin DelPrince}
Last week, BLACK STAR RIDERS vocalist Ricky Warwick and guitarist Damon Johnson dropped in on Eddie Trunk at SiriusXMRadio's HQ while in New York City on a promotional tour for their debut album All Hell Breaks Loose – due out in North America on May 28th. Read more
by Deb Rao
- Senior Columnist –
Tom Keifer Talks The Way Life Goes
One of the most prolific songwriters to emerge from the '80s genre, Tom Keifer is gearing up for his first solo release The Way Life Goes on April 30th via Merovee Records. The album is a tapestry of songs that range from blues, country to rock and showcase all of Tom's musical influences. They say you have to live the blues in order to to sing them. Through all the good and bad times Tom Keifer shows that he is a survivor of the highest caliber.
Hardrock Haven is proud to present an in-depth look at one of the most anticipated albums of the year the making of The Way Life Goes. Also Tom Keifer gives our readers a special track-by-track account of the album. Special thanks to Amanda from ABC PR for arranging this interview.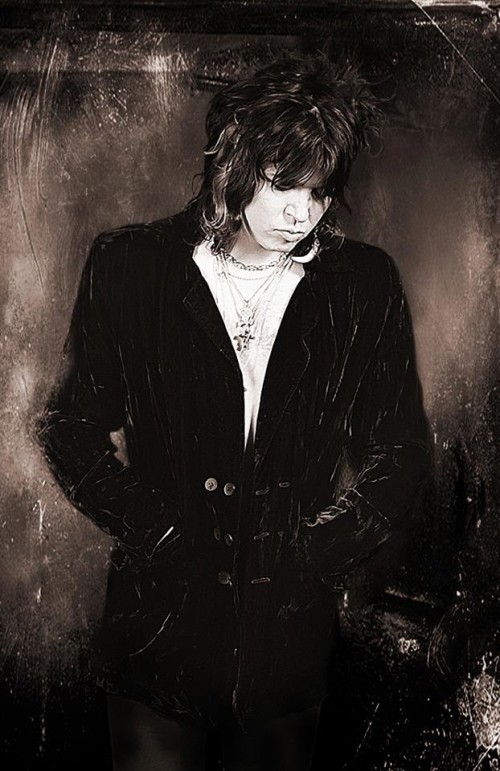 HRH: Tom, Thanks for checking in with Hardrock Haven.
Tom Keifer: Hardrock Haven here we go.
HRH: You are getting ready to release your first solo CD The Way Life Goes. I had an opportunity to listen to it last night. It is a tapestry of rock, country, and blues. Tell us what inspired you to record a solo CD.
TK: The idea first came about in the mid '90s when Cinderella had parted ways. We left our record company at that time. A lot of things were changing. We had a trend change in the music industry. We all went our separate ways. I started writing for it then. Then the band actually got back together and we were going to do a new studio record. Actually that record deal ended up in the courts in a lawsuit. It put us back kind of with our hands tied again. At that point which was 2002, we all started drifting back to our own thing again. That is when I actually started writing a solo record. I have been writing for it since the mid '90s. I had tons of songs by this point. I just picked a bunch and started cutting tracks. It was like early 2003 when we started cutting tracks for this.
HRH: It showcases a lot of your influences including blues and country. Now you wrote a lot of songs with your wife Savannah correct?
TK: Yes, she co-wrote a lot of songs on the record. She also co-produced the record with me. And a guy named Chuck Turner who is a producer engineer here from Nashville.
HRH: Tell us about the new single "Solid Ground."
TK: That song represents the hard rock or high-energy side of the record. The record has a bit of variety ranging from some pretty intimate acoustic things on up to stuff that is a little heavier. And a lot of stuff in between. That is a song that Savannah and I wrote together, Lyrically is about how life keeps throwing curves at you. You got to keep up with life. That whole thing where people are always looking for something and feel that they arrived and I am happy now. Life is always moving. You got to keep up with it. To me that is what this song is about.
HRH: I am really happy that you are doing this solo album. It really showcases your other side. Cinderella had such great songs and this is an extension from it. Let's talk about your roots growing up in Philly. To me Cinderella was always like a hard working class band. These songs on your solo album reflect that. I think people will identify with them.
TK: Thank you. My roots initially what I grew up on was the hard rock or the blues inspired hard rock from the '60s and '70s. When I was a kid through High Schools it was bands like Zeppelin, The Stones, Joe Walsh and The James Gang, The Eagles, and Fleetwood Mac. I could go on and on. It was such a great time for music. There were so many discoveries in music at that time. Those were my heroes. Most of that music was inspired by American roots music like blues, country, and gospel and R&B. The lyrics are about real things. It's about life. The good times and the bad times. Falling in love and falling out of love. Overcoming difficult times. Celebrating good times. That really goes from that roots music. Initially I didn't know what blues was. I just heard Jimmy Page play and Robert Plant sing and it was like that's cool. I love that. When I got a few years older. I discovered what their heroes were and what their roots were. I really started thinking back, as a teenager getting into Muddy Waters. B.B. King was one of the first blues artists that I heard. Johnny Winter just really digging into their roots. I tried to figure out how to interpret that in my own way. I think that helps to give you a better understanding of your hero's and who inspired you. Maybe help you put your own twist on it too.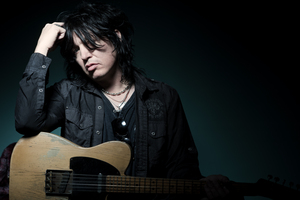 HRH: What are your future touring plans?
TK: We start May 2nd at the Canyon Club. We are going to be working our way East. We did three weeks back in February. So we will pick up places we missed. We took a break. Now we are going back out. That first leg was mainly the Northeast and a little bit of the Midwest. Now we are going to start on the West Coast then come across the South and the Midwest.
HRH: Is there anything else that you want to say about the new album The Way Life Goes? It is in stores April 30th.
TK: It is just something we spent a lot of time working on. We tried to really just put the music first. We took our time making it. It comes out April 30th.
HRH: It really showcases all of your influences. The '80s had so many dynamic front men. You really can't top them. I am so happy the fans will get to see this special side of you. We wish you the all the best.
TK: Well thank you very much.
HRH: Do you have time to do a Track By Track for Hardrock Haven?
TK: I will do my best.
The Way Life Goes Track By Track With Tom Keifer: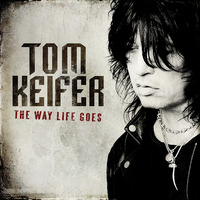 1. Solid Ground – "That song represents the hard rock or high energy side of the record. The record has a bit of variety ranging from some pretty intimate acoustic things on up to stuff that is a little heavier. And a lot of stuff in between. That is a song that Savannah and I wrote together, Lyrically is about how life keeps throwing curves at you. You got to keep up with life. That whole thing where people are always looking for something and feel that they arrived and I am happy now. Life is always moving. You got to keep up with it. To me that is what this song is about."
2. A Different Light – "That is another song I wrote with Savannah. That one is little bit different production wise for me. I don't know if I would really call it blues. It has a slightly more contemporary production to it."
3. It's Not Enough – "To me that is just a straight driving hard rock song. We had a kick ass time on that one. It is about just living life to its fullest."
4. Cold Day In Hell – "That song showcases my love of The Stones. That kind of sound. I really like the kind of gospel backgrounds on that. I love that song where you got the Gospel singers in rock song. We had done that with Cinderella on "Shelter Me."
5. Thick And Thin – "That is a song I wrote for my wife. She was going through a difficult time. I just sat down and it really fell out in not very much time at all. Because I saw what she was going through. It was just my way of saying I will always be there for you."
6. Ask Me Yesterday – "I co-wrote that one with Savannah. And a friend of ours Jim Peterik, who is a great songwriter. The best way I can sum that it is the wisdom of innocence. As time goes by we think we get smarter. Sometimes the less experience in life gives you the ability to not over think things. I think that is really what that song is about."
7. Fools Paradise – "That is my take on possibly all of our technology could be leading. For as convenient as all of it is. It may feel like Paradise but I am not sure that it is all really a good thing."
8. The Flower Song – "That is another song I wrote with Jim Peterik. To me it is about finding your soul mate in a huge world. It is that thing where people can be from far ends of the earth and still find each other. You know when you are with the right person."
9. Mood Elevator – "I wrote that with Savannah. It really represents the part of both of our lives when we were going through some difficult times. I think everybody goes through them. You just feel that you are losing it."
10. Welcome To My Mind – "Something. Those two are kind of like Sister Songs. It is kind of like welcome to my mind. And "Mood Elevator" is what we are told from society it is."
11. You Showed Me – "Another song that I wrote for Savannah. I wrote that as a result of the very hard times that I went through. She actually pulled me through those hard times. It was my Thank you to her for basically showing me how to live again."
12. Ain't That A Bitch – "I love the simplicity of that song. And the groove is kind of funky. The arrangement is very simple. It is actually one of my favorites on the record too. It's a short verse and catch chorus. Lyrically it is about don't f*** with me. (Laughter) Pardon my French."
13. The Way Life Goes – "That is the title track. This song is another one of my favorites. I love all of the grooves and feels that the song takes you through. It is really a journey from beginning to end arrangement wise. Lyrically it is about how life can throw curves at you. You think the situation is perfect and it turns out to be completely different. Many times it is very ironic. The realization of what a particular situation in life really is or what you think it is and what it turns out to be."
14. Babylon – "That is a song that I wrote with a very good friend of mine who is actually the guitar player and songwriter from a band back in the late '80s called Tangier. I wrote that with him. His name is Doug Gordon. Savannah wrote on that one too. Honestly it is probably the only party song on my record. It is about debauchery. That pretty much sums that one up."
Visit Tom Keifer online:
www.facebook.com/tomkeiferofficial
by Nikiforos Skoumas
- Columnist –
Australian glam metallers De La Cruz have just released their debut album on Frontiers Records. With a solid international fan base, numerous popular promo-videos on YouTube and a remarkable EP all preceding their debut album Street Level, it becomes obvious that De La Cruz were not singed by chance. Front-man Roxxi Catalano informs us on the band's present, past and future.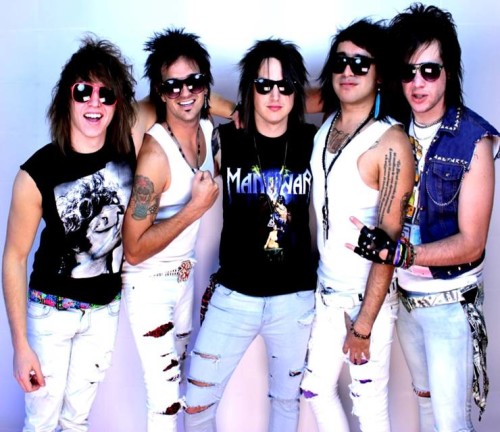 Hardrock Haven: It has been a bit over a month since your debut album Street Level was released internationally, what has the market reaction been so far?
Roxxi Catalano: It's been overwhelmingly positive so far, you're always going to get ya bad reviews and negative feedback but that's just how music is. It's about 90% positive though which is pretty incredible considering. As far as sales are going, I've really got no idea, it's too early to say, but personally I'm just stoked at the amount of people who support us and go out of their way to back us. We have the best fans, they're all so fucking supportive and for that I'm grateful!
Hardrock Haven: It has been almost two years since your sensational EP became available online; how do you reflect on the songwriting, performance and production featured on the release?
Roxxi Catalano: Sensational! Thanks dude! (Laughs) it's still a good album, sometimes I wish it had been done properly but that's kind of the beauty of it, it was just an underground release that took off. The songs are still good, I like most of them. Who knows maybe one day we will use some material off the E.P on a future release. Personally I love that big 80's production and a lot of fans did as well. Street Level has a far more polished production, which was what Casey intended. Next time, who knows…? I know it won't let down those die-hard 80's fans though that's for sure. I love 80′s production!
Hardrock Haven: On your official webpage you are offering a downloadable version of your EP for free. What are the benefits of giving fans free content and will you keep making EPs/singles in between albums?
Roxxi Catalano: I think in this digital age it is imperative to give something before you ask for something. It's like trying to get people to try a new flavor of drink or something, people want to know what they're in for. Would I be doing this interview if we had tried to sell the E.P instead?? No fucking way! It got us out there and it got us noticed. When I get a free CD of a band, I am much more likely to either go to a show or buy an album or merchandise in future. The kids today have no attention span thanks to all this technology etc, they want it and they want it now, and hey if they buy it next time, then you've won. Yes, we will most definitely be doing an E.P release later in the year I imagine. I can't wait, I've got so many songs buzzing around in my skull!
Hardrock Haven: Did you consider using some of the songs on the EP for your debut album?
Roxxi Catalano: Yeah naturally we considered it, and a re-recorded version of the song De La Cruz is on the Japanese release of Street Level as a bonus track. But I guess we just wanted to do something fresh, show we had a bit more. Rather then give the songs away for free then expect people to go out and buy a better recorded version of the exact same songs … I wouldn't do it and I wouldn't expect fans to. It's our first album; we've only been around for less than two years so essentially we are still finding our feet.
Hardrock Haven: Before DeLaCruz was signed you already had two official promo videos collecting views on YouTube as well as a promo EP. How did you manage financially to create all that material without the support of a record label?
Roxxi Catalano: We did those videos for fun; we never really expected them to do so well to be honest. They cost us out of our own pocket but not too much, like I said they were for fun and there was nothing serious to them. They weren't a calculated effort by us to look or be a certain way. Which was a good and bad thing, because suddenly it's most people reference point for us and suddenly I'm like 'shit if I knew it was going to get 70,000 fucking views I wouldn't have done it like that!' (laughs).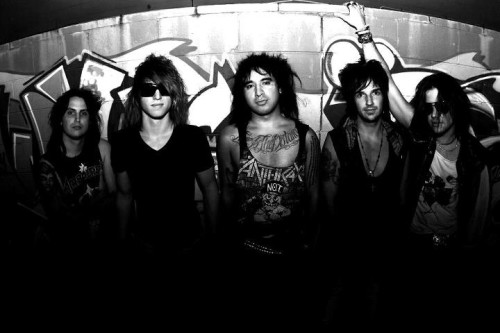 Hardrock Haven: De La Cruz have released a total of four promo videos so far, the first two taken from the EP (Back to the '80s and Lust Fame & Money), a video for the demo track "Rockin' All Nite" plus the latest Cherry Bomb featured on the debut. How important is it for a young glam metal band to have this much audio-visual representation? And should we expect a second promo video from your debut album?
Roxxi Catalano: I think in today's digital marketplace it is important, people don't go to shows to see bands they don't know anymore, etc. Youtube is a huge launch-pad for people today, the world is at your door! So i think that videos are important, i have gone on to become a fan of many bands simply on the strength of a video. I think it's a good way to show who you are, to an extent though. It's a two-edged sword as i mentioned in the last question. People can take a glimpse of a video and instantly write you off based upon it. Either way, they are a necessary evil today and a huge help to bands both big and aspiring. Yeah I imagine we will do another video, well we want to!! With Casey departing the band though we've got a bit to consider first though as musically he had a huge part in the songs. But yes, we have already discussed shooting one, and I can assure you what ever it is it will be a lot different from our previous ones.
Hardrock Haven: Street Level was issued by Frontiers Records, what is your relationship like with the label?
Roxxi Catalano: They're good, they took us on board with a multi-album deal and gave us a chance and I guess it's up to us to deliver. I know that we have a lot to offer them over the next few years but currently we are the new guys, we've got to bring the goods. That's how it works in the business, got to scratch and claw your way up the blood-stained ladder, and it's nothing pretty. I ain't wearing a fucking Rolex put it that way (laughs).
Hardrock Haven: Are there any plans for European or American Tours in 2013?
Roxxi Catalano: Yes there are plans in the works, I'd be putting my money on the fact we will be in Europe before America though. We have some sweet contacts in Europe and for a variety of reasons it just makes logistical sense at this point. So many amazing countries and bands there, and obviously we are also on a Euro record label. The U.S.A. is most definitely in our plans though and something I can't fucking wait to do. We all suffer from wanderlust, it's all we've ever wanted, to tour the world and play rock music.
Hardrock Haven: Finally is there anything that we left out that you would want the fans to know?
Roxxi Catalano: Don't stress about our line-up change, we aren't going anywhere and I can assure you that we will still be churning out our DLC blend of '80s inspired hard rock for a long time yet. We've got some exciting plans and are stoked for you to be a part of them. Can't fucking wait to meet you all out there on the road, stay rad! Cheers Hardrock Haven!
Official website: http://www.delacruzofficial.com/
by Anabel Dflux
- Photojournalist –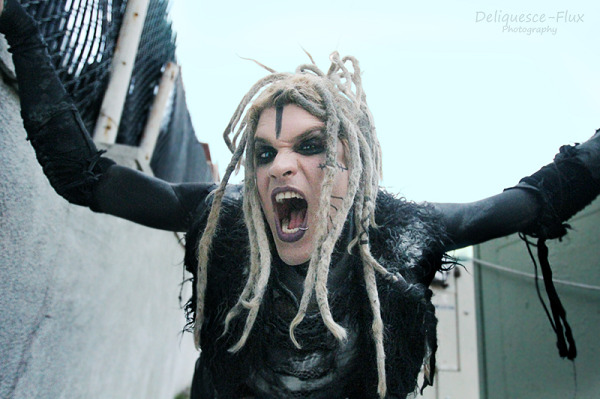 Davey Suicide is an industrial rock band from Hollywood, California (or as they like to call it, Unholywood, Killafornia), whose visual image is just as gratifying as their message! Anabel Dflux had the chance to sit down and talk to Davey at the final show of the Wide Awake and Dead Tour about his new album, The Kids of America music video, as well as his personal snippets on art and the fanbase.
Listen to the interview:
You can connect with Davey Suicide online at www.DaveySuicide.com and give em' a like at www.Facebook.com/DaveySuicide!
Be sure to check out the Kids of America music video at www.youtube.com/DaveySuicideVEVO.
Interview Transcript: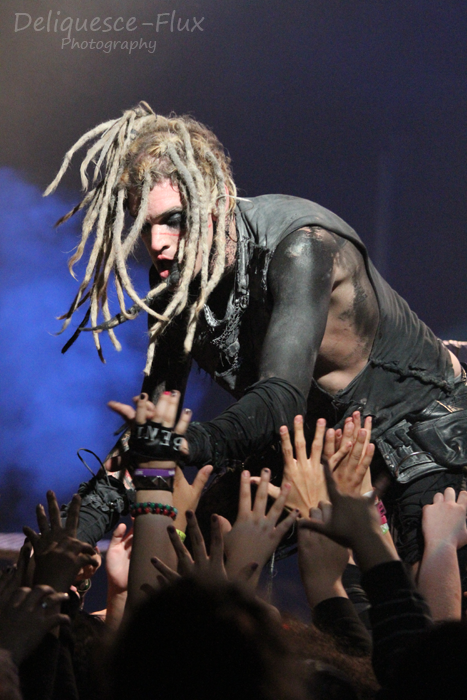 Hardrock Haven: Hey Davey, thank you so much for talking to me today! How is the tour going so far?
Davey Suicide: It's the last day, so, it's been great, and my favorite group of bands to tour with so far. It's just been cool to see all the fans that have been amassing and how the crowds have been growing.
HRH: Sweet! So, congratulations on the drop of your debut self-titled album! Can you tell me a little bit about your inspirations for it?
Davey: I mean, it's kind of like how I think the world is built on facades and they try to fear you into believing certain things that control the mass population, so that's some of it. Some of it is about me growing up, some of it is the idea of how manufactured the music industry has become and the idea of destroying all of these people that have taken an art and put it on an assembly line and it's losing the integrity of what made music in the beginning. I think those are a couple of topics.
HRH: Also, congratulations on the release of your video for Kids of America! How was it like working with renowned filmmaker and photographer Chad Michael Ward?
Davey: It was great, I love Chad. Chad is an amazing visual artist and we've gotten to work together so many times, I feel spoiled now because I used to always hit him up and be like "Dude, shoot my band" and he would never return my calls or my emails or anything. Now we get to talk and be friends and it's cool.
HRH: How was the video conceptualized?
Davey: I think it's just, well, music for me growing up gave me a place to go when no one else would listen and would kind of like, wanted to show that in our own way. Just how parents sometimes don't give enough time to their kids, like appreciate what their life is or what they like or just kind of shrug them off. So we wanted to bring in Cameron and make him just kind of show how there are things that parents don't really pay attention to, and maybe they should.
HRH: I heard you have some new members in your band, how are they fitting in?
Davey: Perfect! The best tour we've ever been on, easiest tour we've ever been on, we all like each other and there is no drama.
HRH: Sweet!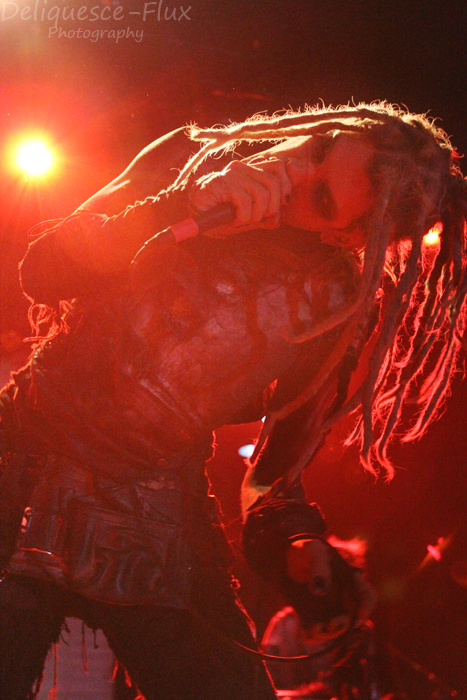 Davey: We're a family and we all work really hard. It's probably the happiest I've been in a band in a long time.
HRH: I know that besides music, you are also a tattoo artist and you paint! What is your favorite thing about art and why?
Davey: I just think it doesn't have to have boundaries, I think it's kind of cool to think that everything else, like in school or getting a degree or being tested on something or even sports, there are always rules. You know, art and music and stuff doesn't have to have rules. It's only going to be there if you put them there. I think that's the cool thing, it's endless if you want it to be.
HRH: A lot of fans look up to you, how does that make you feel?
Davey: I think it's a lot of responsibility sometimes, you gotta figure out what you think is the right thing because when you have influence over people, you obviously want them to be doing what you visualize as the right thing. It's pressure sometimes, but it's also like, I had those people in my life too, so I always revert back to how they made me feel and I think it's good, you need mentors in your life to make yourself stronger and to learn.
HRH: On that token, what is the most interesting thing a fan has ever given you?
Davey: We get necklaces and artwork almost every day now, it's all special in its own way. I wouldn't say that one thing is better, but I think that when they pay attention to what they're into and they show up with the kind of food that we like or they just draw something and it's just really gnarly or something like that, it just makes you realize how much they pay attention to every little detail and that's the cool thing. I think it's all great, I think whenever someone spends time to make you something, it's special and I don't think you can measure that on a scale.
HRH: How do you feel you've evolved over the years?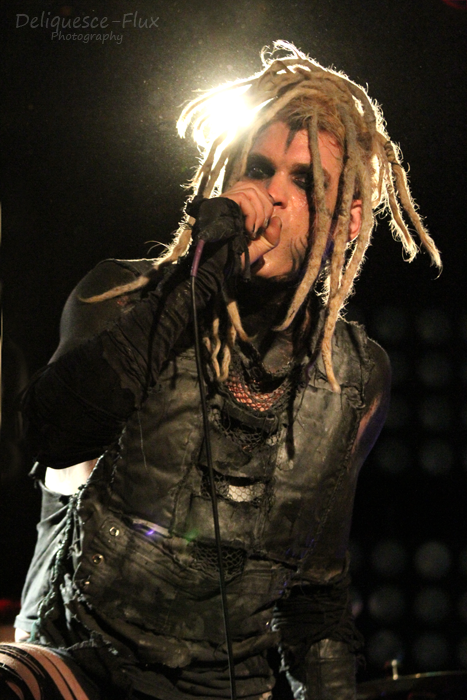 Davey: I became fearless to just be myself and, I used to worry about what people thought or worried about trying to please everybody, and at some point you just realize that you're not going to please everybody and that as long as you feel confident in what you're doing, it really doesn't matter. You're going to get naysayers even if everything you do is perfect. People are always going to have something to say. I think that's the biggest evolution and I think I'm finally getting to the point now where I'm really happy with how the songs have come out and I love our record. I think reaching that point, a lot of times you go back and you're really critical about stuff and now I'm looking back and I'll be like "yeah, we did a good job."
HRH: Any juicy tour stories?
Davey: Um, do you have a juicer? (laughter)
HRH: (laughter) If only!
Davey: Tour is tour; we'll leave it at that!
HRH: And last, but certainly not least, what's next for Davey Suicide?
Davey: We have three months, almost; we gotta start recording our second record. We're going to go on a headline tour in July which we are announcing very soon. We got a ton of shit going in the fall and the winter. The really exciting thing is that we're going to be playing our full record and it's going to be our shows and stuff in July and August. We've done three US tours and now we're getting to the point where we can kind of float on our own and it's really exciting!
HRH: Thank you so much!
Davey: Thank you!
by Nikiforos Skoumas
- Columnist –
Keyboardist Niclas Olsson, the mastermind behind Swedish female-fronted AOR sensation Alyson Avenue, has returned with an all-male melodic rock proposition in the band Sapphire Eyes. As a band leader Niclas has recorded three albums with Alyson Avenue, one with Second Heat as well as the latest debut of Sapphire Eyes. Niclas gives us the latest on Second Heat and Alyson Avenue as well as answering the million dollar question: Whether he would be working again with original Alyson Avenue singer Anette Olzon.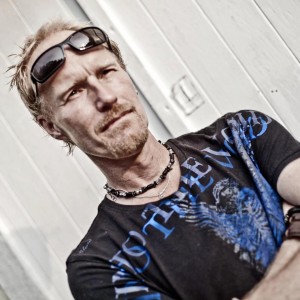 Hardrock Haven: Congratulations on yet another outstanding AOR/melodic hard rock album; what has the market reaction been so far to Sapphire Eyes?
Niclas Olsson: Thanks a lot! The reactions have been great with really nice and uplifting reviews from all over the world. I think the music of Sapphire Eyes has reached an even wider base of listener than my recent work.
Hardrock Haven: On Sapphire Eyes you once again join forces with the incredible vocal talent of Thomas Bursell with whom you formed Second Heat in 2004. Did you consider using that name for this latest album and should we expect more Sapphire Eyes releases in the future?
Niclas Olsson: Yeah I did and I'm glad you like his voice. I never consider the name of Second Heat. That was a project built on a different vision we had at the time. It was fun and maybe we'll do another album in the future. I will definitely do another Sapphire Eyes album as this is probably the most interesting work I've done so far. Some songs are already written and I have spoken to more musicians to be involved. I´m looking forward to it.
Hardrock Haven: In what ways would you say Sapphire Eyes differs musically from Alyson Avenue or even Second Heat?
Niclas Olsson: I always strive for a good melody in every moment of a song. I think there's more depth in the Sapphire Eyes songs without loosing the hooks, something I will work even more with to the forthcoming album. I draw upon influences like Shadow King, The Storm, Joe Lynn Turner etc when I write for Sapphire Eyes.
Hardrock Haven: Sapphire Eyes also features Michael Erlandsson contributing lead vocals on the opener "You're my Wings" and the unsurpassable ballad "Can't Find the Words" how did that collaboration come about and why did you choose Michael's lead vocals for those two songs in particular?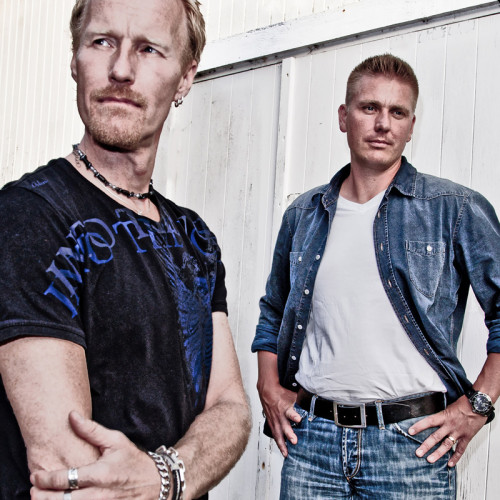 Niclas Olsson: Mikael Erlandsson is one of my favorite vocalists and I couldn´t dream of the chance to work with him until I made contact. Thomas broke his ribs at a critical time of the recordings and I just had to move on as there were so many people involved. Mikael said yes to do a couple of tracks so I just picked two songs that I thought would suit his voice and the result just blew me away! I would love to do some more with Mikael. Cloudscapes/Fullforce vocalist Michael Andersson also did one track due to the same situation.
Hardrock Haven: How do you manage to compose every album almost single-handedly and still maintain such high standards of songwriting and performance?
Niclas Olsson: Oh, thanks a lot for that compliment. Of course I want every song to have that special feeling. I wouldn't put a song that is, in my opinion, 'just ok' on an album. Listeners will think songs are just ok anyway. So, no fillers on purpose, haha!
Hardrock Haven: Sapphire Eyes are signed to Avenue of Allies records which is also the home of Alyson Avenue, what is your relationship like with the label?
Niclas Olsson: Me and the label owner, Gregor Klee, had a thorough dialog years before we signed to the label with Alyson Avenue and did talk about this project already then. It all works fine and I am looking forward to see what the future will bring.
Hardrock Haven: In 2011 Alyson Avenue released their third and latest to date studio album Changes, which was the first to feature the remarkable Arabella Vitanic fronting the group. How close are we in getting a fourth studio album by Alyson Avenue?
Niclas Olsson: It's hard to tell … We don't know a this point! We are working on songs and some are recorded as we speak. Doing albums is really hard work and take a lot of time so we have talked about doing a digital EP with 5-6 songs to begin with. Maybe a limited amount of physically CDs as well.
Hardrock Haven: Original Alyson Avenue vocalist Anette Olzon has contributed backing/guest vocals on your latest albums. Is there a chance of you working again with Anette Olzon on a full length AOR project/album?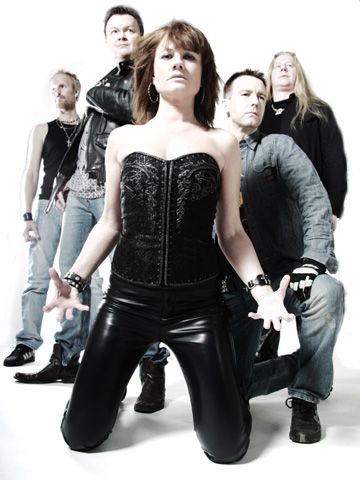 Niclas Olsson: I wouldn't bet any money on that! She has her own plans and I have mine. There's no room for more projects at this point. We still keep in touch and she's as lovely as she's always been, but her heart doesn't lie within the genre I'm afraid.
Hardrock Haven: Are there any upcoming live dates for Sapphire Eyes or Alyson Avenue? Any chance of an international or US tour?
Niclas Olsson: No there's not! We did some dates with Alyson Avenue last year but due to other commitments we have decided not to do more dates for now. Festivals would be the ultimate for both bands as touring is almost impossible for us to do.
Hardrock Haven: Finally is there anything that we left out that you would want the fans to know?
Niclas Olsson: I think you've covered it all very well! Please visit and 'like' Sapphire Eyes and Alyson Avenue's facebook pages and we will keep you updated with videos, songs and news from our studio recordings! Take care!
by Chris A.
- Senior Photojournalist –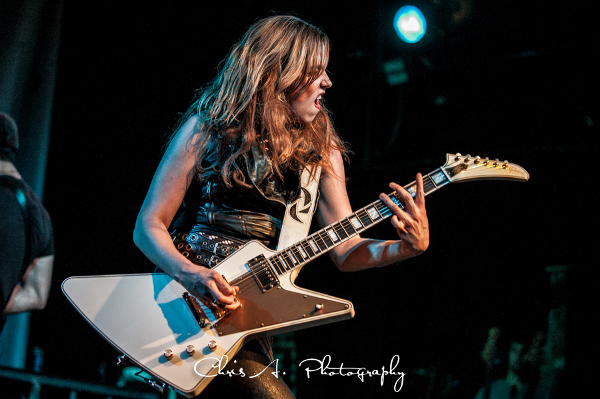 A "Classy Bitch" is what Lzzy Hale had in mind with the design of her new Gibson USA Signature Model Explorer guitar. Hardrock Haven's Chris A. shoots the breeze with Lzzy Hale about winning a Grammy, the band's upcoming appearance at "Rock on The Range," her outlook on the "state of women" in Rock 'n' Roll, her relationship with the fans and a whole lot more. It's a relaxed, informative conversation with one of the leading ladies of popular music today.
Listen to the interview:
Official website: http://www.halestormrocks.com/
by Nikiforos Skoumas
- Columnist –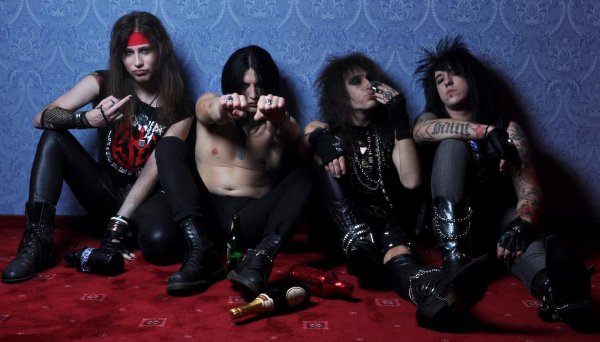 Cyanide 4 were arguably the first Greek sleaze band to give the audience the full package from the looks, to the songwriting, to the recordings, to the videos, to the artwork, they have it all. Cyanide 4 have opened shows for The Scorpions, W.A.S.P., Lizzy Borden, Ten and Crashdiet amongst many others. We caught up with bassist 'Nasty' George he delivered the latest news from the Cyanide 4 camp.
Hardrock Haven: It has been almost a year since your debut album Everyday is a Masquerade was released internationally, what has the market reaction been so far?
'Nasty' George: Yeah, our first album has been out there for about 10 months, issued by Perris records … After two years of struggling to offer something really great, Everyday is a Masquerade was finally released last summer. The album is our collective effort, thoughts 'n' feelings during the first four years of the band's existence…and the good news is that we got a lot of support from the international market, as our record company tells us … Numerous radios, webzines and fanzines internationally presented the album- plus- it received great reviews!! Also our fan base in our home country supports us in the greatest way possible! That gives us strength and motivation to take it to the next level that being a far better second album!
Hardrock Haven: Somewhere between the release of your EP Critical Mental Erosion and your full length album you introduced Alex Rated as the new drummer of Cyanide 4. How did that come about?
'Nasty' George: That's true, we were looking for a drummer who could fit with us both musically and as a person … we knew Alex Rated and at that time he wasn't in a band so we tried to get in contact with him and get to know him better … it didn't take long for him to become our new drummer! We believe having Alex on drums makes for our greatest line up ever; Alex comes out as the perfect guy for this position, coz' he contributes in songwriting and backing vocals … and of course, drumming!
Hardrock Haven: By the time your debut was released, you already had three official videos collecting views on YouTube (the promo videos for "Live the Life" and "Midnight Heat" plus a live video of "Wasting My Time"). How important is it for a young Sleaze-glam band to have this much audio-visual representation and how have those promo videos helped Cyanide 4?
'Nasty' George: From Everyday… we decided to release two official music videos. The first one was for "Live the life", a catchy tune with a party feeling n' some good lyrics. The second one was for the song "Midnight Heat", a power-ballad, a fan-favorite song and- in my opinion- one of our classic tunes. We also did a promo video for the song "Wasting My Time", comprised of live footage from a gig in which we supported the legendary Scorpions. You have to check it out, coz' you can see Cyanide 4 performing their fastest-most energetic-in your-face-song in front of a big crowd! In these times I find that if you want to take your act to the next level in the music business, you must give the audience the best quality from your music, image and sound!! Also, thanks to social networking (YouTube, etc) it's much easier to promote your work … and the fans are hungry, they always want the best, and we want to compete with the top bands, so we try to do our best!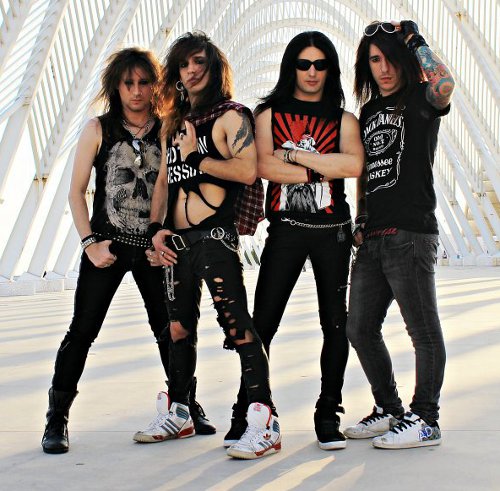 Hardrock Haven: What is your relationship like with your current record label Perris Records which is the home of other Greek hard rock acts?
'Nasty' George: Perris records have signed some of the best and better-known Greek bands in hard rock … that only goes to show that Greece can rock hard in hard times … we are very satisfied with their work and promotion, it's a very good label with particular experience in glam, sleaze and hard rock!
How close are we in getting a second full length album or EP by Cyanide 4; have you begun any songwriting and recordings for a follow-up release?
'Nasty' George: We are working on some new songs for our second album and we hope to start the recordings this summer! You're going to have a little taste of this, something like a new single and music video of a new song, which will be a precursor to the second album!
Hardrock Haven: Do any of Cyanide 4 have any side-projects and if so what is their current status?
'Nasty' George: Nope … we are focused on Cyanide 4!
Hardrock Haven: Beyond the music itself, from the very beginning you had plenty of hand-drawn artwork on your promo material and memorabilia overall (most notable being the 'four-skulls' poster and the 'broken toilet' shirt). Who draws the artwork for Cyanide 4?
'Nasty' George: Cool question! First of all, the "broken toilet" shirt was our first, and was hand painted by a friend of ours, in the early days of Cyanide 4 … we love it coz' it's old-school and unique! The "4 skulls" and all the new drawings, artworks, posters, etc are done by our very good friend Spiros … we met during our show with Crashdiet in 2010 and he became our most dedicated fan!
Hardrock Haven: As a rock band that markets systematically both albums and memorabilia (T-shirts etc), from your experience, which of the two sells the most, which is more profitable these days?
'Nasty' George: Hmmm… personally if I like a band I would try to get an album and then a T-shirt … for me music always comes first … but I have noticed that most of the fans who choose to get our songs from i-Tunes or album download have a preference for T-shirts! A well-organized merchandising scheme with awesome T-shirts and cool gadgets is something that every band would like to have to offer to their fans, and we are trying to get there!
Hardrock Haven: Are there any plans for international live dates, European or American and is there any chance of going on tour with some other glam-sleaze act?
'Nasty' George: We're gonna do a couple of shows here in Greece to celebrate our 5 years as a band! Then we'll focus on the recordings for the second album, and soon after we'll be on stage again! A euro-tour is always in our mind … as for the US, we would love that, and if at all be possible, we'll be there!
Hardrock Haven: Finally is there anything that we missed out on, that you would want the fans to know?
'Nasty' George: Hmmm… just stay tuned and wait for some good stuff! Thanks for the support! We are truly grateful!
Official Facebook page: https://www.facebook.com/Cyanide4

by Chris A.
- Senior Photojournalist –
American guitarist, Ursin DeRoche, is endorsed by MusicMan guitars INTEX cable Ernie Ball strings and Eventide effects. Currently guitarist in the bands Jet Set Babylon and Daredevil Autopilot, DeRoche talks to Hardrock Haven about his career as a musician and teacher …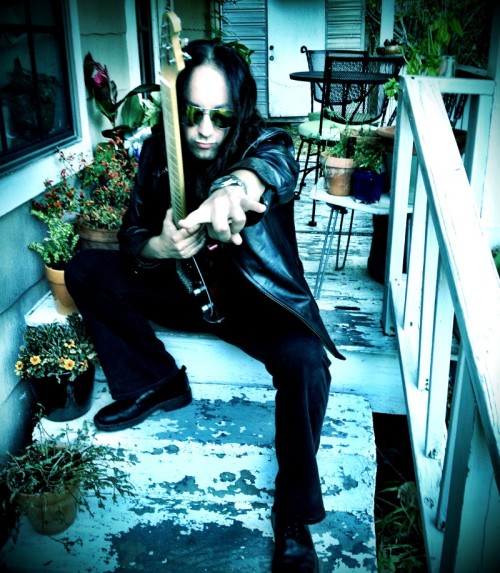 Hardrock Haven: Would it be an understatement to say that you are absolutely in love with playing and teaching the guitar?
Ursin DeRoche: Yeah, absolutely. I was never one of those guys who couldn't figure out what he wanted to do with his life. I was always music and guitar 24/7 even at a young age. I always knew what I wanted to be and so I've always been very intense about it and have always worked very hard perfecting my craft and trying to be successful at it. I've had my ups and downs like everyone else. It's tough but, that's showbiz! You gotta roll with the punches.
Hardrock Haven: Your mom signed you up for lessons when you were 11, did you want to go or were you forced?
Ursin DeRoche: No, not at all. I don't come from a very musical family but we always had music on in the house growing up. Mom was really into disco, Motown, Elvis, and rock. Dad was into a lot of outlaw country and stuff like that. And I always had toy drums and toy guitars to beat and bang on. We weren't very wealthy by any means. In fact, I grew up quite poor. But mom used her tax return money one year to buy me a real electric guitar and amp, nothing fancy. She signed me up for classes at school. I was 11 years old and in the 7th grade. I just went for it you know? I wasn't forced, but I also wasn't busting out of my skin with excitement either. It was just something I knew I needed to do and I always knew I had to do it. I didn't choose to do it, it chose me and I followed it.
Hardrock Haven: Tell me how you learned to play the guitar as a kid?
Ursin DeRoche: Well, I always had teachers. Some good, some not so good, but I always tried to learn as much as I could. Dr. Kevin Andry was the first. But he was more of a French horn player and not a guitarist. He was a pretty terrible guy as well so he's tough to forget. I don't think he enjoyed being a teacher. But, he taught me a lot of the basics of music. How to read music. Things like that. So, I thank him although his teaching methods left something to be desired. It was a group class of 11 and 12 year old kids. I definitely wasn't the best. I was really struggling and just starting out but I kept going. When I was 13 I hooked up with Bill Kimbrell. Bill was a jazz fusion guy and he had gone to GIT out in L.A. and was teaching in a local music store. He had a huge impact on me in my teens. He was real hip to Holdsworth and Bill Frisell and stuff like that. He taught me a lot about the basic mechanics of guitar playing. I wasn't really learning songs or licks or anything like that. I was learning music and the mechanics of guitar playing. Theory, reading, scales that sort of thing. I may have learned a song or a lick here or there but I don't remember doing a lot of that. Sure, I banged away on "Iron Man" or "Smoke On The Water" just like everyone else but that wasn't my main focus. When I was 17, I went off to music school at Southeastern Louisiana University in Hammond, Louisiana where I took some jazz lessons. But I ended up dropping out. Music school was fun but, I was too young and immature at the time for it.
Hardrock Haven: In your mid 20′s you took a pretty big risk, a leap of faith, and decided to try to make a living playing and teaching the guitar. You've made it happen but tell my audience the truth … making a living in the music business is very difficult, isn't it?
Ursin DeRoche: It was in my 20′s that I sent a video to Pebber Brown out in L.A. Pebber is probably one of the most heavyweight guitar teachers on the planet. He taught Buckethead and a lot of other guys who are working in the industry. I figured he could help me get better. Because I'm always working. Always trying to get better. Pebber saw something in me, God knows what he saw! I was really raw. He took me under his wing and tutored me for several years. We still remain very good friends to this day and talk often. He put me through hell. Marine Corp Boot Camp guitar training type stuff. He turned me into the player I am today. But, to answer your question, it's very difficult Chris. It's definitely one of those things that you have to love with your entire being because, it can really beat you down. You fail more than you succeed both in learning the instrument and in trying to make a living at it. It's just failure on all sides. So, you have to be strong willed, intense, and ready to slug it out. It's more mental than physical. The industry has changed so much over the years. There is still a lot of the "old guard" who just won't give it up. I mean, this is a business that basically raped African Americans out of money for years in the early days of the recording industry. Raped a lot of people. I don't feel sorry for them. From a guitar perspective, Shrapnel Records is a prime example. That's one of the most pirated catalogs in all of music. And the guy that owns it, Mike Varney, he's angry you know? He's angry because he's not making as much money as he did, although he is set financially regardless. Plus, he doesn't get to be the taste maker he once was. With the internet, people don't need him to find the next Yngwie or Paul Gilbert or Buckethead. You can go and find them for yourself. And this pisses him off. Too bad. His brother Mark actually gave me a great quote for my press-kit … "You're nothing special." I still use that by the way. Thanks Mark! He was such an asshole about it that he went into grotesque detail about why I wasn't very special. When I posted his comments on my Facebook, he threatened to sue me for defamation of character. So, that's the music business right now. The old guard trying to hang on. Nobody cares anymore. They have themselves to blame. They didn't keep up with the times. So, yeah, I just kept The Varney brothers relevant by talking about them. But, they're old news. It's a new time with new players and new ways of reaching fans. I embrace the internet. You have to move forward.
Hardrock Haven: But with that being said, today you run your own business, you are your own boss, you're making a living and you're doing what you dig. You're living the American dream and you're not just the neighborhood guitar teacher are you man? How many guitar instructors have endorsement deals?
Ursin DeRoche: I'm not sure. I know I'm one of 4 or 5 guys who are endorsed by MusicMan and have never released an album. I'm thankful and I'm humbled. I'm also endorsed by Ernie Ball strings and INTEX guitar cable. I don't bounce around. These are companies I've been with my entire career. INTEX is actually building me my own signature coiled guitar cable, The Serpent. Should be out this year. You know, coiled cable sucks. Always breaks. Not this one. A lot of R&D is going into this. I don't put my name on crap. Also I have had a long relationship with Pedalworx. George Blekas is building my signature overdrive. We've been on this project for about 3 years now. Dialing it in just right. And I use Lee Jackson amps. Although Lee doesn't build amps anymore, I buy up all his old ones used and he rebuilds them for me. So, I thank him. He's really a genius. I'm so very humbled to be associated with these companies. Plus, I've had the chance to teach some pretty amazing people such as Liv Tyler and I've been able to hang out with most of the guys I admired growing up like Steve Vai, Joe Satriani, George Lynch, Al di Meola, Warren DeMartini, Dweezil Zappa … just real legends that I looked up to. Literally! I remember the first time I met Steve Vai, it was in '96 I believe. I was drunk, as usual back then, and I said, "Steve, you looked taller when you were in Whitesnake." He said, "Dude! I'm 6'2″!" Good times.
Hardrock Haven: The number of guitar players in bands, big bands I know who still teach is pretty impressive. Chris Broderick from Megadeth, Alex Skolnick from Testament, Nick Catanese from BLS, all teach. What's the allure of teaching others to play guitar?
Ursin DeRoche: It's a really great way to keep your chops up! When you have to teach someone a piece of information, you retain it better. You have to examine things about your playing that you may have not thought about in a long time, if ever. Also, it's very rewarding to share music with others. That's what it's all about really. It's an art form and it's very communal. It doesn't have to be but it often is. Plus, it's a good living and it's fun. Better than digging ditches.
Hardrock Haven: From a technology and information perspective, with all of the resources available via the Internet, has there ever been a better time to try to learn the guitar?
Ursin DeRoche: I embrace the information and the technology but I think it has led to a real homogenized thing. I hear a lot of guys that are great players, but they all sound the same. Same tone. Same licks. They start with Yngwie and move forward. They don't go back to Robert Johnson or Segovia or even further back into ancient music. Indian music. It's the 80′s. That's where they start. But those guys went back and studied the old masters and young kids today need to do the same. But I don't hear a lot of Hendrix or Page or Jeff Beck. I hear guys playing the right notes at the right time with the right tone. But they aren't taking any chances. We have to get back to taking chances and being more organic.
Hardrock Haven: As a guitar instructor you've had the opportunity to share your knowledge with a lot of folks. Is it ever too late to learn to play and what's your advice for someone who may be interested in learning to play?
Ursin DeRoche: Don't do it! Nah, it's never too late. Depends on your goals. If your goal is to play like Steve Vai and you're 50 years old, it might be too late!
Hardrock Haven: You're in NOLA which has a reputation for gritty, sludgy metal bands like Down, great jazz and crooners like Harry Connick Jr. Tell me about Jet Set Babylon and Daredevil Autopilot and the overall music scene in New Orleans.
Ursin DeRoche: Actually, I live in Baton Rouge which is about an hour outside of New Orleans. I love the south and I love Baton Rouge. This is home to me. I'm listed as one of the cities notable residents and I've been covered in all the local magazines. I'm so very honored and humbled by that. It overwhelms me sometimes. I'm fairly underground I guess you would say and what I do is often outside the box so, to be appreciated and respected locally the way I have been is just a massive honor. There is still work to be done here. The arts council and the people that put on live music events, they still have a real backwards mentality. But it's slowly breaking. We're more progressive artistically now than ever before but we still have a long way to go. But, of course I've spent a lot of time in New Orleans and played there. I opened up for Lillian Axe in New Orleans last year at their CD release party for "XI: The Days Before Tomorrow." That was a great show. Packed house. Such a fun time. That was with Jet Set Babylon. Should be video of that on YouTube. Everyone has a camera know! Yeah, that was a cool band. I had a lot of fun with those guys. Lots of crazy rock n roll type stuff which eventually imploded the band. I've never been asked about it so I've chosen not to comment although I do get emails all the time about the band. Basically, we just couldn't get along. Lots of fighting and arguing. I called each guy in the band and told them I was leaving. They got pissed off. That's basically it. But I love them and I hope we can one day do something again because I think the potential was there. There was a lot of heart in that band. Right now I'm rehearsing Daredevil Autopilot and recording under my name. A single should be out this summer. There are a lot of great bands down here. Lots of very talented musicians. I think it's an untapped market. I'd like to see more national exposure for the area and I feel it's here and it's coming. Slowly. These guys in Mara, they are just killer. They are probably my favorite local band right now. And also Twin Killers. They are amazing. We have some great things happening. I think the blues scene overshadows a lot of the great rock stuff we have here. Hopefully that will change soon.
Hardrock Haven: Ursin, for folks who may be interested in lessons from you what's the best method for them to get in touch with you?
Ursin DeRoche: Find me on Facebook and also Twitter @ursinderoche. Also my Youtube channel is ursinderoche. I want to be the king of social media so hit me up! I'm nearing my limit on Facebook so I set up a fan page and you should be able to find me on there by searching my name.
Hardrock Haven: And for Jet Set Babylon/Daredevil Autopilot, where can people check out your tunes or see the band live?
Ursin DeRoche: I'm hoping for a Jet Set Babylon reunion show! Fingers crossed. Daredevil Autopilot is still in the writing/rehearsal stages but I'm in the studio working on a track and the single should be out this summer under my name with live dates to follow here in Louisiana and all along the gulf coast.
Hardrock Haven: Thank you for visiting Chris A. Photography, I appreciate that you visit and I hope you enjoy the stuff you see there.
Ursin DeRoche: Thanks for your time Chris.
by Mark Allen
- Senior Columnist –
Banging Death's Drums
Dan Johnson is one of the hottest up-and-coming hard rock/metal drummers on the scene today. For proof, you need look no further than the fact that Brian "Head" Welch (ex-Korn) selected him to bang the skins for his band Love and Death, which recently dropped their new album, Between Here and Lost, on Tooth & Nail Records. He also spent some time in fast-rising heavy metal band Back From Ashes when they lost their drummer. Simply put, the man knows how to wield a wicked stick.
Dan recently took time out of his busy schedule to converse with Hardrock Haven about working with Welch, his thoughts on piracy in the digital era, and what he wants to take with him when he dies.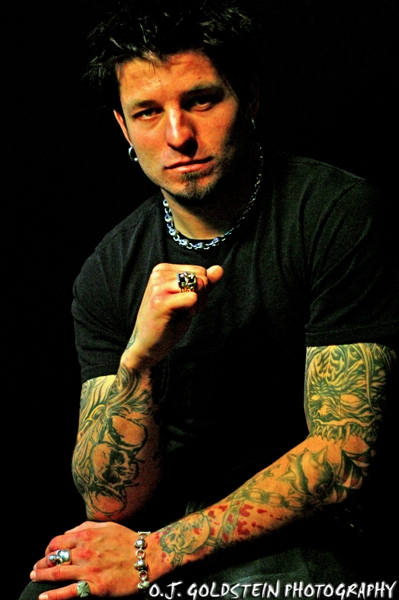 HRH: Dan, thanks so much for talking to me. How exactly did you end up pounding the drums for Love and Death?
DAN JOHNSON: I started playing with Brian [Welch] back in '09 when I auditioned through video. It's been a crazy ride with lots of changes since then.
HRH: But a good kind of crazy, no doubt. Now, you were drumming for Brian "Head" Welch before Love and Death came into existence; do you have any insight into what prompted the adoption of that particular name?
DAN JOHNSON: Brian didn't like the idea of just having guys play behind him; he wanted a band mentality. That's the world he was used to and so he came up with the name.
HRH: Judging from how tight the album sounds, it seems like he made the right choice. Let's talk religion for a moment; Welch's conversion to Christianity is well documented; do you feel his faith bleeds into the lyrics? More specifically, can Between Here and Lost be classified as "Christian metal," or does it target a wider demographic?
DAN JOHNSON: You can definitely tell from his lyrics, but our new album Between Here and Lost is definitely targeted to a wider demographic. He wants us to be known as Christians in a band … not a Christian band.
HRH: Makes sense; nobody likes to be pigeonholed…except maybe pigeons. Welch is a bona fide modern day rock star due to his long involvement with Korn. Were you a fan of Korn before you auditioned for the spot in Welch's band?
DAN JOHNSON: I was absolutely a fan of Korn! David Silveria is one of my favorite drummers, so that was a big reason I started taking drums seriously.
HRH: I'm a fan of corn too … preferably with lots of salt and butter. How much creative input did you have on Between Here and Lost?
DAN JOHNSON: I just bring the ideas behind the kit. Drums are all I do.
HRH: Well, the ideas you brought to the new album sound pretty darn good. Who do you consider to be the greatest drummers in rock/metal history?
DAN JOHNSON: Hmmm … well, I'm big into flashy playing, so I like guys like Tommy Lee, Vinnie Paul, Blas Elias, etc.
HRH: Listening to your drum work, you can definitely hear some of those influences. We are obviously living in the digital music age, with many people predicting that CDs will go the way of dinosaurs and Dodo birds within the next 3-5 years. What's your opinion—is digital music/downloads/MP3s a blessing or a curse?
DAN JOHNSON: I personally don't like it as much as going out and getting the CD. I just think it's more fun that way.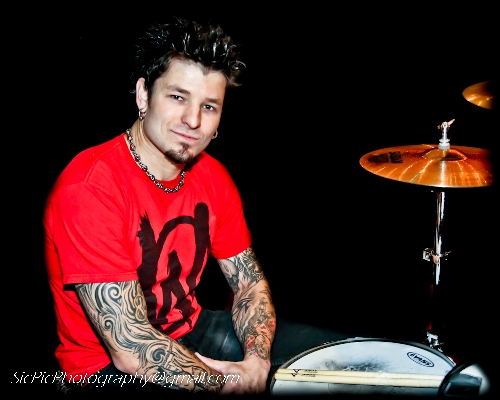 HRH: It's definitely more enjoyable, but sometimes the immediate gratification of a (legal) download is an allure too powerful to resist. Related to the whole digital music revolution, let's talk about piracy. Do you feel people illegally pulling your music off bit torrent sites truly has a negative impact on sales numbers, or are you just happy to have people listening to your artistic creation?
DAN JOHNSON: Both! (Laughs) I can't lie and say I've never gotten music for free, but I think the real numbers are in ticket sales and merchandise.
HRH: Now that is some refreshing candor from a musician. While Love and Death bears some resemblance to Korn, it is clearly more melodic; was that a deliberate attempt to increase mainstream/commercial appeal, or just a natural outcome of the creative process?
DAN JOHNSON: We all love metal but we all love radio-friendly choruses as well…especially me. (Laughs) So there was definitely an idea of wanting to appeal to a wider group of people when making this album.
HRH: Metal love with radio-ready choruses…it doesn't get much better than that. Okay, you are on your death bed and firmly believe that you only get to take one thing from this life into the next. What is that one thing you would take with you to the other side?
DAN JOHNSON: That's a tough one. Either my Vater fatback 3A drumsticks or an orange Monster energy drink. (Laughs)
HRH: Can't be sure about the sticks, but I'm pretty sure there are Monster energy drinks in Heaven; otherwise, they would just call it Hell. Dan, thanks so much for speaking with me. We here at Hardrock Haven wish you the best of luck in all your future endeavors, both rock-related and otherwise.
DAN JOHNSON: Thank YOU! I'm honored to do this with you guys.
For more information on Dan Johnson and Love and Death, please visit https://www.facebook.com/danjohnsondrummer or www.loveanddeathmusic.com.
by Nikiforos Skoumas
- Columnist –
Danger Angel have just put out their second album Revolutia. Coached by Jeff Scott Soto, Danger Angel delivered a record that stands toe-to-toe with JSS, Eclipse and WET. We contacted founding guitarist Ethan Snow and front-man M.T. to find out how it all became possible as well as other developments within the Danger Angel camp.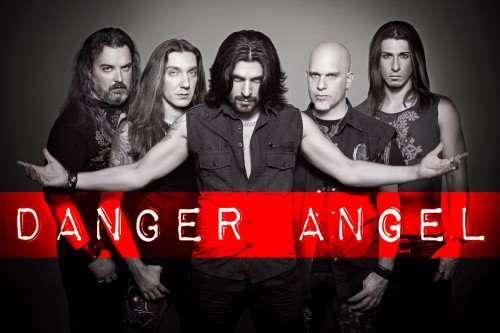 Hardrock Haven: Having played the album a good number of times one has to agree that Revolutia was well worth the wait; but really why did it take almost four years for Danger Angel to release a second album?
Ethan Snow: Thank you for your kind words and for anticipating our new release! In fact, this comes out a bit over 3 years after the debut album, which came out in January 2010. We had to take our time to make this exactly what we meant to. It's a whole new sound for us and we had to create this new sound from scratch.
It took us a year or so after the debut release to actually sit down and start writing for the new album. We had several things that we put aside every now and then and a new singer that the whole new sound and music had to be built on. Then there was the production period. From demos to final versions it took time to form the songs to our satisfaction and then Jeff came in as the producer and did his thing with the songs too. We then had to wait for Jeff's schedule to clear up so that he would be able to come over to Greece and oversee some of the recordings on the spot, especially the vocal parts.
When the songs were passed over to John Ellis for mixing and mastering it was a situation we never faced before, with the songs coming and going via email, altering bits and pieces, amending parts, changing sounds, it took more than one week for each song to bring them to the shape we wanted and then Jeff had to go through them again to have them sound exactly as he wished. This took time and since we didn't need to rush anything, it took more than what we anticipated. However, since we didn't have any deadlines, we decided to have it run its course and have exactly what we wanted instead of rushing it.
Hardrock Haven: How did you come in contact with the iconic Jeff Scott Soto in the first place and how did you manage to get him even more involved on this second album?
Ethan Snow: That was something that was set up through our management. Our manager and Jeff are very good friends and he had the idea of bringing him in for a song for the first album, that was "Never Let You Go." We thought it would be a good idea because we were all Jeff's fans for years and since the band was new, we could really use the boost Jeff's name would give us. We did that and then we also did a "combo" gig with Jeff, following the album's release, presenting the album and performing as the JSS band for Jeff's set. That brought us close to Jeff and we spent some days with him, had a great time and a great show together. This built a relationship that made it easier for both of us to move on to the next level and have Jeff produce the new album. We proposed that to him as soon as we had some new songs to show (4-5 demos were prepared when we decided to ask him). We sent him those songs, he loved them and said he'd love to do it so we agreed to do this as we did.
Hardrock Haven: To those who got the first Danger Angel album, how would you describe Revolutia in comparison to the debut?
Ethan Snow: Revolutia is a totally different thing compared to the first album. For starters, these are all new songs, while in the debut we had some songs that dated way back. Moreover there is the new singer, absolutely different to the old one. The new songs were written with him in mind and they were styled after his voice, image and attitude. Furthermore, the structure of the band is different since there is only one guitarist in the lineup now, and the keyboards have a very different role in the mix since we wanted them to cover the second guitar spot in addition to their standard role. The most important factor, though, is that Danger Angel are moving to a new sound form, a more contemporary approach in our music, putting some distance between our current music and our '80s approach of the first album. With the optimized band lineup we were able to filter all influences to what we require to move towards, musically. That makes all the difference in the world for us and while we were concerned about alienating some of the fans we attracted with our first album, we now see that Revolutia is welcomed by all existing fans (at least the ones we are in touch with) and is bringing in loads of new ones, which is what we hoped it would do.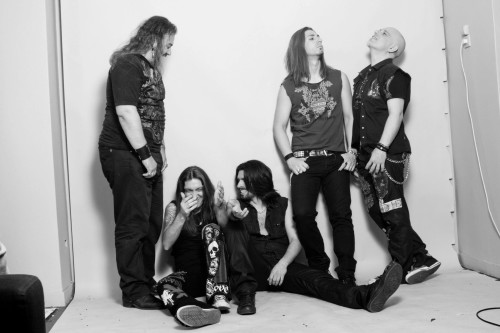 Revolutia a thematic album with most songs evolving around a particular topic?
M.T.: It is thematic, indeed. It raises social awareness and it couldn't be any other way. When the music came out and when the lyrics came out we were already deeply affected by what was going on in our country and in our extended region.
This whole financial crisis as it is today, had already affected our lives and the lives of people we care about and people we saw in the street and in our concerts. People all around us were struck by this situation, people close to us actually took their own lives because of these conditions, the suicide rates sky-rocketed in our country, people in our families and our social circle lost their jobs as well as a lifestyle they struggled for years to accomplish, even to a bare minimum. We had to say something about all of this. We are a rock band no matter the bells and whistles and rock bands are traditionally socially aware. That's what rock music is all about and that's why we called the album "Revolutia."
Our album is a revolution for us and a message for a revolution to whomever wants to listen. It's a love revolution, a suggestion to go through your everyday problems through love and understanding and caring for other people's feelings and troubles but also, of course, a suggestion that people should rise up and speak their minds. Of course there are other things in the album, there are one or two love songs and a couple of random stories, but if you're asking if there is a concept, yes there is and it's a sad one.
Hardrock Haven: While playing the album one can easily make out that Revolutia draws musically from JSS, Eclipse and WET. Was there any label/management pressure for Danger Angel to endorse a similar musical style to the bands mentioned above?
M.T.:There was no pressure, suggestion or demand by our label or anyone else. What you have as a result is an advancement in our style, the first step to where we want to take our music. It's the combination of our influences and what we like to play. Jeff's input is evident, of course, but that's also something we welcomed when we decided to have him do the production. The main thing is, though, that this is the first step towards creating a trademark sound- if we ever make it that far- something that will make us identifiable to pretty much everybody. To achieve that end we will have to go through steps. This is the first one.
Hardrock Haven: Revolutia also marks your second release under US-based record label Perris Records which specializes in the genres of melodic hard rock, AOR and glam/sleaze, what is your relationship like with the company?
Ethan Snow: We are very happy to be still working with Perris Records. We enjoy dealing with them, they are doing what needs to be done and they give us absolute freedom and support to do what we need to do. We couldn't ask for more at this point and we hope Revolutia brings as much success to them as it might bring to us.
Hardrock Haven: By the time your debut album was released, Danger Angel was one of the few '00s Greek bands that played old-school melodic hard rock. In the following years more '80s-oriented rock bands would emerge. What are your thoughts on the current Greek melodic rock/AOR/Glam/Sleaze scene?
Ethan Snow: That was true for some time. In the years that followed, more bands with similar orientation to ours popped up, some of them really special. Even though we are not that old school anymore and we don't exactly fit under the same description, bands like Wild Rose, we believe, set a global standard for A.O.R. and Redrum are an excellent melodic hard rock band while 4Bitten really shine as a pure hard rock band. Of course there's always Firewind (partially Greek) and Innerwish or even Rotting Christ and Suicidal Angels to the more extreme, but there are so many more bands here that deserve the spotlight. What's interesting is that while the Greek scene is an underground one, especially compared to more developed scenes around the world, we believe that it is one of the most underrated and overlooked. Currently we have so many bands that are of the highest standards that's simply amazing. That applies to entire rock spectrum, from A.O.R. or Pop-Rock to extreme heavy metal. This spring we'll have 4-5 hard/heavy bands either touring Europe or wrapping up their European tours and this is unprecedented for the Greek hard/heavy scene, or any other Greek scene for that matter. This region has some amazing musicians and some extraordinary bands that only need to be discovered by labels and media abroad. It's just a look away and people should really take that look.
Hardrock Haven: You are also embarking on your first full length European tour next month (April) supporting JSS. How hard is it for a melodic hard rock band these days to find a fitting touring package?
Ethan Snow: We really can't tell. This came pretty easy for us because we worked thing out since the beginning of Revolutia. We also had Jeff as our aid claiming it would be a good idea to tour with him so we jumped to the idea and it's now going to happen. It's probably harder for the majority of bands than what's been for us, yet one could say that if you are serious on what you're doing and you have a solid plan, anything becomes possible. We don't see ourselves as being better or worse or different in any way to all those other bands out there. We do the best we can and if that works out, it's pretty certain that we will be able to draw the attention we deserve. We have been patient and committed and this should make all the difference in the world. It doesn't come over night, it never did for anyone. It takes work and sacrifice and expense, trial and error and it goes through a lot of disappointment, but it should work out in the end.
Hardrock Haven: Are there any plans for Danger Angel to secure any live dates in the United States anytime soon?
M.T.: We are actually working into that, it's something that we'd really love to do, you know, but it's not entirely up to us. Maybe it's closer than we think, maybe it will never happen, but we are working on that and hopefully it will happen sooner than later. In general, though, we'd play wherever they'd want us and we'd be grateful to have the chance.
Hardrock Haven: Please feel free to fill in anything that we missed that you would want fans to know.
M.T. Well, we are anxious to meet them out there and play our music for them. And we want them to let us know if they enjoy it and would be glad to share it with other people and film our concerts and show their friends, on Youtube, what have you. We want people to have a good time when they come to our shows. We are very anxious to play in front of all those new people and meet us after the shows. It's a good chance for everybody to get acquainted with Danger Angel, the package in this tour is awesome with Jeff Scott Soto giving the tone along with us and the Jorge Salan trio following suit. This should be an amazing experience for the group and for those who attend, so, please, come to the shows and come early, whether it's in your town or close enough, it's going to be lots of fun!
Read Hardrock Haven's review of Revolutia here.
Visit the band online: http://dangerangelband.com/
by John Kindred
- Publisher –
From Sweden, Denied's roots go back to 2003, when Andreas Carlsson founded the band. It's taken a decade for the lineup to be solidified and an official album to be released. Signing a recording contract with U.S. label Sliptrick Records in the Fall of 2012, Denied has released their first "official" studio album titled Let Them Burn. The album oozes with heavy and melodic music and showcases the talents of Carlsson and his band-mates.
Hardrock Haven sat down with Andreas Carlsson to get an insiders look into the band's past and current activities …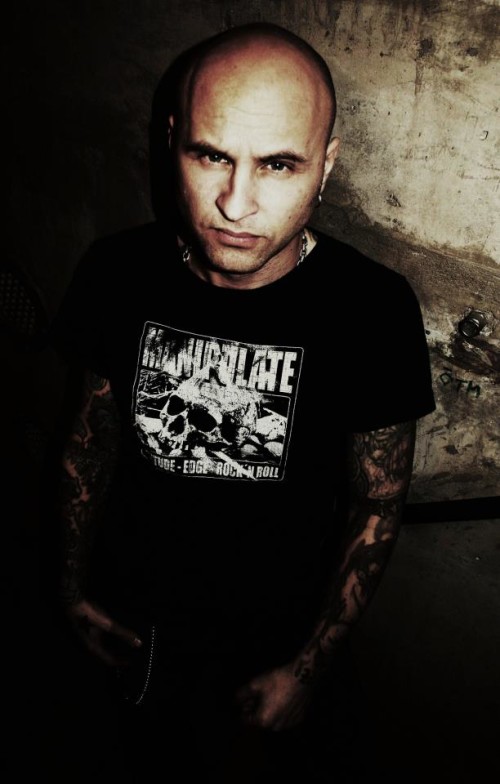 Hardrock Haven: Before we talk about your band Denied, let's talk about your personal musical history. When did you first pick up a guitar? Who inspired you to play and how did you know that this the career you wanted?
Andreas Carlsson: I started with music first when I turned 25 but I have lived with heavy metal since I was very young. My greatest passion besides music is sports and above all football and ice hockey. I gave football 20 years then finally decided to put it aside. I can't say that one single guitarist inspired me to play, but It was more for the love of heavy metal in general.
Hardrock Haven: Denied has been around for 10-plus years with various lineups. With all these internal changes has it been hard not to call it quits?
Andreas Carlsson: Yeah it´s been a long journey to say the least. Even if there has been some dark times, putting the band aside has never been an option. I breathe, sleep and live for Denied!
Hardrock Haven: You have independently released two full length "demo" albums and two EP's. What was the response to the music on the albums?
Andreas Carlsson: Very good although not many outside of Stockholm have heard the albums since they are only demos and they have not gone through a proper distribution.
Hardrock Haven: Congratulations on releasing your debut album Let Them Burn. It's been a long time coming. How did you land a deal with Sliptrick Records?
Andreas Carlsson: Many thanks! To take the band to the next level number 1 on our agenda was a record deal. We knew that we had to make a brilliant album to make It work. The album was recorded and sent to various record companies and even if many showed interest It was Sliptrick that took serious interest and the choice was made!
Hardrock Haven: When you look back on your "demo" releases how does the music compare to Let Them Burn?
Andreas Carlsson: On the first album we had a kind of melodic sound but with rawness to it. The second album became a lot heavier, maybe too heavy to be a Denied album. Now we have taken the best of both worlds and made the perfect mix. I also have to point out that I'm the only one from the original line-up and that the other guys have made their mark on the music and how we sound today.
Hardrock Haven: Talk about the band that you have assembled on Let Them Burn?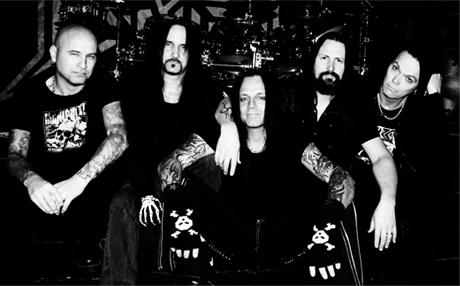 Andreas Carlsson: I´m proud to present a strong line-up on our first official release Let Them Burn. On the drums we have the power-machine Pete Dolls, who has been with me since 2005. On lead guitar and since a few years back we have Chris Vowden who played with an early line-up of Opeth. Also Fredrik Lsaksson, who has many years of experience from both Grave and Therion on bass. On vocals we have in my opinion, one of the best singers in the business Johan Fahlberg, also from Jaded heart.
Hardrock Haven: Do you think this is the best representation of the band you wanted from the beginning?
Andreas Carlsson: I can with 100% honesty tell you that Denied has never sounded this good. After various line-up changes to the left and right; I really hope this one stays till death do us part (laughs).
Hardrock Haven: There is nice contrast or balance of heavy metal and thrash inspired metal that appears on the album, was this intentional or just how the music unfolded as it was written?
Andreas Carlsson: A good mix of melodies and roughness was our ambition even if there really wasn't any sort of agenda or something. The music was written straight from the heart and the result turned out to be great.
Hardrock Haven: What songs on the album are your favorites?
Andreas Carlsson: That´s a tough question to answer. It varies from day to day but I think I would say: "Judas Kiss," "Dead Messiah" and "Garden of Stone."
Hardrock Haven: Are there plans to tour?
Andreas Carlsson: We are working hard to book gigs both in Sweden and abroad. The closest one we have so far is a tour of Italy beginning in early May.
Hardrock Haven: Thanks for taking the time to talks with Hardrock Haven. Is there anything I didn't ask that you might want to say to our readers and your fans?
Andreas Carlsson: To those who haven't heard us before and like metal with power and melodies should give us a try in the stereo or computer or whatever. Last but not least, a big thank you to those who have supported us through the years. See you on the road!
Hardrock Haven: Thanks again Andreas. Look forward to hearing more Denied on the future.
Andreas Carlsson: The album can be ordered at this address www.sliptrickrecords.com & www.cdon.se/eu. If you want to buy it digitally you can find it at Spotify, Amazon and Itunes.
Official website: http://www.deniedworld.com/intro.html
Read the review of Let Them Burn here.
by Steve Patrick
- Columnist –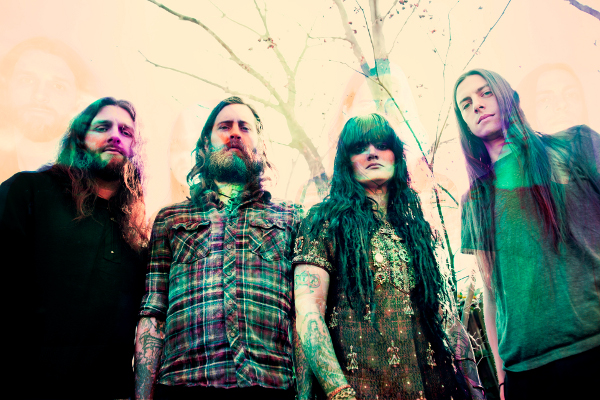 Atlanta-based rock/metal band Royal Thunder recently came through Columbus, OH on March 1st as part of their tour with Ancient VVisdom as support. The Relapse Records recording artists' sound can be described as ominous Sabbath-esque riffs wedded with the soulful and spooky female vocals that sound like Grace Slick on steroids.
Hardrock Haven caught up with the band as they enjoyed a well-earned Taco Bell feast before their performance at Kobo Live. In the video interview, guitarist Josh Weaver, vocalist/bassist Miny Parsonz, and drummer Evan Diprima all talk about their latest record CVI, the Georgia metal scene, and whatever else crossed their minds:
Visit the band online: https://www.facebook.com/RoyalThunderMusic?fref=ts
[Videographer: Justin DelPrince]
by Nikiforos Skoumas
- Columnist –
Releasing a first class AOR album each year is nothing to be taken lightly, and that is exactly what guitarist Andy Rock and Wild Rose have been up to for the past three years. We contacted Andy Rock to find out first hand what is the drive behind Wild Rose, their latest developments and why you can't stop them from bringing back '80s oriented rock.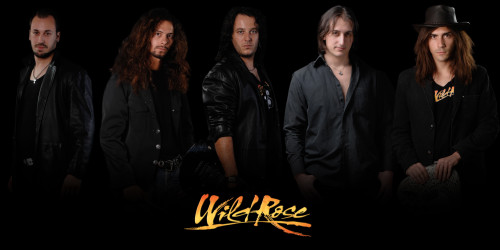 Hardrock Haven: The new album Dangerous comes under a new line up. What can you tell us about the current synthesis of Wild Rose and their input on the new material?
Andy: Two new members joined the band and some fresh air flowed in … Tiny is a great guitarist who wanted to be a part of the band for a long time; he is an original AOR guy with a lot of passion and of course we also have the lead vocals of David Saylor that gave a different scent to our songs!
Hardrock Haven: How has Dangerous performed market-wise in comparison to your previous two albums?
Andy: As a matter of fact, there is only one previous album, the Half Past Midnight, CD which is also our debut. Anything else from Wild Rose would be just promo or demo. The one you might be referring to – Into the Night – is an Andy Rock solo album. Overall it's a bit early to talk about the market's reaction to the album, since it's not even a month out there, but there is far better distribution this time around by AOR Heaven so I believe it will reach the ears of many AOR-sters.
Hardrock Haven: What was the reason behind the departure of lead singer George Bitzios and guitarist John Bitzios following the release of your debut album Half Past Midnight?
Andy: We had a lot of problems with them from the very beginning that cost us a lot of time and demanded a lot of patience … I wouldn't want to say more …
Hardrock Haven: Shortly after Bitzios' departure your management announced Mark Thompson Smith as the new front man of Wild Rose; instead David A. Saylor filled the position, what happened there?
Andy: Yes, as I said before one of the main problems that we had with previous singers was that they were coming and going all the time … When Mark joined the band the previous guitarist had issues with him and told us that George would come back if Mark was to leave the band. Well, that was a mistake from our side- taking steps backwards- because that was the reason Dangerous was delayed this much and the problems continued with them! George Bitzios had in fact recorded lead vocals for "Dangerous" but after an argument with us they told us to erase all the vocals under the threat of leaving again … Well, that was their last shot … I've searched the universe to find a good singer and I found David and thank God everything went well!
Hardrock Haven: Just to geek out for a minute with you … Why is David A. Saylor not pictured in the booklet of Dangerous?
Andy: David is a guest vocalist to Wild Rose; he is not our main vocalist. We've talked about it and we asked him to join us as a full-time member but he responded that he wanted to work on a session-basis with us! That's pretty much the reason he isn't in the band picture.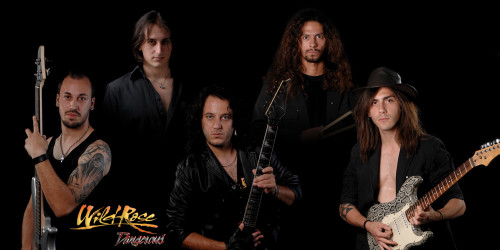 Hardrock Haven: Somewhere between the two Wild Rose studio albums you put out your debut solo album, marking your first release under AOR Heaven Records. How did that come about and should we expect more of Andy's solo works in the future?
Andy: I had a few songs in the closet and some of my friends telling me to make a personal album with myself on lead vocals. We sent it to AOR Heaven and we got a deal! I don't know if I'll be making a second solo album … It's too early to say but we will see in the future!
Hardrock Haven: How would you describe the band's relationship with your current label AOR Heaven and why did you leave your previous record company Retrospect Records?
Andy: Retrospect Records is a very good label with a guy (Sam McCaslin) who gives his soul for this music but if you are looking for greater things you have to reach further and AOR Heaven is what a band of our kind needs!
Hardrock Haven: How do you manage to put out a new album either as Wild Rose or Andy Rock each year and still maintain the level of quality that AOR as a genre requires?
Andy: I don't think there is a clear answer to that. Maybe it's just our love for music, or perhaps a very inspiring period in one's life.
Hardrock Haven: Do any of the members of Wild Rose have any side-projects in the making and will you keep putting out a new release each year?
Andy: Inspiration for songwriting is not something that comes about every day. I don't know if that will continue in the future, but if we get inspired to write more songs, I would certainly want to keep it that way. As for the other Wild Rose members, they are not into any other projects or solo albums … yet!
Hardrock Haven: Are there any plans for domestic or international live dates (with regards to the US in particular)?
Andy: We've had some proposals for shows, even in the states, but since we don't have a main vocalist in the band, we can't really do it. I don't want to disappoint anyone, but I can't see it happening. I hope things change quickly and we get back on stage.
Find WIld Rose online @ https://www.facebook.com/wildroseaorevo
by Alexandra Mrozowska
- Columnist –
Mark McGee, who once was an axeman of power metal act Vicious Rumors and played alongside the legendary Gregg Allman, is now running his own project Luvplanet, and he is an important figure in the San Francisco Bay Area music scene. With Hardrock Haven, McGee discusses his past and current activities, the best acts of the thriving 1980s Bay Area scene, the metal days of Vicious Rumours and the shift to southern rock sphere, and his band Luvplanet, sharing many precious memories along the way.
Mark McGee – ex-Vicious Rumors, ex-Gregg Allman and Friends, Luvplanet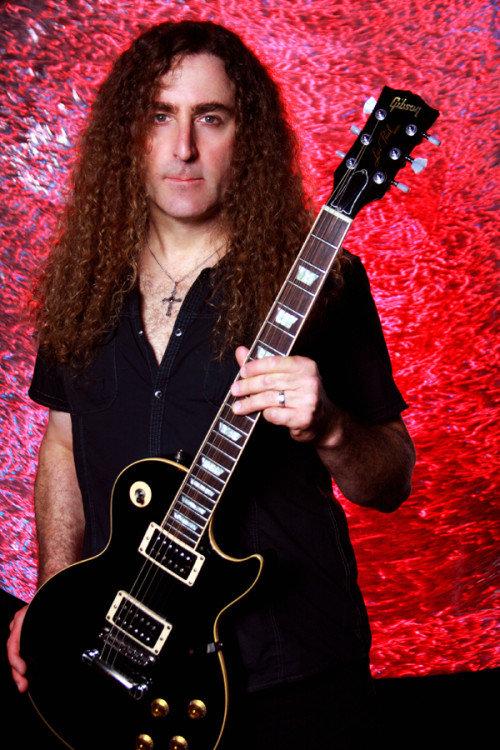 HRH: Starting from the point that is crucial in every musician's career, why did you choose to pick up the guitar in the first place? What ignited you to do so?
MM: It was probably a combination of a few things. I always enjoyed music when I was very young, plus my oldest brother had an acoustic in the house, so obviously that was integral. And add into that a tough home scene, and I was way too shy to talk to girls. And there you have it.
HRH: Do you remember the first or one of the first songs you learned to play?
MM: "Smoke On The Water," "Proud Mary," and "Let There Be Rock" were some of the first.
HRH: What was your method of learning how to play the instrument? Were you a self-taught or rather a music instructor's diligent disciple?
MM: My brother showed me a few chords, but it was mostly a lot of practice. I was able to hear the notes fairly well, and the fingering seemed to come pretty easy, too. So I guess you can say that I found my true calling when I was young. I also was completely addicted to it. I clung to it; it was my world. By age 11, in my mind, I knew I was going to make records, write songs and tour the world. I guess I'm lucky it happened 'cause that would have been quite a let down.
HRH: In your early days, you were working in the San Francisco Bay Area club scene, getting experience. What was it like to share the stage with many notable acts of the era? What are your memories of that period?
MM: It was an amazing time at a time when the SF Bay Area music scene was thriving. Bill Graham was putting on world famous concerts at Oakland Stadium and the Cow Palace in San Francisco, and the club scene was very active with many quality venues and no shortage of original bands. Not like the times we are in now that's for sure. In my first professional band, Overdrive, we warmed up the audiences for bands like Blue Oyster Cult, Loudness, Metallica, Randy Hansen, Quiet Riot and Y & T. I was only 16. Even though I came up in the San Francisco Rock/Metal scene, it's just because that is what was happening at that time. And the Bay Area was the hub for that music. Even though I am known for my work with Vicious Rumors, my influences are much more melodic and classic rock than Metal. Local buddies and after-hours hangouts back in those days were with my friends from bands like Laaz Rockit, Exodus, Violation, Dammaj, Roadrunner, Legacy and many others. We were all very lucky to have been in this area when all of this was just exploding.
HRH: What were the first bands you've played in? Can you tell us a bit more about such names as Overdrive or Starcastle?
MM: Overdrive was not actually the first band, but it was the first band that was writing originals and taking it seriously. It was formed with my schoolmates Mark Pena, Mike Carsey and Randy Ferrarra. We were going to be the next big thing in our minds. Actually, we did accomplish a lot and had a very good, devoted following back then. Unfortunately, it imploded once Mike decided he wanted to sound like Motley Crue. I just wasn't into that; I was more into Scorpions, Aerosmith, UFO, Rush, Kiss and Zeppelin. I am still friends with them, and Mr. Pena is like my brother.
After that, I started writing a lot of songs that would end up being the template for my next band, Now. Initially, I called by good buddy Devin Lacey to join me as the bassist. Devin soon formulated a few song ideas, and we both knew this was going to be a very creative project. The logical choice then was to bring in Mark Pena on Drums and then came in Vocalist/Keyboardist Rob Bonstin. Now was only together for about two years. We recorded a dozen or so demos, played many gigs and opened for some national acts. One of these shows ended up being Now opening for the '70s Prog rock band Starcastle. They toured, playing arenas and opened for many of the big '70s acts like Rush, Yes, Styx, Heart and Jethro Tull.
Original bassist Gary Strater had relocated from Illinois to California after the original band broke up. Once he was out here, he decided to put a new, more modern version of Starcastle together, and that was the lineup that Now opened for. Although Now was a great outlet for me, I realized that I was a little bit limited with how far I could push certain aspects of the music, not to mention some of the members weren't quite getting along very well. I hit it off tremendously with Gary and the guys from Starcastle, and unexpectedly, at a second show we did together, they asked me to join the band. This was a big decision for me because Now was my band, but I decided to move on and join up with Gary, vocalist George Harp and drummer Scott McKenzie, whom I would come to know and play music with throughout my whole life. For whatever reason, once again this band would only last two years together. However, I must say that this period in my musical life was one of the best and most inspired periods. Gary was so brilliant, and I learned a lot from him about many aspects of music. He sadly lost a battle with cancer in 2004, but there isn't a day that goes by that I don't think of him. He was a master, a great bassist, a great singer and a visionary. He was very spiritual and generous, and I was lucky to have known him.
HRH: The first important stopover in our journey through the years is, undoubtedly, a period of playing with Vicious Rumors. As a member of the band, you released six albums, including the award-winning 1992 'Welcome to the Ball' release. Which of them are you are most proud of, and which, in your opinion, really stands out among the band's discography?
MM: Well, I think that the debut Atlantic release is a special record to many fans, although there are different favorites for different fans. I know that in all things Metal, "Digital Dictator" is considered a legendary album in the European Metal community, although I think that "Welcome to the Ball" probably is the best record, with all things considered.
I am very proud of all the VR recordings. Obviously, for a lead guitarist Metal is a prime form of music to get your ya ya's out. But I have always been more of a song guy, with old-school, classic influences. I would say that I am very proud of my instrumental piece "Electric Twilight" on the 1990 release and songs like "The Voice," "Dreaming" and "Thunder & Rain pt2" from 1994's "Word of Mouth." I love heavy music as long as there is enough melody woven in for balance and texture. And if there isn't a good vocal, then I am just not interested. "Word of Mouth" has some of the best songwriting on it, I think. And I don't just say that because it is mostly my record, as Geoff was not able to play guitar during much of the preparation for that one. He was battling Carpel Tunnel Syndrome, and then you have Dave Starr and Larry Howe who weren't getting along at all and Carl, who was wrapped up with other things during that period as well. I felt like the team leader, coach, songwriter and referee all at the same time. I even ended up playing Bass on 50 percent of the album because right before we went in to record it, Dave Starr was let go from the band. We had nailed down bassist Tommy Sisco to come in; however, he didn't know all the material, so he only played on half the record. Personally, I think if "Word of Mouth" had the sound/mix that "Welcome to the Ball" had, it would be the best of the bunch.
HRH: With Vicious Rumors, you've shared the stage with some of the most famous hard rock and metal acts of the late-1980s, early-1990s era. Are there any special memories from those gigs? What was the experience?
MM: Touring with Paul DiAnno was a thrill. Supporting Paul Stanley in Oakland, Calif., in 1989 on his solo tour was a huge thing for us and a very memorable day because after the show that night, the A&R rep from Atlantic Records shook our hands and said, 'Well it's official, and we are going sign you guys to the label.' Some memorable things for me include playing the original Marquee Club and Hammersmith Odeon in London and touring with Savatage for four weeks on the 1991 'Welcome to the Ball' / Savatage – 'Streets A Rock Opera' tour. The time we spent together was awesome and getting to know and become close with Criss Oliva was something I cherish very much. We just hit it off and were pretty much inseparable on that tour. He was one of those people I looked forward to getting to know more in the years to come. It was horrible when he got in that car wreck. I wrote "Thunder & Rain pt2" as a dedication to Criss. I called Jon Oliva (Criss' brother) right when I found out. It was kind of freaky because Carl dedicated that song to Criss every night on 1994's Word of Mouth European tour, and then shortly after, we came home from that tour, Carl was taken from us in the same exact way. Carl got in his car crash just three weeks after I left the band. Many people think I left because of that, but I left prior to Carl's accident. So then, I received the same phone call from Jon, with him kindly offering his condolences and friendship.
About a year or so later and after Alex Skolnick left Savatage as Criss' replacement, Jon asked me to play on a demo they sent me for the song called Starlight, which they loved. Jon then asked me to come join Savatage and told me that he doesn't know why he didn't call me right when Criss passed because he knew how close we were and how much Criss meant to me. Of course, this was a nice thing for me to hear from him. They wanted me to fly to New York for a photo shoot. It was all so overwhelming, but I told Jon I would love to do a record with Savatage, but I could not commit to joining the band since I had just left VR to do my own thing. It's things and times like these that make me believe there is no such thing as a coincidence.
HRH: Why did you leave the band in 1995?
MM: I was tired of feeling limited with the types of songs that VR would do, and I felt like we could use a little revamping of our sound. It is important to show growth as an artist and in a band so that things stay fresh and not predictable. I was getting a little push-back on some comments I made regarding this subject. And so, instead of saying 'either my way or I'm out of here,' I just decided it was time to leave. I wanted it to be a natural thing that everyone was feeling, so I figured what better way to know where everyone was at with it than from just their initial responses. I love the guys, but I can't be held back in any music situation, or else why do it?
Playing with Gregg Allman was a different story altogether. I was there to represent his music and his history. I mean, I had my moments where I could put my stamp on it, and I knew when it was time to play the Duane solos or whatever. In this situation, it is important for the musician to know what things the fans want to hear and what moments you can make your own. It is quite different when it is a band that you are a primary songwriter and driving force in.
HRH: How did you hook up with Gregg Allman, and in what circumstances have you joined Gregg Allman and Friends?
MM: In the middle of 1995, I began doing little local gigs with the Alameda All Stars, which was a band from my hometown of Alameda, Calif., that had been around for years. It was a fun little music club, so to speak. Some of them already were playing with Gregory, so when they had a spot open for a new guitarist, I was given an audition. I got the gig and played internationally with Gregg over a 10-year period, 1995 – 2004, 2007. I think I am the longest-running guitarist in his solo career. Unfortunately, I never wrote and recorded a full-length album with him, which would have been a great time, but I do appear on two Sony releases, 1997's 'Searching for Simplicity' and 2002's No Stranger To The Dark / The Best Of Gregg Allman. Playing with Gregg was a great experience, as I toured and traveled and met people from this whole other music scene of Southern Rock/ Blues / Jam Band. It also pushed me to develop my slide guitar skills, which I can't even imagine not having as part of what I do now. Any new way you can find to express yourself is always a good thing.
HRH: Recording with Gregg, you've had a chance to co-work with the legendary producer Tom Dowd (Allman Brothers, Clapton, Aretha Franklin, Lynyrd Skynyrd). What was it like working with him?
MM: It was a thrill. He is a genius. I mean REALLY! He passed away in October of 2002. We were on tour, and it was a very sad day, to say the least. Tom was so gracious and generous in the studio. It was crazy because we recorded that session at Fantasy Studios in Berkeley, Calif., in studio A, which is the same room that VR did VR, Welcome to the Ball and Word of Mouth. As I like to say, 'the world keeps shrinking.' I mean, he didn't have to listen to me, but he would discuss with me different things that I brought up or asked about regarding the session when he really didn't have to. That experience was all of a few days, but it was a huge thing to work with Tom. We have hours of in-the-studio footage from that session with Tom and everyone clowning around and interacting. God rest his soul.
HRH: The time you spent in Gregg Allman and Friends was another period of intensive touring. With your current music projects, are there any bands or artists you'd like to share the bill with in the future?
MM: Yeah, with GA, we played shows in the U.S., Canada, Japan and Europe. We shared the bill with such acts such as the Spinners, Wilson Pickett, Jimmie Vaughn, David Crosby, Bad Co., REO Speedwagon, The Fabulous Thunderbirds, Ted Nugent, Joan Jett, Derek Trucks Band, Kansas, Neville Bros., Cyndi Lauper and many others. One cool thing about playing with Gregg is that he doesn't open for anyone, so there I was with these legendary acts going on before me. It was quite a rush, I must say.
Regarding acts I'd like to share a bill with in the future, well, I guess Luvplanet opening for Aerosmith, Rush or the Foo Fighters would be cool.
HRH: Luvplanet is the new chapter in your history. How did Luvplanet start?
MM: I was called by a guy named Daniel Polselli, who I knew, but was also a friend of Nicole Sutton's, to come down to his place, 'SRS Studios' and put down some guitar tracks for three of Nicole's demos. What better way to meet your future bandmate, songwriting partner, best friend and wife, than to meet in a recording studio with all of that creative atmosphere. The session was done, and I went home.
A week later, I was called, again, to come down to SRS and do a little jamming with Nicole, Stu Hamm and Jeff Campitelli. Of course, I went down to have a little fun and jam a bit. This evolved into two rehearsals per week throughout most of 1999, with a few live shows played at the end of that year. It was a lot of fun getting to know everyone during that time. Much of the music we worked on were songs written by Nicole, and many of them ended up on the first Luvplanet CD that was released in 2003. Stu and Jeff also are on the debut Luvplanet CD.
However, shortly after that, Stu and Jeff's commitments with Joe Satriani took them back on the road, and then it was up to Nic and me to find the permanent rhythm section. I was first convinced that whoever these new members would be, they were people I never met. I felt this just because of how everything came about. It didn't take long to realize that, perhaps, that wasn't the case. I soon knew exactly who to call and reached out to Tommy Sisco and Scott McKenzie. That lineup would last for eight or so years, as we released the next three albums State of Mind in 2005, Lucky One in 2008 and Luvolution in 2010. Scott left the band a year and a half ago to focus on some different areas of his life, but we are still very much family.
Following Scott's departure, we were lucky to find drummer Cedric Wilmott, who has been in the band ever since. We are hoping to have our fifth studio album released in 2013, depending on how things line up, it may be a live CD this year and the new studio CD next year. Only time will tell. One thing is certain; Luvplanet is here to stay, as we have way too much music pouring out of us.
HRH: What are your current music plans? What you are up to right now? Is their any other exciting news on the way?
MM: Yes, Luvplanet is preparing songs to record for our 5th album. Hopefully this album will have a few special guests gracing us with their presence. I can't say who but cross your fingers 'cause if it goes down it will be quite legendary! At some point I hope to finish what will be my first solo release but basically it is all about Luvplanet right now. Thanks for the great questions Alex and thank you to all the fans and supporters of my music thru the years. With out you it means nothing!
Mark McGee links:
http://www.markmcgee.com
https://www.facebook.com/pages/Mark-McGee/306002570700
Luvplanet links:
http://www.luvplanet.net
by Alex Barbieri
- Columnist –
Seasons change, and so do band lineups, and 2013 finds Stacey Blades—formerly the guitarist in Roxx Gang and LA Guns—a solo gun. Let's give Blades a call at his home in Los Angeles and see what he's up to these days.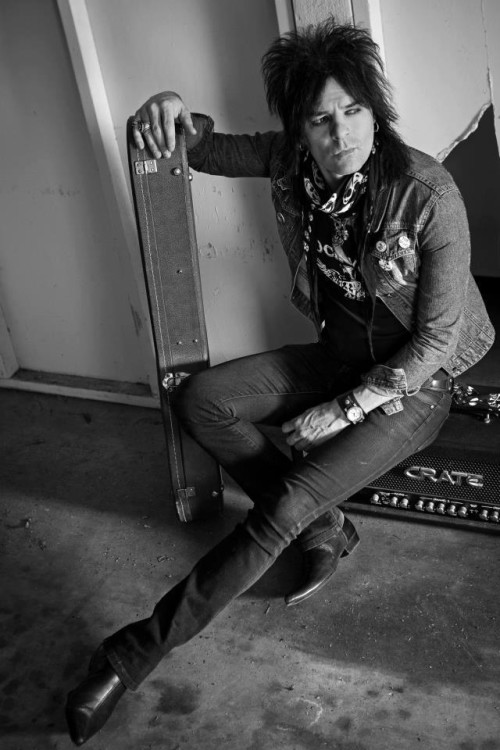 HRH: Stacey, it's Alex, thank you very much for agreeing to the interview. Let's get right into it: what happened with LA Guns? Was it the old "creative differences," or is there a "smoking gun?"
SB: Well, it was a combination of different things. I sort of started burning out around the summer time 2012. The road trips were become very grueling, and I just wasn't really enjoying it anymore. I felt like I was on a treadmill so to speak. I suffer from what's called sciatica, which is nerve damage in the leg.
Flying all day and then sitting in mini vans for hundreds of miles was killing me. I'm alright if I'm on a bus and can stretch out. We were flying every week, come home for two days, then right back to the airport. This was months and months. It was really starting to take a toll on my back and left leg.
Also, my guitar playing was starting to take a different direction. I really wanted to bring back that early bombastic guitar stuff back into the fold and the rest of the band wanted to go in a more '70s straight ahead direction. It was an amicable split though, and I really enjoyed being part of the band for close to a decade.
HRH: Back in 2009, I was the singer in Tango Down, and had the pleasure of opening the show for you and LA Guns at a club called Maximum Capacity in Chicopee, Ma. The place was packed and you guys killed it—the entire Cocked & Loaded album front to back.
A highlight of the night was watching you play on your side of the stage. You were note perfect, but also had such a cool black-hair-and-leather, LA gutter punk rock 'n roll vibe.
Growing up in Alberta, Canada, who were your guitar and performance influences that really made an impact on you?
SB: Ya, that was cool playing the entire Cocked & Loaded album. I felt—and still feel—it's SO IMPORTANT to learn the material pretty much note for note! Well I really grew up in Toronto. I only lived in Calgary for a little bit. All the cool '70s stuff influenced me. Cheap Trick, The Cars, Alice Cooper, Rush, Aerosmith. All the early LA wave of metal influenced me big time, like WASP, Dokken, Ratt and Motley! My biggest guitar influence was of course, Randy Rhoads.
HRH: I thought LA Guns Hollywood Forever was a very strong album. Some great hard rock tracks on it, "Sweet Mystery" being my favorite. Is the LA Guns style of guitar playing your favorite, or would you say you personally have a different style?
SB: Well, I really love blues-based guitar, but I really also love many other styles. I really tried to inject different styles into Hollywood Forever. I've been getting into more progressive guitarists, like Blackmore and Eric Johnson. My favorite guitarist is Randy Rhoads and you can hear a little bit of that influence especially on tracks like "Underneath the Sun" and "Requiem." I had the most bitchin' "Randy Rhoads" solo for that song, but they made me change it, lol!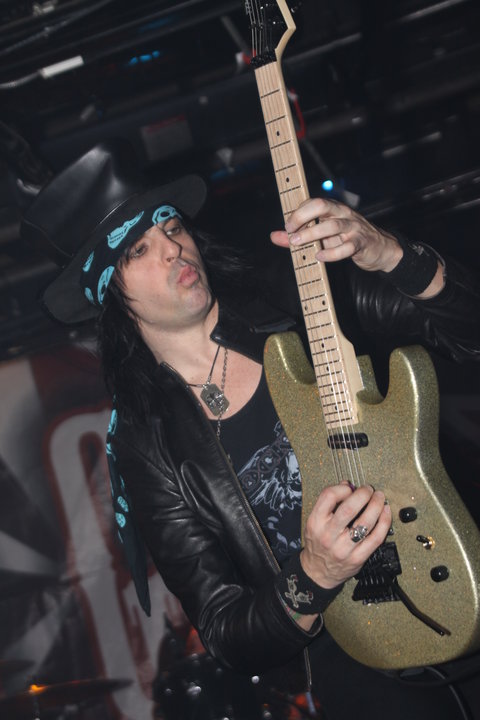 HRH: Enough about the past—I read on Facebook that you're recording with legendary producer Andy Johns, who did Humble Pie, Free, LA Guns, Chickenfoot, and Van Halen, among others. He also produced one of my favorite hard rock albums of all time, Stone Fury's Burns Like a Star.
Tell, us about the project with Andy, and what it's like to work with him—is he a real task master in the studio?
SB: Ya, that Stone Fury album is really good. Me and my buddy used to crank that in his bedroom back in '83 hahaa!
Working with Andy is fun and you just absorb the guy's mojo! I have been working with a singer named Paul Christiana from New Orleans. He is amazing! He sounds like Scott Weiland, David Lee Roth and Janis Joplin!! We did four songs at Unison Studios here in LA. I believe that his entertainment lawyer is gonna shop it in the next month.
HRH: I know what it's like to be out of the protective womb of a band situation and on your own. What's next musically for you—are you looking for another band, or going to give it a go solo?
SB: Well, right now I'm doing a lot of recording projects. I'm working with this software company called Soundtrack Loops. We have done about 22 two minute guitar tracks in lots of various styles ranging from EVH, Zeppelin acoustic type stuff, Eric Johnson style to Stevie Ray Vaughn. They will be available the third week of March. You can go directly to www.soundtrackloops.com.
I'm also playing some selective shows with HardRock AllStars, featuring Juan Croucier from Ratt, and Jamie St. James and Pete Holmes from Black N' Blue. Great guys and great musicians. We will start gigging end of April. I'm also teaming up with Robert Mason from Warrant to do some acoustic shows, which is really going to be very cool.
Robert is a very talented singer of course, and plays great guitar and piano. I'm pretty much a free agent right now, so if Alice Cooper, Slash and even Pink call me up, you better believe I'll be taking the gig! Lol!
HRH: On your website, you announced that you hooked up with a company called Six String, and helped create a new guitar app for iPad, iTouch, and iPhone. Tell us about that.
SB: Cool new app for guitarists! You can interact with hundreds of other players, share gear info, post videos, sound bites and gig info. Really cool app!!!
HRH: You've also recorded guitar loops for a company called Soundtrack Loops. What's that about, and can we look forward to hearing your playing on any TV shows or movies?
SB: Ya, as I mentioned those go on the market this month!! I really did some killer stuff with them!!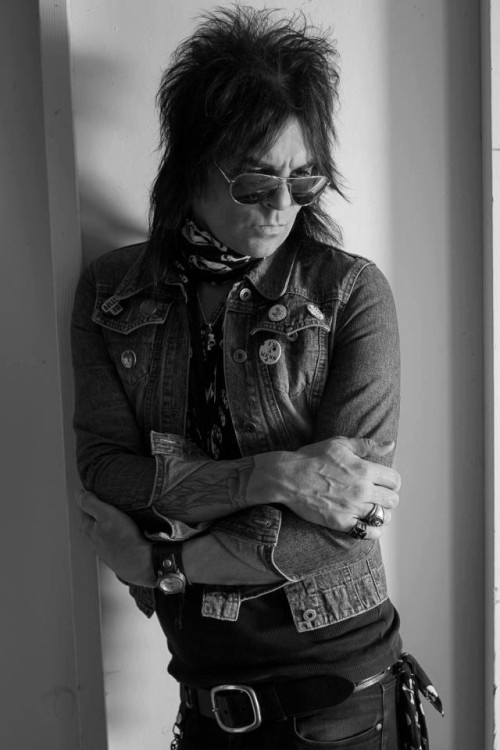 HRH: Memory lane: what are some of your favorite memories of your career in rock 'n roll, thus far? Is there a favorite live show or recording experience that comes to mind?
SB: Well, replacing Tracii in LA Guns was very exciting and rewarding. Lots of great shows, too many to count. M3 Festival 2010 to 17,000 people was a good one!! All the albums we did with Andy Johns. Of course, getting to know all the fans was awesome to! I'm very proud of my book "Snake Eyes: Confessions of a Replacement Rockstar" being published back in 2009 as well.
HRH: That's quite an accomplishment. How did the book come about?
SB: I wrote it back in 2007. Took about a year and a half to write. It was a shitload of work let me tell you!! I thought I had a pretty good story to tell, so I started writing and next thing you know it was published and received great reviews! I have since rewritten and included six new chapters. I'm hoping to get it republished this year!
HRH: Outside of music, what are you involved in and into? What's a day in the life of Stacey Blades like?
SB: Day starts off with a pot of coffee, ha ha. Loads of emails and phone calls. I'm constantly networking! There's at least a few hours with the guitar. I have been getting into reality TV creative production as well. I'd like to start doing more of that, but been really busy with other stuff right now. I enjoy spending time with my two cats and my lovely fiance as well!
HRH: What are you listening to on your iPod lately? Any bands or artists we should know about?
SB: Really getting into vinyl again!! Been on this Ronnie James Dio kick. Love the stuff he did with Sabbath. Been listening to a lot of Heaven and Hell and Mob Rules. Really been listening to The Cars a lot, and an amazing Canadian band from the '70s called Max Webster!
(Editor's note: Blades is right: Max Webster rocks. Check them out.)
HRH: Stacey, thank you again for your time and everyone here at Hardrock Haven wishes you happiness and success. Anything else you want to say to the Hardrock Haven readers and rock fans around the world? The floor is yours.
SB: Want to thank first and foremost all my fans out there. You guys rule! Lots of great stuff brewing, so be sure to follow me on Twitter (@stacey_blades) and my Facebook page and Facebook music page, and be sure to drop by Staceyblades.com! Thanks Alex—anytime dude!
Visit the official Stacey Blades website:
http://staceyblades.com/
Friend Stacey Blades on Facebook.
https://www.facebook.com/stacey.blades.1
Order Stacey Blades' book, "Snake Eyes: Confessions of a Replacement Rockstar" on Amazon.
http://www.amazon.com/Snake-Eyes-Confessions-Replacement-Rockstar/dp/1439229511
[All photos by Arjen Van Eijmeren.]
by Steve Patrick
- Columnist –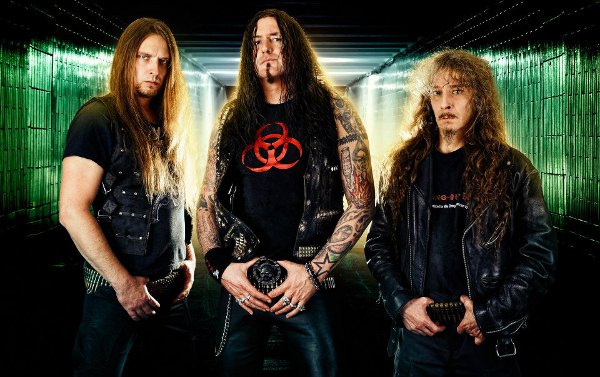 German thrash pioneers Destruction recently released their latest studio album Spiritual Genocide on Nuclear Blast. The record is a crushing declaration from the Teutonic band that they have no intention of slowing down even after 30 years in the music business. Spiritual Genocide also features guest performances by Gerre (Tankard), Ol Drake (Evile), and Tom Angelripper (Sodom).
Frontman and bassist Schmier spoke to Hardrock Haven about Spiritual Genocide, Destruction's North American touring plans, the band's longevity, and what he would like Destruction's legacy to be in the history of metal:
For more information, please visit www.destruction.de
Listen to the interview: