by Steve Patrick
- Columnist –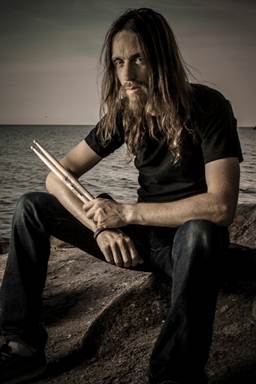 Swedish metal outfit Soilwork have recently released their latest album, The Living Infinite. The record is in fact a double album which is definitely unusual for a 2013 release. After undergoing some personnel changes, the band set out to create a record that was not only challenging for them to record, but also an engaging, fresh listen for their longtime fans. Soilwork has succeeded in achieving both of those goals and have created one of the first must-have metal releases of the New Year.
Dirk Verbeuren, the band's drummer, took some time out of his busy schedule to speak with Hardrock Haven just prior to embarking on a North American tour with support from Jeff Loomis, Blackguard, Bonded by Blood, and Hatchet. Verbeuren discussed The Living Infinite, the status of his other band Bent Sea, and the last minute change in opening acts for the tour:
For more information, please visit www.soilwork.org
Listen to the interview:
by Deb Rao
- Senior Columnist –
Sevendust is getting ready to unleash one of their most captivating albums to date, Black Out The Sun, on March 26 on 7Bros Label. Black Out The Sun illustrates the diversity of the band, featuring songs that span from hard rock, industrial, to southern rock. Sevendust raise the bar high with the soaring vocals of Lajon Witherspoon, to the diverse guitar progressions and up-tempo drum rhythms. Black Out The Sun speaks to the legion of fans with its blue-collar heartfelt lyrics.
Drummer Morgan Rose speaks to Hardrock Haven in-depth regarding the making of Black Out The Sun and also unveils an exclusive track by track breakdown of each song. Morgan Rose comments, "Sevendust is totally built off of pride which is a dangerous thing. Pride is a dangerous thing. That is just the way we have been. We handle our business that way; we handle our band that way when it comes to writing songs We refuse to sell ourselves short. There is just not going to be any lyrics out there that are going to be cliché, We do the best that we can do to keep them from being cliché. A lot of the people out there in metal and punk rock are really a blue-collar style of music. A lot of them like that. They like simplicity like that."
Sevendust perform in Vegas at The Railhead on March 23rd.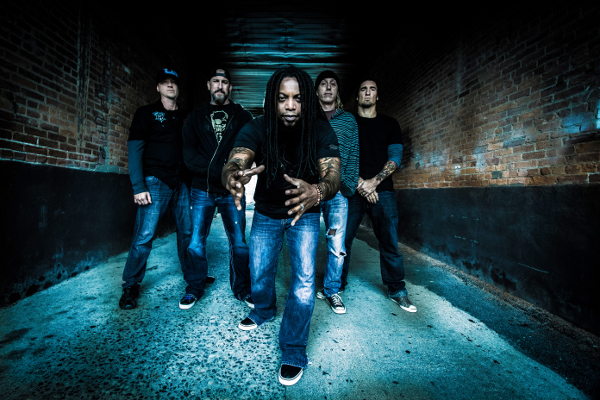 HRH: Morgan, I listened to your album last night. It totally rocks. I love the diversity of it. The vocals, your drumming, the guitar work is superb. It kind of has an apocalyptic feel to it?
Morgan: It's funny that the thing we keep hearing and we kind of giggle at it is we like to use the term Epic a lot. When we are writing a song we say it sounds like such an epic feel right there. That is what we are hearing a lot of. The songs have an epic feel to them. Not to be corny or anything. It feels a lot of times during recording there is a journey through these songs. We had a really good time with it.
HRH: The sound goes from hard rock to industrial to southern rock. It is amazing. Tell us about the writing process for the album.
Morgan: There was no writing process. That was the beauty of it. It was really us going in the room and we will write this together as a band. When we were kids and we got signed because of the way we did things. We all sat in a room, and we all played. Somebody might be sitting in the living room when somebody was working or writing a riff. We wrote these songs as a band. So we just went in there and we were winging it. We knew that we were on a timetable. We had deadlines that had to be met. But we kept calm and just came in everyday and put in a full day. We didn't over think too many things. We wrote an entire record from scratch basically.
HRH: How did you come up with the title Black Out The Sun?
Morgan: We usually start when it gets to album titles time, we start looking at song titles obviously. A lot of times we don't put a whole a lot of thought into it. We name songs that have nothing to do with the songs because we need a working title to be able to help us remember what the heck we did. Black Out The Sun, we got a little bit more mature with that. Black Out The Sun is a song that Clint has written for his father that passed away. We went and back with a few different titles for the record. Then when we got to Black Out The Sun it just felt like we liked the way it sounded and it had a strong meaning to it.
HRH: Also you picked the first single to be "Decay." Why did you pick that song?
Morgan: We didn't pick it actually. I was very surprised that they picked it. It felt like I was walking on glass to get out of the room. I didn't want anything else to crack. We figured they were going to go with something a little bit more commercial and easier on the ears. But they decided to go with that which was more of a driving heavy track.
HRH: How do you feel Black Out The Sun compares to your previous release Cold Day Memory?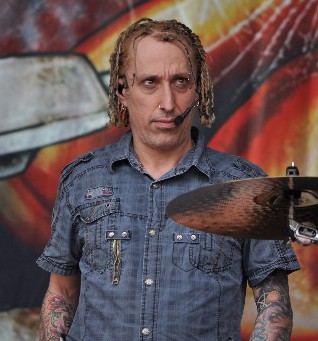 Morgan: I love Cold Day Memory. And I love the new record. It is two totally different animals. Cold Day Memory was Clint's first record back. I love both of the records. I think that this record is a lot less produced. This record is a little bit more real for us. Like I said we went into the studio and there wasn't time to be haggling over each little part. That is something that we have been guilty of before. Let's try this part and see how many times we come back to it. Seventy-five percent of the time we ended up doing the things we did first. Let's go ahead and do it. It sounds good and feels good, and the other four guys in the band would say that feels good let's move on. So that was the difference. Less produced and a lot less time to screw around, a lot less time to second-guess everything.
HRH: What new songs are performing on this tour?
Morgan: The only new ones we are playing now are "Till Death" and "Decay." Those are probably the two heavier ones off of the record.
HRH: Now this record also a Southern appeal to it. Would you influenced by Lynyrd Skynyrd a lot?
Morgan: Yes, we are big Lynryd Skynyrd fans.
HRH: How is the tour going so far?
Morgan: The tour is going amazing. We are sold out every night. We got a nice bill out here. Lacuna Coil is amazing really cool people.
HRH: Sevendust just keeps getting better and better. What is the secret to your longevity?
Morgan: Sevendust is totally built off of pride, which is a dangerous thing. Pride is a dangerous thing. That is just the way we have been. We handle our business that way; we handle our band that way when it comes to writing songs We refuse to sell ourselves short. There is just not going to be any lyrics out there that are going to be cliché', We do the best that we can do to keep them from being cliché. A lot of the people out there in metal and punk rock are really a blue-collar style of music. A lot of them like that. They like simplicity like that.
HRH: I have to commend your on your work with Candlelight Red. You are doing a great job producing the record for these guys. I saw them a few weeks back at the Hard Rock
Morgan: I appreciate it. These guys are like my babies now. I have enjoyed working with them. They are really cool guys. I expect them to do really big things this year. Their new record is coming out later this year. I think it will probably be out mid March.
HRH: Do you have time to do a quick track by track for us?
Morgan: I'll do the best I can.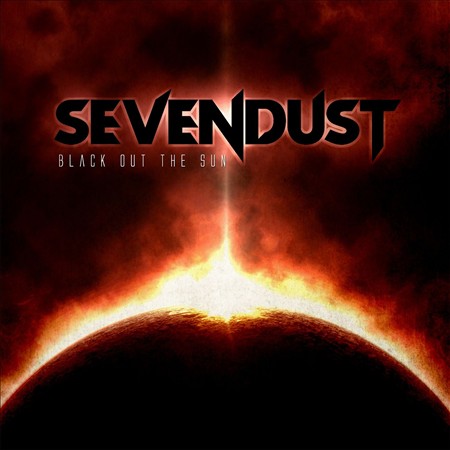 Black Out The Sun Track By Track with Morgan Rose:
l. "Memory" – "That was actually Clint was screwing around with an acoustic part for something us. There is actually video if it on the web that we did in the studio on you tube. There is this part you can hear me describing it to Clint because he went in there and was doing something else. That riff was something he was screwing around with me in the room. When we were playing it back I loved that progression. I want to build something around that. It ended up being the intro to the record. And it ended up being the middle section of "Faithless" the first track off of the record."
2. "Faithless" – "It is one of my favorite tracks on the album. I think this is the biggest song as far as that Epic term that we have been using."
3. "Till Death" – "That is my favorite."
4. "Mountain" – "It has a little bit more of a southern vibe to it. There are a few songs on this record that showcase the fact that the band came from the South. It definitely has a Southern feel to it."
5. "Cold As War" – "That is John's favorite I think. We had Joey Belladona come into the studio I actually saw Joey Belladonna start to cry while that song was playing. Which was totally flipped me out. I adore Joey Belladonna. He is a really close friend of ours. It was like this guy a really close friend of ours just got overwhelmed. It is not a ballad it is a rock song. He was overwhelmed by it. That is one of the funner tracks for me. There are not a whole lot of drums going on in that track so I can sit back and watch everyone else work. "
6. "Black Out The Sun" – "That is a song written about Clint's Father who passed away. Another interesting takes off of something. Usually when there is a Tribute when someone has passed on it is usually in ballad form. So Clint came in with this. I thought it was real clever and it was a beautiful Tribute to his Dad. The lyrics are extremely strong. It is a really cool song."
7. "Nobody Wants It" – "That groove started from let's say we needed a drum beat. John and I are exhausting guitar parts here to. Write these songs from scratch Morgan play a drumbeat. I wasn't even on the drums. I was sitting at a keyboard. I starting mounting it and we set up a keyboard where I could just hand tap the drum part and put it into pro-tools. I did it and there was a riff built off of that."
8. "Dead Roses" – "I don't remember much about. John said the label is talking about this being the next single."
9. "Decay" – "This song was written for the last record. It doesn't make the last record, it is the last song written for this one. It is the fastest moving song we ever agreed on. "
10. "Dark A.M." – "This is pretty cool song with slow drumming. All these songs have strong lyrics. That is something that has been an attraction to a lot of people."
11. "Picture Perfect" – "This is another one of my favorites. I think it has one of the best guitar parts on the record. When Lajon was singing that line a picture perfect point of view, I just heard him singing that particular line over and over. When it came to that chorus Lajon was in there scatting that melody and that line. It is another strong lyrical song. At the time it meant to me for sure."
12. "Got A Feeling" – "That song is brutal. That song is probably going to break me down when we play it live. Lyrically it is one of the deepest things that we ever done. "
13. "Murder Bar" – "Is a heavy song. For a while we thought it was actually going to be the title for the record. That was the bar across the street from the hotel that we were at. We were making jokes saying you can't go into that place you will be killed. So we started walking around a little. Hey are you going to the Murder Bar tonight? (Laughter) We got really close to the people over there. We probably spent at least four or five days a week at that bar. We had a blast."
Visit Sevendust online here.
by Justin Gaines
- News Editor / Senior Journalist –
Hardrock Haven recently caught up with Warlord (and former Fates Warning) drummer Mark Zonder, who filled us in on the new Warlord album and the band's upcoming – and first ever – live performances.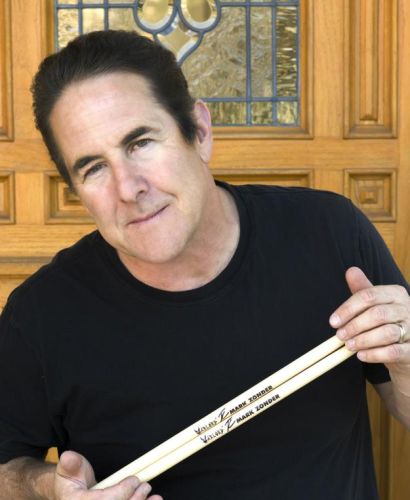 Hardrock Haven: First thing's first: Warlord has a new album, titled The Holy Empire, scheduled for release soon. What kinds of versions are available, and where can fans get their hands on it?
Mark Zonder: Here is the site for the album order (http://www.warlord-band.com/). We started our own label and are doing things ourselves. There will be disc, iTunes, and vinyl. Probably a picture disc as well. Sorry no cassettes!
HRH: It's been just over a decade since we've seen a new Warlord album. What brought you all back together, and how did you decide the time was right for a new Warlord album?
MZ: It is always the right time for Warlord as far as I am concerned. I have always been in contact with Bill. I told him if he ever wants to do anything, regardless if it was Warlord or other music, I am always ready. Bill and I were talking and he said he had some Warlord ideas rolling around and I said to send them to me and I would put drums to them. We started very slow, just to see where things would go. We were not even really concerned about any other players at the time.
HRH: Warlord briefly returned in 2002. Do you notice a big difference in the reception you're getting now versus a decade ago? Does the traditional heavy metal scene seem more energized now?
MZ: Yes it does. Also for some strange reason a lot of Warlord fans were not into Joacim Cans singing for the band. Both Bill and I thought he did a great job, both on the record and live. Still don't understand it, but I think a lot of people obviously associate Joacim with Hammerfall and since they were not big fans of HF, they cast a negative response to him. Again, Bill and I thought he was spectacular.
HRH: Can you talk about what led you and Bill to bring Rick Anderson (aka Damien King III) back into the fold? Did that result in a different dynamic than you had on the prior album?
MZ: It was Bill's idea as he had been in touch with Rick and worked with him in the past. Bill felt very comfortable with Rick and it was important to have a singer that would follow instructions from Bill. Bill writes the words, melody lines and knows exactly what he wants. The voice is looked at just like another instrument and needs to be played exactly like Bill has written it. This was a perfect match.
HRH: What can fans expect from the new album?
MZ: This is a very mature, deep record. It has all of the classic elements of Warlord, which people know as well as a natural musical progression from musicians who are constantly striving to improve and advance in their playing as well as song writing. But don't get me wrong, it is 100% Warlord.
HRH: Judging from the 20-minute preview video of the new album, The Holy Empire seems to have captured the classic Warlord sound. Was it difficult to get back into "Warlord mode" after so much time away? Or after spending so much time in more progressive minded bands?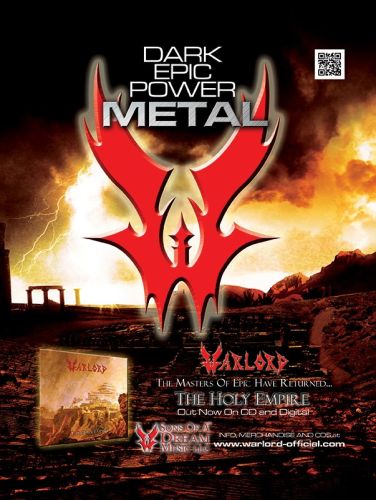 MZ: Absolutely not. Warlord is the most natural music I have ever played. It is just a perfect fit. It is heavy and strong, but can also go a bit sideways and be a bit progressive as well as having serious grooves and feels to the songs. The best part of Warlord to me is that it flows so well. There were actually a couple odd time bars that I didn't really notice until the record was done, as I was just playing along melodically and never sat there and broke out the calculator to see what time signatures are going on. This is attributed to Bill's great writing. I have never heard him write a bad or even mediocre song. It's always memorable from the first listen. None of this "I had to listen to it 23 times to get into it" stuff – just good and catchy from the start.
HRH: The Holy Empire appears to be – at least to some degree – a conceptual album. What can you tell us about the general themes on the album?
MZ: It's not really a concept album, just a variety of great songs. Some "epic" style, more of the movie soundtrack kind of songs, some traditional Warlord shorter songs, and some songs that are a bit more on the prog side of things. Not heavy prog, but some interesting stuff. Let's just put it this way, I feel sorry for anyone trying to cover these songs correctly, as there is a lot there. I sort of learned that lesson when I had to go back and learn the old stuff for the shows. Not as easy or simple as I thought.
HRH: Warlord is slated to headline the 2013 Keep It True festival, and I understand there are a couple of additional European dates planned. Are you looking forward to finally bringing Warlord's music to live audiences, and are there any plans for eventual live performances in the US?
MZ: We are playing KIT and then two shows in Greece the next week. It actually looks like the Athens show is selling out and might add another. Yes, so very excited. We are bringing out the big stage show as well. We have a lot of stuff planned and are looking forward to giving the fans more than they would ever expect. Remember, it has been 30 years in the making. We are finally in a position to present it the way we want.
HRH: Do you foresee Warlord ever playing any US shows? There are a few metal festivals in the U.S. Obviously they're on a smaller scale than the European fests, but they do have dedicated audiences.
MZ: Absolutely. We are in the middle of trying to work this out. We would love to. It is just a matter if there is the demand for it. Hopefully with the new album, the DVD that we are doing and the word of mouth, the excitement will grow to the US as well.
HRH: Beyond Warlord, what other projects are you working on?
MZ: At the moment Warlord is pretty much a full time gig. Sort of looking at these shows as the Olympics. We are going to be filming for a blu-ray, surround sound DVD that we will make with the footage from the shows, so we better be prepared.
HRH: Thanks so much, and good luck with the upcoming live shows.
Warlord's new album The Holy Empire is available March 15 here.
by Alex Barbieri
- Columnist –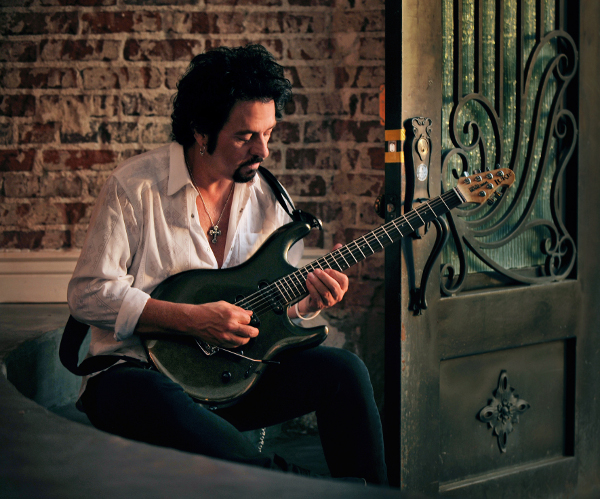 "It's been a bizarre, but most awesome journey," says Steve Lukather. Singer, songwriter, guitarist and hit maker for legendary AOR gods Toto; session player on more than 2,000 recordings with everyone from Michael Jackson to Paul McCartney; a proud member of Ringo Starr's All Starr Band, and—if that weren't enough—a respected solo artist in his own right.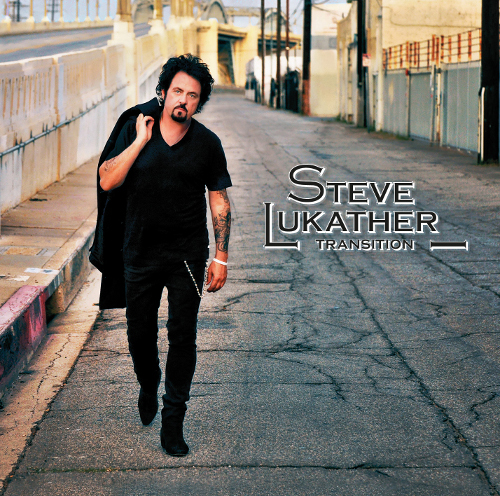 He's also one of the nicest and most appreciative guys you'll ever meet in the music biz. This writer knows it's true, because when I called him at home in the Hollywood Hills for this interview, he didn't know who I was, or that I'd be calling. It didn't matter. Despite his incredibly busy schedule, he immediately said, "Great, let's do it, bro!"
What followed was not just an interview, but a comfortable conversation with Steve Lukather on his recently released third solo album, Transition, what life is like being "clean in mind, body, and soul," the truth behind Toto, how Ringo Starr is, "a total inspiration as a human," a sneak peek at his upcoming book about his life in recording studios with music's biggest names, and much more. So sit back, relax, and enjoy this exclusive conversation on Transition.
Listen to the interview:
Visit Steve Lukather online: http://www.stevelukather.net/Transition.aspx
[TEXT VERSION]
HRH: You know, I had a bunch of questions, but I'd rather just ask a few and have more of a conversation.
SL: OK bro, that's fine—whatever format you want to do that in.
HRH: The first thing is, what's on your plate for today? I know you're an incredibly busy musician.
SL: I'm trying to go over all the Ringo stuff I got to learn 'cause we start rehearsals tomorrow. I leave Monday for a month in Australia, New Zealand, Japan.
My new record, Transition, just came out. I'm getting over doing NAMM—it's pretty nutty, actually.
HRH: I'm sure that's not unusual for you.
SL: Well, you know, I've had a pretty big plate full, but this has been rather intense as of late. (Laughs.) It's nice to get the love, but wow! I'm taking on a lot at this point. But quality problems, I assure you.
HRH: Personally, I'm familiar with Toto and a lot of the bigger hits, but I really discovered you through your solo albums, All's Well That Ends Well and Ever Changing Times. I love the new CD Transition.
SL: Thank you man, I appreciate you saying so.
HRH: You're welcome, and I want to actually thank you because it's some of the most honest, authentic music I've heard. Not just rock, but just real music I've heard in a long time. And I think that's why I've gravitated towards it, and a lot of other people have also. Would you talk about that—your desire and drive to write more meaningful music?
SL: Well, here's the thing. A lot of people my age just sort of chuck a record out there to go on the road and cash in on their past laurels. I really separate the Toto thing from myself. Like when I go on the road solo, I don't play "Hold the Line" and those things. I don't do that because I've been really serious about establishing myself as a solo artist.
It's not a vanity project, it's not a shred record, it's not a blues record, it's not a fusion thing, it's like—I'm a songwriter, singer, guitar player. And the last three albums I've really focused, and on this one, I've really stayed the path.
I've got to give a lot of credit to my co-producer/co-writer, CJ Vanston, who really helped focus it. We sat from the first note to the last bit of mastering and saw the thing through together as a team. I can't just take all the credit myself. Not to mention, the rest of the great musicians and co-writers we have on some of the stuff. It was a team effort.
As a personal statement, I wrote a lot of the lyrics myself. I didn't want to just throw something out there, I wanted to dig deep. I'm refocused in my life. Clean mind, body, and soul. I practice a lot—I think I'm really treasuring my career and opportunities that have come because of it more now than ever in my life.
I realized, wow, life is rippin' by, and I want to make the most of it, and I want to make an artistic statement. I'm not trying to write a hit single. What the fuck is that anyway? Nobody knows what that is. I can't compete with Kesha. (Laughs.) You know, what the fuck? I can't even relate to some of this stuff.
I understand it's teenage music and all that, but I came old school. I'm trying to do something I can be proud of and something that I would like. You know, that's the whole point. You write music, you make a record and sit back and go, 'That's pretty good, I like that, I'm proud of that.'
And that's what we did on this. I can say that, without sounding egotistical. I spent over a year on and off working on this thing, so I had a lot of time to absorb it, fix, rewrite, re-do a vocal. I've been studying voice. I'm taking this real seriously. Much like it was starting all over again. And I didn't want to just write some fluff and throw it out there.
HRH: You can tell there's a great care.
SL: Thank you, I appreciate you saying that. I do care! Let's face it, I'm not a punk rock musician. I love big production; I like layered things. Beatles, Steely Dan, Elton John, Hendrix, Pink Floyd, Yes—these are records I grew up with and cherished—Genesis, all the '70s prog stuff. I grew up with these records, they touched me, so I carry a bit of that with me into my own music, the influences I wear on my sleeve. I tried to be as honest as I could about it, and I had a blast doing it.
HRH: You played on one of my favorite songs of all time: Chaka Khan's "I Feel For You."
SL: (Laughs.) Yeah, I've done a lot of stuff, man, I'm actually writing a book about my life in the studios.
HRH: When is that coming out?
SL: I've got a few things started, and I'm makin' the (book) deal now. It's going to take me a couple of years to get that out. How do I compile 2,000 records and 36 years into a couple of hundred pages, you know?
I have some help from a dear friend I went to high school with, Lonn Friend, who used to be the editor of Rip magazine. He wrote a good book himself.
HRH: Oh yeah, I used to read Rip all the time. Lonn wrote a pretty good book, too. ("Life on Planet Rock.")
SL: Yeah, we'll we've known each other since we were 14. So he's helping me focus this and make it a humorous, interesting read, as opposed to, "When I was seven I got my first guitar, blah, blah, blah," and you're nodding out after the first paragraph.
And I'm not going to write the sex/drugs tell all, because that story's already been told. I have a bigger story than that.
HRH: Any session highlights come to mind as far as fun?
SL: Oh, man, so many! I was a part of so many amazing sessions. Look at the Quincy Jones Michael Jackson Thriller stuff. I've worked on every one of The Eagles solo records. Those are two of the biggest selling artists of all time that I've been involved with. And then there's the Beatle guys—I've worked for Paul, George, and now Ringo. There's a huge amount of history just right there, and great stories to tell.
Without throwing anybody under the bus, I'm gonna talk about how we made the records, who did what, and what was interesting and put some anecdotes and humor into all of it.
HRH: And that's not even getting into Toto story.
SL: That's a whole separate entity. I mean, we went to high school together. There's a big myth that we were put together by some record company president, that we were all studio guys that got together.
Man, we all went to high school together and wanted to be studio musicians, and then Toto morphed out of that. Actually out of the Boz Scaggs Band.
I've known these guys since I was 15-years-old, that's 40 years of history right there. They're my best friends in the world. We've seen it all, been through the good, bad, and the ugly—death, divorce, disease, rebirth, kids. It's been a bizarre, but most awesome journey.
I have four kids—I've got a 27 and 25-year-old. Trevor, who actually worked on the record, is a great guitar player, singer, songwriter. And then I have two little ones, five and two, who are currently tearing my house apart right now. (Laughs.)
HRH: You talk about being clean in mind, body, and soul.
SL: Yeah, I'm going on four years, no smoking, no drinking, no idiocy. You know, 36 years on the road—36 years of Saturday nights will catch up with you. When you're 25, you're bullet proof. But you get over those hangovers. I just had one hangover too many. I said, 'Fuck this man, I'm done.' I don't go away anywhere, I don't go to meetings or anything. I just said, 'Enough.'
I was really miserable. I had a lot of huge sadness around me in my life, and I was kind of drowning, sadly. I hate to admit that, but it caught up with me in a negative way, and I stopped, that was all, simple as that.
My playing, my muse, my inspiration, and my health started to go; I looked like shit and wasn't playing to my potential. I didn't like myself, so I broke myself down to nothing and started over again, going on about four years now. I've never been better and I feel great.
HRH: That's excellent. How has everything improved, and specifically the music?
SL: Every way. Oh man, it was like the sun came back out. Hence, the term Transition. From the darkness into the light.
I learned a lot. I mean, it wasn't all bad. We had a blast. Some of it was outrageous fun! I'm not gonna be that guy. 'Oh, you should never do that.' There were some dark moments, but there were some really fun, hysterical live the rock' n roll life dream shit that was fun.
I didn't think I'd still be doing this 36 years later. At the time, our litmus thing was, The Beatles did this in eight years. Can you imagine what those guys did in eight years? It's staggering. And I never thought our records would still be played on the radio 35 years later. It's unbelievable to me, and it's a great honor!
There was no such thing as classic rock then, because it wasn't old enough to be called that. But now I'm in a classic rock band, and I've done a million records, and had some amazing experiences with all the legends and heroes from my childhood—and now they're my friends. It's surreal! I don't take it lightly, and I want to be worthy of any respect that I might get.
I used to be very down and negative on myself, I didn't like myself very much. That self-loathing is what drives certain people to do stupid things, like drink too much or take drugs.
It's a very strange life—you go from the highest highs to the lowest lows, to complete isolation in the hotel room, away from your family. Sometimes you try and chase that loneliness away in a negative way. It's a cliché, but I understand it, 'cause I've lived it.
HRH: I think that's how a lot of people like Jani Lane get in trouble—the singer from Warrant who passed away two years ago.
SL: He's not alone, the poor cat. Guys like that, they had it all for a minute, and then they lost it. I didn't know him, so I can't talk about him in that way, but I can generalize that some guys that get in a band and have some success and that's all they do—when that gets taken away from them, it messes with their heads, and everything starts to fall like a domino.
I was doing so much. I've never been at home waiting for the phone to ring, out of work. I've been very blessed that way. I've always kind of overbooked myself, as a matter of fact, and I've been very lucky to be able to do so many different things.
But that is a different set of problems, because I was never home, which cost me two marriages. I'm still friends with my exes. I didn't do anything horrible, but how can you be married to somebody who's never there.
And so, that caused me a great deal of emotional pain. But, you know, you get through these things. I am what I am and I've embraced that and I'm a much better person, and I make time for everybody.
HRH: What's a typical day in your life like?
SL: I get up really early, I pick the kids up from school, I do the normal dad stuff, and I schedule my life accordingly to my priorities. I'm a regular dad.
HRH: You're in Los Angeles?
SL: Yeah, I live in the Hollywood Hills, on the Valley side. But when you live in Hollywood, everyone's famous in Hollywood. My older kids went to school with Joe Perry's kids and Billy Idol's kids. I saw the singer in Buckcherry (Josh Todd) at my kid's school. We live in Hollywood, it's no big deal. My friends are actors and musicians, it just happens to work out that way.
HRH: Nice, how's the weather right now?
SL: Blue sky, puffy white clouds, nice, about 70 degrees out.
HRH: Good running weather.
SL: Yeah! I try to get out as much as I can. I hurt my right knee, so. But I get up and I do all my calisthenics, crunches, yoga stuff. I eat organically, sleep well, and try to stay the course.
I get out and do my three-mile hikes when I can, but lately the schedule's been a little hectic with the interviews and school and kids and rehearsals. Panic shopping, getting it together to leave for a month with Ringo and Toto, and it's been nutty.
HRH: Who else is in Ringo's band this time around?
SL: Todd Rundgren, Gregg Rolie from Santana/early Journey, Richard Page from Mr. Mister, Mark Rivera, who was with Peter Gabriel and Billy Joel, Foreigner, Greg Bissonette, Ringo, and me. Killer band, great fun and what a great set list.
I get to play so many parts and styles, from rockabilly stuff, to Santana and Toto stuff. Todd's stuff. Everybody supports each other—it's a great band, best bunch of guys.
Ringo's just everything you can imagine. He's just the greatest guy ever. A total inspiration as a human. If that's 72-years-old, I'm not scared about getting' old at all. It's all up to the individual, how you want to make your life, live it, take care of yourself, to groove like that.
HRH: Well, I'm gonna look you up and see if I can catch you in the New York area.
SL: Well, I don't know if we're gonna be out there with Ringo, but I know we're gonna be out there with Toto, and me solo as well, so please look me up. I'm really excited about playing the stuff live.
I got seven days off between the Ringo tour and my tour, and then I'm back out for two months in Europe. (Laughs.) I have an intense life, but it's a good one.
HRH: Tell me about the vocals. You said you've been working on your voice.
SL: Yeah, I got this really great voice teacher, Gary Catona, who's really helped a lot. That's the sort of thing you just gotta do—you gotta stay on it. And I'm very excited about that, actually. I like working on my craft. It means a lot to me.
Vocals are really hard. It's not like a fret on a guitar, a tuning peg, you know? It's a very fragile instrument. And I try to write shit in the right key now, so I can sing it. But still, it's a matter of control, and not smoking and drinking, and taking care of myself and resting has improved it a great deal. I think you might be able to hear that. I worked hard on those vocals, because that sells the song.
I'm not just a guy who does shred guitar. There's guys that do that much better than me. So, I try to play to my strengths. And judging by the reaction and the reviews, "the best of my career," I'm knocked out. People are buying this stuff—preorders are crazy.
I look up at the sky and say, 'Thank you Lord, I really appreciate this opportunity, man.' This is really going well. And they (Mascot Records) re-upped me for another record, so the next five years of my life are pretty sorted out. For an ageing musician like myself, this is good news.
HRH: I loved your last two solo albums, but there's something more cohesive about the new one.. I don't know if it's more relaxed, or more confident, or the groove, but there's something special about the new one.
SL: Thank you, man, I really appreciate that. You're very kind. Well, I'm trying man, I really am. I didn't want to go off the rafters. The last one got a really great reaction, even though I was really depressed when I wrote it. I saw that there was a style musically that CJ and I had created together, a sound if you will, that I wanted to continue with.
People have seemed to react to it in a positive way. And I think I found my voice, as far as stylistically, as a solo artist. Sure, there's a little Toto influence. That's part of my life. We still go out and play in the summers. This summer's our 35th anniversary.
But I wrote and sang and co-produced those records, too. So if there's any similarity, I can't really help that. But, I have a different sparring partner in CJ, so it brings a little different thing out.
HRH: I'm a big Def Leppard fan, and I was on the treadmill listening to your album front to back, and I knew I heard Phil Collen.
SL: Phil's a great friend. He just pops in. He sang on this one, and the last record, too. Rick Allen was my next door neighbor for 10 years. They're good friends. I'm a big fan. Incredible band, and the nicest guys you'd ever want to meet in all the world.
HRH: That's good to know.
SL: They really are great cats, man, and it was very nice of Phil to step in. He's working with CJ—wrote something on the last Def Leppard record—they're buds. We're all friends. I just ask my friends to come sit in, and everybody showed up. I'd say, 'Hey, do something on the record.' So they did, so I owe them a favor.
HRH: Good deal. Is there anything you want to say to your fans, and the Hardrock Haven readers around the world?
SL: I just want to say thank you very much for the support, and I hope you enjoy the new record. We worked hard on it, and I appreciate the good vibe, and come out and see me play live!
HRH: With Ringo, or solo, or with Toto. Or all of the above! (Laughs.)
SL: You can't escape me, I'm like herpes. I will return, every once in a while, you get a Lukather outbreak. (Laughs.)
HRH: Steve, thanks again. Can I call you Luke now?
SL: Yes, please do, please do.
HRH: Thank you very much, this has been a pleasure, big fan.
SL: Thanks, Alex. I appreciate it.
Watch the trailer for Transition:
http://www.youtube.com/watch?v=rG7xPJGfzwA
Order Transition on the official Steve Lukather website:
http://www.stevelukather.net/Transition.aspx
Special thanks to Steve Karas for setting up this interview.
Photos by Rob Shanahan.

by John Kindred
- Publisher –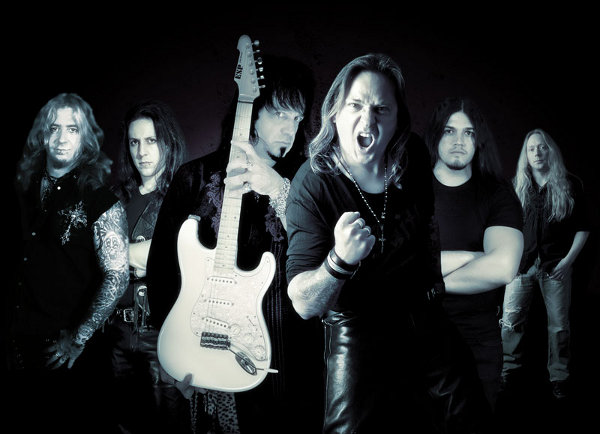 After his departure from Killing Machine vocalist Csaba Zvekan set out to create a new band that delivered heavy metal with progressive and Neo-classical influences. His new band Raven Lord fits the bill for his vision. Joining Zvekan is the shred-god Joe Stump on their debut studio album Descent to the Underworld which is a full-on metal assault. In this interview Zvekan talks with Hardrock Haven about his music career, previous bands, his journey to the USA and Raven Lord …
Hardrock Haven: Hello Csaba. Thanks for taking the time to talk with Hardrock Haven.
Csaba Zvekan: Well first of all thank you for the interest in Raven Lord and this fantastic opportunity to be in your online magazine Hardrock Haven. Also I would like to thank for the great CD review you guys have given us.
Hardrock Haven: Before we talk about your new band Raven Lord, let's dig into your history a bit. Your last band was Killing Machine but your career goes back a lot further. So when did becoming a lead singer in a band become your passion?
Csaba Zvekan: In very early years my parents had me tutored in the Music Academy on rather classical instruments. When I was a teenager I listened to a lot of Hard and Heavy bands like Led Zeppelin, AC/DC, Black Sabbath, Judas Priest and many other bands.
It was becoming clear to me that I'm the singer in the band when we jammed in a three-piece formation me playing guitar and singing, drums and bass. The drummer then pointed out to me to rather focus on the vocals and we would get another member who would play the guitar instead. From then on I kind of knew that this was becoming my main instrument.
Hardrock Haven: You were born in Subotica, Serbia (formerly Yugoslavia) and lived in Switzerland … what motivated you to move to the U.S. in the '90s?
Csaba Zvekan: Yes, my name is Csaba and that is Hungarian it's pronounced "Chawbaw". My last name Zvekan is Croatian and I was born as a Hungarian minority in the old Yugoslavia now Serbia. My musically oriented family moved to Switzerland when I was four years old. I grew up and went to school in Basel, Switzerland. The motivation there was the American dream and that is to play and work with these fantastic artists that all seemed to live in Los Angeles at that time. So one day when I turned 20 years of age I was like "Mother, I'm going to Hollywood, California." She wasn't nearly as happy and excited, as I was back then (laughs). Shortly after that I moved to Los Angeles to further my career as a sound engineering and musician by singing in many of them Hollywood based local bands.
Hardrock Haven: Including Killing Machine, can you tell me about the other bands you been or worked with?
Csaba Zvekan: Around the time when I was 18 years old I joined a local band called EMERGENCY on which we later got signed to a German label called Big MaXX. After that experience I found my own band called SARDONYX and with some distribution contacts I established my own record label called Dream Records. With SARDONYX– Open Gates was my second album released in Europe. Shortly after that I moved to Los Angeles to further my career as a sound engineering and sang in many Hollywood based local bands. On a few attempts Peter Scheithauer and me were trying to record albums together that always resulted him changing the vocals by a different singer. We recorded some demo tapes for the STREAM album and had Dave Spitz from Black Sabbath playing bass and Stet Howland from W.A.S.P., etc. on drums. So around 2009 when Peter Scheithauer asked me to sing and write songs for Killing Machine I said yes again. When all was said and done we had a full album written and we were ready to play shows that following summer. We opened up for AC/DC 's Black Ice Tour 2010 in Nice and Paris, France followed by Graspop Metal Meeting, Wacken and Foire aux Vins. Playing alongside with Soulfly, Europe, Saxon, Alice Cooper and many more.
Hardrock Haven: Your new band Raven Lord started in 2010. How long did it take to put together the current lineup?
Csaba Zvekan: It was around March 2011.This is when I met Axel Wiesenauer from ROCK 'N GROWL promotion. We shortly ended up working together and decided on making the band called Raven Lord. The band name came up through brainstorming and to differentiate things a bit the word was split up purposely to make it kind of unique.
I meet a couple of Swedish guys from Stockholm Tobias and Peter who wanted to make a band. Tobias introduced me then to Stefan a very talented guitar player and we started working with him. Jamie Mallender was working with ex-Black Sabbath singer Tony Martin before and when my manager proposed him to me. I was like "Hell yeah." JAMIE is a mufti-instrumentalist and has his own music school in Sheffield, UK . He has been with Raven Lord from the very beginning and contributes a lot to our common work. Larry Paterson our drummer was found through an online audition. However Larry is also involved and busy with another band, writing a book and making a documentary. So now that we have all these shows confirmed this summer but the dates were clashing left and right. So LARRY is taking some time out with RAVEN LORD and Rich Smith from Powerquest will be our new drummer. George Karafotis is a shredder and talented guitarist from Greece. George handles rhythm guitars and brings cool riffs to the RAVEN LORD table. Alessandro Duo now comes from Italy and fills the slot for the keyboardist. Also he will be our future recording and live player. And last but not least the mighty "shred-lord" Joe Stump who recently joined up with Raven Lord after the record was already done. We all are looking forward for his shredding techniques in the live situation. His interpretation of the songs and most of it the future Raven Lord songs are going to be "off the Richter."
It wasn't always easy to find the right band member. Especially in the beginning it was hard to find the right guys. Now that Raven Lord has a record out and our concept shows a lot of interest it would be much easier to find them players.

Hardrock Haven: Tell us about the process of writing, record and releasing the new debut album Descent to the Underworld.
Csaba Zvekan: The whole concept of the band was to have a hand picked, international band. So, we knew from the start that we would not be able to meet up to record, unless one of us fell into a well of gold coins! The whole thing was done through the Internet. Someone would upload an idea and everyone else would then work on it and change it and we quite easily and painlessly developed our ideas into song structures. I then would edit things, as I needed them, to work around the lyrics and melodies. There are obvious drawbacks to working this way but a great many pluses. We are not 18 year old's in a garage with no life but the band, time is precious to all of us. Working this way, each person can develop the songs in their own way and in their own time.
Hardrock Haven: You recently added Joe Stump to the band. Were you looking to add a second guitarist the whole time? And does George Karafotis and Joe share the spotlight as soloist in the band?
Csaba Zvekan: Raven Lord is a six-piece band. That means two guitars one lead and one rhythm. Joe Stump has worked hard for the last decades in his career as a "shred-master." Making a name as a solo artist as well as in other great bands. George Karafotis is our youngest member and adds to the overall beef in the guitar section. Eventually he might help out with some second harmonies. How ever I prefer to have a continued rhythm guitar played during the leads. The riffs are too important to be missed even during solos. One thing is for sure, Joe Stump and George Karafotis both players will stand in the spotlight.
Hardrock Haven: Did the Neo-classical edge exist before Joe joined the group?
Csaba Zvekan: Yes, and it was intentional. I was looking for this type of guitars with arpeggios and very Neo-classical play. Stefan Lindholm did a fantastic job there. Now that we have JOE STUMP in the band things will go into the next level as now there will be some serious shredding damage in the future.
Hardrock Haven: Now that the album is done and released how has the response been to the music?
Csaba Zvekan: It is incredible and I never though to make such an impact with this record. I mean I'm giving an interview everyday sometimes even two. CD-reviews are all very high notes while RAVEN LORD is getting more and more momentum in the download charts. We even peaked in France and UK in their amazon download charts. Press, fans and critics love the CD. It's an amazing feeling! So that's a good thing.
Hardrock Haven: What song or songs on the album are your personal favorites?
Csaba Zvekan: Let me explain what the songs are about first:
OK, so "The Rebel" is about us standing up against the tyrants of this World. I sing that "we all are the rebels" and should "take things back in our hands." We should think about our future and find ways how to better this world without violence and oppression. Basically an equal society where there is no suffering for humans, animals or nature.
"Let the show go on" is the image or the final scene for the Walt Disney movie "Pirates of the Caribbean" (laughs). Believe it or not I watched and liked that kids movie a lot so it ended up in this song. How ever there is also a little mix of anger and fiction in the whole song.
Now "Promised Land" is a song about near death experience and fits very well in the over all theme for "Descent to the Underworld." It is about slowly fading out from this world but eventually "I'm back from the Afterlife and back to the Promised Land."
All right "Black Friar" is pure mythological and fictional. It explains the RAVEN LORD flying down to the gates of the Underworld knocking on them doors entering and bringing messages back from the dead. "As he is the master of life and death."
Definitely one of the main and favorite topics for this album.
I am also having fun with "World out of steel" it's the city of metal where everything is in shiny armour. The song about the little city of "Wacken" and it's yearly festival with all them metal fans and metal gods out there \m/.
"Revelation" is my personal favorite as it is intense. It tells the story about the "eternal flames of fire" or hell, the apocalypse as it is described from the book of revelation. Many classical composers like Mozart, Bach, Beethoven, Grieg have written about this subject. Must be a very popular theme as it is for me too. In a live situation I prefer songs like "Black Friar," "Metal Knights" and "World out of steel." I can imagine it to be a great song for the crowd as they can sing along with shouts and choruses.
Hardrock Haven: Does Raven Lord plan to tour? Will you attempt to bring the band to the U.S.?
Csaba Zvekan: Yes, we are planning to play as many shows as possible. We'll do some summer shows in Europe first as the way I call it. This includes festivals, open airs, clubs and what ever we can get our hands on. Our first big confirmed show is the R-MINE METALFEST 2013.You can expect a very well organized METALFEST by R-MINE production. Also a well selected program by the promoter. With great detail and headliners like Symphony X, Rhapsody of Fire and Hell.
As far as RAVEN LORD we're playing Saturday 22nd June 2013 on the main stage. And everybody who goes out there to see us play can expect to be yelled at on top my lounge, shredded away from Joe Stump's leads and George Karafotis's riffs. Held in the grip by the rhythm section Rich Smith and Jamie Mallender. The only breaks you get to cool off are from our keyboarder Allessandro Duo or the short breaks between the songs.
As far as US shows goes. This is more realistically to happen in 2014.
Hardrock Haven: Thanks again for answering my questions. Is there anything I didn't ask that you might want to tell our readers?
Csaba Zvekan: I would like to thank again to Hardrock Haven for the CD review and the opportunity for this interview. Then I'd like to thank to our friends, fans and supporters and the readers of Hardrock Haven. Come and see us play one day! Thank you.
Hardrock Haven: We wish all the best. Take care.
Visist Raven Lord's official website: www.raven-lord.com
Facebook: www.facebook.com/ravenlordmusic
Read Hardrock Haven's CD review of Raven Lord's Descent to the Underworld here.
by Chris A.
- Senior Photojournalist –
Video Interview with the Atomic Clock: Gene Hoglan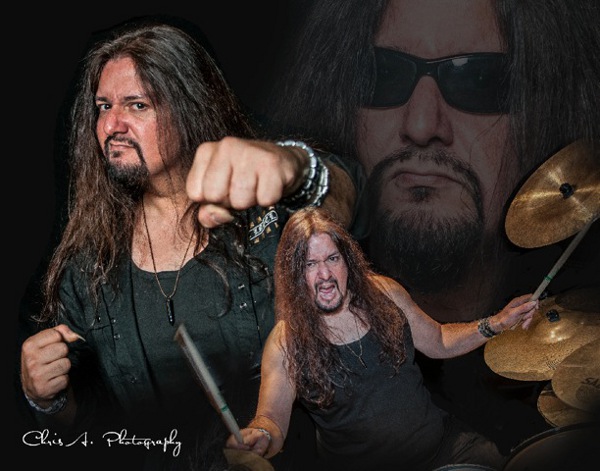 In the world of heavy metal drumming, Gene Hoglan is a legend. Known as "The Atomic Clock," Gene's been in about every metal band on the planet. Recently he's found a home with thrash kings Testament. Friendly, accommodating and really into rock n' roll, Gene Hoglan talks about his role in the recording of Testament's newest offering, Dark Roots of Earth, technology and its effect on drumming, and an assortment of percussion wisdom by heavy metals most acclaimed drummer.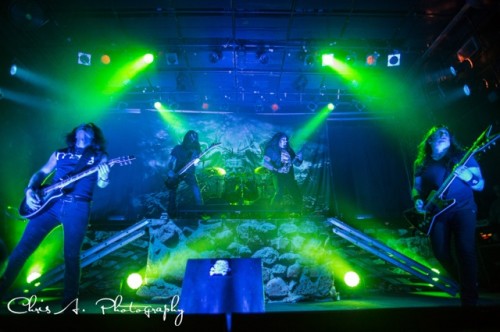 Click the image to see Testament's concert photo gallery.
Learn more about Gene Hoglan here.
Testament Official Website
[Photo appears courtesy of Chris A. Photography]
by Deb Rao
- Senior Columnist –
Biff Byford of Saxon checks in with Hardrock Haven to discuss the upcoming March release of Sacrifice. After 30 years, Saxon remains one of the heavy metal thunder weights of the British metal invasion. Sacrifice unleashes the powerful fury of the early Saxon heavy thunder days with a modern twist.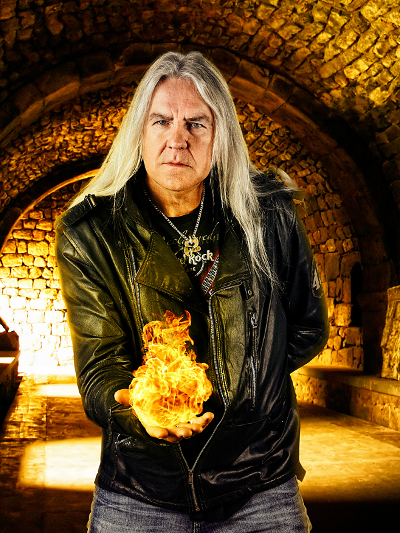 HRH: Biff, welcome to Hardrock Haven. Tell us about the writing process for Sacrifice.
Biff: It is a bit heavier than the last album.
HRH: Yes, you are going back to the early '80s sound on this album. I think it has that signature heavy metal thrash. Do you agree?
Biff: Some of the songs do. It has that modern niche as well. Some of the songs are really thrash metal. I suppose this is sort of the stuff that Metallica likes so much.
HRH: Over how long a time period did it take for you to create the album?
Biff: About four months from writing to finishing recording.
HRH: How did you come up with the title of the album Sacrifice?
Biff: I went to Mexico and they have a million ruins. I got quite a few subjects for a metal album.
HRH: After 30 years the band is still going strong. I want to congratulate you. What inspires you to keep writing great music?
Biff: We have a lot of passion for the album. We have a lot of fans around the world. We just love to play and write music and to go out and play in front of a live audience.
HRH: How do you feel to be part of the British metal invasion that has inspired so many new bands too?
Biff: Great really. For the Iron Maiden, Judas Priest, Motorhead, we have influenced quite a quite of lot of rock bands.
HRH: Do you attribute to Saxon's longevity?
Biff: I think songs. And we have still survived really. We never stopped and got back together later on. We have always been there.
HRH: Right. Kind of like The Beatles. From day one. I agree. I think that is the secret to success to stay together and never stop writing.
HRH: After all these years, what is your favorite thing about performing?
Biff: Just playing the songs live really. The atmosphere especially when the place is full and everybody is singing your song. It makes you feel it.
HRH: As a singer your voice is still as strong as day one. What so you do to keep it in shape?
Biff: Nothing really just take a deep breath and sing!
HRH: Saxon is getting ready to set sail on the High seas in the U.S. on the Monsters of Rock Cruise on March 16th. Are you excited?
Biff: Yes, that is the first shows in March. Then we go into South America and back to the U.K and then to Europe and hope to get to some North American shows. You are in Las Vegas right?
HRH: Yes. I hope you return here. I know the band played here at the Rio last year.
Biff: Yes, we enjoyed that. I was pretty surprised. Good turnout.
HRH: Do you have a favorite city to perform?
Biff: I don't think we have any favorite ones. The major countries and cities are always pretty special like London and New York, Rome, and Paris. They are always a bit special because you get people traveling from all over the world. We have a great time anywhere.
HRH: Do you enjoy playing the outdoor festivals more than the clubs?
Biff: We headline big festivals in Europe. It is different playing in front of 90,000 people. They are both great. Playing in a theater can be a different experience.
HRH: Do you have any favorite songs off of the new album?
Biff: I like "Made In Belfast." It's got a bit of everything. It has a Celtic beginning with a mandolin and then goes into a bone crushing metal riff. I think it is fairly melodic in the middle. It is a quite interesting song.
HRH: Is there anything else that you would like to say about Sacrifice?
Biff: It is a great album and we worked hard on it. It is getting 5 stars reviews around the world. We will keep our fingers crossed we can sell a few copies.
Online: www.facebook.com/saxon
Read Hardrock Haven's Saxon Sacrifice CD review here.
by Deb Rao
- Senior Columnist –
Hardrock Haven is proud to present an exclusive interview with drummer Phil Varone of Saigon Kick regarding the reunion of Saigon Kick. Phil recently relocated to Las Vegas. That's where Hardrock Haven's Deb Rao caught up with. The first re-union show is slated to take place March 22 in St. Petersburg, Florida.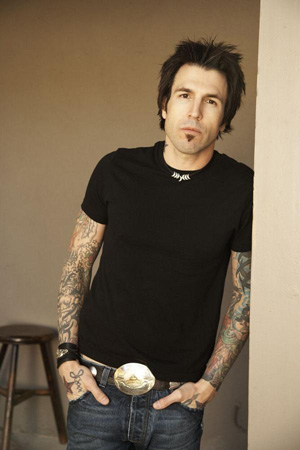 HRH: Phil, welcome to Hardrock Haven. We are all excited about the reunion slated to take place on March 22 in St. Petersburg, FL. Tell us how it all transpired.
Phil: Well, we have been talking about this for three years now. Believe it or not. We haven't played together since 1993. So it has been 20 years now. The last couple of years we have been watching all the bands get back together. I kind of made a call and talked to Matt and Matt called Jason. So we started to talk. It took a little bit to get everything in order. We talked it out and got to know each other again. So here we are. We're pretty excited.
HRH: How have the rehearsals been going?
Phil: We did the first batch of rehearsals back in November. We had such a good time. We knew then that we could definitely do it. Once we got together the music kind of spoke for itself. We kind of remembered why we were a band in the first place. That was a big help. We start rehearsals again March 11 in South Florida that is where the band is from. So we start up then and get ready to kick the tour off.
HRH: I remembering see the band back in Boston when you opened for Extreme at the Orpheum.
Phil: I remember that show. It was a lot of fun.
HRH: I read in an interview with Jason, that he didn't want to get back together unless the band could take it a step higher. Do you agree?
Phil: I agree with him. After 20 years now we have the experience to back those words up. You got to remember back in 1988 we were kids. We got signed at 23 years old. We didn't know a thing about the industry. 20 years later we are older. I would say wiser for most of us. We are definitely better players. It is very important to us. This isn't about money. It is about putting the band back together, having fun, and being better than we ever were.
HRH: Being apart for 20 years, you have done some different gigs. You were in Skid Row for a while. How has this made the band evolve? You have had different projects plus the other members have been doing other things. This really going to be the re-birth of the band.
Phil: Yes, I agree. Kind of going back to what I said before all of playing all of the experience is under our belt. Walking into rehearsals we are kind of seasoned pros if you will call us that. We have both done a lot of great things. I have played with Skid Row and Vince Neil. I had such a great time. It really kind of turns you into musicians that you are today. Without playing together for 20 years, rehearsals were like WOW! OMG we can play. It sounds really good.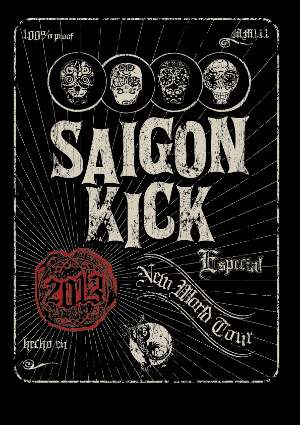 HRH: Saigon Kick has other shows March 29th in Las Vegas, March 30th at the Viper Room in LA, April 11 in NY, and March 22 in St. Petersburg, and March 23 in Ft. Lauderdale.
HRH: If everything goes well, do you think you will go into the studio to record?
Phil: It's funny because a lot of people have asked that. All of us are like we were see what happens. I can definitely see the band getting into the studio and at some point recording. But for now, I think we will get to know each other again playing and do different shows. It is almost like getting back with your ex and learning about them again. Once that happens, I think it will be only natural that we will start writing songs.
HRH: They say what comes around goes around and there is a definite resurgence in the Vegas area for '80s bands. Plus I think you will find a whole new generation of fans at your shows.
HRH: Without a doubt. I saw that happening back in Skid Row. The fans are amazing. I have a daughter, she is 21. So if you think about it, if I brought to her a Poison show, it would be that generation showing her the next generation. That happens a lot for us. I love when we have 19-year-old fans that listen to Linkin Park and still think we are cool. It goes full circle. With the social media the sky is the limit. It is exciting. When we do write something good it will be something wonderful to have a hit 20 years later.
HRH: We wish you the best of luck. We will be out March 29th at Vampd in Las Vegas.
Online: www.facebook.com/saigonkickofficial
For tour dates visit www.saigonkick.com
by Steve Patrick
- Columnist –
Video Interview Interview with Liv Jagrell & Dave Sundberg of Sister Sin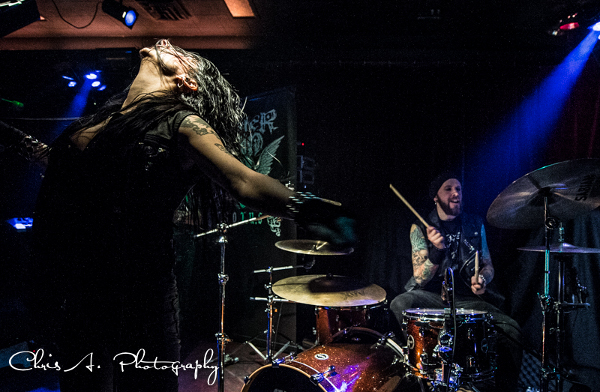 Swedish "old-school metal" disciples Sister Sin recently rolled through Columbus, OH as part of their tour supporting German vocal legend Doro Pesch. Sister Sin is currently touring to support their most recent album Now and Forever, released in 2012 on Victory Records.
Front-woman Liv Jagrell and drummer Dave Sundberg were kind enough to sit down and talk with Hardrock Haven about the tour with Doro, their latest record, the possibility of a live DVD, and Jagrell's enthusiastic female fans:
Sister Sin:
Liv Jagrell
Jimmy Hiltula
Strandh
Dave Sundberg
For more information, please visit: http://www.sistersin.com/
***Video was edited by Justin DelPrince***
Sister Sin Concert Photo Gallery
[Photos provide by Chris A. Photography]
by Deb Rao
- Senior Columnist –
Hardrock Haven recently caught up with Bobby "Blitz" Ellsworth in Las Vegas. In this exclusive interview Bobby discusses the Dark Roots of Thrash Tour, Overkill's latest release the Electric Age and for the first time discusses Hurricane Sandy and why he is proud to hail from Jersey.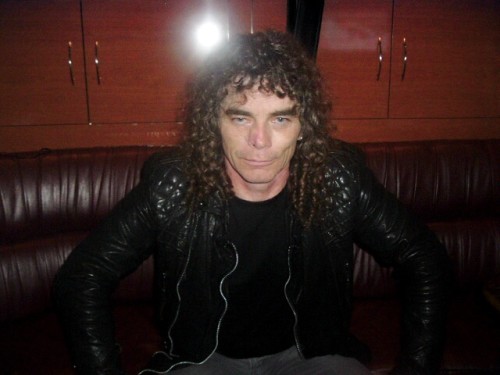 HRH: Bobby, welcome to downtown Las Vegas.
Bobby: It's the place to be I hear. This is Bobby Blitz from Overkill.
HRH: Well its Super bowl Sunday. Did you watch the Super bowl? Did you want the Ravens or the 49ers to win?
Bobby: These are probably two of the teams I hate the most. I am not a big Ray Lewis guy. I am a New York Giants fan. The 49ers even through the '80s and '90s were a pain and in the ass for The Giants. I have always been an anti-49 guy and anti-Raven guy.
HRH: I am totally anti-Raven because they beat my beloved Patriots.
Bobby: The cool thing was the game was way intense. I did watch and watched how it turned around.
HRH: Did you like the halftime with Beyonce?
Bobby: She got nice thighs. (Laughter)
HRH: And she sang this time no lip-synching. Let's begin by discussing the tour. You are currently on the Dark Roots of Thrash Tour with Testament. You are on a one off tonight in Vegas with just Overkill playing. Tell us how the tour has been going so far?
Bobby: Well this is the fifth night for us. Everything has been good. We had two sell outs. LA was sold out. It was fantastic. It is a good package. I think that is what people appreciate about it. This time in music history is that people put packages together. It is really more about the value. That is one of the reasons we took this tour. Quite simply these guys offered us a tour. They didn't just say you be will just support. The came our way with a bunch of stage aid and let us put on an Overkill show. That is why we took it. The Testament record is good. It is a really good record. Officially we are partial to ours but two older bands coming out with two really great releases and touring together.
HRH: Are you finding a whole new generation of fans this time around? After 30 years in the business you guys started it all.
Bobby: You do see younger kids coming. I think that is attributed to the fact that there are younger bands playing this kind of thrash. We are a thrash band and we have been pigeon holed that way. We work within certain perimeters. The perimeters are really are own limitations. I think the idea is when we are pigeon holed as a thrash band, there seems to be younger bands coming out playing thrash. Getting record deals, and making noise. But younger fans actually dig hearing the older stuff. They say where did this come from. Where did Warbringer come from? Actually they were cut from Anthrax, or Exodus, or Testament or Overkill. Those kinds of influences. It is a unique experience for a younger fan to be able to see where the base of the new music is.
HRH: And you can sing. You have an awesome voice that is also melodic sometimes. It is not the typical rah rah you hear from thrash music. What was goal when you went in to the studio to record Electric Age? How does it differ from Ironbound?
HRH: Someone once said that I stuck a knife through an electrical socket and I screamed in key. Our philosophies are truly based on if it not broken doesn't try to fix it. It is really about being comfortable. One of the things that I noticed in the Ironbound record was that we broke up pieces of the Ironbound record. It was the only time since 1984 that we didn't have a deal inked when we started recording. Now there were people negotiating with us when we were recording but we decided to do the record anyway and see what happens. We didn't have to deliver or have them hear the record; we inked the deal prior to it being done. But in the meantime, it gave us the luxury of time. What I mean by that was let's not be in a hurry with this. We're doing it in D.D.'s studio so it's in the family. We weren't booking one or two months in the studio. What we were doing was putting together the best piece of shit we can. In the interim when we finished drum tracks we would go on the road. We did some festivals, long weekends in the States. Then we are back in the studio. Then we are back out on the road again for the vocals. I really think that one of the elements that worked for us was that the last two records between start to finish there was shows. I'm in Greece one night and three days later I'm back in Jersey cutting vocals. If a person tries to fake energy, you can tell it is fake. It is the real deal, and you are still hopped up from the plane flight and the last show, it's the real deal. I think for the last two records this has been the X Factor for us. We didn't plan it this way it just worked out very well for us.
HRH: You also got to play in London during the Olympics in 2012.
Bobby: It wasn't Olympic sponsored it was Converse sponsored. The Olympics didn't invite us but Converse was doing a big promotion at the Olympics and they wanted to have a different night every night of music at this old famous club called the 100 Club. You walk in the 100 Club and you see pictures of Jagger and Richards standing onstage with Eric Clapton and Paul McCartney. That is how deep its history goes. The idea was anybody who was anybody in the English society all the way up to the Sex Pistols, The Damned; they all played the 100 Club. But every night they did a different genre. They would do R and B. They did the UK Subs for punk night and they did Overkill for the heavy metal night. Converse actually invited us. It was really cool. Because I got free sneakers. I went back in the room and said can I grab a pair for my wife. They treated us great. They gave away the tickets to the people through a lottery. So it wasn't like you had to buy the show. They said if Overkill will come and represent Converse, we would represent Overkill. The club is actually small; it can't fit more than 350 people. The highlight for me was that we had the Russian swim team in there. (Laughter) They are all 6 foot tall with shoulders like this and wearing red banging around while we were playing. It was a really cool show and really cool to be involved in something happening in London during the Olympics. That is how that show happened and that is what that show is about.
HRH: Would you say that Electric Age represents the rebirth of the band? You have some different rhythms going on there.
Bobby: One of the things I feel about the Electric Age is that it shows a lot of dimensions. We're not multi-dimensional. We're probably three-dimensional. We're speed, we're groove and we are aggressive. But that groove can slow down sometimes. The Electric Age, I think that is more two-dimensional. It is more of a speed aggressive time record. I really don't think that there are many elements on this record that slow down. I think something about The Electric Age that is special is that make no mistake about it is here to take no prisoners. We're Ironbound, the record prior showed more dimensions of us. Not that one is better than the other, but I think that what we got with The Electric Age is great sounding sonic aggressive approach. Where with Ironbound we had a multi-faceted approach.
HRH: Is there any uncharted territory that you would like to conquer with thirty years in the business?
Bobby: Vegas: (Laughter)
HRH: I know I was saying my prayers I hope Overkill plays here. I miss The Palladium days.
Bobby: I haven't been here in a while. I know this interview goes everywhere not just Vegas. We are looking forward this year to doing our first Chinese shows. Indonesia and Malaga shows. So the Asian theater is open to this stuff. That is something to make your heart beat a little bit faster. Playing in Communist China for a guy that has done this for 30 years is a killer horizon to look at. That is another feather in your cap that feels good.
HRH: Are you going back to Europe this summer?
Bobby: We are doing a Scandinavian headline. It is going to be Finland, Denmark, Norway, and Sweden. We're dropping into Germany for a show. Iceland show added to it. We are going to Europe about six weeks after this stops. In the middle of April, we will be over there. I think we are up to eight European Festivals. I like to have a good time and festivals are such a quick pop. You play to all these people and it is a big punch. It is like summer vacation.
HRH: Do you feel that your Jersey roots shine on this record?
Bobby: There is a song on this record "Old Wounds New Scars." The lyrics are "I have a lot of mouth for a Jersey white boy. (Laughter) That was actually pre hurricane Sandy.
HRH: How is everything going down in Jersey after the hurricane?
Bobby: It's slow. People have a big heart there. Obviously, we felt the presence of Nevada. And other parts of the world. It is a slow rebuild. People need politics to stay organized but it is the most disorganized thing. We have 1/3 of the Northeast population in that Northeast corridor. Which means that we have 1/3 the revenue. So let's get down there and get those businesses going again. Sign those bills and get those bills through. This is about get us back to work. It's slow but at the same time there is a great spirit. My favorite story is I was kid that grew up in Jersey. My Dad still has beach property on the ocean. You sit on my Dad's deck you are looking at the waves crashing. We weathered it ok. About 2 miles south of us is Seaside Heights. It is a huge attraction. There is a boardwalk, amusement park. On the piers there is the amusement park. On the north pier it was destroyed. The roller coaster fell into the ocean. That is the roller coaster we all rode as kids. Here's what made me proud. So it is sitting in the ocean and about six weeks ago some bastard in a wet suit and an American flag swam out there and climbed the whole thing and planted the American flag on top and waited for the cops. I said to myself," Now that is why I am proud of where I live." To the cops credit when he did finally climb down and when they arrested him and the cops all applauded. I thought it was a great statement to get this rolling. We don't have all day here. There was loss of life but minimal. It wasn't something that we have to bow our head every time we talk about it. We are really talking about people lives and possessions. And a family of four whose has lost everything. There are a lot of hard working people in that state. They provide a lot of taxes to that state and a lot of people. They want to work and they should have the right to do that with the help of the government. There are a lot of people with a lot of tenacity. You come from the Northeast you how it is.
HRH: Thank you Bobby for this extensive interview.
Bobby: Always fun Debby.
Online: www.facebook.com.overkillwreckingcrew
by Cameron Edney
- Guest Columnist –
After Two Decades of Ghoulish Success Wednesday 13 Presents The Dixie Dead
Ghouls and fiends it's time to once again scream as shock rocker Wednesday 13 gears up to unleash The Dixie Dead unto the world. Hailing from North Carolina, Wednesday 13 has had quite an extraordinary career now spanning twenty years! Inspired by shock rockers such as Alice Cooper and Kiss and with a love for Horror it was only a matter of time before a young adolescent Joseph Poole would transform into the charismatic ghoul-man we see before us today! By the late nineties things really started happening for Poole who had by this time formed Horror themed punk rockers Frankenstein Drag Queens From Planet 13, and with a name like that you knew you were in for some seriously tongue in cheek tunes!
In 2002 Poole went on to join Murderdolls working along-side Slipknot's Joey Jordison. The dynamic duo has gone on to release three incredible albums and countless headline tours around the world. Whilst Murderdolls were on hiatus Wednesday 13 was born and in 2005 we saw the release of Transylvania 90210. With legions of adoring fans already due to the brilliant work Poole had done in the past, he was now winning over even more fans around the world with the first Wednesday 13 release. Spawning the singles "Bad Things" and "I walked with a Zombie" cemented a path for continued success under the Wednesday 13 banner.
Fast forward to 2013 and Wednesday 13 is ready to the fifth and most diverse studio album yet. The Dixie Dead which is due to be released on February 22nd is an album that will appeal to fans of all Poole's past work from Wednesday 13 to Murderdolls and Frankenstein Drag Queens. Just like albums past song-titles and lyrics are horror, the music fast Punk infused Rock, heavy and overall highly enjoyable!
I had the pleasure of catching up with the ghoulish Wednesday 13 last week to talk about the brand new album, some of the bigger differences recording The Dixie Dead compared to previous album and touring Australia. This is what he had to say…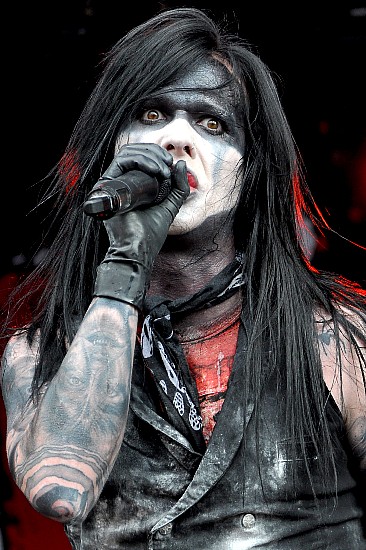 Hardrock Haven: Wednesday it's great to be speaking with you mate, i am a massive fan of your work! Before we even talk about the great new album… congratulations on twenty years of making ghoulish horror themed music. In this day and age most artists are lucky to last one album and touring cycle so it's certainly an achievement to have lasted so long. Why do you think you've been able to last so long in an industry that spits no many out the revolving door?
Wednesday: I've been making music for a long time; I was fifteen when I started playing music in venues. For me… once I had my foot in the door, I had a taste for doing this; and I am working for myself, I'm not going to a job everyday and punching in for the man so to speak. It was my goal as a kid to make it one day doing what I wanted to do and I've definitely made it to where I want to be, and I want to keep getting better and better. In ten years when people look back and think of the Horror Music genre I hope my name comes as easily as Alice Cooper and Rob Zombie.
Hardrock Haven: The new album is called 'The Dixie Dead' and it's due to be released on Feb 22, and it's fantastic! As an artist in those days leading up to releasing something new, I'm sure you go through all the different scenarios in your head… will they love it, hate it, buy it, download it illegally. How do you deal with the anxieties and excitement surrounding the lead up to releasing new material, is it something that takes up a lot of your time?
Wednesday: I'm my biggest critic! When you're a person like me who constantly thinks like that…I'm always thinking about what people will think of the record! As soon as it comes out I will be online all day reading what people say because I care and I want to hear it. To me having a review in a big magazine that praises you, that's awesome, but to have a random guy tell you that you suck, you read that and go… "Well who the fuck are you?" It doesn't really matter. You want to hear from your fans, the fans that have all of your records and regard this as the best one, those are the reviews that count! I can't wait til it's out, most times when a band releases a recording it's been around for a few months, I've been listening to this album over and over since August, I can't wait for people to hear it! The record is nothing like the last I don't think; I think it's a good combination of everything I've done from Wednesday to Murderdolls and Drag Queens, it's across the board.
Hardrock Haven: On all past Wednesday 13 albums you have done most if not all the work in the studio yourself. This time around you handled the vocals and keyboards only, giving the guys a little more freedom in the studio, why did you decide the different approach for album five?
Wednesday: It's a big thing that you really tell with this album, it's organic you can hear everyone playing, not just one guy playing all the instruments! I didn't really see any point, I demoed the songs and I write them prior to going to into the studio. I would write a riff and give it to Roman [Surman] or Jack [Tankersley] and they would add there thing to it. For the past two years I've just been the front-man; I still love playing guitars, I still love playing music but I don't have any need to play guitars and Roman's definitely way more talented a guitarist than I am.
Hardrock Haven: With every studio experience an artist will walk away having learned something new or adapting something to their style musically and or outlook on the process, what did you take away from The Dixie Dead sessions?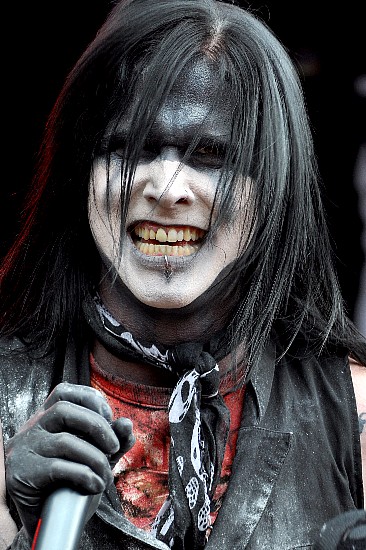 Wednesday: For me it was the recording process… I didn't record in a big recording studio; the album was done in a studio in a back room at my house. I think the one lesson I got out of this was that you don't have to go to a big studio and you don't have to spend four years working on a record. I know what i do now and this record was a natural progression for me. I'm so happy about it, it feels right!
Hardrock Haven: Having sat on the album since August and playing it over and over. Looking back on the writing and recording process is there anything you would have changed or would have done differently?
Wednesday: There's always something with every record that I would have changed. When I think of anything I wish we would have had an extra few months because I would have wrote ten more songs, and maybe one of those songs would have been a B-side. There are just little things like that with every record I do no matter how long I spend on it. Going back and listening to it, I can still listen to it now many times, and be super excited to play the songs; and it's also the first records that I've recorded where immediately after I wanted to keep writing more music. This record has inspired me and inspired the next one.
Hardrock Haven: Wednesday as we know with every new album, there is a new touring cycle. Can we expect to see you back in Australia this year for some shows?
Wednesday: Yes, we're just trying to figure out the time right now, I am hoping that we will be there for Halloween. We will definitely be there but we're just trying to determine when.
Hardrock Haven: You were actually here last year for Halloween doing shows and you're no stranger to our shores. The Aussie fans certainly love you!
Wednesday: Australia's been so great for me, I've been lucky enough to play there four times in the past three years. I've been on Soundwave twice, once with Murderdolls, once as Wednesday 13; I've done two solo tours and now coming back in 2013. The reaction in Australia has been overwhelming to me. It's seems that every time I come back, more and more kids are into it, it seems to be growing and that's not a bad problem to have!
Hardrock Haven: I've had the pleasure of seeing you live and you're a phenomenal performer and vocalist! These days before shows are you doing anything to warm up and prepare or do you hit the stage running on adrenaline?
Wednesday: Adrenaline is definitely a big part of it! Because I do this month after month and it's my job, there are things I do now before I go onstage. It used to be all party, party, party before you'd go onstage and when you get off, but those days are not really around anymore. Instead of drinking half a bottle of whiskey before a show now [laughs] I'm definitely doing different things to warm up and prepare. I think over the years the one thing that's different is that we really give a fuck about what we do, not that we didn't give a fuck before, but there was so much that we were trying to do.
Hardrock Haven: Mate, you've shared the stage with many great artists over the years, has any of your peers given you great touring advice, if so who, and what was it?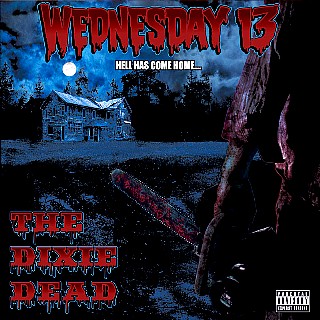 Wednesday: I've toured with so many cool people… As far as advice, the wise godfather Alice Cooper has told me and taught me a million different things. I've met so many different people like Randy from Lamb of God and Jamey from Hatebreed, so many cool dudes that inspire me and I look up to. I've been fortunate to meet a lot of my Rock n' Roll heroes and get advice from them. I can't think of anything right off the top of my head except for Alice inspiring me! He's 65 years old and still runs circles around me, so if I can do that when I'm 65 years old that's all I need!
Hardrock Haven: Just before we wrap it up, with two decades in the industry now under your belt, you're constantly learning, whether it's in the studio, on the road or the all important business side. To date what do you feel have been the most important lesson you've learned?
Wednesday: For me, I think learning to laugh at yourself and not take yourself too seriously. If you put yourself up on a pedestal, think that you're untouchable, you're setting yourself up for disappointment. I've always got a sense of humor, I keep a level head; keep a realistic outlook on my career and what I do. I like to think as I've gotten older I've gotten wiser, I've maintained this for over a decade now professionally. I'm still learning but if i knew back then what i know now things would be so different!
[Laughs] I'm sure they would be mate! Wednesday unfortunately we're out of time, but I wish you all the very best with the new album and can't wait to see you back in Australia! Do you have any last words for our readers?
Thank you so much, I couldn't do it without my fans, they are the reason I do what I do. I hope to see all of you guys in Wednesday 2013.
——————————————————————————–
Wednesday 13's New Album The Dixie Dead Will Be Out On Feb 22 Via 3Wise Records.
Make Sure You Grab A Copy Of This Killer Album!
To Keep Up With All The Latest On Wednesday 13 Head To The Following Websites…
www.facebook.com/officialwednesday13
https://twitter.com/officialwed13
[Photos provided by www.wickedpix.com.au]
by Alex Barbieri
- Columnist –
About a Girl: Interview with Emily Brout of The Indecent
Hardrock Haven loves to celebrate classic hard rockers, but we also feel it's our duty to inform you of new bands you should know about. So, get a pen and write this down: The Indecent, an alternative rock band from New York City.
Think Nirvana, fronted by a teenage girl. That girl is the uniquely beautiful and disarmingly intelligent lead singer, Emily Brout, a shining star of authentic talent, openness and emotion in a homogenized you-tell-me-what-to-sing-and-wear world of rock music.
Back from the U.K. after The Indecent's January tour, Brout spoke with Hardrock Haven from her home in New York City. Let's find out what it's like to be 19 and fronting one of the coolest bands in the world.
Special thanks to Paul Howell for helping to arrange this interview.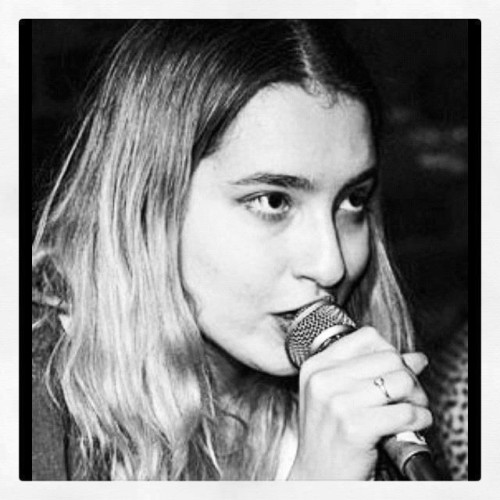 HRH: You're in The Indecent with your triplet siblings, Madeline (bass), and Bo (bass), along with Canadian drummer, Nick Burrows. How is it being in a band with your brother and sister? Is it easier or more challenging than if you weren't related?
EB: In all honesty, it can get annoying, but it is not without its pros. There is a sort of built in understanding which makes things easier on and off stage. We get one another. Which is why sometimes it can be boring because we know one another inside and out—but it's hard to find a group of people all on the same page, and for that I guess I am pretty lucky.
HRH: One listen to your music and there is a clear nod to Nirvana. Were they a major influence? What other bands and artists have inspired you and the band?
EB: Yes, well I think for any band there is that one band that got them really into music. Nirvana just happened to be that band for us. That one you build on. But as you grow and mature as a band, you let go of the confines and try not to get put into a box.
So you start to draw from your other influences, experimenting. Otherwise you would just keep putting out the same record, and who wants that? We also are inspired by bands like Jefferson Airplane, Patti Smith, Sonic Youth, Hugo Largo, PIL, The Breeders, Suicide, The Velvet Underground, Pylon, The Young Marble Giants, Iggy and the Stooges—Search and Destroy for me is the perfect record—the list could go on for quite some time.
HRH: You have a very unique and hypnotic vocal style. Some have compared your voice to the legendary Grace Slick of Jefferson Airplane. (The Indecent's first video was a cover of "White Rabbit.") I also hear some Dolores O'Riordan of The Cranberries ("Zombie") in your voice. Who are your vocal influences?
EB: I grew up listening to a lot of Grace Slick. I take a lot from her. The Dolores O' Riordan thing was not at all intentional, but I do get that a lot, and I totally get it. I take it as a compliment. The first time I listened to her voice, I had a panic attack, which is always a good sign.
I really just try to be raw, emotional, deranged, and as strange as humanly possible. I used to be ashamed of sounding weak and vulnerable. That sort of typical "pretty voice" you hear everywhere that's been accepted as the pinnacle of beauty. But I think I am slowly getting over that, and realizing that it's just one of many elements I can draw on.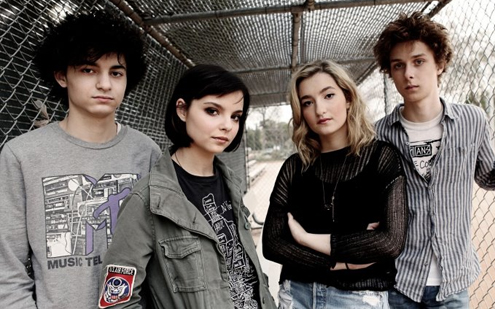 HRH: The Indecent has a new five song EP called Control, your first release for Warner Bros. Records. How has life changed for you since signing with a major label?
EB: A lot has changed and nothing has changed. I guess what changed the most is the size of the team. I would say there is a lot more pressure and expectation, but we try to make it as fun as possible.
HRH: You played The Viper Room in Los Angeles in September, and recently played a string of dates in England and Ireland. What were some highlights of the tour for you?
EB: The Viper Room is tons of fun. The England dates are always fun as well, the energy there is great and it's just a good opportunity to play in front of strangers, which is what I think we are best at.
Some highlights were hanging out with our friends Max Doohan (a very old friend), Phill Abott, and Jack Chater. We always enjoy catching up with them and meeting new people. Our last show was also a lot of fun; Omar Hoxton did a great job with promotion.
Also hanging out with Nite Bob is always fun. It's really the people that make any situation, not the location. I like being in a room full of creative people and the people we hang out with in London are all somewhat artistically involved.
HRH: Do you have any more live dates coming up you want to share?
EB: We have one date in Brooklyn on Feb. 23, some in L.A and a ton in Canada.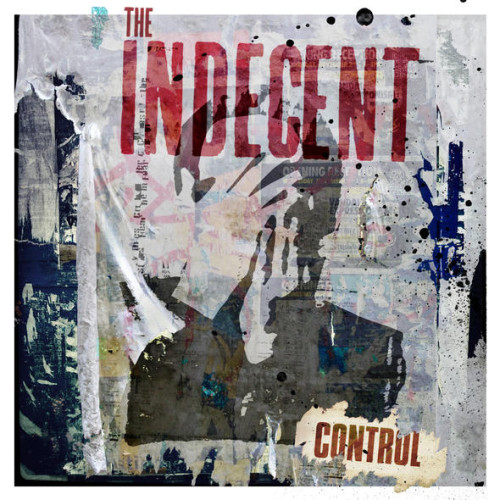 HRH: When you're at home in New York City, what's a typical day in the life for you?
EB: I go to school part time, I am building up credits to be safe. But in my free time, I write, see concerts, hang out with friends, nothing all that interesting I am not a scuba diver on the side or anything, but that would be cool. I wish I had something semi-interesting to say. Just the typical normal bullshit.
HRH: What bands or artists are you listening to these days? Anyone we should know about?
EB: I have been listening to a lot of Nue and Nick Cave, some Little Richard in the mornings to wake up to. Newer bands like The Savages and Total Slacker. We have become rather friendly with Total Slacker. We plan on doing a split 7-inch record together. I also do not mind The Cloud Nothings.
HRH: Is there anything you want to say to The Indecent's fans, and the Hardrock Haven readers around the world?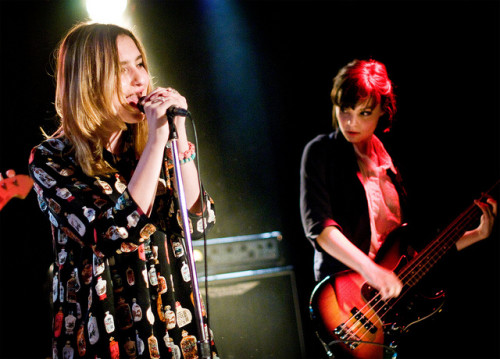 EB: Keep looking out for new material and upcoming shows. We are really looking forward to putting out some new material. It's going in what I would like to think is an interesting direction, and we are all really excited about it.
Try to stay mentally healthy and I guess physically, that's also important. Try not to be paranoid about things like global warming and World War 3. No good ever comes from that. Well, maybe a little bit global warming. Keep talking to your cats, it's perfectly healthy. That's all I got.
HRH: Emily, thank you again. You're bright star in rock music today, and have been an absolute pleasure to talk to. By the way, I love the Control EP—it's on heavy rotation in my car. Please stay in touch and let us know what you're up to.
EB: Thank you!
Watch the new video "Hear Them Fear Them" on Youtube:

Visit The Indecent's official website: http://www.theindecent.com/
Like The Indecent on Facebook: http://www.facebook.com/theindecent
Order Control on Amazon: http://www.amazon.com/registry/wishlist/QYS93GJOP8OW/ref=cm_wl_add_dupe?_encoding=UTF8&msg=message-duplicate-asin-info&msgid=&promote.asin.B008MA7ZM6=1&submit.promote=1
by Cameron Edney
- Guest Columnist –
English punk rockers Sharks will be heading to Australia in a few weeks time, taking part in the sold-out Soundwave festivals which also features Gallows, The offspring, Blink 182 and Slayer to name just a few. Forming in 2007 within twelve months the band had released their first E.P. Shallow Waters and found themselves on tour with Gallows, Fucked Up, and Lostprophets. The band toured hard over the next two years before releasing their second EP which received phenomenal reviews from prestige's UK magazines such as Rock Sound and Kerrang. By the end of 2010 many were comparing Sharks to punk royalty The Clash.
More extensive touring followed the release of Show of Hands which saw the band conquer Europe, UK and the USA. Influenced by a variety of artists from Black Flag to The Buzzcocks, Joy Division and Husker Du, Sharks have created a punk rock sound of their own. In 2012 the band finally went into the studio to record their first full length album No Gods, an album that put them on the Punk Rock map across the globe winning over more fans in the United States, Europe and right here in Australia. Sharks found themselves playing UK's Reading Festival and Vans Warped tour and now Australian fans will get to see Sharks live for the first time at this year's Soundwave Festivals.
I had the pleasure of catching up with Sharks drummer Sam Lister who recently took time out from demoing new tracks to speak with me about Sharks first ever Australian tour, the No Gods recording sessions and working on brand new material that is set to be released in late March. Here is what Sam had to say…
Hardrock Haven: Sam, thanks so much for putting the time aside to chat today, let's talk firstly about the upcoming Soundwave Festivals… you must be really excited to be heading to Australia as part of this great line-up?
Sam Lister: Yeah, it's really special and exciting for us. Just the chance to go to Australia, being boys from a small town in England it's great; we're really grateful to be a part of something so huge!
Hardrock Haven: Some of the finest artists in Rock, Punk and Metal are billed this year, is there anyone in particular that you're excited to see?
Sam Lister: Oh loads of people… we have some good friends playing… Gallows, I'm really intrigued to see Metallica, Slayer, Blink 182 there is so much I'm excited to see, we have a few label mates playing from Rise Records, it's a great line-up we're really excited!
Hardrock Haven: We know there are some main differences between doing the large festival bills and playing club shows, but I was wandering what one you prefer?
Sam Lister: Obviously the club shows are great but there is something about going out for the day and seeing eighty bands, the atmosphere is amazing, especially to be in a band playing in that type of environment. I think there are advantages and it's great to see loads of people at one time especially when it's such a tough time for music in general. I think it's very important to keep festivals strong and keep them going. I am a big fan of festivals!
Hardrock Haven: With the Soundwave festivals only weeks away now, music goers will start to look over timetables and mark down the bands they want to see on the day! No doubt there will be people interested in checking out new artists they may have never heard of or seen live before. For those people attending, what makes Sharks stand out… how would you best describe the bands onstage presence?
Sam Lister: Well, I guess we're less heavy; we're lighter than the rest of the bands. We're definitely something different… people can expect a very energetic show, we try to keep things as old fashioned as possible, an old punk vibe, that's pretty important to us. It's quite hard to say, it's energy. I think that's what people will see from us!
Hardrock Haven: For your Australian fans waiting to see the band for the first time, what do you have planned, any surprises for the fans or will it be a matter of cramming in as many songs as possible for the times allocated?
Sam Lister: Yeah I think that's what we're planning to be honest. We're just writing our new record so I think we're playing one new song and we're planning a cover but we're not too sure what one we're doing yet, there is going to be some surprises for sure!
Hardrock Haven: Sharks formed back in 2007 and since then you've been fortunate to share the stage with many great bands such as Gallows, Four Year Strong and Social Distortion to name a few… whilst on the road who's given you the best touring advice and what was it?
Sam Lister: That's a good question… I'm really not sure; on the Warped tour we got some really good advice from various people. That was the kind of tour where you really need help to get through. I can't remember anything really specific. A lot of people would tell us to keep going no matter what happens really. When you're there you can't imagine anything bad happening but obviously when times get tough you have to keep your head up! It can be tough touring… people think it's all a laugh but it can be really hard, especially when you're away from home for eight or nine months at a time, it can be quite draining.
Hardrock Haven: You mentioned that you're currently working on a new album, how is it all going, and what can you tell us about it?
Sam Lister: We have seven songs and we're hoping to do it fairly quickly turnaround wise, we're hoping to have it out by March or April, I'm not exactly certain of when we will be recording but we're making great progress on it!
Hardrock Haven: You've spent some time in the studio over the years recording a number of EP's and now the No Gods album… what is the one thing you got out of these sessions as a drummer that you will now incorporate when you next enter the studio… was there anything special you picked up whether it was mic placement, the way the kit was tuned etc?
Sam Lister: Yeah, I think I learnt how important the way you hit drums is. The technology for recording is so good nowadays that you have to be so consistent in the way you're playing. Hitting the drums properly was something that me and Brian talked about a lot. I don't think I wasn't doing it properly before but when you're recording you have to be weary of every little thing.
Hardrock Haven: But it's certainly fantastic to see just how much you've been able to achieve since then. When you look back on all those goals you have accomplished up to this point, what do you feel have been your greatest achievements to date?
Sam Lister: Being a kid from England, playing the Reading Festival, playing a venue in London called Brixton which was amazing, and having the opportunity to go to America that was really special!
Hardrock Haven: Well Sam unfortunately we're out of time, so I wish you all the very best with the new album and hope you guys have a blast here in Australia at the Soundwave Festivals. Do you have any last words for our readers?
Sam Lister: Just come and see us at Soundwave, give us a try I think you'll be pleasantly surprised
Sharks will be playing at this year's Soundwave Festival's; don't miss their unique brand of Punk Rock!
Sharks will also be supporting Blink 182 on their Australian Sideshow run.
by Deb Rao
- Senior Columnist –
Hardrock Haven is always looking to find the next cutting edge band ready to set the music industry on fire. New Super-group Something Unto Nothing or S.U.N featuring Sass Jordan on vocals, former Whitesnake drummer Brian Tichy on guitar, bassist Michael Devin, and drummer Tommy Stewart is ready to take on the challenge.
S.U.N. is gearing up for a February 12th release of their self-titled album on Robo Records with distribution on Fontana/Universal. What makes this band unique is that it thrives on the heavy guitar solos reminiscent of early Led Zeppelin and infuses a '70s hard rock sound combined with the bluesy vocals of Sass Jordan. S.U.N will be appearing at Vampd in Las Vegas on February 9th. Check out our exclusive interview with guitarist Brian Tichy of S.U.N.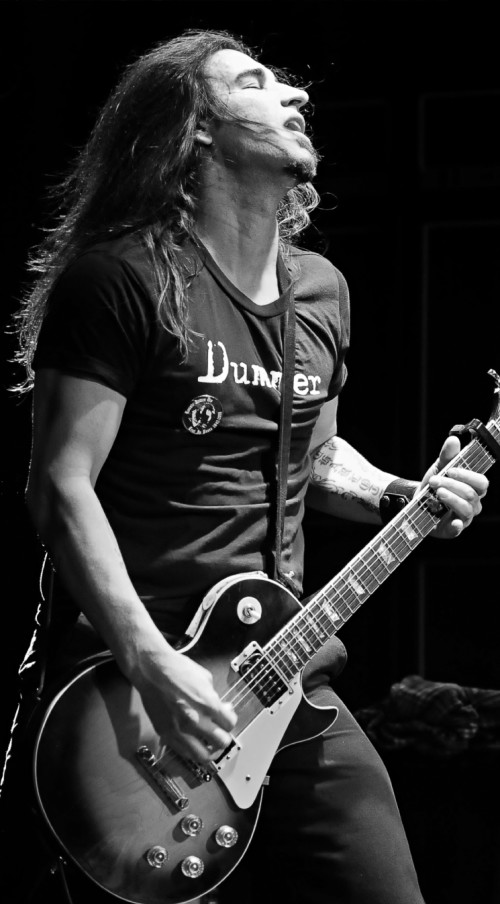 HRH: Brian, welcome to Hardrock Haven. How did S.U.N. come to fruition?
Brian: We had a song called "Sun." Made the lyrics about everything under the sun. So we said let's call it S.U.N. Then we said lets make it an acronym Something Unto Nothing. Why don't we call the band that? That is why we are what we are.
HRH: I love the name it is cool. How did everyone meet?
Brian: I played drums on a record of Sass in 1993. I did a little Canadian tour with her in the summer of 1993. Then I went to join a band with Zakk Wylde with his own band Pride and Glory. She continued to do records and touring. We got in touch through Myspace a few years ago we connected. It was simply if you are ever back in LA where I live let's get together and play a song. A year or two later she was here, so we said let's hook up and write. The first writing session came "Burned" and "Wide Ocean." Towards the end of the year, she came back out. We had a few more song ideas. Beginning of 2011 we just wrote a ton more. Before I went out on the road with Whitesnake. At some point right before the Whitesnake tour we realized we had the right sound we want to see this through. We have nearly a full record of music. This past year it was all about getting a deal, doing some shows together and making it a reality.
HRH: The new CD comes out on February 12th on Robo Records. Tell us about the writing process for this.
Brian: We got together at my house, which is in Canyon Country. Right behind my house there is mountains and canyons, taking a walk one day I noticed a run down shack. We went up there and removed ourselves from all the normal things that happen in a day living in a normal house or studio. We took a guitar and recorder and recorded a bunch of songs and hung out there. Out of that came a lot of interesting ideas. Most of them became songs for the record.
HRH: Awesome it sounds great. Now you are playing guitar in the band. I have always known you as a drummer. I was really impressed with your sound. What kind of sound were you striving for in the studio?
Brian: Just loud, gypsy rock. It all comes from a seventies influence. I think the best music came out of the '70s. That particular decade represented people taking those chances with the most amount of freedom. The late '60s opened up the gates for that whole Woodstock era. Guitar wise I first and for most love riffs. From the first time my buddy showed my "Smoke On The Water" and "Back In Black." I want to be a riff maestro.
HRH: Were you influenced by Led Zeppelin a lot? I have seen you play with the Led Zep Tribute band.
Brian: They are my first and foremost inspiration. They have been since I have been 10 years old. They are the one band that I have simply not stopped listening to. I never stop listening to Zeppelin.
HRH: The new video is out "I"m The One." Tell us about this.
Brian: We did a record release party. A buddy of ours got a few cameras together and filmed the show. The first thing we did was take some of the footage from that. It is a live video. I think he tried to have it the look of a '70′s video.
HRH: You and Sass are such established musicians. As a new band what do you hope to accomplish?
Brian: I would say global domination. Would be our first priority. I want to headline arenas. I want to wake up without any money worries so I can concentrate on just being creative in this band. That would be pretty amazing.
HRH That would be awesome. You have a great sound. I heard that you attended Berklee School of Music. What was it like going to Berklee?
Brian: Right out of High School I went there for three non -stop years. Took a year off and did some club gigs. Then I finished up the following year. It was amazing. I met some of my best friends there. I took it all in everyday I was there. I saw how much I could do there. The amount of freedom you have, as a being a college student is amazing. The teachers are amazing musicians. The kids are amazing musicians. It is all about how much you want to take advantage at a place like that. Fore me it was a place to go mental and learn and get better. Every couple of months you could honestly feel your level of musicianship getting better.
HRH: Brian, thanks so much for checking in. We will be out to review your show at Vampd.
by Alexandra Mrozowska
- Columnist –
Hardrock Haven's founder, publisher John Kindred, gets grilled by one of his staff columnists Alexandra Mrozowska. After 10 plus years running the respected online magazine, the man behind the curtain gives insight into his past, his opinion on music journalism, and more…
Alexandra Mrozowska: Please introduce yourself in short and tell me how your adventure with the music journalism has begun.
John Kindred: My name is John Kindred, and I live in the in Liberty, Mo., U.S.A. Growing up, I was fan of hard rock and metal music. As a child, I grew up listening to my father's favorite music bands, such as Rolling Stones, the Beatles, Eagles; classic rock mostly. From there, I latched on to KISS and truly loved their image and music. By 1984, when I was 14, I had an electric guitar and began learning to play. The next step was playing in bands and forming the all-original band Felony in the late '80s. We recorded a couple demos and worked with Eric Grief, who later managed a band named DEATH, on one demo, which we sent to labels, looking for a recording deal. Eventually, that dream faded as the music scene changed in the early '90s. My guitar playing went on the back burner for a few years, but I still was listening to music and discovering music and bands I had missed, as the current musical trends were unsatisfying for me. I love to read and have written plenty of poems and lyrics over the years. In '96, if I recall, I was living in Texas and was newly married. My wife is a journalist, and I was interested in learning how to create websites, which need content. I started building a website that revolved around my interests, music being the primary focus. This laid the foundation for Hardrock Haven.
Alexandra Mrozowska: Can you introduce the website you are in charge of – Hardrock Haven (http://hardrockhaven.net/online/) and say a few things about the foundations of it?
John: Hardrock Haven has existed in its current incarnation since 2003. There have been many layout changes, a lot of html coding learning and plenty of time learning how to write properly. It helps that my wife is an editor! Originally, I started soliciting records labels and musicians about reviewing their music. Unsigned bands and smaller labels provided a lot of the early content; reviews, interview and concert reviews. I have made some long-lasting friendships with some stellar musicians, such as Alan Williamson, a guitarist in the U.K.; partnerships with some great music labels, such as Lion Music and Frontiers Records; and PR firms, such as Earsplit PR, Chipster PR and Freeman Promotions. As the first "employee," I was handling all duties, including webmaster, publisher and writer. It didn't take me long to bring on other staff writers and begin creating a network of amazing writers and photographers.
Alexandra Mrozowska: Once, I heard an opinion that most of the music journalists are "the unfulfilled musicians," who have decided to try the other side of the spectrum of the music industry after years of an unsuccessful struggle in garage bands, etc. What is your take on that?
John: A lot of music journalists have never played a note! I still write and record music, and what I do is for myself first. When I write, it's about me; it's about what I have to say as musician, as a lyricist. You know what? It's therapy. When everyone else's world is falling apart, I can pick up a guitar and get lost in it for hours. It might be a little better than drugs and alcohol. Being a music journalist, for me, is an avenue to let people know about bands that they may never hear about. I am proud to say that I provide a platform for many of the Hardrock Haven staff to express their feelings about the music they love. I don't want the glory; I just provide the portal for the writers and photographers to showcase their work.
Alexandra Mrozowska: Which advantages and disadvantages had been brought with a shift from newspapers and magazines to world of the Internet and specified webzines? What changes has it brought to the worldwide music journalism?
John: While the Internet provides the ability for freedom of expression, it also is lets everyone who thinks they are a rock stars put inferior products out there on the Web, cluttering it up. Whether it is music or words, it's all the same. It leaves readers listeners and readers drowning in a polluted information highway. Newspapers took too long to figure out the Internet, and at least in the U.S., it has led the industry to take a nose dive, leaving a lot of unemployed journalists looking for work. As far as music journalism is concerned, anyone can start a website, say they're a professional journalist and away they go. Oftentimes, quality suffers with terrible looking sites and plenty of bad grammar. But there also those that shine. Again, more of something doesn't make it better. Quality over quantity is what matters.
Alexandra Mrozowska: Which forms of music journalism do you prefer: Album/DVD reviews, concert reviews or the interviews and why?
John: When it comes to music, at least right now, I prefer to listen to music. Reviews of music filmed for DVD is cool, but unless it's a band you really want to see, I defer to a listening to a physical CD over MP3. The industry mainly has moved to releasing MP3 or digital promos. And you know what? Just like the previous generation prefers vinyl, well, CDs are way better than compressed digital audio files. Concert reviews really have to be a band that I want to see. There are so many bands out there today that it's hard to not be jaded and only like what you want to like.
Alexandra Mrozowska: What features of character are essential to a good music journalist?
John: If you can't take being critiqued, then get out of the game. Throw your ego out the door. I want to make you a better writer, and if you don't want to listen and learn, hit the road. I am not perfect. I am way better than I was when I first started. I have a lot of pride in Hardrock Haven, knowing that two of my editors, Derric Miller and Kathy Kindred have degrees in journalism. Several staff writers work in PR, marketing or are technical writers. Several have written books. And a lot don't have the accolades or certificates or degrees. But they all work hard, they listen to me, and I listen to them. As the publisher, I get critiqued too, and I should because the visual or navigational changes to the site make it easier to use. I need input to make it so.
Alexandra Mrozowska: "People who can't write, doing interviews with people who can't think, in order to prepare articles for people who can't read" – that is how a rock musician Frank Zappa defined rock journalism in his 'The Real Frank Zappa' book. What is your comment on that?
John: Wow. That's truly an intellectual slam on everyone. Hardrock Haven writers can write, and we do our best to ask questions that musicians intelligently can answer and the site's visitors can read and genuinely are interested in the artists and bands we cover. Our stats keep going up, so we are doing something right, or is it write?
Alexandra Mrozowska: Now, a bit stockist question, let's say – how would you consider the quality of music journalism nowadays?
John: Major outlets that follow Associated Press style guidelines in conjunction with their own style guidelines that parallel AP style have it right. Quality is important; is it "to" or "too?" People should care that you get it correct, or you look sloppy and lazy. We probably don't get it right all the time, but we are damned close. We are at least in the high 90th percentile. I do go out and read what other music sites say about a bands and their music to get another perspective. There probably are some home-grown music sites that should call it a day, and there are some big ones that should do the same.
Alexandra Mrozowska: Are there any professional magazine writers or journalists whom you consider/ed your role models? What are your favorite magazine titles?
John: I never really thought about it. I read more of Hardrock Haven's articles than any other specific magazine. I can say that Alissa Ordabai is a great writer, Mark Allen makes you chuckle, Derric is pretty studious; see, I can talk about our staff more than others. Now, if you are talking about book authors, I like to read guitar magazines and comic books, but I read more print novels than print or online magazines.
by Alexandra Mrozowska
- Columnist –
Hardrock Haven's managing editor and PR guy, Derric Miller, joins John in the interrogation. Miller explains how his background and writing experience has helped John grow the site, changes to the industry good and bad, how writers can improve their reviews and a whole lot more.
Alexandra Mrozowska: Please introduce yourself in short and tell me how your adventure with the music journalism has begun.
Derric Miller: Hardrock Haven managing editor. I live in South Dakota in the United States, and my first music review gig was with www.metalexpressradio.com, based out of Oslo, Norway, from 2000-2002. Metal Express sent out an email newsletter calling for new writers. I put my name in the hat, I reviewed an album they assigned me, and I was hired based on the quality of my review. Before Metal Express, I had published, both, horror and nonfiction in the mainstream markets, so writing was in my arsenal before I ever penned a music review. I joined Hardrock Haven in 2003 and have been with them ever since.
Alexandra Mrozowska: Can you introduce the website you are in charge of – Hardrock Haven (http://hardrockhaven.net/online/) and say a few things about the foundations of it?
Derric: Hardrock Haven is a globally-focused Hard Rock/Heavy Metal webzine, featuring album/concert/book reviews, artist interviews, giveaways, editorials and more. The site is quality-conscious driven, with all content following Associated Press Style Guidelines, meaning industry standard across the board, whether you compare us to Rolling Stone Magazine or MTV. With two trained journalists as the main editors, quality is of the utmost importance with all content. Customer service with the PR firms/labels/bands/etc. is another thrust of the site. Hardrock Haven sends coverage links for all updates to the involved parties so that they are aware of the coverage and can then share it via email, social media sites and more. Hardrock Haven was founded not only to evolve with the times but to stay ahead of the curve.
Alexandra Mrozowska: Once, I heard an opinion that most of the music journalists are "the unfulfilled musicians," who have decided to try the other side of the spectrum of the music industry after years of an unsuccessful struggle in garage bands, etc. What is your take on that?
Derric: I cannot play an instrument nor have I ever been in a band. This critique is valid with some writers, but certainly it's not an accurate blanket description. I'm a writer who happens to love music, not a music lover who wants to become a failed-musician and then a music writer.
Alexandra Mrozowska: Which advantages and disadvantages had been brought with a shift from newspapers and magazines to world of the Internet and specified webzines? What changes has it brought to the worldwide music journalism?
Derric: The first part, digital, mobile media is the preference for millennials on up to baby-boomers. If you want to have readers, you need a digital presence. Digital mediums are cheap and instantly global, unless you charge a subscription. Meaning, a newspaper with a 10,000 print circulation can, hypothetically, have millions of digital readers. The downside is that millions of jobs in the print media around the world are being lost, and the salaries are not being replaced. The true journalistic talent lies with the print media, first.
So that's the downside. Just like any kid with Pro Tools can record an album, anyone who can type can now call themselves a "writer." Well, just because I can drive a car doesn't make me a NASCAR (professional race car) driver. The lack of quality writing talent on amateur websites and blogs is widespread, I assume, but I don't focus on seeing how bad it can be out there; I just want Hardrock Haven to be among the best.
Alexandra Mrozowska: Which forms of music journalism do you prefer: Album/DVD reviews, concert reviews or the interviews and why?
Derric: As a writer, I'm torn. I don't "get off" on ripping a band apart when the music they create doesn't resonate. They put themselves out there, and it takes a level of bravery to do so. Sometimes, if the band is sub-par, I'll conduct an audio interview with them instead of review their music. That way, I can openly ask critical questions that don't end up in print for eternity. The audio will always be there, but you have to listen to the interview and can't copy/paste the negativity unless you go to extreme editing efforts to do so.
Concert reviews bore me as a writer; the band was either on their game, average or bad. There's not a lot of leeway to be creative, except that the song selection could have been "better," which is subjective.
When an album clicks with me, I pen my best reviews, and I can go back into the album and find something new to inspire me again. When I interview those who inspired me creatively — like Geoff Tate, Tony Harnell, Dave Meniketti, Ron Keel, Jack Russell, etc. — I can go back and listen to those interviews over and over and find something new to inspire me again.
Alexandra Mrozowska: What features of character are essential to a good music journalist?
Derric: First off, you have to love music. Writing is not accounting; it's not a set of rules that define each step you make in the process. A vast knowledge of the genre you are covering is important, but it's also important to know as many other genres and artists as you can mentally compile, because musicians don't just listen to themselves. Knowing blues artists of the '40s will help you understand bands like Cinderella in the '80s, although you wouldn't know it unless you know it. Lastly, attention to detail is important. If your writing is filled with errors, homophone confusion and just stream-of-consciousness blather, no one will enjoy reading it except the inexperienced writer who wrote it in the first place.
Alexandra Mrozowska: "People who can't write, doing interviews with people who can't think, in order to prepare articles for people who can't read" – that is how a rock musician Frank Zappa defined rock journalism in his 'The Real Frank Zappa' book. What is your comment on that?
Derric: There was a time when Frank Zappa was correct to some degree. And who argues with Zappa anyway? But if this comment is directed at me, I can only say I've published horror fiction, nonfiction, co-authored a history book, written lyrics for the Bite Wound song "Apla Aimorregei," wrote the liner notes for Teenage Casket Company's
Best Kept Secrets
and more. I can write. It used to be cool in the '70s and '80s to be mentally vacant, but with music downloads stealing from the pocketbooks of virtually every musician on earth, suddenly musicians can't just play instruments and tour — they write, record, produce, package, market and manage the product from conceptualization to dissemination. That takes a level of mental acumen unnecessary 30 years ago. Adapt or die, as Darwin said, and musicians have adapted. As far as readers, I can't gauge their intellectual capacity other than to say if they read Hardrock Haven, they must be pretty intelligent.
Alexandra Mrozowska: Now, a bit stockist question, let's say – how would you consider the quality of music journalism nowadays?
Derric: I do, at times, read other websites and their reviews, and the biggest common mistake when reviewing music is writing in the first person voice. For instance, "I like Great White because my mom used to sing 'The Angel Song' to me when I went to bed at night." New and upcoming writers have to understand no one cares about them personally; the readers want to know what the music is about, not the writer's childhood upbringing. And what does it mean when they write "I recommend this CD." Why do you recommend it? Because "you like it?" That's lazy, ineffectual, boorish writing. If you keep it in the second or third person voice, you'll step outside your personal experiences and focus on defining what is positive or negative about the music, not what song you lost your virginity to.
Most of the music journalism I've graded mentally is average. It's not all bad, but most of it doesn't impress one way or the other.
Alexandra Mrozowska: Are there any professional magazine writers or journalists whom you consider/ed your role models? What are your favorite magazine titles?
Derric: I personally don't read any music reviewers or editorialists except for Chuck Klosterman, who also writes about sports, life, ethics and the human condition, in general. Other than Klosterman and my fellow writers at Hardrock Haven, I take my cues from my favorite writers in general, authors like Harlan Ellison, Joe Landsdale, Max Collins, David Schow, F. Paul Wilson, to … writers who don't define themselves with genre labels. I don't consider myself a "music journalist," but a writer. I write whatever I want to write; Hardrock Haven is one outlet among many.
by Deb Rao
- Senior Columnist –
Hardrock Haven is proud to unveil an exclusive interview with Ace Frehley drummer Matt Starr. Matt is an established musician and producer. In this interview, Matt discusses working with Ace, working as a producer and the music business today.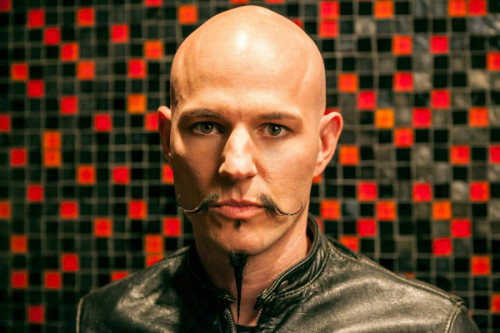 Hardrock Haven: Matt, it has been a while. Tell us about your gig as drummer for Ace Frehley. How did this all come to fruition.
Matt: I heard about it from a mutual drummer friend & then made some calls to see who knew any of the guys in Ace's band & I found a couple guys & they connected me with the band & we talked and a week later I was NY auditioning. It felt super natural from the start. I do a lot of singing. I sing all of Paul Stanley's parts including lead on a few classic KISS tunes, so I'm having a blast!
HRH: Were you a big Kiss fan growing up?
Matt: Absolutely! I saw them in '79 with Judas Priest opening. I could pretty much tell you the songs in order on every album up to 1982.
HRH: What are some of your favorite highlights of performing with Ace?
Matt: Ace wants to do a new record this year. This will be the first record he has recorded the majority of the record with a drummer other than Anton Fig, from Letterman, so that means a lot to me. My experience with Ace, the band & his crew has been awesome. It's a great organization & it's always cool to play with someone who you used to have posters of on your wall. The sound he makes is like no other. Fave moment would be first night playing in New York City, Ace's hometown & mine too. Had my family there & lots of friends too. A killer night.
HRH: You are one part of the top group of musicians in LA that are carving a name for them selves. How is the music scene in LA these days since you first start performing many years ago?
Matt: It's cool for musicians looking to tour with established artists. LA is still better than NY for that. I have talked with lots of friends in NYC who tell me the same thing. There's always lots happening out here with music. Not sure what happens once you get a deal, but that's another story. The wild west has returned!
HRH: You have performed with so many great '80s performers including the late Kevin Dubrow. I remember seeing you perform with Kevin back in Worcester. Do you have favorite memories that you would like to share with us of your time in his band?
Matt: The first day I met Kevin he walked in to the room, said hi & started to check his mic. He began singing the Free song "Mr. Big", so I started playing the drums. He looked over at me surprised & said, "My drummer know Free, this is going to be a good day". And it was. He was a total pleasure & pro always. A real sweet guy, I'm grateful to have known him & wish he were still around.
HRH: You are also a producer. Let's talk about changing roles as producing bands. What do you enjoy most about producing?
Matt: I love the possibilities & trying things. It's helpful to have someone who can listen objectively & help you see what you do best & maybe what you do that's not best. What I enjoy most is helping artists realize their full creative vision. Making it better than they thought it could be. Hopefully I do that. And getting them to try things they never thought of & are maybe not comfortable with.
HRH: You have a great talent for performing as well as producing. You recently produced Hotel Diablo first release. This band is outstanding. What was it like working with your friend Alex Grossi? He is an amazing guitarist.
Matt: I love that record. Gilby Clarke did a fantastic job producing on the record as well. Working with Alex has always been great. He & I just did what we used to do in The Flames. We understand where each other is coming from so it's easy. Hotel Diablo is a great band full of talented & seasoned players so it was a very smooth, cool experience.
HRH: As a producer what do you look for when being approached to work with a band?
Matt: If there's anything I feel I can improve upon or that hasn't been captured by them on record before.
HRH: Also I read you are touring with Jizzy Pearl correct?
Matt: Yes I will be part of the touring Love/Hate. We leave for the UK in late March & we are also playing M3 along with some east coast dates.
HRH: You are one of the hardest working musicians in metal. Tell us about your project with Burning Rain with Dokken bass player Sean McNabb. Any tour dates on the horizon?
Matt: Burning Rain was formed by Doug Aldrich of Whitesnake & Keith St John from Montrose. I was grateful to be asked to be part of the band recently after doing a benefit show in Maryland with the guys last year. It felt really good & I think the sound we made sort of surprised us all. Right now we are recording and will release a record later this year & hopefully some touring later in the year to support it.
HRH: Is there any other news that you would like to share with us? It has been great catching up with you. Hope to see you perform soon. Where can the fans catch up on all your latest news?
Matt: Thanks Deb! It's been great chatting with you too. And hello to all the HRH fans out there! I love playing drums on artists' records so don't be afraid to hit me up! For everything that's happening in my world check out www.mattstarrmusic.com and come say hi to me on Facebook & Twitter too. I really appreciate the opportunity to connect with all your readers. Rock on!
by Chris A.
- Senior Photojournalist –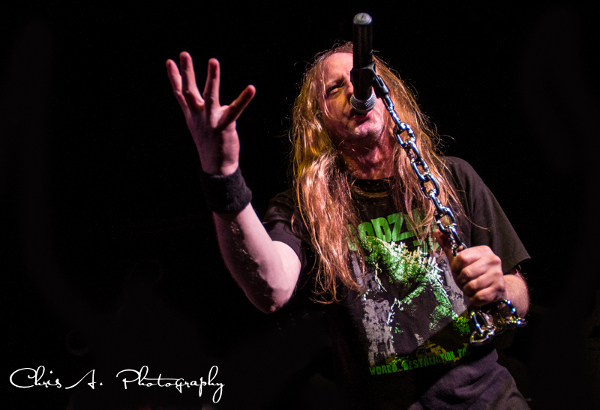 Bruce Corbitt's been around the block. As the singer of the Dallas/Ft Worth, Texas-based "Rigor Mortis" he's been a integral part of the DFW thrash-metal scene pretty much since day one. Today he's on the road with his other band, "Warbeast" bringing old-school, hard core thrash to the masses. Currently on the road with "Down", Bruce talks about how Warbeast and Philip Anselmo came to record the split EP "War Of The Gargantuas". He also talks about his friend Mike S, the late guitarist of Rigor Mortis. Interesting interview with a down-to-earth, sentimental guy who loves what he's doing and is still living his personal dream.
Listen to the interview:
Warbeast Concert Photo Gallery
by Christophe Pauly
- Photojournalist –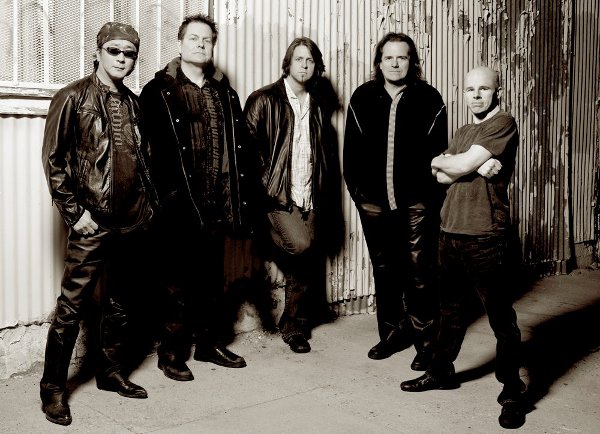 Hardrock Haven's Christophe Pauly sat spoke with Dave Meros, Jimmy Keegan & Ted Leonard of Spock's Beard to talk about the new album, Brief Nocturnes and Dreamless Sleep, line-up changes and more…
Hardrock Haven: Thank you very much for this interview! It´s an honor for me as a fan to promote your new release! First, this is your 11th album (And the first since Nick´s departure)… what was the most challenging part for this one?
Jimmy Keegan: You would think it would have been the new personalities but we were already friends so that was actually easy. Time might be the problem. We had wealth of ideas and many we just didn't have time to flush out.
Hardrock Haven: How did the writing and recording process worked? Do you compose together or does someone bring his own ideas?
Jimmy Keegan: Ted had some songs finished and the band just put their stamp on them. John Boegehold brought material independently and with Dave or Al. Al had a bunch and he wrote a couple with his brother Neal. Tracking was matter of figuring out how each song should sound and locking in arrangements. We actually gathered for a kind of rehearsal which the band had never done previously.
Dave Meros: The same as we have been doing for the last few CDs. We write mostly at home either by ourselves or with another person then sends demos around for approval. Sometimes the songs are recorded as is; sometimes they are rearranged or changed up a bit from the demo version.
Then when we record we usually just concentrate on getting drum tracks first in the studio and all the instruments and vocals are layered on later. Some of it in the studio, some of it at our own home studios.
Hardrock Haven: You asked to your fans to put some money to produce this record. Do you think it´s more difficult these days to live from the music's incomes?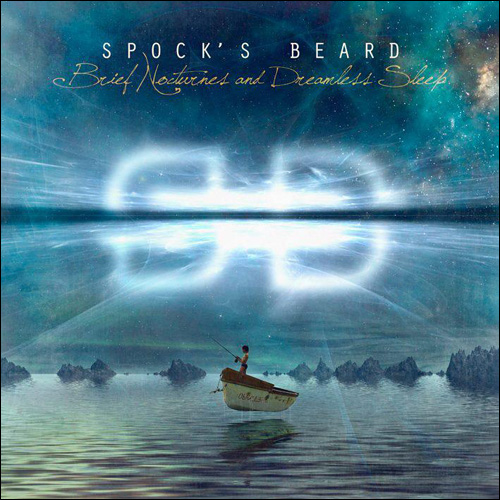 Dave Meros: Absolutely. There is almost no middle class of musician any more. There are the top sellers (the superstars), then a big hole where the middle class used to be, then all the people that never would have made any money anyway. (The middle class of music is where most musicians used to be able to squeak out a modest living, either playing concerts, recording music, playing cover band gigs, doing studio session work, or a combination of the above.)
CD sales are down industry-wide, so record labels aren't giving the amounts of money for bands to record with that they used to. So… we had to get creative and raise our own money so that we could afford to pay for all the studio time that we use. That is the reason we're doing our preorder. We simply could not record a CD unless we did something like that.
Jimmy Keegan: I don't think it's difficult for Katie Perry but for a band like Spock's Beard, you are not living off of it. You have to be a little more creative when there is no big machine working to market you and no million dollar budget to buy radio time.
Hardrock Haven: How did you meet him?
Dave Meros: We did two European tours with his other band Enchant, and I think that's where all of us first met him.
Jimmy Keegan: I met Ted on my first tour with Spock's, 10 years ago. It was the 10th Anniversary of Inside Out Records and Spock's toured with Enchant and The California Guitar Trio. It was a blast.
Hardrock Haven: What was your first impression when you played together?
Jimmy Keegan: Ted's a natural. Everything flows from him. He has a great sense of humor so laughter is common.
Hardrock Haven: Did the audience accept easily that new configuration?
Jimmy Keegan: Well, so far it has just been the two shows but I think those that love Spock's also appreciate Enchant so there is already a great deal of respect. As for the music, we shall soon find out. I love it. I hope everyone will too.
Dave Meros: Yes, they generally accepted him right away.
Hardrock Haven: What was your first impression of this experience? Did you fear at first? Or did you feel comfortable from the beginning?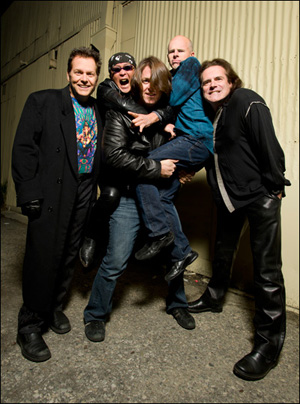 Dave Meros: Well, we've been playing with Jimmy for 10 years now, so that wasn't much of a mystery, and I would have been very, very surprised if Ted didn't do great with us because we all knew him and that he would be very compatible. (In fact, I'm in a cover band with Ted, so I hear him sing a wide range of styles and knew that he would fit in very easily). It was a very natural transition really.
Ted Leonard: I was comfortable with the group because we all knew each from the two tours with Enchant. Musically, I was a little nervous at the first rehearsal. Nick and Neal left some pretty massive shoes to fill, but I also was thinking that I was just filling in temporarily. If it had been an audition I probably would have been way more intimidated.
Hardrock Haven: Were you involved in the writing process?
Dave Meros: Not as much as in the past, but I did write one song on the CD.
Ted Leonard: There are 2 songs that I wrote on the album and 1 that I contributed lyrics on, so yes. On the others, we all bashed around embellishments in the rehearsal studio but the core of the songs had already been written.
Hardrock Haven: I saw you twice in Belgium, and it was a lot of fun and pleasure during those intense concerts (with those great drums duels)! What's your best live experience?
Dave Meros: The Astoria, London, 2001. Best live musical experience of my life. The band, the audience, the sound, everything was perfect that night.
Jimmy Keegan: That is a huge question. I have played great shows in tiny venues and large venues alike. The best is when there is a great bond with an audience and the band is firing with little to no thought. I prefer a show where I don't have to think and can just let the music happen. The best is yet to come.
Hardrock Haven: What would be the best venue you would like to play at? (Somewhere you haven't been yet)…
DM: I don't have an answer for that. For me it's not the venue, it's the feel of the band and audience. That can be great in a huge place, small place, fancy place, horrible little place… you can never tell when those magical gigs will happen. Having said that, it is always preferable to have a nice venue with good facilities where we can be physically comfortable, and lots of venues can fulfill those basic requirements.
Jimmy Keegan: Madison Square Garden, somewhere in Italy. I would love to play one of those big outdoor concerts in Brazil with 100,000 screaming Brazilians.
Hardrock Haven: How do you feel the atmosphere when you play live with Ted?
Jimmy Keegan: I think this question is too early. I love Ted so from the two shows we have done, it was great. But that's all we have done. I have complete faith in him though, and look forward to doing some shows.
Hardrock Haven: You sang on the Neal Morse's Testimony 2 album. (A wonderful part!) How did you feel about this experience? Was it easy to do some new Music with Neal after all these years?
Dave Meros: It was really fun to sing on that song, but to tell the truth, we just sent audio files back and forth over the internet; we were never in the same room together. I got a smile on my face when I heard the mix though, that was the first time I heard us all together and it sounded like Spock's Beard.
Hardrock Haven: Did you thought about reforming SB with him when Nick decided to leave the band?
Jimmy Keegan: It's funny, as I never worked with him aside from the two guest spots, it never crossed my mind. Usually you think to move forward. Neal is great but it's been, now, 5 albums since he left. Time to move on.
Dave Meros: Not really… Neal is very comfortable where he is with his career and life choices, I don't think he'd want to come back in, especially since the band has changed so much since he has left.
Hardrock Haven: I hope to see you soon on tour! Do you plan a European tour to promote this new release?
Dave Meros: Yes, April / May of this year. Check our website for details as they emerge.
Hardrock Haven: What music are you listening to these days?
Dave Meros: None, really. That's the truth. I guess I'm taking a little break. I did see a Bon Iver concert on TV a month or two ago that I really enjoyed.
Jimmy Keegan: I'm always listening to Peter Gabriel in some fashion. On the prog front, Porcupine Tree and Bobby McFerrin has been a common play. Recently I have just been putting my iPod on shuffle and rediscovering great music I already have.
Hardrock Haven: What do you want to say to your fans in Europe?
Jimmy Keegan: Get ready!
Dave Meros: Can't wait to see you guys again!
Hardrock Haven: See you soon on tour!
by Deb Rao
- Senior Columnist –
Exclusive Pete Loran of Trixter Discusses Upcoming Vegas Shows with Sin City Sinners
In this exclusive interview for Hardrock Haven, Trixter Frontman Pete Loran discusses his upcoming appearances in Las Vegas with Vegas premiere band The Sin City Sinners on February 8th at Boulder Station and the Hard Rock (Paradise Location) in Las Vegas on February 9th. Pete also discusses in-depth the release of Trixter's album New Audio Machine, his Jersey roots and his Superbowl prediction! Right here at Hardrock Haven. Be sure to get away from the cold and visit Las Vegas for this exciting event with Pete Loran of Trixter and The Sin City Sinners.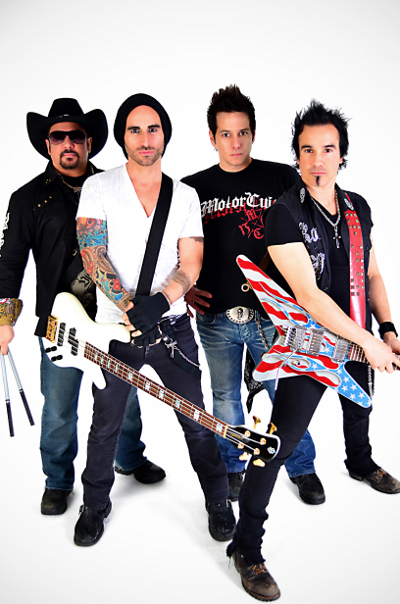 HRH: Pete, Happy New Year. Vegas is gearing up for your special appearances with Las Vegas band The Sin City Sinners on Feb. 8 at Boulder Station and Feb. 9 at the Hardrock in Las Vegas. Vegas is fast becoming the mega music capital for metal. Out beating LA by a landslide. Part of this is due to the fact that Brent Muscat and his band The Sin City Sinners are bringing special guest acts in every weekend to Sin City. The Sin City Sinners are one of the top bands in Vegas comprised of top-notch musicians that are dedicated to their craft. Tell us what the fans can expect to see at your shows in Vegas.
Pete: I remember when they first started the whole concept of the band a while back, they obviously never lost faith in the idea and of course that has paid off for them. Great bunch of guys!
HRH: What is your favorite thing about performing in Vegas?
Pete: For me it's such a nice little get away, I can drive if I want to, so it's not like I'm flying to the North East day of show in the middle of February in a snow storm etc etc…..
plus performing with the Sinners is such a pleasure, it's first class all the way.
HRH: In 2012, Trixter released one of their finest albums to date, New Audio Machine. The band managed to capture all the magic of the early heyday of metal with a New Jersey vibe. What are you most proud of regarding the release of this album?
Pete: Well the thing I'm most proud of is the maturity of the band and being able to showcase that in the present. I personally feel I have become much better at my craft and I'm glad people are able to hear that and not remember me by those records forever ago.
HRH: There are so many great songs in the CD. Including, "Walk With The Stranger." This song was co-written with Skid Row members Snake Sabo and
Rachel Bolan. It really unleashes the roots of your band. Tell us what it was like working with your Jersey peers.
Pete: Thank you, You know we really didn't all sit down and hash this one out. It was written a long long time ago (by Snake and Rachel) and we used to cover it back in the club days in NY and NJ.
We do gig with those guys from time to time and they are always great to hang with.
HRH: The bands from the Jersey shore such as Trixter and Skid Row help mold the metal scene. Are you proud being from Jersey and help inspiring music that has survived the test of time?
Pete: I am proud of the fact that we are mentioned in that scenario for sure…. those were such different times. I remember Steve and I being at the guitar store where Snake and Scotti worked and we were all together talking about gigs we were doing and about hoping to get a record deal in the near future. It happened literally within the next year or less. But we had paid our dues for years prior, those days of chasing a record deal and getting a label that wants to sign you or sink money into developing you if needed is dead and gone. So I feel proud to be a part of that era so to speak.
HRH: Do you have any favorite tracks off of New Audio Machine? Also, how did you come up with the title of the album?
Pete: I do, "Machine," Coolest thing… The name honestly was thrown out at me via email and I gave my thumbs up. ha ha!
HRH: After three decades in the music business, how do you think Trixter has evolved with your latest release New Audio Machine?
Pete: I think we have evolved in the fact that we are better than we used to be, we perform better both on the stage and in the studio. We didn't get worse and we didn't just stay the same.
HRH: Are you looking forward to performing at M3 on May 4th?
Pete: I'm sure it will be a lot of fun, was the last time we did it.
HRH: What's on tap for Trixter in 2013?
Pete: We will be out there doing more shows of course!
HRH: Are you looking forward to the Superbowl? Who is your favorite team to win?
Pete: Football is by far my favorite sport so of course I am. I think on paper the Niners look better, they are a smash you in the mouth type of team. The Ravens are riding on the Ray Lewis last game ever vibe, and he can definitely get you motivated, so there is something to be said about that.
Visit Trixter online:
www.facebook.com/trixterrocks /
www.facebook.com/sincitysinners
by Steve Patrick
- Columnist –
Video Interview Interview with Carla Harvey & Heidi Shepherd from Butcher Babies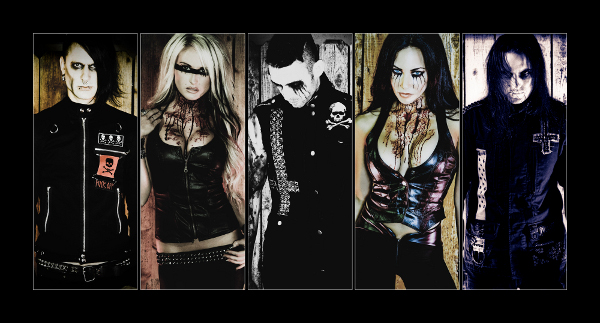 Carla Harvey and Heidi Shepherd, AKA the Butcher Babies, have been making quite a name for themselves with their intense performances and risqué attire. Both Harvey and Shepherd are former Playboy personalities and they joined forces out of their love of metal music. Over the last few years, Butcher Babies have opened up for the likes of Otep, Anthrax, and In This Moment as well as playing unforgettable headlining shows in between.
Just before their January 20th performance in Columbus, OH, Harvey and Shepherd were kind enough to sit down and speak with Hardrock Haven about being on tour with Marilyn Manson, their upcoming debut record on Century Media, and what it's like to shock audiences in 2013:
Butcher Babies:
Heidi Shepherd- VOX
Carla Harvey- VOX
Henry Flury- GUITAR
Jason Klein- BASS
Chrissy Warner- DRUMS
For more information, please visit www.facebook.com/ButcherBabiesMusic
***Video was edited by Justin DelPrince***
by Alissa Ordabai
- Senior Columnist –
Exciting news is arriving this week from Tom Keifer's camp announcing his first ever solo tour. In this interview I talk to Cinderella's frontman about his influences and the notion of cultural succession in rock, but also about wider subjects such as artistic freedom and spiritual beliefs.
Tom Keifer is rightly regarded as one of the best songwriters of his generation. To this day he remains not only a unique singer but also an eloquent composer of vast emotional range. Keifer's well-documented vocal problems which have put his career on hold for much of the Nineties have been overcome with great determination, which has recently led to the revival of his career.
We at Hardrock Haven are very excited to learn about Kiefer's upcoming solo tour. After all, he has always been the not only the frontman, but sole songwriter within his band. Now seems to be the right time to share this previously unpublished interview conducted in June 2011 just a few hours before Cinderella's performance at Shepherd's Bush Empire in London – their first London show in 20 years.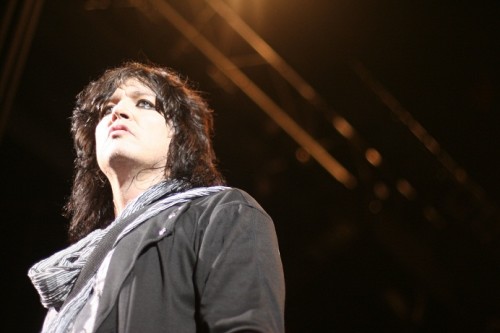 Alissa Ordabai: Were you ever in a position where you had to choose or compromise between making your music as accessible to an as wide audience as possible, but at the same time expressing your true entire self?
TK: We were lucky in the sense that we were not. When we signed our first record deal with Polygram Records, they gave us as much freedom as we wanted to do our thing, and we never really had this "You need to do this in order to have success." We were never steered that way. So we've always done our thing, we've always had our freedom to do that, and we were very lucky because some bands don't. The record company made suggestions: "Oh, that's great," or "That's not us," so nothing has been ever imposed on us. I felt like we've always been pretty true to making music that we love and what's inside of us.
AO: But you relied heavily on tradition and on the generation that came before you – Seventies big visionaries like Jimmy Page and Tony Iommi, but at the same time you really captured the spirit of your time. How did you manage to combine tradition and to give a voice to your own generation?
TK: I guess it starts with a song, and I've always written about things that felt real to me. I come from a really heavy blues and roots background. My first exposure to that was through people like Jimmy Page and Keith Richards. They were what I call the second generation blues. They got it from the original place and kind of made it their own thing. I always tell the story that my first exposure to real blues was through a friend of mine who I was in the band with when I was a teenager, and he was a drummer, a few years older than me. He have me BB King's "Live at the Regal", and I've never heard the real blues, but I've heard Jimmy Page, and I was playing blues, even though I didn't know it was called blues, imitating my rock heroes, and I put the record on, and I listened to it, and I turned to him, and said: "But he sounds like Jimmy Page!" And he started laughing at me, and said: "No, actually Jimmy Page sounds like him." I was probably 16 or 17 then, and that's when I really got that first realization that heroes have gotten it from somewhere else, and then, of course, I was very curious to go back, and I started digging back into all the roots music, into everything from R'n'B, blues, and gospel. I think it's good for a musician and a songwriter to go back to do that. Not to just be influenced by your heroes, but to go and look what they liked too, because your vision gets broader and you can interpret in your own way. A lot of people call us a metal band. I guess some of ours stuff borderlines that, but to me we've always been a rock n'roll or a blues-based rock band. Not only musically, but lyrically, because our lyrics are about everyday life things. We are not singing about fantasy dragons or something. I am not making fun of that, I am saying that a lot of side that is more on the metal side – there is a lot of fantasy and stuff, and our lyrics are real day-to-day good times, bad times, love…
AO: Lust…
TK: Lust [Laughs], so that's I think comes from that blues foundation, because that what all roots music was about. It was about real things. They may be singing about different real things, but they were real things.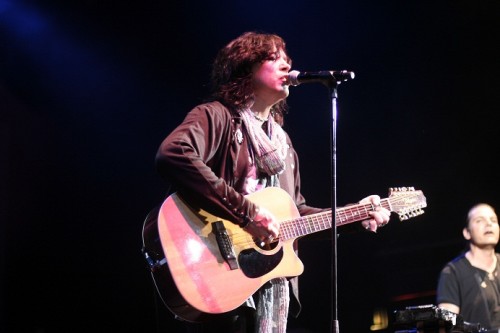 AO: Do you think it is easier being a rock musician these days than when you were growing up?
TK: No. I don't think so. I think it's harder as time goes on to have something new. [Laughs]. They try to come up with a unique sound because everything has been done. Trying to be original, I guess, gets harder as time goes on because there has been so much ground covered. And the industry has changed so much. I feel bad for new artists because record companies don't support them. It's kind of like you get one shot and there is no artist development because there is no money. Because they have lost so much through the internet, and download, and that kind of thing. They've lost billions of dollars. So that affects how the record companies do business and how they look at developing artists, and that's sad. It's kind of sad. Because you think the art as a whole is going to suffer from that in the long run.
AO: And the genre as a whole.
TK: Yes.
AO: I have my last question, and it's a bit goofy, I hope you don't mind.
TK: [Laughs]. Well, I'll tell you after I hear it!
AO: [Laughs]. OK, deal! If you were granted a true answer to any question in the Universe, what would you ask?
TK: Wow! [Laughs]. After a 30-second pause: Wow! You can ask any question and you're gonna get THE answer back?
AO: A true answer, yes.
TK: You've stumped me.
AO: A lot of musicians somehow usually ask if there is god, or what happens after you die.
TK: Well, that's the first thing that's come into my mind: "What's next?," you know?
AO: What do you think is next?
TK: Something awesome… [Smiles].
AO: We'll all sit around and jam with Hendrix?
TK: [Long laugh]. I believe that there is something else. I don't believe that we just hang here. I think that there is a spirit or an energy in life in each of us that just goes on into something else. I guess what I would want to know if I could have that answer, is "What is that? Where is this energy gonna go?". Because I don't believe that it's over when… I would imagine that it would be the question that most people would have. I would think. I mean, it's…
AO: … fundamental.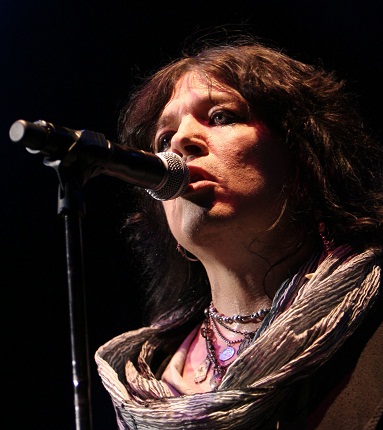 TK: Yeah! "Where am I heading?" [Laughs].
AO: But your music will live on regardless of what happens to your body or your particular soul. You've been blessed in this way.
TK: But you still want to know where your energy is going! [Laughs]. Maybe what we've created lives here, but where is the rest of us is going? I'd like to know where the rest of me is going! [Laughs]. That's a good question. Very good.
AO: Thank you. And thank you ever so much for your time.
TK: You are welcome and thank you.
[Live photos by Alissa Ordabai]
by Chris A.
- Senior Photojournalist –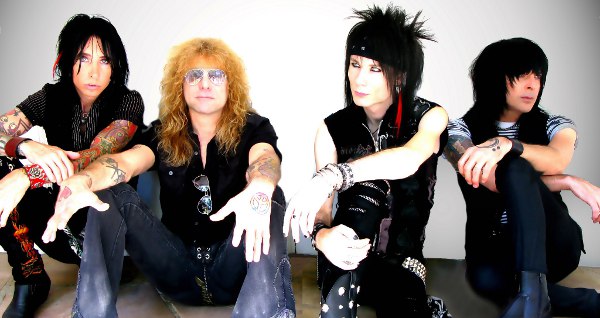 Steven Adler's been around the world and he's lived an insane, self destructive existence. But a year ago, itching to return to the stage, Adler hooked up with some young musicians and "Adler" was born. Hardrock Haven's senior photojournalist Chris A. spent a few minutes talking about the new band with Adler vocalist Jacob Bunton, vocalist for Adler. He tells us how the band was formed and talks about the inspirations and motivations behind their debut disc Back From The Dead.
Listen to the interview:
The band:
Steven Adler – Drums
Jacob Bunton – Vocals
Lonny Paul – Guitar
Johnny Martin – Bass
Read Hardrock Haven's review of Adler's Back From the Dead here.
Visit Adler online: https://www.facebook.com/adlermusic / http://www.adlerrocks.com
by Alex Barbieri
- Columnist –
Return of the Emperor: An Interview with Richie Scarlet
One of the things Hardrock Haven prides itself on is letting you know about bands and artists you should know about, but who may not be on your radar. They may not be on the charts or "commercial," but they're authentic—the real deal, damn good rock 'n roll.
Richie Scarlet, aka the "Emperor of Rock," is one of those cats. He's recorded and toured with Ace Frehley, Alice Cooper, Sebastian Bach, and Mountain, among others. He's also a prolific singer/songwriter in his own right, and just released his sixth kick ass solo album, I Plead the Fifth, which just made this writer's Hardrock Haven's Top 10 of 2012 list.
Scarlet and his keyboardist/co-writer, Peter Gallinari—also with an impressive musical resume—talked to Hardrock Haven about the past, present and future—through scarlet-colored glasses, of course.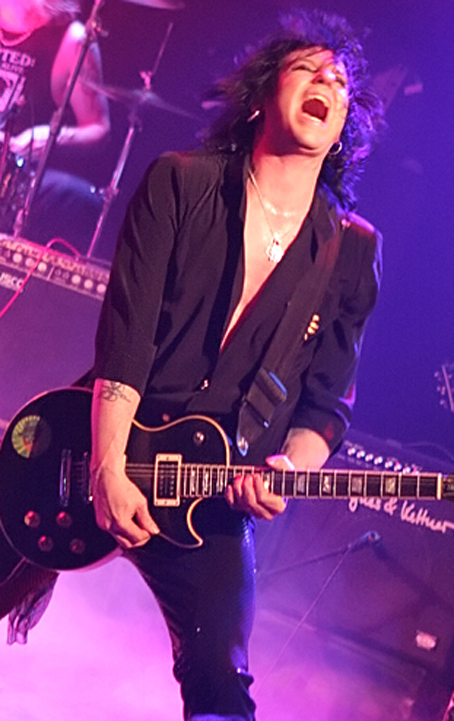 HRH: Richie, thank you for taking time to hang with Hardrock Haven. You have a new CD called I Plead the Fifth, recorded with producer Tarik Solangi at Prime Time Sound in Mt. Vernon, NY. Tell us about the new album, and who played on the album.
RS: Yes, I have a new CD, I Plead the Fifth, which I'm really proud of. I feel it is one of my stronger musical statements. The CD is full of tons of talent, including Peter Gallinari, who did keyboards and sang and wrote the track "Lost in My World." The drumming on all tracks was done by drummer extraordinaire, Russage Wilson. The guests include bassist John Regan (Peter Frampton, Rolling Stones, David Bowie) on tracks 4 ("I Don't Wanna Die") and 5 ("Lost in My World.") Track 9 is an instrumental called "Carousel" in which I am joined on lead guitar by Ron Thal, otherwise known as Bumblefoot, from Guns N' Roses, Dez Cadena of The Misfits and Louie Spagnola. The song was written by me and Peter Gallinari. It also features insane Hammond organ solos by Peter. And, last but not least, one of the greatest bass players in rock history, and the essence of cool … Dennis Dunaway from The Alice Cooper Group and Blue Coupe. The backup vocals on the CD were provided by Joey Molland of the legendary band Badfinger, Sal Scoca, Peter Gallinari, Tarik Solangi and Joann Scarlet. The horns on track 8 ("King Heroin") are done by Jonathan Walsh on trumpet and sax legend, Arno Hecht. The CD was produced, engineered and mixed by Tarik Solangi of Prime Time Studio in Mt. Vernon, NY. The front and back cover photos were shot by legendary photographer, Len DeLessio.
HRH: What are some of your favorite tracks and why?
RS: "Love Will Find a Way" and the single, "Without Your Love," which is now being picked up by many radio stations and Internet websites across the U.S.
HRH: Where can people buy or download I Plead the Fifth?
RS: On my website http://www.richiescarletmusic.com/ and on iTunes as a download.
HRH: You've played with Ace Frehley, Alice Cooper, Sebastian Bach, Leslie West of Mountain. You've got to have some great stories. What interesting, funny or crazy things have happened over the years?
RS: There are too many stories, but it will be all in the book!
HRH: You're known as the "Emperor of Rock." I've got to ask—how did you get that nickname?
RS: It was given to me by Ace Frehley.
HRH: In addition to being a smokin' guitar player, you also have a great look on stage—all black hair, eyeliner, Les Paul and attitude. Who was your inspiration or mentor for putting on a great live show?
RS: It boils down to, as someone with a big pair of lips once said, "IT'S ONLY ROCK AND ROLL!" Besides liking it, I have LIVED IT, which I feel has contributed to my live performances.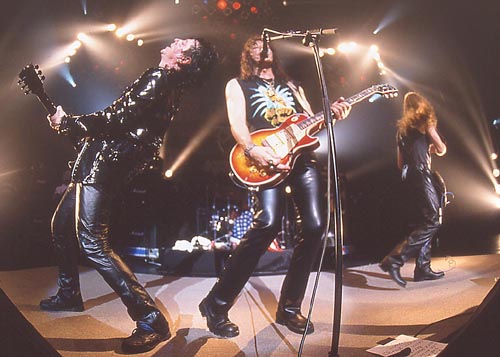 HRH: Peter, you wrote two songs on the new Richie Scarlet album, and sung lead on one, "Lost in My World." Tell us about them.
PG: Yes, I made a contribution to Richie's new CD with my song "Lost in My World," and also co-wrote "Carousel." These are two completely different types of songs. "Lost in My World" is more of a power ballad heartfelt song, whereas "Carousel" is a straight ahead rocker, along the lines of Deep Purple with a heavy sound on the keys. It was a privilege and an honor to have such great artists perform on both of these songs. As Richie mentioned we also had John Regan on bass, Ron 'Bumblefoot' Thal on guitar, Dez Cadena on guitar, Russ Wilson on drums, and Louie Spagnola on guitar. This was also my first appearance on Richie's CD's as a lead vocalist, and I was grateful for that opportunity.
HRH: Peter, you've also received national recognition for writing and performing inspirational songs for some tragic disasters, such as "Tell Me Why" for the Oklahoma City bombing, and "Lives Will Begin" for the Japanese tsunami and Hurricane Sandy. What inspires you to write these songs?
PG: I have always been the type of writer who needs to have a reason to write a song. Something that I have experienced on my own or, something that inspires me, such as an event. The songs that you mentioned are very special to me. Just feeling the impact of what happened to those people who were actually involved in such disasters is something that no one can explain or feel. We see the visuals and imagery of what happened, but to actually be a part of these horrific events is something unexplainable. The only thing I am able to do is just imagine the pain that is going on, and transfer that into a song. It's my way of dealing with this. And if the songs help those who were there, then that's all I have ever wanted to happen.
HRH: Question for both of you: Of all the shows you've played, what is the most memorable, and why?
RS: They are all memorable. Some more than others, but I'll tell you, I try to play the same for 20 people as I do for 20,000.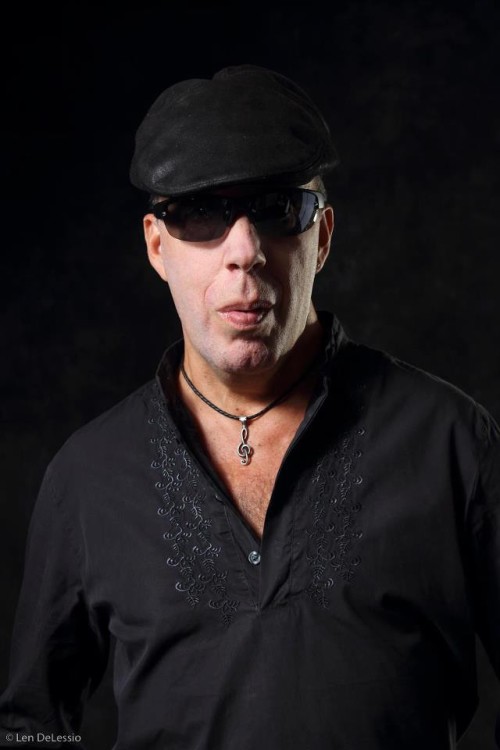 PG: I would say for me is when I received a phone call from Richie and he asked if I could bring my keyboards to one of Mountain's concerts. Obviously, I said yes, no problem—to only find out that I was asked to perform that night with Leslie West and Mountain in concert!
I didn't know what to say or do—I was so taken with the opportunity to get on stage with a legendary band. I was asked to perform at the remainder of their shows in the New York tri-state area. It's something I will always cherish and thank Richie Scarlet for.
HRH: The Richie Scarlet Band recently played an American Red Cross Hurricane Sandy benefit concert in New York, which Peter organized. Any more upcoming shows we should know about?
RS: Yes on Feb. 16, we'll be performing at The Chance Theater in Poughkeepsie, NY. And on Feb. 22, we'll be performing at The Cutting Room in NYC.
HRH: Is there anything else you want to say to your fans, and Hardrock Haven readers around the world?
RS: I would like to wish them all a Happy New Year and hope that all their dreams come true for 2013. Also, thank you Alex, for including me in your Hardrock Haven Top 10 Albums of 2012. Love and respect from Richie Scarlet.
PG: I do have one last thing for the fans. Never stop going for something that your heart tells you to do. No matter how tough it gets, or how unreachable you may think it is to obtain your dreams. Thirteen years ago, I was found at a friend's annual house party where a gentleman walked up to me and said, 'I like the way you play and sing.' He then asked for my contact info. And three months later he introduced me to 'The Emperor of Rock,' Richie Scarlet.
The person who introduced us was Ed Roman of Roman Guitars. Because of this hookup, I have had the incredible opportunity to either play on stage or record with people such as Leslie West (Mountain), Dennis Dunaway (Alice Cooper Group), Carmine Appice (Vanilla Fudge), Ron 'Bumblefoot' Thal (Guns N' Roses), John Regan (Frampton, The Stones, Bowie), Anton Fig (The Letterman Show), Dez Cadena (The Misfits), Denny lain (Wings, Moody Blues), Sandy Gennaro, Charlie Gracie, and so many more.
Richie has been more than just a good friend and great musician to me, but a real brother who I love. The journey still continues. A lot more rockin' before we are done.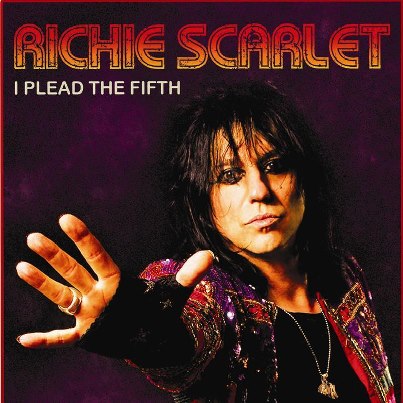 HRH: Richie and Peter, thank you both again for stopping by. It is musicians like you who keep giving us great music to listen to. All the best and please stay in touch.
Order a signed copy of I Plead the Fifth on the official Richie Scarlet website:
http://www.richiescarletmusic.com/
Friend Richie Scarlet on Facebook: http://www.facebook.com/pages/RICHIE-SCARLET-The-Emperor-of-Rock-n-Roll/342044355456
Friend Peter Gallinari on Facebook:
https://www.facebook.com/peter.gallinari