by Deb Rao
- Senior Columnist –
In this Exclusive interview for Hardrock Haven, Warrant guitarist Erik Turner talks about the release of Warrants new wine I Saw Red – Autographed Limited Edition Cabernet Sauvignon.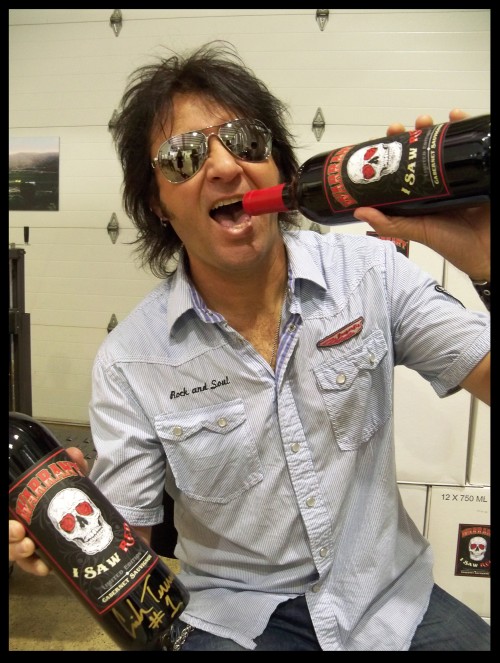 HRH: Erik, tell us what attracted you to become interested in wine making? Tell us about the release of Warrants I Saw Red – Autographed Limited Edition Cabernet Sauvignon.
Erik: I finally tasted some amazing wine in 2007 during a camping trip up in Big Bear,my cousin Paul brought the bottle. I wish I could remember the name. Before that it was Boone's Farm and 2 buck Chuck… which didn't taste nearly as good as Coors Light or Kettle One that's for sure, (Laughter) After that it became fun looking for and finding new wines that are delicious. I am not a winemaker, I am guitar player who loves wine and I am having fun combining my love for music and wine and creating a new brand. I find wine making and tasting very interesting obviously.
HRH: Where is the wine harvested?
Erik: In California at SouthCoastWinery.com … all estate grown grapes, we harvest and crush right on property!
HRH: What kind of flavor were you trying to achieve with I Saw Red Autographed Limited Edition wine?
Erik: A beautiful Cabernet Sauvignon, that is smooth and soft but full of delightful up lifting aroma's and flavor… a warm Oak Barrel character.
HRH: As a winemaker, what is your goal with the release of I Saw Red – Autographed Limited Edition Cabernet Sauvignon?
Erik: Again, I am not a winemaker… My hope is that drinking a WARRANT wine would be a wonderful enhancement to a great meal, social or musical setting, special occasions and make the experience that much more special for everyone. It's cool and fun too for people that collect wine and rock memorabilia… save a signed bottle for years and it only gets better and more valuable over time!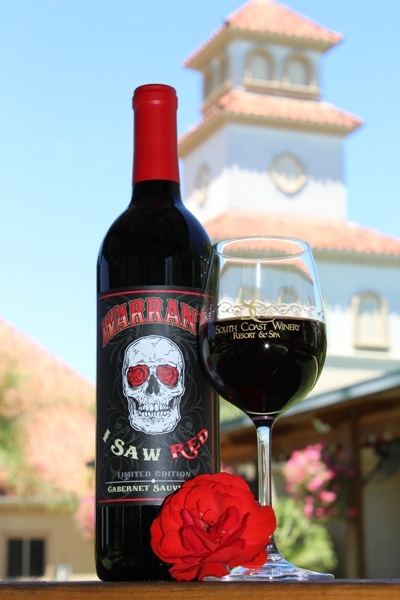 HRH: What techniques have you learned from other winemakers when orchestrating the release of I Saw Red wine?
Erik: Every time I hang out at the winery with Jon McPherson master winemaker and winemaker Javier Flores I learn something new about the art and science of wine making, and really enjoy trying there latest and greatest creations! Please read more about them at: http://southcoastwinery.com/winery/winemakers
HRH: Is there any special equipment that really impressed you when making I Saw Red?
Erik: The entire operation at SCW is over whelming… Beautiful property with all the latest and greatest equipment and technics are used in the making of WARRANT – I Saw Red and coming soon: Erik Turner – Rocker Red – Syrah
HRH: How can fans purchase I Saw Red – Autographed Limited Edition Cabernet Sauvignon?
Erik: You can purchase from the comfort of your own home online… we sell hand signed and numbered bottles at SouthCoastWinery.com We don't have national distribution, the wine is produced in small high quality quantities. Here is a list of places that do currently sell the wine and the list grows like a grape every week :)
http://store.wineresort.com/cart/cat/Wines/New-Wine-Arrivals.aspx
Azo Vino Wine 144 W. Badillo Street Covina, CA 91723
Henry's-Temecula (Hwy 79) 32413 Hwy 79 South Temecula, CA 92592
Henry's-Temecula (Winchester) 39606 Winchester Rd Temecula, CA 92591
Holiday Wine Cellar 302 West Mission Ave Escondido, CA 92025
Redhawk Cantina 45100 Redhawk Parkway Temecula CA 92592
Rustico's 29940 Hunter Rd St 102 Murrieta CA 92563
SOL Markets 2855 Perry Rd San Diego, CA 92106
Sprouts-Corona 120 W. Ontario Avenue Corona, CA 92882
Sprouts-Escondido 510 W 13th St Escondido, CA 92025
Sprouts-Hemet 1295 S State St Hemet CA 92543
Sprouts-Huntington Beach 9861 Adams Ave Huntington Beach, CA 92646
Sprouts-Riverside 475 E Alessandro Blvd Riverside CA 92508
Sprouts-Santee 9361 Mission Gorge Rd Santee, CA 92071
Sprouts-Savi Ranch Yorba Linda 22401 Old Canal Rd Yorba Linda CA 92887
South Coast Winery
Tasting Room 34843 Rancho California Rd Temecula CA 92591
Whole Foods – Encinitas 687 S Coast Hwy 101 Encinitas,CA92024
Wine on a Dime 28061 Jefferson #5 Temecula CA 92590
World Market – El Segundo 720 S. Sepulveda El Segundo, CA 90245
by Mark Allen
- Senior Columnist –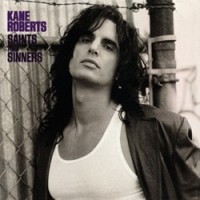 When Kane Roberts, the muscle-bound guitarist best known for slinging the axe for Alice Cooper on the legendary Constrictor and Raise Your Fist and Yell albums, released this solo effort back in '91, he created one of the greatest melodic hard rock releases the genre has ever seen. Even to this day, Saints & Sinners has rarely been rivaled and remains a near-flawless example of how to craft hook-drenched ear candy. The songwriting talent of Desmond Child and Jon Bon Jovi combined with Roberts' stellar guitar skills and the impeccable production from Sir Arthur Payson to create something magical.
Twenty-one years later, this classic album sounds just as good as it did back then. Actually, it sounds better. Because reissue specialists Yesterrock have gotten their mitts on it, given it a spiffy remastering, and released it back onto the market in a limited edition version (only 500 copies) that includes four unreleased bonus tracks. Given how great the album sounded back then, the remastering doesn't significantly improve the quality, but even a diamond benefits from a little polish once in awhile. The primary appeal of this reissue, the main reason folks will consider shelling out hard-earned cash for an album they probably know by heart, is the bonus tracks. More on them in a moment…
Saints & Sinners was—and is—an over the top commercial hard rock album. Subtlety is not on the agenda; this is instant rock-'n'-roll gratification. Someone told Roberts and company that bigger is better and they decided that if bigger is better, than massive and huge were the only way to go, and go that way they did. The hooks are not merely big—they are humongous, and they are legion. The choruses are monstrous sing-along anthems that soar so high they bump their heads on Heaven's basement and every one of them is slathered in wall-of-sound harmony vocals that provide the knockout punch, the coup de grace, the cherry on top. Take all that and toss in the terrific guitar playing of Roberts and you have the sort of stuff melodic hard rock wet dreams are made of.
But what about the bonus tracks… are they equally orgasmic? Well, not exactly; you'll want to approach these new songs with your expectations dialed down to a realistic level. First off, these tracks are demo quality. Decent demos, mind you, but they lack the slick production that defines the rest of the album, sporting a much rawer vibe. But as for the songs themselves…
"House Burning Down" is a solid heavy rocker. No, it doesn't hold a candle to the studio tracks, but the chorus has a decent (if slightly generic) hook and plenty of big '80-style backing vocals and Roberts absolutely rips it up on the solo. "Waiting For You" is a bluesy rocker with a poppy feel that really goes against the grain of the rest of the album. Not nails-on-chalkboard bad… but bad enough. The pop edge almost makes you involuntarily bop your head, but you'll be head-bopping while thinking, "Why the hell am I listening to this crap?" Following this moment of clarity you will hit the Skip button and be rewarded with "Dirty Blonde," which happens to be the best of the bonus tracks, a vintage commercial rocker with catchy hooks and a sing-along chorus spiced up with smooth harmonies and gang backups. Rounding out the new stuff is "White Trash," another throwaway standard issue rock song. So basically what you get is one good bonus track, one solid, and two skippers.
If you have ignored this masterpiece for all these years, then this is an absolutely essential purchase. For those who already own and love this album… well, the remastering makes minimal improvement and the bonus tracks are hit and miss affairs, but this version is still an upgrade and therefore the one to own. Angels crooning in your ear could not sound sweeter than this slice of melodic rock paradise.
Genre: Melodic Hard Rock
Band:
Kane Roberts (vocals, lead guitar, rhythm guitar)
John McCurry (guitar)
Steve Steele (bass)
Myron Grombacher (drums)
Chuck Kentis (keyboards)
Track Listing
1. Wild Nights
2. Twisted
3. Does Anybody Really Fall in Love Anymore?
4. Dance Little Sister
5. Rebel Heart
6. You Always Want It
7. Fighter
8. I'm Not Lookin' For An Angel
9. Too Far Gone
10. It's Only Over For You
11. House Burning Down
12. Waiting For You
13. Dirty Blonde
14. White Trash
Label: Yesterrock
Webpage: www.kaneroberts.com
Hardrock Haven rating: 9.5/10