by Chris A.
- Senior Photojournalist –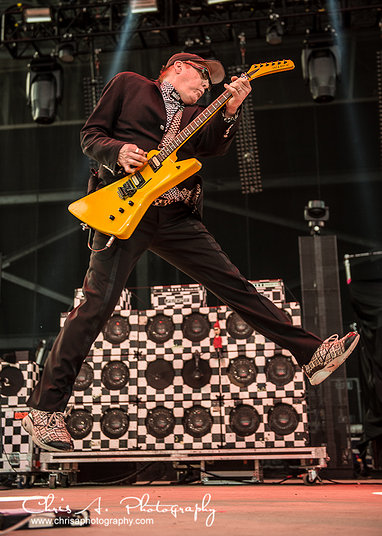 Grey skies welcomed the attendees to the 2013 Rock On The Range festival in Columbus, Ohio's Crew Stadium on the opening Friday morning. Now an institution and in its seventh season, Rock On The Range brings some of the best rock n' roll bands in the world to the capital city of Ohio. For the first six years, the show was a two-day concert event but as the popularity of the event has soared, this year the show was expanded to three days.
Friday's show featured 10 bands on two stages, the Crew Stadium Main State and the smaller Jager sponsored stage. The diverse lineup included:
X-Factor-1
Love & Death
American Fangs
Hollywood Undead
Mindset Evolution
Buckcherry
Oleander
Cheap Trick
In Flames
Korn
Diversity is one of the keystone of Rock On The Range's success as a festival. Just a quick analysis of four of the bands tells the story:
-Buckcherry; one of America's best rock n' roll party bands touring in support of a great new album.
-Cheap Trick, The classic rockers from Rockford, Illinois are known by millions of people around the world.
-In Flames; incredible in your face heavy metal from from Sweden.
-Korn; iconic innovators and one of the genuine heavy weights of the "new metal" movement.
Fans for the show arrived over the afternoon and by six p.m., it was pretty obvious that Rock On The Range's Friday night event was sold out. You can see a few of the photos here and more at www.chrisaphotography.com. With two more days of amazing rock n' roll to come, Rock On The Range is more than just a concert, it's a great musical and social event.
by Anabel Dflux
- Photojournalist –
May 11, 2013 at Bar Sinister in Hollywood, CA –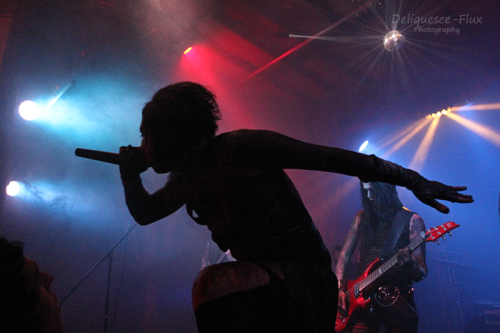 Brainchild of Kristof Bathory, Dawn of Ashes formed in 2001 and has since been a prevalent force in the heavy music scene. The band's sound is derived from a unique combination of genre elements, ranging from black metal, shock rock, industrial, and aggressive music. Lyricism revolves around various 'shocking' topics, such as sexual perversions and horror. Their stage presence, however, is definitely something out of your nightmares. Adorning blood soaked faces that contrast pale white skin, Dawn of Ashes definitely takes the horror aspect of their work seriously.
To start off their upcoming tour after the drop of their latest album Anathema, Dawn of Ashes found themselves at Bar Sinister, one of the most infamous Goth clubs in Hollywood. They drew in quite a crowd; every inch of this distinctive venue was packed with the body heat of those interested in the gothic subculture, ranging from musicians, enthusiasts, and fans of the performers.
It's clear as day to spot Kristof and his live crew as they set up for the night's performance, stirring the audience as many begin to crowd around the stage. After an introduction from 'Sinister host Kent Kaliber, the band jumped right into the music. The band's unusual stage antics and demonic characterizations definitely intrigued many, as more and more onlookers stopped their socializing to watch (and likewise, those not-so-into the heavy sound made their speedy exits). Dawn of Ashes managed to crank out nearly their entire album Anathema without hesitation, and even drag a few guest performers up on stage along the way.
Whether you've heard of Dawn of Ashes or not, an impression was definitely made that night amongst all the attendees.
You can connect with Dawn of Ashes at their official website http://dawnofashesofficial.com/, and Facebook.
Lineup:
Kristof Bathory – (Mastermind / Song-writer / Producer / Pianist /
Keyboards)
Bahemoth -(Live keyboards / studio engineering)
(LIVE – MEMBERS)
Syrus – ( Live Guitars / Studio Guitars)
Krz Souls- (Live Electronic percussion)
Jon Siren – (Live Drums)
Dawn of Ashes Concert Photo Gallery
[Photos by Anabel Dflux]
by Jonna Ambur
- Senior Photojournalist –
MAY 3, 2013 at MOHEGAN SUN ARENA in UNCASVILLE, CT.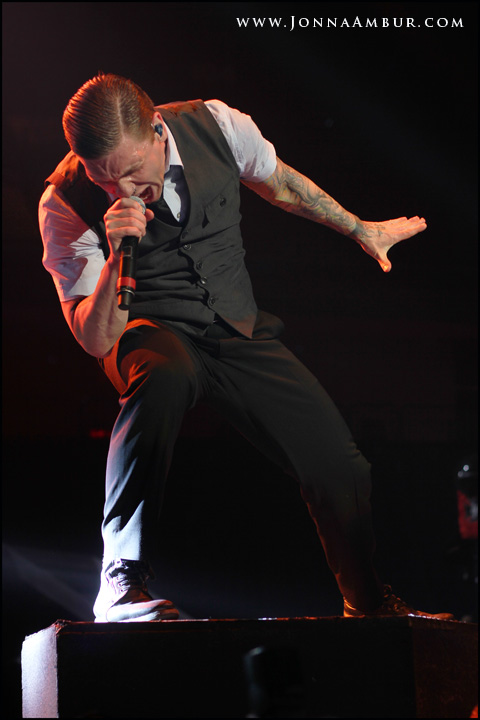 Shinedown is from Jacksonville Florida. Producing hit albums since 2003, Brent Smith (vocals), Eric Bass (bass/piano), Zach Myers (guitar) and Barry Kerch (drums), rocked the Mohegan Sun Arena. Playing favorites like "Enemies," "Devour," "Unity" and "The Crow and the Butterfly" right out of the gate, the band was on point, with the top notch vocals and musicianship that they've been known for.
Their current tour is in support of Amaryllis released in 2012 which is preceded by studio albums The Sound of Madness (2008), Us and Them (2005) and Leave a Whisper (2003). With over six million albums sold worldwide this is a band that prides themselves on creating music that is always evolving. Next on their list of accomplishments will be an album that features 10 acoustic covers to be released over 10 days that include songs that were chosen by fans.
Shinedown's set went on to include "Diamond Eyes," "45," "Simple Man," and "Bully." It was a night of true, solid rock and roll. A tour to catch for sure!
Bush and Airbourne are currently on tour with Shinedown. After wrapping up in the US this month, they move on to Canada and the UK through October.
Bush is touring in support of their fifth studio album, The Sea of Memories and features Gavin Rossdale (vocals/guitar), Robin Goodridge (drums,) Chris Traynor (guitar) and Corey Britz (bass).
Airbourne is touring in support of their 3rd studio album, Black Dog Barking and features Joel O'Keeffe (vocals/lead guitar), David Roads (guitar), Justin Street (bass), Ryan O'Keeffe (drums).
Shinedown Concert Photo Gallery
[Photos by Jonna Ambur]
by Deb Rao
- Senior Columnist –
APRIL 27, 2013 at Vinyl in Las Vegas, NV. –
Book Of Doom Acoustic Tour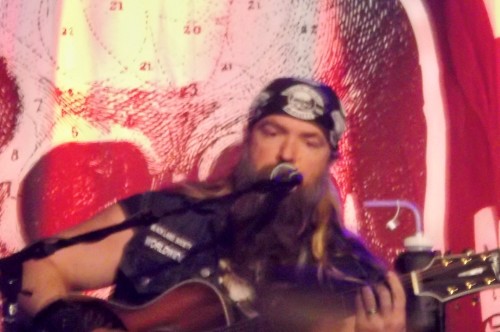 Black Label Society front-man Zakk Wylde recently made a special appearance on his Book Of Doom Tour at Vinyl in Las Vegas. The tour is in conjunction with the release of his book Bringing Metal To The Children on paperback that came out on April 9.
The Las Vegas Chapter sporting their BLS shirts came out in full force. The show inspired three segments including the acoustic show, readings from Bringing Metal To The Children, and a Q And A segment. Vinyl was the perfect setting for this coffeehouse performance. Zakk Wylde and his band mate Nick Cantanese took the stage at 9 p.m. Opening with "Blessed Hellride" tonight's performance was all about the guitar shredding and captivating road stories. The repertoire went all the way back to the early Pride And Glory Days, as Zakk and Nick unleashed "Machine Gun Man."
Tonight's performance was slated acoustic but I have never seen such a brilliant display of sizzling pyrotechnic guitar shredding as Zakk displayed tonight on his acoustic electric. Zakk shredded the fret board and bedazzled the audience with flawless precision, as every guitar player in the audience stood in awe. After getting past all the amazing guitar work then came the captivating road stories. Zakk the master storyteller was not short on road stories. The guitar player went way back in time from his trek from an aspiring guitar player to becoming one of the most sought after guitarist in the business. One of the most interesting things that Zakk said was that anyone can get into the music business. He said the music business was one of the few careers that you don't need a degree.
Highlight of the set was the dedication to Dimebag on "In This River." The passion from this song just soared. Another highlight was "Damage Is Done" featuring Nick Catanese displaying some nice lead work, and Zakk played piano. Other highlights included "Spoke In The Wheel." It's a song that Zakk said was the first song for Black Label Society that started it all.
It was clear to see how the southern rock era had heavily influence his song writing. During his performance tonight, he reminded me many times of Gregg Allman especially on the piano ballads.
It was very cool that Zakk did a Q and A segment. In attendance in the audience was GNR guitarist DJ Ashba. He was the first person to ask a question and praised Zakk for his guitar playing. I was also fortunate enough to ask Zakk a question. Zakk has performed all over the world and I was curious to see what his favorite city was to perform in. He answered, "New York City." Zakk said,"As a musician I could play anywhere even in a bathroom stall. It's all about making the music. As long as you bring the comedy along with it."
Tonight the show was not short on comedy, as the master storyteller and guitar player Zakk Wylde was in his glory, reminiscing about some of the greatest moments of his career. Zakk and Nick ended the show with a cool acoustic rendition of "Stillborn." The song inspired some nice guitar changes. New York City may be Zakk's favorite place to perform, but tonight Zakk took Las Vegas by storm in true Black Label style.
Set List:
The Blessed Hellride
Queen Of Sorrow
Machine Gun Man – Pride and Glory
Road Back Home
Spoke In The Wheel
Throwing It All Away
In This River
Damage Is Done
Lovin' Woman – Pride And Glory
I Thank You Child
Rust
Stillborn
Dillinger Escape Plan Concert Photo Gallery
[Photos by Jonna Ambur]
by Jonna Ambur
- Senior Photojournalist –
APRIL 28, 2013 at TOAD'S PLACE in NEW HAVEN, CT. –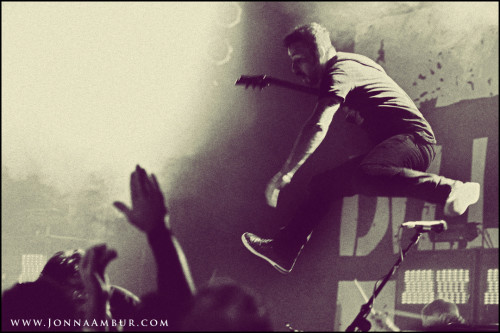 When someone mentions The Dillinger Escape Plan, the general response is, "Those guys are nuts!" The show at Toad's Place was no different. From the moment DEP took to the stage, the energy in the room was pegged. The fans kept a constant mosh pit for their entire set and the band's performance was full of insanity.
DEP is more than your typical hardcore metal band — they imbed themselves with their fans. With people allowed right up to the front of the stage, Greg Puciato (vocals) just had to get into the mix. Tossing his monitor off to the side like a toy, he was right there in the middle of all the people that had been waiting to see them. Ben Weinman's (guitar) acrobatics kept everyone pointing and wondering whether he was going to hang off the rafters, jump off the monitors, or toss his guitar into the crowd. At some point something must have hit him in the face, leaving him with a cut on his face, but it's unlikely he noticed. There was never a dull moment! Liam Wilson (bass), Bill Rymer (drums) and James Love (guitar) completed the band Sunday night. These guys are a sight to be seen, true performers and amazing musicians!
DEP has five albums to their roster and all have maintained that same level of crunching hardcore metal with a punk chaser. Puciato was recently named Number 1 in Metal Sucks' Top 25 Modern Metal Frontmen and the band performed at the 2013 Golden Gods Awards in Los Angeles, Calif. on May 2.
Dillinger Escape Plan Concert Photo Gallery
[Photos by Jonna Ambur]
by Emma Jenkins
- Guest Columnist –
April 26, 2013 at Rock City in Nottingham, U.K.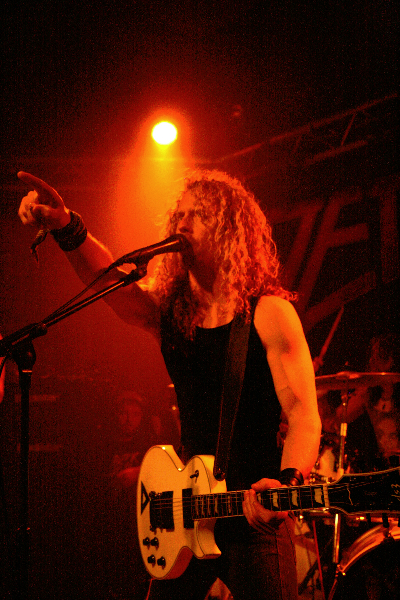 JettBlack kicked off its co-headlining set to thunderous applause. These guys have built a loyal following, and, after having watched their set, I can see why. The band was tight. JettBlack took to the stage at 8:02 p.m., and the place went mental. Kicking off with "Two Hot Girls," the chorus of " … save me, save me …" instantly echoed out around the room. It was an excellent start. The band continued with "Less Torque, More Thrust" and kept the pace going all the way through to the raucous "Get your hands dirty." The crowd loved it, lapping up every second. JettBlack utilized all its 50 minutes with a highly charged performance, encouraging the audience to participate with a lot of air-punching and some very robust singing. The set was rounded off with "Mother Fucker," before the final crescendo of "Raining Rock," and, at that point, it most certainly was.
Co-headliners CrashDiet obviously was going to have a difficult gig, given the fact that the band's manager, Michael Sunden, tragically died just a week ago at the same venue in which the band had played. The band would have liked to cancel this gig, but, as very succinctly put by singer Simon Cruz, "… let this night continue in the name of Rock 'n' Roll … let this be a celebration of Michael and not be a sad evening."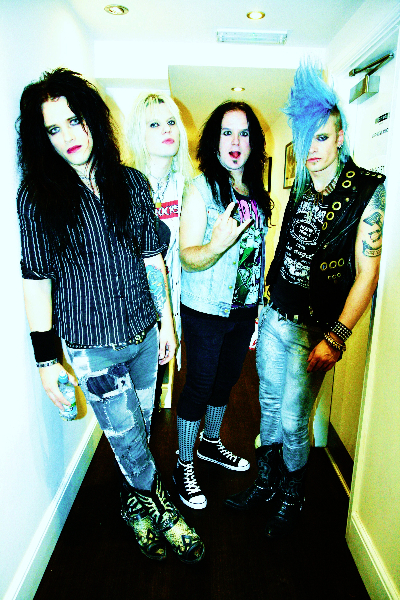 So the set began with the powerful "Breakin' the Chains." In the beginning, they seemed a little disconnected, which was understandable. But CrashDiet soon pulled it together. By the time the band performed "Miracle," everybody was singing along. The pace kept up with "California" but seemed to wander off the tracks with "Garden of Babylon." Maybe it was slightly too instrumental and musically indulgent for my personal tastes. The energy level of the crowd did seem to dip a little at this point; however, the band turned this around as soon as CrashDiet launched into "Riot in Everyone," followed by "Generation Wild."
The band was in full swing, and, at this point, Simon Cruz, with his bright-blue Mohawk, climbed up the speaker stack and dove into the crowd. It was thrilling for most but heart stopping for others. The band was in a powerful flow at this point, and the audience was in the palm of the band's hand. There was nothing that they couldn't do. Unfortunately, the set had to come to an end, and what an end it was; CrashDiet played the foot-stomping, air-punching, audience-jumping "Cocaine Cowboys." Those boys did well. In fact, they did more than well; they were excellent, and, in spirit, Michael Sunden would have been foot stomping, air punching and jumping along with the rest of the audience.
Jetblack & Crashdiet Concert Photo Gallery
[Photos provided courtesy of Jadranka Jade]
by Chris A.
- Senior Photojournalist –
April 21, 2013 at Huntington Center in Toledo, Ohio
Midwest Rock n' Roll Express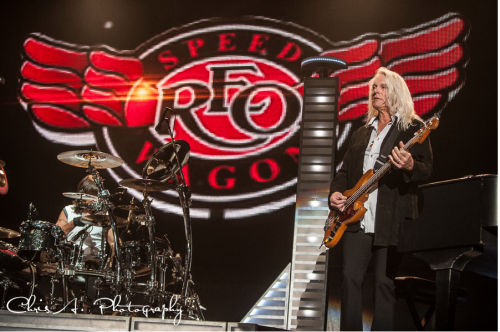 The squeaky clean and nearly brand-new Huntington Center in downtown Toledo, Ohio hosted a stop on one of the best classic rock tours that will be criss-crossing America for the rest of the spring and summer. Dubbed "The Midwest Rock n' Roll Express," three of the best rock n' roll bands of the 1970s and 80s have teamed to bring some of the best rock n' roll of all times to the masses.
Opening the show in Toledo was REO Speedwagon, one of the originators of the "power ballad." Kevin Cronin and company featured a clean, sophisticated stage look, with illuminated light towers and full length LED board acting as a backdrop.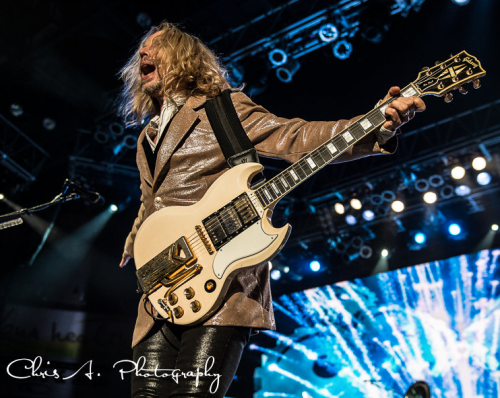 To say the show was a "greatest hits" presentation would be an understatement and REO certainly delivered the goods, performing 10 tunes in all, including "Don't Let Him Go," "Keep Pushin'," "Roll With The Changes" and an encore of Ridin' The Storm Out."
Next up was 70s/80s radio icons Styx with the nearly ageless and seriously underrated guitarist Tommy Shaw looking dapper in a white shirt with dark vest. Like REO, the Styx stage was spacious, with stairs and platforms above and behind the drummer platform in front of the massive LED backdrop. Relaxed and interacting often with the nearly sold-out arena, Styx had the crowd singing along with hits like "Lady," "Miss America" and "Too Much Time On My Hands." After a brief pause, the band returned to the stage for an encore, a rousing rendition of "Renegade."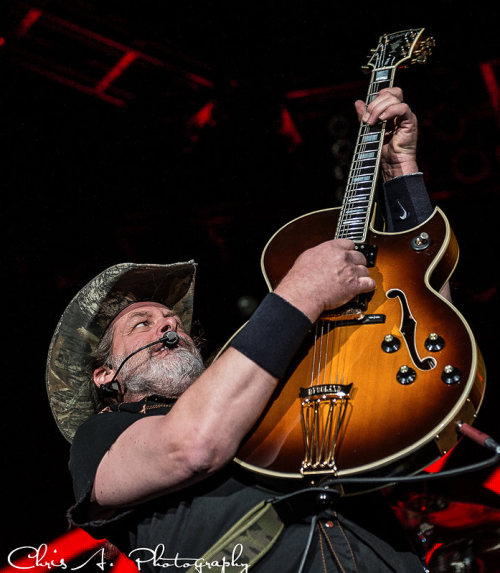 Closing the gig was "The Motorcity Madman" Ted Nugent, sporting a full beard yet exploding onto the stage with what seems like boundless energy. Unlike Ted's last few tours, tonight's stage setup was rudimentary, stripped down and bare-bones rock n' roll. A drum set on an elevated platform, a few stacks of amps on either side and that's about it. Ted and the "funk brothers" blew the doors of the Huntington center ripping into a blazing hot, in your face dose of "Wang-Dang, Sweet Poontang" to open his set. Intense, high-energy and just fun, Nugent really is a stellar axeman who can control and manipulate feedback like no other guitarist. From "Storm Troopin" to his closing number, "Fred Bear," Nugent coaxed high-volumes of great licks out of his Byrdland.
The tour continues throughout the summer, check the individual band websites for off-dates.
Ted Nugent, Styx and REO Speedwagon Live at Huntington Center, Toledo Ohio
NUGE: http://www.chrisaphotography.com/#!ted-nugent/c1mzj
STYX: http://www.chrisaphotography.com/#!styx/c1gfr
REO: http://www.chrisaphotography.com/#!reo-speedwagon/c109y
by Deb Rao
- Senior Columnist –
APRIL 17, 2013 at the Las Vegas Hotel Theater in Las Vegas, NV. –
Raiding The Rock Vault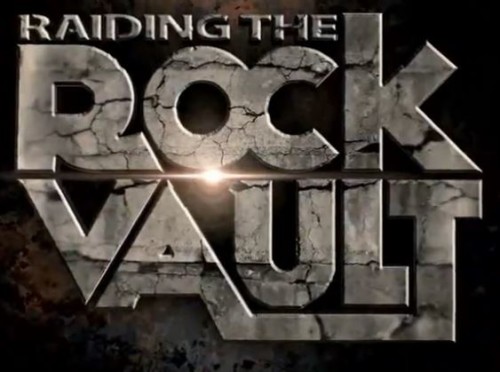 One more great reason to book your next vacation to Las Vegas is the new rock show experience at the Las Vegas Hotel called Raiding The Rock Vault. The show is slated to run throughout the year and Hardrock Haven was invited to check it out this past week.
Raiding The Rock Vault chronicles historic footage and music that spans the '60s, '70s, '80 music genres. The staging is pretty impressive with three videos screens, a vault time capsule, palm trees and costume changes. What really sets this show apart from any other music show on The Strip is the caliber of musicians taking part in the show. Raiding The Rock Vault features guitar god Tracii Guns, Las Vegas own Paul Shortino on vocals and guitar, Robin McAuley on vocals, John Payne on bass and vocals, Jay Schellen on drums, Michaels T. Ross on keyboards and Andrew Freeman of The Offspring on vocals. The performance on Wednesday also featured special guest star Joe Lynn Turner.
The Las Vegas Hotel has a beautiful theater with great acoustics that seats 1300 people. The show kicked off with actors with gas masks on streaming down the aisle onto the stage to investigate the rock time capsule that landed on the earth. Raiding The Rock Vault kicked off with the '60s genre. Emerging from the capsule was Tracii Guns, John Payne, and Paul Shortino and the rest of the crew. The band launched into The Who song, "My Generation" with Andrew Freeman on vocals. The '60s hits continued with Paul on vocals on The Free song "Alright Now." Next up John Payne sang "Light My Fire."

Highlight of the set was a guitar solo by Tracii Guns on the Led Zeppelin hit "Stairway To Heaven." Tracii sported a double-neck Red Gibson SG. Reminiscent of Jimmy Page. The video screen also depicted photos of Led Zeppelin. The show jumpeded into high gear as special guest star Joe Lynn Turner sang "Smoke On The Water." It was great to hear Joe sing again. He still has one of the most amazing voices in rock.
How could we forget the Disco era? Or many of us would like too. There was a short segment with actors that actually was pretty funny dancing to the beat of the disco ball. Next up a great performance of the Eagles hit "Hotel California." This time Tracii pulled out the white Gibson SG for some pretty impressive finger picking. Paul Shortino also played guitar on this song.
The band played a medley of hits including Queen's "We Are The Champions," Boston's "More Than A Feeling" and Pink Floyd's "Another Brick In The Wall." Highlight of that set was "Live And Let Die" and "American Woman" with Paul Shortino on vocals.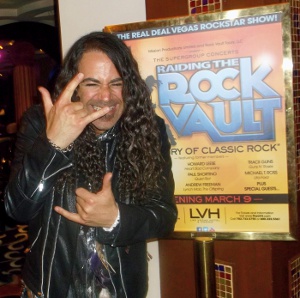 At last the '80s genre kicked into high gear featuring John Payne with a cowboy hat playing bass on the song "Wanted Dead Or Alive." I had the opportunity to see him perform with Asia last year a true talent indeed. The '80s set featured hits from Def Leppard, Survivor and ZZ Top. But the one song that had the audience on its feet was Journey's "Separate Ways." No matter where you go in Vegas Journey songs always steal the show. Singer Robin McAuley was outstanding. One more time Joe Lynn Turner took the stage for Rainbow's "Stone Cold." The band had everyone on there feet for Van Halen's "Jump" and Foreigner's "Jukebox Hero." The '80s set ended with Whitesnake's "Here I Go Again" featuring Paul Shortino. Paul tells Hardrock Haven that. "The show is working on new material and hopes to add a Aerosmith song soon." Paul has a true bluesy vocal style and overall is a great entertainer.
I have to mention that I have seen other shows on the Strip including The Beatles Love, and Rock of Ages but Raiding The Rock Vault is where it is at. It features so many great musicians from the '80s with accolades to back up the star power. The songs will bring you back to your youth. A definite all-star line-up. Tickets range from $49 – $ 100. There is also a Rock Star VIP Package. Plus a discount for locals. If you love Classic Rock this is a must see. This show is all about the music. The Strip may have Celine Dion and country stars but Raiding The Rock Vault is keeping classic rock alive.
www.facebook.com/raidingtherockvault
by Jonna Ambur
- Senior Photojournalist –
APRIL 14, 2013 at WEBSTER THEATER, HARTFORD, CONN. –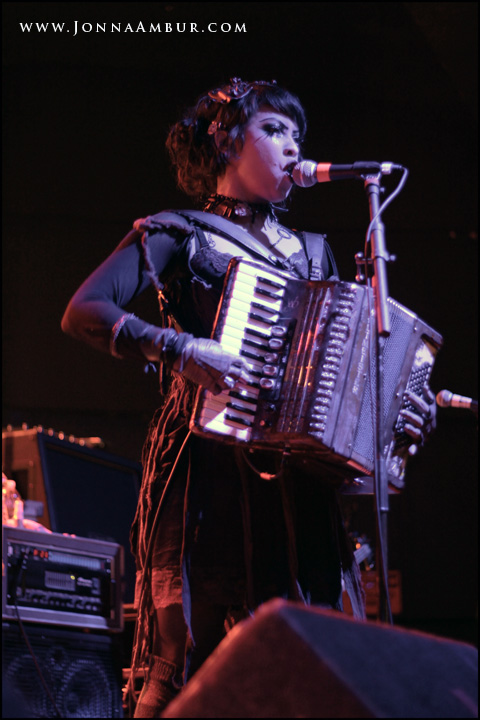 With a theatrical lore and a steampunk style, Stolen Babies started out the night. This five-piece band has been around since 2002 and has three solid recordings, most recently Naught, which was released in 2012. Featuring Dominique Lenore Persi (vocals and accordion), Rani Sharone (bass), Gil Sharone (drums), Ben Rico (keyboards/percussion) and Davey Oberlin (guitar), Stolen Babies offered an avant garde style of music that warmly was received by the full house audience. Having an accordion and a stand-up bass in a "metal" band is not something you see everyday, but they made it work and made it work well.
Set List:
Never Come Back
Splatter
Push Button
Filistata
Mousefood
Tablescrap
Spill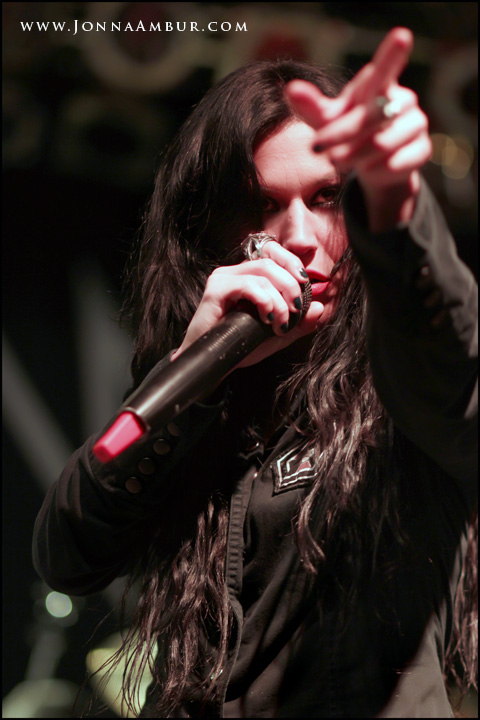 Italian-based metal group, Lacuna Coil was next up. The band played to an easily sold-out venue. The roar from the fans welcomed the group as they started out their set with "I Don't Believe in Tomorrow." The songs "Kill the Light," "To the Edge," "Upsidedown," "Fragile," "Survive," Intoxicated" and "Trip the Darkness" followed. The set ended with the hit, "Spellbound."
The melodic vocals of Christina Scabbia and Andrea Ferro perfectly blend together. Lacuna Coil is one of the few metal bands around that features two lead singers. With full support of Marco Coti Zelati (bass), Cristiano Migliore (guitar), Marco Biazzi (guitar) and Cristiano Mozzati (drums), Lacuna Coil was an unstoppable musical powerhouse!
Studio albums date back to 1999, but the 2004 release of Comalies put them on the charts in the United States. Followed by Shallow Life in 2009 and, most recently, Dark Adrenaline released in 2012, the six-piece group has been unstoppable.
Lacuna Coil continues on the tour until the end of this month. After a break, the band will be back in their home country of Italy for an August performance. Hopefully, you can catch them as the band rounds out this tour. Lacuna Coil is a band that you HAVE to experience live!!
Coal Chamber co-headlined with Sevendust. The band is touring after its 2011 announcement that the group reunited after a breakup in 2003. Dez Fafara (vocals), Miguel Rascon (guitar), Chela Rhea Harper (bass), and Mike Cox (drums) played a full set from the band's three releases, Coal Chamber, Chamber Music and Dark Days.
Set List:
Loco
Big Truck
Fiend
Rowboat
Something Told Me
Clock
Drove
Not Living
Dark Days
I
No Home
Oddity
Sway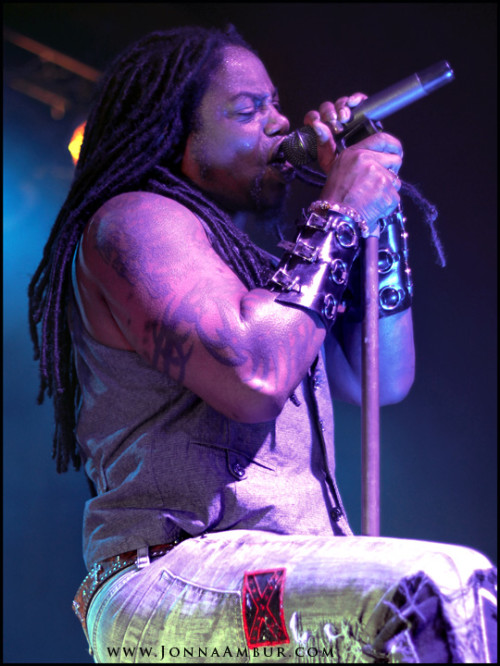 Touring in support of the current album Black Out The Sun, Sevendust's presence as they took the stage at the Webster caused heart-pounding approval from the fans. The first song of the night was "Decay," a perfect introduction to a set customized just for longtime fans of the band. "Praise," "Denial," "Alpha," "Waffle," "Strong Arm Broken," "Rumble Fish," "Bitch," "Pieces" and "Black" followed. Die-hard fan didn't moved from their spots, especially if they were on the rail. In fact, during "Praise," a determined 10-year-old named Ryan was brought over the rail. The packed crowd was keeping him from seeing his first ever concert, and his mother, security and some friends helped him to a seat in front of the stage, where his mom joined him. Lejon then called him over to the stage and handed him two guitar picks to maximize his memorable night even further.
Sevendust is a band that not only is unstoppable in the metal world, but the band members are men with an appreciation for their fans, and that was made evident numerous times during the night. They often paused to thank everyone and their gratitude clearly was genuine.
They left everyone wanting more, even after their encore of "Splinter" and "Face to Face." From the looks of it, if they played another hour, not a single person would have budged.
The band will be touring straight through until July of this year. The Connecticut show was the last performance for Troy McLawhorn, who has been filling in for Clint Lowery. This is a show and lineup not to be missed. Get your tickets early, though; nearly every show as been a sell out!!
Sevendust is:
Lajon Witherspoon (vocals)
Clint Lowery (guitar)
Morgan Rose (drums)
John Connolly (guitar)
Vince Hornsby (bass)
Sevendust with Lacuna Coil, Coal Chamber and Stolen Babies Photo Gallery
[Photos by Jonna Ambur]
by Christophe Pauly
- Photojournalist –
April 10, 2013 at Cirque Royal in Brussels, Belgium –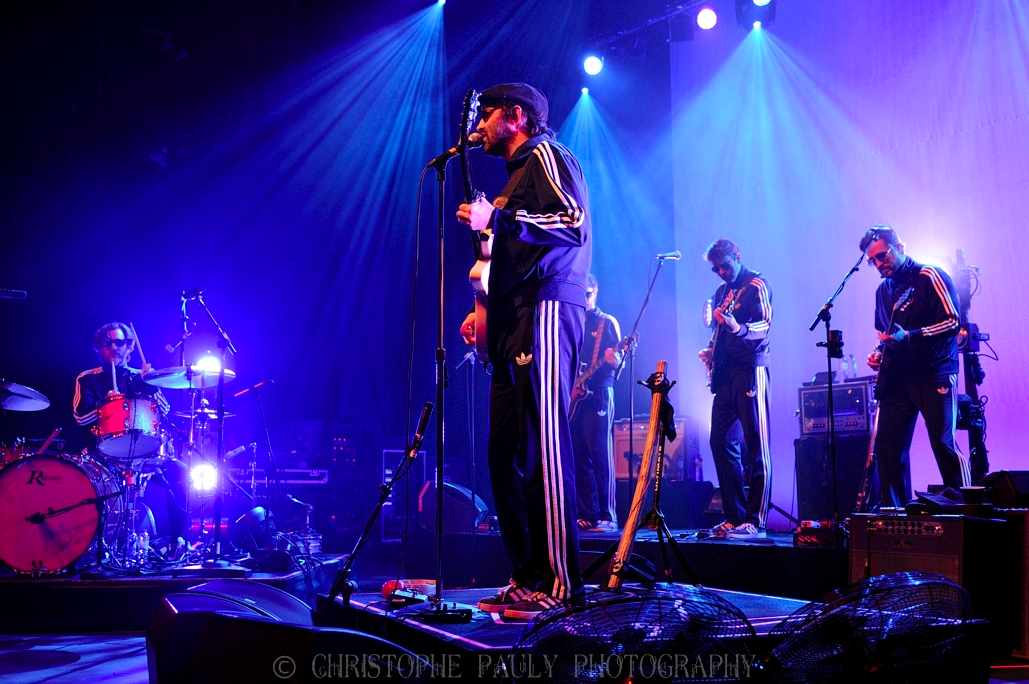 Hardrock Haven's Christophe Pauly caught up the EELS on their European tour in Brussels, Belgium and captured this spectacular photo gallery. Enjoy!
Set List:
1. Bombs Away
2. Kinda Fuzzy
3. Open My Present
4. Oh Well
5. (Fleetwood Mac cover)
6. Tremendous Dynamite
7. In My Dreams
8. On the Ropes
9. Peach Blossom
10. Prizefighter
11. The Turnaround
12. New Alphabet
13. Fresh Feeling
14. The Sound of Fear
15. Wind Beneath My Wings
16. (Bette Midler cover) (snippet)
17. Go Knuckles!
18. Itchycoo Park
19. (Small Faces cover)
20. Souljacker, Part I
21. Wonderful, Glorious
Encore:
22. I'm Your Brave Little Soldier
23. My Beloved Monster / Mr. E's Beautiful Blues
Encore 2:
24. That Look You Give That Guy
Encore 3:
25. Dog Faced Boy
26. Go EELS!
EELS in Belgium Concert Photo Gallery
by Deb Rao
- Senior Columnist –
April 13, 2013 at Santa Fe Station in Las Vegas, NV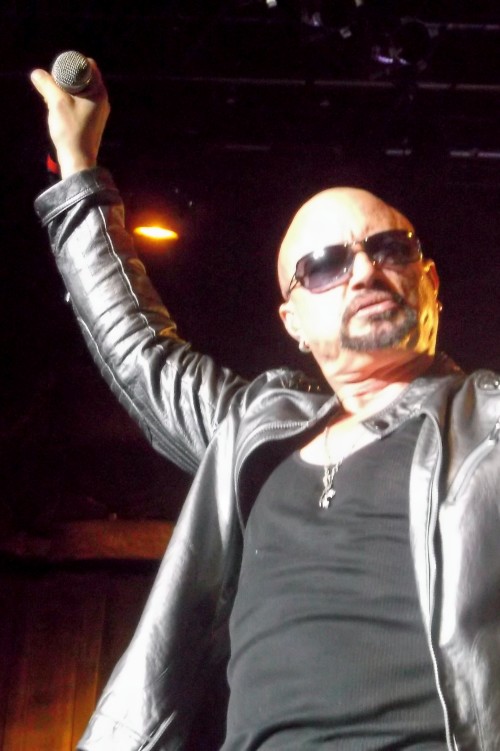 In celebration of the 25th Anniversary of Operation Mindcrime, Queensryche made a special stop in Las Vegas for a sold out performance at Santa Fe Station at the Chrome Room. These days it seems the growing trend for '80s bands to have two versions of the band but in this case it is all for the best. Singer Geoff Tate has assembled top-notch musicians to launch the re-birth of the band. This stellar line-up featuring Geoff Tate on vocals, veteran bass player Rudy Sarzo, Robert Sarzo on guitar, Kelly Gray on guitar, Randy Gane on keyboards and Simon Wright on drums, all gave an outstanding performance. Singer Geoff Tate commented, "Las Vegas was the 5th show of this line-up. The tour has been very fun so far and they were working out all of the kinks." He also wanted to thank the fans at Hardrock Haven for all of their support.
Kicking off the Operation Mindcrime set with "I Remember Now," the new line-up of Queensryche were ready to rock in all their glory. The band roared with "Revolution Calling." Geoff Tate who is possibly one of the '80s greatest singers sounded amazing. He took full command of the stage and sang with much passion and conviction as they played one of the top albums of the metal genre in its entirety.
Guitarist Robert Sarzo was excellent changing from electric to his acoustic Ovation, the intricate guitar work he performed was precise and sizzling. There was also a special appearance by Nina Noir as Sister Mary on "Suite Sister Mary."
Perhaps one of the most captivating moments of the set was when Geoff appointed the audience with water during the song "I Don't Believe In Love," then launched into "Eyes Of A Stranger." This song stills sends chills down my spine. I love the haunting vocals and chord changes during this song. The rhythm section of Rudy Sarzo and drummer Simon Wright was ferocious. Both Rudy and Simon have such a long list of musical accolades. The talent that is in Queensryche is mind boggling.
The show didn't end there. The 90-minute performance of Operation Mindcrime was capped by a 4-song encore that included such hits as "Silent Lucidity." It was great to watch the fans sing along to this song. Robert Sarzo again displayed some fancy acoustic guitar picking on his Ovation. Queensryche then launched into "I'm American," "Jet City Woman" and ended with "Empire."
Be sure to catch Queensryche when they come to a city new you. The last time I had seen the band was in 2008. In comparison, I really enjoyed the new line-up. The high quality display of musicianship was ever so compelling to envision. There seems to be a new found enthusiasm. Geoff Tate seemed really happy to be back onstage. Queensryche will without a doubt build a new empire of fans with this line-up and the ever so stellar vocals of Geoff Tate.
Set List:
I Remember Now
Anarchy X
Revolution Calling
Operation Mindcrime
Speak
Spreading The Disease
The Mission
Suite Sister Mary
The Needle Lies
Electric Requiem
Breaking The Silence
I Don't Believe In Love
Waiting For 22
My Empty Room
Eyes Of A Stranger
Encore:
Silent Lucidity
I'm American
Jet City Woman
Empire
Official Website: www.queensryche.com
by Anabel Dflux
- Photojournalist –
April 15, 2013 at The Whiskey in West Hollywood, CA –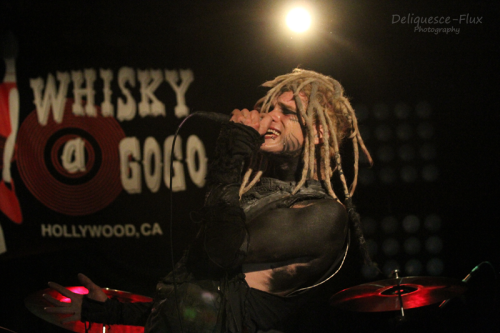 Adorned with memorabilia of some of the world's most famous musicians, the rock hot-spot Whisky a Go Go hosted a performance by industrial rock band Davey Suicide. Having taken Hollywood by storm, Davey Suicide's rising success is very apparent, as there was a multitude of fans who waited patiently in line on the Sunset Strip while wearing Davey Suicide shirts. With the release of the band's debut album, Davey Suicide set out on yet another tour, this time supporting Vampires Everywhere and Orgy on the "Wide Awake and Dead Tour."
This was the final leg of the tour, and despite being quite tired, the band put on a killer performance and really pumped up the energy in the venue. Easily recognized by each member's unique appearance, the crowd excitedly screamed when the lights dimmed and the first note was played. Davey enjoys being up close to the audience, and he always makes a point to interact with the fans. Needlz rocked it out on the keyboard, flanked by a talented Frankie on bass. The two newest bandmates, drummer Drayven and guitarist Ashes, both, seemed to fit right into this lively group.
The show closed with ladies dancing up on stage and a satirical blow-up doll being tossed around on stage, immensely amusing the crowd. Able to stand on its own, Davey Suicide is set to embark on a headlining tour in the fall. Davey Suicide can be found online at www.daveysuicide.com.
Members:
Davey Suicide – vocals
Frankie Sil – bass, backup vocals
Needlz – keyboard, programming, backup vocals
Drayven Davidson – drums
Ashes – guitar
Davey Suicide Concert Photo Gallery
[Photos by Anabel Dflux]
by Jonna Ambur
- Senior Photojournalist –
APRIL 9, OAKDALE THEATER, WALLINGFORD CT –
Hell or Highwater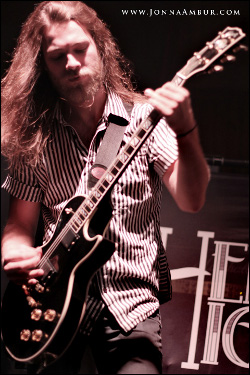 Begin Again was released in August 2011. It's not often that the first band up plays to a full crowd, but with Hell or Highwater in the house, the Oakdale Theater was full, and the fans were ready to go!!
In This Moment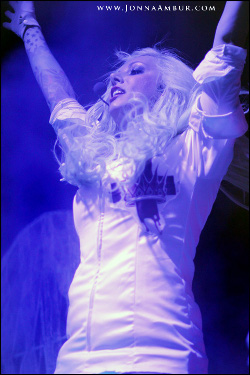 In This Moment made its way through the black light that engulfed the stage. Chris Howorth (Guitar), Travis Johnson (Bass), Randy Weitzel (Guitar) and Tom Hane (Drums) set the stage for Maria Brink's (vocals) grand entrance. She was dressed in white, and the light glowed off her white corset and cloak. With fog machines and fans set on high, Maria graced the stage amidst deafening screaming. The band's entire set was heavy, yet sexy, metal and erotic. Performing songs, such as "Rise With Me," Whore," "Beast Within" and their newest hit "Blood," In This Moment rocked!
Stone Sour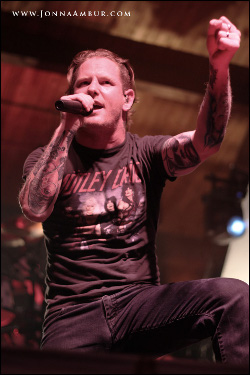 The infamous Corey Taylor (vocals), also of Slipknot, with James Root (guitar), Josh Rand (guitar), Shawn Economaki (bass) and Roy Mayorga (drums) closed the night with the force of a tank plowing through the Oakdale Theater's dome. The energy was epic, and was was felt to your core. Every song and every note was delivered with emotion and strength.
Touring in support of the band's newest releases House of Gold and Bones I and II, they performed favorites, such as "Absolute Zero," "Made of Scars," "Reborn," "Bother," "Say You'll Haunt Me" and 30/30-150." The band killed it. While they didn't perform any songs from House of Gold and Bones II, which was released the day of the show, the fans sang along with every hit they belted out. Stone Sour puts on one hell of a show each and every time. If you can catch them on their current tour, do it.
LIVE! |Stone Sour with In This Moment and Hell or Highwater Photo Gallery
[Photos by Jonna Ambur]
by Christophe Pauly
- Photojournalist –
April 10, 2013 at Cirque Royal in Brussels, Belgium –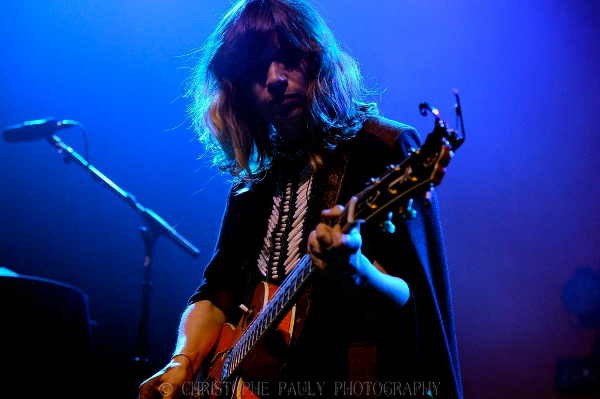 Nicole Atkins is currently on tour opening for The EELS. Hardrock Haven's Christophe Pauly caught up with the European tour in Brussels, Belgium and captured this spectacular photo gallery. Enjoy!
Set List:
Maybe Tonight
The Way It Is
Cry Cry Cry
Crying
(Roy Orbison cover)
Red ropes
The Tower
Neptune City
Official Website: http://mondoamore.nicoleatkins.com/
Nicole Atkins in Luxemburg Concert Photo Gallery
by Deb Rao
- Senior Columnist –
March 29, 2013 at Vamp'd IN Las Vegas, NV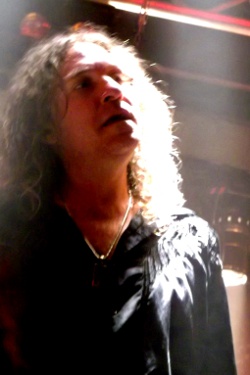 20 years in the making and Saigon Kick are poised for the comeback tour of the year. They say timing is everything, by the looks of the sold out venue at Vamp'd in Vegas, that old cliché speaks volumes. The reunited Saigon Kick featuring Matt Kramer, Phil Varone, Jason Bieler and Chris Mclernon hit the Vegas stage at midnight with a vengeance. Opening with the song "New World" the band performed a 90-minute set.
Matt Kramer voice sounded great. The singer, clad in sunglasses, danced around the stage, reminiscent of The Doors Jim Morrison leading the audience into a psychedelic frenzy. The pissed off angry lyrics spiraled around the venue prompting many fists to be raised up in the air.
Matt commented that the band had been lumped into the hair band genre but the bands music portrayed so much more. With an array of punk, jazz-fusion, and hard rock Saigon Kick's set unleashed it all brilliantly. The sound was tight. It was hard to believe 20 years had passed since I have last seen the band in Boston at the Orpheum, opening for Extreme. Jason Bieler commented it took 17 years and 3 years of talking to make this tour happen. Vegas was one of the select cities on this 5-city tour. The other dates 3 included shows in Florida ending in Los Angeles.
Highlights of the set included the psychedelic song "Colors" and "All I Want." Matt Kramer commented that the Beatles were a huge influence on the band as the band launched into "Dear Prudence." One of the greatest aspects of the band is the harmonies and expertise drumming of Phil Varone. Phil led the band through many up tempo songs and different musical styles. Matt sang with much conviction. The only downer song was "My Dog," which is a sad tune.
Highlight of the set included the encore "Love Is On The Way," the song was a true MTV Kodak moment as the audience sang along. At the end of the set Matt invited everyone onstage for "What Do You Do."
It seems every year defines a moment that captures music history. I am proud to be part of the magic that transpired at Vamp'd' during the Saigon Kick set. Hopefully, the band will continue to tour and maybe write a new album. For now it was so refreshing to hear all the old songs. The future looks bright for Saigon Kick. Hopefully the second time around will be the charm and re-launch the band into super-stardom.
Special thanks to Phil Varone for making this review possible. Be sure to check out Phil's exclusive interview right here at Hardrock Haven.
Set List:
New World
Suzy
Coming Home
Peppermint Tribe
Down By The Ocean
The Lizard
Dear Prudence
Colors
God of 42nd Street
All I Want
Ugly
What You Say
World Goes Round
All Alright
Hostile Youth
My Dog
Month Of Sundays
My Life
Love Is On The Way
What Do You Do
Official Facebook: www.facebook.com/saigonkickofficial
by Jonna Ambur
- Senior Photojournalist –
APRIL 6, 2013, MOHEGAN SUN ARENA, UNCASVILLE, CT –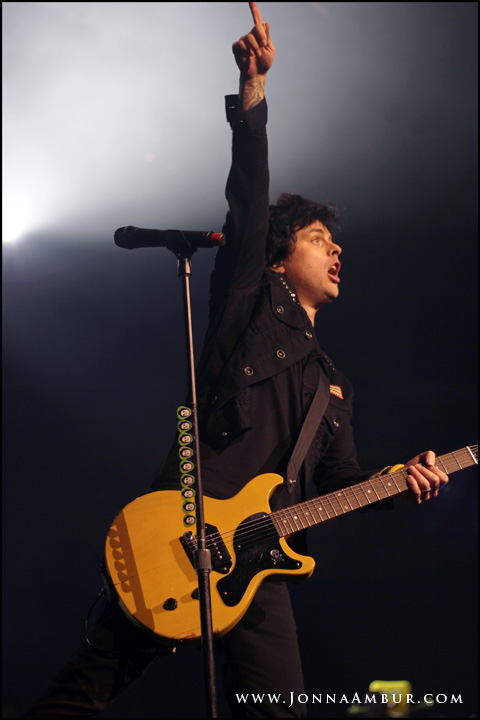 The lights dimmed, the first notes of Green Day's intro bellowed through the speakers, and the crowd noise was deafening. A packed arena was filled screaming fans who sang along with the band, cheered, laughed, jumped and danced for the entire set. The verdict was unanimous: Green Day kicked ass! The set list was packed with favorites, such as like "99 Revolution," "Know Your Enemy," "Boulevard of Broken Dreams," "Hitchin' a Ride," "2000 Light Years Away," "Brain Stew," "Basket Case," and "Minority." Billie Joe Armstrong (vocals), Tre Cool (drums) and Mike Dirnt (bass) didn't let their fans down. Jason White (background vocals), who was made a permanent member of the band, was welcomed warmly by all. After a Connecticut date postponement and a short break, Green Day let its fans know how much the band appreciated every single one of their fan's support over the years.
One lucky teen, who got to sing alongside Armstrong, then launched himself from the stage, flying into the pit and landing into a sea of supportive and cheering fans. Later in the set, almost a dozen additional teens were brought up to the stage to sing, dance and engage with the band that they had been waiting months to see. To say this show was worth the wait is an understatement!
As the night came to a close, Green Day performed a three-song encore, which included "American Idiot." Nobody wanted the night to end, and the band showed no sign of wanting to leave. Right down to the last note, Green Day rocked the house, kept the adrenaline pumping and gave everyone in attendance an experience that will be talked about for a long time, for sure. This is a definite must-see tour if you can get to it!
Green Day Discography:
39/Smooth (1990)
Kerplunk (1992)
Dookie (1994)
Insomniac (1995)
Nimrod (1997)
Warning (2000)
American Idiot (2004)
21st Century Breakdown (2009)
¡Uno! (2012)
¡Dos! (2012)
¡Tré! (2012)
LIVE! | Green Day Concert Photo Gallery
[Photos by Jonna Ambur]
by Deb Rao
- Senior Columnist –
March 22, 2013 at Orleans Arena in Las Vegas, NV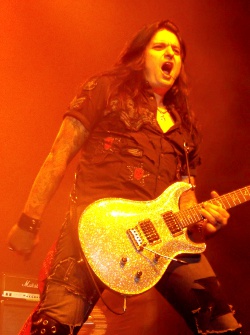 For one night only the Las Vegas strip was turned into a Metal extravaganza with Bob Rocks at the Orleans Arena featuring Vince Neil, Night Ranger, Skid Row, Warrant, and Quiet Riot. The Strip may have its glamor and glitz with Celine Dion but the '80s bands that performed at the Orleans Arena showed Las Vegas how to rock!
Quiet Riot kicked off the night's festivities. It was so refreshing to see Quiet Riot again. After Kevin Dubrow passed many fans wondered what would become of the band. Frankie Banali surely made the right decision to continue the band. Frankie, Alex, and Chuck are back where they belong onstage. Highlight of the set was when drummer Frankie Banali took the mic to pay tribute to Randy Rhoads and Kevin Dubrow with the song "Thunderbird." A truly class act, Frankie is one of the best drummers in the business. Kevin Dubrow also commented in the past to me many times that guitarist Alex Grossi is a great guitarist in true Randy Rhoads style.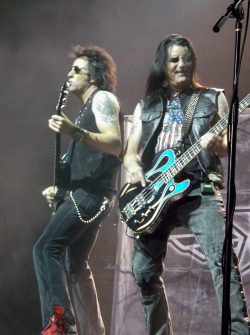 Next up Warrant stole the show. Kicking the set off with "The Downboys" Warrant rocked the house. Back in Vegas by popular demand, Warrant sounded really tight and rocked with perfection. Highlights of the set were ballads; "I Saw Red," and "Heaven." Singer Robert Mason also performed on acoustic guitar. Robert is truly doing an amazing job as Warrant's front-man.
Warrant rocked hard with guitarist Erik Tuner extraordinary performance on "Uncle Toms Cabin." The band ended the set with their mega hit "Cherry Pie." The bands over played 30 minute set and left the audience wanting more. Be sure to check out Warrant on tour! They also performed new song "Sex Ain't Love" off of Rockaholic.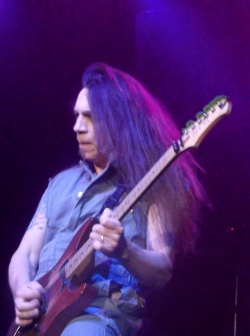 Next up Skid Row hit the stage. They kicked into full gear during "Monkey Business." Singer Johnny Solinger announced the band would have a new album out April 16th entitled United World Rebellion. The band performed a new song off it that was a mixture of punk meets heavy metal called "Kings Of Demolition." The song has that old school vibe and sounds really promising. Highlight of the set was "I Remember You" and "Youth Gone Wild."
It was great to see Night Ranger perform again. The set rocked with many classic hits including "Don't Tell Me You Love Me," "Sister Christian" and "Rock In America." Guitarist Brad Gillis did an amazing job.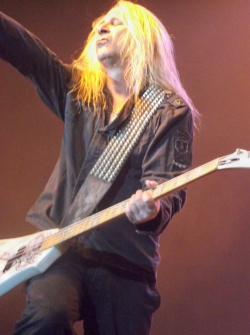 Headliner Vince Neil hit the stage with much energy. Vince looked great and seemed really happy to be back onstage after his recent medical scare. The band played many Motley Crue hits including "Dr. Feelgood," "Shout At The Devil," Kickstart My Heart" and ended the set with "Girls, Girls, Girls." Highlight of the set was guitarist Jeff Blando and bassist Dana Strum played tribute to the late Ronnie James Dio with "Heaven And Hell" and a cool Led Zeppelin medley.
Tonight's concert was a journey through time. With timeless songs that have survived many decades. The '80s were all about guitar solos and great lyrics. Tonight the top of the metal genre displayed stellar musicianship with songs that will endure for generations to transpire.
Special Thanks to Warrant guitarist Erik Turner for making this review possible.
by Deb Rao
- Senior Columnist –
March 23, 2013 at Boulder Station in Las Vegas, NV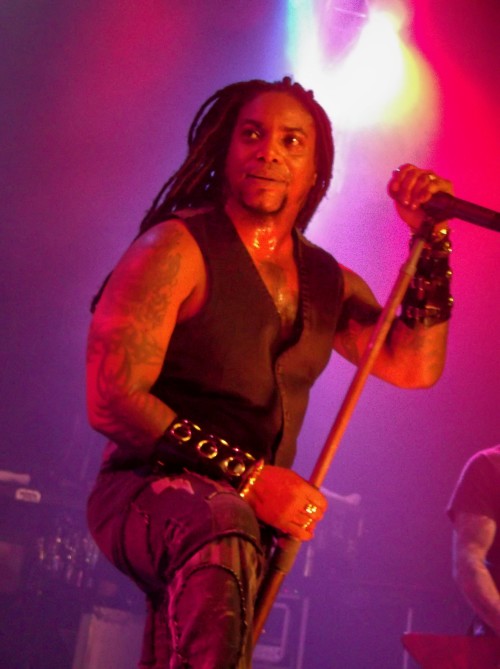 Sevendust is currently on the road supporting their latest release Black Out The Sun. The band made a special stop in Las Vegas at Boulder Station in Las Vegas for a sold out show with special guests Candlelight Red and Lacuna Coil.
Candlelight Red kicked off the show at 7:30 P.M. for a 30 minute set. The band has been touring non-stop and sounded tight. Fans showed up early to catch a glimpse of the rising band that Hardrock Haven first unveiled last year. The band has been in the studio working with Sevendust drummer Morgan Rose. Highlights of the set included new song "Reflecting" and "Medicaided." When asked about what the new album and what it is like working with Sevendust drummer Morgan Rose guitarist Jeremy Edge commented, "We experimented with a lot of low tunings. Just try to get a big heavy sound. It is still kind of organic feeling. Some songs I didn't so any solos. I just did a lot of textures. Some songs we did some solo work. One song kind of has a bluesy solo. We didn't go overboard. Basically playing with just is right for the songs. Trying to create a texture."
"It is freaking awesome working with Morgan. He is quite the mastermind. He hears so much stuff. He is like don't move it there. Then he will hum something. We just keep going and spiraling. It is always a really cool experience."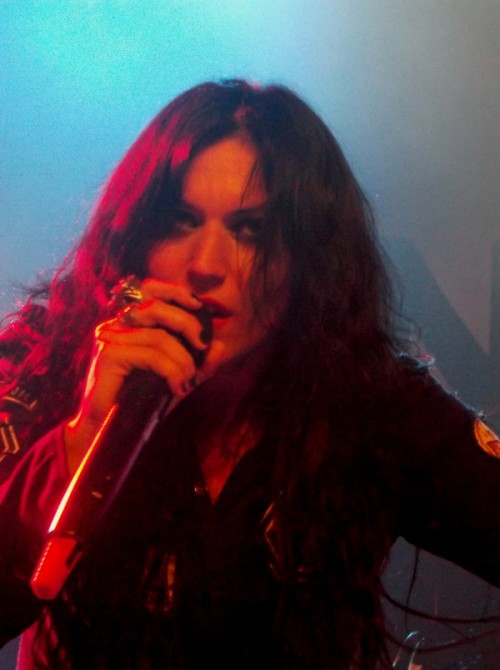 Next up Italian metal band Lacuna Coil took the stage. This was my first time seeing the band. The vocals of Cristina Scabbia and singer Andre Ferro soared. I really enjoyed the vocal trade offs. Cristina has an amazing stage presence and the songs were very well crafted. Highlight of the set was the acoustic "End Of Time." Lacuna Coil ended the energized set with "Spellbound."
Set List:
I Don't Believe In Tomorrow
I Won't Tell You
Kill The Light
Self Deception
Fragile
End Of Time
Survive
Our Truth
Intoxicated
Trip The Darkness
Spellbound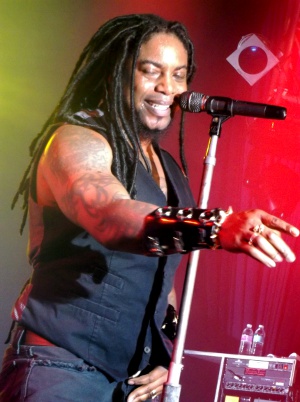 Sevendust has acquired quite the following over the past few years. Their stellar musicianship and musical bond speaks volume. The tour has been getting rave reviews with sold out performances everywhere. Las Vegas seems to be one of Lajon's favorite places to play, as he commented he didn't want to leave Vegas because they treated the band so well. Sevendust is touring in support of their latest release Black Out The Sun. The album is phenomenal. Be sure to check out Morgan Rose exclusive track by track break down here at Hardrock Haven.
Sevendust kicked off the set with new song "Decay." The audience was captivated by the tight brutal onslaught of the band. The band played many songs from their last release, plus Morgan Rose's favorite song, "Till Death." The vocals of Lajon WItherspoon were outstanding. Drummer Morgan Rose pounded the drums with precision and was amazing to watch. The set roared and only slowed down a moment for "Angel Song."
Be sure to check out Sevendust coming to a city new you and pick up a copy of Black Out The Sun. Possibly the best album release of 2013.
Set List:
Decay
Praise
Denial
Ugly
Bitch
Angel Song
Waffle
Strong Arm
Till Death
Pieces
The End Is Coming
by Anabel Dflux
- Photojournalist –
March 25, 2013 at Troubadour in West Hollywood, CA –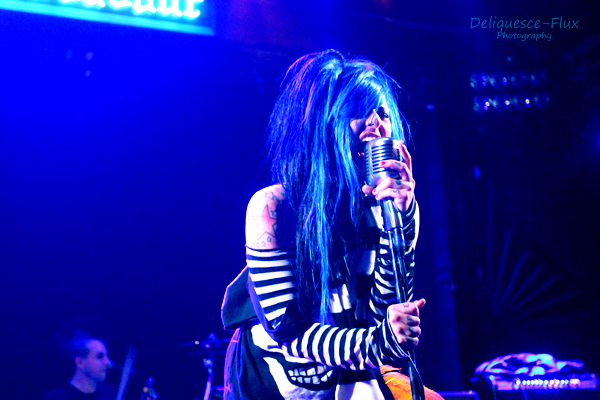 Returning exactly a month after their Roxy Theater show, Stitched Up Heart was shaking up West Hollywood again on March 25th, at Santa Monica Blvd's very own Troubadour. This was the band's first time setting foot in the historically rich venue, and Stitched Up Heart were sure to leave the Troub' with quite an impression.
Vocalist Mixi started the show off with a characteristic enthusiasm and a gleeful smile on her face, welcoming all of the attendees to their set. Clever, colorful lighting effects and great sound encompassed the space, intriguing both the downstairs audience and upstairs onlookers. Bassist Derek brought a fantastic liveliness to the left of the stage with his fun energy, often pairing up with guest musician Merritt Goodwin. Guitarist Grant swooned the crowd at the right side and last but certainly not least, drummer Decker really spiced things up with his excitable smile and skilled drum beats!
Interaction with the audience was a must, with blue-haired Mixi Demner getting down into the crowd every few moments, and encouraging everyone to sing to the music. After getting off stage, the band made a point to hang out with their fans and allow everyone to have a splendid Monday night.
This rock n' roll band is definitely a force to be reckoned with- sweeping fans under their spell everywhere they go.
Members:
Alecia 'Mixi' Demner on vocals.
Grant Webb on guitar.
James Decker on drums.
Derek Jochmann on bass.
Merritt Goodwin was a guest musician at this show.
Set List:
1. Abducted
2. Frankenstein
3. Funhouse
4. Marionette
5. Your Demise
6. Bitter End
7. Grave
8. Freax
9. The End
Stitched Up Heart Concert Photo Gallery
[Photos by Anabel Dflux]
by Christophe Pauly
- Photojournalist –
March 17, 2013 at Magasin 4 in Brussels, Belgium –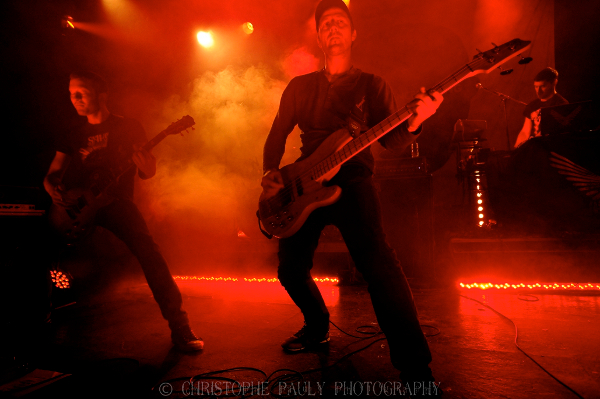 Long Distance Calling is on the road once again to promote the release of his newest studio album, The Flood Inside. Hardrock Haven's Christophe Pauly caught up with the European tour in Brussels and captured this spectacular photo gallery. Enjoy!
Band:
David Jordan (guitar)
Janosch Rathmer (Drums)
Florian Füntmann (guitar)
Jan Hoffmann (bass)
Martin 'Marsen' Fischer (vocals)
Set List:
Nucleus
The Figrin D'an Boogie
The Man Within
Black Paper Planes
Ductus
The Flood Inside
Arecibo
Tell The End
Aurora
Metulsky Curse Revisited
http://www.longdistancecalling.de
Long Distance Calling Concert Photo Gallery
by Christophe Pauly
- Photojournalist –
March 19, 2013 at Rockhal in Esch-sur-Alzette, Luxemburg –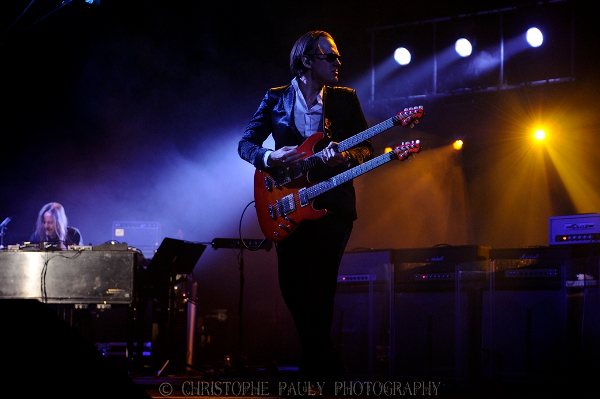 Blues rock veteran Joe Bonamassa is on the road once again to promote the release of his newest studio album, Dust Bowl. Hardrock Haven's Christophe Pauly caught up with the European tour in Esch-sur-Alzette, Luxemburg and captured this spectacular photo gallery. Enjoy!
Joe Bonamassa in Luxemburg Concert Photo Gallery
by Jonna Ambur
- Senior Photojournalist –
MARCH 16, 2013, WEBSTER THEATER, HARTFORD, CT –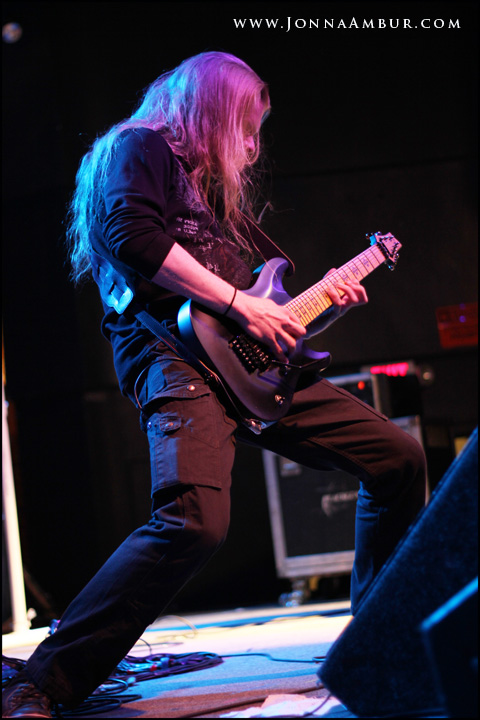 Fans and musicians alike were waiting for this night at the Webster. Swedish metal band, Soilwork and Jeff Loomis, guitar virtuoso formerly of Nevermore were joined by Blackguard, Bonded by Blood and Hatchet. By 2pm, local and regional openers got things started in the Webster's Underground. Dream of Scorpio, Xenosis, Our Own Destruction, Lightsbane, Pariah and Continuum joined forces to play straight through to a full theater up to the 7pm main stage start time!
Hatchet from California started out the night on the main stage. Bonded by Blood, also from California, followed and Blackguard from Canada rounded out the main stage openers.
Jeff Loomis walked out onto the dark stage to screams from people that had waited hours to see the Wisconsin-born guitar master! Loomis' set was all instrumental but it spoke volumes. The feeling and emotion that was shared through every note he played could be felt by everyone.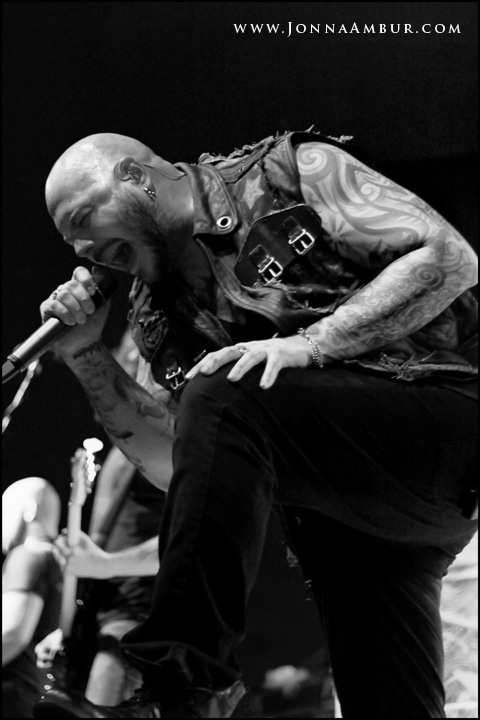 Formerly of Sanctuary and Nevermore, Loomis has been promoting his solo career since 2005. Zero Order Phase was released in 2008 and Plains of Oblivion was released in 2012. He is currently touring with Travis Montgomery (guitar), Alex Weber (bass) and Anup Sastry (drums).
Soilwork closed the night with the progressive power metal they've been known for since 1995. The current lineup of; Bjorn "Speed" Strid (vocals), Sven Karlsson (keyboards), Sylvain Coudret (guitar), David Andersson (guitar), Dirk Verbeuren (drums) and Ola Flink (bass) combined their musical talents, creative lyrics and flat out power to a full theater of fans. With a total of nine albums under their belt, The Living Infinite is their most recent release coming out in February 2013.
LIVE! | Soilwork with Jeff Loomis Concert Photo Gallery
[Photos by Jonna Ambur]
by Jonna Ambur
- Senior Photojournalist –
MARCH 12, 2013, TOAD'S PLACE, NEW HAVEN, CT –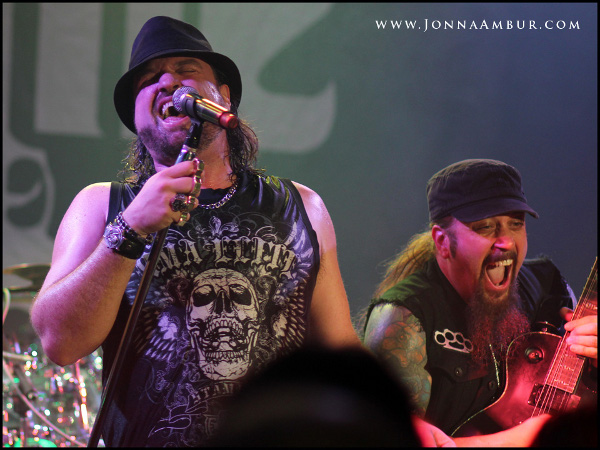 Adrenaline Mob is a culmination of epic musicians who formed a metal super-group. On the first night of the band's tour, The Mob performed at New Haven's famous, Toad's Place. A dedicated pack arrived early to get a prime spot and warmed up to supporting tour band Nothing More and local Connecticut bands, Vengeance and Mile Marker Zero.
The talent on the stage couldn't be surpassed; their force couldn't be measured; their power couldn't be contained! Hitting the road in support of the band's album Covertá, released the day of the show, the hour-plus set brought the house down. The band performed songs from Covertá, as well as previous albums, Omertà from 2012 and Adrenaline Mob from 2011.
The set was non-stop, and they didn't hold back on their appreciation for everyone that had come out to help them start their tour. After the show, before they went on to their next stop, they visited with fans, talked shop, took photos and signed autographs. They made it clear that their band members were a family, and their fans were an extension of the bonds that keep them going.
The current lineup includes Russell Allen (vocals) from Symphony X, Mike Portnoy (drums) from Dream Theater and Avenged Sevenfold, Mike Orlando (guitar) from Sonic Stomp and John Moyer (bass) from Disturbed.
Set List:
Psychosane
Feelin' Me
Down to the Floor
Angel Sky
Indifferent
High Wire (Badlands cover)
Believe Me
Hit the Wall
All on the Line
Come Undone (Duran Duran cover)
Undaunted
Encore:
Guitar Solo
Stand Up and Shout (Dio cover)
The Mob Rules (Black Sabbath cover)
LIVE! | Adrenaline Mob Concert Photo Gallery
[Photos by Jonna Ambur]
by Cameron Edney
- Guest Columnist –
March 09 – 10, 2013 at All Phones Arena in Sydney, Australia –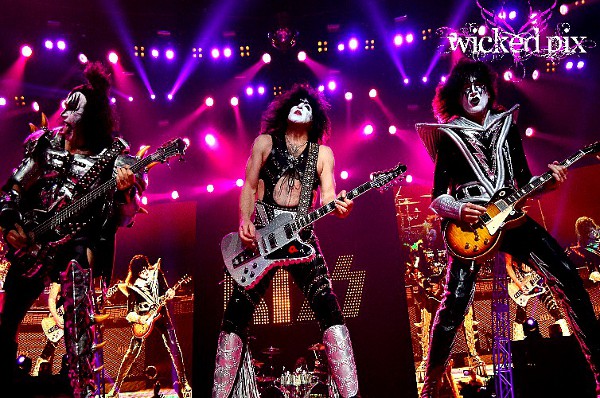 Growing up there wasn't too many bands that made the impression on me that Kiss did. Having older siblings who were part of Kissteria in 1980 here in Australia, it was only a matter of time before I would follow in their footsteps. Born in 1979 during the bands peak in Australia my first memory of Kiss was watching the "Shandi" video clip on a music show called Sounds. As the years went on my love for Kiss grew, I knew all the songs, had all the albums and that memorabilia. Damn, at one point I probably could have done with another house just for storage!
Over the years I had witnessed Kiss live in concert ten times, most of which have been mind-blowing experiences. When the most recent tour was announced with both Motley Crue and Thin Lizzy joining the bill I knew these would be shows not to miss.
Attending both of the bands performances last week in Sydney was brilliant. I loved the stage show, and usually do. The one thing you can always count on with a Kiss show is plenty of great lights, huge video screens and plenty of pyrotechnics. This is something that Kiss once again delivered!
Dubbed the Monster tour I was pleasantly surprised to see the band finally mixing up the set-lists from night to night. For the diehard fans this is something that's been asked for years and finally the band are answering those pleas. Kiss played incredible sets over the two nights in Sydney which included "Crazy Nights," "Hotter than Hell," "Out of this World," "Lick it Up," "Firehouse," "War Machine," "Deuce," "Shout it out Loud" and "Hell or Hallelujah."
The one thing I took away from this year's Kiss experiences was just how much Gene had stepped it up live! Gene's voice was by far the best I have ever heard him sing live, the band sounds flawless, Paul's voice was brilliant under the circumstances. I am sure many fans were not aware that Paul recently underwent throat surgery and even though his voice didn't hold up as strong as in the past during some tracks, it really didn't seem to matter to lifelong fans. Paul's onstage presence is unlike any other performers on earth, there is no one that works a stage and a crowd like Paul Stanley!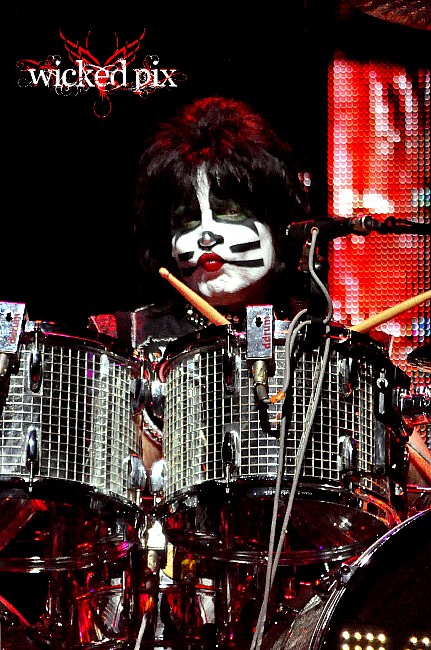 Eric Singer … what can you say? His drumming, as always, was kick ass, his vocal ability like Simmons on this tour flawless and that drum riser … incredible! Tommy Thayer also did a kick ass job on the tour, on night one of Sydney Tommy's track "Outta this World" is one of my favorites from the Monster and probably my favorite track played of the night. I was looking forward to hearing it again on night two but was equally impressed with hearing Tommy do "Shock Me" live once again.
Musically I couldn't fault the band on this tour… in the past there has been a bum note here and there or points where the wrong lyrics were sang but besides the intro to "Crazy Nights" on night 1 there was nothing to fault. Just like the band has been doing in recent years, all the onstage craziness is still in place, Gene is still breathing Fire … that never gets old. Paul is still flying out over the audience during "Love Gun," the band still have that incredible ending with the drum riser, more fireworks than any New Year's eve party and let's not forget Gene's blood spitting act which has always been one of my favorite parts of the shows.
One of the coolest things about this year's shows was how the band incorporated some covers and funny moments into the set on nights 1 and 2 the band broke into Led Zeppelin's "Stairway To Heaven" and The Who's "Won't Get Fooled Again," while Paul also treated the fans on night 2 to his version of the Aussie classic "Tie Me Kangaroo Down."
All in all, once again Kiss showed the critics why they are one of the greatest live acts on the planet and if you were at any of the recent Australian shows I'm sure you would agree. With the band recently announcing more shows overseas, I urge you all not to miss Kiss on this Monster tour, you won't be disappointed!
Set List Night #1
Detroit Rock City
Shout It Out Loud
Deuce
Firehouse (Gene Spits Fire)
Hell or Hallelujah
Calling Dr. Love
Outta This World (With Tommy and Eric Instrumental Jam)
Psycho Circus
Gene's Blood-Spitting Bass Solo
I Love It Loud
Crazy Crazy Nights
War Machine
Love Gun (Paul Stanley Flies To Secondary Stage Over the Crowd)
Rock and Roll All Nite
Lick It Up (Excerpt From The Who's 'Won't Get Fooled Again')
Black Diamond (Brief Excerpt from Led Zeppelin's Stairway to Heaven)
Set List Night #2
Detroit Rock City
Shout It Out Loud
Deuce
Hotter Than Hell (Gene Spits Fire)
Crazy Crazy Nights
Calling Dr. Love
Shock Me (With Tommy and Eric Instrumental Jam)
Psycho Circus
Gene's Blood-Spitting Bass Solo
I Love It Loud
Hell Or Hallelujah
War Machine
Love Gun (Paul Stanley Flies To Secondary Stage Over the Crowd)
Rock and Roll All Nite
Lick It Up (Excerpt From The Who's 'Won't Get Fooled Again')
Black Diamond (Brief Excerpt from 'Tie Me Kangaroo Down' And Led Zeppelin's Stairway to Heaven)
LIVE! | KISS Concert Photo Gallery
[Photos appear courtesy of Cameron Edney]