by Joe Mis
- Senior Columnist –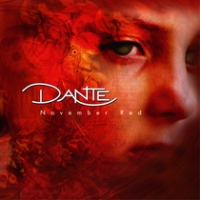 November Red is the third release from the German progressive metal band Dante, and a fine release it is. This epic seven track CD is a solid follow up to their prior releases, The Inner Circle (2008) and Saturnine (2010), and the 2 plus year gap between albums shows the care and concern that Dante puts into their music.
Formed in 2006 by keyboard player Markus Maichel and guitarist and bassist Markus Berger, Dante has done its best to blend modern progressive metal with old school rock touches. Their veteran status shows clearly through tight technical performances, well-written songs and impeccable engineering. The band has managed to combine traditional progressive metal and rock with the theatrical elements of symphonic metal and the precise recording technicality of any of a number of power metal acts. Think Dream Theater meets Savatage …
Moody keys and electronica courtesy of Markus Maichel open the album, and are quickly joined by the balance of the band. "Birds Of Passage (Caught In A Dream)" is a 10 minute long progressive anthem, highlighting the musical talents of the five-piece act. Tempo and mood changes are flawlessly handled, and the vocals of Alexander Göhs are very reminiscent of a young Zak Stevens. The big riffs demonstrated here are carried throughout the balance of the album. "The Lone And Level Sands" is a much more gritty driven prog metal tune featuring sweeping guitar hooks and an overall darker tone. Bass (Markus Berger) and drums (Christian Eichlinger) push this mix of power metal and progressive metal along nicely, and the chorus is smooth and memorable. Well done pianos and superb vocals make the ballad "Beautifully Broken" an emotional roller coaster, as well as the only sub-6 minute track on the CD. "The Day That Bled" has a very "Dream Theater" feel to the opening riffs and many passages thanks to dominant keyboards. It quickly becomes a true vocal showpiece for the band, and features some amazing guitar work from Markuses Bader & Berger.
"Shores Of Time" is nothing short of spectacular. The band manages to switch from heavy, dissonant guitar riffs to haunting piano atmospheric passages without making the tune seem like a mash-up, and the vocals move from powerful to gentle and back without losing emotional effectiveness. "Allan" is a soft, bass-driven mostly acoustic rocker with fine vocals and an overall gentle roll to it, and it builds in intensity to a decent wrap up. The band definitely saved the best for last. The title track, "November Red," is a near thirteen minute progressive epic. A long instrumental opening allows all the musicians to truly stretch, then the song goes soft and builds around the vocals and guitars. Numerous complex tone and tempo changes highlight the band's progressive leanings, and it closes the album in high style.
In summary, Dante's November Red is a very solid release, one of the best progressive rock and metal albums in recent memory. Top-notch technical performances, emotional delivery, crisp recording, and complex, well written tracks make November Red a cohesive and mature album, a true pleasure to hear. Highly recommended!
Genre: Progressive Metal, Rock
Band:
Alexander Göhs (vocals)
Markus A. Bader (guitar)
Markus Maichel (keyboards)
Markus Berger (guitar, bass)
Christian Eichlinger (drums)
Track Listing:
1. Birds Of Passage (Caught In A Dream)
2. The Lone And Level Sands
3. Beautifully Broken
4. The Day That Bled
5. Shores Of Time
6. Allan
7. November Red (In Praise Of Dreams)
Label: Massacre Records
Website: http://www.danteband.de/
Hardrock Haven rating: 9/10
by Justin Gaines
- News Editor / Senior Journalist –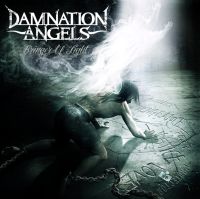 One of the most eagerly anticipated power metal debuts in recent memory, Bringer of Light is the first full-length release from UK-based symphonic power metal band Damnation Angels. The band made a decent impact with their 2009 EP Shadow Symphony, but with their recent hiring of Norwegian vocalist Per Fredrik "Pellek" Asly and addition to the 2013 ProgPower USA lineup, they've raised their profile significantly.
Given that Damnation Angels plays progressive-oriented power metal with a strong symphonic side, and they now have a charismatic Norwegian front-man, comparisons to Kamelot are inevitable. So let's get that out of the way up front. Bringer of Light sounds like a classic Kamelot album. Think Karma or Epica, but with a (much) better singer. Honestly, Kamelot fans that are less than thrilled with the band's recent output are probably going to lose their minds over Bringer of Light. Beyond the Kamelot comparison, Damnation Angels also brings to mind bands like Avantasia, Epica and Circus Maximus. Again, this is not a bad thing at all.
Bringer of Light has several things going for it, but there are three aspects that stand out in particular. The first is that under everything else, this is just a very well written, expertly executed melodic power metal album. The guitar work is very strong, the keyboards and piano are used brilliantly and never overused, and the melodies…well, calling them infectious is an understatement. They will be lodged in your head long after the album ends. You hear the basic power metal strengths most in the inter-connected "Someone Else," "Bringer of Light" and "Shadow Symphony." Factor in the symphonic elements and the album is that much stronger. Guitarist/chief songwriter William Graney handles this well. It never feels as overblown as say, recent Nightwish albums, but it is a huge part of the Damnation Angels sound, especially on the album's 10-minute bookends "The Longest Day of My Life" and "Pride (the Warrior's Way)." There's also a nod to one of the first symphonic metal projects – Metallica's S&M – with the very effective cover of "No Leaf Clover." The third element, and the one that is going to leave a lot of people with a new favorite singer, is Pellek's vocal performance. The man has a stunning, four-octave vocal range and he brings an incredible energy and charisma to the band and album. His voice is crystal clear and has tremendous power. Put these three key elements together and the result is nothing short of amazing.
If you like your power metal melodic and symphonic, Bringer of Light needs to go directly to the top of your buy list. Damnation Angels is one of the brightest new stars in the power metal universe, and are sure to appeal to fans of bands like Circus Maximus, Avantasia, Seventh Wonder, Epica and especially Kamelot. If you set aside the fact that Bringer of Light was released in Japan several months ago, this album has to be considered a top ten album for 2013, and so far is the year's best power metal release by far.
PS – As mentioned earlier, Damnation Angels will be making their U.S. live debut this September at the ProgPower USA festival. Given how rarely a band like this makes it to the U.S., if you have the opportunity to attend this event, do not pass it by.
Genre: Power Metal, Symphonic Metal
Band:
William Graney (g) (k) (v)
Per Fredrik "PelleK" Asly (v)
John Graney (d)
Stephen Averill (b)
Dawn Trigg (p)
Track Listing
1. Ad Finem
2. The Longest Day of My Life
3. Reborn
4. I Hope
5. Pt. 1 – Acerbus Inceptum
6. Pt. 2 – Someone Else
7. Pt. 3 – Bringer of Light
8. Pt. 4 – Shadow Symphony
9. No Leaf Clover
10. Pride (the Warrior's Way)
Label: Massacre Records
Website: www.damnationangels.com
Hardrock Haven rating: 9/10
by Joe Mis
- Senior Columnist –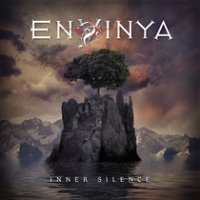 Inner Silence is the debut release from the Munich-based "female-fronted diversified metal band" Envinya. While that description tends to lead one to think of gothic style metal with a female vocalist and some growled male vocals, Envinya is that and more. There are some growls and lots of keyboards, but the band's music tends to lean more towards traditional melodic metal – although the lyrics drift more towards the darker side. One can hear touches of gothic, symphonic, and progressive metal in their music – and that keeps the album interesting.
Established in 2006, Envinya made it their mission to keep their music varied and diverse, not allowing themselves to be cast in to a single genre. They have succeeded, with the only overriding themes being "dark" and "melodic." They released a five track EP entitled Beyond The Dark to good press in 2010, and now the diverse and multi-influenced Inner Silence in 2013. The six-piece consists of vocalist Natalie Pereira dos Santos, guitarists Thomas Knauer (also does vocals) and Markus Herz, keyboard player Moni Strobl, bassist Lorenz Henger, and drummer Enrico Jung. There is no doubt that each is a talented musician, and the band's performance is tight and solid on all fronts.
"Faceless" opens the album, filled with lush keyboards before becoming an up-tempo, almost manic drum-driven rocker. "Forlorn" is a very heavy but melodic track with a great sweeping chorus and fine vocals by dos Santos. She proves that she can drop to lower registers and carry a lot of grit, and then sing clearly in the uppers while maintaining power. And better yet, she does not try to be operatic at all. "Inner Silence" sounds more like progressive metal with strong rhythm guitars, tempo changes, and rapid –fire bass drums. Unfortunately this song is burdened by unnecessary growled male vocals that do not add anything to the music, and in fact are extremely jarring and break the smooth tone of the track. "In My Hands" is another prog track with well-done guitars, keys and fine lead vocals, again with the death growls becoming a distracting element in what could be an epic track. Intricate guitar / keyboard riffs make "Swallow" an interesting technical track, and the lead break is impressive. The death growls are less intrusive here, and the band seems to be able to pull out all the stops making this one of the best tracks on the album.
"Satin And Silk" has a very old school metal feel to the opening guitar riffs, but becomes a more "modern" track as the band tried to do a "beauty and the beast" act which unfortunately falls a bit flat. Dos Santos has a very broad vocal range (and she displays most of it on this track), but Knauer's beast has a very narrow range and contrast is too great to be fully effective. Piano and soft vocals open "Mirror Soul," and fabulous multi-layered vocals make this the standout track of the release. It seems to blend progressive with symphonic and gothic, giving it a unique tone throughout and proving dos Santos to be a truly strong singer. "Too Late" allows the guitarists to show off a bit, and is a technically tight song with solid contributions from keys and bass as well. This is the one spot on the album where the vocal growls are used effectively, as the song itself seems to be study in musical contrasts and counterpoints. Intense drumming and solid rhythms are the highlights of "Beyond The Dark," and the up-tempo "Demoralized" allows bass and drums to shine.
Envinya's Inner Silence should appeal to fans of gothic and progressive metal, or those who like strong female vocals. While a decent album over all, this is a band talented enough to do a little more than merely following the current commercial trends. The growled/death vocals seem a bit forced and almost apologetic – like they're doing it because everyone else is, and not because it is a part of their creative thinking. Envinya has the raw talent to be a leader, and the band is at their best on the "non-trendy" tracks like "Forlorn" and "Mirror Soul." Hopefully as they grow they will stop following trends and begin starting them.
Genre: Gothic Metal
Band:
Natalie Pereira dos Santos (vocals)
Thomas Knauer (rhythm guitar, vocals)
Moni Strobl (keyboards)
Lorenz Henger (bass)
Enrico Jung (drums)
Markus Herz (lead guitar)
Track Listing:
1. Faceless
2. Forlorn
3. Inner Silence
4. In My Hands
5. Swallow
6. Satin And Silk
7. Mirror Soul
8. Too Late
9. Beyond The Dark
10. Demoralized
Label: Massacre Records
Website: http://www.envinya.de
Hardrock Haven rating: 7/10
by Joe Mis
- Senior Columnist –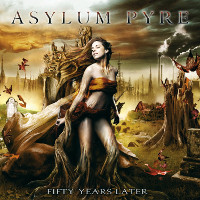 Asylum Pyre is "the place where you burn the fools" according to the band. Heavy and heady stuff HAS to follow such a declaration. The European act is doing their very best to make that a fact. Asylum Pyre may be a new name for fans of female fronted metal, but the band has been around for a number of years, and has just released their second full length album, an eco-fable entitled Fifty Years Later on the Massacre Records label.
Powerful and intense modern metal describes the music of Asylum Pyre. The band does not allow itself to be pigeon-holed into a specific metal genre, as they blend elements of pure heavy metal with progressive, power, and symphonic touches – and a hint of "beauty and the beast" female and male vocals. Musical variety and diversity are the keystones of Fifty Years Later, running the gamut from soft and atmospheric rock to near speed metal. There is a definite "save the Earth" theme as in the band's own words the "…lyrics and the artwork echo the warnings of our world and picture the possible evolution of our planet in the years to come."
Formed back in 2003 by guitarist Johann Cadot and bassist Julien Peuch, Asylum Pyre has been through a number of personnel changes through the years. The current lineup consists of Cadot and Peuch, plus keyboard player Tony Decaillon, guitarist Hervé Schiltz, drummer Vince Kreyder, and the powerhouse vocalist called Chaos Heidi. Asylum Pyre released their first demo, Whispers Of The Power in 2007, and in 2009 a full length album, Natural Instinct, with original vocalist Carole Alcantara. The current lineup entered the studio in late 2011, and officially released Fifty Years Later on 07-December-2012.
The short and sweet vocal-keyboard piece "Will You Believe Me?" opens the album, highlighting the softer side of the band and Chaos Heidi's wonderful vocal delivery. "Dead In Copenhagen" is intense and progressive with pounding drums and sweeping vocal lines, a tone continued into "The Frozen Will." The latter is a bit manic – switching from pounding to soft to pounding again. Both tracks have male vocal contributions from Johann Cadot. "These Trees" is a straight-up conventional metal track with nicely done guitars and a very "green" theme, ruing the destruction of the forests around the world. "The Herd" is a darker rocker with intense rhythms that rips into the herd mentality that seems to have overtaken modern society. Heidi rolls in some operatic style vocals, but they seem forced and as a result end up musically ineffective.
"Fisherman's Day" is an awesome acoustic track with strong duet vocals and mellow guitars – and a strong anti-pollution message. The band changes up and almost goes symphonic on the bass and drum driven "Against The Sand," a track with fine vocals and an effective guitar break. The epic "Any Hypothesis" travels the universe from creation to the end, and the music follows suit by building in intensity and power as the track progresses. The band tries to do a bit too much on this track and the mash up of styles (from acoustic rock to space music to speed metal) is a bit distracting. "Just Before The Silence" is a well done near power metal song with a strong rhythm line and a number of "growled" vocals. "Fifty Years Later" closes out the CD in prog-metal style thanks to a touch of elctronica and strong, heartfelt vocals.
While a solid album all around, Asylum Pyre's Fifty Years Later is fairly ordinary. The band is musically tight, passionate, and deliver a good sound – but there is nothing that truly sets them apart from what is becoming a fairly populous crowd of female-fronted blended-genre metal bands. They have all the tools to be a standout act, but need to decide whether to be symphonic, progressive, melodic, etc. Asylum Pyre does it all well, but there are other acts that are better at doing symphonic metal, prog-metal, or beauty and the beast duets. A greater focus on a single genre would propel Asylum Pyre to the top (and make them sound a little less "preachy").
Genre: Melodic Metal
Band:
Chaos Heïdi (vocals)
Johann Cadot (guitars, vocals)
Hervé Schiltz (guitars)
Julien Peuch (bass)
Tony Decaillon (keyboards)
Vince Kreyder (drums)
Track Listing:
1. Will You Believe Me?
2. Dead In Copenhagen
3. The Frozen Will
4. These Trees
5. The Herd
6. Fisherman's Day
7. Against The Sand
8. Any Hypothesis
9. Just Before The Silence
10. Fifty Years Later
Label: Massacre Records
Website: http://www.asylumpyre.com/en/
Hardrock Haven rating: 7/10
by Joe Mis
- Columnist –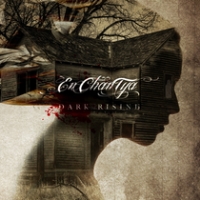 Dark Rising is the debut release from Portugal's EnChanTya. The band bills itself as Progressive Goth Metal, and that seems to be an apt term. Their music is definitely a blend of the two genres -plus a little death metal – and thanks to the powerhouse vocals of Rute Fevereiro they deliver a unique sound.
EnChanTya came together in 2004 when Rute Fevereiro decided to leave the all-female band Black Widow and move on to new projects. After a few demos, lineup changes, converts and good reviews, EnChanTya signed with Massacre Records to record their debut full length album. She is ably backed by orchestral drummer João P Monteiro, the excellent guitar duo of Nuno Seven and Emanuel Henriques, bassist Manuel Pinto and standout keyboard player Luis Fernandes. The band works well together, and handles the many trademark progressive elements cleanly and neatly.
Rute has an interesting and flexible voice – she does "beauty and the beast" vocals on her own, playing both parts. She has a clean voice that ranges from soft and clear to near operatic, and a death metal growl that can send chills down your spine. She uses the growl effectively, without overusing it or relying on it as a crutch. The songs are complex and loaded with tempo changes, varied moods and strong performances. At times Rute pushes just a little too hard at the high end of her range, but for the most part she is spot on. EnChanTya plays like a veteran act – and Dark Rising is a well-polished debut release.
There are numerous bright spots on the album, especially the fine intro and excellent musicianship on "No Stars In The Sky," a track that allows each member of the band a time in the spotlight. Heavy keyboards, crisp harmony vocals, and soaring guitars make "Night In Whisper" a strong and melodic track. "Clad In Black" features a great twangy bass line, a catchy rhythm line, and vocals that run from operatic to full on death growls – perhaps Rute's strongest vocal performance. The band is equally at home with more conventional tracks like the moody "Longing For You," the ballad-esque "Winter Dreams", and the galloping and upbeat "She Devil." The best guitar work on the albums is undoubtedly on "Ocean Drops" – a bouncy mid-tempo rocker filled with good hooks and great solos. The dynamic "Dark Rising" is the band's signature track – nothing is left out and everything just works – easily the strongest song on the release.
Overall, Dark Rising is a solid album. Nicely recorded and for the most part well-engineered, it delivers dark Gothic metal with a progressive twist – favoring the heavier elements of music rather than leaning towards the more "pop" influences that Goth seems to be favoring more and more. If you are into Goth metal or are a fan of "beauty and the beast" vocals EnChanTya will not disappoint. While not a major leap forward, this album is a tidy evolutionary step in the Goth genre, branching towards darker and heavier while adding complex prog metal tempos and harder elements. For a debut, it is excellent, and shows that EnChanTya and Rute Fevereiro will be forces to reckon with in the future.
EnChanTya's Dark Rising is available now on Massacre Records.
Genre: Progressive Goth Metal
Band:
Rute Fevereiro (vocals)
Nuno Seven (guitar)
Emanuel Henriques (guitar)
Manuel Pinto (bass)
João P Monteiro (drums)
Luis 'Vlad' Fernandes (keyboards)
Track Listing:
1. Unwavering Faith
2. No Stars In The Sky
3. Night In Whisper
4. Clad In Black
5. Longing For You
6. Your Tattoo
7. She Devil
8. Ocean Drops
9. Dark Rising
10. Winter Dreams
11. Fear Me When You Fall
12. Interlude / Become Of Me
13. Moonlighting The Dreamer
Label: Massacre Records
Website: http://www.enchantya.com/
Hardrock Haven rating: 7.5 / 10
by Joe Mis
Staff Writer –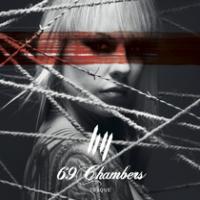 Swiss female-fronted metal trio 69 Chambers has just released its sophomore effort entitled Torque and it is a fine follow up to their 2009 debut, War On The Inside. A bit alternative, a bit Gothic, and a bit old school, 69 Chambers delivers 14 varied and interesting tracks that should appeal to fans of almost any of the darker genres of metal.
The trio is led by the expressive vocals and multi-instrumental talents of Nina Vetterli-Treml (who is an automotive and motor sports journalist when not performing). Her voice is well-suited to the genre, and runs the gamut from soft and smoky to gritty and intense. She also contributes some fine bass and guitar to the album. Nina is backed nicely by standout guitarist (and husband) Tommy Vetterli (Coroner, Kreator) and drummer Diego Rapacchietti. The tracks on Torque stylistically range from the standard rock ballad to "beauty and the beast" metal to near pop-metal, but no matter which genre dominates melody is always present. The band's musicianship is excellent, and the production values of the release are high.
The album opens with a bit of electronica during the intro to "Cause And Effect," a thrashy track that sets the gritty tone for the remainder of the CD. Nina does a bit of back and forth with growling vocalist Chrigel Glanzmann (Eluveitie), and the pair change from sweeping melodic metal to snarling near death metal without difficulty. A more alternative sound (with a hint of pop metal) takes over with "Bring On The Flood." This track features some great drum / bass coordination and a smooth layered chorus – a nice job all around. The band goes doom metal with the gloomy, guitar driven "Naughty Naughty Naughty," and Nina adapts her vocals perfectly, coming across as a bit sinister. "Anhedonia" is a more conventional metal track with some manic drumming, well done vocals, and interesting rhythm guitars. Nina's voice and passion are apparent on the conventional bass oriented rocker "Burn Some Gasoline."
"The Peep Hole" is a very dark gritty track with great vocal performances (including some cool growls) and a complex rhythm line. "Ring A Bell" has an electronic opening and a bluesy vocal line. It would be a great track if it wasn't for the distracting electronic manipulations of Nina's voice. These last two tracks don't seem to fit the image that 69 Chambers is trying to build – they are better suited to a pop-rock band, especially when followed up by the very dark and Gothic "Closeure" and the doomy "And Then There Was Silence." The latter features some excellently brutal growls by Nina and slick guitars throughout. Unfortunately this track is marred by an annoying spoken (well, yelled actually) section at the end. "Temple Down" is another well-done Soundgarden influenced rocker.
The ballad-esque modern rocker "Your Fool" is a nicely done song, but again lacks the brutal edge of most of the other songs and as a result it seems a bit out of place. Fortunately the band dials the intensity right back up with the guitar-heavy and drum-centric "The Doom Of Her Power" – one of the best tracks on the release on lyrical, tone, and performance levels. "Grace" conjures up a bit of Lacuna Coil with its somber mood and strong bottom end. The soft and smooth "Elegy" wraps the album and features an emotional and heartfelt guitar solo. This final track really highlights the full range of Nina's voice and the talent of Vetterli and Rapacchietti, as well as the stylistic depth of their songwriting skills.
69 Chambers Torque should appeal to most alternative metal fans, and to those who are into the Gothic or groove metal scenes. The band writes good dark songs without being overly morbid and depressing, and delivers them for the most part with appropriate levels of emotion and enthusiasm. The variety of styles highlights the band's versatility, but leads to some tonal inconsistency. Not a perfect album by any means, but one that comes from the heart. Solid performances and gritty lyrics, coupled with good production techniques make 69 Chambers a band to watch in the future.
Genre: Alternative Metal
Band:
Nina Vetterli-Treml (vocals, bass, guitar)
Tommy Vetterli (guitars)
Diego Rapacchietti (drums)
Guest musician: Chrigel Glanzmann (vocals on "Cause And Effect")
Track Listing:
1. Cause And Effect
2. Bring On The Flood
3. Naughty Naughty Naughty
4. Anhedonia
5. Burn Some Gasoline
6. The Peep Hole
7. Ring A Bell
8. Closure
9. And Then There Was Silence
10. Temple Down
11. Your Fool
12. The Doom Of Her Power
13. Grace
14. Elegy
Label: Massacre Records
Website: http://www.69chambers.com/
Hardrock Haven rating: 7.5/10
by Justin Gaines
Staff Writer –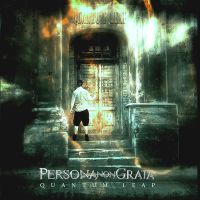 Quantum Leap is the second album from Greek progressive metal band Persona Non Grata. When the band debuted with 2009's Shade in the Light, they were clearly operating from the Dream Theater/Fates Warning playbook, and that's true of this album as well. You may occasionally detect a darker tone a la Evergrey or a quirky passage reminiscent of Pain of Salvation, but Quantum Leap is for the most part a fairly traditional progressive metal album.
It seems weird that the first thing that jumps out at you when listening to this technical and progressive album is the vocal performance, but it's true. Aris Pirris has a great range, and he uses every bit of it here to great effect and conveys a wide array of emotions. Musically, there's a lot to take in. Quantum Leap is a pretty melodic and cohesive album, so you don't always notice how dazzling the instrumentation is at first, but after a couple spins the intricate keyboard and guitar solos in particular really stand out, as do the complex – but never needlessly so – rhythms.
Quantum Leap may be a fairly standard progressive metal album, but you have to give Persona Non Grata credit for never getting too carried away with technical wankery and keeping the songs between 5-7 minutes in length. They never give you a reason to tune out, and that can make all the difference sometimes.
They may not be re-writing the progressive metal rulebook, but Persona Non Grata is still really good at what they do. If you're looking for the more adventurous, truly progressive stuff along the lines of Leprous, Haken or Pain of Salvation, this isn't it. Traditional progressive metal fans – especially those into Redemption, Zero Hour, Illusion Suite, Pathosray and the like – should find a lot to enjoy in Quantum Leap.
Genre: Progressive Metal
Band:
Akis Gavalas (d)
Chris Gatsos (g)
John Ioannidis (k)
Aris Pirris (v)
Chris Vogiatzis (b)
Track Listing:
1. Imaginative Mind
2. Lend a Hand
3. Evil Feelings
4. 9AM News
5. Redemption of Sins
6. Captive
7. Grief
8. Diversity
9. Internia
10. Journey Ends
11. Journey's End
Label: Massacre Records
Website: www.personanongrata.info
Hardrock Haven rating: 7.75/10
by Mark Allen
Staff Writer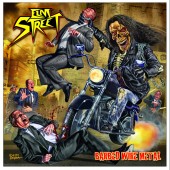 Despite hailing from Australia, Elm Street's sound is deeply rooted in '80s NWOBHM and American heavy metal. Not the mousse-and-spandex model, but the denim and leather definition. We're not talking the pretty boy gloss of Poison or Stryper, we're talking the clenched fist aggression of Priest or Maiden. You know, the kind of metal that is more interested in kicking ass than getting ass.
Barbed Wire Metal is the band's debut and it must have some jackrabbit DNA in its blood, because it has done its fair share of hopping around. Originally independently released by the band, the album was then snatched up for a limited run by Stormspell Records and is now seeing an expanded release via Massacre Records. Fingers crossed that the third time is the charm, because for fans of old fashioned metal fury, this is really fine stuff that deserves to find its niche audience.
The thrash attack starts immediately; with an onslaught of rapid-fire drums and speed-riffing, the band waste no time in ramming their big, loud, ballsy metal right in your face, a musical time machine transporting you back to 1986. And Elm Street bring some big hooks to back up the banging riffs. Mind you, these are heavy metal hooks, not commercial hooks; Elm Street have zero interest in catering to the corporate rock crowd clogging mainstream radio. No, these are the hooks of Accept, of Saxon, of Grim Reaper, of bands who believed the only way to sing a chorus was to shout it out with thundering gang vocal power.
In keeping with the band's old-school mentality, they bloat their lyrics with more cheese than the whole state of Wisconsin. Make room in your cheek for your tongue, because taking these songs seriously is as impossible as licking the back of your own neck. Lyrical subjects include metal power, Freddy Krueger, Leatherface, demonic disciples, and even Jesus Christ. Yes, Elm Street are equal opportunity lyricists, with no allegiance to either the dark or the light. Okay, there's only one song about the Son of God and seven songs about metal and monsters and Satan, so maybe they do tilt toward the darker end of the spectrum. But hey, at least they tossed Jesus a bone.
The band is comprised of confidently competent musicians doing a quality job of slamming out the kind of throwback metal they have chosen to play. The vocalist sustains a snappy snarl in the David Mustaine vein, the guitarist gets to ripping with some tasty solos, the bassist keeps things beefy, and the drums, while a little diminished in the punch department, do their job well enough that they are not a detriment. Throw in an engineering mix that is just as retro as the music itself and cover art featuring a skeletal biker riding roughshod over a bunch of suit-wearing corporate types and you've got a heavy metal album that wholeheartedly embraces its '80s inspiration, not just a little, but the whole kit, kitsch, and caboodle.
Elm Street just want to bring back the good ol' days when heavy metal was fast and fun and a little cheesy and didn't take itself too seriously. If you find all the angst-fueled screaming and growling that passes for modern thrash metal to be about as pleasant as a barbed wire enema, you are exactly the kind of headbanger that needs to lend Elm Street your ears. Go ahead and start practicing your devil horns right now—you're gonna need 'em.
Genre: Heavy Metal
Band:
Ben Batres (vocals, rhythm guitar)
Aaron Adie (lead guitar)
Brendan Farrugia (bass guitar)
Tomislav Perkovic (drums)
Track Listing
1. Barbed Wire Metal
2. The Devil's Servants
3. Elm St.'s Children
4. Heavy Metal Power
5. King of Kings
6. Leatherface
7. Merciless Soldier
8. Metal is the Way
Webpage: www.metalelmstreet.com
Label: Massacre Records
Hardrock Haven rating: 7.4/10
by Nikiforos Skoumas
Staff Writer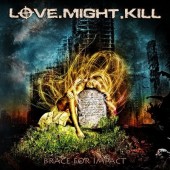 A new member in the "Firewind" family of bands has debuted! Love.Might.Kill is the hard rock/metal band of prodigal drummer Michael Ehre who joined "Firewind" in 2010. Issued by Massacre Records, Brace for Impact is the group's debut album where Ehre is joined by long time friends Christian Stover and Stefan Elerhorst both on guitars, bassist Jogi Sweers plus Italian vocalist Jan Manenti.
While attempt to define the sound of Love.Might.Kill one's job is made a lot easier by acknowledging that the album was produced by Victory guitarist Tommy Newton. Arguably anything touched by Newton is bound to sound like Victory; which bares truth for the case of Brace for Impact.
Much like Victory, Ehre and co. seem to understand the importance of having a non-German front man which is bound give the group an international appeal while also breaking any 'German metal' labeling that some would use to describe the band- which is clearly an oversimplification.
Musically you can expect thick guitar riffs, twin guitar melodies incredible rhythm section and a vocalist who flawlessly combines technique with style and feeling, resulting in surprisingly colorful vocal performance. Upon a few more plays the attentive listener will probably notice that performance-wise Brace for Impact is impeccable. The tempo is, at all times, immaculate-whether performing a groovy hard rock tune ("Pretty Little Mess") or a power metal song ("Calm before the storm") Ehre and Jogi demonstrate super-human precision. In addition the guitarists are just as accomplished and precise proving a perfect match for the rhythm section with all riffs melodies, harmonies and lead breaks coming through crystal clearly. Finally Jan seems to have a natural talent in putting his heart and soul in a song, no matter how technically demanding the composition might be; indeed there is a strong AOR essence emanating from his performances and if Ehre is to be described as the heart of Love.Might.Kill then Manenti is definitely the soul of the group.
Power metal attack, melodic metal drama, heartbreaker ballads, all included on Brace for Impact. The sole disadvantage this release bares is to be found on the 3rd track "Pretty Little Mess," quite possibly the greatest melodic hard rock song of 2011, which effectively obscures the rest of the material. While, one notes, this is pretty unfair as all songs on Brace for Impact are crafted under the same high quality standards. Fans of Firewind, Victory and Crystal Ball are expected to enjoy this flawless album to the maximum.
Genre: Hard Rock / Heavy Metal
Band:
JAN MANENTI- VOCALS
STEFAN ELLERHORST- GUITAR
CHRISTIAN STÖVER- GUITAR
JOGI SWEERS- BASS
MICHAEL EHRE- DRUMS
Track List:
01. Tomorrow Never Comes (06:02)
02. Calm Before The Storm (04:28)
03. Pretty Little Mess (04:19)
04. Caught In A Dream (03:53)
05. Through The Dawn (00:55)
06. Brace For Impact (04:28)
07. We Are The Weak (05:48)
08. Down To Nowhere (03:24)
09. Pray To Your God (04:14)
10. Reach Out (04:17)
11. The Answer (02:02)
12. Will Love Remain (04:49)
Band website: http://www.lovemightkill.com/
Label website: http://www.massacre-records.com/
Hardrock Haven rating: 8.5/10
by Justin Gaines
Staff Writer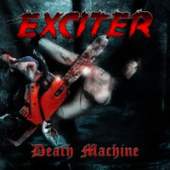 2010's Death Machine is album number ten from long-running Canadian speed metal pioneers Exciter. It's the second album from the current Exciter lineup, which features relative newcomers Kenny "Metal Mouth" Winter on vocals and bassist Rob Cohen alongside long-time drummer Rich Charron and founding guitarist John Ricci.
With riffs and a verse structure very reminiscent of Judas Priest's "Rapid Fire," (fitting for a band that took its name from a Judas Priest song) Death Machine kicks off with the blistering thrasher "Death Machine," which pretty well sets the tone for an album that boasts songs like "Skull Breaker," "Power and Domination" and "Hellfire." Death Machine is very much a traditional Exciter album. Aside from the (slightly) slower and almost doomy "Power and Domination," Death Machine is full speed all the way from start to finish. John Ricci's riffs are blindingly fast, causing you to want to dust off the old "speed metal" label instead of calling this kind of metal thrash. The riffs are matched in intensity by Charron and Cohen's heavy rhythms and a gruff vocal performance by the "Metal Mouth." Kenny Winter sounds a lot like Udo Dirkschneider here, which works surprisingly well with Exciter's sound.
So what's the down side? A sound so unabashedly old school is going to seem more than a little dated. Exciter has essentially been working from the same template for nearly 30 years, so Death Machine feels like more of the same. Then again, most Exciter fans are probably looking for exactly that. Another variation of the "Long Live the Loud" theme will do just fine, thanks.
It's not as vital sounding as their previous album (2008's excellent Thrash Speed Burn), but Death Machine is a perfectly solid slab of high-octane speed metal. While nowhere near as essential as the band's classic '80s albums, serious Exciter fans will still want to check it out.
Genre: Speed Metal
Band:
Kenny Winter (v)
John Ricci (g)
Rick Charron (d)
Rob Cohen (b)
Track Listing:
1. Death Machine
2. Dungeon Descendants
3. Razor In Your Back
4. Pray for Pain
5. Power and Domination
6. Hellfire
7. Demented Prisoners
8. Slaughtered in Vain
9. Skull Breaker
Label: Massacre
Website: www.myspace.com/exciterofficial
Hardrock Haven rating: 7/10
by Justin Gaines
Staff Writer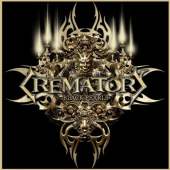 The 3-disc (two CDs and one DVD) collection Black Pearls is the first proper "greatest hits" package from long-running German gothic metal band Crematory. The band started out in 1992 with a sound that was mostly death metal with some gothic influences, and has since moved to a full-on gothic metal sound (with death metal influences). They're one of the pioneering gothic metal bands, and Black Pearls provides an in-depth look at their career to date.
With 32 songs spread across two CDs, Black Pearls leaves no stone unturned. It weaves non-chronologically through the band's discography, from the harshness of their 1993 debut Transmigration to the far more polished 2010 release Infinity. Black Pearls contains 2-3 songs from Transmigration, Just Dreaming, Illusions, Crematory, Awake, Act Seven, Klagebilder, Pray and Infinity, and four songs each from Believe and Revolution. You get a good mix of their heavier, death metal material, the more danceable gothic metal, their German language tracks, and even a pair of excellent covers (Sisters of Mercy's "Temple of Love" and Depeche Mode's "Black Celebration.")
The sheer volume of music on Black Pearls makes it a very comprehensive overview of Crematory's career. Those unfamiliar with the band will find it an ideal introduction to Crematory, and it should also appeal to those who enjoy the band's sound, but who don't feel compelled to own all of their studio albums. Crematory's albums are consistently enjoyable, but they're also consistently…consistent. Black Pearls may end up being all the Crematory you need.
Edition Notes: The physical release of Black Pearls includes a bonus DVD that collects the band's promotional videos, a 60-minute live performance from the Wacken Open Air festival and various other behind the scenes extras. Hardrock Haven was provided a digital copy of the audio, so this review does not cover the video material.
Genre: Gothic Metal
Band:
Gerhard Stass (v)
Matthias Hechler (g) (v)
Katrin Goger (k)
Harald Heine (b)
Markus Jullich (d)
Track Listing:
Disc 1
1. Infinity
2. Fly
3. Tears of Time
4. Hollenbrand
5. Eyes of Suffering
6. Left the Ground
7. Sense of Time
8. Greed
9. Shadows of Mine
10. Pray
11. Ist Est Wahr
12. Temple of Love
13. Tick Tack
14. The Fallen
15. Kein Liebeslied
16. Perils of the Wind
Disc 2
1. When Darkness Falls
2. Deformity
3. Kaltes Feuer
4. For Love
5. I Never Die
6. In My Hands
7. Open Your Eyes
8. Caroline
9. Ewigkeit
10. Black Celebration
11. The Holy One
12. Endless
13. Revolution
14. My Way
15. Hoffnungen
16. Away
Label: Massacre
Website: www.crematory.de
Hardrock Haven rating: 8/10
by Derric Miller
Staff Writer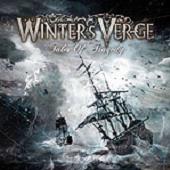 The more bands like Pagan's Mind, Steel Attack and others stray from the happy Helloween Power Metal sound, the better off the genre is. You can only have so many Hammerfalls before you crave something in that genre that is darker, more violent and therefore … different. Welcome the boys from Cyprus, Winter's Verge, to that arena, courtesy of their new album Tales of Tragedy.
"World of Lies," a is a heavy, gritty Power Metal anthem, complete with the double-bass frantic drumming from Chris Ioannides you'd expect, but singer George Charalambous brings a certain "manliness" to his vocals that you'll never hear in Stratovarious or Royal Hunt. "They call you a fool if you're a dreamer," he nearly grunts on key before showing he can hit those insane high notes Power Metal bands always wield like a broadsword, showing off the "power" aspect of their singer.
A song like "I Swear Revenge" is one of the reasons Winter's Verge is begin to define their own niche in the genre. Most of their songs are actual tales—they are sonic storytellers. As the song gallops forth, you hear the morbid vocals, "I swear revenge, I accept what I am—eternally damned!" The keys from Steganos Psillides add to the overall melody and creeping darkness. Harry Pari on guitar rarely plays in a helter-skelter, speed freak manner; his solos are typically understated yet mesh with the flow of the composition at all times. The harsh death vocals make this track another shade viler at the end.
"For Those Who are Gone" is their first ballad on Tales of Tragedy, replete with angelic, operatic female soprano vocals and woodwinds. Charalambous brings his voice out front, singing adeptly in harmony with the female lead at times. While not their most interesting contribution here, it's still effective.
Their fastest and heaviest track on Tales of Tragedy is "Dark Entries," a furious, frantic composition that is nearly neo-classical in its speed and intricacy. Pari's riffs amaze, blazing and mammoth. Psillides adds majestic elements to the song with his keys, but this is all about the racing rhythm and Pari's stellar slinging.
When they get to the next slower composition, you have to appreciate the title, "A Madness Once Called Love." This is what Winter's Verge does well, taking what you'd expect and making it shades darker. This is the closest they get to Dream Theater musically, with tempo changes and odd rhythms and passages, but it's still more Power Metal than Progressive Metal. The song crescendos to the end, becoming heavier and faster until its frantic end … "A madness NOW called love!"
Tales of Tragedy ends on "Reflections of the Past," one of the more mysterious songs lyrically. "Time curses everything for all of mankind. A better future, nonsense exists in their minds." And on that note, making sure you realize that mankind is forever cursed, the album closes with a thumping, brazen exit.
Winter's Verge is vying for positioning in a genre already stocked with world-class acts. The fact that you almost always have to measure Power Metal bands against Keeper-era Helloween is extremely daunting and perhaps unfair, but maybe the new measurement should be how much the band DOESN'T sound like Kiske's version of Power Metal, but a more daring, less soaring and more realistic amalgam. If that's the measuring stick, then Winter's Verge is well on their way …
Label: Massacre Records
Online: www.myspace.com/wintersverge
Track listing:
01. World Of Lies
02. Old Man's Wish
03. I Swear Revenge
04. For Those Who Are Gone
05. Captain's Log
06. Envy
07. Dark Entries
08. A Madness Once Called Love
09. Tomorrow's Dawn
10. Reflections Of The Past
Hardrock Haven rating: 7.8/10
by Derric Miller
Staff Writer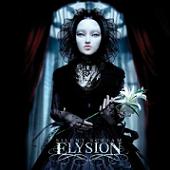 After building a strong amount of momentum on their debut, Greek band Elysion nevertheless parted ways with original singer Maxi Nil and instead went with the perhaps more vocally seductive Christianna on their sophomore release, SILENT SCR3AM. Going the alpha numeric route on the title may conjure images of an industrial band, but Elysion is even more Gothic and symphonic on SILENT SCR3AM, and the sterile beauty continues to flow from every single composition.
Founder Johnny Zero has a strong presence in each track, as he provided the synthesizers, guitars and programming. You get all three on the opener, "Dreamer," and it doesn't take more than a couple vocal passages to understand why the band chose Christianna—she is a skilled singer. It may be unfair that big fat ugly dudes can front a band and not be judged by their physical appearance, but the more often beauties front successful Metal bands the more bands will continue to look for both talent and appearance in their female singers, usually giving up one quality to gain another. Elysion gave up nothing by bringing Christianna into the fold.
"Killing My Dreams" is one of those Evanescence type hit songs, with overflowing melodies on the vocals, razor-sharp riffs surrounded by otherworldly keys, and a hooky chorus. The word "polished" doesn't go far enough in describing the Elysion sound. Zero's solo is one of his fiercest on the release, but it's the refrain of, "You're killing my dreams …" that you'll remember the most from this track.
The ballad "Weakness In Your Eyes" allows Christianna to sing in a less Rock vibe and effortlessly croon in a Gothic voice you demand from this type of music. Petros Fatis on drums plays intricately yet behind the scenes, but here it's the song itself that is the highlight, all members working perfectly together to craft what should be a major hit for the band.
If there is any negative on the release, it's that the songs tend to run together. You can't always hear an intro and immediately pick out what track it is, even after hearing them multiple times. On the other hand, they are all good, so who cares. "Bleeding" is one of those songs, one that begins with programming and keys, fires into guitars and then softens back to down-tempo verses that crescendo to a soaring chorus. Elysion may be on to a formula, and it works for them.
"Loss" is one mesmerizing track because you just get bass, guitars and vocals on the opening verse. The beat is hypnotic, and you can get lost in Christianna's vocals, rich and standing aurally out front. After the first chorus, Zero lays into a fiery solo, intricate yet typically emotional, and the stark contrast from his solo to the next chorus is proof that Elysion wields plenty of talent.
The noisy "Erase Me" ends SILENT SCR3AM, more industrial than most of the other songs. Christianna speaks over the music at the onset, and this is the heaviest song on the album. The lead vocals don't even start until 1:45 into the song, and they are accompanied by the spoken words from before. This is about the only track the accent somewhat gets in the way, but that's negligible at best. Gothic music can sound antiseptic and cold at times, but the passionate vocals counter the more emotionless music, bringing it together for one of the more interesting compositions here.
Elysion shouldn't lose any ground on their second release, and in fact, will gain more notoriety. It would be interesting to see Elysion step outside their comfort zone next time, maybe even cover a Heavy Metal anthem and put the Elysion spin on it, because it just seems like they could get heavier and not lose their overall personality. Regardless, SILENT SCR3AM has a lot to offer.
Label: Massacre Records
Online: http://www.myspace.com/elysionmyspace  
Track listing:
1. Dreamer
2. Killing My Dreams
3. Never Forever
4. Weakness In Your Eyes
5. Don't Say A Word
6. The Rules
7. Bleeding
8. Walk Away
9. Loss
10. Far From The Edge
11. Erase Me
Hardrock Haven rating: 7.3/10