by Trevor Portz
Staff Writer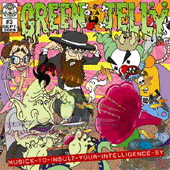 It's been 15 long years since Green Jellÿ last shat a batch of new tunes on the metal world, and though 333 was a solid release, a full 19 years have passed since they released the seminal, direct-to-video metal classic, Cereal Killer. This gap, of course, has created Chinese Democracy-esque levels of anticipation amongst those loyal to the Jellÿ. With the release of Musick to Insult Your Intelligence By, these patient minions will be pleased to know that little has changed since the days of the Cowgod and Shitman, and though Green Jellÿ may still consider themselves the worst band in the world, they also happen to make some pretty hilarious, and pretty awesome, puppet-fueled metal.
Things kick off with "Sugar and Spice," a track reminiscent of previous singles "Three Little Pigs" and "The Bear Song," utilizing classic sayings and rhymes to create a nursery school metal classic. This is followed by "Gefilte Fish," a Jewish-themed take on Marilyn Manson's "The Beautiful People." Few bands, parody or otherwise, could pull something like this off without it being extremely offensive, but GJ keep things light, luckily avoiding a repeat of the Bloodhound Gang's "Yellow Fever" controversy.
"You Can't Kill Me" introduces a punkier side of the Jellÿ, which pops up throughout the album on "Geek Girl," "You're Gone," "Nothing to Say," and "Trick or Treat." Whether mocking the genre or embracing it, this side of the band works well to break up the more metal moments and keeps things fresh. The excellent, Blondie-inspired, girl (or castrated guy) crooned "Nothing to Say," and to a lesser extent, "Geek Girl," could surely be turned into radio singles if the band or label could come up with the payola to make it happen.
Crazy solo action harking back to the days of "Rock and Roll Pumpkihn" (down to the guitar tone) dominates "Albert Fish Liverwurst," though the song itself comes off a bit grim and plodding. "I Will Not," is dark and heavy, but in overall rather forgettable.
The instantly classic "Stabby the Clown" wins the best song-name award, and recalls one of Green Jelly's long-lost classics, "Nightmare on Sesame Street" from 1989′s Triple Live Möther Gööse at Budokan. With its lengthy spoken-word section, Black Sabbath feel, and battle cry for a clown revolution, one can only imagine the red-nosed carnage that will accompany it in the live setting.
Another song clearly designed for their live show, "Sweat Lagoon" (aka "Magic Ed") also utilizes spoken-word vocals, this time discussing a Magic Dragon—perhaps Puff's arch nemesis? Character-driven songs like this are certainly the bread-and-butter of Green Jellÿ, from both a lyrical and theatrical standpoint.
Everything wraps up with "The Ballad of Swing Low Scroty," an epic, ball-dragging grandchild of "Anthem" from 333. It will surely get the lighters out and the pants down, and is a fitting closer to yet another solid Green Jellÿ release. Hope remains that a video version will soon be released as well, following in the tradition of Cereal Killer and 333.
It should be noted, to those that have yet to see Green Jellÿ in all their costumed glory, that live is truly the best way to experience GJ. Bill Manspeaker (aka Moronic Dicktator) is still one of the craziest, greatest metal frontmen on the scene, and continues to deliver shows that are as silly and over-the-top as they are mosh-worthy. Green Jellö Suxx!
Label: Rotten Records
Web: www.myspace.com/greenjelly
Tracks:
1. Sugar and Spice
2. Gefilte Fish
3. You Can't Kill Me
4. Albert Fish Liverwurst
5. Stabby The Clown
6. Geek Girl
7. I Will Not
8. You're Gone
9. Nothing to Say
10. Sweat Lagoon
11. Trick or Treat
12. The Ballad of Swing Low Scroty
Hardrock Haven rating 8.8/10