by Joe Mis
- Senior Columnist –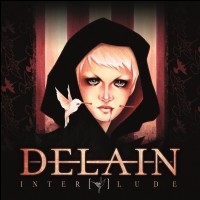 The Dutch symphonic metal band Delain will be shortly releasing Interlude, a CD and DVD combo package, as a tribute and "thank you" for their fans and supporters. Rather than approaching this as a "best of" or live CD, Delain has produced a 13-track release with two new tracks, two new versions of published songs, three covers, and six live songs. Please note that this review covers the audio CD only.
Interlude collects tracks from across Delain's catalog, and freshens up a few, giving the band a bit of a break from compositional duties and a chance to simply cut loose and have some fun. Delain got its start in 2002, when ex-Within Temptation keyboard player Martijn Westerholt conceived the project and released a demo. Delain earned a contract with Roadrunner in 2005 after Westerholt joined up with vocalist Charlotte Wessels. 2006's Lucidity was a true project album, and Delain enjoyed contributions from a number of well-known metal performers. Current drummer Sander Zoer joined as part of the touring band. After 2009′s April Rain, bassist Otto Schimmelpenninck van der Oije and gutarist Timo Somers became full time members. 2012 saw the release of the well-received We Are The Others, and now Interlude in 2013.
The two new tracks are fantastic, and show that the band has moved a bit away from the "Gothic" metal arena – although many goth elements are still in place. If these are a sign of what the next Delain album will be, then Delain has a very bright future ahead. "Breathe On Me" is sensual and sexy rocker, driven by a slick and flowing bass line, great guitar hooks, and fine vocals. "Collars and Suits" is a more symphonic social commentary track with grinding guitars, big drums, and effective keyboards. More melodic metal than progressive, symphonic, or Gothic, these two songs plus the remakes of their older songs show that Delain continues to evolve as a band, and that there are great things ahead for the Dutch five-piece.
"Are You Done With Me" is a crisper remix of the 2012 song, proving that Charlotte Wessels belongs in the pantheon of great female metal vocalists. Her clarity and range are jaw-droppingly good, and the mix highlights her true ability as a singer (in the pure definition of the term). The ballad- orchestral version of "We Are The Others" makes this heartbreaking tune even more powerful and inspirational, and Sophie Lancaster would indeed be proud.
The cover tunes are well done studio versions of Talk Talk's "Such A Shame," an emotional and heartfelt remake of The Cranberries' "Cordell," and a rocking version of Bronski Beat's "Smalltown Boy." Each tune remains fairly faithful to the original, but receives a modern Delain twist that illustrates the breadth of the band's talents and influences. They are all done with an overriding sense of fun and enjoyment – the best reasons of all to do cover tunes.
The live tracks were all recorded at the Metal Female Voices Fest in 2012. Obviously the mixes are not up to pure "in studio "standards, but they are very well recorded. These six tracks demonstrate the true talents of the band, as they pull off the complex and intricate songs without a hitch. They are tight and enthusiastic, and the crowd seems to be into the performance. "Get The Devil Out Of Me" and "Not Enough" stand out as the best of the bunch.
If you are a Delain fan, Interlude is a no brainer purchase thanks to the new material and well done cover tunes. It will also be appreciated by symphonic-Gothic metal and female-fronted metal connoisseurs. If you are new to the band, it is a great starting point because of the diversity of material – not to mention the DVD…
For those curious, the DVD consists of: live versions of "Invidia," "Electricity," "'We Are The Others," "Milk and Honey," and "Not Enough" recorded at the MFV Fest; some behind the scenes footage spanning the band's existence; and the videos for "Get The Devil Out Of Me," "We Are The Others," "April Rain," and "Frozen."
Please visit http://sophielancasterfoundation.com/ to show your support against hate crimes. "Normal is not the norm; it's just a uniform…"
Genre: Gothic, Symphonic Metal
Band:
Charlotte Wessels (vocals)
Sander Zoer (drums)
Otto Schimmelpenninck van der Oije (bass)
Martijn Westerholt (keyboards)
Timo Somers (guitar)
Track Listing:
1. Breathe On Me (new song)
2. Collars And Suits (new song)
3. Are You Done With Me (new single mix)
4. Such A Shame (cover)
5. Cordell (cover)
6. Smalltown Boy (cover)
7. We Are The Others (new ballad version)
8. Mother Machine (live)
9. Get The Devil Out Of Me (live)
10. Milk And Honey (live)
11. Invidia (live)
12. Electricity (live)
13. Not Enough (live)
Label: Napalm Records
Website: http://www.delain.nl/
Hardrock Haven rating: 9/10
by Joe Mis
- Columnist –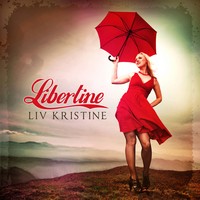 Libertine is the upcoming solo release from Norwegian-born singer/songwriter Liv Kristine, who is more widely known as the lead singer for the symphonic folk metal powerhouse band Leaves' Eyes and Theatre of Tragedy. Libertine is not a symphonic metal release by any means, but rather a fluid and modern rock album – although occasionally some metal (and maybe just a little pop) gleams through.
Liv's latest solo effort is her fourth, and follows on the heels of the successful Deus Ex Machina (1998), Enter My Religion (2006), and Skintight (2010). Libertine is a mature and intelligent album in terms of both songwriting and performance, and is filled with warmth, creativity, and emotion. Liv (who also is known by her full name – Liv Kristine Espenæs Krull) really steps to the front and takes full control of this release. Not only does she sing lead vocals, but she wrote all the lyrics, and composed the music in cooperation with J.B. van der Wal, Thorsten Bauer and producer (also husband) Alexander Krull. Only the cover of Kate Bush's "The Man With a Child in His Eyes" is not her own creation, but the arrangement is uniquely Liv.
Musically Libertine runs the gamut from soft acoustic ballad to pop-rock to melodic metal, and each genre is handled well. Not only are Liv's vocals superbly done and well-recorded, but the rest of the band is in top form as well. Liv is joined by J.B. van der Wal (guitars / bass / keyboards), Thorsten Bauer (guitars / bass / keys), Felix Born (drums), Alessandro Pantò (piano), and Christoph Kutzer (cello). Vocalist Tobias Regner joins to provide duet vocals on one track.
"Interlude" opens the album with soft vocals and acoustic instruments before becoming to a calm slow tempo rocker. "Solve Me" kicks it up to mid-tempo and blends in some pop elements, and features a toe-tapping rhythm line and sing along chorus. The moody and reflective "Silence" is by far the best track on the album. Emotional and heartfelt lyrics flow over a simple and effective piano tune, and Liv delivers the words with passion while avoiding the over-emoting that many singers tend to bring to their ballad pieces. Tobias Regner contributes some great vocals on the somewhat erotic duet rocker, "Vanilla Skin Delight." Nicely done keyboards and a great vocal performance highlight the soft and moody "Panic." The band definitely goes upbeat pop with the kicky "Paris Paris." Despite the Top-40-radio feel, this track features a surprisingly "metal" guitar break.
A strong bass line and excellent drum work carry "Wait For Rain" into darker territory, and the lyrics and fine vocal performance easily convey the emotion and tone intended. "Love Crime" is a short, near-Gothic ballad driven primarily by piano, and it leads into the most metal track on the album – the title track "Libertine." Great vocals, big hooks and driving bass make this song a strong one. "Meet Me in the Red Sky" is another nicely done keyboard driven ballad with some electronic overtones and a neat rolling rhythm line. The album wraps with a well-done cover version of Kate Bush's "The Man With a Child in His Eyes."
If you are a Liv Kristine fan, Libertine will not disappoint. Liv proves herself to be an incredibly versatile singer and a fine songwriter. This album IS Liv Kristine, and she holds nothing back. Superbly recorded and engineered, the mix of styles will please fans of almost every rock genre. Once again, Liv and her friends prove themselves to be at the top of their game.
Very highly recommended!
Libertine is set to be released on 7-September-2012 through Napalm Records.
Genre: Modern Melodic Rock
Band:
Liv Kristine (vocals)
J.B. van der Wal (guitars, bass, keys, programming)
Thorsten Bauer (guitars, bass, keys)
Felix Born (drums, percussion)
Alessandro Pantò (piano)
Christoph Kutzer (cello)
Guest Performers – Tobias Regner – duet vocals on Track 4
Track Listing:
1. Interlude (Intro)
2. Solve Me
3. Silence
4. Vanilla Skin Delight
5. Panic
6. Paris Paris
7. Wait for Rain
8. Love Crime
9. Libertine
10. Meet Me in the Red Sky
11. The Man With a Child in His Eyes
Label: Napalm Records
Website: http://www.livkristine.com
Hardrock Haven rating: 9.5/10
by Trevor Portz
Staff Writer –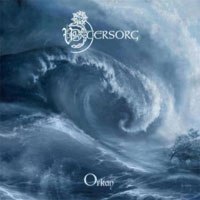 After a four-year wait between Solens Rötter and Jordpuls, the members of Vintersorg—Andreas Hedlund and Mattias Marklund—have returned to a regular, annual album release schedule. Orkan, Swedish for "hurricane," picks up where its predecessor left off, and though still well done, it would appear quantity has won out over quality in the Vintersorg camp.
For a new listener, perhaps Orkan could be seen as a stellar piece of extreme metal art. Perhaps some long-time fans will even see it that way. But ultimately, what this album lacks is personality. Each of Vintersorg's previous albums contained a uniqueness that set it apart from the others, yet also fit perfectly into the Vintersorg tapestry. Whether it was the uber-prog-influenced Visions from the Spiral Generator, or the folk-tinged Ödemarkens Son, one never knew exactly what to expect with each album, yet was assured it would be epic, melodic, complicated and memorable. Herein lies Orkan's problem—the ingredients are all there, from the layered instrumentation to the alternating harsh and clean vocals, but there's nothing to differentiate it from previous Vintersorg albums. It almost feels like a paint-by-numbers record—the type of album generally reserved for pop stars and contractual obligations.
What also helps to keep this album identity-free is the melding of all projects that Mr. V is involved in. Vintersorg, Cronian, Waterclime, Fission and Borknagar slowly seem to be turning into the same thing. The lines between the projects blur more with each release, bringing into question if there's even a reason to give them different names. Additionally, with so many projects going on concurrently, it seems the songwriting is beginning to suffer. This isn't to say that Mr. V is out of riffs, or that his best writing days are behind him, but perhaps it's time to focus on just one project. Or maybe it's time to take a break and instead work on something totally different, such as the sorely missed folk metal of Otyg.
So while Orkan is a well-executed album by one of metal's most talented duos, it doesn't boast a unique identity, something previous Vintersorg (and related albums) have displayed. There really aren't any standout tracks, but there aren't any awful tracks either. Everything is very middle-of-the road.
But hey, what band hasn't had an album like that?
Genre: Prog, Black, Folk Metal
Band:
Andreas Hedlund (vocal, guitars, keys, programming, etc)
Mattias Marklund (guitar)
Track Listing:
1. Istid
2. Ur Stjärnstoft Är Vi Komna
3. Polarnatten
4. Myren
5. Orkan
6. Havets Nåd
7. Norrskenssyner
8. Urvädersfången
Label: Napalm Records
Website: www.facebook.com/vintersorg
Hardrock Haven rating: 6/10
by Trevor Portz
Staff Writer –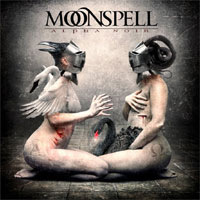 Everyone probably best remembers Moonspell from their "hit," "Opium," from the Irreligious album. It embodied the shift from their early black metal sound to one more rooted in Goth metal, and helped to substantially broaden their fan base. Many years have passed since "Opium," and while the band has stayed active and quite successful in the metal scene, their newest album, Alpha Noir, is ultimately very forgettable.
The members of the band described Alpha Noir as "an incendiary album," which is not only a pretty ridiculously abstract thing to say, but is also far from true. That is, of course, unless fires are often caused by overly pompous blandness.
Ignoring the general lack of interesting riffs, perhaps the most painful part of the album is the lyrics. "Lickanthrope," assumingly designed to be some sort of darkly sexy werewolf song, loses all listen-ability with the repeated growl of "Little Red Riding Hood." Seriously? Even Stephanie Myers managed to avoid such a classic cliché.
Other standout weirdness includes "Love Is Blasphemy," which could easily be the name of a HIM song, though it doesn't carry the Gothy romance Ville Valo tends to deliver. "Opera Carne," which essentially translates to "Meat Opera," perhaps relates to the "incendiary" description of the album, and suggests a hidden theme of barbequing.
Silliness aside, Alpha Noir really just comes across as a generic album by a once better band. Compared to a lot of the cookie-cutter metal dominating airwaves, it's not terrible. But with so many great bands putting out far superior albums, it does little more than leave the listener unaffected, perhaps revealing the nothingness the title implies.
Genre: Goth Metal, Black Metal
Band:
Fernando Ribeiro – vocals
Ricardo Amorim – guitars
Pedro Paixão – keyboards, guitars
Aires Pereira – bass
Miguel Gaspar – drums
Track Listing:
1. Axis Mundi
2. Lickanthrope
3. Versus
4. Alpha Noir
5. Em nome do medo
6. Opera Carne
7. Love Is Blasphemy
8. Grandstand
9. Sine Missione
Label: Napalm Records
Website: www.moonspell.com
Hardrock Haven rating: 4.3/10
by Joe Mis
Staff Writer –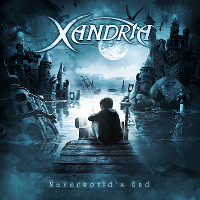 Neverworld's End marks the welcome return of Germany's Xandria to the symphonic metal scene, and the debut of their new dynamic lead vocalist Manuela Kraller. Together since the early 2000s, Xandria has developed a significant following courtesy of a number of solid releases, including Kill The Sun and Ravenheart, and well attended tours. Their newest release further cements Xandria into the symphonic metal pantheon of the greats.
Unlike many other symphonic vocalists, Manuela Kraller is always clear and understandable – even when in full operatic mode. Her range is huge, and she can modulate her vocal power to cover everything from simple and soft verses to over-the-top full opera without losing clarity. Philip Restemeier and Marco Heubaum provide the well polished and precise guitar teamwork, with Heubaum contributing the massive keyboard presence as well. The bottom end it provided by bassist Nils Middelhauve and double-bass drummer Gerit Lamm. Xandria works well as a team, the overriding prerequisite for any symphonic act.
The album opens with a symphonic blast through "A Prophecy Of Worlds To Fall." Big keys, synth strings, and sweeping guitars pave the way for Kraller's fine operatic vocals. This track allows her to express the full range of her abilities from soft and somber to powerful and dramatic, and proves that she is not stuck in the "opera thing," but can sing in a conventional manner without sacrificing anything. "Valentine" continues the orchestral assault with some powerful bass and drum work courtesy of Middelhauve and Lamm. A beautiful choral passage opens the mellower "Forevermore," which is a great mid-tempo rocker with a complex and intricate guitar line, melodic pianos and intriguing tempo changes. "Euphoria" has a vaguely middle eastern tone to it, and features a sweeping chorus, neat guitar fills and fine vocals by the entire band. "Blood On My Hands" features a great rolling rhythm line, superbly done guitars and a powerful and dramatic bridge – quite probably the best track on the release. "Soulcrusher" is a darker and more intense track with heavy Gothic overtones and a truly manic drum line.
A soft, almost Celtic passage, an amazing guitar solo, and beautifully delivered vocals make the ballad "The Dream Is Still Alive" a true highlight of the album. Mythical subject matter and high energy metal drive "The Lost Elysion," while "Call Of The Wind" is simply a rollicking, upbeat good time track. "A Thousand Letters" is undoubtedly Kraller's best vocal performance, and a hauntingly beautiful ballad – proving that Xandria can do just about anything. "Cursed" is a complete u-turn – booming and powerful, dark, chaotic and creepy. "The Nomad´s Crown" is a nine-minute medieval epic with a driving rhythm line, orchestral passages, tempo changes, intense guitars and dramatic vocals – in other words it is symphonic metal at its purest.
The engineering and production values are high, allowing all aspects of the instruments to be heard and not allowing Kraller's vocals to dominate the production. The guitars are clean and power-metal precise, and the keys and synths are allowed equal time. Bass is always audible and driving, and the drums are ever-present but never distracting. Backing and doubled vocal lines are well done and effective without being overdone. In other words, Xandria is engineered as a whole and complete entity, not as a bunch of individuals who happen to be playing at the same time.
Pure symphonic power is the key to Xandria's music, and they deliver beautiful artistically developed music with technical perfection. Always dramatic and heavy, Neverworld's End might be the album that will convert non-symphonic fans into followers of the genre due to accessibility of Kraller's vocals and clarity of lyrics. If you have any interest in symphonic, orchestral, or gothic metal, there will be something here for you. Neverworld's End is a shining example of powerful and emotional symphonic metal. Xandria's latest is intense, powerful, theatrical, and ultimately beautiful – definitely recommended for fans of the genre!
Genre: Symphonic Metal
Band:
Manuela Kraller (vocals)
Philip Restemeier (guitar)
Marco Heubaum (guitar, keyboards)
Nils Middelhauve (bass)
Gerit Lamm (drums)
Track Listing:
1. A Prophecy Of Worlds To Fall
2. Valentine
3. Forevermore
4. Euphoria
5. Blood On My Hands
6. Soulcrusher
7. The Dream Is Still Alive
8. The Lost Elysion
9. Call Of The Wind
10. A Thousand Letters
11. Cursed
12. The Nomad´s Crown
Label: Napalm Records
Website: http://www.xandria.de/
Hardrock Haven rating: 9/10
by Trevor Portz
Staff Writer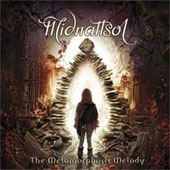 Following their seemingly standard three-year gap between albums, symphonic metallers Midnattsol have readied their third release, The Metamorphosis Melody. Fans may be happy (or sad) to know that despite the name, the lyrical themes do not appear to be inspired by Kafka's classic man-to-bug epic, "The Metamorphosis." This isn't to say there aren't similarities, however, as to some (here comes the hate mail), Carmen Elise Espenæs' vocals are as irritating as one can imagine a human-sized insect's shrieks might be.
Before delving further into negativity, however, perhaps it would best to first talk about what works on The Metamorphosis Melody. The band members describe their sound as "Nordic folk metal," but given the relative lack of traditional instruments and melodies, and the fact that not all members are, in fact, Norse, this is essentially a misnomer. Instead, as with previous releases, Midnattsol's music walks a fine melodic line between symphonic metal and pagan power metal. Instrumentally speaking, this is actually a cool combo, as the songs are melodic and almost "mainstream" without losing too much of their true metal edge. In fact, "Kong Valemons Kamp" and title track "The Metamorphosis Melody" are not too far derived from mid-paced power metal. This is a good thing.
But then there are the vocals.
Carmen Elise Espenæs might be one of the most overrated vocalists in the world of popular metal. Her whiney, pseudo-operatic wails are surely intended to create an ethereal, otherworldly beauty that counters the metal instrumentation. Unfortunately, however, they instead are so distractingly overpowering that the music is all but swallowed up in their [occasionally] pitchy howls (maybe autotune isn't the worst thing in the world).
While the vocals almost work on slower tracks such as "The Tide" and [not the Paula Abdul classic] "Spellbound," Espenæs' limited range (or limited creativity; it's hard to decide) leaves every track sounding virtually identical and lacking individuality. Perhaps mixing her singing style up and not always following the same exact formula would, at the very least, make Espenæs more interesting to listen to.
Okay, so maybe the criticism could be boiled down to taste. Surely there are countless numbers of metalheads that worship at the alter of Midnattsol. That's great, more power [metal] to them. Millions more continue to buy whatever Gavin Rossdale vomits out as "music." This only further proves the fact that talent and popularity do not always go hand in hand. It also doesn't mean that if people try something new rather than relying on one ear-torturing trick, even the most bitter of critics may have a change of heart. In three years, maybe we'll find out for sure.
Genre: Symphonic metal
Band:
Carmen Elise Espenæs (v)
Birgit Öllbrunner (b)
Chris Merzinsky (d)
Daniel Fischer (k)
Alex Kautz (g)
Track Listing:
1. Alva
2. The Metamorphosis Melody
3. Spellbound
4. The Tide
5. A Poet's Prayer
6. Forlorn
7. Kong Valemons Kamp
8. Goodbye
9. Forvandlingen
10. Motets Makt
11. My Re-creation
Label: Napalm Records
Website: http://www.midnattsol.com/
Hardrock Haven rating: 4.8/10
by Joe Mis
Staff Writer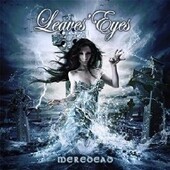 "Unmistakably different" reads the intro to Leaves' Eyes bio on their Facebook page, and indeed that is not far from the truth. The veteran troupe of international symphonic metal stars is back with their fourth studio entitled Meredead. More than symphonic metal, Leaves' Eyes bases much of their music on Nordic mythology in much the same way as Amorphis draws inspiration from Finland's own epic tales – so in effect it is perhaps "folk metal." Unorthodox – and a bit different – is what it is…
Leaves' Eyes released their first CD back in 2004, and have been evolving ever since. Fronted by the vastly different vocal styles of wife and husband team of Liv Kristine and Alexander Krull, their music has often been described as "beauty and the beast." The balance of the band is made up of the members of the popular German metal band Atrocity, but the true musical power of the band derives from the vocal interplay and the epic nature of their songs. Guitarist and bassist Thorsten Bauer teams well with fellow guitarist Sander van der Meer. The two seem equally comfortable whether laying down blistering heavy riffs or melodic and airy acoustic passages. The sometime huge and sometimes subtle drumming of Roland Navratil nicely complements Bauer's bass. Liv Kristine came to light while singing lead for the Norwegian gothic band Theatre of Tragedy, and moved on to pop stardom – and then into partnership with Atrocity. Her powerful and clear voice plays well off of the guttural growl of Alexamder Krull.
Nicely produced and engineered, Meredead sounds exactly as symphonic metal should sound – intense and bombastic at times, and soft and subtle at others. Melody is ever-present and the sound quality is crisp no matter the volume or tempo. Based heavily on traditional Scandinavian tunes, Leaves' Eyes does a fine job of retelling many old tales with a modern flourish. Despite being filled with many symphonic and operatic flourishes (and a handful of Norwegian and Old English lyrics), the music of Leaves' Eyes remains accessible to fans outside of the genre thanks to its strong melodies, intelligent construction and top-of-the-line performances. Despite amazing performances by everyone in the band, Leaves' Eyes is all about the vocals…
"Spirits' Masquerade" opens the album and throws in everything from bagpipes and flutes to choir vocals to a bit of double bass and big booming bass – this somewhat over-the-top performance sets the stage for the fine and complex tracks that follow. Blending the modern and traditional seems to be second nature to the band, and their love for the medieval melodies clearly shows through the varying tempo changes and incredible musical arrangement. Many folk influences are present in "Étaín," and Liv's voice is in full bloom on this epic rocker. "Velvet Heart" has a bit of a "pop rock" feel to the opening, but quickly becomes a vocal masterpiece. The traditional Scandinavian keyed fiddle appears in the rousing Norwegian folk song "Kråkevisa", and the band does a nice reinterpretation of Mike Oldfield's "To France." "Meredead" wraps the first half of the disk with some amazing guitar work and solid vocals.
The nearly nine minute epic "Sigrlinn" opens the back half of the disk, and for the first time Alexander Krull joins as a prominent vocalist, with his death metal growl used sparingly and effectively. This is one of the heaviest tracks on the album, and the "beauty and the beast" vocals work very well. Liv's haunting vocals make "Mine Tåror er ei Grimme" worth listening to even if you don't understand a word. "Empty Horizon" features some smooth keyboard work and nice duet vocals, with a clean singing Krull doing a fine job – indeed, all the vocalists throughout the album are superb. "Veritas" is a short atmospheric vocal piece, while "Nystev" is another re-imagined folks song featuring some great bass and drum work. The duet "Tell-Tale Eyes" closes out the album with fine acoustic style, reminding the listener of the folk-inspired Blackmore's Night.
Operatic, symphonic and folk metal fans will enjoy Meredead. Fans of almost every metal genre will find something of interest here, and anyone into strong female vocalists with love it. Leaves' Eyes may win many new fans for the genre by somehow making symphonic metal seem unpretentious. Prepare for a truly amazing and unique vocal experience – highly recommended.
Genre: Symphonic Metal
Band:
Liv Kristine (vocals)
Alexander Krull (vocals)
Thorsten Bauer (guitars, bass)
Sander van der Meer (guitars)
Roland Navratil (drums)
Track Listing:
1. Spirits' Masquerade
2. Étaín
3. Velvet Heart
4. Kråkevisa
5. To France
6. Meredead
7. Sigrlinn
8. Mine Tåror er ei Grimme
9. Empty Horizon
10. Veritas
11. Nystev
12. Tell-Tale Eyes
Label: Napalm Records
Website: http://www.leaveseyes.com/
Hardrock Haven rating: 8.5/10
by Trevor Portz
Staff Writer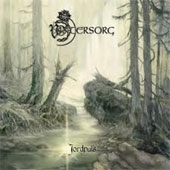 While he may be known for his seemingly endless string of projects, ranging from the all-out folk metal of Otyg, to the pure prog of Waterclime, or his well-known position as frontman for Borknagar, Andreas Hedlund has finally returned to the band that gave him his stage name, Vintersorg. Joining up with longtime co-conspirator Mattias Marklund, the duo are set to release their seventh full-length, Jordpuls (Pulse of the Earth).
Picking up where 2007's Solens Rötter left off, Jordpuls sees the band continuing to meld their earlier, folk-inspired metal with the complicated progressive sounds of Visions From the Spiral Generator and The Focusing Blur. The result is a diverse, technical piece of extreme prog perhaps best considered "thinking man's metal." This is essentially extreme metal for the Jethro Tull crowd, and were Ian Anderson to become infatuated with black metal, it is likely the result would be quite similar to Jordpuls.
As is his MO, Vintersorg (the man) flows seamlessly between harsh shrieks and layered clean vocals. Hard-hitting opener "Världsalltets Fanfar" is as aggressive a black metal opus as Vintersorg has ever done, but with its uber-catchy chorus and 70s-inspired acoustic break, it instantly differentiates the band from any of its compatriots. Even the similarly minded Borknagar tends to stay in slightly less divergent progressive waters.
As "Världsalltets Fanfar" illustrates, Jordpuls is unquestionably full of variety. While it never veers too far from its extreme roots, there are so many changes, layers of instrumentation, and intricate passages that it's unlikely anyone will get the full picture after only one listen. From the massive harmonies and 70s vibe of "Skogen Sover" to the excellent, yet completely unmetal sounding solo on "Eld Och Lågor," Jordpuls constantly challenges the listener while also ensuring they stay completely enthralled.
Like many of the albums in Vintersorg's backcatalog, Jordpuls is sung completely in Swedish, but it can be assumed that the lyrical content follows that of earlier albums, dealing with nature and its complexities, as well as science and the cosmos. Of course, it could just as well deal with bread making and chair making, and based on the strength of the music, that wouldn't necessarily deter from the album's greatness.
As they have several times before, Vintersorg continue to create metal that is both intense and heavy, while also being beautiful and complicated. This is not easy listening for the metal fan that likes simple riffing and endless aggression. However, for those that enjoy brains and brawn all rolled together, Jordpuls is well worth a series of listens.
Genre: Progressive Black Metal
Band:
Andreas Hedlund (vocal, guitars, keys, programming, etc)
Mattias Marklund (guitar)
Track Listing:
1. Världsalltets Fanfar
2. Klippor Och Skär
3. Till Dånet Av Forsar Och Fall
4. Mörk Nebulosa
5. Stjärndyrkan
6. Skogen Sover
7. Vindögat
8. Palissader
9. Eld Och Lågor
Label: Napalm Records
Website: www.myspace.com/vintersorganic
Hardrock Haven rating: 9.3/10
by Franco Cerchiari
Staff Writer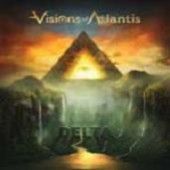 It has been said since the dawn of man, "if it ain't broke, don't fix it." Ok…but what about within the realm of music – particularly metal? Is it ok to maintain the status quo if what worked on previous releases, the band should do more of the same with their latest release? It can be supposed, that once a band finds their "niche," whether it be power, progressive or what have you, they should stick to what it is they do well.
This argument brings us to Visions of Atlantis's latest venture, Delta. Massive use of the keyboards, dual female/male vocals, and stirring, emotional musical passages – all present. And present throughout. Formed in 2000 in Austria, Visions of Atlantis have continued their brand of symphonic metal with each of their releases – 2002's Eternal Endless Infinity, 2004's Cast Away and 2007's Trinity. While these releases certainly have gathered VoA a loyal fan base, this same type of music can be heard on other releases by like bands. Not in any stretch of the imagination to say that Delta is a bad album – far from it. The tracks come across as stirring, poignant with elements of the dark and yes, do hit the mark. The musicianship is strong, and as individuals each band member show that they can play their instruments, and do so quite well. In fact there is much about this release that holds up quite nicely. While the guitars seem to have put aside for the more prominent use of keyboards, operatic vocals and synthesizers, the overall, completed vibe is, well … a let down. So while the tracks are well written and played, little here is new, original or jumps out at the listener as refreshing
But let's back up. New vocalist Maxi Nil (formerly of Elysion and On Thorns I Lay) and longtime member Mario Plank do an admirable job of complimenting each other. Like with the band Archaic Revival where the same type of vocals can be heard, the operatic, multi-range Maxi does fit in nicely with the grunts and lower octaves of Mario. The drums are incredible with sensational use of double bass drums, rolls and cymbal crashes. The keyboards of Martin Harb are everywhere and time and again he shows that he can bring out an emotion (as heard on "Twist of Fate,") where his keyboards weave an excellent pattern "twisting" around the dual vocals. His talent again is evident on "New Dawn," the surreal, futuristic "Sonar," the pomp of "Elegy of Existence," the soft "Reflection," (unfortunately the vocals of Maxi Nil on this soft, touching ballad was, in times off tune,) and the closing track "Gravitate Towards Fatality."
As talented of an ensemble of musicians as Visions of Atlantis are, and collectively their sound is ripe with sounds of the symphonic, it was a hope that the band would push the envelope. So intriguing is the realm of symphonic metal that it is only imagined how far such a band as this could go. With the ability to mix opera, the symphonic and metal and having such limitless resources at their disposal, it can only be imagined how much could be accomplished. It can be surmised that the symphonic, larger than life sounds of Rhapsody of Fire, the keyboards of Darkwater and the dark feel of Evergrey all brought together with the male/female sounds of Mil and Plank would be a release that be one that could catapult this band head and shoulders above the rest.
Genre – Symphonic Metal
Track Listing
Black River Delta
Memento
New Dawn
Where Daylight Fails
Conquest of Fire
Twist of Fate
Elegy of Existence
Reflection
Sonar
Gravitate Towards Fatality
Musicians
Maxi Nil – vocals
Mario Plank – vocals
Werner Fiedler – guitars
Martin Harb – keyboards
Thomas Caser – drums
Mario Lochert – bass
Label: Napalm Records
Hardrock Haven Rating: 7/10
by Justin Gaines
Staff Writer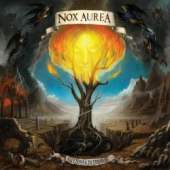 Ascending in Triumph is the second album from Swedish gothic/doom/death metal band Nox Aurea. The Gothenburg-based band takes a fairly melodic, yet still completely heavy, approach to the doom/death genre and adds gothic elements like symphonic keyboards and clean female vocals. Now, this kind of sound isn't anything new, but when it's done well, it can be a very compelling metal experience. Unfortunately, for every Theatre of Tragedy or My Dying Bride there are at least a dozen disposable "beauty and the beast" knockoffs.
Nox Aurea, however, is in the first category. For a relatively new band, they sound like seasoned veterans, and the music on Ascending in Triumph has a lot of depth. The album is equal parts melodic death and crushingly heavy doom metal, with just the right amount of gothic elements. Most of the songs hover around the 8-minute mark, and can go from a slow, funereal pace to furious thrashing and back again. The three distinct vocal styles – harsh/death, harsher/blackened and of course Alice Persell's clean vocals – add depth and emotion to an album that already had plenty of both, thanks to dark, despondent lyrics worthy of My Dying Bride.
The nearly 10-minute "Mother Aletheia Chapter II" is the album's crowning glory, and the song that gives you the best appreciation for Nox Aurea's sound. "The Delight of Autumn Passion" and the title track are also highlights of this very solid album. The only real downside of Ascending in Triumph is that as good as it is; it has all been done before. You're reminded of some of the genre's best bands, which is good, but there isn't a lot to make this band stand out.
Even with the strong "more of the same" vibe you get from this album, there's no denying that Nox Aurea is really good at what they do. If you're a passionate fan of all things gothic metal, or appreciate doom/death bands like November's Doom, Evoken and My Dying Bride, Ascending in Triumph is well worth checking out.
Genre: Gothic/Doom/Death Metal
Band:
Patrick Kullberg (v)
Grim Vindkall (g) (b) (k) (v)
Robert Persson (g) (b) (k) (v)
Alice Persell (v)
Joakim Antonsson (d)
Track Listing:
1. Ascending in Triumph
2. The Loss and Endeavor of Divinity
3. The Shadowless Plains
4. Mother Aletheia Chapter II
5. The Delight of Autumn Passion
6. My Voyage Through Galactic Aeons
7. To the Grave I Belong
8. Emendare
Label: Napalm
Website: www.myspace.com/noxaurea
Hardrock Haven rating: 7/10
by Marc C
Staff Writer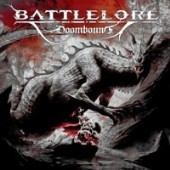 While 12 years of history and numerous line-up changes would be enough for any band to lose focus and wander, Battlelore not only found a way to keep it together, but may have recorded their defining album in Doombound.
Drawing on the inspiration of JRR Tolkien's Middle Earth fantasies, the members of Battlelore have successfully blended numerous Metal styles while maintaining a solid storied theme starting from the opening track "Bloodstained" straight through into the definitive final track "Kielo".
Considered an "Epic Fantasy Metal" band (and who came up with all these sub-genres for Metal music anyway??) they have mastered a hodge podge of styles including but not limited to Gothic, Folk, Power and even a dash of Melodic Death metal thrown in for good measure.
Completely under utilized however is vocalist Kaisa Jouhki. Featured on track 4 "Enchanted" Kaisa stands out head and shoulders above yet the song loses its mood and feel just past the half-way point when vocalist Tomi Mykkänen growls his way through a verse that may have been either better left out or done with a smoother tone. The band takes on a completely different and stronger sound when Kaisa is handling the leads and sounds even better with the dual harmonies of both vocalists.
Sometimes the growls just do not fit and this is a perfect example of one of those times, and perhaps Battlelore would be better served dropping them altogether. The growling for effect steps all over so many of the tracks it washes away what is otherwise great music from great musicians.
All in all a very big step in the right direction for Battlelore and perhaps a refinement of their vocals is all this band needs to really break through.
Genre: Epic Fantasy Metal
Band:
Kaisa Jouhki – Vocals
Tomi Mykkänen – Vocals
Jussi Rautio – Lead Guitars
Jyri Vahvanen – Guitars
Timo Honkanen – Bass
Maria Honkanen – Keyboards, Flute
Henri Vahvanen – Drums
Track Listing:
1. Bloodstained
2. Iron Of death
3. Bow And Helm
4. Enchanted
5. Olden Gods
6. Fate Of The Betrayed
7. Men As Wolves
8. Last Of The Lords
9. Doombound
10. Kielo
Label: Napalm Records
Website: www.Battlelore.net
Hardrock Haven rating 8.5/10
by Trevor Portz
Staff Writer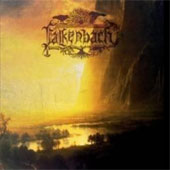 It seems that in the nearly 20 years(!) that Viking metal has been a recognized metal subgenre, essentially two Viking "tribes" have emerged. On one side, we have the more extreme-metal influenced groups that like to lace in folk melodies and what not, but are still more traditionally black metal-esque. Good examples would be Ensiferum, older Enslaved, and the [luckily] reformed Einherjer. On the other side are the more epic bands, most of which are focused on slow-paced, drawn-out tunes that oftentimes feel like (and occasionally are) traditional folk songs played electrically. Leaders here would be Moonsorrow, Thyrfing, and the sorely missed Otyg. Falling into the latter category, Germany's Falkenbach is back with its first album in 5 years, Tiurida. The question is: does it really stand up to its heathen brethren?
As with those of their ilk, Falkenbach's metal is mid-paced and epic. There is little concern for complex riffing or tempo changes, and most songs repeat their core riffs so often that one wonders how the musicians keep track of where they are in the song. This is not inherently a bad thing—most dance and pop music seems to thrive on repetition. Those songs, though, rarely stretch to the 7- or 8-minute mark, whereas most of the tracks here do. Perhaps not all would agree, but 8 minutes of slow repetition can be rather… well… boring. Compounded with the fact that each song follows the same trend, Tiurida does little to hold the listener's attention. Sure, the aforementioned Moonsorrow often far surpass the 8-minute mark, with songs breaking even the 20-minute barrier, but they grow and change steadily, feeling more like epic tales than endless repetition.
Now, it's unfair to deem Tiurida a bad record, especially based solely on its lack of diversity. Many bands have made careers out of musical sameness. When looked at from a more historical sense, these songs are probably much more akin to the folk music from which they are inspired than any blast-beat fueled neoclassical song about a dragonslayer. In fact, if one were to strip away the modern instrumentation and harsh vocals (fairly sparse here anyway), it's hard to imagine even an actual Viking finding it to be anything but authentic. So from that standpoint, Falkenbach are doing a bang-up job of keeping the history they espouse alive.
So sure, Tiurida is not as full-on exciting as Frost or In the Sign of the Raven, but it's likely it was never intended to be. As a pure piece of folky Viking metal (assuming there is such a thing), it's a clear victory. Maybe next time Falkenbach should throw in a blast beat, though, just for kicks.
Genre: Viking Metal
Band:
Vratyas Vakyas (everything)
+various session musicians
Track Listing:
1. Intro
2. …Where His Ravens Fly…
3. Time Between Dog and Wolf
4. Tanfana
5. Runes Shall You Know
6. In Flames
7. Sunnavend
Label: Napalm Records
Website: http://falkenbach.de
Hardrock Haven rating: 6/10
by Trevor Portz
Staff Writer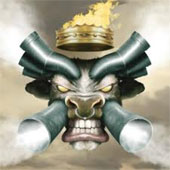 Any band that's been on the scene for 20+ years is bound to go through changes: band members, levels of fame, style revamps; you know the drill. Monster Magnet have faced all of these and more (Dave Wyndorf's nearly fatal prescription drug overdose a few years back, for instance), yet somehow they always seem to come out on top. With Mastermind, MM again prove that they not only have staying power, but also an endless devotion to producing quality—and honest—rock and roll.
For those who have followed the band over the years, you've come to know that Monster Magnet 2010 is a very different beast from Monster Magnet 1990. Long gone are the endless psychedelic jams of Tab and Spine of God, and even the stoner-heavy riffing of Dopes to Infinity is less pronounced. Instead, Mastermind is much more a continuation of Monster Magnet's last two releases (Monolithic Baby and 4-Way Diablo), showcasing the band's knack for creating hard-driving riff rock. Sure, fans of the other incarnations of the band may have drifted and new fans have come in, but like the aforementioned seminal releases, Mastermind holds its own in the MM catalog.
Opener "Hallucination Bomb" feels a bit like a continuation of "Melt" from God Says No, showcasing a slower, heavy riff with Dave's always effective, host-like narration vocals. "Bored With Sorcery" follows and kicks things into high gear in straight-forward headbanging style.
"Dig That Hole" features some "whoa-oh" vocals that would be at home in any Misfits-inspired punk band chorus, making one wonder what a Wyndorf/Danzig collaboration might sound like. Whether the two would get along is a good question (they are both dominating forces in their respective bands), but it's hard to imagine that they wouldn't create one of the darkest, coolest records ever heard.
Lead single "Gods and Punks" is a catchy rock song, but it lacks the knockout chorus of previous opening singles "Unbroken (Hotel Baby)" or "Heads Explode." While not a bad track, it seems an odd choice to draw in new fans or reinspire old. The ultra-catchy "Perish in Fire" would have made a better first single, but perhaps the band will use it as the follow-up.
While mostly a consistently rocking record, perhaps the greatest moments come in the form of the less rock-driven tracks. "The Titan Who Cried Like a Baby" is dark and droney, strangely mixing the vibe of a horror movie soundtrack with bits of Queen.Weird? Sure, but damn effective. "Time Machine" is mellow and slow, and could almost have worked for Johnny Cash (for whom Glenn Danzig wrote a song—see, the collaboration idea grows stronger.) "Ghost Story" also sports a laid-back vibe, and while not instantly reminiscent of them, creates a similar atmosphere to classics "Black Balloon" and "Baby Gotterdammerung." Dave truly excels and creating very cinematic soundscapes, and it would interesting to hear him do an entire album of "non-rock."
Honestly, there's not too much else to say about Mastermind. Is it as mindblowingly heavy as Superjudge or brilliant as Powertrip? No, but that doesn't mean it's not a great record. Hell, coupled with Riotgod's debut from earlier this year (featuring bassist Jim Baglino and drummer Bob Pantella), it's going to be hard to find another record to compete for most rocking album of 2010. It may not be the most original rock record ever created, but for a band with such a storied history, Mastermind is still good enough to give the young ones something to aspire to.
Genre: Hard Rock
Band:
Dave Wyndorf (v,g)
Ed Mundell (g)
Phil Caivano (g)
Jim Baglino (b)
Bob Pantella (d)
Track Listing:
1. Hallucination Bomb
2. Bored with Sorcery
3. Dig That Hole
4. Gods and Punks
5. The Titan Who Cried Like a Baby
6. Mastermind
7. 100 Million Miles
8. Perish in Fire
9. Time Machine
10. When the Planes Fall from the Sky
11. Ghost Story
12. All Outta Nothin'
Label: Napalm Records
Website: www.zodiaclung.com
Hardrock Haven rating: 8.6/10
by Franco Cerchiari
Staff Writer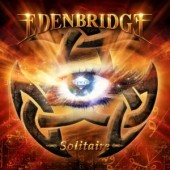 One of the best female fronted goth/symphonic bands cut loose with their follow up to 2008's My Earth Dream, that featured the amazing track, "Whale Rider," (a larger than life ballad with keyboards to die for.) Solitaire is Edenbridge's seventh studio release, and the first since the departure of bassist Frank Bindig (of note is the absence of a bass guitarist name on this release.) The tracks are heavily atmospheric with heavy uses of the keyboards, massive amounts of guitars and the operatic, (and) stunning voice of vocalist Sabine Edelsbacher. But, what they do, they do extremely well. The music is tight, the melodies laden with hooks galore, with voices fitting nicely with the landscape of each track because, in large part to the control that Sabine does have. Underneath the vocals is a strong accompaniment of solid musicianship played to the hilt by each band member. Strong resemblance can be made to Delain, Within Temptation and Nightwish as the same style of the symphonic can be heard.
An internet search for information on Edenbridge, describes them as "metal." It must be clarified that the term "metal" might be a stretch that while it did have moments of larger than life, soaring to the heavens moments, and even some true hard rock, the term "metal" doesn't quite fit.
Early releases by Edenbridge, such as can be heard with 2000's Sunrise in Eden did have a "metal" edge, (a listen to the tracks "Cheyenne Spirit," "Holy Fire," and "Midnight at Noon," will prove this.) But it is understood when hearing a CD such as Solitaire is, what is in the forefront, and what must be thought is the band's desire to showcase, are the vocals. And when in a band, having such a vocalist as Edelsbacher is, the fans – are picking up each release knowing what speaker filling capacity that Sabine has. But that is trivial, as this truly is a solid release … so let's move on…
The incredible piano and bass guitar riffs of "Higher," that also truly showcases the vocal range of Sabine as here she ranges from the low to the high in escalating fashion. The distorted power chords of the hard rocking "Bon Voyage Vagabond," the mid tempo, vocal harmony heavy "Come Undone," the Middle-Eastern flair heard during the intro of "Further Afield," the soaring "Out of this World," the incredible guitar solos of "Brothers on Diamir," (that also in certain moments had hints of Circus Maximus, but sadly did have some hard to understand vocals) and the orchestral, majestic pomp of the closing track, "Exit Unique."
Solitaire is emotional as hell, aggressive in many moments, operatic and symphonic. But what is a standout of this particular CD is that it never comes across as self righteous. Never, during each of these track's playing time, are the moments of music there for the sake of just having music. Each note plays into the theme of the feel of the track. There are no needless notes, no ripping guitar solos (as it were) just for the sake of having them. Although, the solos that are heard, are excellent. The CD doesn't demand a listen, meaning that the music isn't thrust toward the listener in a vain attempt to fill the ears of the unsuspecting with what doesn't need to be heard. But instead, what comes across is a CD that plays out naturally and much like a complex symphony, it progresses as smooth, effortless and, most important of all – wonderfully.
Genre: Symphonic/Progressive Rock
Musicians
Sabine Edelsbacher – vocals
Lanvalle – guitars/keyboards
Max Pointner – drums
Dominik Sebastian – guitars
Track Listing
Entrée Unique
Solitaire
Higher
Skyline's End
Bon Voyage Vagabond
Come Undone
Out of this World
Further Afield
A Virtual Dream?
Brothers in Diamir
Exit Unique
Label: Napalm Records
HRH Rating : 8.8/10
by Trevor Portz
Staff Writer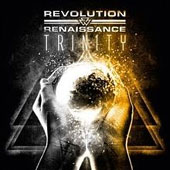 Anyone who has been successful in the music biz as long as Timo Tolkki is bound to have ups and downs in terms of producing quality material. Luckily for him, though, there have been far more ups, and Trinity, the third (and final?) offering from his post-Stratovarius band Revolution Renaissance is certainly one of these.
Following last year's less-impressive Age of Aquarius, Trinity is a true return to form for Mr. Tolkki, blending elements (no Strato-pun intended) of old and newer Stratovarius and Revolution Renaissance, but without sounding like a rehashof either. Is it a groundbreaking work of metal brilliance? Maybe not, but it is a high-quality album from start to finish, and for someone who has almost single-handedly written nearly 20 great albums in as many years, it's hard not to be impressed.
Wasting no time proving he still has the touch, "Marching With the Fools" is certainly the coolest intro from Timo in a long while, mixing heaviness and melody as only he can.
What also becomes instantly apparent, and follows throughout the album, is Timo's desire to break out of the traditional neo-classical solo, instead employing not only a much dirtier tone, but dabbling with a variety of interesting and experimental solos. The best part? This exploration does wonders for the album, adding a depth to Timo's catalog that hasn't been felt since the early experimental days of Dreamspace.
"Falling to Rise" does have some classic Tolkki hallmarks, carrying the radio-friendly power metal vibe of classics such as "Eagleheart" and "S.O.S." What is also clear here—as well as sporadically across the album—is a notable similarity to the oft-criticized, self-titled Stratovarius album. While many fans didn't care for the departure from the standard Strato power metal, that album was arguably the most original thing produced by the band after the seminal Visions.
"A Lot Like Me" feels a bit like Helloween's "Perfect Gentleman," with a title that makes one wonder if Timo is a fan of the Offspring's Rise and Fall, Rage and Grace, or if he coincidentally came up with the same song name as the OC punks.
"The World Doesn't Get to Me" again feels like it would have fit well on Stratovarius, while "Crossing the Rubicon" is a more standard power metal track (though another strange solo gives it it's own unique character).
"Just Let it Rain" is perhaps the most traditional sounding track, and while excellent, would have worked well with a more over-the-top, beer-swilling chorus, ala Helloween, or even Finish folksters Korpiklaani.
"Dreamchild," the first single released online, is a great radioable rocker, with perhaps the most bizarre solo of the whole album. Again, though, this experimentation only serves to make the album better, and never feels forced.
Title track "Trinity" is a lengthy epic, following in the footsteps of similarly epic title tracks "Visions," "Destiny," and "Infinity." It's hard to say whether it will stand the test of time the way the others have, but it works as a great musical climax and, as is uber important with long tracks, doesn't bore the listener. What more could you ask for?
The album closes with "Frozen Winter Heart," a power ballad that is great on its own, but may have worked better somewhere in the middle of the album rather than as the closer. Of course, it also strangely works as a farewell song of sorts, as it appears this is the final RR album.
Before wrapping this up, a shout out should go to the other members of the band, who also did fine work on Trinity. Vocalist Gus Monsanto isn't as strong as Timo Kotipelto or Michael Kiske, but his gruff, melodic vocals are well delivered and powerful. Keyboardist Bob Katsionis does a reasonable Jens Johansson impression when he does solo, but overall plays a rather minor role (this could be in part to the guitar-heavy mix, though). Drummer Bruno Agra and bassist Magnus Rosén hold their own and keep things together, but are outshown by Tolkki and Monsanto. Of course, in this type of music, it's hard to excel and be heard in either of these roles, despite the fact that simply "holding their own" requires immense technical skill.
While it's unclear what Tolkki will do next (Project Strato, please!) he has done a great job closing this chapter of his career on a high note. He's shown that while he doesn't tend to stray too far from his well-tread writing waters, he is far from creatively spent, and has plenty to offer the metal world. If anything, Trinity will surely induce a slew of new Tolkki fans, at the same time reminding old fans why they were drawn to his talent in the first place.
Genre: Power Metal
Band:
Timo Tolkki (g)
Gus Monsanto (v)
Bruno Agra (d)
Magnus Rosén (b)
Bob Katsionis (k)
Track Listing:
1. Marching With the Fools
2. Falling to Rise
3. A Lot Like Me
4. The World Doesn`t Get To Me
5. Crossing the Rubicon
6. Just Let It Rain
7. Dreamchild
8. Trinity
9. Frozen Winter Heart
Label: Napalm Records
Website: http://www.myspace.com/timotolkkiofficial
Hardrock Haven rating: 8.8/10
by Mark Allen
Staff Writer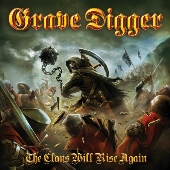 Like a never-say-die zombie that hasn't yet received the final coup de grace bullet to the brain, this German juggernaut just keeps rising up over and over again, hungry not for human flesh, but for human ears, so they can fill them with their fiery brand of riff-driven heavy metal. Over a quarter-century has passed since Grave Digger's now-considered-classic debut, Heavy Metal Breakdown, wowed the diehard head-banging demographic, but they still possess the necessary chops to make an impact; make no mistake, when it comes to cranking out Teutonic tough guy metal, Grave Digger has definitely still got the goods.
The Clans Will Rise Again is being marketed as a pseudo-sequel to 1996's Tunes of War, considered by many fans and critics to be one of the band's best; unlike Tunes of War, however, which spun the tale of Scottish history, Clans is not technically a concept album, or at least the band isn't calling it one. That said, the lyrical content single-mindedly focuses on Scotland, specifically its magic and mysticism, and while Grave Digger themselves may not want to refer to it as a concept album, you are forgiven if at times it feels like a concept album is exactly what you're listening to.
By now, any Grave Digger fan, even casual ones, should know what to expect from the band musically. These guys are power metal pros; you don't last 27 years in the heavy metal game without possessing the chops. Chris Boltendahl's gruff vocals continue to sound like he gargles a bottle of whiskey every night, then smashes the bottle and gargles with the broken shards too, but those vocals work within the context of the genre; songs about epic battles and slurping the blood of your enemies need to be snarled by a singer who's got some grit in his larynx, not flawlessly crooned by some angel-faced pretty boy. The guitars chug out a battalion of power-riffs, supported by the bellowing bass while the drums pound like the hammer of the gods.
In keeping with the Scottish lyrical theme, bagpipes pop up here and there, and if they seem like an odd fit with the roaring metal being churned out, they are a fit nonetheless; after all, a bagpipe presence is pretty much mandatory when singing about Scotland. Still, it does seem a wee bit strange to be banging your head and pumping your fist while bagpipes swirl amidst metal guitars, so thankfully, they're used sparingly. While bagpipes might work within the narrow confines of this particular album, there is absolutely no reason for anyone to rush out and create a new subgenre called kilt-metal.
The choruses can rightfully be called anthems; where the verses end and the choruses begin is never a mystery on this album. And Grave Digger roars out those anthems with gang/chant backing vocals that are a vital asset to their sound. For example, "Valley of Tears" prowls with relentlessly brooding rhythms on the verses, then surges into a soaring chorus at which time the big backup vocals kick in right on cue and deliver a pulsating uppercut, selling the somewhat clichéd revenge-ridden lyrics as something more than they really are by sheer force of volume; without the gang vocals, this song—and most of the other songs as well—simply would not work nearly as well.
It would be a grave mistake for any power metal pundit to pass this one up. No, the band doesn't tread any new turf, but at this point, why should they? They have a distinct sound, a specific style, and it is done very well on this outing. Boltendahl, the sole remaining original member, has joked (or was he really joking?) about the band calling it quits before 2014. Hey, as long as future albums sound as good as this one, heavy metal fans should be happy to see Grave Digger rise again and again.
Genre: Heavy/power metal
Band:
Chris Boltendahl (vocals)
Axel Ritt (guitars)
Stefan Arnold (drums)
Jens Becker (bass)
Hans Peter Katzenburg (keyboards)
Track Listing
1. Days of Revenge
2. Paid in Blood
3. Hammer of the Scots
4. Highland Farewell
5. The Clans Will Rise Again
6. Rebels
7. Valley of Tears
8. Execution
9. Whom the Gods Love Die Young
10. Spider
11. The Piper McLeod
12. Coming Home
13. When Rain Turns to Blood
Napalm Records
Hardrock Haven rating: 7.2
by Derric Miller
Staff Writer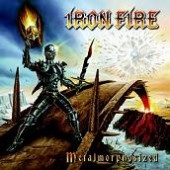 It may surprise you, but Iron Fire has been cranking out their own unique brand of Power Metal for a decade. To commemorate this milestone, Iron Fire wrote new tracks and re-recorded some past tracks that didn't make it to vinyl/CD/digital the first time around, and put it all together in a goulash known as Metalmorphosized. Out now in Europe and in the States in October, Metalmorphosized is proof that you can try to define a band by a genre, but that genre certainly can't define the band.
"Reborn to Darkness" catapults the album, and it's an angry track with singer Martin Steene adding a gritty, vicious edge to his vocals. Drummer Fritz Wagner probably lost 10 pounds just recording this song, or at least he should have, because the speed and blunt power he plays with is rare. The bottom end is bludgeoning, with bassist Martin Lund chugging along with venom to spare, and it's an eye-opening entrance to Metalmorphosized.
Iron Fire is a Power Metal band, but don't expect symphonic keys or uplifting melodies from these gents. For instance, on "Still Alive," you feel the galloping rhythms but again, it's Steene's dark vocals, sung with a sneer and a snarl, that keeps the band from Helloween or Dragonforce land. This is as far from "happy metal" as you can get unless you veer off into Black Metal. You do feel the melodies on the chorus, though, especially with gang backing vocals, but then Steene launches into near Death Metal vocals just so you don't get too comfortable. The stark blasts and machinegun-like rhythms make this a testosterone-fueled ride.
When you look at the song titles, like "Reborn to Darkness," "The Underworld," or "Riding Through Hell," you'll see the band invests in visual and mythological imagery as they pen their tracks. The song "The Underworld" is one of the harshest songs on the release; it can barely be corralled as Power Metal. While the rhythms race along at typical Power Metal speeds, it's the vile gruffness from the vocals—jaunting from clean, to Death to Black Metal vocals—that keep the song in a schizophrenic state. There's just a lot of noise to digest on this one. If you have heard Steene in another one of his bands, Force of Evil, you know that he owns the vocal ability to jet off into a near Halford-esque range — even if it is more falsetto than full or head voice — but he never employs that side of his voice on Metalmorphosized, instead going a heavier and more guttural route, which in the end is a detriment to the release.
By the time you hit "Left for Dead," which is one of the strongest songs on the entire release, you'll being to wonder if you haven't heard this song earlier. If there's a knock on the album, it's that the first 11 tracks are all breakneck metal anthems; there's nary a mid-tempo or ballad to be found. Of course, Iron Fire isn't that kind of band, either, which is why defining them as Power Metal is only partially correct.
The only time you are allowed to almost catch your breath is on the closing track, "The Phantom Symphony." Prefacing the meat of the composition are flowing keys and deft guitar playing, but things turn metallic quickly. At nearly 10 minutes in length, it's the most intricate song on Metalmorphosized, and the most majestic. Along with "Left for Dead," it's also the most memorable one here.
Iron Fire is a talented band that can hold their own against anyone. That being said, Metalmorphosized lives up to its name in spades by clubbing you over the skull with such ferocity, you may need to be in the right mood to enjoy to this level of melodic agression over and over again.
Band:
Martin Steene – Vocals
Kirk Backarach – Guitars
Martin Lund – Bass
Fritz Wagner – Drums
Label: Napalm Records
Track listing:
01. Reborn To Darkness
02. Nightmare
03. Still Alive
04. Back In The Pit
05. The Underworld
06. Crossroad
07. Riding Through Hell
08. Left For Dead
09. The Graveyard
10. My Awakening
11. Drowning In Blood
12. The Phantom Symphony
Genre: Power Metal
Online: http://www.ironfire.dk/
Hardrock Haven rating: 7.3/10
by Jorden Rex
Staff Writer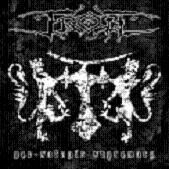 A band name as generic as Troll, frankly, brings to mind music that is poorly produced, poorly written, and all-around sub-par. What a welcome twist, then, that Troll's latest release, Neo-Satanic Supremacy is none of those things! It is surprisingly well-produced with diverse and interesting songs. Some are fast and furious, while others pull back a little and allow the keys to come forward a bit. It is not, by any means, atmospheric or symphonic Black Metal, but they have made room for some keyboards; they're there, but not the focal point of the music.
The drumming is more just blast beats and furious double bass. While Ygg clearly demonstrates that he is capable of prolonged bouts of 150+ bpm beats, he doesn't feel the need to spend the entire album proving it. He uses his china cymbal liberally (instead of just the high-hat and ride), and likes to throw in some off-beats just to make things a little more interesting.
The title track from Neo-Satanic Supremacy is a stand-out for a couple reasons. One expects a title track to be something of an opus or a grand work. It is not this time. It follows the longest, slowest song on the album, "Hvor Taken Ligger Sa Trist Og Gra (Where the Fog Lies So Sad and Grey?)", and sets itself off right away by coming in strong and keeping an unrelenting pace throughout. However, at only 2:29, it is the shortest song on the album.
All in all, a pretty good album full of pleasant surprises. Neo-Satanic Supremacy could be on par with Old Man's Child's Ill Natured Spiritual Invasion or Dimmu Borgir's Spiritual Black Dimensions (which is not all that surprising, as Nagash was in Dimmu on that record). This album seems to get better with each listen. Definitely worth picking up if you're into Black Metal at all.
Web: www.myspace.com/troll  
Label: Napalm Records
Band Line-up:
Nagash – Vocals/Guitars
Tlaloc – Guitars/Vocals
Vold – Bass/Vocals
Exilis – Keyboards
Ygg – Drums
Track Listing:
1. Til Helvete Med Alt
2. Alt For Satan
3. Ga Til Krig
4. Burn the Witch
5. Morkets Skoger
6. Hvor Taken Ligger Sa Trist Og Gra
7. Neo-Satanic Supremacy
8. At the Gates of Hell
9. Smertens Rike
10. Age of Satan
Hardrock Haven rating: 7/10
by Trevor Portz
Staff Writer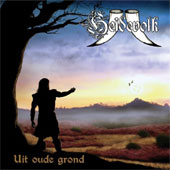 Pagan metal really seems to be the en vogue style of the day. Hordes of bands are donning their ren-fair garb, overfilling their drinking horns, and stringing up their lutes to celebrate the plague-filled days of yore, albeit with a modern metal twist. With so many like-minded groups attempting to cash-in on the current success of the genre, it's become more and more difficult for most of them to stand out amongst their Thor's Hammered compatriots. Well, it seems appropriate to raise a toast to the Netherland's twin-vocal-led Heidevolk, whose newest release, Uit Oude Grond, is a release worthy of both your attention and praise.
Musically speaking, Heidevolk tread a fairly familiar pagan path of mid-paced, guitar-driven metal that utilizes generally "happy" folk melodies and the occasional traditional instrument. What makes them unique, however, is their use of two male lead vocalists who stay synched in pitch-perfect harmony and give the band a sound unlike that of most of the scream-vocaled or male/female-led groups of their ilk.
Oftentimes, especially in metal (which seems to rely less on autotune than its pop cousins), harmonies can be the death knell for a good band. Unless they are spot on, the effect can be lost in a sea of discordant, ear-piercing note slaughtering. Vocalists Joris Boghtdrincker and Mark Splintervuyscht have managed to lock themselves into such perfect harmony that the vocals come across as one unified voice that just happens to be singing two distinct parts. This gives the vocals an almost chant-like quality, and brings new dimension to both the music, and the Gelderland-inspired historical lyrics (which are, of course, sung in Dutch). The band virtually never veers into grim vocal territory, which does give the album a happier vibe, but that seems reasonably appropriate for the lyrical content.
Perhaps the greatest track on the album, opener "Nehalennia" certainly gives an overview of what Heidevolk is all about—power chords, uplifting melodies, the aforementioned dual vocals, and varied instrumentation. "Nehalennia" also stands out due to its main riff, which, to those raised on '80s MTV, freakishly resembles the main riff to Pat Benetar's "You Better Run." While likely unintentional, one has to wonder if a member or two of the band harbor a secret passion for the rock Goddess.
The other ten tracks on Uit Oude Grond aren't overly groundbreaking, but from the fast paced, power metal-influenced "Vlammenzee," through the slow and epic "Gelders Lied," to the groovy and great closer "Beest Bij Nacht," there's more than enough differentiation to keep things interesting. Other standout tracks include the acoustic guitar and violin-dominated "Deem Stering," the oddly rockabilly-influenced "Karel van Egmond, Hertog van Gelre," and the nearly instrumental "Alvermans Wraak." The latter builds from an interesting disco-pagan beat (yes, that's what it sounds like) to a solo-fueled (guitar and violin) masterpiece.
Not much more needs to be said about Uit Oude Grond. It is a shining example of why pagan metal has achieved the success that it has, and for those less than keen on the usually harsh vocals that come with the style, it will be a breath of fresh air. Of course, as is also the case with the style as a whole, one can't ignore the endearing cheesiness that comes along with the costumes and overall attitude. But like a meal at Medieval Times, sometimes it's best to disregard the silliness, and just have a good time.
Label: Napalm Records
Web: www.heidevolk.com ; www.myspace.com/officialheidevolk
Band Lineup:
Joris Boghtdrincker (vocals)
Mark Splintervuyscht (vocals)
Reamon Bomenbreker (guitar)
Sebas Bloeddorst (guitar)
Rowan Roodbaert (bass)
Joost den Vellenknotscher (drums)
Tracks:
1. Nehalennia
2. Ostara
3. Vlammenzee
4. Een Geldersch Lied
5. Dondergod
6. Reuzenmacht
7. Alvermans Wraak
8. Karel van Egmond, Hertog van Gelre
9. Levenslot
10. Deemstering
11. Beest Bij Nacht
Hardrock Haven rating: 9.2/10