by Trevor Portz
Staff Writer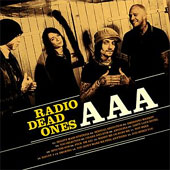 As Germany is known for generating top-notch bands (Scorpions, Helloween, Falkenbach), it's not really surprising that one of its more recent creations—Radio Dead Ones—delivers their brand of rock with a punk edge in fine (though unrefined) style. While they may not be as genre-defining as many of their predecessors, RDO bring an angry, dirty swagger to their newest full-length, AAA, and show that they are very keen to make a mark in the German rock scene.
Formed in Berlin by four driven punks, Radio Dead Ones have followed a very old-fashioned rock and roll path: drugs, partying, writing, recording, releasing vinyl singles and splits, and finally making a proper album. Whether they like it or not, they seem to personify the notion that hard work is the way to make it in the biz. With that in mind, AAA is a solid sophomore full length that shows a bit of maturity, though without sacrificing the grittiness of their earlier work.
Nothing on AAA veers too far from the punk n' roll formula, though "Cigars and Rum" is a fun rockabilly sidetrip, complete with upright bass. "Smoking" is a more traditional, high-speed punk romp, while "Not Here" features a bit of a country-punk (think Jason and the Scorchers) vibe.
While certainly a solid release, perhaps the most polarizing element of the Radio Dead Ones sound is the varying—in both style and quality—vocals. Some songs, such as "Sensual Seduction," boast almost Lemmy-like unmelodic howls. While this growly delivery works for Mr. Kilminster, unfortunately the backing music of RDO doesn't pack the aggression to carry it, and thus the vocals deter from the otherwise catchy underlying melodies. Other, more clean-sung tracks fair better—notably the financially titled "Emerging Market," and the radio-friendly sing-a-long pop of "Angelina"—but even on these songs the vocals waiver on and off key, and are ultimately a bit of a letdown. Arguably the best vocal here is delivered by an unknown female guest, who sings lead on "Dirty Love Hotel." Maybe the band should consider a permanent position for her. Luckily, however, the vocals aren't ear-piercingly dreadful, and to the right ear (or left), they may be downright perfect.
There's really not much more to say about Radio Dead Ones. If you like honest, dirty punk rock, and aren't overly concerned with vocal perfection, you really can't go wrong with AAA. Hell, even with its shortcomings, it's still better than a lot of the homogenized rock dominating radio.
Genre: Punk Rock
Track Listing:
1. Intro
2. Sensual Seduction
3. Emerging Market
4. Too Selective
5. Cigars + Rum
6. Angelina
7. Dirty Love Hotel
8. Into the Sun
9. Fuck Em All
10. Mary Me Or Bury Me
11. Not Here
12. RDO 2 (BRÄMF)
13. Smoking
14. You Don't Make Me Feel Anything
15. Outro
Label: SPV/Steamhammer
Website: http://www.radiodeadones.de/
Hardrock Haven rating: 7./10