by Erik Tweedy
Staff Writer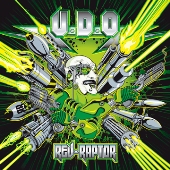 In 1986, the band Accept was on top of its game and was one of the biggest metal bands touring Europe, and then it all instantly fell apart. In search of a solo career, lead singer Udo Dirkschneider unceremoniously left the band, leaving his fellow band mates to fend for themselves. Citing the usual musical differences, the members of Accept wished him well and waved goodbye. In 1987, Udo took his unique voice and his camouflage pants and started his own metal outfit, simply titled U.D.O.
Fast forward a couple of decades and an impressive 12 studio albums later, and U.D.O. continues to create some of Germany's finest metal. Their latest release, Rev-Raptor is pretty much what you would expect from an U.D.O. release: Bashing drums, dueling guitars, pounding bass and that trademark Udo grunt and growl on vocals. Accept fans from around the world continue to shake their heads, trying to understand why Udo just didn't stay in Accept because the music's formula is pretty much the same with both bands. Because Accept reformed in 2010 with Mark Tornillo on vocals and having put out one of last year's best metal releases, the comparisons will, no doubt, be the hot topic of conversation around the German water cooler.
The title track to Rev-Raptor kicks things off with a cool drum intro and the pedal to the floor. The fast pace of this release burns through tracks "Leatherhead" and "Renegade" and doesn't slow down until hitting "I Give As Good As I Get," which is as close to a U.D.O. ballad as can be, given the limitation in Udo's vocal range. Some tasty guitar work near the end will keep you awake until the barn-burner that arrives in the form of "Dr. Death." By now, you will have recognized that many of the tracks are starting to sound the same with different lyrics. This is not a knock on the band, but it is difficult to not recognize this. There are some solid guitar solos captured throughout the release, and the production is very good. But the almost continuous use of the same beat and the layering of Udo's vocals many times over get to be a bit on the boring side by the time you are awaken by "Motor-Borg," which is one of only a few standout tracks on this release. By the time you reach the final track, "Days of Hope and Glory," sadly, it doesn't provide the listener with any hope or glory.
The longtime U.D.O fan might enjoy this release even if it is quite boring, but it probably won't pull in too many new fans. The guitar tone and drum beat rarely change throughout the entire album, and the over-mastered vocals are a sure sign that Udo's singing career is coming to an end. U.D.O. has had some pretty solid releases during the past two decades, but this one falls somewhere in the middle of the pack.
Band:
Udo Dirkschneider: Vocals
Stefan Kaufmann: Lead Guitar
Igor Gianola: Rhythm Guitar
Fitty Weinhold: Bass
Francesco Jovino: Drums
Track Listing:
Rev-Raptor
Leatherhead
Renegade
I Give As Good As I Get
Dr. Death
Rock 'N' Roll Soldiers
Terrorvision
Underworld
Pain Man
Fairy Tales of Victory
Motor-Borg
True Born Winners
Days of Hope and Glory
Label: AFM Records
Website: http://www.udo-online.de/
Hardrock Haven rating: 7.6/10