by Justin Gaines
Staff Writer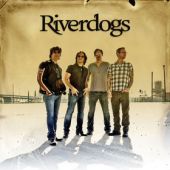 At this point it probably shouldn't come as such a surprise when a long inactive classic band gets back together. This year alone has seen reunion/comeback albums from Black n' Blue, King Kobra and Unruly Child after all. Still, a new release from the way too overlooked melodic rock band Riverdogs came as something of a surprise. The band came on strong with their self-titled 1990 debut, but shortly after its release guitarist and producer Vivian Campbell departed to join Def Leppard and then the alternative rock tidal wave overtook the whole melodic rock landscape. The band – Campbell included – did some studio work back in 2003, but the recordings never saw the light of day until now, with the release of World Gone Mad.
With just eight songs, World Gone Mad is a fairly brief collection, but at this point Riverdogs fans will probably be more than happy just to hear these songs. The album includes those 2003 studio songs, which were recently remixed and updated, as well as a couple of brand new songs and a spirited live version of the Badfinger staple "No Matter What." Musically, the songs on World Gone Mad are about what you'd expect from a band at this stage in their career.
The late '80s are long gone, and the guys are older and wiser, so the more bombastic elements of the early Riverdogs sound have been dialed back, leaving a very polished, soulful, guitar-driven melodic rock sound. Campbell's guitar work is elegant and subtle, but just as impressive as ever, and Lamothe's vocals bring an added measure of heart and soul to these well-crafted songs.
If you were a Riverdogs fan back in the day, you won't want to miss World Gone Mad. Despite its relatively short length, it is still damn good to finally hear some new Riverdogs material. With any luck, this may prove to be the spark that leads to future projects from the band.
Genre: Melodic Rock
Band:
Vivian Campbell (g)
Rob Lamothe (v)
Nick Brophy (b)
Marc Danzeisen (d)
Track Listing:
1. World Gone Mad
2. Big Steel Town
3. Best Day of My Life
4. Just a Little Higher
5. For You
6. This Empty Room
7. Glitter Town
8. No Matter What (live)
Label: Melodic Rock
Hardrock Haven rating: 8/10