by John Kindred
Staff Writer –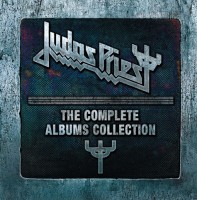 Judas Priest originally was formed in 1969 in Birmingham, England, but they didn't solidify the core of the band until 1974 before recording their first studio album Rocka Rolla. Originally a four-piece outfit rounded out by Halford, Downing and Hill, their record label suggested adding another guitarist prior to recording their debut album. This brought Glenn Tipton into the fold and the rest, as they say, is history.
Launching a music career that has spanned four decades, Rob Halford, Glenn Tipton, K.K. Downing and Ian Hill forged a legacy that has influenced countless generations of musicians and indoctrinated legions of fans. The band has withstood many storms that tested their mettle, but they have survived and persevered. Even today, lineup changes have not deterred the band's audio assault on the world.
Over the years, the core members of the band, Rob Halford, Glenn Tipton, K.K. Downing and Ian Hill, have been the forerunners of their style of rock. While known to the world as a Heavy Metal band, continued growth as a group and as individual musicians has evolved through several genres over the course of their careers. Starting out as a psychedelic hard rock band in the early '70s, they have traversed the genres from hard rock, heavy metal and thrash metal.
The voice of the band is Rob Halford, although Tim "Ripper" Owens admirably captained the ship for a few years and albums. Halford's "hellion-ish" vocals pushed the envelope, reaching beyond the typical archetype for a hard rock or metal vocalist. Priest has had a few drummers sit behind the kit and bash the skins over the years, but Scott Travis (Racer X), who, since 1989, has elevated the metallic fury of the band to new heights. The twin guitar attack of K.K. Downing and Glen Tipton set standards for Metal bands worldwide to follow as they took their aerial assault to new levels of technical virtuosity.
The Complete Albums Collection Box Set is really the complete anthology of the Robert Halford -led Priest. The anthology contains the 15 studio albums and three live albums that, again, feature the four core members of the band: Rob Halford, Glenn Tipton, K.K. Downing and Ian Hill, who all appeared on the band's discography from 1974 to 2009. Again, albums that feature Tim "Ripper" Owens as Priest's vocalist are excluded from the collection, which, in truth, is only three releases. The Complete Albums Collection Box Set isn't 100 percent complete, but it's damn close.
This is quite a comprehensive collection of music. Each album is packaged in replica mini-LP sleeves, reproducing the original cover art. Also included is a 40-page booklet with photos, album credits and liner notes by rock journalist and Priest fan Greg Prato. The majority of the albums are the re-mastered editions, including recently re-mastered albums Rocka Rolla and Sad Wings Of Destiny. The album Hell Bent For Leather appears under its original name, Killing Machine, a change brought on before its release in '78 by Judas Priest's record label.
Are you ready for a Judas Priest audio marathon? Starting with 1974′s Rocka Rolla fans can retrace the steps of the band as the find their way from a fledgling psychedelic almost hippy-rock to harder-edged heavy rock. The band travels many roads from their commercial-metal excursion on the 1986 Turbo, to their thrash-inspired 1990 Painkiller and moves along to the dynamic heavy metal return of Halford on 2005′s Angel of Retribution. Judas Priest certainly has cut its own path in the music industry.
Even today, change, it seems, is inevitable. In 2011, K.K. Downing retired from the band, creating the opportunity for new guitarist Richie Faulkner to become the latest member in the Judas Priest family tree. The Judas Priest machine moves on as the band rolls forward on its last world tour, Epitaph, but don't fret because they plan to continue to release new studio albums and perform live on a smaller scale.
Genre: Heavy Metal
Band:
Rob Halford (v)
Glenn Tipton (g)
K.K. Downing (g) [from 1970 to 2011]
Ian Hill (b)
Scott Travis (d) [from 1989 to present]
Alan Moore (d) [appeared on Sad Wing of Destiny]
John Hinch (d) [appeared on Rocka Rolla]
Simon Phillips (d) [appeared on Sin After Sin]
Les Binks (d) [appeared on Stained Glass]
Dave Holland (d) [featured on albums released from 1979–1989]
ALBUMS INCLUDED IN 'THE COMPLETE ALBUMS COLLECTION':
Rocka Rolla (1974)
Sad Wings of Destiny (1976)
Sin After Sin (1977)
Stained Class (1978)
Killing Machine (1978)
Unleashed in the East (1979)
British Steel (1980)
Point of Entry (1981)
Screaming for Vengeance (1982)
Defenders of the Faith (1984)
Turbo (1986)
Priest…Live! (1987)
Ram It Down (1988)
Painkiller (1990)
Angel of Retribution (2005)
Nostradamus (2008)
A Touch of Evil…Live (2009)
Label: Epic, Columbia, Legacy Recordings
Hardrock Haven rating: 10/10
by Deb Rao
Staff Writer –
October 23, 2011 at The Joint, Las Vegas, NV.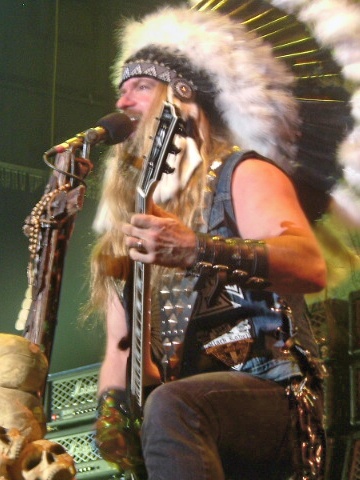 Metal fans came out in full force as Judas Priest's Epitaph Tour invaded The Joint in Las Vegas with special direct support act Black Label Society for a sold out performance on Oct. 23. Las Vegas is known for bringing the top performers in the music business into Sin City and tonight metal's finest took the stage for a full metallic assault.
Black Label Society featuring Zakk Wylde hit the stage at 8:10 P.M and got the crowd pumped up for Judas Priest. The Las Vegas Chapter of BLS fans showed up in full force. Zakk Wylde and company took the stage with a vengeance. Highlights of the set were, "Suicide Messiah," and the 10-minute guitar solo that followed "Fire It Up" by Zakk Wylde. The guitar virtuoso held the audience spellbound shredding the strings in perfect execution. The guitar solo tradeoffs between Zakk Wylde and Nick Catanese shined. One of strongest songs of the evening was "Concrete Jungle."
I had the opportunity to speak to Black Label Society guitarist Nick Catanese regarding the tour and Black Label Society's longevity. Nick comments, "The tour is going great. It has been amazing getting to see Judas Priest perform every night! I can't believe I have been doing this now for 15 years. We'll will be out on the road with Judas Priest through Dec. 3."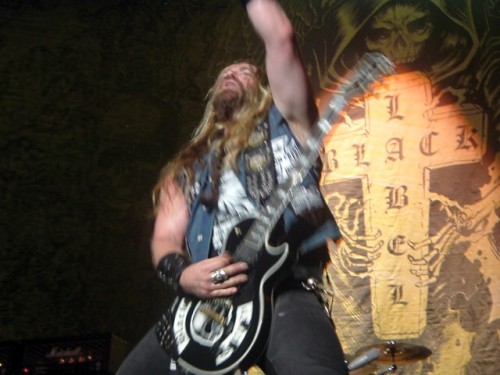 Black Label Society Set List:
Crazy Horse
Funeral Bell
Bleed For Me
Demise of Sanity
Overlord
Parade Of The Dead
Suicide Messiah
Godspeed Hellbound
Fire It Up
Concrete Jungle
Stillborn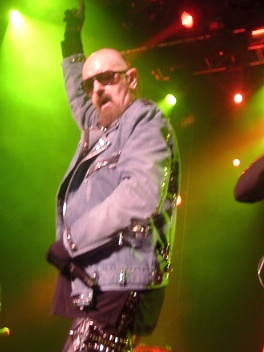 Veteran rock band Judas Priest has an illustrious career that has spanned over four decades. Tonight one of the greatest rock bands in metal history chronicled their rise to rock stardom in a two and half hour set. Opening with "Rapid Fire", Judas Priest front-man Rob Halford took full command of the sold out audience. Amidst a sea of pyrotechnics and smoke, and a stage show that bedazzled the audience complete with lasers and a video backdrop that displayed various album covers of the bands 16-studio album career.
Singer Rob Halford was in great vocal form, introducing every song with a little bit of rock and roll history. The momentum of the night built, as Judas Priest launched into "Never Satisfied" from Rocka Rolla. One of the highlights of the set was the remake of the Joan Baez song, "Diamonds And Rust," as the acoustic metal ambiance filled the venue. Perhaps, the most exciting moment of the evening transpired when the audience sang the chorus of "Breaking The Law" louder than Rob Halford. During the evening, Rob sported many costume changes including a long leather spike metal coat, and a silver metallic cloak during "Nostradamus."
The momentum of the night never ended, as Halford hit the stage with his Harley during "Hellbent For Leather." The hits kept on coming as "You've Got Another Thing Coming" and final encore, "Living After Midnight" roared through the speakers. Perhaps Rob Halford summed it up best, as he commented during the 2-hour long set, "We're a classic metal band. That's what we do best." From the response of the audience, this was surely a magical night that will go down in metal history. The lights may shine bright in Vegas, but nothing could outshine guitar virtuoso Zakk Wylde and the spellbinding performance of Metal God Rob Halford.
Judas Priest Set List: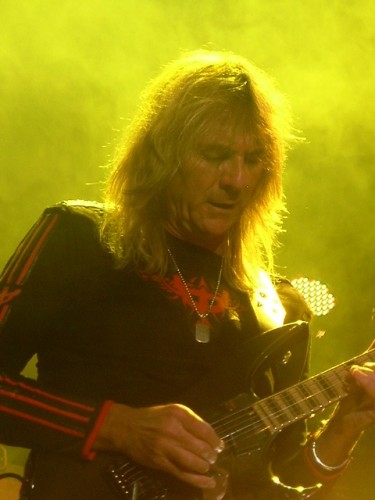 Rapid Fire
Metal Gods
Heading Out To The Highway
Starbreaker
Victim Of Changes
Diamonds And Rust
Dawn Of Creation
Prophecy
Night Crawler
Turbo Lover
Beyond The Realms Of Death
The Sentinel
Blood Red Skies
The Green Manalishi
Breaking The Law
Painkiller
Electric Eye
Hellbent For Leather
You've Got Another Thing Coming
Living After Midnight
Photos appear courtesy of Deb Rao
by Alex Barbieri
Staff Writer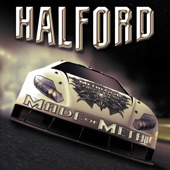 If you've ever wondered what Rob Halford would sound like singing different types of music in other bands, this album is a pretty good indication. Halford IV Made of Metal is a diverse collection of songs, and the album title is a bit misleading because of that.
From the Coldplay keyboards of "I Know We Stand a Chance" to the blaze-of-glory slide guitar in "Till the Day I Die," Made of Metal may disappoint hardcore Judas Priest fans. But the more open-minded listener will get an interesting glimpse into the multi-faceted personality and palette that makes up "The Metal God," Mr. Rob Halford.
The straightforward Maidenesque gallop of lead-off track "Undisputed" is a welcome relief from the dense complexity of Priest's Nostradamus. If this were written specifically for a World Boxing Association, it would be a lot more exciting. Because it was not, it borders on silly. But The Voice is still there, and you'll feel like an old friend has come to visit your speakers again.
"Fire and Ice" is vintage Priest, all double bass and twin lead guitars, hearkening back to "Jawbreaker" from Defenders of the Faith. "Made of Metal" is the perfect soundtrack to a sci-fi shooter game. Sure, the lyrics are a bit cartooney, (Supersonic silver flying machine / made of metal racing alien beings), but so were those in "Electric Eye" on Screaming For Vengeance.
"Speed of Sound" and "Like There's No Tomorrow" is more old-school Priest in a modern-day package. Crank these loud as you're blasting away on your Xbox to add a whole new meaning to the word, multimedia. "Till the Day I Die" is the turning point on the album, where Halford gets more eclectic. His low-range vocal intro over whisky-soaked slide guitar gives way to a thoroughbred stomp.
Halford's poppier side on "Heartless" and "Thunder and Lightning" are uniquely refreshing, but they're followed by some average moments in "Hell Razor" and "Matador." But—wait for it—wait for it—"The Mower" is as heavy and high range as anything Halford has ever recorded. He threw a bone to hardcore fans.
There is no denying that Halford is rock royalty, and his musical journey is worthy of respect, wherever he may roam. At this point, he can release any type of album he damn well wants to—and has. (Consider Halford III Winter Songs.)
Halford, the band, is clearly his side project to go beyond the parameters that define Judas Priest. And he's earned that right. Traditionalists, go buy British Steel – 30th Anniversary – Live. Fans of Halford who respect his prerogative to stretch his metal wings, give Made of Metal a listen. Long live The Metal God.
Watch the new video for "Like There's No Tomorrow." http://www.youtube.com/watch?v=NnZD-TOU-Rs&feature=player_embedded
Watch the animated video for "Made of Metal." http://www.youtube.com/watch?v=qS4jMGUP8Xs&feature=player_embedded
Genre: Hard Rock/Heavy Metal
Band:
Rob Halford – Vocals
Metal Mike Chlasciak – Guitar
Roy Z. – Guitar
Mike David – Bass
Bobby Jarzombek – Drums
Track Listing:
1. Undisputed
2. Fire and Ice
3. Made of Metal
4. Speed of Sound
5. Like There's No Tomorrow
6. Till the Day I Die
7. We Own the Night
8. Heartless
9. Hell Razor
10. Thunder and Lightning
11. Twenty-Five Years
12. Matador
13. I Know We Stand a Chance
14. The Mower
Label: Metal God Entertainment
Online:
http://www.robhalford.com/madeofmetal/
www.facebook.com/pages/Rob-Halford/136458273486
http://www.myspace.com/robhalford
Hardrock Haven rating: 7.5/10
by John Kindred
Staff Writer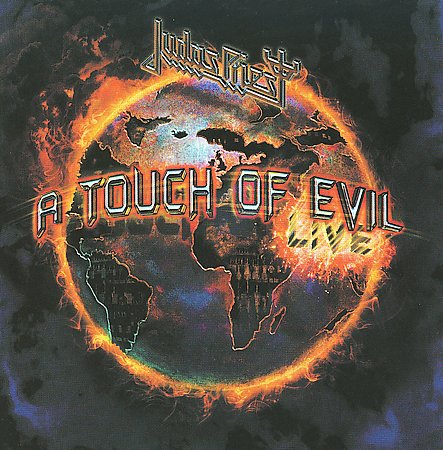 Shredding their skin: By releasing a live album of fan favorites and obscure songs, Judas Priest return with their latest release A Touch of Evil: Live. Captured live during the band's tours from '05 and '08, Martin Walker and Brian Thorene have captured unique performances of one of metal's most metallic bands of all time. In fact, the term "heavy metal" truly earned its meaning when Priest arrived, decked in black leather, metal-studded belts and wrist bands.
Produced by Tom Allom, who worked with Priest from '79's Unleashed in the East up to their release of Ram It Down in '88, the live album comprises 11 songs. The metal masters tackle music from '09's metal opera Nostradamus and '05's Angel of Retribution. Priest dug in the vaults and performs music from '78's Stained Glass, '82's Screaming for Vengeance, '84's Defender of the Faith and '90's Painkillers that were ignored on previous live DVD and CD compilations.
How many bands have benefited from the castoffs of the band Racer X? Paul Gilbert formed Mr. Big with Billy Sheehan. Jeff Martin has lent his talent to Jake E. Lee's Badlands, George Lynch and Leatherwolf. John Alderete and Bruce Bouillet moved on to form The Scream with John Corabi. Scott Travis went on to join one the biggest metal bands of all time, Judas Priest. With that said, the soaring vocal of Halford and the searing guitars of Tipton and Downing would fail considerably flat without the pulsating rhythms of Ian Hill and the prominent drum work of Scott Travis.
Naysayers be damned. This live metal compilation delivers. No longer 20-something, Priest has matured and gelled into a well-oiled metal machine. Travis brings the fire with his double-bass-ferocious skin-bashing, allowing Tipton, Downing and Halford to explode into scorching, if not searing, metal fury.
Those that want to compare the live tracks to the original studio releases should take a long look in the mirror. Don't judge lest you be judged. Do you truly maintain that youthful appearance of your high school days? Or maybe you're just a little out of shape? Are you a little winded, or are there bags and dark circles under your eyes? Halford may not be producing the same decibel of piercing screams from early works, but you can't say that he can no longer sing. C'mon.
Actually, with Travis on drums and the advancement of technology, Judas Priest manages to remake those older songs into new breathing, living monsters. The heavily distorted overtones give the guitars harmonic nuances not found on the original recordings. The guitars have a heaviness that basement guitar heroes can only dream of.
Highlights include Angels of Retribution, opening song "Judas Rising," which also opens A Touch of Evil: Live. Both songs from Nostradamus "Death" and "Prophecy" fit well within Priest's catalog of music and sound magnificent in the live setting. Who doesn't love "A Touch of Evil?" Man, what a great song! This dark overtone and heavy rhythmic pulse is alive with power. If you had never heard the album closer, in the song "Painkiller," you would never place emphasis on the ability of Halford to deliver his trade mark screams. There have been negative comments about this song and the vocals. His gutsy, almost raspy vocal is perfect on this classic track.
Tom Allom has done a fairly decent job of maintaining the continuity of A Touch of Evil: Live. The compilation is a collection of songs recorded at different periods of time. As such each track closes with a fade out. But this doesn't lessen the impact of the overall presentation as the power and energy of the music remain strong and forceful.
It is easy to be critical of a live album. Especially when comparing the effort to the original studio recordings. A Touch of Evil: Live is as perfect a live CD as you can get. The musicianship, overall mix and production set a high standard for other artists to strive for.
Label: Epic Records
Band:
Rob Halford – lead vocals
Glenn Tipton – guitars, backing vocals
K. K. Downing – guitars, backing vocals
Ian Hill – bass guitar, backing vocals
Scott Travis – drums, percussion
Track Listing:
01. Judas Rising (from the album Angel of Retribution)
02. Hellrider (from the album Angel of Retribution)
03. Between The Hammer & The Anvil (from the album Defenders of the Faith)
04. Riding On The Wind (from the album Screaming for Vengeance)
05. Death (from the album Nostradamus)
06. Beyond The Realms Of Death (from the album Stained Glass)
07. Dissident Aggressor (from the album Sin After Sin)
08. A Touch Of Evil (from the album Painkillers)
09. Eat Me Alive (from the album Defenders of the Faith)
10. Prophecy (from the album Nostradamus)
11. Painkiller (from the album Painkillers)
HRH Rating: 9/10