by Nikiforos Skoumas
- Columnist –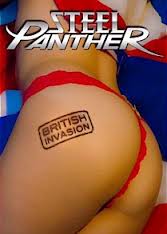 It really seems like yesterday when the debut album by some newcomer glam metal band boldly named Steel Panther hit the music stores in Europe; Feel the Steel became available in May 2009 effectively putting hair metal on the map as an international musical genre once again.
You could tell by the numerous interviews that would appear on the internet and music magazines that Steel Panther would be taking a leading role within their genre. Provocation, aggression and sarcasm were key elements of a marketing approach that would establish the band in no time and make Steel Panther a household name the world over.
Fast forward in 2012 and you would be hard pressed to find a rock fan who does not know who Steel Panther are and what they stand for. With a second studio album Balls Out already in the market, numerous arena tours supporting such legends as Motley Crue and Def Leppard, and of course their own headline shows, a live album and video seemed very much in order.
Steel Panther's The British Invasion is based on a UK headline show dating back to 2010 at which point the band were promoting their debut album Feel The Steel. In an attempt to update the package a second part recorded at the Download Festival 2012 has been added. This section features a total of five songs three of which are taken from their second album Balls Out.
Clearly the 2010 show recorded at the Brixton Academy is the main course of this audio-visual menu. Steel Panther perform Feel the Steel in its entirety in front of a sold out crowd. None of the theatrics we have seen time and time again on their Youtube videos have been spared on this live show so you do get all the different costumes, the pyrotechnics, the dancing girls and the elevated stage set-up; the highlight of the extravaganza is probably when Michael enters the stage in a super-sized, old-fashioned Chinese taxi as the band drive into "Asian Hooker."
Beyond the rap that goes on between the songs, Michael, Satchel, Lexxi and Stixx are real pros in rock. They deliver their debut note-for-note, every solo every vocal harmony is recreated on this live video and performed with the kind of intensity that does perfect justice to the Panther's reputation. Beyond the twelve songs of the album, the set list includes Lexxi's legendary "Hair Solo" plus an oldie from the band's "Metal Skool" days, the anthemic "We Want Pussy."
As a fan-item one should note that the Blu-ray booklet features the lyrics to all the songs found on the set list as the original pressing of Feel the Steel did not come with the lyrics.
Overall The British Invasion is a documentation of Steel Panther's remarkable career progress going from newcomers to keepers of the glam metal genre and overall rock stars in just under five years. It goes without saying that The British Invasion is a must for anyone into glam metal or '80s rock in general. It's exactly what you would expect from Steel Panther.
Genre: Glam Metal, Melodic Hard Rock
Line up:
Michael Starr (Ralph Saenz) – lead vocals, acoustic guitar
Satchel (Russ Parrish) – lead guitar, acoustic guitar, backing vocals
Lexxi Foxx (Travis Haley) – bass, backing vocals
Stix Zadinia (Darren Leader) – drums, percussion, backing vocals
Track list:
01. Eyes Of A Panther
02. Eatin' Ain't Cheatin
03. Feat. Girl
04. Hair Solo
05. Party All Day
06. Hell's On Fire
07. Stripper Girl
08. Asian Hooker
09. Turn Out The Lights
10. Girl From Oklahoma
11. We want Pussy
12. Community Property
13. The Shocker
14. Death To All But Metal
15. Credits
Label: Universal Republic
Hardrock Haven rating: 9/10
by Cameron Edney
Guest Staff Writer –
February 26, 2012 at Olympic Park in Sydney, Australia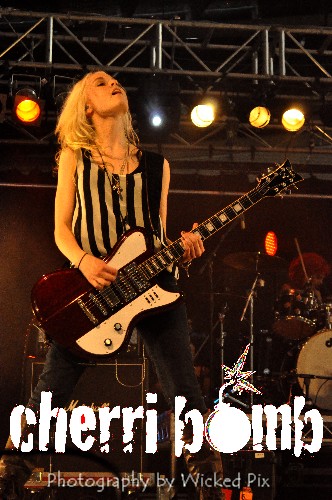 Soundwave Festival presents metal bands that make the rounds to three regions of Australia. It features a number of international and Australian music acts, from various genres including rock, metal and punk.
Bands appearing at this years event included: System of a Down, Slipknot, Limp Bizkit, Marilyn Manson, A Day To Remember, Bush, Machine Head, Lamb of God, Mastodon, Trivium, Alter Bridge, Devin Townsend Project, Dillinger Escape Plan, Black Label Society, Steel Panther, Meshuggah, Paradise Lost, Shadows Fall, Hatebreed, Biohazard, In This Moment, Kittie, Cherri Bomb…
Locations for the event:
Brisbane, 25 February 2012, RNA Showgrounds
Sydney, 26 February 2012, Olympic Park
Melbourne, 2 March 2012, Melbourne Showgrounds
Adelaide, 3 March 2012, Bonython Park
Perth, 5 March 2012, Claremont Showgrounds
Soundwave Festival 2012 Photo Gallery
Photos appear courtesy of Wicked Pix
by Nikiforos Skoumas
Staff Writer –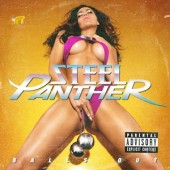 Glam metal revivalists and all-metal saviors Steel Panther have returned with their second album Balls Out. Since their 2009 debut, Death to all but Metal, Steel Panther have been a much sought after band having established strongholds in the United States the United Kingdom and Japan plus retained their contract with 'Universal Republic.'
Their brand of uncensored sexist glam metal seems to fit every aspect of today's social, political and economical environment, portrayed through the prism of four flashy, outrageous, though undeniably musical, individuals. The line up has remained unchanged since their previous album featuring lead singer Michael Starr, guitarist Satchel, bassist Lexi Foxx and drummer Stix Zadinia.
Audience who bought the debut are expecting '80s over-the-top rock extravaganza and Steel Panther do deliver in both music and lyrics. There is however a downside, especially for that segment of the audience who enjoyed their melodic, AOR-parody songs, because for the biggest part Balls Out is a riff-driven and substantially groovy album. Having said that, with a total of 14 tracks on offer, Steel Panther have included something for everyone on this second album.
The melodic rockers are "Just Like Tiger Woods," "Tomorrow Night" and "Critter" easily the album's strongest moments for the those who enjoy melodic guitar lines and aggressive choruses. "17 Girls in a Row" is chosen as the single for the North American market, easily one of the dirtier and catchier songs on the album. "If You Really Really Love Me" is the single choice for the U.K. being a somewhat censored version of Steel Panther in action, which compensates the audience through its immensely sarcastic lyrics.
No matter where one stands regarding Steel Panther, it is hard to argue the technical proficiency of the quartet. Michael Starr is actually a very melodic singer when provided with the appropriate song while he is more than capable of hitting and sustaining all the higher notes. Satchel is indeed a guitar hero, a fact that may not fully come across on his riffs, yet becomes crystal clear once the solos kick in, each a musical theme at its own right. Styx is a very versatile drummer by glam metal standards, uncovering a great deal of his talent on the various patents and tempos found on Balls Out. Finally Lexxi… well Lexxi is just Lexxi.
Overall you have got to be a fan of Steel Panther to enjoy Balls Out. It is indeed dirty parody lyrics complemented by mighty '80s oriented hard rock music.
Genre: Glam Metal / Hard Rock
Line up:
Michael Starr (Ralph Saenz) – lead vocals, acoustic guitars
Satchel (Russ Parrish) – rhythm, lead and acoustic guitars, backing vocals
Lexxi Foxxx (Travis Haley) – bass, backing vocals
Stix Zadinia (Darren Leader) – drums, percussion, backing vocals
Track Listing:
1. "In the Future"
2. "Supersonic Sex Machine"
3. "Just Like Tiger Woods"
4. "17 Girls in a Row"
5. "If You Really, Really Love Me"
6. "It Won't Suck Itself"
7. "Tomorrow Night"
8. "Why Can't You Trust Me"
9. "That's What Girls Are For"
10. "Gold-Digging Whore"
11. "I Like Drugs"
12. "Critter"
13. "Let Me Cum In"
14. "Weenie Ride"
Label: http://www.universalrepublic.com/home/
Hardrock Haven rating: 7.5/10
August 29, 2009 at the Midland Theatre in Kansas City, MO.
by John Kindred
Staff Writer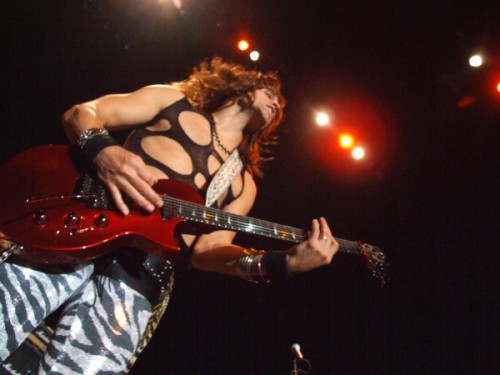 The parody metal band Steel Panther return to Kansas City was to a sold-out concert at the majestic Midland Theatre in the Power and Light District. Sponsored by the local radio station, 98.9 the Rock, Panther's return was in celebration of local DJ Johnny Dare's birthday.
Steel Panther has a history as L.A.'s Sunset Strip cover band and have gone by such band names as Danger Kitty, Metal Shop and Metal Skool. Soon to release their debut studio album Feel the Steel, the band has turned its local cult following into commercial, national success in the U.S. and Europe.
The band comprises of Michael Star (former vocalist for the L.A. Van Halen tribute band, Atomic Punks), guitarist Satchel (former member of Rob Halford's band Fight), bassist Lexxi Foxx and drummer Stix Zadinia (both of whom may or may not have any real claim to fame; it's unclear).
Taking the Spinal Tap approach to having a laugh at the excess of the '80s hair-glam-metal music scene, they literally turn the genre into a joke. The Spinal Tap band couldn't see the comedy in their act, whereas Panther fully embraces the fact that they are the joke.
In fact, the show should have been dubbed as a stand-up comedic act. More emphasis was spent on the jokes than the music. Covering a wide range of taboos; from sex with women; sex with men; sex in jail; hookers; blow, pot; drugs; etc., Steel Panther certainly made a huge play for juvenile outlandish behavior that worked well for Andrew Dice Clay (plug VH1's Where Are They Now here) but not so much for these musicians-turned-comics.
The audience was more than happy to take the abuse. From comments about Asian women to Panther vocalist Michael Star pointing out a lone black man in the audience as, "only coming to the show to pickup white women." The band took a rock 'n' roll show and turned it into a very long night.
So eager to parody the music of the '80s, Steel Panther took the stage with so much bravado and energy that they must have forgotten most of their equipment. In fact, the layout of the band's equipment looked quite tiny on the massive stage. There was no banner back drop, no walls of stacks or towering drum riser. It was more like a po' boy band on a budget. Nothing was more excessive in the '80s than the use of smoke machines. Let me tell you, the stage was quite clear. No smoke machines in sight. At least with smoke, the lack of "equipment" (pardon the pun) would have been less evident.
Although the band's set had moments of clarity, especially when performing Van Halen's "Panama" or Journey's "Don't Stop Believing," it was hard to move from the jokes and get back to the music. Satchel's guitar solo was entertaining as he performed a portion of Eddie Van Halen's "Eruption" and played a montage of metal classics, hammering the bass drum of Stix Zadinia drum kit with his foot. The encore "Death to all but Metal" is truly one of the band's best songs and a lot tamer lyrically than Panther's other original material.
Conceptually, Steel Panther and its label have hit on a golden concept as the music of the '80s has resurged in popularity again. The parody bit could be a true-to-life Spinal Tap moment if the comedy was real and not manufactured. Throw out the adolescent vulgarity and just play music! Give us the towering speakers, walls of sound, smoke, fire and blood! Give us those spontaneous comedic moments that always happen in our daily lives. Or maybe, we should save our money and go see KISS.
Set List:
1. Eyes Of A Panther
2. Band Intros
2. Asian Hooker
3. Fat Girl
4. Stripper Girl
5. Guitar Solo
6. Girl From Oklahoma
7. Party All Day
8. Sweet Child of Mine – Guns And Roses cover
9. Happy Birthday Johnny Dare
10. Don't Stop Believing – Journey cover
11. Community Property
12. Panama – Van Halen cover
Encore:
13. Death to all but Metal
Steel Panther 2009 Photo Gallery
Photos by John Kindred.