by Steve Patrick
- Columnist –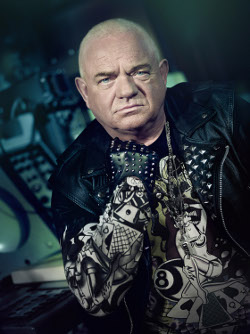 German metal legend Udo Dirkschneider recently visited Cleveland, OH as part of a brief North American tour in advance of the release of his upcoming new album with U.D.O. entitled Steelhammer which hits record stores in late May. The ex-Accept vocalist treated his fans to a just over an hour and a half set of U.D.O. and Accept classics at Peabody's Concert Club on Thursday, April 18th.
Dirkschneider took some time to sit down and speak with Hardrock Haven about the current North American tour, the new album Steelhammer, the possibility of working with his good friend Doro Pesch again in the future, and what question he dreads the most in any interview.
For more information, please visit www.udo-online.de
[Videographer: Justin DelPrince}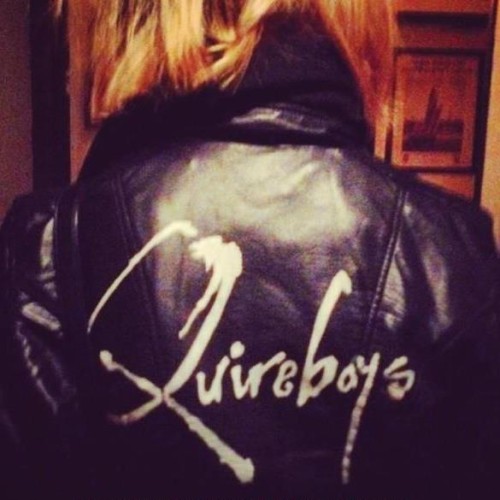 The Quireboys are set to storm 2013 with a series of UK dates planned and the band are currently working on a brand new studio album which will be released early June.
The Quireboys were formed in 1984 in London, England. After two successful independent singles (including the Top 40 "7 O'Clock") and supports to the likes of Guns N Roses, Sharon Osbourne was appointed as manager and The Quireboys were signed to EMI for the release of their debut album, A Bit of What You Fancy. The album entered the UK Albums Chart at No. 2 and was compared favorably to British rock names such as Rod Stewart and The Faces. The album was produced by Stewart's musical director and guitarist Jim Cregan. Read more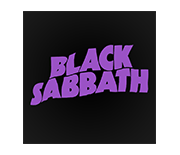 BLACK SABBATH'S '13' SET FOR JUNE 11 RELEASE CD, DELUXE 2 CD SET, VINYL AND SUPER DELUXE BOX SET OF '13' AVAILABLE NOW VIA PRE-ORDER AT WWW.BLACKSABBATH.COM
SECOND CLIP ON MAKING OF THE MUCH-ANTICIPATED '13' RELEASED TODAY
As the countdown for the June 11 arrival of BLACK SABBATH's 13 gets closer, the second Jack Osbourne-directed clip of the rock legends at work on the album can now be seen at the band's website: www.blacksabbath.com. Read more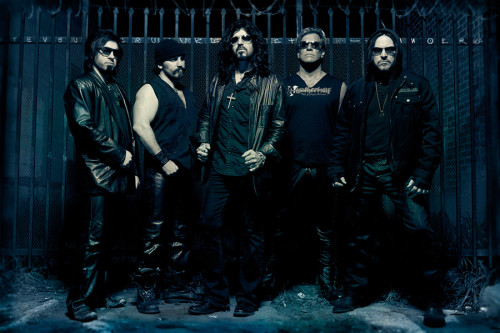 California Triple Axe Attack metal masters, LEATHERWOLF, are hitting the road in support of their forthcoming live album, "Unchained." Fans will experience an evening of intense metal music spanning the LEATHERWOLF catalog, including MTV video classics "The Calling" and "Hideaway" and fan favorites such as "Street Ready", "Gypsies & Thieves", and "Dr. Wicked (Rx O.D.)."
The rejuvenated line-up consists of original members vocalist/guitarist Michael Olivieri and drummer Dean Roberts, long-time friend and bassist Patrick Guyton, and the guitar duo of Rob Math and Greg Erba. "We are all excited about this new constellation and the possibilities it holds", enthuses Olivieri. "More than anything, we're looking forward to getting out there and really kicking some ass on stage. I think live is where it's always been at for us and this group of guys can definitely deliver the goods!" Read more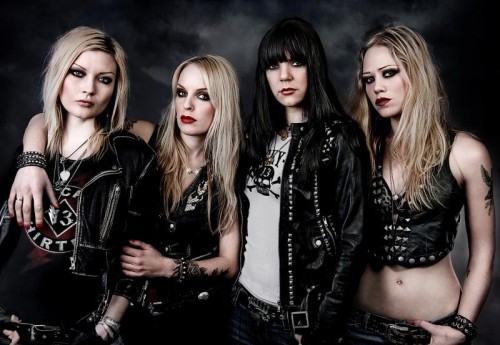 North American run with CrashDiet and Snakeskyn Whiskey to kick off this month Sweden's all-female hard rock/metal group, Crucified Barbara, has announced an initial batch of North American tour-dates set to commence later this month. CrashDiet and Snakeskyn Whiskey will accompany the Swedish quartet, who will be touring in support of its third full-length record, The Midnight Chase, which released last summer on Nuclear Blast. Additional dates will be announced soon, so keep an eye on the official Crucified Barbara Facebook page: http://bit.ly/cbtourdates for the latest info.
Formed in Stockholm in 1998 by bassist Ida Evileye and guitarist Klara Force, Crucified Barbara plays a fiery brand of rock 'n' roll tinged with metal and lashings of punk, pop, thrash, and more. Read more
"Simply put, Lucid Fly is the real deal. Their music, combined with their extreme professionalism and drive, is going to take them places that most bands only dream of. These guys are a real production away from blowing your mind." – Joey Flores, Earbits Radio
Los Angeles-based Lucid Fly's sound is unerringly progressive rock solid, with a powerful feminine punch. Loyal fans describe the band's music as "epic," "dark" or "post-industrial" and "heavy rock with strong, and, at times, vulnerable vocals." Some describe the music as "Evanescence meets Circa Survive and A Perfect Circle."
In March 2013, Lucid Fly is heading out on the road, touring in support of its EP, 'The Escape Stage,' as well as performing at the "Red Gorilla Music Fest" and the "Heart of Texas Rockfest" during music week at SXSW. Read more
Journey and Whitesnake, with special guests Thunder, will appear onstage together for the first time ever taking in eight dates across the UK throughout May 2013. Tickets are available online from www.livenation.co.uk or www.ticketmaster.co.uk.
Journey, one of the most popular American rock bands of all time, are responsible for creating some of the best-known songs in modern music. Over the years they have gained multiple accolades including 19 Top 40 singles, 25 Gold and Platinum albums and the single Don't Stop Believin' holding the #1 digital catalogue song in history. The line-up features Neal Schon (guitars, backing vocals), Jonathan Cain (keyboards, backing vocals), Ross Valory (bass, backing vocals), Deen Castronovo (drums, percussion, backing vocals) and Arnel Pineda (lead vocals). Read more
As January comes to an end, coupled with the ground swell of 2012 it is now safe to declare 2013 the "The Year of Suicide". In support of his latest EP and forthcoming full length album, DAVEY SUICIDE has confirmed a host of North American tour dates beginning this February. The opening five dates of the run, February 23rd – 26th are the first ever headline shows for SUICIDE.
"The Northwest is a fitting way to kick off this year for us. Some of our craziest shows of 2012 were in Seattle, Portland Idaho Falls and Spokane." Read more
Hot on the heels of last week's Billboard.com premiere of the first single, "Decay," from their forthcoming album, BLACK OUT THE SUN, SEVENDUST has added a slew of new tour dates to their previously-announced headlining trek with Lacuna Coil that starts February 2 in Winston-Salem, NC at Ziggy's.
SEVENDUST–Lajon Witherspoon (vocals), Morgan Rose (drums/vocals), Clint Lowery (guitar/vocals), Vince Hornsby (bass/vocals) and John Connolly (guitar/vocals)—will team up with Coal Chamber for a co-headlining tour starting March 28 in Tempe, AZ at The Marquee and concluding April 28 in Dallas, TX at The Palladium Ballroom. In addition, a handful of shows with Candlelight Red (whose latest DEMONS EP was produced by SEVENDUST drummer Morgan Rose) will start March 15 in New Orleans, LA at the House of Blues. The SEVENDUST/Coal Chamber run will include stops at Club Nokia in Los Angeles, CA on March 29 and at the Best Buy Theater in New York, NY on April 17. Read more
by Christophe Pauly
- Photojournalist –
December 1, 2012 at Rockhal, Esch-sur-Alzette in Luxembourg –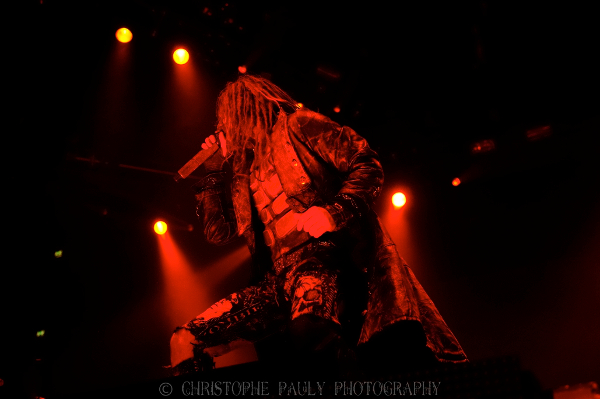 Marilyn Manson and Rob Zombie joint headlining tour, "Twins Of Evil," travels across North America and Europe. Korn's Jonathan Davis opens the shows with a DJ appearing as his 'alter ego' J. Devil. Photojournalist Christophe Pauly caught up with the tour in Luxembourg.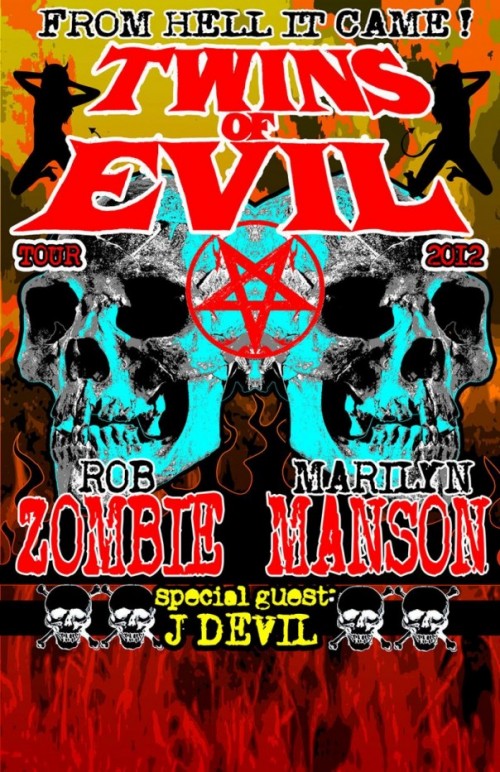 Marilyn Manson set list:
Hey, Cruel World…
Disposable Teens
The Love Song
No Reflection
mOBSCENE
The Dope Show (with snippet of 'Happiness is … more)
Slo-Mo-Tion
Rock Is Dead
Personal Jesus (Depeche Mode cover)
Sweet Dreams (Are Made of This) (Eurythmics cover)
Coma White
King Kill 33°
Antichrist Superstar
Encore:
The Beautiful People
Rob Zombie Set List:
Jesus Frankenstein
Superbeast
Meet the Creeper
Living Dead Girl
More Human Than Human (White Zombie song)
Theme for an Angry Red Planet
Mars Needs Women
Drum Solo
Never Gonna Stop (The Red, Red Kroovy)
Sick Bubble-Gum
Scum of the Earth
Pussy Liquor
Thunder Kiss '65 (White Zombie song)
Guitar Solo
School's Out (Alice Cooper cover)
Encore:
Dragula
Marilyn Manson & Rob Zombie Concert Photo Gallery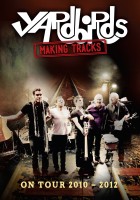 A Celebration Of The Band's Approaching 50th Anniversary in 2013
New York, NY (November 28, 2012)—An integral part of the 60's British Blues Boom, legendary rock pioneers The Yardbirds took standard 12-bar blues, doubled the tempo, kicked up the amps, and carved out the mold for modern hard rock. Introducing some of the world's greatest guitarists – Eric Clapton, Jimmy Page, and Jeff Beck – the band crafted such classic hits as "Train Kept Rollin'" (later covered by Aerosmith), and "For Your Love." Now, on the cusp of the band's 50th Anniversary, the latest incarnation of The Yardbirds will release Making Tracks, a 2DVD tour set available on December 11 via MVD Entertainment Group [MSRP $19.95]. Read more
Canadian heavy metal trio CAULDRON are due to kick off a European tour tomorrow – Wednesday, November 28th – in London, UK. Read more
Bay Area thrash metal legends, TESTAMENT, are proud to announce their first U.S. headlining tour since their phenomenal chart success with their new album, Dark Roots of Earth. Read more
by Christophe Pauly
- Photojournalist –
November 17, 2012 at Den Atelier in Luxemburg –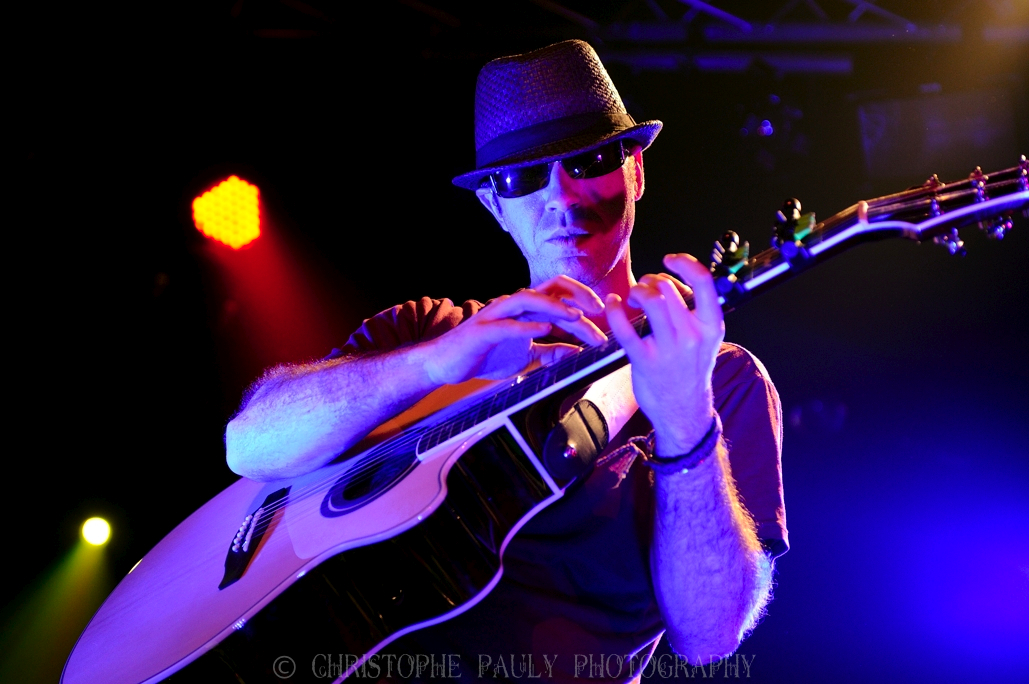 Dave Weiner, currently on tour with Steve Vai in Europe, was recently given the opportunity to open for Vai. His most recent album, A Collection of Short Stories: Vol. 1, was released in 2012. Enjoy photos of Warner as he takes the stage with just an acoustic guitar.
Dave Weiner Concert Photo Gallery
by Marcel "Mars" Groeneveld
Staff Writer –
Tony Iommi promo tour (for his book) Iron man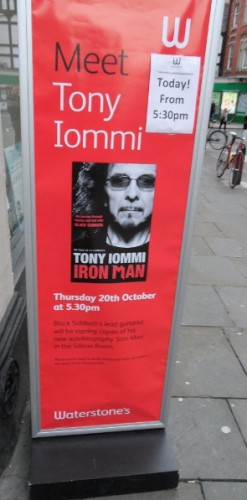 October 20, 2011 at Waterstone bookstore, Nottingham, United Kingdom.
Sometimes in life things just fall into place. On a trip to attend 2011′s Firefest Festival in Nottinghamd, U.K., you know the home of the legendary Robin Hood, Tony Iommi was also in town promoting and signing his new autobiography, Iron Man: My Journey through Heaven and Hell with Black Sabbath.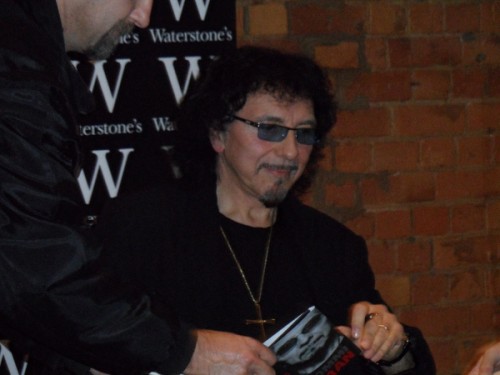 The book signing event was published on Iommi's website and not mentioned through major media outlets like the newspaper, billboards or television. Still over 300 loyal and crazed fans, who came from as far as Greece and Australia, made their way to the Waterstone's bookstore to meet and greet their Idol.
The opportunity to have their photo taken or memorabilia signed was slim because of time schedules. The great turnout of fans, produced smiling faces and some tears, as fans felt honored to spend at least one minute with one of the most influential guitarist rock has to offer.
Iron Man: My Journey through Heaven and Hell with Black Sabbath is the story told by Iommi the ups and downs to writer TJ Lammers and is available for purchase now. Read more
December 10th, 2009 at the Sprint Center in Kansas City, MO.
by John Kindred
Staff Writer
On a cold winters night the KISS Army invaded Kansas City. Thankfully the invasion wasn't for another "tribute band" or a convention but to see the mighty KISS circus in its entire splendor.
With a career the spans four decades the self proclaimed "hottest band in the world" carry the torch of angst for the youth rebelling against tradition. This "youth" now spans through several generations of fans who joined the "army" in the '70s, '80s, '90s and are still signing up today. Youth can be timeless as you can be young at heart forever if you never let them break your spirit.
Entering into their forth decade as the traveling rock n' roll Cirque du Soleil. Can't make the comparison? Ya right. Then you don't get what KISS brings to the table each and every night they perform before their legion of fans.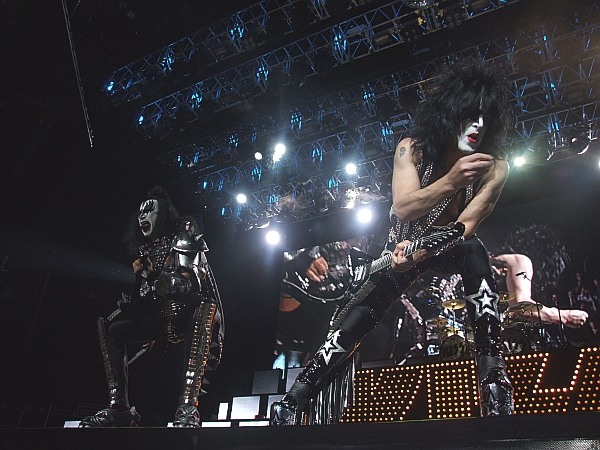 Pyrotechnics, furious decibels of sound, spectacular lighting production, incredible video presentations and a mammoth video screen are the center piece to the audio and visual assault on your mind. And all this would be pointless without the music. KISS again rewards their fans with songs that don't languish on political or socials themes, but instead delivers the party-rock-vibe of sexual innuendo laced fist pumping rock anthems.
In this age of the "internet" even YouTube videos can't capture the magic of the "live" setting. Even if the script of the show follows a familiar theme, those newly indoctrinated would not know this, the energy and spectacle of it all ultimately strikes you with a sensation of awe.
What bands these days perform for over 2 hours? What band has the catalog of music to even come close? Truly only those with a legacy built on the foundations of the '70s. And of those bands few are still young enough at heart and physically healthy enough to tour. Only one of them can bring such a visual exhibition that gives fans a true rock n' roll show.
The KISS Alive/35 Tour celebrates the release of the bands first live album Alive!, as well as promotes the release of their latest studio album Sonic Boom. KISS is a band that set the bar for the most spectacular, bombastic live concert you are ever going to see. Not many can follow in their footsteps.
KISS Set List:
Deuce
Strutter
Let Me Go Rock n Roll
Hotter Than Hell
Shock Me
Dr Love
Modern Day Delilah
Cold Gin
Guitar solo
Parasite
Say Yeah
100,000 Years
Drum solo
Gene bass interlude
I Love It Loud
Black Diamonds
Rock n' Roll All Night
Encore:
Shout It Out Loud
Lick It Up
Love Gun
Detroit Rock City
KISS Photo Gallery
Photos by Kathy Kindred
KISS Video Gallery
Videos provided by Gary Dean Ash