by Kathy Kindred
Staff Writer
It's been five years since pop-punk band Green Day aroused from its sleep a slacker generation to a political bad dream with the angst-ridden punk rock opera, American Idiot, which follows the journey of the fictitious "Jesus of Suburbia."
Green Day engaged in several other smaller projects in the time following the hype of American Idiot. In the spring of 2007, Green Day recorded a cover of the John Lennon song "Working Class Hero," which appeared on a compilation album Instant Karma that benefited victims in Darfur. In the summer of 2007, Green Day recorded a version of "The Simpsons" theme song for "The Simpsons Movie," as well as having an appearance in the movie.
In October 2008, Green Day returned to the studios with Butch Vig, to start recording the new studio album, which would become the follow-up to American Idiot. 21st Century Breakdown will be released worldwide on Friday. And although American Idiot proved to be quite timely, the follow-up may be a day late and dollar short.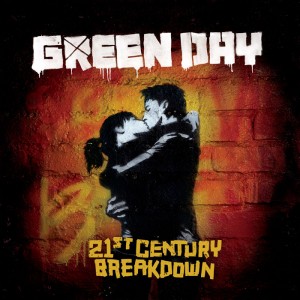 As America ushers in the Obama-era with a sense of hope, change and unity, Green Day finds a way to bring doom and gloom amid the mess that was left behind by the Bush Administration. 21st Century Breakdown portrays a country in dire hopelessness and takes us through a continued religious journey of escape. It's a story of disillusionment, censorship, corruption and manipulation.
The story, though well told through the music and lyrics, seems tone deaf to how a generation shifted the course of American politics. Even with two wars and an economy that has gone down the drain, Americans, for the most part, are able to glean a sliver of hope of new things to come.
For loyal Green Day followers, 21st Century Breakdown preaches to the choir. Green Day continues to be able to rally the troops, even without a clear enemy to battle against. And at some point in history, the world very well may be in sync with the bleak, dark lyrics of 21st Century Breakdown. And Green Day's music will continue to hold stirring power.
Green Day – New Music – More Music Videos
Official Page: http://www.greenday.com
MySpace Page: http://www.myspace.com/greenday
iTunes Buy Link: http://itunes.apple.com/
Tour Dates:
Fri 07.03.09 Seattle, WA Key Arena
Sat 07.04.09 Vancouver, BC GM Place
Mon 07.06.09 Edmonton, AB Rexall Place
Tue 07.07.09 Saskatoon, SAS Credit Union Centre
Thu 07.09.09 Winnipeg, MAN MTS Centre
Fri 07.10.09 Fargo, ND Fargo Dome
Sat 07.11.09 Minneapolis, MN Target Center
Mon 07.13.09 Chicago, IL United Center
Tue 07.14.09 Detroit, MI Palace of Auburn Hills
Thu 07.16.09 Hamilton, ONT Copps Coliseum
Fri 07.17.09 Ottawa, ONT Scotiabank
Sat 07.18.09 Montreal, QUE Bell Centre
Mon 07.20.09 Boston, MA TD Bank
Tue 07.21.09 Philadelphia, PA Wachovia Spectrum
Wed 07.22.09 Pittsburgh, PA Mellon Arena
Fri 07.24.09 Hartford, CT XL Center
Sat 07.25.09 Albany, NY Times Union Center
Mon 07.27.09 New York, NY Madison Square Garden
Wed 07.29.09 Washington, DC Verizon Center
Fri 07.31.09 Nashville, TN Somet Center
Sat 08.01.09 Atlanta, GA Gwinnet
Mon 08.03.09 Tampa, FL St. Pete Times Forum
Tue 08.04.09 Miami, FL American Airlines Arena
Wed 08.05.09 Orlando, FL Amway Arena
Fri 08.07.09 New Orleans, LA New Orleans Arena
Sat 08.08.09 Houston, TX Toyota Center
Sun 08.09.09 San Antonio, TX AT&T Center
Tue 08.11.09 St. Louis, MO Scottrade Center
Wed 08.12.09 Kansa City, MO Sprint Center
Thu 08.13.09 Omaha, NE Qwest
Sat 08.15.09 Denver, CO Pepsi Center
Sun 08.16.09 Salt Lake City, UT ESA (Energy Sol Arena)
Tue 08.18.09 San Jose, CA HP Pavilion
Thu 08.20.09 San Diego, CA Cox Arena
Fri 08.21.09 Las Vegas, NV Mandalay
Sat 08.22.09 Phoenix, AX US Air Arena
Mon 08.24.09 Sacramento, CA Arco Arena
Tue 08.25.09 Los Angeles, CA The Forum
Mon 09.28.09 Lisbon, PT Atlantico Pavilion
Tue 09.29.09 Madrid, ES Palacio de Deportes de la Communidad
Thu 10.01.09 Barcelona, ES Palau Sant Jordi
Fri 10.02.09 Toulouse, FR Zenith
Sun 10.04.09 Paris, FR Bercy
Mon 10.05.09 Cologne, DE Cologne Arena
Wed 10.07.09 Berlin, DE O2 World Arena
Thu 10.08.09 Hamburg, DE Color Line Arena
Fri 10.09.09 Copenhagen, DK Forum
Sun 10.11.09 Stockholm, SE The Globe
Mon 10.12.09 Oslo, NO Spectrum
Fri 10.16.09 Rotterdam, NL Ahoy
Sat 10.17.09 Antwerp, BE Sportpalais
Mon 10.19.09 Glasgow, UK SECC
Tue 10.20.09 Belfast, IE Odyssey Arena
Wed 10.21.09 Dublin, IE The O2
Fri 10.23.09 London, UK The O2
Sat 10.24.09 London, UK The O2
Mon 10.26.09 Sheffield, UK Sheffield Arena
Tue 10.27.09 Birmingham, UK LG Arena
Wed 10.28.09 Birmingham, UK LG Arena
Fri 10.30.09 Manchester, UK MEN Arena
Sat 10.31.09 Manchester, UK MEN Arena
Tue 11.03.09 Munich, DE Olympiahalle
Fri 11.06.09 Vienna, AT Stadthalle
Sun 11.08.09 Zurich, CH Hallenstadion
Tue 11.10.09 Milan, IT Datchforum
Wed 11.11.09 Bologna, IT Futur Show
Thu 11.12.09 Turin, IT Palaolimpico