Kevin DuBrow: Born To Rock
In Tribute: Kevin DuBrow.
by Alex Barbieri
Staff Writer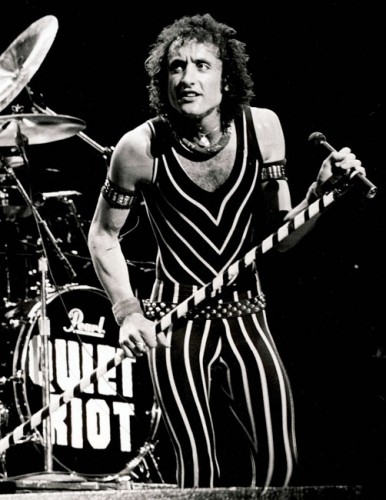 On Nov. 25, 2010, it will be three years since the sudden passing of Kevin DuBrow. May hard rock and metal fans everywhere raise a clenched-fist to the sky in honor of the unique and groundbreaking Quiet Riot singer.
Born on Oct. 29, 1955, DuBrow grew up in Hollywood, and later Van Nuys, Calif. Not surprising, considering he almost single-handedly put the L.A. metal scene on the world map. In 1983, Quiet Riot released the monster hit Metal Health. Their reluctant remake of Slade's "Cum On Feel the Noize" spent two weeks at No. 5 on the Billboard charts, and the album eventually sold more than 4 million copies. Considered by many to be the first "heavy metal" album to top the pop charts, Metal Health kicked the door down for the radio-friendly glam rock that followed, including Motley Crüe's Shout at the Devil, Ratt's Out of the Cellar and Twisted Sister's Stay Hungry.

Throughout his rock career, DuBrow sang on more than 15 albums, including 10 Quiet Riot releases, and a notable turn on "Stars" from the 1985 Hear 'N Aid project. He could scream like a banshee, but DuBrow also had a softer side, shown on ballads like Metal Health's "Don't Wanna Let You Go" and "Twilight Hotel" and "Still of the Night" from QR III. DuBrow's life and career was not without controversy. In 1984, his outspoken nature caused a well-publicized war of words with Motley Crüe after he allegedly stated to the rock press, "The Crüe sucks and wouldn't sell a record." Good times.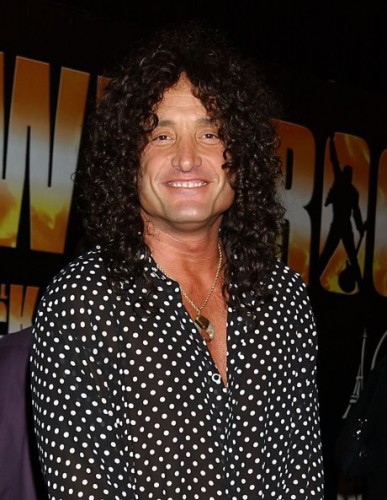 Live, DuBrow was a consummate showman, dressed in leather and velvet with striped microphone stand in hand. Almost campy, DuBrow flailed around the stage like Rod Stewart's taller, more hyper younger brother. He liked stomping on his vocal harmonizer a bit too much at times, but his sincere enthusiasm for singing and his audience made up for it. To quote a Quiet Riot song, he was truly "born to rock."
He was also a rock 'n roll "lifer." Never married, Dubrow lived for the next album, tour and female companionship. From the height of fame and riches, through obscurity and bankruptcy, to finding his way back on the metal nostalgia circuit, DuBrow's true calling and passion was always his music. And though his life was cut short at 52, he fulfilled his destiny and changed the course of rock music forever.
Kevin DuBrow died Nov. 25, 2007 at his home in Las Vegas. May he rock in peace. No doubt, he's assembled a killer band in heaven, his striped microphone stand in hand.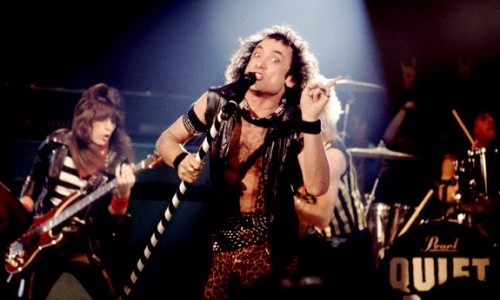 Read "Remembering Kevin DuBrow," a collection of memories, stories, prayers and praise. http://hardrockhaven.net/kdtribute/HRH%20Kevin%20DuBrow%20Tribute.php
View a touching tribute video to Kevin DuBrow on YouTube. http://www.youtube.com/watch?v=iLN9uautmJk&feature=player_embedded
In his honor and to remember the man who sang on some of the most memorable metal anthems of all time, Hardrock Haven and our friends have compiled a quote page full of stories, prayers, praise and memories of what DuBrow meant to us all. Read now to find out what Cage, Tony Harnell, Kamelot, Helix and many more musicians and friends had to say about their fallen brother, Kevin DuBrow. (republished from Hardrock Haven's 2007 Tribute Page.)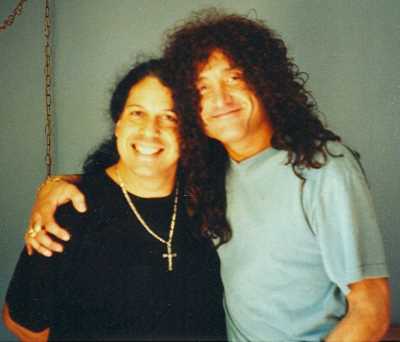 —- "I want to thank everyone for the hundreds of
condolences that I've received in honor of Kevin which continues to pour
in. With Kevin's passing a very large part of my life and my history has
come to end and I can't imagine life without his presence.
I've not slept. There is such a void in every part of my
life now. I can't find any words to say that make any sense of it. I can't
fix this, I can't change this and I'm expected accept the unbearable.
I can't utter a sentence or think of my dear friend or even say his name
without a flood of tears.
I can't stand that I won't hear his voice on the phone.
I can't stand that I won't step on a stage with him again.
I can't stand that I won't share another day with him.
I can't stand that I won't sit across from him laughing.
I can't stand to go past the room and see the awards we earned and shared.
I can't stand that life is forever changed.
I can't stand that I can't change this.
I can't stand that I have to accept this.
This is a picture that Kevin sent to me on May 24, 2007.
It was taken in 1993 after we had reconciled and started working together
again and when he sent it to me he called to say that this is how he will
always like to remember us as friends. A relationship in life that continued
until now. I want to remember my dear Kevin in life like this rather than
in his passing."
Frankie Banali (Quiet Riot) reprinted with permission
of Frankie Banali from http://www.frankie-banali.com/
—- "I was working at a record store when Metal Health came out; it made
me proud as a fan of metal to see that album sell so much every day. It
was the breakthrough into the mainstream for sure and it validated to
all my non-metal friends that my music had finally arrived. Kevin had
a very unique voice that I know touched a lot of people. He left way too
soon."
Tony Harnell (TNT, Morning Wood, Starbreaker)
—- "I never met Kevin, but for sure I couldn't stop
playing my vinyl version of Metal Health the year it was released. I would
scream at the top of my lungs along with the songs; he had a strong and
powerful voice and was one of my early influences. RIP Kevin, and keep
it loud up there! All my deepest thoughts to his family and friends."
Silver Steff (SILVER DIRT)
—- "One of my first albums was a rare Quiet Riot vinyl LP that had
Randy Rhoads in the band at the time. Kevin and QR put rock/metal on the
commercial map following that and many, many bands would not exist without
their influence. The news of Kevin's death hits very hard, a sad
reminder of how delicate life can be."
Thomas Youngblood (Kamelot)
—- "Regardless of attitudes or rumors, Kevin had
a voice you either loved or hated. But there is no denying that his voice
helped to pave the way for '80's metal. Personally, I loved the
guy as a vocalist and performer. I thought he had a great voice and tons
of energy. He always seemed on top of his game when performing. He will
be sadly missed by millions."
Jaime Vendera (Vocal coach/The Voice Connection)
—- "We toured with Kevin and Quiet Riot in the summer of 1984 on our
Walking the Razor's Edge CD. Also on the tour was Whitesnake. My favorite
memory of Kevin, however, was two summers ago when we met up at a festival
where Helix and Quiet Riot were on the same bill. Together with Frankie
we reminisced about that tour back in '84 and expressed the desire to
hook up again somewhere down the road. Luckily I filmed some of our encounter
on my Sony movie camera as sadly we'll never get the chance to be on the
same bill again. On behalf of Helix and myself I would like to express
my deepest sympathies to the Kevin's family."
Brian Vollmer (Helix)
—- "Sadly I never got to meet Kevin. Metal Health came out when I was
in high school and it was an incredibly influential album. Every band
I auditioned for was playing at least one song off of Metal Health. People
forget that Quiet Riot kicked off the whole LA metal scene, starting a
signing craze for bands like Motley Crue, Ratt, WASP, Dokken … literally
hundreds if not thousands of bands that came out of that scene. Soon bands
started moving to Los Angeles just to ride the wave that QR helped to
kick off. Their first single "Cum on Feel the Noize" was such
a surprise hit, it wasn't even available in stores as a single until months
after the song broke. This forced people to purchase the full album, making
Metal Health the first metal album to climb that charts. They created
a sound that no one had heard on radio up till that point — and
they built on this by becoming the first metal band to headline an arena
tour solely on the strength of a debut album. Kevin accomplished a lot
for the metal scene, and his passing is a loss to us all."
Eric Ragno (Vox Tempus, Ted Poley, Steve Grimmet, David Readman, American Angel, etc.)
—- "I was very saddened to hear of the passing of a great Rock Singer
and Front Man, and one who had stamped his mark forever in the books of
Rock History. Kevin DuBrow will be missed by all of his fans, friends,
and family.
I remember seeing Quiet Riot for the first time at "The
Fleetwood" in Redondo Beach, Calif. in 1976 with Kevin, Frankie,
Rudy, and Randy. Great line up, but then again all the QR lineups have
been great and strong as ever throughout the years. I saw Quiet Riot in
all their splendor & hoopla from the headlining Metal Health tour
during the "Bang Your Head" days, all the way up to Rock Never
Stops Tour 2005. Kevin always gave it his all, and I always believed it!
I recently heard through a source that the band was really doing well
this year from touring and that the sky was the limit.
I ran into Kevin and got to talk to him at PINK'S in Las
Vegas a few years back when it was open for business; he could be a bit
intimidating if you didn't actually know him, but as soon as I broke the
ice and told him what a big fan I was he was a very friendly guy, and
appreciative. Long Live Quiet Riot and Kevin DuBrow's Legacy!"
Jesse Damon (Silent Rage)
—- "I played with Kevin at the Monterrey Metal Fest and sat next to
him for the press conference. He was very cool and we were joking at the
press meeting how Frankie Banelli was the only one who really spoke Spanish
and was just rolling with the reporters. A lot of the other bands did
not show up for it but those of us who were there really put on a show
for them. He was always seemingly very upbeat and excited throughout the
entire event. I spoke with reporters at the gathering, publicly acknowledging
Quiet Riot's contribution to metal and looked at him in the eyes thanking
the band for having us play with them. I told him it was an honor and
he was genuinely stoked for the praise. I made some jokes in Spanish and
told them all we were going to kick ass and everyone laughed. Kevin pulled
me aside and told me 'Good job in there,' which was cool.
He told me how they had played in Mexico several times before and were
big there. Judging by the 10,000 plus people that night, he was right.
They absolutely crushed that night and he had the crowd really going off.
It was definitely one of his shining moments as we were all on the stage
behind him watching this arena metal performance for the ages. That night
it was CAGE, DIO, QUIET RIOT, DOKKEN, TWISTED SISTER and HATEBREED."
Sean Peck (Cage)
—- "If it wasn't for Quiet Riot, I probably never would have
started listening to metal in the first place. Hearing them on the radio
and seeing them on MTV as a teenager opened up my ears and forced me to
recognize not only their groundbreaking movement, but to understand I
found the exact kind of music that still has me addicted to it decades
later. Unfortunately, I never met or interviewed Kevin, but Quiet Riot
came through my home town in 2005 and ripped Sioux Falls a new hole. The
industry is bereft without his voice."
Derric Miller (Hardrock Haven)
—- "I was stunned and saddened by the news of Kevin
DuBrow's premature passing. I will always be thankful not only for
the road he paved for all bands that followed in the wake of Metal Health's
success, but for being able to call him one of my best friends from 'back
in the day'.
When KEEL was the opening act on QR's 1986 tour, Kevin
treated us, and me, extremely well – upon occasion, he invited me
to ride with him in their tour bus to the next town and we'd room
together, singing and partying. In 1989 he made a guest appearance on
our "Larger Than Live" album, singing on our cover of Humble
Pie's "Fool For A Pretty Face" – our vocal back-and-forth
at the end of the tune (along with Jamie St. James) is one of the highlights
of that disc.
I'm glad I got to see Quiet Riot live several times these past few years,
including a gig where I was once again their opening act in Pittsburgh
last year. Kevin's voice and stage presence were as strong as ever,
and with many of our contemporaries no longer able to deliver vocally
it was great to see and hear a guy who'd been doing it longer than
any of us still able to belt it out and hit the high notes.
Never once in all these years did he fail to have a smile
and a hug for me, and we last spoke a couple of months ago. He hooked
me up with tickets for their show with Vince Neil in Las Vegas and we
made dinner plans that will now remain unfulfilled.
Kevin's music left a mark on modern culture, and his
passing will leave a mark deep inside me. He will be missed. My condolences
to all of his other friends and members of his family who have suffered
this loss."
Ron Keel (Keel, Iron Horse)
— "I can remember the first time I heard "Come On
Feel The Noise." I had been listening to hard rock for most of my
life, but there was something about Kevin DuBrow's voice and the pounding
rhythm of Quiet Riot that made my sense of hearing perk up a notch, and
instinctively I reached for the volume knob, and I just couldn't turn
it up loud enough. Here was a style of music that made sense. A style
that filled a musical void that finally played the kind of music I could
relate to, and I dove into it head first. From that moment on, from the
time the musical airwaves first latched on to the gravelly, smokey, bar
room kind of voice that was all Kevin DuBrow, the floodgates were opened,
and a new musical genre was born. Call it hair metal, pop metal or what
have you, for what you call it doesn't matter. What does matter is the
fact that Kevin Dubrow and the boys of Quiet Riot started it all. And
I just couldn't get enough of it. And I owe it all to Kevin DuBrow who
refused to quit, even after years of rejection from labels and band members
alike. Kevin, your music touched my life in a way that no other kind of
music ever has, so thank you. May you rest in forever peace … "
Franco (Hardrock Haven)
— "I didn't know Kevin well. I only had the opportunity
to talk with him a few times, but my first meeting had a profound effect
on me. We were booked on the same bill in the late 90's. It was one of
those disastrously mishandled and poorly promoted shows that we've all
been involved with at some point in our careers.
The show was originally to be held in a warehouse in a run
down area of town rented by the promoter for the event. My band showed
up for sound check to find that the fire marshal wouldn't allow the building
to be used, so the promoter had set up the staging in a vacant lot next
door. It was within a few yards of a freeway and an underpass where a
group of homeless men were congregating.
As it turned out, only about 20 or so people showed up
for the gig. I assumed that the Quiet Riot guys were going to take one
look at the situation and turn around to go back to their hotel. I was
pleasantly surprised to see them take the stage anyway and proceed to
rock the hell out of the 20 or so ticket holders and the hand full of
homeless folks gathered nearby.
I recall Kevin saying something about it reminding him
of the backyard keg parties they'd played back in the day. Through it
all he was incredibly engaging and treated the small crowd as if they
were a packed arena. He took what could have been a bad situation and
made the best of it.
I recall leaving and thinking that the small crowd that
was there had just been treated to an intimate and truly special show
that they would probably remember forever. He was a consummate professional
through and through. That ethic had a profound effect on me, and it's
something I've tried to emulate with my own career. Rest in peace Kevin.
You were an inspiration and a true original. You will be sorely missed."
Trey Gadler (Azrael's Bane)
— "I first discovered Kevin DuBrows talents through my
influence of Randy Rhoads. Thanks for many years of sharing your music
with us Kevin. The riot you made for all of us to enjoy was far more than
quiet. My sincere condolences to all of his family and close friends."
George Bellas (solo, Palace Terrace)
— "I was helping this company with connections to
getting Rockstars to attend their awards show in Los Angeles. I had Frankie
Banali of Quiet Riot's phone number and I told him about the show and
who was involved. Long story short, Frankie gave me Kevin's number and
we ended up talking about the show because the company had this segment
about Randy Rhoads. Kevin just loved Randy so much. He talked to me for
like 30 minutes! Kevin told me so many great stories about Randy. I realized
that Kevin was such a nice guy and had such passion about Randy and being
his friend. That phone conversation was so killer! He was a great singer
and performer! He was really funny too. Kevin was "Bang Yer Head" and
no one can change that! R.I.P."
Markus Allen Christopher (Miss Crazy)