Ronnie James Dio : Reflections on a Sacred Heart
by Alex Barbieri
Staff Writer
Ronnie James Dio was, and will remain, one of the most powerful and emotional singers in rock history. His legacy lives on in the vast collection of songs he recorded, and in the loving memories of those lucky enough to meet the man personally.
May 16, 2011 marks one year since the passing of Dio. Over the past year, Hardrock Haven has asked many artists the following question, "What are your thoughts on the passing of Ronnie James Dio, and do you have any memories you would like to share?" Without exception, all of them answered with loving respect.
The following is a compilation of those answers and memories. Thanks to all the artists, especially Paul Shortino, who contributed to this retrospective. Rest in peace, Ronnie. Cheers!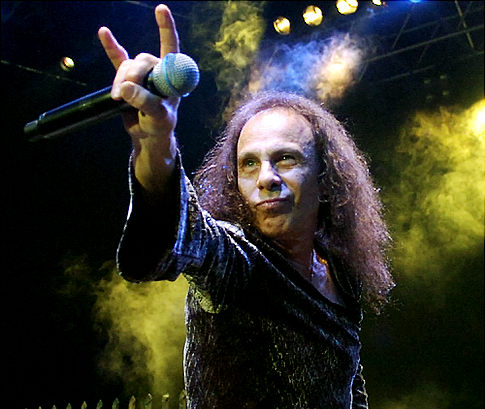 Anders Ringman of PLATFORM: Of course it's a huge loss. In the eyes of his fans, he truly was immortal, so that's why it was such a shock. I think, music-wise, I will cherish the Rainbow albums with him, Black Sabbath's Heaven and Hell and Holy Diver, of course.
Chris Laney of PLATFORM: It's a great loss, a small man with a BIG voice. I got into Dio back when Holy Diver was released, and still think Holy Diver and The Last in Line are among the best albums released by Dio. Of course there's tons of good stuff with him in Sabbath, too, but I think those albums are killer. I literally ran into him backstage when Dio, Uriah Heep and Asia played Stockholm.
DJ Will of KNAC.com: Ronnie was a big influence and a huge, huge loss. My last moment/encounter was him giving me a thumbs up at the Revolver "Golden God Awards" backstage after winning an award as he walked by with his wife, Wendy. That, as we know, was to be his last public appearance.
Attending the services a month later was a bit surreal with its concert-like atmosphere. Saying good-bye to a music legend surrounded by fans like myself who shared the same thoughts. The tribute performances were fantastic, as were the personal stories at the podium. I have since ended my show each week with one of the final tracks he recorded—"Heavy Metal Will Never Die"—which to me says it all.
Glenn Five of Anvil: I have some very personal thoughts and memories about Ronnie that are very dear to my heart. Ronnie was one of the nicest men a person could ever get to know. He had a love for people and life that you rarely come across. He was the type of man who would meet you early in the day and then go off to do tons of interviews and 'meet and greets' and when he would bump into you again later that day, he would call you by name and ask how your day has been. The last time I saw him was backstage after a Heaven and Hell show with Motorhead and Judas Priest. He was having a great time laughing and smiling—a fitting last memory of a truly amazing man.
Gregg Livesay of Livesay: We opened up for Dio twice—once in '97 and again in '98. I just remember when we got tapped to do the show how psyched we were. We couldn't even believe we were going to get to share the stage with the guy. I remember, after our set, I was down on the floor and I remember looking around the place. It was packed and they were turning people away at the front door—it was shoulder-to-shoulder, the balcony, everywhere. They couldn't fit any more people. But I remember when he was on stage and he was singing "Don't Talk To Strangers" and was just singing by himself, everybody was just absolutely blown away by him. His presence, his power. The guy just had incredible, incredible pipes. And so full of emotion. When he sang, you really felt like he was singing to you. He was the pinnacle of singers, and the fact that he's gone is awful. He was the Pavarotti of metal.
Jaime St. James of Black N Blue: Ronnie was a very nice man and an amazing singer. He is horribly missed.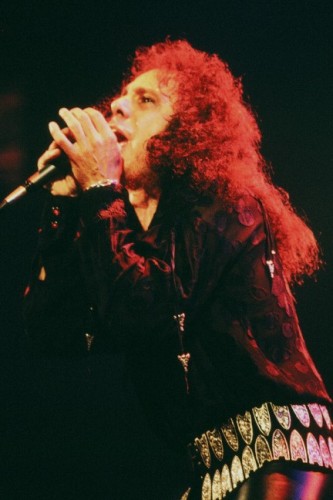 Jesse Damon of Silent Rage: I miss Ronnie James Dio. I got to see Heaven and Hell at the Forum in Los Angeles a couple years back and he was great to see and watch and listen to. What a nice gentleman. I also met him briefly at Los Angeles International Airport. He was coming in from Russia and I was heading to England. I walked up and said "Hi" and we exchanged pleasantries, a handshake, smile and a laugh or two. I asked him how the fans were in Russia, and he said they couldn't have been nicer. He wished me well for England and good luck, and I said, "Thanks, Ronnie!"
Joey Concepcion of Chaos Embrace: I think (Dio's passing) is very sad, and is such a tremendous loss to the metal community. I loved his voice and his music and he will be missed all over the world, and his music will without a doubt carry on.
Kyoji Yamamoto: He was one of the best rock singers in the world. I heard his voice for the first time on Rainbow's first album. I was very impressed by his powerful, beautiful and dignified voice. I met him in an Indian restaurant in the U.K. by coincidence. He was with his wife and he was very calm and tender. We lost an irreplaceable treasure.
Marcie Michelle Free of Unruly Child: Ronnie and I first met at a Christmas party back in 1985. Carmine Appice introduced us. I will never forget how blown away I was at how much of a kind gentleman he was. Many so called "rock stars" are not as real and down to earth as he was. He was always like that. I miss him dearly.
Mark Tornillo of Accept: Ronnie was always a huge influence on my writing and singing. The world lost one of the all time greats, and he will be missed for a long, long time.
Michael Larrson of ColdSpell: Dio meant a lot to me and has a special place in my heart. Dio was the one that was supposed to be around as long as hard rock exists and unite us all. He will be remembered and not forgotten, that's for sure! We have a song on the new ColdSpell album called "The King" that is dedicated to him. That lyric and song felt so right at the time he passed away, so I decided to include it on the new album.
Paul Shortino of King Kobra: When Rough Cutt was starting out, Ronnie was checking us out. Next thing we know, the Dios were managing us. Ronnie and Wendy took me under their wing and moved me into their home. I was able to live and breathe the Holy Diver album because Ronnie was working on it at home and he'd share ideas and mixes with me. I watched him do the artwork and create Murray the Holy Diver mascot. It was really an experience to get to know Ronnie on a different level—sharing his creativity in the studio and his guidance was quite an experience.
He was such a humble gentle man. One thing I learned from Ronnie was to try and always be humble. Ronnie always had time for fans and to say "Hi" to people, and be kind and gentle and humble. He always had time for people.
It's a shame we lost such a talent and big voice in the rock scene. He was definitely too young to pass away. He'll live on forever. King Kobra recorded a tribute to Ronnie called "Monsters & Heroes." The first verse is, "Sing me a song singer, you're the man on the mountain who rocked my world." That's exactly what he did in my life.
Sammy Serious of The Zeros: Ronnie James Dio was a great singer and front man. One of my favorites. I remember getting turned on to Elf and saying, "Who is that guy? What a great, powerhouse voice." I also love his solo stuff. I just heard "The Last in Line" on the radio. What a great tune. He left us way too soon.
Stephen Jensen of F3 Studios: My good friend Keri Kelli of the Alice Cooper Band owns a bar in Las Vegas called Aces N Ales. He was hosting a fundraiser event for the Ronnie James Dio "Stand Up and Shout Cancer Fund." Keri had asked me if I'd donate some of my photo prints to auction for the fundraiser. I always try to help out my friends whenever I can and it was an honor for Keri to ask to be involved with this great cause. I donated a print of Ronnie, Alice Cooper and Dimebag Darrell. I never had the chance to meet Ronnie personally, but the show in Chicago that I shot with Heaven and Hell was amazing. I listened to Dio growing up and it was great to see him on a big stage again up close. He looked so happy like he was having the time of his life grinning from ear to ear. It was clear to me that he just loved what he did and what he was doing.
Donate to the Stand Up and Shout Cancer Fund on the Official Ronnie James Dio website:
http://www.ronniejamesdio.com/
Official Dio Facebook Fan page:
http://www.facebook.com/OfficialRonnieJamesDio
Official Dio Myspace:
http://www.myspace.com/dioofficial