by John Kindred
Staff Writer —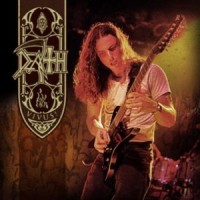 The Relapse Records reissue campaign for Death continues with their latest release Vivus! This two-CD affair comprises two live concert performances that originally were released separately in 2001, Live In L.A (Death & Raw) and Live In Eindhoven on Nuclear Blast. Both shows were recorded in 1998, disc one was recorded at the Whisky A Go Go in Hollywood, and disc two captured the band at Dynamo Open Air in Eindhoven, Holland. At this point in the band's career, the lineup comprised Chuck Schuldiner, Richard Christy, Scott Clendenin and Shannon Hamm.
Death was founded in 1983 by the late Chuck Schuldiner. The band began from the anguish felt by Schuldiner after his brother's death. At the age of 9, Schuldiner's parents purchased a guitar for him as a way to help with his grief. Moving from an acoustic guitar to an electric set Schuldiner on his path of musical discovery. He became a self-taught musician, who was influenced by Iron Maiden and KISS and later moved on to Slayer, Possessed, Mercyful Fate/King Diamond and Metallica.
Death released seven studio albums from 1987 to '98. 1991's Human was the band's bestselling album and showcased the technical and progressive maturity of Death. Schuldiner is regarded as a pioneering force in Death Metal and Grindcore and the father of Death Metal. After a brief battle with brain cancer, he contracted pneumonia and was hospitalized. Upon discharge from the hospital he returned home only to die an hour later on Dec. 13, 2001.
The music contained on Vivus! is a testament to the legacy left by Schuldiner, which ultimately created the Death Metal genre and was a major influence to Progressive Metal. Although both performances lack the full-on production afforded to some of the most desirable live recordings officially released. It would be a mistake to dismiss the importance of Death's performance captured in a live setting. The technical prowess of the band and its brutal, spot-on delivery set the standards for their peers to follow.
Although Chuck Schuldiner died at 34, he left and extensive musical legacy. His body of work can heard in the bands Death and Control Denied, which was his progressive metal project, and Voodoocult.
Genre: Technical Death Metal
Band:
Chuck Schuldiner / vocals, gutiar
Richard Christy / drums
Scott Clendenin / bass
Shannon Hamm / guitar
Tracks Listing:
CD 1 – Live In Hollywood (1998)
01. The Philosopher
02. Spirit Crusher
03. Trapped In A Corner
04. Scavenger Of Human Sorrow
05. Crystal Mountain
06. Flesh And The Power It Holds
07. Zero Tolerance
08. Zombie Ritual
09. Suicide Machine
10. Together As One
11. Empty Words
12. Symbolic
13. Pull The Plug
CD 2 – Live In Eindhoven (1998)
01. The Philosopher
02. Trapped In A Corner
03. Crystal Mountain
04. Suicide Machine
05. Together As One
06. Zero Tolerance
07. Lack Of Comprehension
08. Flesh And The Power It Holds
09. Flattening Of Emotions
10. Spirit Crusher
11. Pull The Plug
Label: Relapse Records
Web: http://www.emptywords.org/
Hardrock Haven rating: 8/10