Fair Warning | Best and More
by Justin Gaines
Staff Writer —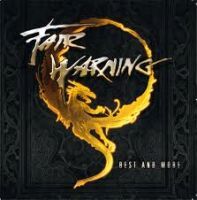 While we're waiting patiently for a new studio album from German melodic rock masters Fair Warning, the band has served up a hefty 2-disc greatest hits package titled Best and More. There have been a couple of Fair Warning collections already (Early Warnings '92-95 and Decade of Fair Warning), but nothing quite this large or comprehensive.
The 32-song Best and More features three songs from 1992's Fair Warning, two from 1993's Live in Japan, two from 1995's Rainmaker, two from 1995's Live at Home, six from 1997's Go, four from 1998's Live and More, two from 2000's Four, two from 2006's Brother's Keeper, three from 2009's Aura and three from 2010's Talking Ain't Enough: Live in Tokyo. The remaining three songs are single edits of "Light in the Dark" and "Children's Eyes" and a previously unreleased live cover of Led Zeppelin's "Rock n' Roll."
It has to be difficult to come up with a best of package when the band in question has so many great albums and songs. Their first four studio albums are such essential melodic rock records that it seems wrong to omit anything from them. Still, as far as song selection goes, Best and More does hit all the highlights. The ratio of album tracks to live versions is way out of proportion though. More than a third of the songs on Best and More are live versions, and while they're perfectly decent recordings, they pale in comparison to the studio versions.
It's hard to get excited about this collection. For newcomers, Best and More is a solid overview of Fair Warning's catalog, but only if you don't mind lots of live recordings. For longtime fans who already own most of the band's albums, the fact that the only rarities here are edits or live versions isn't going to be much of a selling point. What this band really needs to give us is a comprehensive collection – a box set even – of all the countless b-sides that have been on their singles, EPs and Japanese releases. That would be something to get excited about.
Genre: AOR, Melodic Rock
Band:
Tommy Heart (v)
Helge Englke (g)
Ule Ritgen (b)
C.C. Behrens (d)
Track Listing:
1. Burning Heart
2. Save Me
3. All On Your Own
4. Longing for Love
5. When Love Fails
6. Angels of Heaven
7. Out on the Run
8. Don't Give Up
9. Long Gone
10. Generation Jedi
11. Don't Keep Me Waiting
12. Still I Believe
13. Heart on the Run
14. Here Comes the Heartache
15. I'll Be There
16. I Fight
17. The Way You Want It
18. Rock n' Roll
19. A Little More Love
20. Come On
21. The Heart of Summer
22. Angel of Dawn
23. The Call of the Heart
24. Rain Song
25. Like a Rock
26. Out of the Night
27. Meant to Be
28. Don't Count on Me
29. Just Another Perfect Day
30. Light in the Dark
31. Man On the Moon
32. Children's Eyes
Label: SPV
Website: www.fair-warning.de
Hardrock Haven rating: 7/10