Knight Fury | Time to Rock
by Nikiforos Skoumas
Staff Writer —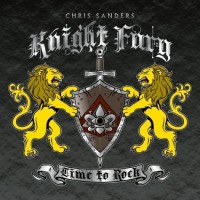 Knight Fury, not sure what it means, or what it is meant to symbolize, but it is a pretty rocking band name one has to admit. Time to Rock is Knight Fury's debut album, bound to establish them as a prime force in melodic/power metal. And that is not a big claim at all, you see, most of the persona's in Knight Fury's line up are already considered legends of the scene.
On bass there is one David Ellefson (Megadeth), on drums Ken Mary (ex-House of Lords, ex-Fifth Angel), the vocal talent of William King fronting the group and prodigal guitarist Chris Sanders (Lizzy Borden) the mastermind and power-behind-the-throne.
Indeed it seems that the time has come for the young flying-V shredder to lead a band of his own and, judging by the line up of Knight Fury, the past five years have cemented the guitarist's reputation not only amongst his fans but his peers also.
Musically Knight Fury is melodic metal which often extends to neighboring territories such as melodic hard rock, power metal and epic metal. It is a fairly versatile record and it is key to note that Time to Rock never gets too heavy- on the contrary it is all melody driven, up tempo metal featuring catchy hooks, harmonious riffs and as few keyboard parts as possible.
As you would expect, Chris' melodic shredding coats this entire debut, his solos are actually a sequence of guitar melodies or a single melody that continuously evolves throughout the solo, so clearly it all very meticulous playing as opposed to a bunch of notes played in quick succession. If there was any doubt before, Time to Rock puts firmly across that Sanders is every bit the guitar hero, you will hear a lot of Chris Impelitteri, Michael Angelo Batio and Gus G.
Equally significant is the contribution of lead singer William King who proves very effective on the mid-to-high range vocals baring a style and tone very similar to Geoff Tate. The singer seems at home delivering the rocking songs as well as the epic tunes; though perhaps his performance would have benefited from less dubbing.
Songs like the opener "Nothing Left," the single "Forbidden," "Endless" and the title track "Time to Rock" are straight to the point, old school, melodic metal cuts that should satisfy just about any fan of guitar heroes, vibrato based vocals and pounding rhythm section. Knight Fury is heavy metal for real!
Genre: Melodic Metal, Power Metal, Epic Metal
Line up:
Chris Sanders – Guitars
William King – Vocals
Dave Ellefson – Bass
Ken Mary – Drums
Track list:
01. Nothing Left 4:36
02. Attack 3:41
03. Forbidden 4:02
04. Battle For The Castle 4:10
05. Awaken 3:43
06. The Message 3:41
07. Endless Night 3:45
08. Out On Your Own 3:57
09. Believe 4:09
10. Time To Rock 3:36
Hardrock haven rating: 8/10