M-Pire of Evil | A Eulogy for the Damned
by Trevor Portz
Staff Writer —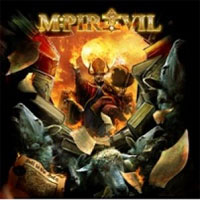 Anyone drawn to the darker side of metal undoubtedly cites Venom as a major influence, or at the very least, recognizes the importance they played in the development of extreme metal. While Cronos remains the sole original member flying the still-waving Venom flag, other members have also continued to churn out electrified darkness, most recently as the strangely named M-Pire of Evil. But while the lineup may boast some of the most important purveyors of hellfire metal, namely Venom co-founder Jeff "Mantas" Dunn, the album seems to deliver little more than a few pseudo-evil sparks.
To begin on a positive note, what this album is, is real. This is not overly produced radio metal that has been manipulated and fixed to within an inch of its life. This is real music played by real people, and thus, it's not perfect. While most of the time this is a good thing, the wavering tempos and sloppy beats can be a bit distracting at times. This is made worse by the fact that the songs aren't nearly technical enough to allow for such errors; this is not thinking-man's metal. No one should expect perfection, but a click track never hurt anyone.
What truly kills this album, though, is the overall cheesiness. Something that often drew criticism for the original Venom as well, the "evil," Satanic lyrics are so juvenile and silly that they come across as either self-parody or mocking of the extreme scene in general. Throw in an insanely cringe-worthy song about a local bar ("Snake Pit"), and something about "the Devil blues," and it's hard to think of this as anything but "dark" Spinal Tap. But if you like your anti-Christian sentiment delivered in obvious, simple terms, this album is made for you.
Luckily there are moments of glory, however, such as the excellent extended double guitar solo that graces "Metal Messiah." So it's not all bad… But a few bright spots aren't nearly enough to save the album.
The bottom line here is that M-Pire of Evil will surely be embraced by fans of Venom, but will have little to offer newer fans. Maybe it's time for the members to put the goat skulls and chalices of blood away and pick up a thesaurus and metronome.
Genre: Metal
Band:
Jeff "Mantas" Dunn (g)
Antony "Antton" Lant (d)
Tony "The Demolition Man" Dolan (b,v)
Track Listing:
1. Hellspawn
2. Metal Messiah
3. Waking Up Dead
4. Hell to the Holy
5. Snake Pit
6. All Hail
7. Devil
8. Shockwave
9. The 8th Gate
10. M-Pire (Prelude)
Label: Scarlet Records
Website: www.mpireofevil.com
Hardrock Haven rating: 4/10