The Morning After | Legacy
by Nikiforos Skoumas
Staff Writer —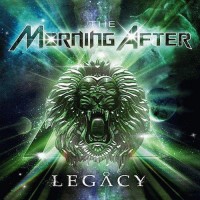 British modern-melodic hard rock band The Morning After are back in 2012 with their brand new second album Legacy; and it is the UK's answer to Blessed by a Broken Heart.
Having debuted in the summer of 2009 with You Can't Hurt Steel, the young quartet brought to front their own mix of flamboyant, ultra melodic hard rock with obvious ties to the '80s also inducing sporadically some growl-y vocals. Through their debut, The Morning After put across their proficiency in writing and performing melodies; whether you target the guitars, the vocals, the keyboards-even the rhythm section- you will find substantial melodies and harmonies.
Musically, Legacy features the same songwriting approach established by their debut, only point of differentiation perhaps being that growls have been kept to a minimum on this second release. Thematically, however, Legacy stand somewhat apart from their debut; the melancholic lyrics and futuristic concepts are left behind in favor of a much more optimistic and direct lyrical approach. Partying, standing one's ground and rising up to a challenge are what The Morning After address on Legacy.
Songwriting-wise, one has to give the guys credit for understanding that there is no place for bland moments on a first-class melodic rock song, so every riff, verse, chorus or musical passage of any kind is topped by spot-on instrumental or vocal melodies. Clearly, the way these people dress their composition leaves nothing to be desired, the entire album is guitar melody followed by vocal melody and vise-verse.
No question, Legacy is an overload of melody and, though catchy, requires a good number of plays for one to grow accustomed to the plethora of leads brought together here. By the time the album reaches its final track you have really lost count of how many great melodies The Morning After have managed to squeeze on their new album Legacy.
Genre: Modern Melodic Hard Rock
Line up:
Sam Ryder (vocals, guitar)
Phil Maher (guitar, keyboards)
Jake Booth (drums)
Tracklist:
01. Legacy
02. Into The Fire
03. Limit
04. America
05. The Witch Is On My Back
06. Over The Wire
07. Streams Of Stars
08. These Hills Have Eyes
09. Powerdrive
10. Rest In Pieces
11. Nightmare Planet
12. Seasons
13. I Walk With Giants
Hardrock Haven rating: 8/10