by Marcel "Mars" Groeneveld
Staff Writer —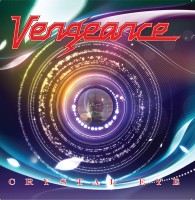 "We did it again, ha ha ha ha," that is how Vengeance's 1987 classic Take It Or Leave It starts off. Although a lot has changed over the years since their breakthrough album Leon Goewie, the driving force of the band, has certainly managed to once again put Vengeance back on track after a difficult time. Having gone through a lot of musical ups and downs, personal issues, the sudden and untimely death of guitarist and friend Jan Somers last year, you might say they have reached an all time low.
So much to everyone's surprise, a new era has kicked in and another gem Crystal Eye see's the light of day. With new players, help from some old friends and a new record company, SPV, the future looks bright again for Vengeance. The album's sensational all-star cast is just as spectacular as the new material. Alongside original vocalist Leon Goewie, Crystal Eye features drummer Chris Slade (ex-AC/DC), guitarist Keri Kelli (ex-Alice Cooper), and bassist Chris Glen (Michael Schenker Group). This line up is also known as Chris Slade's AC/DC cover band Steel Circle that plays throughout Europe.
The material for Crystal Eye, Goewie composed mostly in collaboration with producer Michael Voss (Mad Max, ex Vengeance), except for the title track written by former Vengeance guitarist Arjen Lucassen (Ayreon, Star One). The CD consists of 11 straight forward, kick you in the face songs. They all have that quality of being melodic, good sing along songs, with strong choruses while keeping that crunchy edge, do to Kelli's guitar playing. Kelli is also helped by Michael Voss and Timo Somers (Jan's son and also ex-Vengeance).
Even after 30 years Goewie is still exploring and developing his vocal abilities as he already has a very unique recognizable voice. As he sings in a lower register on parts of "Back To The Bone" and also the beautiful ballad "Missing," Gary Barden (MSG) comes to mind. The beautiful bluesy ballad "Promise Me" brings out the pain and more serious side of Vengeance. You have to strap on the seat belts for "Whole Lotta Metal," a number which Tony Martin (ex-Black Sabbath) contributed tailor-made for Goewie and Vengeance, rocks you socks off.
The album closes with the instrumental, "Jan's End Piece," which features the last solo recordings of Jan Somers as a tribute to him. Jan will not be forgotten as the band use the old Vengeance logo as an arch between the past and the future. The only negative remark on the album is the title song "Crystal Eye," although a great song, is a little out of place when compared to the rest of the album.
Genre: Melodic Hard Rock
Line Up:
Leon Goewie – vocals
Keri Kelli – guitar
Chris Glen – bass
Chris Slade – drums
Guest musicians: Michael Voss – guitar, vocals / Timo Somers (Delain) – guitar
Jan Somers – guitar, artwork; cover and illustrations.
Track Listing:
1. Me And You 04:02
2. Bad To The Bone 04:51
3. Barbeque 03:31
4. Shock Me Now 03:28
5. Five Knuckle Shuffle 04:10
6. Desperate Women 04:03
7. Whole Lotta Metal 04:11
8. Promise Me 03:43
9. Crystal Eye 06:13
10. Missing 04:51
11. Jans End Piece 01:16
12. Paint This Town 03:25 (bonus track digi pack)
13. Barbeque – radio edit 03:35 (bonus track digi pack)
Website: www.vengeanceonline.nl
Label: www.spv.de
Hardrock Haven rating 9.3/10