X-UFO | Vol. 1 The Live Files
by John Kindred
Staff Writer —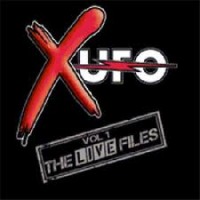 What do you get when you take former members of UFO and MSG and throw them in a blender? Well, they call themselves X-UFO. The group comprises Laurence Archer, Danny Peyronel, Clive Edwards and Rocky Newton. Self-described as an "… alternate version of UFO … a spin-off of the classic rock band," the quartet aims to breathe new life into classic UFO music. While it's unclear if this is a necessary endeavor, as UFO and MSG are still alive and well, X-UFO are taking a crack at it anyway.
The quartet's first release as X-UFO is none other than a live recording of its 14-song set. Titled Vol. 1 The Live Files, X-UFO tear into the old UFO standards and some lesser-known classics. From "Love to Love," "Doctor Doctor," "Let It Roll," to "Rock Bottom" and "Lights Out" and finally MSG's "Armed and Ready," X-UFO attempts to make these old battle hymns their own.
Who knows if their hearts are in the right place or whether their wallets are slightly empty. The music is performed with the skill that you would expect from former ex-UFO/ex-MSG alumni. But the magic, passion and energy created by Schenker, Mogg, Way and Parker, literally is their torch to bare. Peyronel, while doing an admirable job of singing the vocal melodies made famous by Phil Mogg, is not perfect. Can you name any guitarist that is better at being Michael Schenker than, let's say, Michael Schenker? You get the drift here. It's a tough pill to swallow.
Produced by Steve Mann, another former MSG band mate, the music's strengths fall on the UFO songs that were hits and is weakened by the lesser-known tracks. Again, the musicianship isn't the question; the question is, "why re-create the music of a band that continues to be in heavy rotation when you could write and release your own original music?"
In essence, X-UFO have pigeonholed themselves into being a cover band. Early this year, X-UFO plans to record a studio album with new material, which should be applauded and help the band create its own identity. Unfortunately, X-UFO aims to capture the essence and magic of UFO by creating new music as well as re-recording and reworking older UFO material.
If X-UFO formed with the intention of writing and releasing original music, the band's name and union of the musicians would make more sense. Unfortunately, X-UFO is a cover or tribute band that all local music scenes have, so do we really need an international UFO cover band?
Out of 15 UFO and 3 M.S.G. albums, that's 18 albums, the combined total songs written or co-wriiten by Laurence Archer, Danny Peyronel, Clive Edwards and Rocky Newton is 24. Their total years of experience when complied together is 10 with Archer (UFO) and Newton (MSG) putting in the most timed served.

Known writing credits and time spent in UFO or MSG:

Danny Peyronel – keyboards, piano (1975–1976) with UFO:
co-wrote or wrote on '76s No Heavy Petting
"Highway Lady" (Peyronel)
"Can You Roll Her" (Danny Peyronel, Mogg, Andy Parker)
"On with the Action" (Schenker, Mogg, Peyronel)
"Martian Landscape" (Peyronel, Mogg, Parker)
"All the Strings" (Peyronel)

Clive Edwards – drums (1992–1993) with UFO:
co-wrote on '92s High Stakes & Dangerous Men
"Ain't Life Sweet" (Mogg, Way, Archer, Clive Edwards)

Laurence Archer – guitar (1992–1995) with UFO:
co-wrote on all '92s High Stakes & Dangerous Men

Rocky Newton (1987-1992) with MSG:

co-wrote on '87s Perfect Timing
"Gimme Your Love" (Rocky Newton, Robin McAuley)
"Time" (Schenker, McAuley, Newton)

co-wrote on '89s Save Yourself
"Get Down to Bizness" (McAuley, Rocky Newton)
"This Is My Heart" (Newton, McAuley, Schenker, Mann, Bodo Schopf, Allan Nelson)

co-wrote on '92s M.S.G. (McAuley Schenker Group album)
"This Night Is Gonna Last Forever" (Rocky Newton, Kenny Stewart)
Band:
Laurence Archer (v)(g)
Danny Peyronel (v)(g)
Clive Edwards (d)
Rocky Newton (b)
Track Listing:
1. Intro: Let It Roll
2. Natural Thing
3. Highway Lady
4. Backdoor Man
5. Can You Roll Her
6. Love Deadly Love
7. Armed And Ready
8. She's The One
9. Love To Love
10. Only You Can Rock Me
11. Rock Bottom
12. Encore 1: Lights Out
13. Encore 2: Doctor Doctor
Label: MCPS
Web:
www.x-ufo.co.uk
https://www.facebook.com/pages/X-Ufo/202423463118622?sk=wall
https://twitter.com/?iid=am-136815635413275246138684918&nid=23+following_user&uid=291981910&utm_content=profile#!/XUFO1
Hardrock Haven rating: 7/10
UFO
X-UFO