by Justin Gaines
Staff Writer —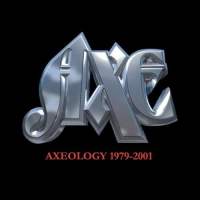 There are a lot of "should have made it" stories from the 1980s, but one that really stands out is the American melodic rock band Axe. If you remember them at all, it's probably from their one hit – 1982's "Rock n' Roll Party in the Streets." Aside from that, the band never really caught on, despite they fact that their hard rocking (yet always melodic) sound was tailor made for rock radio in the '80s. Maybe their heavy metal band name and album covers were at odds with their overall sound?
Whatever the reason, Axe remains one of the more overlooked bands from the '80s rock scene. Now, Cleopatra/Deadline has given us an excuse to revisit Axe's back catalogue with Axeology, a two-disc retrospective that spans the band's career from 1979 though 2001. There are 36 songs total – six from 1979's Axe, six from 1980's Living on the Edge, seven from 1982's Offering, six from 1983's Nemesis, five from 1996's Five and four from their 2000 album The Crown. Rounding out the collection is a pair of previously unreleased '80s era songs – "Bad Sometimes" and "No Heroes."
On paper, Axeology is the perfect Axe anthology. It not only covers their better known albums, but you get a hefty chunk of their long out of print first two albums as well as some of their later material. Honestly, the remastered versions of the Axe and Living on the Edge material alone is probably worth the price of admission. The downside is that the songs from Nemesis and Offering are not the original album tracks. They're all rerecorded versions done specifically for this compilation. They sound good, but it's not the same as having the original songs. Presumably this has something to do with the fact that those two albums are still in print and licensed to another label (Wounded Bird), but it definitely takes some of the shine off this otherwise impressive collection.
If you're new to Axe, Axeology really is a fantastic starting point, and longtime fans will probably want to check it out just to hear the remastered versions of the early songs and the bonus tracks. It's not perfect, but it gets the job done.
Genre: AOR, Melodic Rock
Band:
Bobby Barth (g) (v)
Mike Osbourne (g)
Mike Turpin (b)
Wayne Haner (b)
Mark Montague (d)
Edgar Riley (k) (v)
Teddy Mueller (d)
Bob Harris (k) (v)
Blake Eberhard (b)
Christian Teele (d)
Andy Parker (d)
Danny Masters (g)
Track Listing:
1. Life's Just an Illusion
2. Hang On
3. Sympathize
4. Forever
5. Back on the Streets
6. Battles
7. Living on the Edge
8. Fantasy of Love
9. First Time, Last Time
10. Carry On
11. Running the Gauntlet
12. For a Little While
13. Rock n' Roll Party in the Streets (rerecorded version)
14. Steal Another Fantasy (rerecorded version)
15. Jennifer (rerecorded version)
16. Burn the City Down (rerecorded version)
17. Now or Never (rerecorded version)
18. Holdin' On (rerecorded version)
19. Silent Soldiers (rerecorded version)
20. Bad Sometimes (bonus track)
21. Heat in the Streets (rerecorded version)
22. Young Hearts (rerecorded version)
23. All Through the Night (rerecorded version)
24. Eagle Flies Alone (rerecorded version)
25. Let the Music Come Back (rerecorded version)
26. Masquerade (rerecorded version)
27. Magic (In Our Eyes)
28. Heroes and Legends
29. Burn Me Once, Burn Me Twice
30. Where There's Smoke, There's Fire
31. Any Place on This Highway (is Home)
32. The Crown
33. Good Times
34. Torturous Game
35. Foolish Deception
36. No Heroes (bonus track)
Label: Cleopatra
Hardrock Haven rating: 7.5/10