Desert | Star of Delusive Hopes
by Joe Mis
Staff Writer —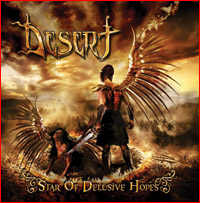 Power metal has been popping up from many unlikely places lately, and continuing that trend is the debut release from the Israeli act Desert. Founded in Beer-Sheva, but now calling Tel-Aviv home, this six-piece outfit has released Star of Delusive Hopes on Greek label Sleaszy Rider Records.
Desert has roots going back a decade to 2002, but the band really did not get rolling until 2004, when the core lineup of guitarist Max Shafranski joined up with vocalist Alexei Raymar and keyboard player Oleg Aryutkin. They released a demo (The Way to Honor) in 2004 and an EP (Prophecy of The Madman) in 2006. The band underwent a few more personnel shuffles before settling into their current configuration and beginning work on Star of Delusive Hopes, which according to the band's label "tells stories of great men and women who lived and gave their (lives) for freedom and beliefs, stories of lost hopes and betrayal. The lyrics describe great deeds by Giordano Bruno, Joan of Arc, heroes of Masada siege, and unknown soldiers who fought and died in the fields of Russia." While Desert's music is definitely power metal, there is a major theatrical feel about it – along with a touch of doom, both in terms of lyrics and delivery.
Alexei Raymar fronts the band, and has a very theatrical, somewhat over the top delivery that well suits the nature of the music. At times, he does overcook this aspect a bit and ends up sounding like he is in something by Andrew Lloyd Webber or the soundtrack from a Tim Burton movie. He does have a strong and expressive voice with a decent range, but does sing with a very strong accent that is sometimes distracting. Oleg Aryutkin's keyboards are an equal level with the guitars of Max Shafranski and Sergei Nemichenitser, a bit unusual for power metal, but effective nonetheless. All three make for a dynamic rhythm section, but the quantity and perhaps overall quality of the guitar work is somewhat overshadowed by the keys. Sergei Dmitrik (bass) and Zohar Telor (drums) make a fine bottom end, ably handling anything the rest of the band throws at them. They work together quite well, as a veteran band should. The album is very well produced and recorded, so it is easy on the ears at all times.
All is not perfect, however. There is not one track that stands out as a true barn-burner – it is almost as if the band is cranked to a steady medium heat without ever reaching full boil. Their performances are technically excellent but there seems to be a lack of a certain passion, almost as if they got a little lost in trying to tell all the small details of their stories while forgetting that the music and performance needs to be as compelling as the lyrics. As a result of this focus on detail, many of the tracks end up with a similar sound and are difficult to differentiate.
There are many bright spots on this album: the almost mid-90s commercial rock feel to the opening bars of "The Unsubdued;" the entirely of the up tempo and very progressive sounding "Letter To Marque;" the interesting use of hammered chimes and bells on "Release Me;" the driving yet simple bass line and blend of growls and clear vocals on "Soul Of A Wanderer;" the fabulous keyboard work, gurgling bass and the vocal contributions of Sabaton's Joakim Broden on "Lament For Soldier's Glory;"and the overall energy and "different" sound of "Whispers" – easily the best track on the album.
Despite the occasional shortcomings on Star Of Delusive Hopes, Desert is a young band and will surely learn how to more clearly express their fire and passion. Experience will surely push them down the correct path as their talent is unquestionable. They have a bright future ahead, but unfortunately this release would be recommended only for fans who may be looking for a fusion of power metal and doom.
Genre: Power Metal
Band:
Alexei Raymar (vocals)
Max Shafranski (guitars)
Sergei Nemichenitser (guitars)
Sergei Dmitrik (bass)
Oleg Aryutkin (keyboards)
Zohar Telor (drums)
Guest musician: Joakim Broden (vocals) on "Lament for Soldier's Glory"
Track Listing:
1. The Unsubdued
2. Massada Will Never Fall
3. Letter To Marque
4. Victim Of The Light
5. Release Me
6. Soul Of A Wanderer
7. Whispers
8. Lament For Soldier's Glory
9. Star Of Delusive Hopes
Label: Sleaszy Rider Records
Website: www.desertband.com
Hardrock Haven rating: 7/10