Human Temple | Halfway to Heartache
by Justin Gaines
Staff Writer —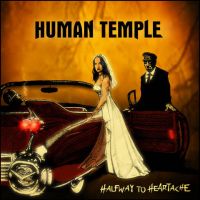 Halfway to Heartache is the third full-length album from Finnish melodic rockers Human Temple. The band, which features vocalist Janne Hurme (something of a solo star in Finland) has a dynamic, polished melodic rock sound not too far removed from bands like Gotthard, The Poodles, Outloud and fellow countrymen Brother Firetribe. Speaking of which, Brother Firetribe guitarist Emppu Vuorinen (probably better known for his role in Nightwish) makes a guest appearance on the album as well.
Human Temple seems to have found a good balance point between upbeat, '80s-minded AOR and a more mature modern rock sound. They have loads of catchy melodies, especially Hurne's dynamic vocals melodies, and a pop sensibility, but there's a hard rock crunch to most of these songs as well. Upbeat rockers like "Run Away" and "Misery" sit well next to smooth mid-tempo numbers like "Some Things Are Never Long Tie Ago" and ballads like "She Talks to Angels." There's even a surprisingly well-executed cover of Fleetwood Mac's "Little Lies."
Something else that sets Halfway to Heartache apart from say, the latest Poodles or Treat album, is that distinctive Finnish production. There's just something about Finnish melodic rock that seems somehow colder and more clinical than the other European melodic rock scenes. It ends up working perfectly with the somewhat darker – by AOR standards at least – themes and lyrics on the album.
As polished, high-quality modern melodic rock albums go, it's hard to do much better than Halfway to Heartache. It's already one of the stronger melodic rock albums offered so far in 2012. It's going to please just about any fan of the European melodic rock sound, but fans of bands like Brother Firetribe and Outloud in particular are going to want to check out Human Temple.
Genre: Melodic Rock, AOR
Band:
Janne Hurme (v)
Risto Tuominen (g)
Kalle Saarinen (d)
Jori Tojander (k)
Harri Kinnunen (b)
Track Listing:
1. I Will Follow
2. Bleeding Through
3. Like a Beat of a Heart
4. Our World Our Time
5. Almost There
6. Run Away
7. Little Lies
8. Because of You
9. Misery
10. Some Things are Never Long Time Ago
11. She Talks to Angels
Label: Escape
Website: www.humantemple.com
Hardrock Haven rating: 8.5/10