Imperial State Electric | Pop War
by Trevor Portz
Staff Writer —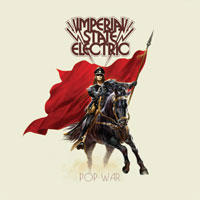 It would seem obvious to say that Nicke Andersson is one of the most versatile and talented musicians of the modern rock and metal world. From death metal (Entombed, Death Breath), to hard rock (the Hellacopters), to noisy punk (Supershit 666), to Detroit soul (the Solution), there doesn't seem to be a genre he hasn't mastered. Throw in the fact that he's capable of delivering everything from the blast beat to the soulful guitar solo, and it's likely even Dave Grohl might get a bit envious. Well, now he's ready to deliver the sophomore effort from his most recent venture—the '70s-heavy Imperial State Electric—and while it may not be as genre-defining as some of his other works, it's also hard to imagine many other albums this year will live up to its standard.
Following in the footprints of the self-titled ISE album (and a number of sold-out 7" singles), Pop War acts as a rock and roll time machine, taking listeners back to a time when Cheap Trick and Kiss were at their absolute peaks. Drawing heavily from both of these bands (and many others), Pop War delivers 10 pop-heavy rock songs that you'll swear were unearthed from the vaults of Electric Lady Studios. In fact, this album feels very much like the long-lost secret collaboration between Rick Nielsen, Paul Stanley and Bob Ezrin
The riffs on Pop War are simple and effective, the solos are gut-wrenchingly honest, and the melodies are written to be sung by stadiums full of people. But what's even better is that nothing feels forced. Many bands attempting to re-live genres of the past try too hard, and the result is generally a subpar facsimile. This album feels very natural; it was written and performed by people shaped and raised on the sounds of the 70s.
While the influences are obvious, the tracks are still fresh, and none sound recycled. Whether reminiscent of Paul Stanley's solo album ("Sheltered in the Sand"), pre-solo Alice Cooper ("Waltz for Vincent"), or the Beatles ("Can't Seem to Shake it Off My Mind" with it's "Day Tripper"-like intro), each track stands on its own as a fitting tribute to one of the greatest decades of rock and roll.
For all of its great points, the album also follows the '70s standard of being very short. Like, Dressed to Kill short. So if a big minus to be found, it would be that everything is over so quickly. Tagging on a couple of the aforementioned 7"-only single tracks might have been cool. But hey, always leave fans wanting more.
Oh, and the cover is one of the coolest and funniest in a while. Is there anything more rock and roll than Nicke Andersson is crazy regalia on a horse? No, there is not.
So if you like your rock and roll tailor made for '70s AM radio, Pop War should make you very happy. Just don't be surprised if you find it hard to believe it's not actually 33+ years old. Yes, that's a good thing.
Genre: Rock
Band:
Nicke Andersson (v,g)
Dolf de Borst (b)
Tobias Egge (g)
Thomas Eriksson (d)
Track Listing:
1. Uh Huh
2. Narrow Line
3. Can't Seem to Shake It Off My Mind
4. Back On Main
5. Waltz for Vincent
6. Sheltered in the Sand
7. Empty Hands
8. Monarchy Madness
9. Deride and Conquer
10. Enough to Break Our Hearts
Label: Psychout
Website: imperialstateelectric.se
Hardrock Haven rating: 9.7/10