by Alissa Ordabai
Staff Writer —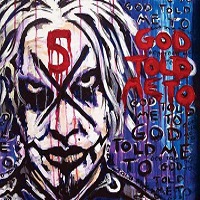 Torn in two – between the past and the future, between the old formulas and an emerging new perception – is how John 5 sounds on his new album. To highlight the clash between his familiar tried-and-tested electric guitar methods and the newly found acoustic guitar sensibility, the track list intentionally alternates acoustic and electric cuts, contrasting tenderness against violence, contemplation against recklessness, elegance against brutality.
Instantly recognizable as classic John 5, half of the material is all about his habitual disciplined frenzy of fretboard fireworks erupting at superhuman speed, the accompanying dark theatrics and slasher flick affectations. It's just that the vibe now is more unhinged, at times deliberately bordering on paroxysm, and the songwriting is simpler, revealing that 7 years in Rob Zombie's band are now beginning to put their stamp on John's solo output.
The acoustic stuff – which takes up the other half of the album – is by contrast completely grown-up, ranging from virtuosically performed (if slightly predictable) country blues polished by John's trademark high-tech chops, to stylish flamenco-inspired pieces. The standout "Noche Acosador" is one such quasi-Spanish piece – fluid and pulsating, with nuances to the fore and an air of subtle menace slipping through the gradations of its darker hues.
But none of the finesse of the well-groomed acoustic cuts prepares you for the whopping immediacy of the greatest highlight of this release – "The Lie You Live". At once elusive and cuttingly ominous, it is unsettling in a way John 5 has never sounded before. For the first time he is tapping into some of the darkest corners of the human psyche, refusing to use flashy technique, studio trickery, or chiller-diller subject-matter as distractions.
"The Lie You Live" is about one of the most basic elements of our collective reality – that shadowy, unnameable part of human nature every artist sooner or later comes face to face with – even the virtuosos who can perhaps avoid this encounter longer than others on the sheer strength of their entertainment power. But here John 5 is approaching those inner realities in a measured, almost rational way – not wearing any masks and avoiding distractions, managing to pull a deeper – and a more frightening – resonance than on any of the OTT theatrical shockers he was entertaining us with before.
A point of departure from the old formulas and a beginning of something new, or an out-of-balance record which tries to kill two birds with one stone – to keep the old fans and recruit the new – this release could be either, but we'll have to wait for his next record to be sure. There are times on God Told Me To when you wish the entire album would have been acoustic to allow John 5 explore the new direction to the full. The swagger of the electric guitar tracks is now telling an already familiar story, but the fresh acoustic direction suddenly opens a new dimension of his character – a reality deeper than subject-matter, image or his phenomenal technique.
Genre: Instrumental Guitar Rock
Track Listing:
1. Welcome to Violence
2. Beat It
3. Ashland Bump
4. Killafornia
5. The Castle
6. The Hill of the Seven Jackals
7. Noche Acosador
8. The Lust Killer
9. The Lie You Live
10. Creepy Crawler
Label: Rocket Science
Online: http://www.john-5.com/
Hardrock Haven rating: 7.5/10