Newman | Under Southern Skies
by Nikiforos Skoumas
Staff Writer —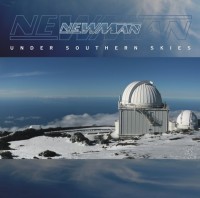 Starting a conversation on the topic of British melodic rock-AOR pioneers will most definitely bring up names such as Shy, FM and Heartland. Steven Newman on the other hand has been putting out solo-project albums for over a decade, an admirable servant of the adult oriented rock genre.
It took ten years and a good eight studio albums, but Steve Newman currently enjoying an overdue rising popularity within the melodic rock community. Those who followed his solo endeavors would probably consider the previous album The Art of Balance as the turning point in Newman's career for three reasons.
Prior to the release of The Art of Balance Newman transited from Escape music to AOR Heaven, a label that specializes in the particular sub-genre. Equally important, was the formation of the new stable line up of bassist Dave Bartlett, drummer Nic Lipscomb, guitarist Shaun Bessant and keyboardist Paul Boyle alongside front-man Steve. Finally the change in musical style from AOR to upbeat, almost speedy-melodic-hard-rock turned a fair number of heads towards their act.
The new album Under Southern Skies is a return to the mature-yet-intense Adult Oriented Rock that defined Newman's earlier works, putting firmly across that Steve is at the top of his game artistically as well as commercially. Musically Under Southern Skies is a guitar and keyboard driven album, promoting the vocals as main attraction (being substantially higher in the mix) all complemented by inventive-still subtle-rhythm section. Songs like the condemning opener "Killing Me" the mystical "Ghost in the Night", the immense sing-along "Without Warning" and the upbeat "Save No Prisoners" are all first class melodic rockers, satisfactory to the ears of any long term fan of the particular musical style.
Those new to the sound of Newman will probably be surprised to find that the group leans more towards American AOR (with a fair touch of west-coast) rather than its British counterpart. Conclusively if you are a fan of the particular sub-genre and have enjoyed the majority of releases issued under AOR Heaven, you should definitely try Under Southern Skies; it provides a significant addition to an already remarkable discography.
Genre: Melodic Rock, AOR
Line up:
Steve Newman: vocals, guitar, keybard
Rob McEwen: drums & percussion
Shaun Bessant: Lead guitars
Track list:
1. Killing Me
2. If He Loves You
3. Under Southern Skies
4. Strength To Carry On
5. Ghost In The Night
6. Without Warning
7. She's Gone
8. Fire With Fire
9. Save No Prisoners
10. Wish You Were Here
11. Montserrat
Label: AOR Heaven
Hardrock Haven rating: 8/10