by Mark Allen
Staff Writer —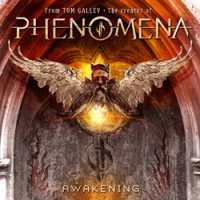 The latest entry in Tom Galley's long-running super-group series sees the man summoning another impressive talent pool to deliver the songs, and therein immediately lies the problem: the talent is impressive, the songs… not so much. Listening to this album, the phrase, "Holy cow, this is awesome!" will at no point pop into your brain, but the adjectives "serviceable" and "formulaic" might see some cerebellum time. And frankly, if you have legends like Toby Hitchcock and James Christian on vocals and six-string samurais like Mike Slamer and Mat Sinner on guitars, you have a right to expect melodic hard rock ecstasy, not hard rock ho-hum.
Awakening is, therefore, victimized by over-sized expectations. Few of the tracks are terrible, and a few are even pretty good, but the album should be phenomenal (pun intended) when instead it is nothing more than okay. Yes, there are hooks, but you've heard them a million or three times before. Yes, the choruses can be sung along to, but they are crafted in the most basic way possible, as if the songwriters just completed Melodic Rock Songwriting 101 and were eager to show off their newly-acquired skills. Except, no one involved in this project, including the songwriters, is new to the game. Perhaps it is harsh to rip on a band for being "decent" instead of "great," but the cold, hard, blunt-edged truth is that folks had a right to expect better from this album, given the pedigrees of the players.
But enough about what the album should have been. It is what it is, right? So… what is it? Well, for starters, it's pretty damn impressive from a vocal standpoint. How could it not be, with professionals like Lee Small, Rob Moratti, and Terry Brock belting out the tunes? Toby Hitchcock and Ralf Scheepers in particular knock it out of the proverbial park. Hitchcock nails his delivery on "Reality," wringing every last drop of emotional energy from each syllable, his powerful vocals perfectly complementing the driving rhythm of the music. Scheepers is equally impressive on "Gotta Move," dialing back his Halford-esque pitch in favor of a lower register that lock-steps flawlessly with the dirty, throbbing, metal-edged hard rock.
But while those may be the best vocal showcases, they are not the best songs; those bragging rights belong to the back-to-back cochlear blows of "Shake" and "Fighter." The former is a rumbling, foot-stomping arena rocker propelled by Mike DiMeo's gritty vocals. The song has a healthy dose of attitude and the chorus slams out some head-banging hooks that are 'roided up with some big ol' gang vocals. "Fighter" also features some cool hooks and a slick chorus, but the lyrics come slathered in Velveeta. The song's subject matter is boxing and every cliché in the book is tossed our way, including the Shakespearean line "He's in trouble / He's seeing double." Still, the cheese is tolerable for the sake of one of the best tunes the album has to offer. When Hollywood gets around to the inevitable remake of Rocky, they should think about making this their theme song, as the pop-rock catchiness and schmaltzy lyrics are the perfect soundtrack for a rousing crowd pleaser.
So Phenomena is neither phenomenal nor is it a steaming pile of excrement. Boiled down to bare bones, it basically has great vocals, skilled musicianship, a couple of good songs, and a boatload of ambivalence-inducing filler. Hardly a glowing recommendation, but not quite full-blown damnation either. Bottom line, this album is as basic as the missionary position, and hey, if that's good enough to get you off, have at it and God bless. But if you're in the mood for the melodic rock equivalent of the reverse cowgirl, you might find Awakening a bit too tame for your tastes.
Genre: Melodic Hard Rock
Band:
Martin Kronlund (guitars, bass)
Tom Harlan (guitars, keyboards)
Imre Daun (drums)
Henrik Thomsen (bass)
Per Aronson-Andersson (Hammond, keyboards)
Additional Musicians:
Carl Anthony Wright (guitars)
Christian Wolff (guitars)
Tommy Denander (guitars)
Mike Slamer (guitars)
Magnus Karlsson (guitars)
Mat Sinner (bass)
Steve Newman (guitars, backing vocals)
Fredrik Bergh (keyboards)
Track Listing
1. Smash It Up
2. Reality
3. Homeland
4. Going Away
5. Gotta Move
6. How Long
7. Shake
8. Fighter
9. Dancing Days
10. Stand Up For Love
Webpage: www.projectphenomena.com
Label: Escape Music
Hardrock Haven rating: 6/10