by Nikiforos Skoumas
Staff Writer —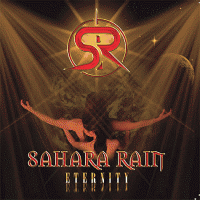 Already counting album number two are Switzerland's Sahara Rain with their brand new release simply titled Eternity. Sahara Rain's debut Sand in Your Eyes was released in 2009, bridging to front a melodic hard rock combo directly influenced by Gotthard and Shakra.
Yet, even at that time, one felt there was more than meets the ear with this Swiss quartet. You see despite the thick and simplified guitar riffs, Sahara Rain brought forward rather challenging song structures and pretty unique-not to mention lengthy-choruses. So the attentive listener would be able to tell that despite the 'Gotthard' tag, which many love to attach to this group, Sahara Rain is an AOR band at heart.
Their second album Eternity does justice to anyone able to trace the adult orientation behind their hard rock, since their second album is precisely that, a guilty slice of AOR/melodic rock. For starters, the use of keyboards has been increased dramatically. Piano sounds coat the majority of Eternity reinforcing the melodic aspects of the album while adding class to the overall songwriting. In addition the use of rhythm guitars has become more economical while still featuring thick-but more refined-opening riffs.
Of course there is always the voice of front man Ricci Domenicco who bares a similar sound and style to Gotthard's Steve Lee and for that one suspects that the comparisons and labels will not cease any time soon. Still taking the adult oriented path has substantially differentiated Sahara Rain from the majority of the Swiss-Danish melodic hard rock scene.
It has to be perfectly clear that going AOR, definitely takes nothing away from the intensity and attack that admirers found on Sahara Rain's debut; on the contrary, their new approach reinforces their songwriting while granting depth and transparency to the melodies and instrumentation of Eternity.
The more one plays songs like "Forever Young," "Will I Ever Be," "Holly Warrior," "Love Me Loud" and "Shout It Out" the more one feels that this album is filled with potential melodic rock classics, not to mention the air-play potential of Eternity's entire track list.
Unexpected but remarkable an album Eternity is. In a few years time it might as well appear that eight and a half out of ten is too little a grade to match the quality and substance of Eternity. One simply can't recommend enough Sahara Rain's new album to any fan of the genre.
Genre: AOR, Melodic Rock
Line up:
Ricci Domenico – Vocals
Adrian Honegger – Guitars
Boet de Haas – Bass
Bo Rebsamen – Keyboards
Levent Sunu – Drums
Track List:
1. Heavy times
2. Forever young
3. Will I ever be
4. Miss you
5. Holy Warrior
6. Love me loud*
7. Shout it out
8. Dreams die young
9. Starlight
10. Live earth
11. Since you've been gone
Label: SR-Records
Web: http://www.sahararain.com/
Hardrock Haven rating: 8.5/10