Heat | Address the Nation
by Nikiforos Skoumas
Staff Writer —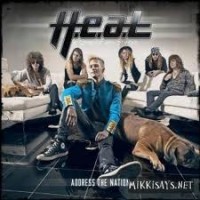 For a fan of contemporary melodic rock-AOR it is impossible not to have heard of Heat. The Swedish six piece that took the melodic world by storm in 2009 through their participation at the Eurovision song contest at which point their self-titled debut album was made available internationally. 2010 saw the release of their second album Freedom Rock and a solid partnership with the fast-rising Edel/Ear music label which more than verified that Heat was infinitely more than a fad in melodic rock.
Presently, the established line up of guitarists Dave Dalone and Eric Rivers, bassist Jimmy Jay, key player Jona Tee and drummer Crash is joined by a new singer Erik Gronwall. Gronwall, in his mid twenties, has a history of his own in reality TV and recording; he won the Swedish Idol contest in 2009 which led to the release of two solo albums under Sony music.
From day one Heat put forward first class melodic rock songs that lacked nowhere in comparison to the latest works of the veterans and legends of the scene, so there is no sense in changing that formula on this third album Address the Nation. The album opens with the anthemic hard rock of "Breaking the Silence" which unashamedly provides an excuse for gigantic choruses; the best way to open an album, one has to admit. The next song is the single "Living on the Run" coming out of a 'Heat formula' which previously brought us "Stay" and "Never let go". Then there is "Falling Down," perhaps the album's most intense moment (bearing in mind that the guys once again put nothing but their best on tape).
From track four "The One and Only" and onwards, Address the Nation takes a more adult oriented turn, emphasizing on instrumental harmonies and arrangements while retaining that 80s- Europe vibe. Comparisons to Swedish pioneers Europe have been tagged to Heat since their formation and in all probability will keep going on for a while, especially by taking into account that Erik comes incredibly close to the vocal tone and singing style of Joey Tempest.
Regardless of the above, fact remains that the young band has delivered another first-class melodic rock album, which is all their fan-base expects. Indeed if you have experienced their previous two albums you already know what you get with Address the Nation; simply the best in youthful melodic rock.
Genre: Melodic Rock, AOR
Line up:
Erik Grönwall – Vocals
Dave Dalone – Guitars
Eric Rivers – Guitars
Jimmy Jay – Bass
Jona Tee – Keyboards
Crash – Drums
Tracklist:
01. Breaking The Silence
02. Living On The Run
03. Falling Down
04. The One And Only
05. Better Off Alone
06. In And Out Of Trouble
07. Need Her
08. Heartbreaker
09. It's All About Tonight
10. Downtown
Web: http://www.heatsweden.com/
Label: Gain Records
Hardrockhaven rating: 9/10