Jimmy Page | Lucifer Rising and Other Soundtracks
by Alissa Ordabai
Staff Writer —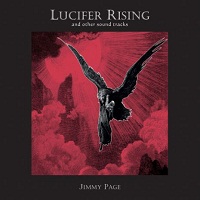 You'll need a turntable to hear this release as it will not be available in any other format but a vinyl LP – a decision Jimmy Page perhaps took as a tribute to the epoch when the material was recorded while subtly hinting at its exclusivity. A compilation of Page's early Seventies avant-garde experiments is certainly not for the mass market and not for the mass listener. If it resembles Led Zeppelin in any way, then only in its broodingly dark atmosphere or the way it offers a glimpse of the fertilizer ground from which ideas sprang in the band. A lot of creative audacity and experimental courage went into making the music on this record, but none of it has anything to do with rock, Page interested not in riffs or melodies, but mainly in exploring sound per se, going where the sonic properties of his instruments lead him.
Following the path first trodden by Brian Jones with his recordings of traditional Moroccan music – and in resonance with the fashions of that time – Jimmy Page here ventures further than Jones, mixing the inspiration received from the Eastern music with his personal inner realities in a bid to reach beyond Western cultural codes and practices.
In this sense it's a deeply self-indulgent record, as Page has no wish to entertain, instead choosing to communicate with his inner self to unravel his own potentialities and to tap into what can be awakened within. So it is slightly ironic that when this type of self-discovery in the end did prove successful, the evidence was not in Page's experimental material, but in the songs and the sounds of Led Zeppelin. In this sense his experiments such as these did serve a purpose – having enriched the music of his band – but never amounted to a substantial contribution to the avant-garde music.
Most of the sounds and vibes on this release would sound outlandish to an average rock audience, but die-hard fans of LZ would perhaps hear echoes of Bonzo's accents and patters in the tabla parts of the title track, and hints of the blues on the East-meets-West gem "Unharmonics". The haunted, at times luminously eerie "Unharmonics" is perhaps the closest this release gets to rock with its mix of traditional Indian music and the bluesy guitar sounding as if learned by an alien and reaching us from a different planet, carrying a deeper mystery with its twilight glow than any other material released by Page to date. Other pieces – including the infamous title track which never made it to the final cut of Kenneth Anger's film – are mostly juxtapositions and mixtures of textures and sounds, tranced ostinato repetitions, and experiments with timbre, where Page is more interested in the atmospherics than composition.
On the one hand this release is a relic – the product of the time when rock musicians were looking toward the East for guidance and inspiration, just like the early XX century esoterics who preceded them. But on the other hand this music is curiously timeless, not chasing or creating any trends, not following any prescribed patterns, and aiming at a purpose deeper than reflections on one's own immediate surroundings. It is also simultaneously abstract and deeply personal, self-indulgent but also self-forgetting in an attempt to engage the forces that have been here since the dawn of time.
Whether this release will be understood or misunderstood, one thing is for sure – no-one will ever write music like this. Not only because of the singularity of its author, but also because the times have irreversibly changed and a different age is now upon us where the price for self-search is either obscurity or complete anonymity.
Genre: Avant-garde
All songs written by Jimmy Page.
All instruments played and recorded by Jimmy Page.
Track Listing:
1. Lucifer Rising – Main Track
"Whilst in India I had acquired a bass tanpura, that provides a majestic drone. I applied a chant, tabla drums, bowed guitar, acoustic twelve string guitar, mellotron and a newly acquired ARP synthesiser that provided the Horns of Jericho. A mix of music was presented to Kenneth Anger and was used on showings of the first third of the film but not in the final cut."
2. Incubus
"This suggests the icy scratches and cutting embrace of the incubus at play."
Instrument: Guitar
3. Damask
"Inspired by my journeys both on foot and through the recordings of the masters. A simple homage to the sarangi."
Instruments: Six string bowed guitar
4. Unharmonics
"With the harmonics and demonstrative bowed glissandos the naked solo guitar moves cautiously through a sonic landscape."
Instruments: Six string guitar, bowed guitar
5. Damask – Ambient
"Damask Mix II returns from the original recording with a more dense, heavily perfumed ambience."
Instrument: Six string bowed guitar
6. Lucifer Rising – Percussive Return
"The main title with a surprise visitor. I had forgotten about a percussive overdub courtesy of the ARP Odyssey synthesiser."
Instruments: Phased chants, ARP synthesiser, mellotron, twelve string guitar, tabla
Label: published by Succubus Music Limited
Online: www.jimmypage.com
Hardrock Haven rating: 7/10