by Joe Mis
Staff Writer —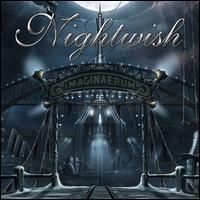 Imaginaerum marks the return of Finnish symphonic metal pioneers Nightwish to active duty – their seventh studio release overall. Although they've been in existence since 1996, realistically this is the second album of the revamped post-Tarja Nightwish, so perhaps it should almost be considered a sophomore release.
Imaginaerum was conceived and written for the most part by founding member and keyboard player Tuomas Holopainen. It was conceived as a "concept album" and a film, and with that come all the pluses and minuses of both. The story is a simple one, the reminiscences of youth by old composer on his deathbed. In the works for a number of years, Imaginaerum is an ambitious work, with a mix of styles, tempos and tones. Of course there is a massive amount of orchestra and choral work – the Nightwish traditional approach – but there are a few tracks with no orchestration at all. Musically the album jumps from symphonic metal to folk to classical and back again at dizzying rates, and is not a stylistically as cohesive as older Nightwish releases – perhaps as an offshoot of the concept film.
As one would expect from Nightwish, the album is beautifully recorded and warmly mixed. The musical performances are flawless, and the lyrics image laden and thought-provoking. The orchestra and choral vocals are well done and are an integral part of the release. There are intense metal riffs, soft atmospheric passages and a bit of Gothic feel to the album, but the constant changes make it difficult to appreciate the album as a whole. It does sound like a movie soundtrack album, with many of the tunes wildly different and little connection between them other than the overriding theme of the album.
"Taikatalvi," (meaning means "magic winter") sung fully in Finnish by Marco Hietala with nice choral and orchestral support, opens the album as an almost lullaby and blends nicely into the second track. "Storytime" is a much more intense track with a catchy chorus, heavy riffs, booming drums, and fine vocal performances, and is almost a summary of the album's story. "Ghost River" follows with a very intense guitar opening and quickly becomes a very odd and Tim Burton-esque theatrical – a strange song well suited for a fantasy film soundtrack. "Slow, Love, Slow" is a beautiful piano and bass driven track with a bluesy and smoky atmosphere. It features a stunning vocal performance by Anette Olzon and a fine guitar solo. The transition to the hard rocking "I Want My Tears Back" is rather jarring and abrupt, but this track is one of the strongest on the album and probably the most comfortable listen for long-time Nightwish fans. Troy Donockley's pipe work is amazing and makes for a great counterpoint to the guitars. "Scaretale" is a very creepy song about nightmares, but fun a fun listen thanks to a very solid arrangement and excellent orchestration – very theatrical.
The driving rhythms of the instrumental "Arabesque" transition from nightmare to ballad, leading into the soft and gentle folk tune "Turn Loose The Mermaids" – a vocal masterpiece. It builds in intensity and then drops into the heavy and booming "Rest Calm" – an everything but the kitchen sink almost doom/goth metal song with great vocals and a slick guitar line. This track just keeps building in power thanks to complex vocal and orchestral layering. Another jarring transition hits the listener with the pop/folk/ballad "The Crow, The Owl And The Dove" – a great sing-along soft rock track with nicely done acoustic passages. The listener is once again jarred into the very intense and rollicking "The Last Ride of the Day" – a roller coaster track if there ever was one.
The epic 13-minute plus "Song Of Myself" showcases Nightwish at its best. Good lyrics, good performances, a variety of styles/tempos and tons of energy. Unfortunately the song ends with a long winded spoken section which totally breaks the flow, mood and momentum of the song – perhaps needed for the film but out of place here. It fades into the nicely done orchestral outro and title track "Imaginaerum". This well done track is a traditional reprise of elements from all of the preceding tracks – a great Broadway-style closer.
This album will definitely appeal to hardcore Nightwish fans, but it may be too esoteric (and perhaps even "highbrow") for the casual metal fan. While musically excellent and classically influenced, Imaginaerum jumps from style to style so often that it is difficult to properly classify. Nightwish is truly an excellent band, but perhaps with this release they are pushing themselves a bit too far from their comfort zone. Over-the-top symphonic metal – Epica does it better. Folk metal – Leaves' Eyes does it better. Folk rock – Blackmore's Night does it better. Movie soundtracks –Disney does it better. However, you will not find any act that can span all of these genres as well as Nightwish. Perhaps the album fully works as a counterpart to the film, but if considered on its own it falls victim to its own diversity.
Recommended for Nightwish fans without a doubt, Imaginaerum is an interesting and diverse sonic journey and covers a vast amount of musical territory. A bit more broad and less focused, yet heavier than previous releases, Imaginaerum will provide a little something for everyone to like even though the album as a whole might not be as appealing to fans of a single genre.
Genre: Symphonic Metal
Band:
Anette Olzon (vocals)
Tuomas Holopainen (keyboards)
Emppu Vuorinen (guitars)
Jukka Nevalainen (drums)
Marco Hietala (bass, vocals)
Guest musicians: Troy Donockley (uilleann pipes, tin whistle, vocals, bodhran, bouzouki), Dermot Crehan (hardanger fiddle), Dirk Campbell (sorna), Guy Barker (trumpet), Paul Clarvis (ethnic percussion), Stephen Henderson (ethnic percussion), Pekka Kuusisto (violin), The London Philharmonic Orchestra – orchestration by Pip Williams.
Track Listing:
1. Taikatalvi
2. Storytime
3. Ghost River
4. Slow, Love, Slow
5. I Want My Tears Back
6. Scaretale
7. Arabesque
8. Turn Loose The Mermaids
9. Rest Calm
10. The Crow, The Owl And The Dove
11. Last Ride Of The Day
12. Song Of Myself
13. Imaginaerum
Label: Nuclear Blast
Hardrock Haven rating: 8/10