by Justin Gaines
Staff Writer —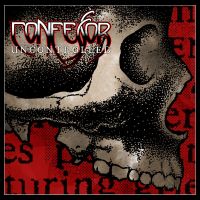 Confessor. Just saying the name in the company of knowledgeable metal fans is enough to cause heads to turn and previous conversations to cease. The North Carolina-based band is one of those rare bands (Manilla Road is another) who are both legendary and largely unknown in the larger metal world. They defied classification, merging thrash, doom and progressive metal elements into a "controlled chaos" that left a mark on all who experienced it. What other band could combine technical (yet still heavy and doom-like) guitar riffs, a piercing vocal wail and ultra-complex mathematical drum rhythms to simultaneously bring to mind Trouble, Metallica and Watchtower? Confessor is rightly known for their 1991 full-length debut Condemned, but the band's early recordings, largely unavailable until now, shed light on the development and evolution of the still-unique Confessor sound.
Divebomb Records' 2012 collection Uncontrolled collects all of the band's early recordings in a deluxe, 2-disc set and throws in some very memorable extras. It includes the 3-song 1988 demo The Secret, the 3-song 1989 demo Uncontrolled, the 3-song 1990 demo Collapse, plus the version of "The Secret" that appeared on Metal Blade's Metal Massacre X compilation, the version of Uncontrolled" that appeared on Peaceville's Vile Vibes compilation, and a pair of live songs. All of the songs have been newly remastered by Jamie King and sound absolutely incredible. Uncontrolled also includes a bonus DVD as well as enhanced content on the audio CD that feature rare video footage, and a booklet that includes rare photos and an essay by Mean Deviation author Jeff Wagner.
If you're already a Confessor fan, it goes without saying that Uncontrolled is a must-have release. Not only does this "fully-loaded" collection bring together a wealth of rare material, it also provides a window into the formative years and creative evolution of this groundbreaking and truly progressive band. If you're not familiar with Confessor, their debut full-length Condemned is the ideal jumping-on point, but it has been out of print so long that's not really an option. Until that album gets a proper reissue, Uncontrolled is the best available way to discover this innovative and still overlooked metal band.
Genre: Thrash Metal, Progressive Metal, Doom Metal
Band:
Scott Jeffreys (v)
Brian Shoaf (g)
Graham Fry (g)
Cary Rowells (b)
Steve Shelton (d)
Track Listing:
1. Collapse Into Despair
2. Alone
3. Condemned
4. Uncontrolled
5. Prepare Yourself
6. Suffer
7. The Secret
8. Deception
9. Eve of Salvation
10. Uncontrolled (Vile Vibes version)
11. The Secret (Metal Massacre X version)
12. Word of Praise (live)
13. Addictive Bind (live)
Label: Divebomb
Website: www.confessorband.com
Hardrock Haven rating: 9/10