by Nikiforos Skoumas
Staff Writer —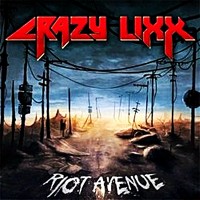 If you are an admirer of the Scandinavian melodic-glam-scene, you are probably aware of the Swedish melodic hard rock group called Crazy Lixx. While their name brought them a fair amount of ridicule by segments of the press during their earlier career steps, their sensational debut album Loud Minority was more than enough to shut a lot of mouths and turn a lot more heads their way; one of them being the CEO of Frontiers Records under which Crazy Lixx put out their second album, New Religion in 2010. Two years past that time and the quintet hand us their third effort Riot Avenue.
Most fans would agree that the musical direction of Crazy Lixx is hard to label, with a sound that touches equally upon sleaze metal and melodic rock and AOR. On that account, Riot Avenue seems to straighten their position in the market, clearly oriented toward sleaze metal and hard rock. The melodic rock elements have been kept to a minimum on this third release which is not necessarily a good thing considering the multiple AOR highlights that Lixx have offered us in the past ("Heroes are Forever", "Blame it on love", "Children of the Cross" etc).
The Crazy Lixx of 2012 is more riff-centric and substantially heavier delivering intense hard rockers such as "Whiskey Tango Foxtrot" and "Young Blood" while one happily finds that the title track is easily one of the most dramatic sleaze metal tracks we will get to hear this year. Still, powerful hard rock unfortunately does not make up for the lack of adult oriented moments on Riot Avenue. Indeed you could say that the balladic "Heatseeker" is set to represent their more melodic side, still it does not quite reach the quality of its predecessors.
To be perfectly clear Riot Avenue if far form a bad-even average-album. It if a first class sleaze metal and hard rock release from one of the fastest rising acts of the genre. Only Crazy Lixx was known for delivering a complete '80s rock menu with each album touching upon glam-sleaze, melodic rock and AOR, which clearly is not the case with Riot Avenue.
Genre: Sleaze Metal, Hard Rock
Line up:
Danny Rexon – Vocals
Andy Dawson – Guitars
Edd Liam – Guitars
Loke Rivano – Bass
Joél Cirera – Drums
Tracklist:
01 – Whiskey Tango Foxtrot
02 – Young Blood
03 – Riot Avenue
04 – Fire It Up
05 – Downtown
06 – In the Night
07 – Church of Rock
08 – Heatseeker
09 – Sweet, Bad and Beautiful
10 – Be Gone
11 – Only the Dead Know
Label: Frontiers Records
Web: http://www.crazylixx.com/
Hardrock Haven rating: 7/10