Ironchrist | Getting the Most out of Your Extinction
by Justin Gaines
Staff Writer —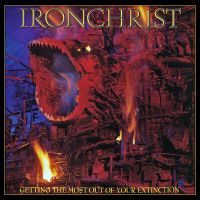 Maryland-based Ironchrist hit the scene in the late '80s just as the thrash metal movement was exploding across the country. The members of Ironchrist cut their musical teeth in local punk bands, and you hear a lot of punk and hardcore elements in their sound. In addition to their crossover appeal, there is a level of technicality that you didn't see in a lot of thrash bands. The breakneck speed of the riffs is still the main characteristic of Ironchrist's sound, but there was a complexity to the rhythms that went a step beyond the norm. Factor in a penchant for apocalyptic and socio-political lyrics and themes, just enough of a melodic aspect and raspy, hardcore-style vocals and you have a very compelling, very unique entry in the thrash metal genre. Ironchrist issued their full-length debut Getting the Most out of Your Extinction on the New Renaissance label in 1990, but complications with the label soon led to the band calling it quits.
Divebomb's 2012 reissue of Getting the Most out of Your Extinction features the full 1990 album plus the band's 1987 demo recordings as bonus tracks. All of the songs have been remastered by Jamie King at Basement Studios. King has done wonders to clean up an album that didn't have a great production initially, and even the early demos sound terrific. If that wasn't enough, the booklet includes an essay/interview with the band as well as lyrics and rare photos.
If you're one of the lucky few who grabbed a copy of Getting the Most out of Your Extinction the first time around, you will absolutely want to upgrade to this deluxe reissue. If you're not familiar with Ironchrist but are a fan of forward-thinking technical/crossover thrash metal along the lines of Voivod, DBC and Nuclear Assault, this reissue is the perfect way to discover one of the genre's most unfairly overlooked bands.
Genre: Thrash Metal
Band:
Tristan Lentz (g) (v)
Ned Westrick (b) (v)
Scott Treude (d) (v)
Mike Bullock (v)
Track Listing:
1. Getting the Most out of Your Extinction
2. Neurotica
3. World War Three (Crack Party Weekend)
4. Mechanized Emotions
5. Equilibrium
6. Cyborg
7. Contusions
8. White Plague
9. Inheritance
10. Intermission
11. Vagina Dentata
12. The Grind
13. Unforgiven/Shiva Descending
14. Turn It Off
15. Bloodhounds
16. Face Your Death
Label: Divebomb
Website: www.ironchrist.com
Hardrock Haven rating: 8.5/10