Memory of a Melody | Things That Make You Scream
by Mark Allen
Staff Writer —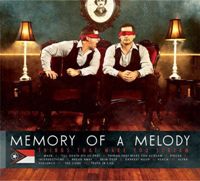 They say everything is bigger in Texas. That bodes well for Memory of a Melody because they've got what it takes to be the next big thing on the modern hard rock/metal scene. But that's not just because they call Texas home. No, MOAM earn the right to be given a shot at the big time based solely on the merits of their music, a slab of sonic muscularity that straddles the gossamer-thin line separating hard rock from metal.
The band has one foot firmly set in each genre. One minute they are dishing out a crunchy, melodic modern hard rock track like "Break Away," the next they are smashing your face with a vicious metal assault like "Ultraviolence." And just to prove they are not all aggression all the time, they slow things down for a brooding ballad ("Skin Deep"). The phrase "one trick pony" does not apply here.
The guitar work here sizzles and smokes and single-handedly elevates MOAM to the next plateau. The production smartly plays to this strength, everything engineered with crisp, sharp precision that allows the amazing axe-work to shine. The twin guitar attack creates a heavy wall of sound that cascades over your ears like a six-string tsunami.
As a versatile vocalist capable of uvula-shredding screams as well as clean singing, Mario Galdos focuses more frequently on the latter and reserves the former mostly for emphasis and attitude. MOAM may borrow some metal-core techniques, but they are not a true metal-core band. They are banging around on the same half-rock, half-metal turf on which bands like Bullet For My Valentine and Black Veil Brides found success: heavy-hitting modern hard rock punctuated with aggro-vocals for metal credibility. While both those bands are better than MOAM when it comes to writing slick, commercial hooks, MOAM destroys them both in the technical skills department.
MOAM are a ripe piece of succulent metal fruit hanging on an independent vine, ready to be plucked by a record label that knows a good thing when they hear it. While their metal-core-tinged modern heavy rock formula may not be the most original approach, plenty of bands have ridden this style to the top and many of those bands lack the sheer talent that MOAM bring to the game. Hell, some of them don't even deserve to play scratch-n-sniff with the bottom of MOAM's collective jockstrap.
The song quality does seesaw somewhat, with ass-kicking tunes mixed with less impressive tracks. For example, "Till Death Do Us Part" gets the head whipping with a catchy stop-start rhythm and pays off with a slow, emphatic chorus. "Pieces," on the other hand, brings plenty of slam to the party but lacks a hook to sell the song. Then "My Darkest Hour" kicks your coccyx seven ways from Sunday, only to be followed by "Reach" which is neither good nor bad, but just sort of…there. The band proves multiple times that they are capable of blowing you away…hopefully next time they will do so from start to finish.
These Texas mavericks have got what it takes to carve out a name for themselves in a crowded metal market. Sure, this being a debut album, there is some room for improvement, but that scarcely detracts from just how good these guys are at times. If heavy-edged modern hard rock with mounds of melody and a little bit o' metal-core is the sort of thing that appeals to you, then MOAM may very well make you scream for joy.
Genre: Modern Hard Rock, Metal
Band:
Mario Galdos (vocals)
Wade Sigue (guitar)
Roel Castillo (guitar)
Joel Martinez (bass)
Robin Lopez (drums)
Track Listing
1. Mask
2. Till Death Do Us Part
3. Things That Make You Scream
4. Pieces
5. Intersection
6. Break Away
7. Skin Deep
8. My Darkest Hour
9. Reach
10. Ultraviolence
11. The Core
12. Truth in Lies
Label: Independent
Webpage: www.thingsthatmakeyouscream.com
Hardrock Haven rating: 7.3/10