Deathwish | Demon Preacher
by Justin Gaines
Staff Writer —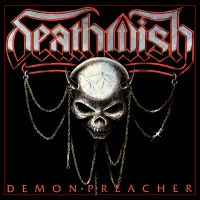 Emerging at the tail end of the NWOBHM scene, Brighton-based band Deathwish, along with bands like Onslaught and Xentrix, was part of the UK's answer to the emerging Bay Area thrash scene in the US. With their high-speed riffing, heavy rhythms, hardcore influences and sinister lyrical themes, Deathwish was a band that stood out from the pack and should have seen some real success, but for whatever reason they never really broke big.
1988's Demon Preacher was the band's second (and final) album, and it still holds up as a classic of UK thrash metal. It's a brief affair, with just nine songs, and two of those the instrumental opener and closer, and one cover song, but it packs more than an album's worth of frenetic speed and dark energy. After the heavy, doomy introductory "Death Procession" gives way, the title track virtually explodes into action with David Brunt's neck-breaking guitar riffs and Jon Van Doorn's unique vocal style, which went from a hardcore/punk-like bark to a high-pitched wail. "Carrion" and "Visions of Insanity" continued the high speed assault, but there was also a major dose of almost doom-like heaviness to the songs. That was especially evident on the band's cover of the Black Sabbath staple "Symptom of the Universe," which is one of the best versions of that song you'll ever hope to hear. On the back half of the album, "Wall of Lies" and "Fatal Attraction" are pure thrashers with a strong UK punk vibe (think Discharge), while "Prey to the Lord" is a much slower, much heavier, and much darker song. Closing instrumental "Past Life" is as somber as it is surprisingly beautiful, and stands in stark contrast to the rest of Demon Preacher's sinister themes.
Divebomb's 2012 reissue of Demon Preacher puts this long out of print classic back into circulation. It doesn't feature any bonus material, but all of the songs have been digitally remastered by Jamie King at Basement Studios, which is reason enough to upgrade if you're one of the lucky few who already own a copy. Additionally, the liner notes have been expanded to include a band interview and vintage photos and reviews. It's a very well put together reissue all around.
Still unfairly overlooked, Demon Preacher remains an essential thrash metal album, and not just by UK standards. Whether your tastes run to the U.S. bands like Testament, Exodus and Overkill or German bands like Kreator and Destruction, Deathwish is a band you do not want to miss out on, especially now that a high quality reissue of Demon Preacher is available. Hopefully we'll see a decent reissue of At the Edge of Damnation one day soon.
Genre: Thrash Metal
Band:
Jon Van Doorn (v)
David Brunt (g)
Stuart Ranger (b)
Brad Sims (d)
Track Listing:
1. Death Procession
2. Demon Preacher
3. Carrion
4. Visions of Insanity
5. Symptom of the Universe
6. Wall of Lies
7. Prey to the Lord
8. Fatal Attraction
9. Past Life
Label: Divebomb Records
Hardrock Haven rating: 9/10